Every generation has a filmmaker that defines the era. So-called auteurs like Alfred Hitchcock and Francis Ford Coppola are but a few names that spring to mind. Perhaps the most infamous name of recent times is Quentin Tarantino. Born in Knoxville, Tennessee, Tarantino moved with his mother to Los Angeles, California when he was just 3 years old.
Quentin Tarantino grew up on the west coast and his stepfather encouraged his love of television shows and of course, movies. At an early age, he began writing scripts, which was something that would help to establish him as a fully-fledged and independent writer-director years later.
He gained production experience as a production assistant, an extra and a bit-part actor in his early twenties and famously worked behind the counter at a video rental store where he became known as something of a local authority on film history and recognised by his customers and peers as a full-blown movie buff.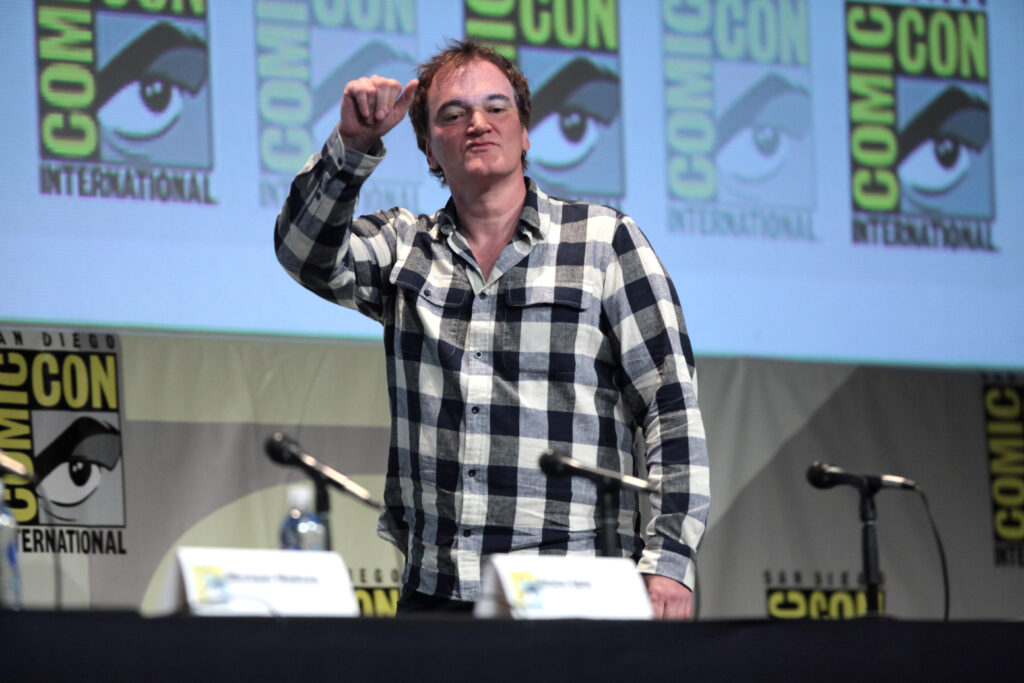 "Trying to make a feature film yourself with no money is the best film school you can do."

Quentin Tarantino
In 1987 he wrote and directed his first film My Best Friend's Birthday, which was never properly completed but has since been resurrected and packaged for mass consumption due to the filmmaker's subsequent fame. In the early 1990s Quentin Tarantino honed his skills as a script-writer and produced several screenplays which all went on to become successful films.
Both True Romance and Natural Born Killers would be optioned and sold to fund his first independent feature film (see below). Therefore we have not included these films here as Tarantino did not direct either picture and was somewhat disgruntled with the finished results of both, to a greater or lesser degree, despite both of these films being well-received an critically acclaimed by the rest of the world.
Tarantino also wrote the screenplay for From Dusk Till Dawn which was later directed by his friend Robert Rodriguez and starred Tarantino as one of the main characters. On top of this he also worked on some other notable Hollywood screenplays such as Crimson Tide and The Rock, although his contributions are uncredited.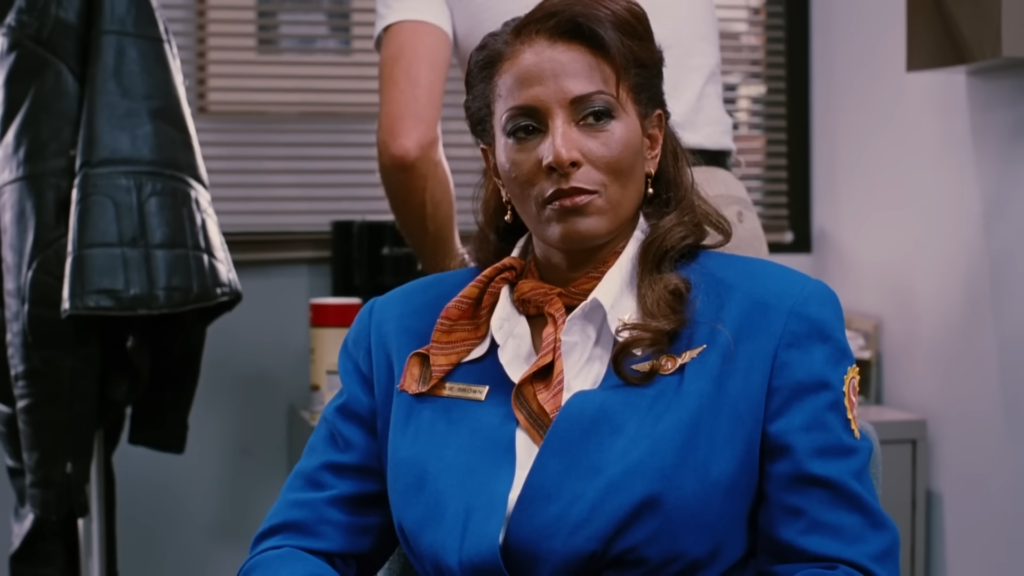 One of Quentin Tarantino's most beloved films is Jackie Brown (1995) which was based on the Elmore Leonard novel Rum Punch. The author considered this film to be his favourite adaptation of all of his works. Tarantino put a 70s spin on the story, casting Blaxploitation icon Pam Grier in the titular role. Although this film is incredibly popular with some Quentin Tarantino fans, we have left it off the list as it was adapted from someone else's writing. However, it does get an honourable mention here as we love it too!
We enjoy all of Tarantino's films and this Top 5 should be seen as an introduction to the entire collection and not as an exclusion of his other excellent films. See them all! The more movies, the merrier! Right? But anyway, here are our picks listed in chronological order…
1. Reservoir Dogs (1992)
Funded in part by the sale of the True Romance (1993) screenplay and by residuals he received for his role in an episode of The Golden Girls TV show, Reservoir Dogs (1992) was Quentin Tarantino's breakthrough film and one of the most successful and critically acclaimed independent features of all time.
Something of a bottle movie, most of the action takes place in one location during the aftermath of a bungled armed robbery. Interspersed with flashbacks throughout the narrative, we never actually see the robbery, just the planning and assembling of the crew alongside the scheming of the undercover policeman that has bluffed his way on to the job. The dialogue is extensive and memorable, something that would become a key component of a Tarantino film.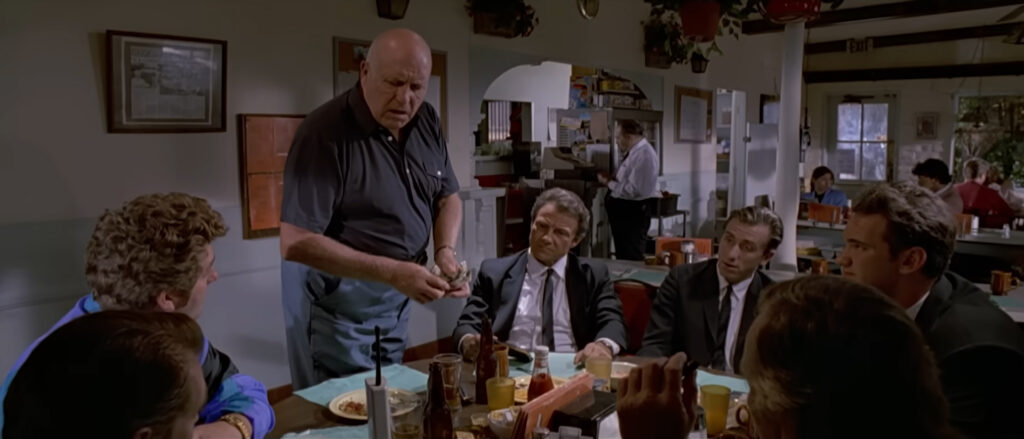 There was a bit of luck involved in the film's creation in that lead actor Harvey Keitel just happened to read the script which was given to him by Quentin's acting teacher's wife. Keitel loved what he read so much so he put up some of the money himself and ended up playing one of the central characters. The rest, as they say, is history and the movie went on to launch Tarantino's career and single him out as one of the most fresh and exciting cinematic voices to emerge in a long time.
Despite the modest budget and relatively simple set up, Reservoir Dogs was an instant hit with critics and audiences alike. It played in various notable film festivals including Sundance and Cannes and was then picked up by Miramax for international distribution. Even if Tarantino had never made another film, he would still be mentioned today, such is the respect that this film has garnered since its release.
2. Pulp Fiction (1994)
After initial success with Reservoir Dogs, Quentin Tarantino then created what would become one of the most talked about films of the 1990s. Pulp Fiction (1994) featured an all-star ensemble cast and further expanded the Tarantino-verse which had been established in 'Dogs'.
More ambitious than his debut film, this sophomore production contains a non-linear narrative which contains a large cast of characters, all of whom are connected in one way or another via the various threads. Another crime-thriller, Pulp Fiction is less insular than its predecessor and sprawls across an L.A. underworld which is packed with gangsters, molls, fighters and freaks.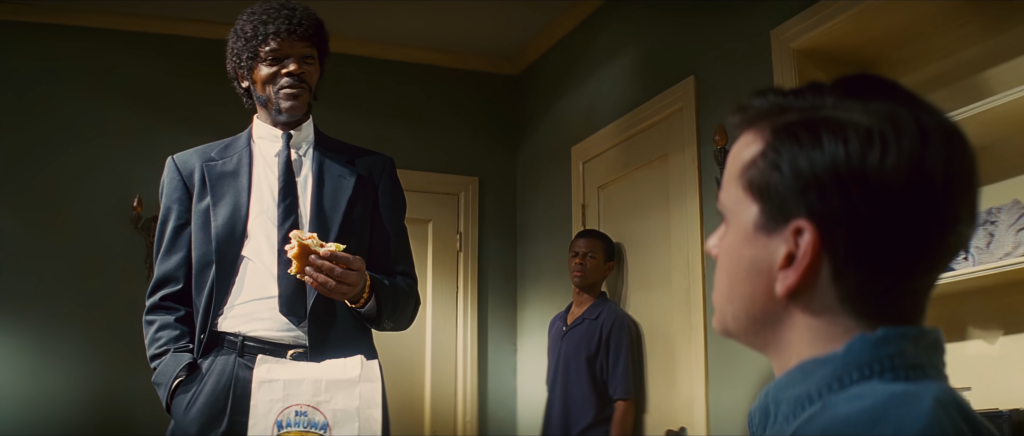 The film stars John Travolta (whose career was resurrected due to his involvement here), Uma Thurman, Samuel L. Jackson, Tim Roth, Harvey Keitel, Bruce Willis, Eric Stoltz, Christopher Walken and Ving Rhames (among others), all of whom give memorable performances in their roles
The dialogue is again idiosyncratic and extremely quotable and the sporadic violence is aestheticized and sometimes shocking. Despite this, the film's tone is fairly humorous and colourful, mirroring its title and solidifying Quentin Tarantino as (at the time) the new whizz-kid on the block. He would not repeat the same cultural success for a few years and some consider this film to be his finest work.
3. Kill Bill Vol. 1&2 (2003/04)
Despite being released as two separate films, Kill Bill Vol. 1 (2003) and Kill Bill Vol. 2 (2004) were originally conceived as one movie. But due to the four hour run-time, this magnum opus revenge thriller was split into two parts, although Tarantino still considers them to be one film. There are edits of the full film, known as Kill Bill: The Whole Bloody Affair, but most of us saw it for the first time as two separate movies.
An obvious nod to the exploitation cinema of the 1970s, particularly those of the martial arts variety, Kill Bill is centred around the character of The Bride, which was developed by Tarantino and lead actress Uma Thurman during the filming of Pulp Fiction. A shocking and bloody tale of revenge most gruesome, this project was something of a return to form for Quentin Tarantino who had spent time after Jackie Brown, directing some television and sections of other movies (e.g. an episode of E.R. which was a popular medical drama on TV as well as one of the vignettes in the movie Four Rooms).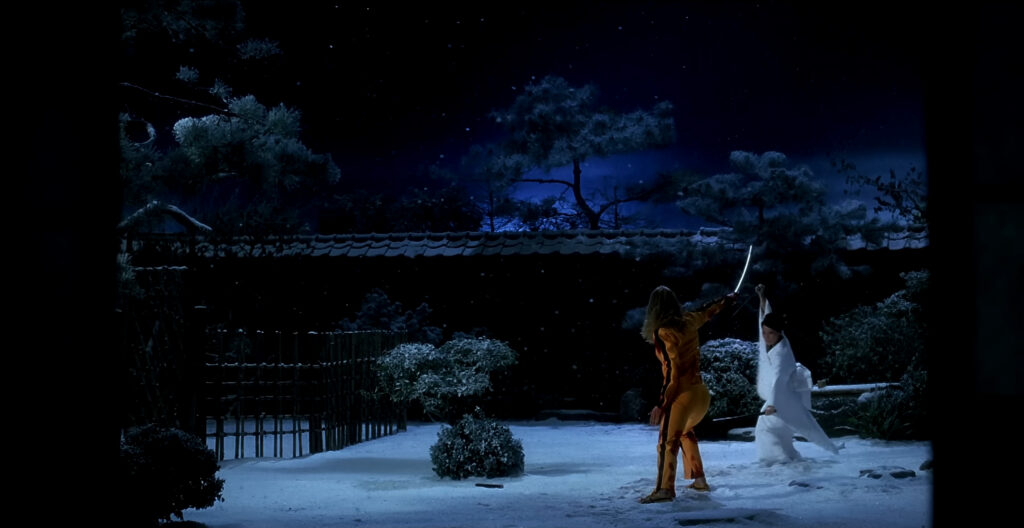 Kill Bill is a stylish homage to a bygone era and Uma Thurman is extremely memorable as the central character. She is joined by an excellent ensemble cast which includes Lucy Liu, Daryl Hannah, David Carradine, Michael Madsen and Japanese actor Sonny Chiba.
All of the usual Tarantino ingredients are present and in plentiful supply. So that means lashings of blood-thirsty violence, fantastic dialogue, flashbacks and a superb soundtrack. Once seen, never forgotten and definitely up there among the director's most popular films. If you haven't seen them, treat yourself and watch both volumes back to back as the author originally intended.
4. Django Unchained (2012)
The word controversy is never far away from any key cultural figureheads and Quentin Tarantino is certainly no exception. Having been criticized previously by some of his peers (including Spike Lee) for his use of "the N word" throughout his writing, Tarantino came under further fire when he decided to make a Spaghetti Western-influenced movie about a freed slave in the deep south of the United States.
Django Unchained is the story about a former slave who is freed and befriended by a bounty hunter and then encouraged to seek out his wife and ultimately free her from the clutches of an evil slave owner. Due to the movie's stylistic approach, which contains such familiar Tarantino tropes as a modern soundtrack, the aestheticization of violence and homages to previous eras of cinema, this film is possibly the most divisive of all Tarantino's work.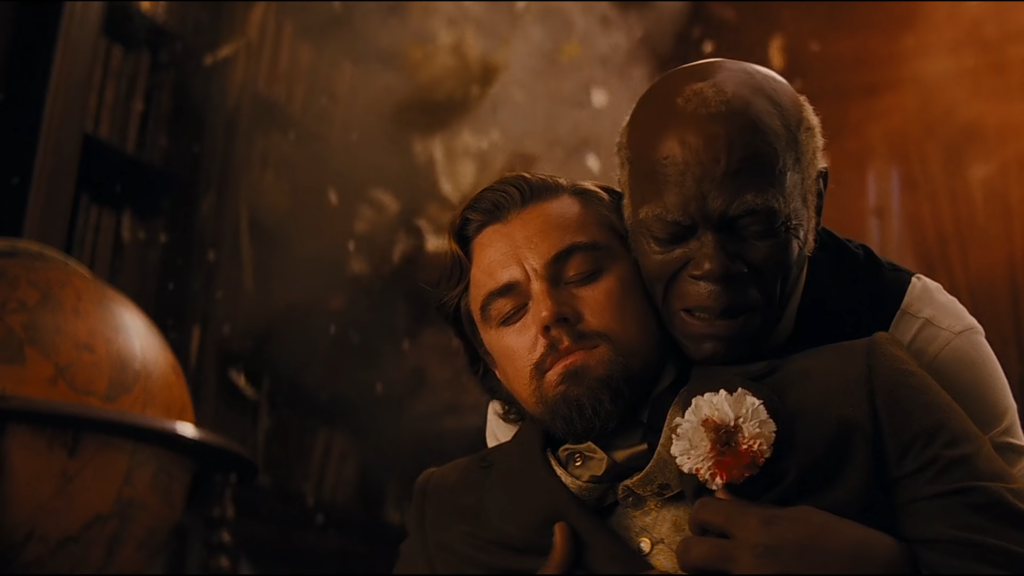 Jamie Foxx plays Django and is joined by Christoph Waltz (who won a Best Supporting Actor Oscar for his role as bounty hunter Dr. King Schultz – something he had also done previously as Col. Hans Landa in Tarantino's Inglorious Basterds); Leonardo DiCaprio, Kerry Washington, Samuel L. Jackson (who incidentally defended Tarantino's use of the dreaded word, citing realism and artistic license as grounds for acquittal); Don Johnson and of course Tarantino himself in a small cameo (perhaps his worst appearance in his own films due to the awful Australian accent he attempts).
Django Unchained is not loved by everyone and is possibly the most controversial pick we have selected for our Top 5, but being fans of the western genre and the incredible performances in the film, we have included it. A rip-roaring assault on the eyes and ears, this movie is possibly Quentin Tarantino's most ambitious and incidentally is also his most financially successful film to date.
5. Once Upon a Time in Hollywood (2019)
The ninth and most recent film from Quentin Tarantino, Once Upon a Time in Hollywood (2019) is a fictional story that uses real events and some real life Hollywood characters as a back drop. The film stars Leonardo DiCaprio as Rick Dalton, an ageing TV and film star who is struggling to keep up with the changes afoot in America in the late sixties and as a result finds his star is fading in the wake of the 'New Hollywood' talent and an ever-changing cultural landscape.
Brad Pitt plays Cliff Booth, Rick's stunt double and best friend who is there to carry the load and provide much needed moral support as Rick struggles to come to terms with his perceived "has-been" status. Rick lives next door to Sharon Tate and Roman Polanski, who juxtaposed to Rick, find their stock is rising and their time at the top is just beginning.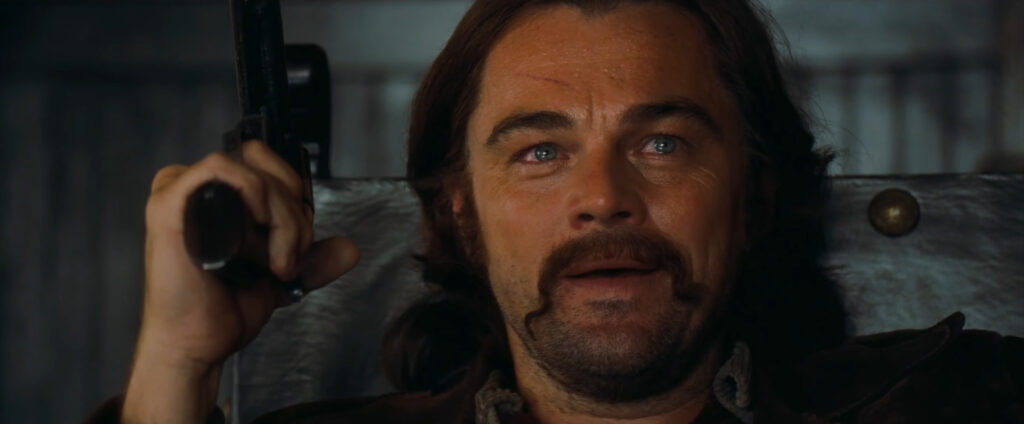 As we all know, in real life Sharon Tate was the victim of a gruesome murder at the hands of the infamous Manson Family, and Once Upon a Time… uses our pre-existing knowledge of pop-culture history to build suspense and keep us on the edge of our seats as two worlds collide and the fate of the young actress (played here by Margot Robbie) hangs in the breeze.
Without wishing to spoil the ending for those that have not seen it, let's just say that Quentin Tarantino has created something very special in this movie and answers many of his critics in the most creative and imaginative way possible. We have talked more about this film in one of our early podcasts, which you can listen to here.
So that's our Top 5 Quentin Tarantino Films
Think we've missed any out, or not included your favourite Quentin Tarantino movie? Then let us know in the comments below.
You can read more of our reviews here.
Please join in 'the conversation' with us on social media on Facebook, Instagram, Tik Tok and Twitter. We really appreciate all the likes, shares, retweets etc., and we would love to hear from you and continue the wonderful celebration of all things cinema on these platforms.
If you love to watch videos on YouTube, then please subscribe to our channel here. There's lots of fun and informative videos uploaded that we hope you will enjoy!
We have a passion for movies and aim to produce entertaining and informative movie-related content. It certainly is a lot of hard work, but we love films so much that it's worth all the effort. We have to keep the lights on and make sure we have plenty of caffeine to keep all of the articles, videos and social media posts coming, so if you like our work, then please consider supporting us at Buy Me A Coffee here. You can also become a More Movies patron on Patreon here.
To help support us here at More Movies, we do use advertising in a few places, so we appreciate it if you do not use AdBlockers on our site, as this helps keep a few pennies trickling in. We also utilise affiliate links throughout the site, usually to help guide our readers to places to stream, rent or buy the movies we talk about. One of the biggest sources for movies online is Amazon Prime Video, where you can stream over 18,000 films. If you are interested in Prime and haven't signed up yet, you can get a 30-day free trial via this affiliate link, which helps support us too.