Cruella is a 2021 comedy-drama film from Walt Disney Studios. It is directed by Craig Gillespie and stars Emma Stone, Emma Thompson, Joel Fry, Paul Walter Hauser and Mark Strong. The story follows Estella, a young girl who has ambitions to become the world's greatest fashion designer.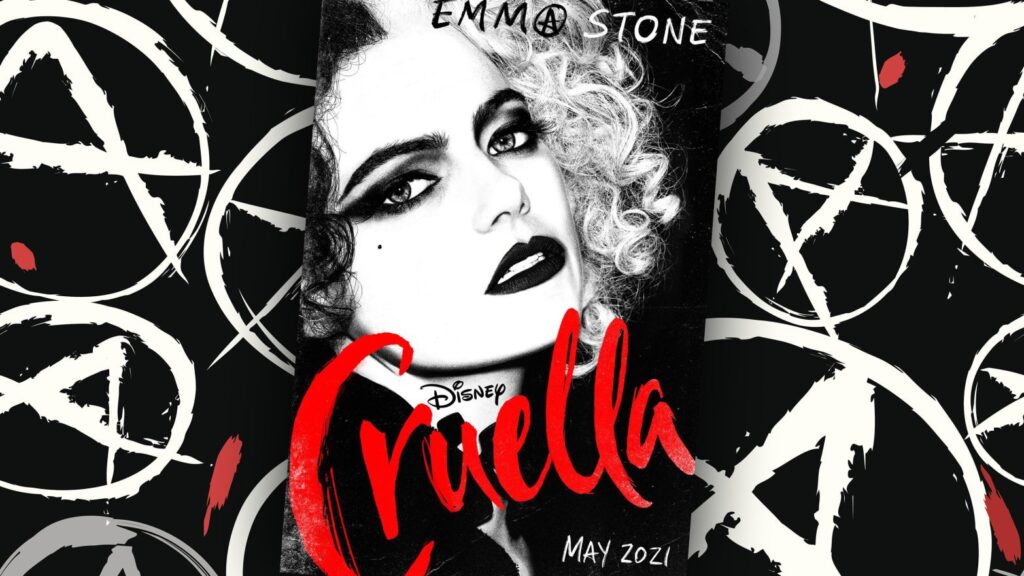 Cruella is an origin story for one of Disney's most notorious antagonists, the infamously wicked Cruella De Vil, who first appeared in the animated feature One Hundred and One Dalmatians in 1961, which was itself adapted from the 1956 novel The Hundred and One Dalmatians written by British author Dodie Smith. The original animated film is a Disney classic, and most of us will have seen it as children and who can forget the wild-eyed rantings of the evil Cruella as she plots to kidnap all of the dalmatian puppies and turn them into a fur coat that matches her monochromatic fashion sense.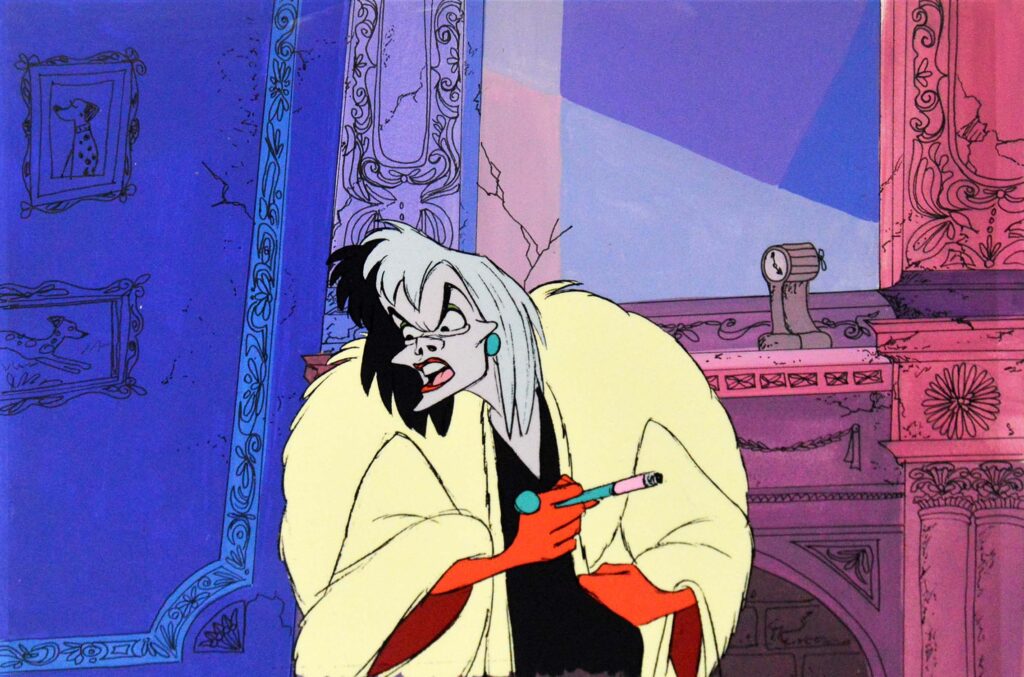 With a recent spate of live-action or photo-realistic Disney remakes, stories such as Alice in Wonderland (2010), Cinderella (2015), Beauty and the Beast (2017), Aladdin (2019), Mulan (2020) and Dumbo (2019) have all had the big-budget transformative treatment over the past few years. But this recent run of rehashed classics originated in the 1990s with The Jungle Book (1994), which was swiftly followed by 101 Dalmatians (1996) and the sequel 102 Dalmatians (2000).
The '96 version was a direct remake of the '61 animated film and starred Glen Close as Cruella De Vil. Since the sequel, Disney has given the character a rest for two decades until this recent effort, which explores the backstory for the character and sheds new light on the experiences that led to her becoming the scary and domineering antagonist that we are by now, more than familiar with.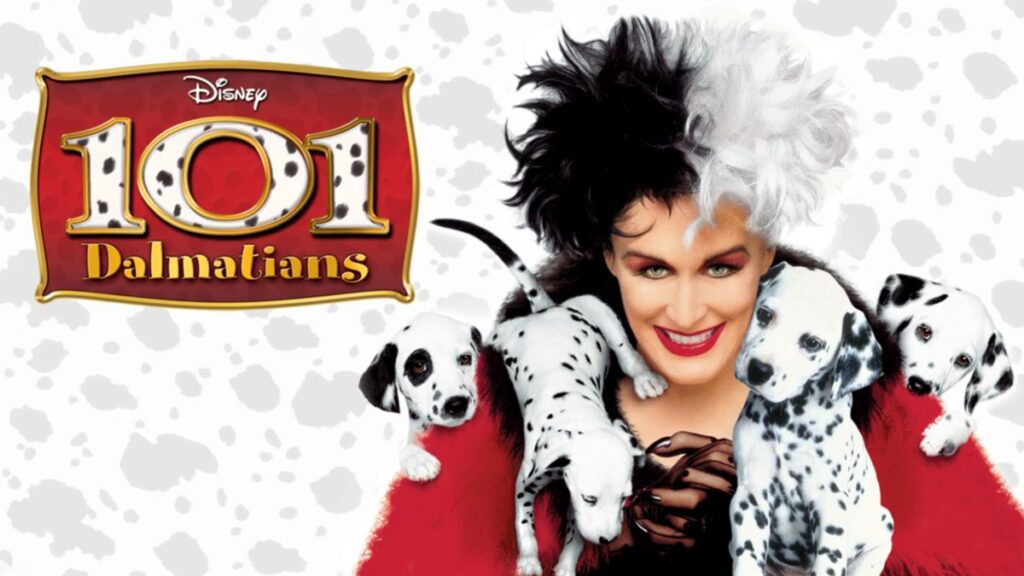 The 2021 film begins with the young Estella, who is starting at a new school. She is a talented and precocious kid who has a flair for fashion design but also has a cruel streak causing her mum to nickname her "Cruella" in an attempt to highlight her bad behaviour and encourage her to differentiate between her naughty antics and her sweeter, more well-behaved nature. Being raised by a single parent and having been moved about from pillar to post once too often, Estella is the perpetual outsider, which leads to her clashing with the bullies at school and landing herself in lots of trouble with dependable regularity.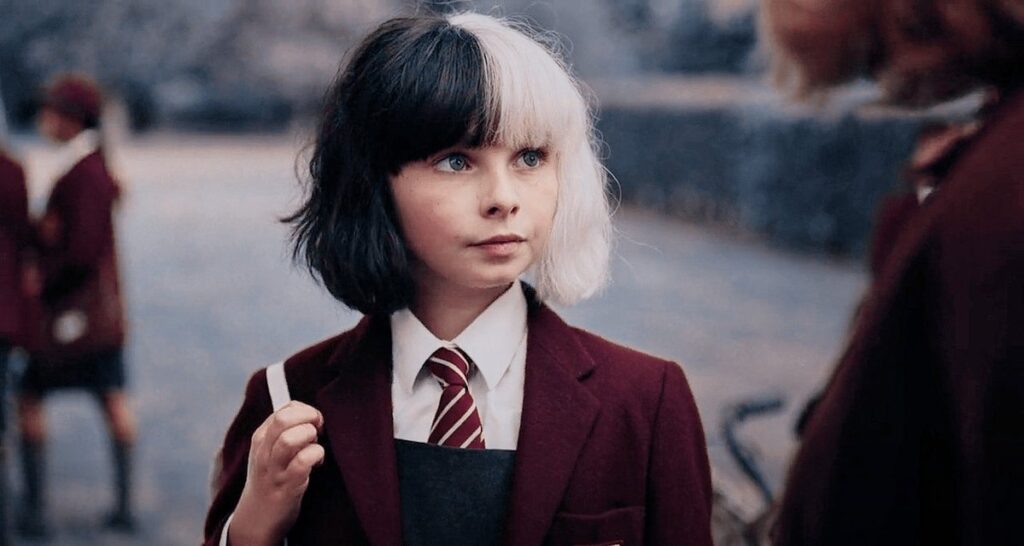 After a tragic event involving Estella's mum and a pack of ravenous dalmatians, the young girl is left to fend for herself on the streets of 1960s London. There she is befriended by Jasper and Horace and embarks on an Oliver Twist-style life of pickpocketing and thievery in order to survive. As she comes of age and turns into Emma Stone, the adolescent Estella lands a cleaning job at a fashionable London High Street store. Although not an ideal position, this job helps her to get a foot on the ladder when she meets top haute-culture mogul The Baroness, who is played by the excellent Emma Thompson.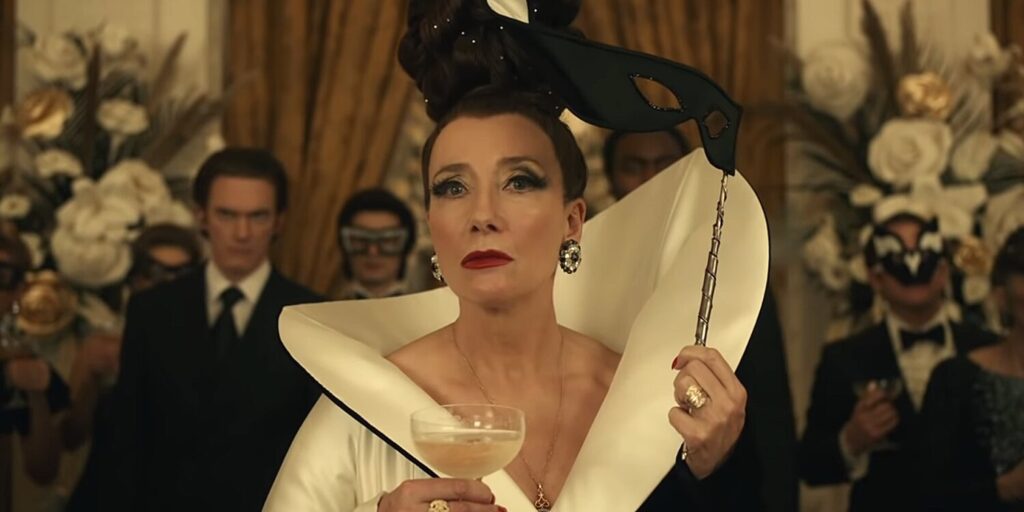 As you might expect, the quality of the production is as good as it gets, with all the Disney flare and stylisation you could throw a stick at being employed to great effect. Stone is on form as the titular anti-heroine and the support from Fry, Hauser and Strong is a great example of perfect casting. Emma Thompson turns in a solid performance as the aloof Baroness, and the soundtrack is simply superb. The cinematography is modern, inventive and extremely fluid and compliments the 1960s and 70s set designs and costumes, which evoke a vibrant, swinging London of yesteryear par excellence.
So, is this all just style over substance? Well, to be fair, at least this film is not a direct remake. It is instead an attempt to do something a little different with some old and familiar material. Is it a game-changer? No. Is it a bit of fun that the whole family can enjoy together? Yes. The character's motivations are a little bit juvenile and under-developed, and the plot is somewhat predictable and obvious, but if you can let all of that go and allow yourself to revel in the glitz and glamour of the ride, then you might just enjoy this one.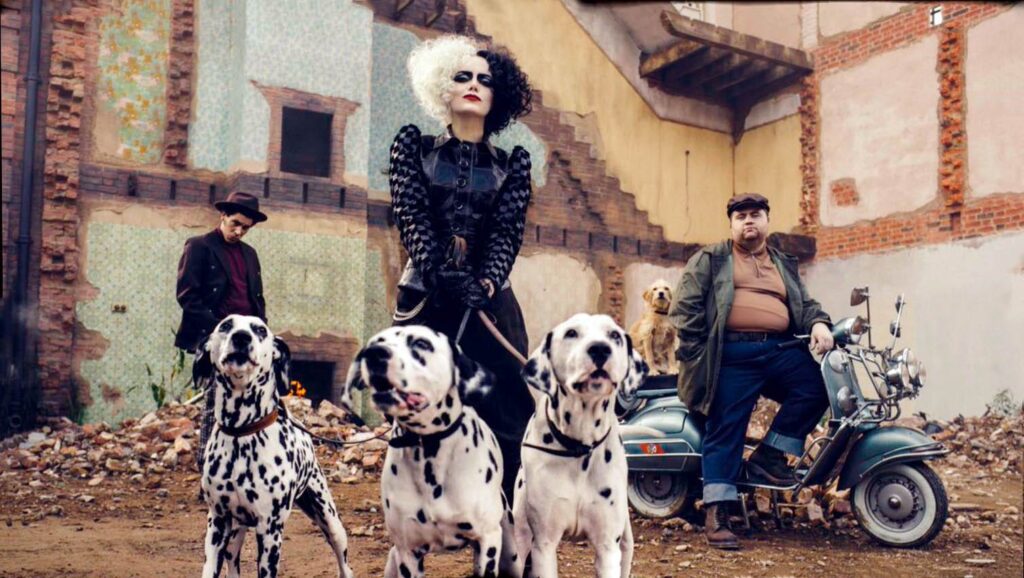 There are a lot of fun scenes, and the overall pacing is pretty good. Have I seen better efforts at this type of family film in recent years? Yes, I would earmark Paddington (2014) and its sequel Paddington 2 (2017) as being a cut above the general modern standards, but Cruella is far from the worst family film I've watched in a while, and I would have to give this one a seal of approval. It won't change your life, and older viewers are bound to be completely uninterested in spending their time viewing this easter egg-laden nostalgia ride. But younger film fans and families will almost certainly find it an enjoyable few hours of fun.
Well, that's it for this review of Cruella!
What did you think of Cruella? Did you enjoy it? Let us know in the comments below.
You can read more of our reviews here.
Please join us on social media on Facebook, Instagram, Tik Tok and Twitter. We really appreciate all the likes, shares, retweets etc., and we would love to hear from you and continue the wonderful celebration of all things cinema on these platforms.
If you love to watch videos on YouTube, then please subscribe to our channel here. There's lots of fun and informative videos uploaded that we hope you will enjoy!
We have a passion for movies and aim to produce entertaining and informative movie-related content. It certainly is a lot of hard work, but we love films so much that it's worth all the effort. We have to keep the lights on and make sure we have plenty of caffeine to keep all of the articles, videos and social media posts coming, so if you like our work, then please consider supporting us at Buy Me A Coffee here. You can also become a More Movies patron on Patreon here.
To help support us here at More Movies, we do use advertising in a few places, so we appreciate it if you do not use AdBlockers on our site, as this helps keep a few pennies trickling in. We also utilise affiliate links throughout the site, usually to help guide our readers to places to stream, rent or buy the movies we talk about. One of the biggest sources for movies online is Amazon Prime Video, where you can stream over 18,000 films. If you are interested in Prime and haven't signed up yet, you can get a 30-day free trial via this affiliate link, which helps support us too.