Even though I consider myself to be reasonably well versed in 1970s cinema, particularly that produced by the so-called New Hollywood movement, I had never gotten around to watching Francis Ford Coppola's The Conversation until just the other day. This intricate and unassuming movie is easy to miss and lurks in the shadows, out of sight, quietly waiting for you to watch it, in my case for a number of decades… listening to your every move, silent, patient.
No doubt about it, this is a movie all about eavesdropping. The entire film industry encourages us to indulge our secret voyeuristic inclinations. We love to watch, to learn, to secretly observe the other. We get a kick out of seeing people behave naturalistically as if no one is watching. But of course, we always are.
Films such as Rear Window (1954), Blow Up (1966) and Le Samouraï (1967) were undoubtedly precursors to the paranoid, political murder-mystery thrillers that developed in the 1970s. The Alan J. Pakula 'political-paranoia trilogy' Klute (1971), The Parallax View (1974) and All The President's Men (1976) were covered for More Movies by Lyndon Mytton in his articles about this masterful series of films.
There's Sydney Pollack's amazing Three Days of the Condor (1975) and John Schlesinger's frighteningly good Marathon Man (1976), to name some of the more well-known efforts. In the midst of all these iconic characters and manic moments in cinema history, a quiet, bespectacled man of forgettable description, sits on a public bench in a busy public plaza, and so begins our observation of Harry Caul.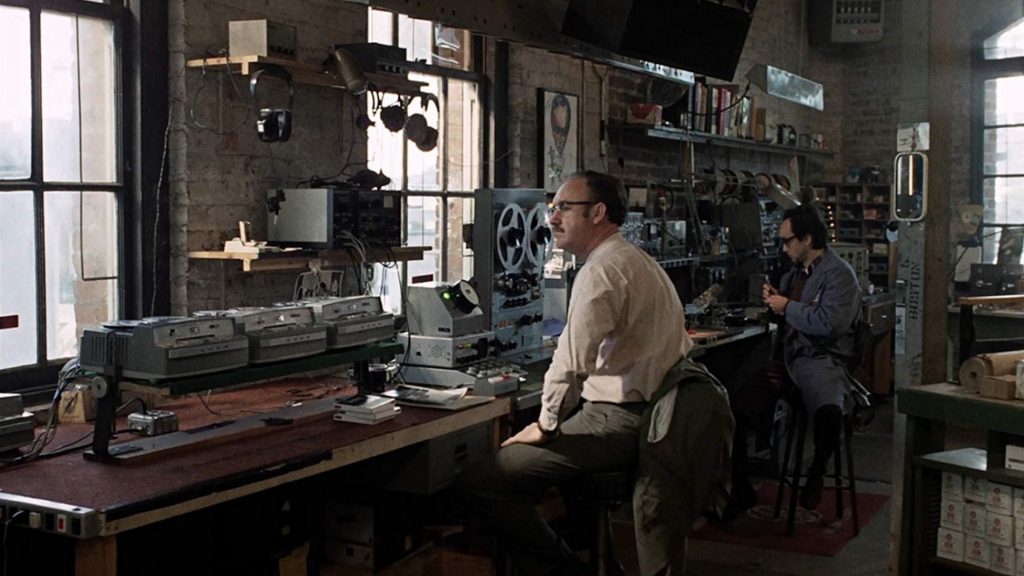 The Story
Harry is a private surveillance professional who is one of the very best in his field. One bright afternoon in San Fransisco, Harry and his team of covert recordists are taping a conversation between two people in the aforementioned busy plaza, Union Square. The conversation veers from general chit-chat into something more immediate and somewhat guarded as a man and a woman talk about an anonymous third party and also worry that they are being listened to. Which indeed, they are, by Harry and his team and of course by us.
We see that Harry is a very closed and guarded individual who is obsessive about his work and intensely private. His apartment has several locks on it as well as an alarm system. He takes his landlady to task about entering without notifying him, and he seems a little paranoid. It seems the only pleasure he allows himself is to play along to jazz records on his saxophone.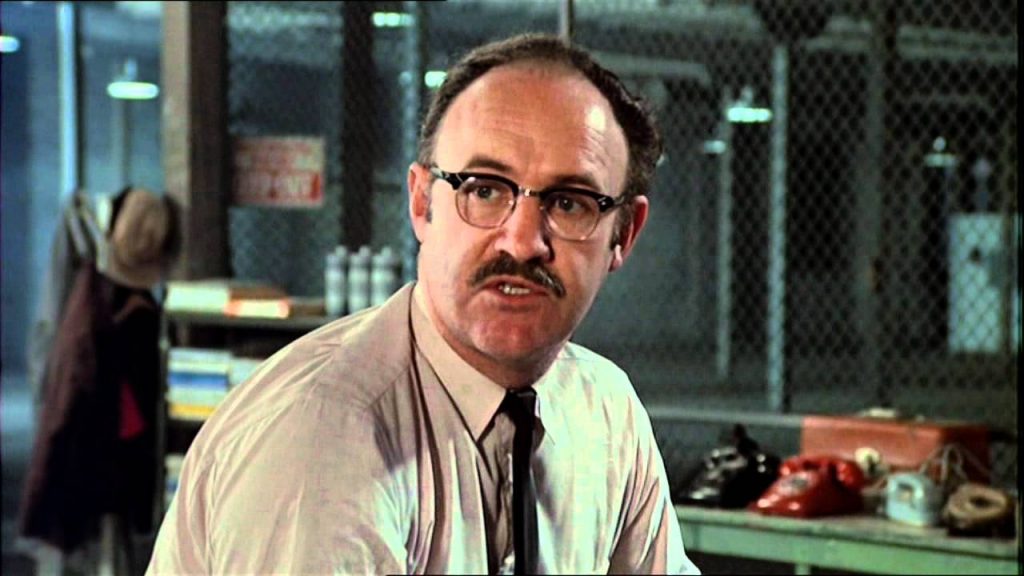 This is a man that has been tainted by his work. There seems to be an underlying unease about him that results from working as a surveillance operator. All the years spent spying on other's personal lives and private moments have left him unwilling to have anything personal or meaningful in his own life. Maybe this is from a fear of being observed by an unknown voyeur. As Harry continues to work on the recordings of the conversation taped in the first scene, he begins to discover that there may be more to the couple's words than meets the ear.
He attempts to deliver the recording to his client, but when he arrives at the office, he finds out that the client (Robert Duvall) is absent, but his assistant (played by Harrison Ford) offers to take them on his behalf. Harry is uncomfortable with this. A moment of tension arises when he refuses to hand over the tapes to the assistant, who then warns Harry not to get involved in something like this as it is a dangerous scenario. As his paranoia increases, Harry becomes more and more convinced that the lives of the people he has taped may be in mortal danger.
This veiled threat is not taken lightly by Harry, and he leaves with the tapes, determined to hold on to them until he can deliver them into the hands of his client and no one else.
Harry is now convinced that he is listening to a conversation in which two people fear for their own lives, and this is beginning to bother him immensely. Having already chewed out his colleague Stan for expressing a personal interest in the nature of the targets' chatter, Harry is starting to crack, and the personal intrigue and ethical questions that arise when spying on people are now taking their toll on his conscience and later in an amazing Hitchcock-meets-Fellini style dream sequence, his subconscious.
As the story develops, Harry becomes more unhinged. We witness a man starting to implode from his work pressures, whose paranoia is heightened by recent interactions and what he interprets to be a murder plot. His mind gets the better of him, and he becomes more deeply embroiled in the situation, despite having been warned to stay out of it. What results is a chain of unexpected events that shock Harry as much as it will shock us, the silent and attentive witnesses.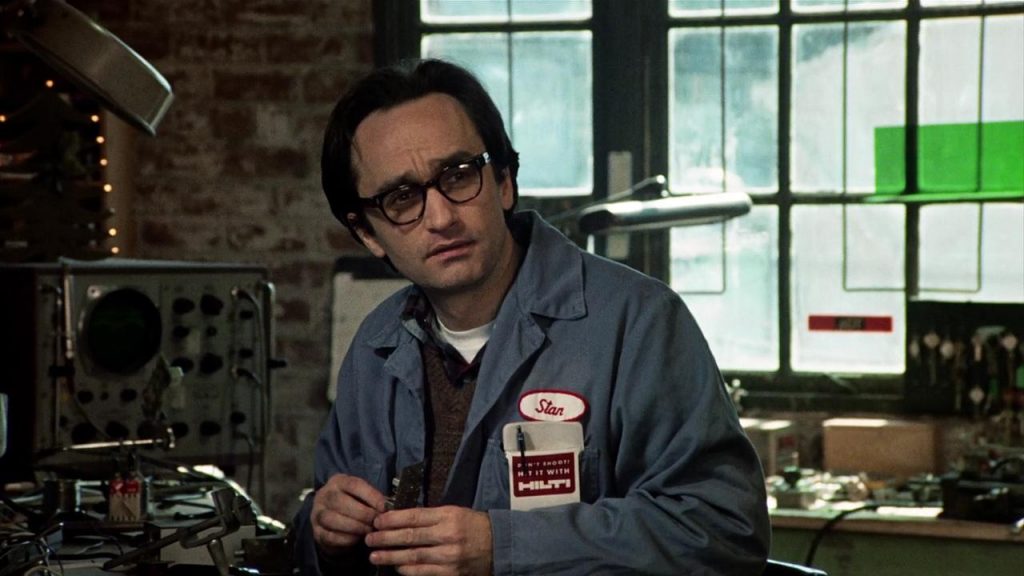 Themes and Political Economy in The Conversation
As I have mentioned at the top of the article, The Conversation was released during a period in cinema where the 'Hollywood New Wave' was producing a series of political thrillers, each of which dealt with paranoia, espionage, corruption, abuse of power and state-sponsored surveillance. The United States was experiencing the shockwaves of the Watergate Scandal with disgraced president Richard Nixon at the centre of a political maelstrom that is still referenced and talked about today.
The Conversation indeed comments on this political economy of the time and delves into the concept of interpretation and how an objective bias or misinterpretation can sometimes influence a subjective point of view. This calls in to question the idea of the truth and how much of an abstract concept that is. We can think we know something, but how can we ever be sure of anything without first-hand experience?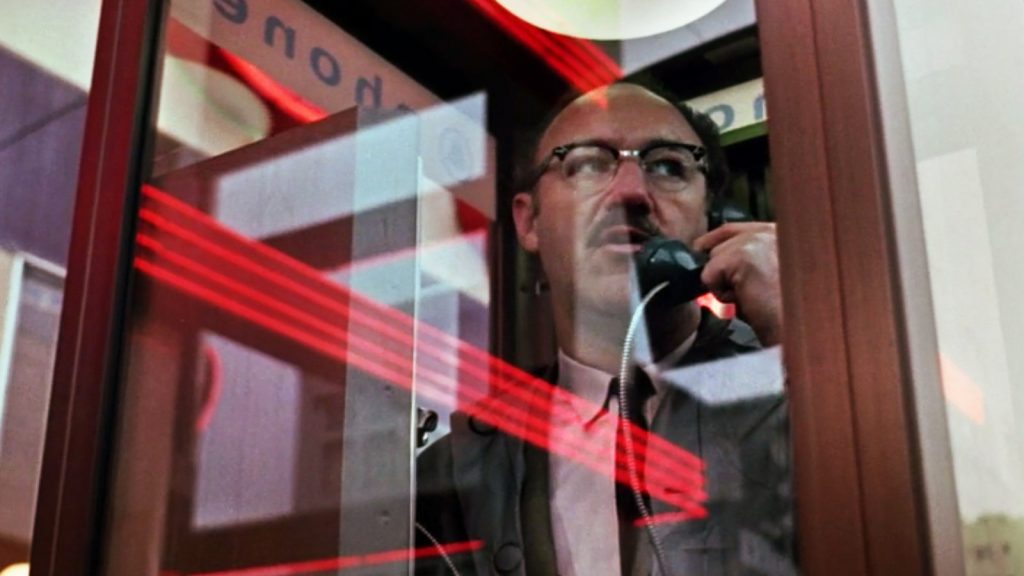 The ever increasing advances in technology play a big part in the ideas discussed in the film. The Conversation reveals a world in which we are all potentially at the mercy of being spied upon by 'the other'. The central character does this for a living, but his knowledge of the business, his experiences in the field and the technology available to execute such activity has only increased his own personal fears that he is being watched and listened to by a clandestine party.
In a world where technology is constantly encroaching on our day-to-day life, and the world is becoming evermore reliant on gadgets in order to operate effectively, it is no wonder that artists like Francis Coppola wished to comment on this phenomena and, in a sense, warn us, the audience, about the ills of this dependency.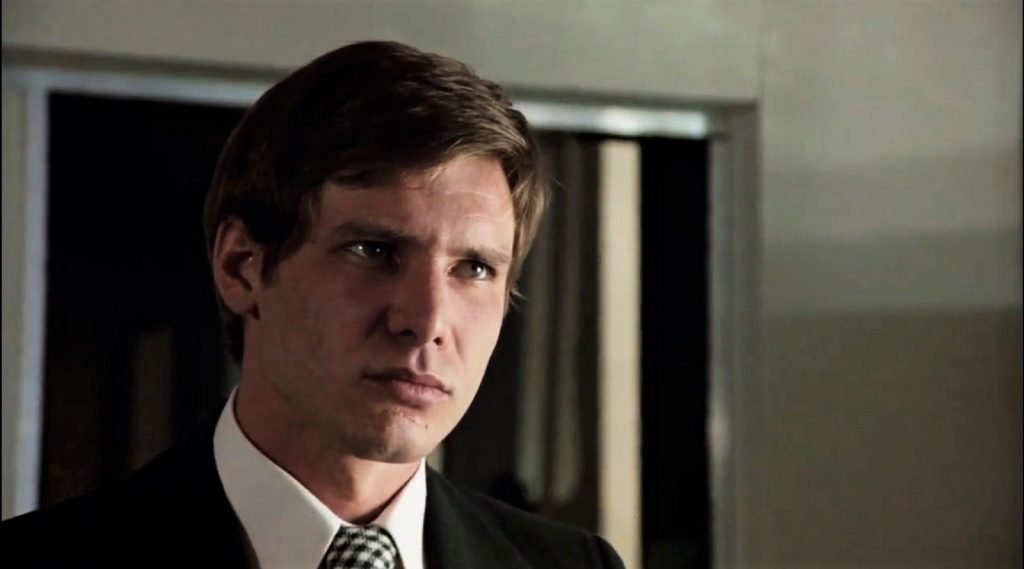 Summary
In a lot of ways, The Conversation is way ahead of its time and therefore all the more frightening, considering it was released 47 years ago. Our relationship with technology has increased exponentially, and the ability to spy on people has become unimaginably accessible. Whistleblowers like Edward Snowden have put themselves in great danger and discomfort to reveal things about the government's surveillance techniques that will make you fear for your own privacy whenever you use your mobile phone.
Data is a modern currency, and we are constantly feeding the monster whenever we interact with the online world of mass communication. Francis Ford Coppola knew this back in the 70s, and his prescient movie is more relevant now than ever. With terms like 'fake news' and 'alternative facts', we find ourselves in a Harry Caul-style paranoid state of mind, in which we either choose to completely ignore the repercussions of using this technology, or else we worry so much about it that we become debilitated by the thought.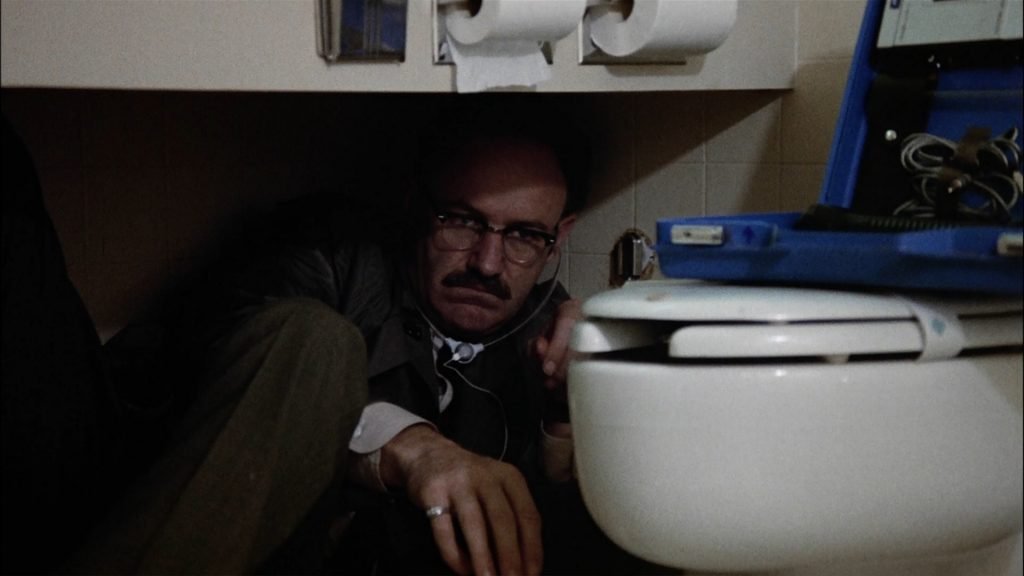 A unique and incredibly well-acted film, The Conversation is rightly considered to be a quiet masterpiece by many. Hackman is on top form, displaying his expansive range by playing a taciturn, non-aggressive and flawed character that suffers the results of the closed-off life he has attempted to live. Morals and ethics are at the forefront of this film's themes, along with an invitation to consider whether what we believe to be accurate and unquestionable, is in fact, just our own interpretation of events.
The Conversation is a fabulous film from Coppola, released in the same year as the Godfather II and therefore not as well remembered as it could be, all these years later. Give it a spin, and try not to rip your home to pieces in a fit of paranoia after you've soaked it all in.
That's it for another review!
You can read more of our film reviews here.
Please join in 'the conversation' with us on social media on Facebook, Instagram, Tik Tok and Twitter. We really appreciate all the likes, shares, retweets etc., and we would love to hear from you and continue the wonderful celebration of all things cinema on these platforms.
If you love to watch videos on YouTube, then please subscribe to our channel here. There's lots of fun and informative videos uploaded that we hope you will enjoy!
We have a passion for movies and aim to produce entertaining and informative movie-related content. It certainly is a lot of hard work, but we love films so much that it's worth all the effort. We have to keep the lights on and make sure we have plenty of caffeine to keep all of the articles, videos and social media posts coming, so if you like our work, then please consider supporting us at Buy Me A Coffee here. You can also become a More Movies patron on Patreon here.
To help support us here at More Movies, we do use advertising in a few places, so we appreciate it if you do not use AdBlockers on our site, as this helps keep a few pennies trickling in. We also utilise affiliate links throughout the site, usually to help guide our readers to places to stream, rent or buy the movies we talk about. One of the biggest sources for movies online is Amazon Prime Video, where you can stream over 18,000 films. If you are interested in Prime and haven't signed up yet, you can get a 30-day free trial via this affiliate link, which helps support us too.