Fans of comedian Pete Davidson will be particularly interested in Judd Apatow's latest film release The King Of Staten Island, a comedy drama featuring Davidson in a semi-autobiographical roll as a stoner drop-out in his mid-twenties, who is attempting to get a handle on life by learning to respect those closest to him and taking on a bit of responsibility along the way.
Quirky male characters stuck in a state of arrested development is a recurring theme which Apatow likes to keep exploring. With examples like Knocked Up (2007), Funny People (2009) and This is 40 (2012) serving as ample evidence. There's nothing wrong with continuing to hone a craft and repeat certain meditations with the goal of perfecting the art in question. I say that because this movie is perhaps his best yet, and perhaps that is in no small part to Pete Davidson's input, as co-writer and inspiration for the story, as well as giving a strong performance as central character Scott.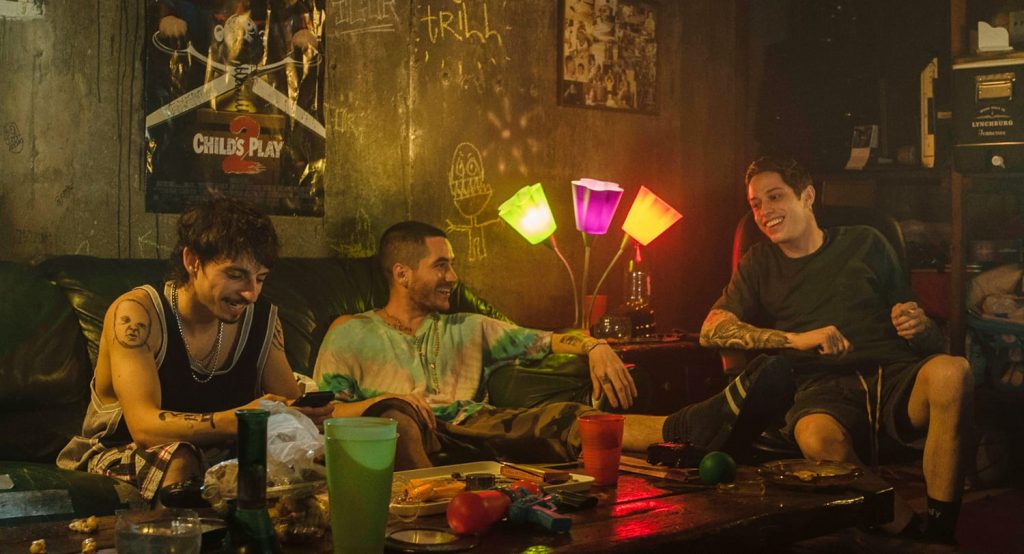 Scott is a 24-year-old dude that loves hanging out with his friends, getting high, having casual sex with women and harbours dreams of becoming a sick tattoo artist. He unloads all his neurosis onto his mother and sister, who he has very one-sided and selfish relationships with. The ever-youthful Marisa Tomei plays Scott's long-suffering mum Margie and Apatow's own daughter Maude plays a great part as sister-with-her-shit-together, Claire.
The source of Scott's depression and anxieties is the death of his fire-fighter father, which happened when he was only 8 years old. Sadly, this is where Davidson and his character have the most in common. Pete's dad was killed in the World Trade Centre disaster on 9/11. Much like Scott, Davidson has experienced the after effects of such a heavy loss, depression and anxiety plaguing him throughout his childhood and adolescence. Therefore, he is truly playing this part with genuine pathos and empathy, as well as his unique brand of sardonic, dark humour which he is best known for as a stand-up comic.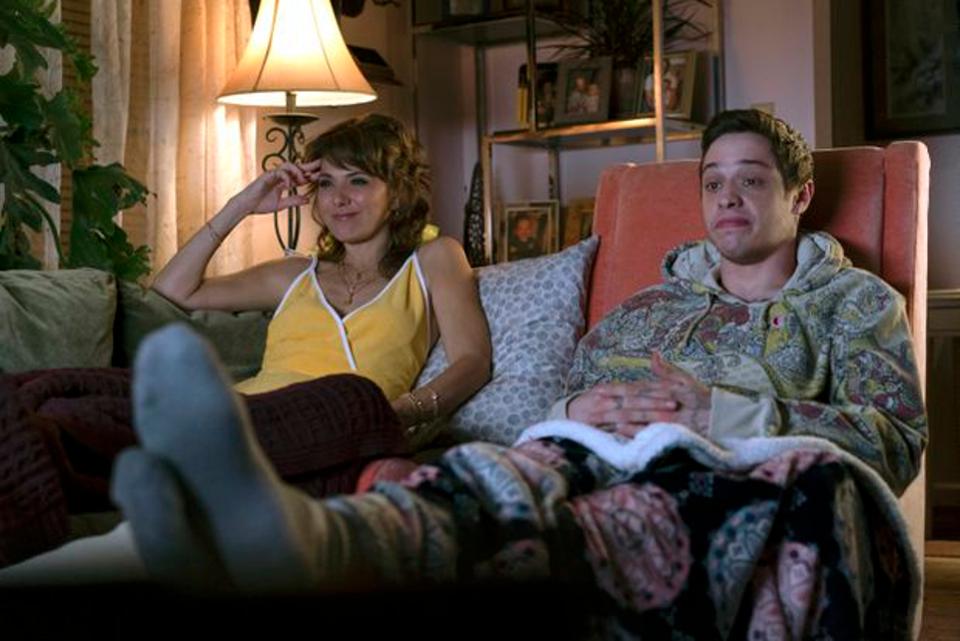 With his sights set on becoming a tattoo artist and little else, Scott offers a free inking to a young kid called Harold, who stumbles upon Scott and his friends hanging out in a wooded wasteground. Initially enthusiastic and egged-on by the older boys, the kid soon realises what he's in for and runs away with a small line tattooed on his arm. A little time later, the kid and his dad are at Margie's door, demanding an explanation and insisting it be put right or else. Harold's dad Ray, is played by Bill Burr, who also shines in the drama department, despite his reputation as a stand-up comedian.
Needless to say, Ray falls for Margie, and the angry situation of the tattoed Harold, soon becomes Ray's opportunity for romance. Having never dated anyone since the death of her husband, Margie begins a relationship with Ray, much to the annoyance of Scott who is horrified to discover that Ray is also a fire-fighter. His mum's new relationship forces Scott to spend time with Ray and therein lies the opportunity for some great comedy moments. But this time, Apatow and company have decided to bring an equal measure of drama, which gives the film a more realistic vibe. Both Davidson and Burr bring the acting chops to the table, antagonising one another with hilarious put-downs and scathing truisms. The quippy one-liners are left to the experts such as Steve Buscemi who plays a great cameo as Ray's fire-chief, Papa.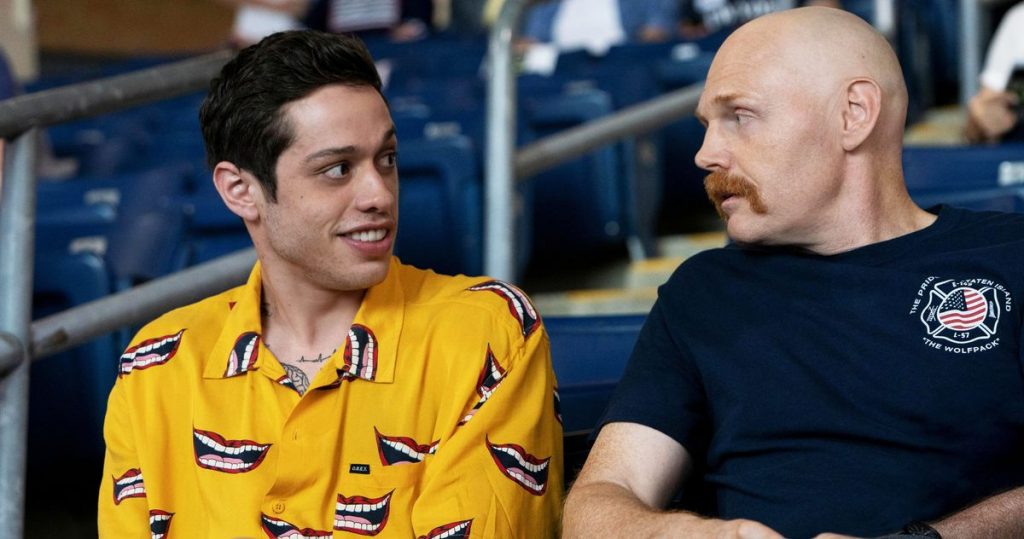 This weightier element to The King of Staten Island makes it stand out from previous Apatow comedies, in that the characters are given more space to be average, flawed… more realistic! There are genuinely funny moments throughout, but the comedy is rightly put on the backburner in favour of a more satisfying character study. The supporting cast, which also includes Bel Powley as Scott's lover Kelsey, all give a measured and pragmatic performance so that even the stoner friends, who are most at risk of being stereotypes, give a more believable and grounded rendering.
The plot is rather stretched out over the 2 hour plus run time, and certain elements of the script could be deemed as unnecessary and probably should have been cut. The story's core is in the relationship that Scott forms with Ray. Despite their differences and mutual dislike, Ray becomes essential to Scott's development, providing the opportunity to learn responsibility. Firstly, Scott has to walk Ray's kids to school, tattooed Harold and his younger sister Kelly who quickly become a big part of Scott's life and inspiration for him to better himself. Secondly, Scott ends up at the firehouse where he cleans and does odd-jobs, in return the firemen provide a more wholesome place for him to hang-out and tell him stories about his father, helping to feel closer to the man he never got to know.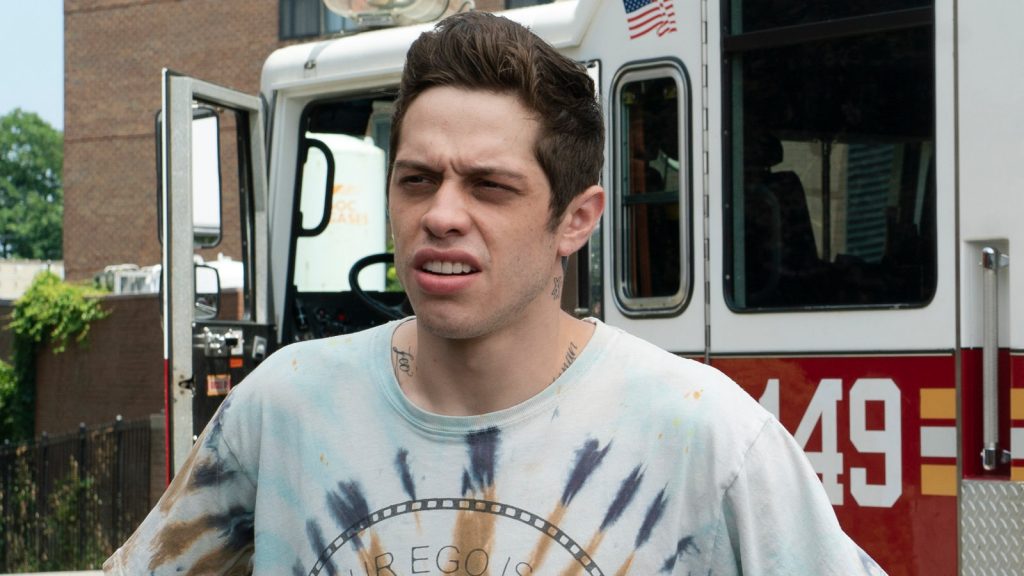 This rites of passage dramedy is on the whole, a worthy offering from Apatow. Here he has shown a more mature approach to this well-trodden subject matter and produced a solid effort that I have to admit, was a genuinely good watch. Considering the title, the cinematography did not do the greatest job of showcasing this particular borough of New York City, but the performances are what keep you watching, all the way through to an admittedly satisfying conclusion.
This is truly Davidson's film and one where he and fellow comic Bill Burr have both proven their capable abilities as dramatic actors. Their showdown in the backyard is a particularly great example of both actors letting loose and having a good old fashioned set-to. British actress Powley is also noteworthy as the honest and caring Kelsey, who suffers for her love of Scott, but continually tries to bring out the best in him, despite his many selfish proclivities. She remains his linchpin throughout and is ultimately the key to his emotional metamorphosis.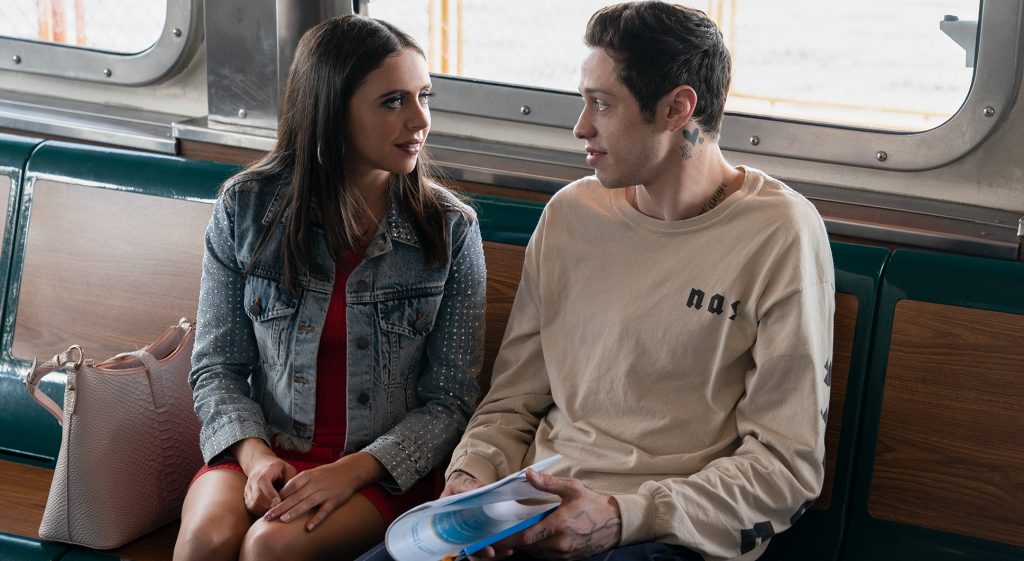 The King Of Staten Island is available to stream online having had a disrupted box office run due to the Covid 19 pandemic. Certainly worthy of being considered the feel-good hit of the summer.
Take a look at some more of our film reviews here and and please join us on Facebook and Twitter.
If you enjoy our content, please consider supporting us here.