Perhaps one of the most influential and important American filmmakers of all time, John Ford is widely considered to be the director's director. It is easy to see the impact that Ford made on younger filmmaker's like Steven Spielberg, David Fincher and Quentin Tarantino, as well as his contemporaries such as Akira Kurosawa and even the great Orson Welles, who reportedly watched John Ford movies in preparation for filming his masterpiece Citizen Kane (1941).
John Ford directed over 140 feature films in his lengthy and illustrious career. He started in the early silent-era of Hollywood's heyday, producing his first effort, a short film entitled Tornado, in 1917. He is mainly associated with creating epic westerns and his long-time collaborations with such actors as Henry Fonda, James Stewart and John Wayne is well known and documented. However, a deeper dive into his back catalogue reveals a more wide-ranging body of work, something we have tried to reflect when compiling our shortlist below.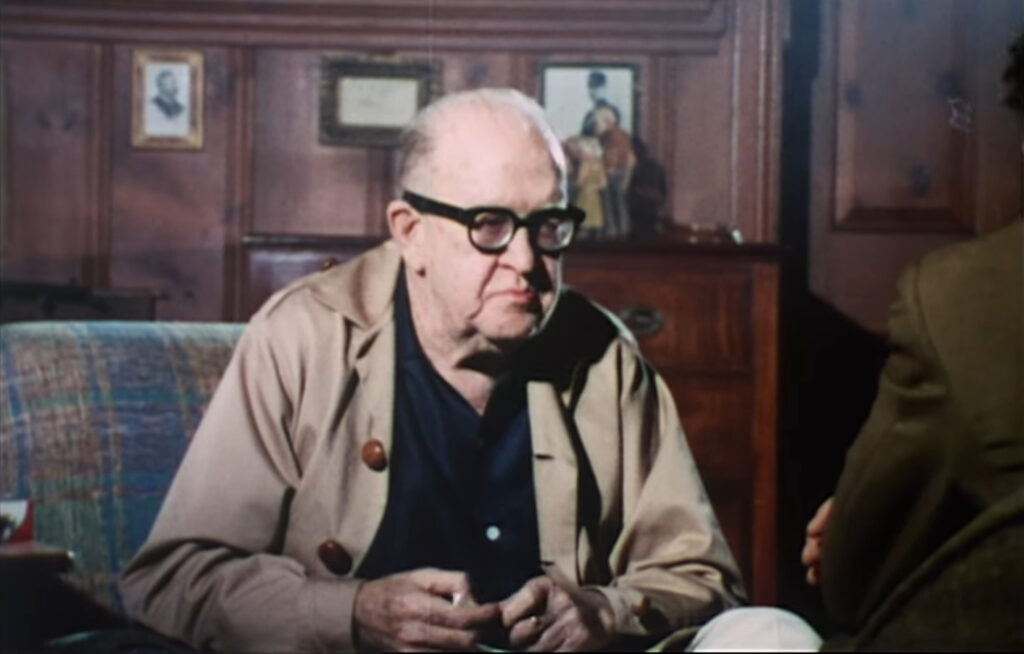 "I like, as a director and a spectator, simple, direct, frank films. Nothing disgusts me more than snobbism, mannerism, technical gratuity… and, most of all, intellectualism."

John Ford
He won the Academy Award for Best Director four times but never showed up to the ceremonies to collect his Oscars, such was his disdain for the pomp of such occasions. He was also a highly decorated military officer, working with the O.S.S. to create documentaries for the Naval Department. He filmed the Battle of Midway, getting injured by shrapnel, and he also crossed the channel on D-Day and filmed the storming of Omaha Beach.
John Ford was a complex character, a man associated with rugged toughness, masculinity and the all-American way of life. But as with any great artist, the truth is often much more elaborate. There are those who say he projected an image of uncompromising, impenetrable ruggedness but that he was, in actual fact, a very emotional and caring person who hid his softer qualities from the world to maintain the illusion of machismo he had become associated with.
Either way, his command of visual language on the big screen is unparalleled, and his films have had an undeniable and far-reaching effect on critics, audiences and fellow filmmakers alike. To this day, John Ford's importance as a key figure in film history is still felt and celebrated, and most people have seen at least one of his movies in their lifetime. His expert framing, ingenious blocking and note-perfect pacing combine with a canny ability to cast the perfect players, both lead and background, and reveal a man with a natural intuition for storytelling who has left an incalculable mark on an artform (or as he might say, an industry) that he helped to build and propagate.
Here we list our Top 5 films by this incredible genius, but I heartily recommend seeing as many John Ford films as you can. With so many films to choose from, this list should be viewed as a varied introduction to his portfolio, not a definitive selection.
As always, our choices are listed chronologically…
1. Stagecoach (1939)
The film propelled the career of John Ford to legendary heights and launched the career of the lead actor John Wayne, Stagecoach (1939) is, for many, the ultimate western archetype. Packed full of action and impressive stunt work, this movie was Ford's first "talkie" western and one that's influence can be tracked throughout the years, perhaps most notably on a film like Raiders of the Lost Ark (1981), which copied many of the movies ideas and scenes to great effect.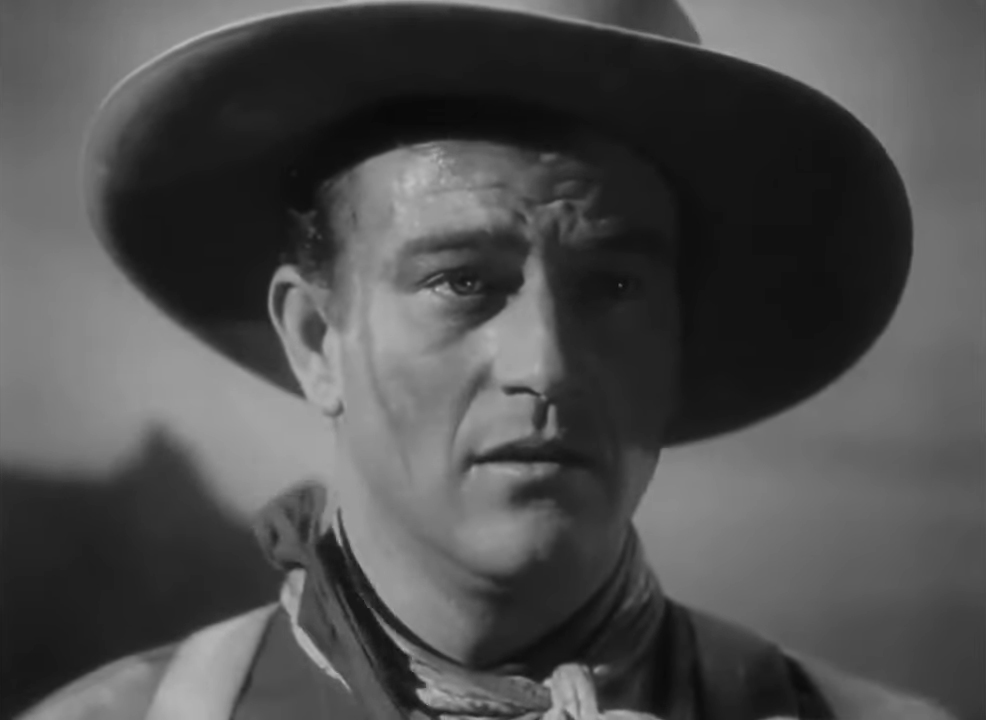 Seen in a modern context, the film's portrayal of Native Americans is simplified and problematic because they represent the evil, one-dimensional antagonists who must be vanquished for the protagonists to survive their journey through a dangerous and wild territory. However, as a product of the time, in terms of storytelling on film, Stagecoach will always be held up as an exemplary Hollywood movie that encapsulates the ideals of the Old West and inseminates them via an entertaining and gripping formula.
This landmark Western revolves around an assorted group of colourful passengers aboard the Overland stagecoach bound for Lordsburg, New Mexico, in the 1880s. An alcoholic philosopher, a lady of ill repute and a timid liquor salesman are among the motley crew of travellers who must contend with an escaped outlaw, the Ringo Kid, and the ever-present threat of an Apache attack as they make their way across the wild west.
2. The Grapes of Wrath (1940)
Based on the best selling novel by American author John Steinback, The Grapes of Wrath (1940) is a faithful screen adaptation starring Henry Fonda, Jane Darwell and John Carradine. John Ford won the Academy Award for Best Director for his work on the film, perhaps one of the best reworkings of a book ever committed to celluloid. The source material is critical of the so-called "American dream", relaying the plight of the Joad family as they struggle to find work during the dustbowl depression era.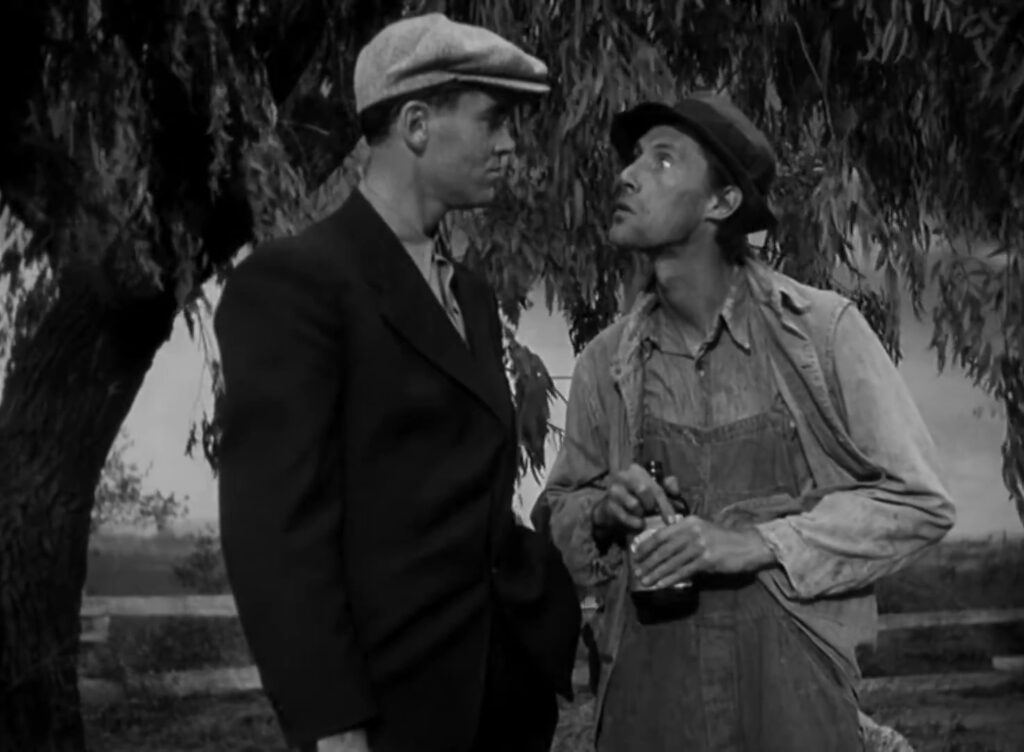 Producer Daryl F. Zanuck was frightened of the possibility that the film would be seen as pro-communist due to the red-scare and anti-communist rhetoric that loomed over Hollywood during this period. But after investigating the plight of the real-life "Okies" portrayed in the book and the film, Zanuck was satisfied that he could answer any such criticism by stating the truth about the impoverished conditions and desperate circumstances suffered by the people affected.
A masterclass in storytelling and cinematography, The Grapes of Wrath is still considered to be one of the greatest films ever made. This movie also features in our article about films successfully adapted from books which you can read here.
The Joad clan, is looking for a better life in California. After their drought-ridden farm is seized by the bank, the family, led by just-paroled son Tom, loads up a truck and heads West. On the road, beset by hardships, the Joads meet dozens of other families making the same trek and holding onto the same dream. Once in California, however, the Joads soon realize that the promised land isn't quite what they hoped.
3. How Green Was My Valley (1941)
Similar to the previous entry, How Green Was My Valley (1941) was also adapted from a book by British author Richard Llewellyn. It was also produced by Daryl F. Zanuck and distributed by 20th Century Fox studios. John Ford again won the Academy Award for Best Director for his work on the film, which tells the story of the Morgan family who are residents in a small Welsh mining village during the Victorian era.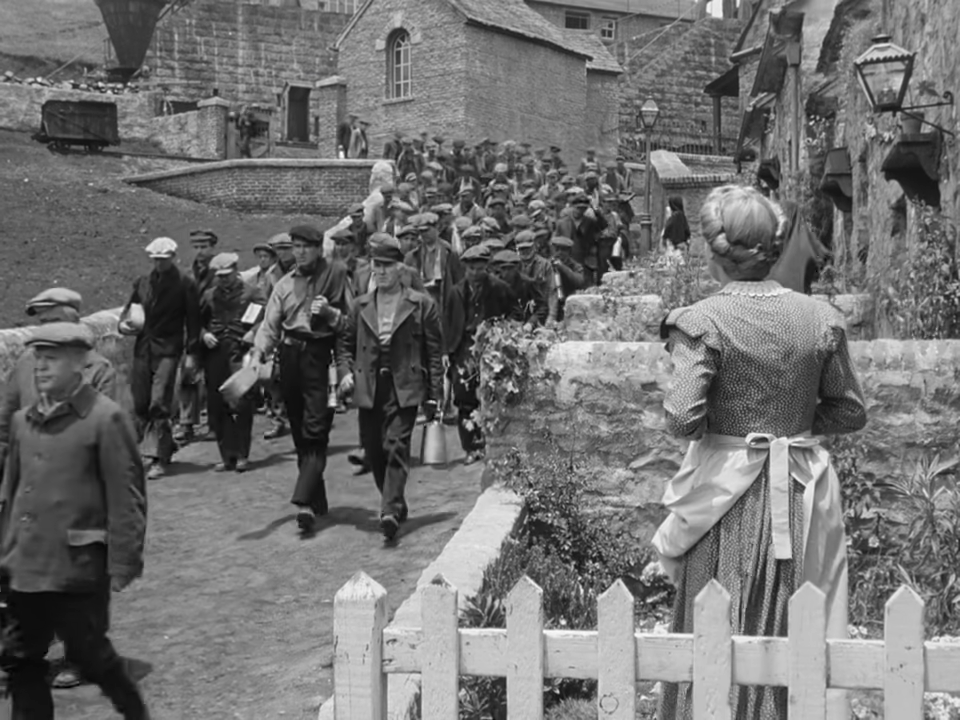 Due to the fact that Second World War was raging in Europe, the film could not be shot on location in Wales, so an entire village was constructed on the studio lot, with painstaking details producing a faithful and impressive facsimile of a typical Welsh mining town. The film features a very young Roddy McDowall as Huw Morgan, through whose eyes the story is told. There are also fantastic performances from Walter Pidgeon, Maureen O'Hara, Anna Lee and Donald Crisp.
A much loved and celebrated film, and John Ford once again proved himself as a master of cinematic grammar in this emotional drama. Looking at the film even 80 years later, and it is still difficult to tell that it was shot on a studio lot in California and not in the valleys of South Wales.
Huw Morgan, the academically inclined youngest son in a proud family of Welsh coal miners, witnesses the tumultuous events of his young life during a period of rapid social change. At the dawn of the 20th century, a miners' strike divides the Morgans. The sons demand improvements, and the father doesn't want to rock the boat. Meanwhile, Huw's eldest sister, Angharad, pines for the new village preacher, Mr. Gruffydd.
4. The Searchers (1956)
Thought of as one of the greatest American Westerns ever created and a masterpiece of film, The Searchers (1956) is possibly John Ford's most celebrated work. The story of a girl kidnapped by Native Americans and the ensuing search and rescue effort, which lasts for decades, was a complete turnaround from the usual tropes of the Western genre and marked the first time that a film was accompanied by a "Making of" documentary, which the Warner Brothers' studio later put out as a TV featurette, something we take for granted and almost come to expect from big-budget, modern productions.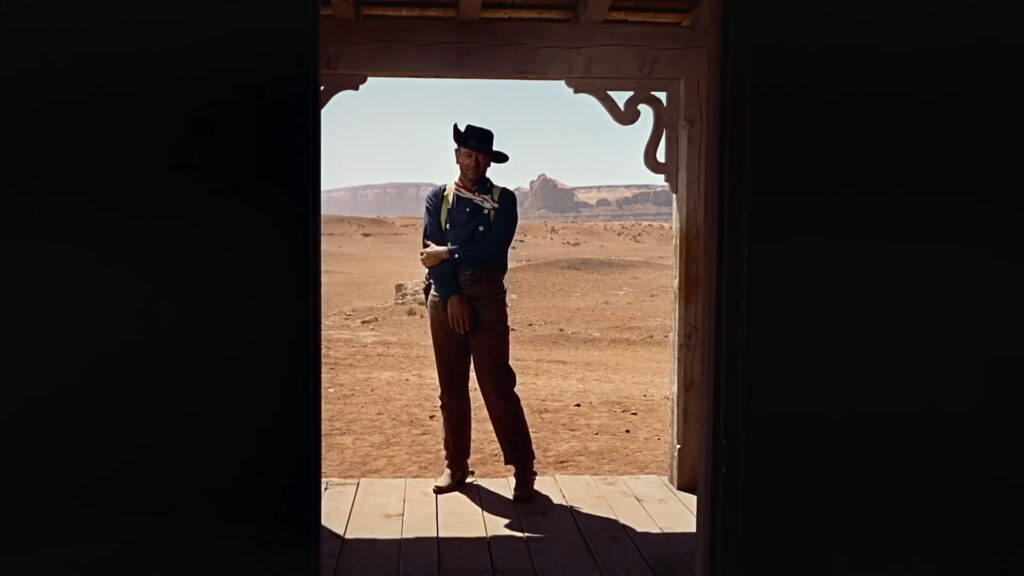 After drawing criticism for his portrayal of Native Americans and people of colour in general, John Ford began to develop his characters and representations to tell a more even-handed story. As a result, his representations of the Native Americans here is more sympathetic. Despite showing them as callous marauders, they are also portrayed as proud people with their own customs, culture and way of life, and despite their obvious roles as the antagonists, their crimes are no worse than those perpetrated by the "heroes" of the film, with John Wayne's character Ethan Edwards being one of cinema's first anti-heroes, obsessive, deranged and uncompromising in his lust for revenge.
On the subject, John Ford said, "There's some merit to the charge that the Indian hasn't been portrayed accurately or fairly in the Western, but again, this charge has been a broad generalization and often unfair. The Indian didn't welcome the white man … and he wasn't diplomatic … If he has been treated unfairly by whites in films, that, unfortunately, was often the case in real life. There was much racial prejudice in the West."
In this revered Western, Ethan Edwards returns home to Texas after the American Civil War. When members of his brother's family are killed or abducted by Comanches, he vows to track down his surviving relatives and bring them home. Eventually, Edwards gets word that his niece Debbie is alive, and, along with her adopted brother, Martin Pawley, he embarks on a dangerous mission to find her, journeying deep into Native American territory.
5. The Man Who Shot Liberty Valance (1962)
Starring John Wayne, James Stewart, Lee Marvin, Lee Van Cleef, Woody Strode and Vera Miles, The Man Who Shot Liberty Valance (1962) is a story told through a series of flashbacks and marked the first time Wayne and Stewart appeared together in a movie. Shot in black and white, John Ford appears to do away with the expansive vistas and colour filmstock that had become the norm for the genre, and instead reverts to monochrome to tell a more realistic and personal story.
The film is one that is based on characters and their motivations, rather than exploring the impact of the surroundings or perpetuating the location as an influence or proxy character in its own right. Some say that Paramount (who produced the film) was trying to cut costs, but Ford cited his love of black and white, noting that "real" photography was shot in this way instead of colour.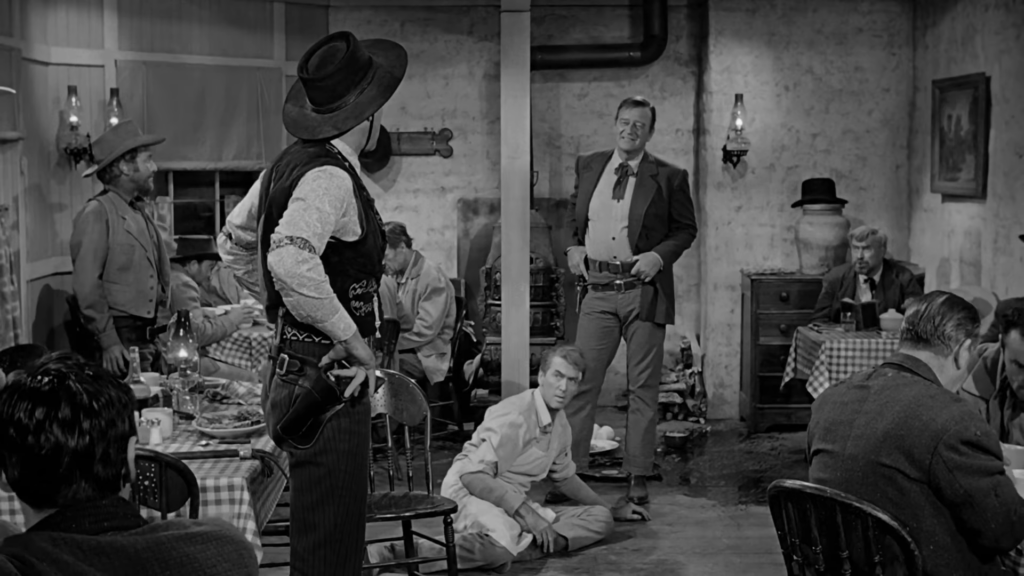 Now ageing and heading into the twilight years of his career, John Ford apparently behaved harshly to the actors on set, notably John Wayne, who was cast upon the studio's insistence, much to Ford's chagrin. Ford gave him a hard time about his failure to fight in the Second World War, knowing that his co-star Stewart was a decorated U.S. Airforce bomber pilot. He also poked fun at the star for his failure to become a professional football player (his college career was cut short being plagued by injury), comparing him to co-star Woody Strode, who he referred to as a "real football player".
Despite his cantankerous behaviour during the production, The Man Who Shot Liberty Valance became a hit and is rightly considered to be another of the greatest Westerns ever made, sealing John Ford's reputation as a monumental film director the likes of whom we will never see again.
Questions arise when Senator Stoddard attends the funeral of a local man named Tom Doniphon in a small Western town. Flashing back, we learn Doniphon saved Stoddard, then a lawyer, when he was roughed up by a crew of outlaws terrorizing the town, led by Liberty Valance. As the territory's safety hung in the balance, Doniphon and Stoddard, two of the only people standing up to him, proved to be very important, but different, foes to Valance.
So, there's our Top 5 John Ford Films!
Think we've missed any out or not included your favourite John Ford movie? Then let us know in the comments below.
You can read more of our articles here.
Please join us on social media on Facebook, Instagram, Tik Tok and Twitter. We really appreciate all the likes, shares, retweets etc., and we would love to hear from you and continue the wonderful celebration of all things cinema on these platforms.
If you love to watch videos on YouTube, then please subscribe to our channel here. There's lots of fun and informative videos uploaded that we hope you will enjoy!
We have a passion for movies and aim to produce entertaining and informative movie-related content. It certainly is a lot of hard work, but we love films so much that it's worth all the effort. We have to keep the lights on and make sure we have plenty of caffeine to keep all of the articles, videos and social media posts coming, so if you like our work, then please consider supporting us at Buy Me A Coffee here. You can also become a More Movies patron on Patreon here.
To help support us here at More Movies, we do use advertising in a few places, so we appreciate it if you do not use AdBlockers on our site, as this helps keep a few pennies trickling in. We also utilise affiliate links throughout the site, usually to help guide our readers to places to stream, rent or buy the movies we talk about. One of the biggest sources for movies online is Amazon Prime Video, where you can stream over 18,000 films. If you are interested in Prime and haven't signed up yet, you can get a 30-day free trial via this affiliate link, which helps support us too.