The Big Lebowski (1998) is a comedy crime mystery film written, produced and directed by the Coen Brothers and starring Jeff Bridges, John Goodman and Julianne Moore.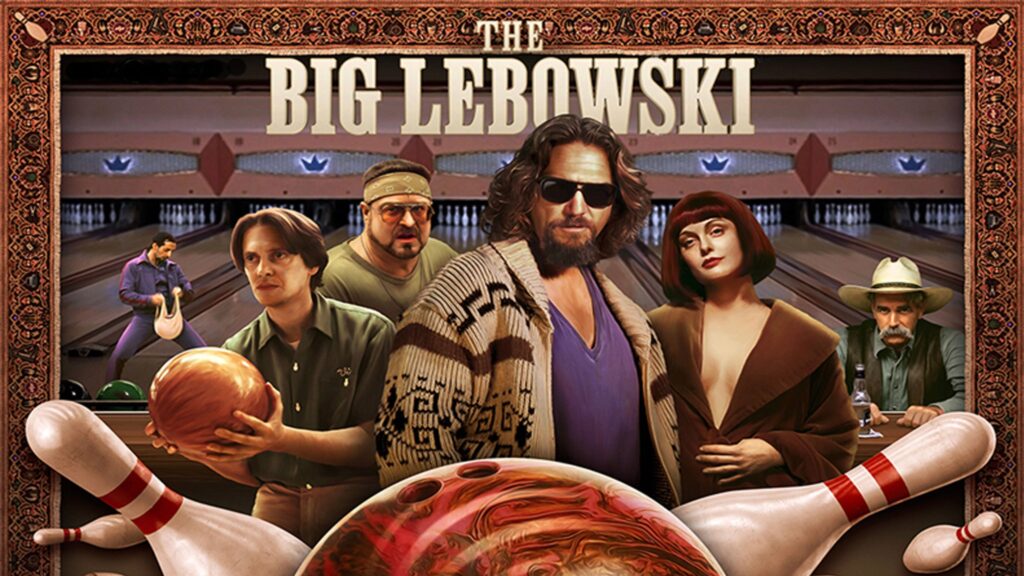 The Big Lebowski stars Jeff Bridges in the lead role as Jeffrey "The Dude" Lebowski, a lazy L.A. slacker whose interests include drinking, smoking, Creedence Clear Water Revival and bowling. Bridges is joined by a stellar ensemble cast that includes John Goodman, Steve Buscemi, Julianne Moore, David Huddleston, Philip Seymour Hoffman, John Turturro, David Thewlis, Jon Polito, Tara Reid , Peter Stormare, Sam Elliot and Ben Gazzara.
The plot sees The Dude mixed up in a case of mistaken identity, when he is strong-armed by a couple of heavies who mistake him for another Jeffrey Lebowski. After realising they have the wrong "dude", the assailants pee on the rug and leave our hero to clean up the mess. This aggression will not stand, so the Dude confronts the other Jeffrey Lebowski, the real target of the carpet pissers, with the intention of being compensated for his soiled rug.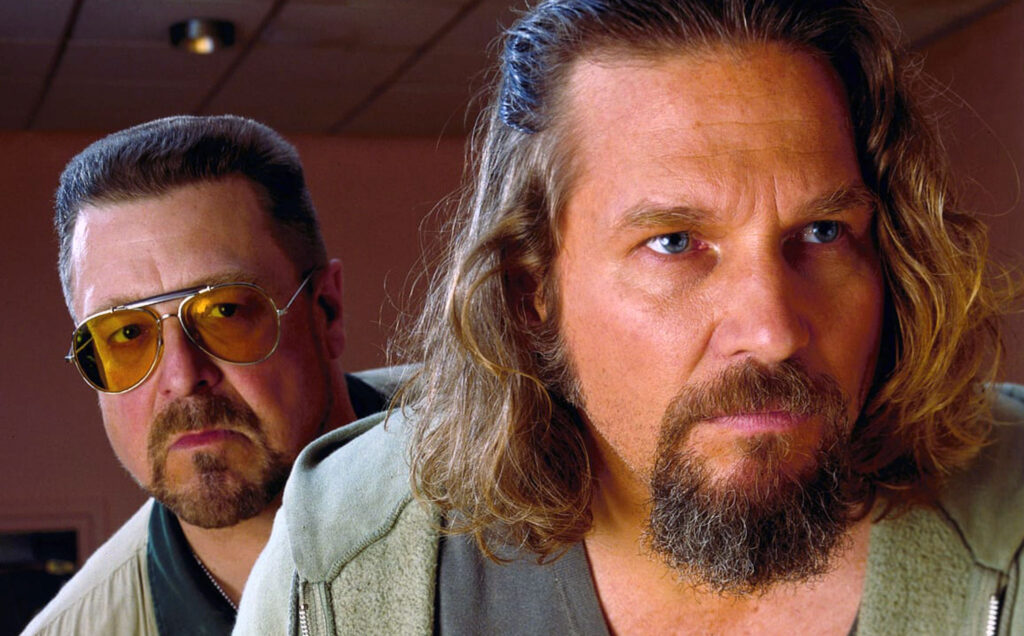 When the Big Lebowski refuses to accept any culpability, the Dude helps himself to one of the old man's rugs anyway and goes about his day. However, the plot thickens when the Dude is then called upon by the Big Lebowski to act as a courier for a ransom that has been demanded in exchange for the safe return of his recently kidnapped trophy-wife, Bunny.
And so, the Dude becomes something of a private investigator when he agrees to assist Big Lebowski in helping to get his wife back from the kidnappers. Enlisting the help of his bowling team buddy Walter (John Goodman), the Dude sets out on a path that leads to even more trouble than he imagined, and things go from bad to worse when Walter conspires to dupe the kidnappers and keep the ransom money. So, a chain reaction of calamitous events leads to all sorts of conundrums which include an Avant-Garde artist, a firearm being relinquished during league play, a stolen car, a dance recital, a severed toe, a marmot and a reactionary chief of police, amongst other equally deranged minutiae.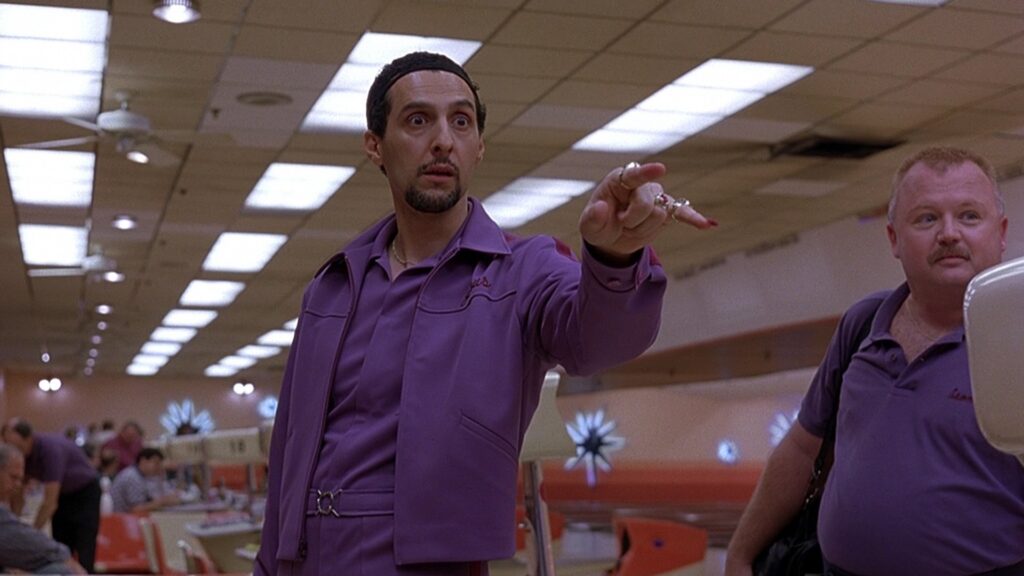 The Coens based the plot on a Raymond Chandler-esque, film-noir style story, where the mystery increases and develops, becoming more convoluted as things progress, ultimately making very little sense and basically designed to throw the audience off the scent wherever and whenever possible.
The colourful 90s Los Angeles setting replaces the monochrome mood of any typical noir film, but the themes and influence remain clear. And what's more, it works! The combination of film-noir influence set against a modern life backdrop creates a hilarious combination which, despite its contrivances, remains gripping, entertaining and downright hilarious.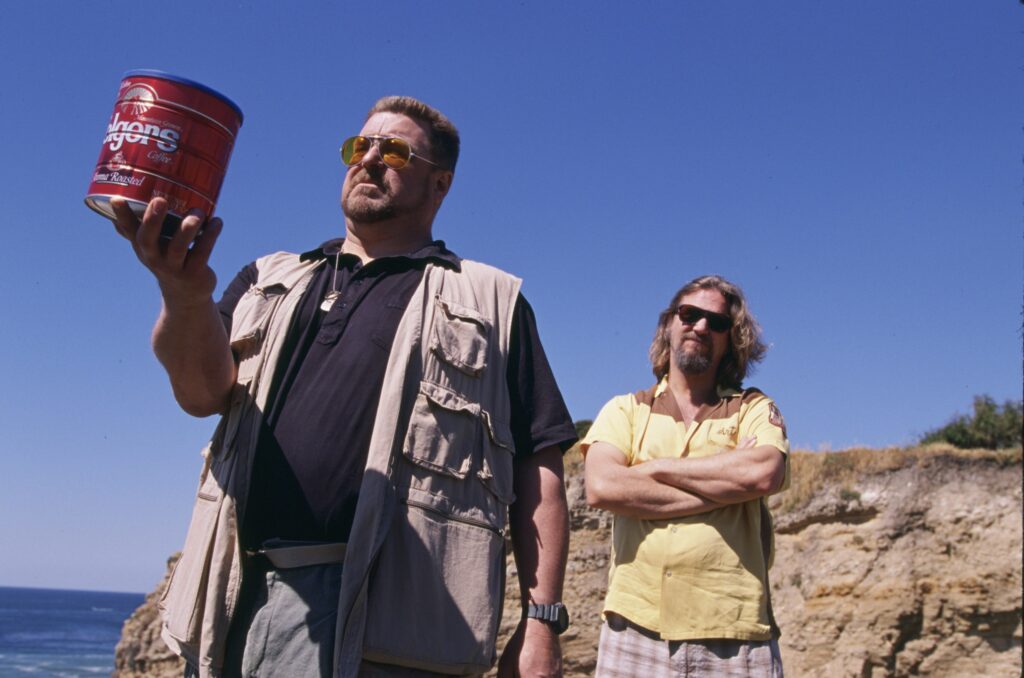 There are surreal dream sequences that are inspired by early Hollywood Busby Berkley set pieces, a random cowboy narrator who is otherwise unconnected to the events of the story, nods to German komische krautrockers, visual gags aplenty and a quietly clever script which continually references itself and in so doing evolves into a hybrid oral farce, to use the parlance of our times.
Although The Big Lebowski opened to mixed reactions with critics not really knowing what to make of it, it quickly became a sure-fire hit in the rental market, with film lovers rapidly warming to the film's singular and unique stylings. Almost a quarter-century later, the film has become a cult classic, spawning its own religion known as Dudeism, an annual festival called Dudestock and a whole generation of fans that love to re-watch and quote this movie on a regular basis.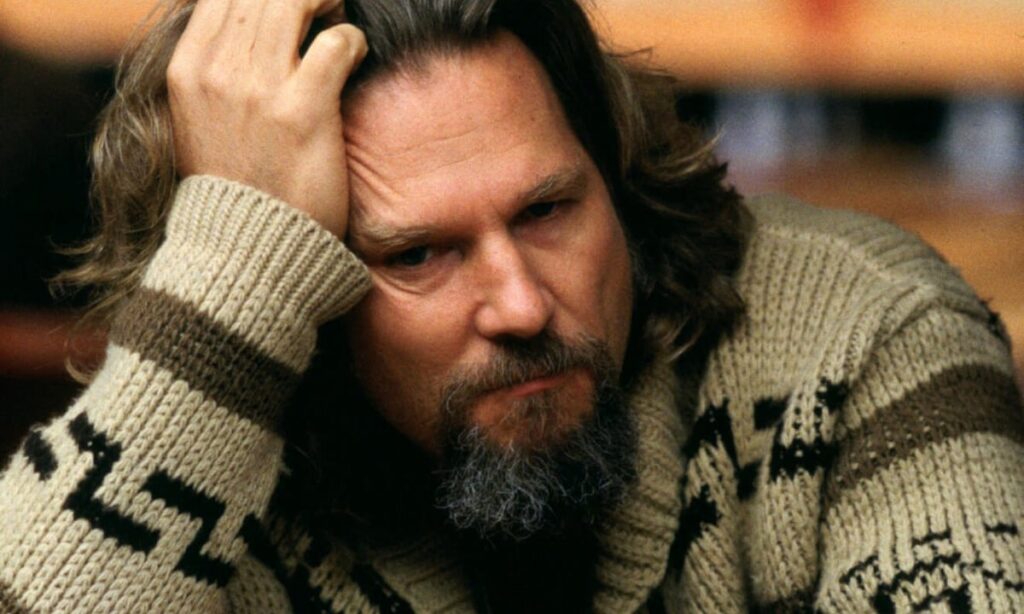 The Coen brothers gift for peculiar comedies is well known, and they have been making us laugh for years with films like Raising Arizona (1985) and The Hudsucker Proxy (1994), but it is The Big Lebowski that stands out as the most accomplished and best-loved of all of their comedy movies.
The performances, as you might expect, are all excellent, with Bridges giving a career-defining turn as his Dudeness, or El Dudereno if you're not into the whole brevity thing. John Goodman is incredible as aggressive Vietnam veteran Walter and Julianne Moore is perfectly cast as feminist artiste Maude Lebowski. Everyone in this film is magnificent, and it's another testament to the brothers Coen showcasing their perfect casting choices and pinpoint direction. Shot by well-loved cinematographer Roger Deakins, the imagery is both larger than life and unassuming at the same time. The score and soundtrack are perfectly placed throughout, and at just under two hours long, The Big Lebowski is as close as you can get to the perfect movie.
Well, that's it for this review of The Big Lebowski!
What did you think of The Big Lebowski? Did you enjoy it as much as us? Let us know in the comments below.
You can read more of our reviews here.
Please join us on social media on Facebook, Instagram, Tik Tok and Twitter. We really appreciate all the likes, shares, retweets etc., and we would love to hear from you and continue the wonderful celebration of all things cinema on these platforms.
If you love to watch videos on YouTube, then please subscribe to our channel here. There's lots of fun and informative videos uploaded that we hope you will enjoy!
We have a passion for movies and aim to produce entertaining and informative movie-related content. It certainly is a lot of hard work, but we love films so much that it's worth all the effort. We have to keep the lights on and make sure we have plenty of caffeine to keep all of the articles, videos and social media posts coming, so if you like our work, then please consider supporting us at Buy Me A Coffee here. You can also become a More Movies patron on Patreon here.
To help support us here at More Movies, we do use advertising in a few places, so we appreciate it if you do not use AdBlockers on our site, as this helps keep a few pennies trickling in. We also utilise affiliate links throughout the site, usually to help guide our readers to places to stream, rent or buy the movies we talk about. One of the biggest sources for movies online is Amazon Prime Video, where you can stream over 18,000 films. If you are interested in Prime and haven't signed up yet, you can get a 30-day free trial via this affiliate link, which helps support us too.