It's been 38 years since the release of the first Karate Kid movie, and almost 4 decades later the intellectual property is still going strong. The original movie was a huge hit, taking a massive $91 million at the box office, from a modest budget of around $8 million. There was a string of sequels that expanded the world of the central characters Daniel LaRusso and his mentor Mr. Miyagi, as well as an animated TV series, a remake and now the hit spin-off series Cobra Kai has returned for a greatly anticipated fourth season. So, what is it about this particular story that has resulted in such longevity?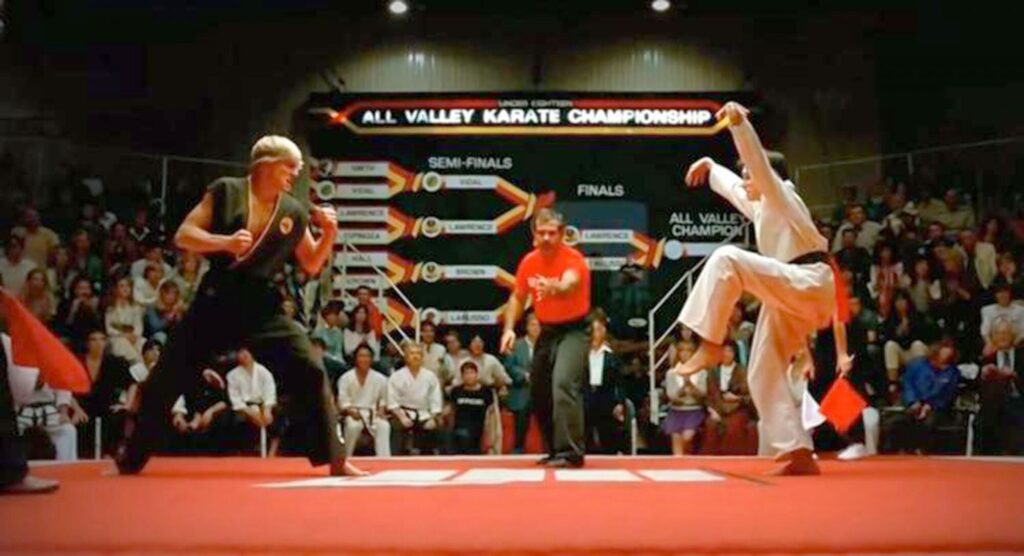 The original film introduced us to our young hero Daniel LaRusso and his wise sensei, Mr. Miyagi. This was another classic underdog story, where a young would-be hero with a chip on his shoulder, suffers at the hands of local bullies and is then taken under the wing of a surrogate father figure, who not only teaches him the value of hard work and mindfulness, but also shows him how to successfully defend himself and become a heroic champion in the process.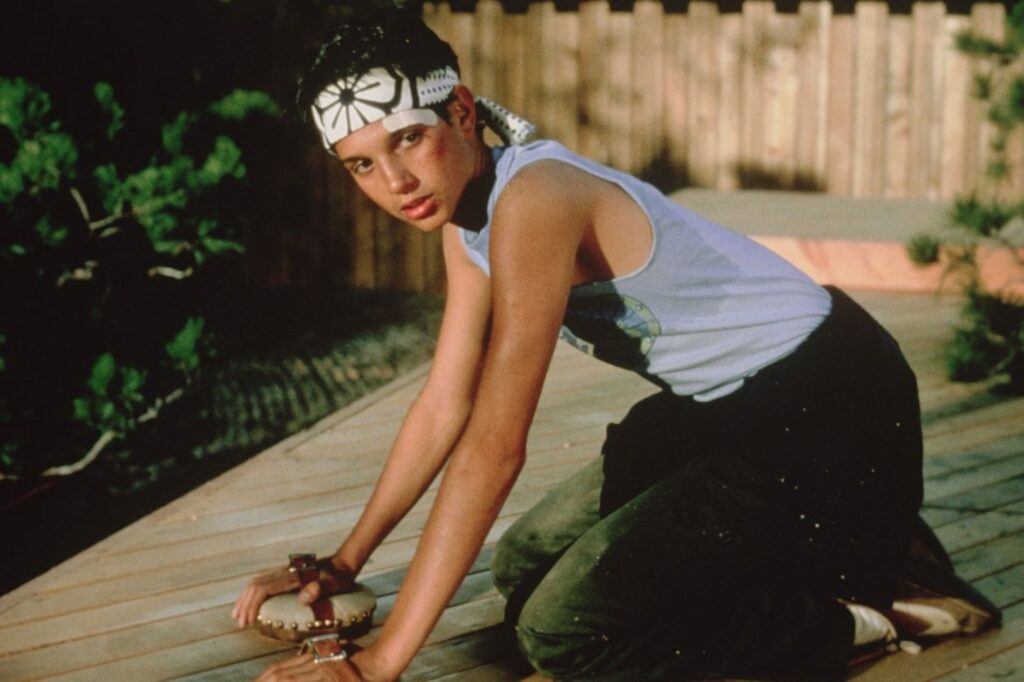 Much like the earlier movie Rocky (1976), the Karate Kid franchise became a saga with four official sequels. Daniel LaRusso's journey was explored across the first two follow-ups, and the torch was briefly carried on into a fourth instalment via the mentor character Miyagi. Although some of the movies are stronger than others, sufficient time has passed to look back on a lengthy chronicle that has its bonsai roots firmly planted in the 1980s, and continues to flourish well into the 21st century.
The Karate Kid (1984)
The demand for Karate lessons must have hit an all-time high after the release of The Karate Kid (1984). Martial arts movies had become popular with western audiences during the 1970s with films such as Enter The Dragon (1973) breaking through into the mainstream and giving a new generation the taste for more fast moving, flying-kick action. Combine this with America's penchant for a good longshot sports movie and we inevitably arrive in the Miyagi-do dojo with Daniel LaRusso (Ralph Macchio) being trained by friendly handyman Mr. Miyagi (Pat Morita).
Every hero needs an equally good villain, and this movie presented us with Johnny Lawrence (William Zabka) and his gang of menacing Cobra Kai karate students, who make Daniel's life a living hell due to the ferocious tutelage of their ex-military sensei, John Kreese (Martin Kove). With a rousing score and equally appropriate 1980s soundtrack, this surprise hit of the summer was definitely "the best… around… nothing's gonna ever take you down!"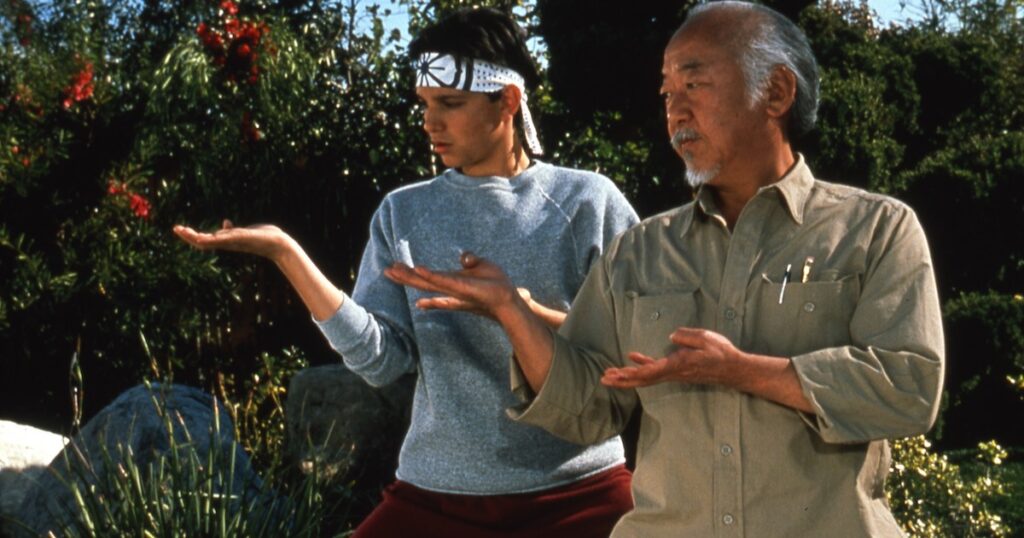 Daniel LaRusso moves to Southern California with his mother, Lucille, but quickly finds himself the target of a group of bullies who study karate at the Cobra Kai dojo. Fortunately, Daniel befriends Mr. Miyagi, an unassuming repairman who just happens to be a martial arts master himself. Miyagi takes Daniel under his wing, training him in a more compassionate form of karate and preparing him to compete against the brutal Cobra Kai.
Check out these great 'making of' videos for more about this 80s classic…
The Way of The Karate Kid Featurette Part 1
The Way of The Karate Kid Featurette Part 2
The Karate Kid Part II (1986)
After an unexpected box office success, creators Robert Mark Kamen (writer) and John G. Avildsen (director) got busy creating a follow-up movie. Continuing directly after the events in the first film The Karate Kid Part II (1986) left California behind for the small Japanese island of Okinawa, the birthplace of karate and of course, Mr. Miyagi. Pat Morita gave such an iconic and memorable performance as the lovable mentor in the first movie, that this story chose to focus on his past and gave audiences an insight into the old master's personal history.
This also provided a great opportunity for more karate lessons for Daniel, who accompanies his sensei and ultimately ends up defending the honour of Miyagi-do, by facing down the vicious Chozen (Yuji Okumoto). With a marginally higher budget of $13 million, the sequel still performed well taking around $115 million worldwide. Critically it was not received quite as well as the original, but fans of the story were only too pleased to visit Okinawa with Daniel and Miyagi and continue the adventure.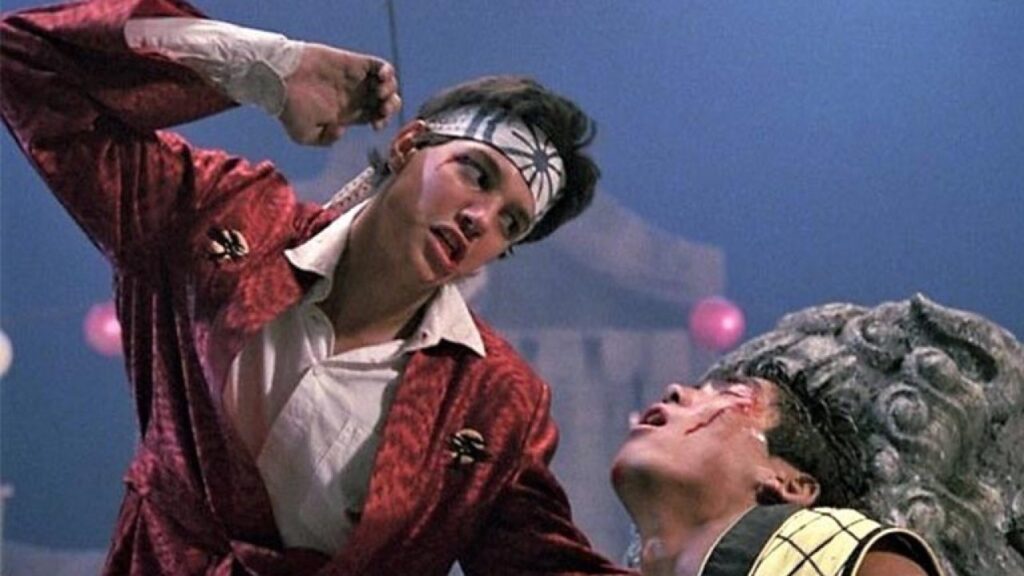 After learning that his father is dying, karate master Mr. Miyagi returns home to Okinawa, bringing his protege, Daniel, with him. In Japan, Miyagi is surprised to discover that his old sweetheart, Yukie, has remained single. Meanwhile, Daniel is attracted to Yukie's niece, Kumiko. But romance must be put on hold while Daniel and Miyagi deal with local bullies and long-harbored grudges.
The Karate Kid Part III (1989)
Kamen and Avildsen teamed-up once again for a third instalment and in The Karate Kid Part III (1989), Daniel must once again take on the evil Cobra Kai villains and prove himself to be the All Valley Karate Champion. The trouble is, Mr. Miyagi does not feel the same way and master and student are forced apart.
This provides a vacuum for the evil Tony Silver (Thomas Ian Griffith) to step in and teach Daniel in the ways of Cobra Kai karate. Little does Daniel know that Silver is secretly working with John Kreese and their new protege Mike Barnes (Sean Kanan) in a furtive plot to destroy Daniel and bring the All Valley Karate Trophy back to the Cobra Kai dojo.
With Ralph Macchio, Pat Norita and Martin Kove returning to the cast, this third instalment is a great sequel that brings the story full-circle and reinforces the message that violence and anger are no match for balance and harmony. The film performed poorly at the box office and also marked the final time we would see Daniel-san and Miyagi on screen together. Although this was not the end of the story for either character.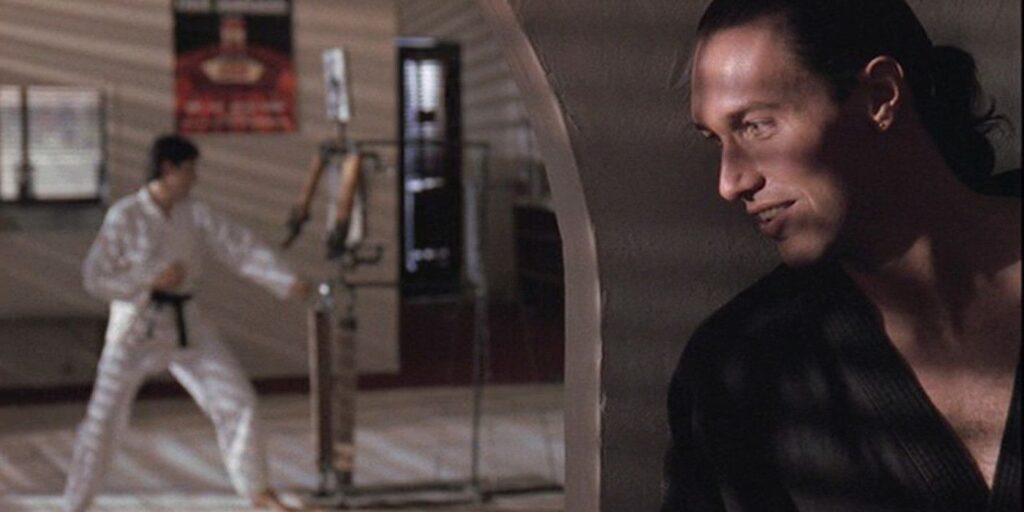 Cobra Kai karate instructor John Kreese is still brooding over the defeat handed to him by Daniel LaRusso and Mr. Miyagi. With his slimy partner, Terry Silver, Kreese plans an intricate payback that involves hiring a mean-spirited ringer to rob Daniel of his championship title. When Mr. Miyagi refuses to train Daniel, even under threat, the boy makes the mistake of turning to Terry for guidance.
The Karate Kid Animated TV Series (1989)
Inevitably, the Karate Kid ended up on TV in the form of a cartoon. The Karate Kid Animated Series ran for just 13 episodes on NBC in 1989. Aimed at a young audience, the story follows the adventures of Miyagi and Daniel-san as they search the globe for an ancient artefact. Despite involvement from Pat Norita (who provides a voice over for the intro to each episode, but does not voice the character of Miyagi) the animated series has few links to the original trilogy. A fun watch for hardcore fans, but not the most exciting part of the franchise by a longshot.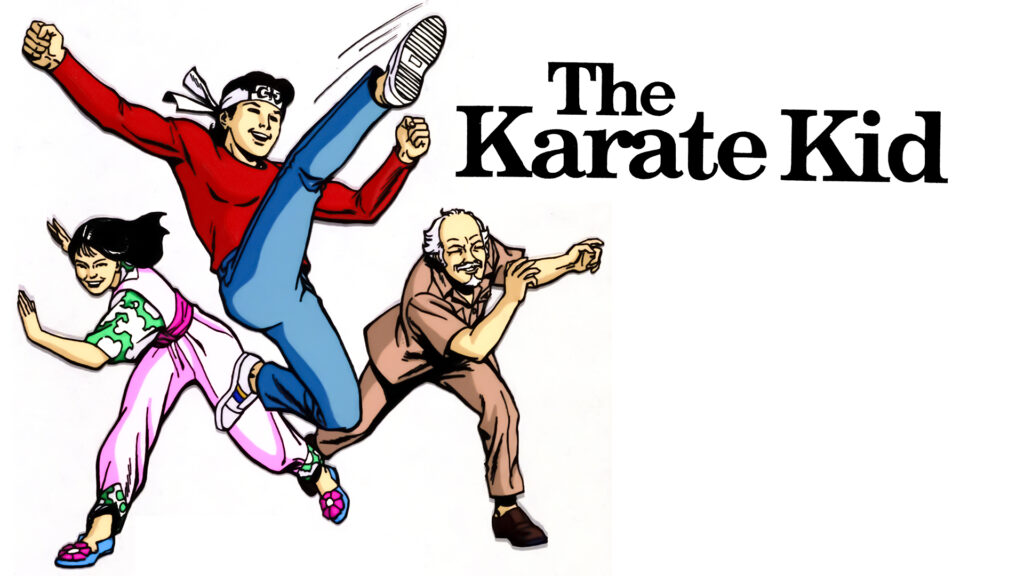 A miniature shrine with magic powers is taken from its resting place on Okinawa, and it is up to Miyagi and Daniel to recover it. Together with Okinawan girl Taki Tamurai, the karatekas search the globe and, naturally, encounter several opportunities to fight their way out of trouble.
The Next Karate Kid (1994)
Five years after the third movie, producer Jerry Weintraub and Columbia Pictures decided to re-invent the Karate Kid, no doubt with designs on creating another trilogy of films. Seeing as Daniel LaRusso would be all grown up by this point, and no longer a "kid", they decided to keep the ever-popular sensei Mr. Miyagi and team him up with a new student. The Next Karate Kid (1994) saw a young Hilary Swank step into the dojo as Julie Pierce, a troubled young student, struggling to control her anger after losing both her parents in a car accident.
On paper, this should work really well and provide the franchise with a much-needed shot in the arm, by making the next karate kid a girl. There are some fun moments and as always, Norita is on top form as the wise Miyagi. This was also a great introduction to the excellent Hilary Swank who would go on to new heights winning an Academy Award for Best Actress for her role in Million Dollar Baby (2004).
But unfortunately, this episode was a bit lacking and this is reflected in the poor box office performance and lukewarm critical response. Some fans of the saga still enjoy it, especially for the comedy elements, but the absence of original writer Kamen and director Avildsen meant that the story lost its way a little bit with this one.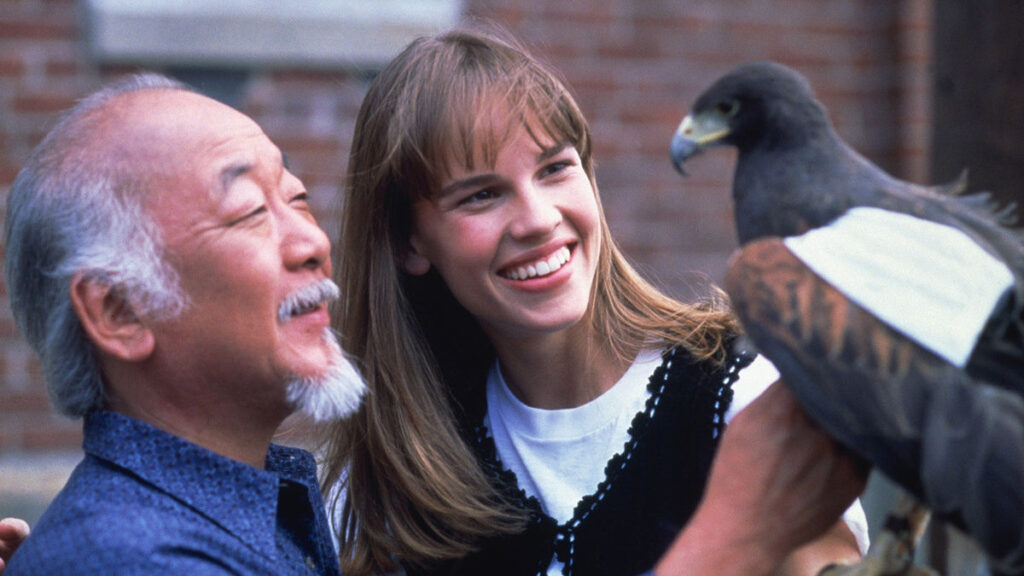 Karate master Mr. Miyagi goes to Boston to attend a military reunion. There, he visits with Louisa, the widow of his former commander, and meets her granddaughter, Julie. Julie's parents were recently killed in a car accident, and she is still reeling from the loss. When Julie surprises Miyagi with her knowledge of karate, he takes her to a Buddhist monastery for training and to help her come to terms with her angst.
The Karate Kid (2010)
After a long enough hiatus from the property, the inevitable remake happened. In The Karate Kid (2010) a young American boy Dre Parker (Jaden Smith) moves to Beijing with his single mother and struggles to fit in to his new life in China. After being relentlessly bullied by the local kids, he is trained by the mysterious Mr. Han (Jackie Chan) the local handyman, who teaches him Kung Fu and prepares him to fight in a local tournament where he will gain respect and ultimately become the champion.
The story is a replica of the original movie, replacing Daniel for Dre and Miyagi for Han. The location is also moved to China so the martial art is not Karate (a Japanese style) at all, but the Chinese art of Kung Fu. A more appropriate title would have been The Kung Fu Kid, but producer Jerry Weintraub insisted on retaining the title for western audiences. In China the film was titled The Kung Fu Dream.
This version gets a lot of flak from the fanbase, but personally I believe this is one of the strongest remakes I've seen. Jaden Smith is excellent as the down on his luck out-of-towner and Jackie Chan is the only person who could ever replace Pat Norita as a viable martial arts movie mentor.
If you've never watched it on principle, I would humbly suggest giving it a spin. It's well cast, well performed and well written. All things being considered, this is far enough removed from the original franchise to be a stand-alone success, but close enough in its narrative to be considered part of the family. The film took almost $360 million form a budget of $40 million, making it the most financially successful of all the Karate Kid movies.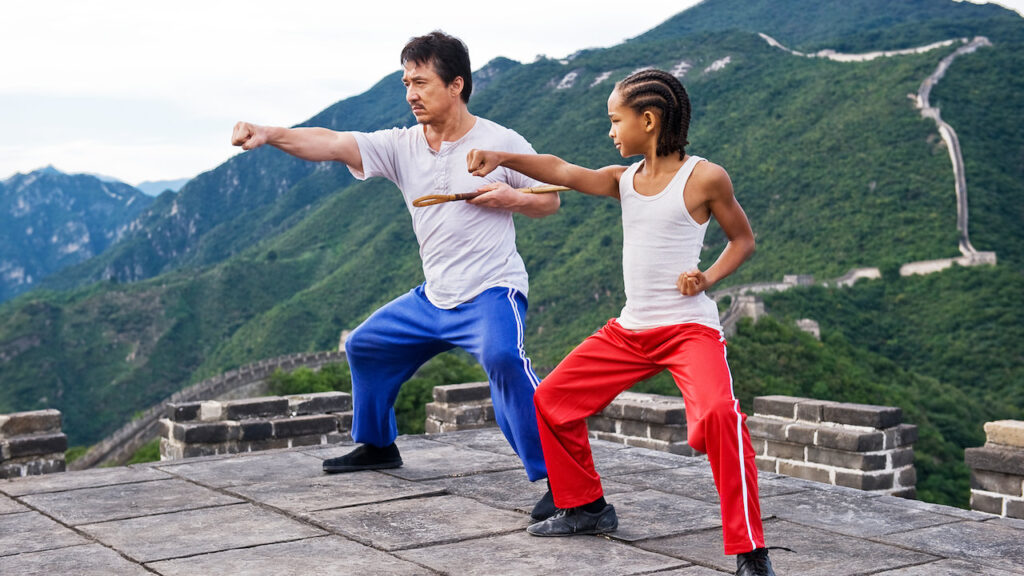 When his mother's career results in a move to China, 12-year-old Dre Parker finds that he is a stranger in a strange land. Though he knows a little karate, his fighting skills are no match for Cheng, the school bully. Dre finds a friend in Mr. Han, a maintenance man who is also a martial-arts master. Mr. Han teaches Dre all about kung fu in the hope that Dre will be able to face down Cheng and perhaps win the heart of a pretty classmate named Mei Ying.
Cobra Kai TV Series (2018 – Present)
After a few more years on the shelf, the franchise was reinvigorated once again in the form of the streaming TV series Cobra Kai (2018 – present). Originally released via YouTube, this successful show has since been purchased by Netflix and is currently in its fourth season with a guarantee of a fifth season on the way. For fans of the original films, Cobra Kai is the ultimate spin-off.
The story begins 34 years after the original All Valley Championship final in which Johnny Lawrence lost his title to new-comer Daniel LaRusso. Turning things on their head, the story is told from Johnny's perspective and sees him dealing with the fallout of a life besmirched with bad decisions and degenerate behaviour, all of which can be traced back to his loss at the hands of Miyagi-do's most famous student.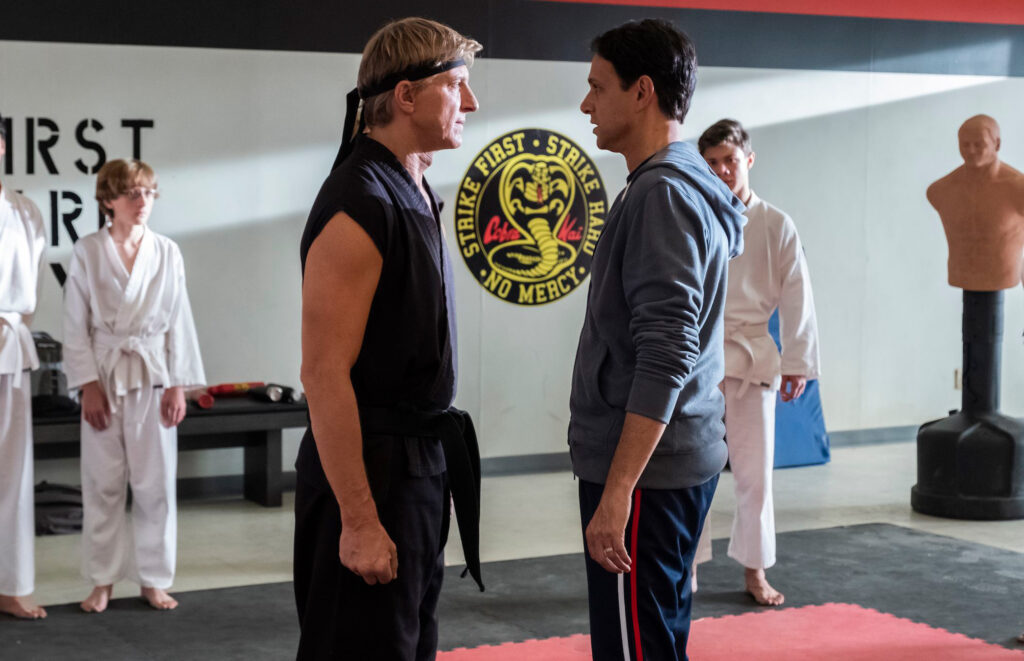 The origins of the show can be traced back to a music video for the band No More Kings and their song Sweep The Leg, which was directed by William Zabka and features several faces from the original movie (see below). This tells the story from Johnny's perspective and attempts to portray him as someone who was wronged by Daniel LaRusso. From this point of view, Johnny Lawrence was the one who was "bullied" and LaRusso was the reason for all of the bad things that happened to Johnny's life as a result.
This is certainly an interesting angle to base the show on and with actors William Zabka and Ralph Macchio reprising their roles, the Cobra Kai series has become a resounding success. Alongside the original 'karate kids', we are introduced to a new generation of students, some of whom are the offspring of the central characters. The story intertwines all of these relationships, be they harmonious or fractured, and adds in a healthy dose of karate and a much needed helping of humour to produce an entertaining show that honours the original films and continues to go from strength to strength.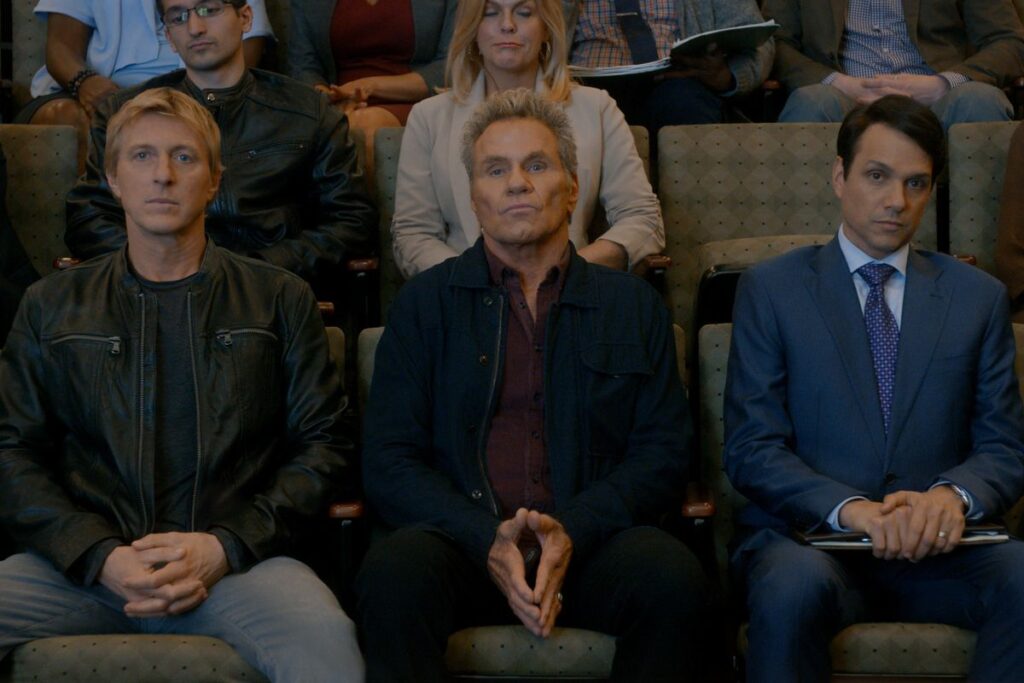 Cobra Kai has consistently re-introduced characters from the original trilogy including evil sensei John Kreese, Daniel's Japanese nemesis Chozen and a host of other stars who have stepped-in to help continue the story and unearth more historical context for each character. There is no Pat Norita of course, the actor having passed away in 2005, but the presence of Miyagi is still honoured in the show via flashbacks and of course, Daniel continuing to teach the ways of Miyagi-do.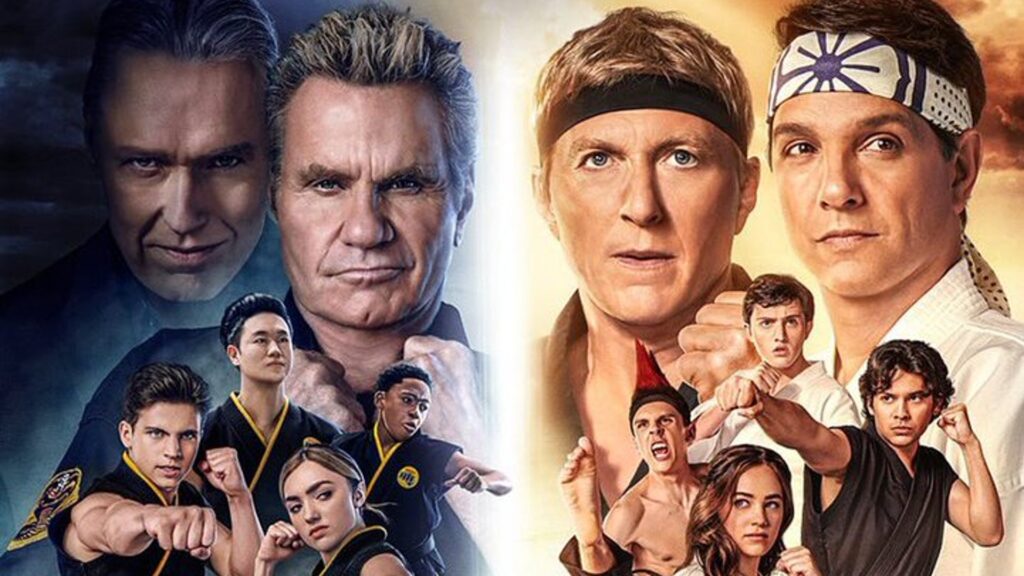 The show is packed full of action and humour, and never takes itself too seriously. Although there are plenty of emotional scenes which explore family dynamics, teen bullying and all the original ingredients that the first movie contained. For fans of the franchise like myself, Cobra Kai has been very entertaining viewing and I am pleased to return to these characters and continue the story.
There is still room to re-introduce characters like Mike Barnes from Part III after we have just enjoyed the inclusion of Thomas Ian Griffith as Tony Silver in season 4. Who knows, they may even be able to tempt Hilary Swank back into the fold in future seasons! If you loved the original Karate Kid movies and have not checked out Cobra Kai yet, then I say give it a spin, it's guaranteed to get you waxing the car, painting the fence, sanding the floor or maybe putting on the old gi and taking on the punchbag for old times sake. Remember, always up-down, never side-side.
That's it… A Brief History of The Karate Kid and Cobra Kai!
What do you think? Are you fan of this franchise? What is your favourite film? Or do you prefer the Cobra Kai series? Let us know in the comments below!
You can read more of our articles here.
Please join us on social media on Facebook, Instagram, Tik Tok and Twitter. We really appreciate all the likes, shares, retweets etc., and we would love to hear from you and continue the wonderful celebration of all things cinema on these platforms.
If you love to watch videos on YouTube, then please subscribe to our channel here. There's lots of fun and informative videos uploaded that we hope you will enjoy!
We have a passion for movies and aim to produce entertaining and informative movie-related content. It certainly is a lot of hard work, but we love films so much that it's worth all the effort. We have to keep the lights on and make sure we have plenty of caffeine to keep all of the articles, videos and social media posts coming, so if you like our work, then please consider supporting us at Buy Me A Coffee here. You can also become a More Movies patron on Patreon here.
To help support us here at More Movies, we do use advertising in a few places, so we appreciate it if you do not use AdBlockers on our site, as this helps keep a few pennies trickling in. We also utilise affiliate links throughout the site, usually to help guide our readers to places to stream, rent or buy the movies we talk about. One of the biggest sources for movies online is Amazon Prime Video, where you can stream over 18,000 films. If you are interested in Prime and haven't signed up yet, you can get a 30-day free trial via this affiliate link, which helps support us too.