The 80s holds a special place in our hearts. Some of us grew up then, some of us look back to a time of style, fun and culture that still resonates today in 2020! 80s films were pretty special and here More Movies lists our five favourite 80's family-friendly films that still stand out and are perfect for breaking out the popcorn and taking a trip back in time…
1. Back to the Future (1985)
The ultimate time travel trilogy, the Back to the Future films are a firm fan favourite and exemplify the 1980s with style, a great soundtrack and an original story. The perfectly cast Michael J. Fox plays high school student Marty McFly, a typical teenage slacker that has high hopes of becoming a rock star and enjoys fast cars, skateboards and hanging out with his friends.
Marty is also friends with an older eccentric scientist Doc Brown, played to perfection by Christopher Lloyd. Doc has invented a time machine and asks for Marty's help in recording his time travelling experiment. The time machine itself is made using a DeLorean, one of the coolest looking cars to ever be made, and catapults it's driver back (or forward) in time when it reaches 88mph.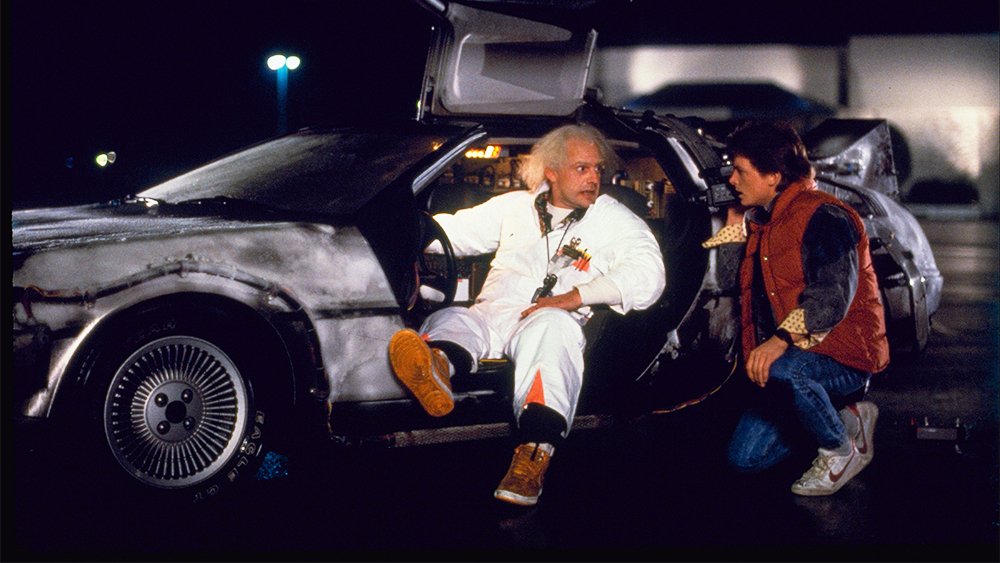 The initial experiment goes horribly wrong when a gang of terrorists interrupt the operation and shoot Doc Brown, causing Marty to flee in the DeLorean. Accidentally engaging the time circuits, McFly send himself back to 1955 where he inadvertently disrupts the meeting of his parents thereby jeopardising his very existence. Seeking out the younger Doc Brown, Marty traverses 1950s life while trying to match-make his mum and dad while avoiding any further disruptions to the time line.
Marty then has to find a way to power the nuclear fuelled time machine and get himself back to 1985. A huge global success and still a much beloved film 35 years later, Back to the Future (and it's sequels) are ideal family watching. If your kids haven't seen it yet, they'll love it just as much as you did and you'll be pleasantly surprised by how much you enjoy re-watching them after all this time.
2. The Karate Kid (1984)
The Karate Kid is a staple of 80's cinema. This classic coming of age martial arts adventure film tells the story of teenager Daniel Larusso, an east coast kid forced to move out to California where his mum has got a new job. An outsider, Daniel attempts to integrate into a new school and a new crowd of friends, taking a shine to cheerleader Ali who is one of the few people that gives him the time of day. Ali's boyfriend Johnny is not impressed and he and his gang of motor cycle riding, karate trained bullies make Daniel's life a misery.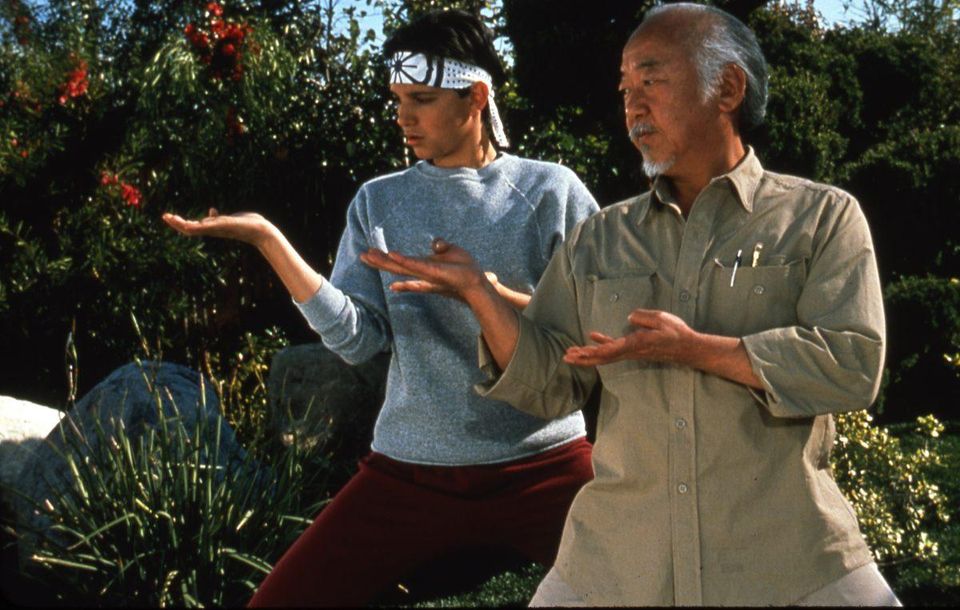 Enter everyone's favourite sensei Mr. Miyagi – a janitor who works at Daniel's apartment complex. Miyagi is an old school Japanese American who takes Daniel under his wing and teaches him his own style of karate which uses chores and tasks to build his strength, his discipline and ultimately his character.
Peppered with 80s music, fashion and Californian sunshine, this film manages to hold it's own all these years later despite being remade a few years ago to mixed reviews. The Karate Kid is a wildly successful franchise that continues to this day with the incredibly immersive You Tube series Cobra Kai. A great watch for all the family, this classic 80s action drama will have the kids running to the nearest dojo in the hopes of becoming the next Karate Kid.
Check out our article about Cobra Kai and The Karate Kid history here.
3. The Goonies (1985)
All kids dream of adventure, for example discovering a crime, traversing booby traps or finding lost treasure. Well, The Goonies has it all and more! This tale of seven kids form a small town who find themselves on the adventure of a lifetime will not disappoint. There's action, thrills, comedy and at the heart of it all a great story that will keep you on the edge of your seat throughout. Mikey and his friends find their homes in the Goon Docks threatened by rich real estate developers who want to buy out the local residents in order to expand their country club.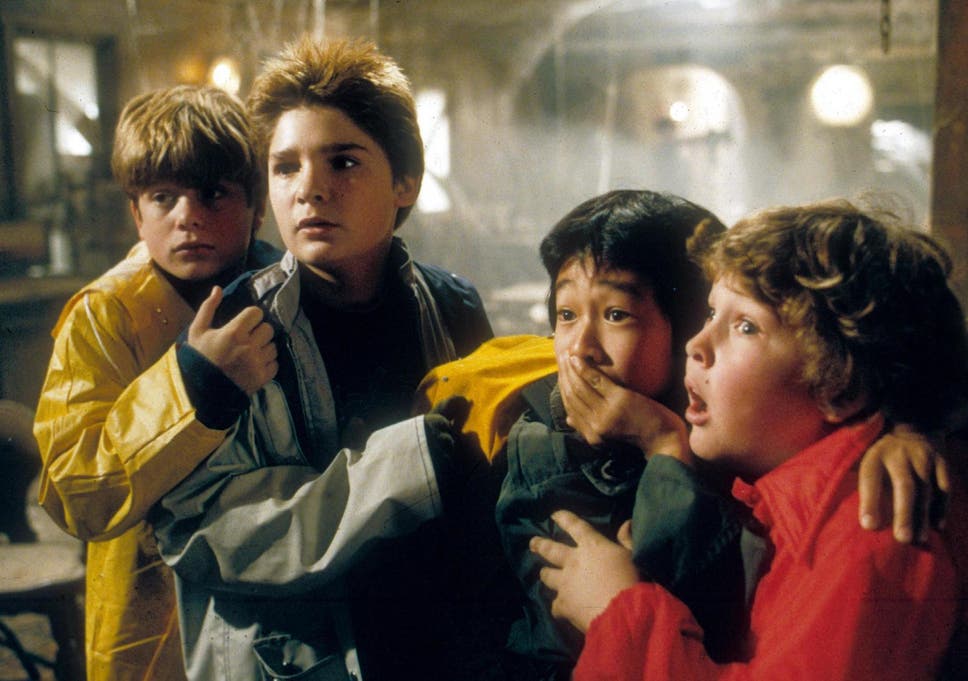 Finding an old treasure map in the attic, the gang embark on a crazy adventure to try and get their hands on the riches of an old pirate, One-Eyed-Willy, who is said to have amassed a fortune aboard his ship which is supposedly hidden nearby. The friends must follow the clues on the map and find themselves in dangerous catacombs peppered with traps and puzzles while also being pursued by a dangerous crime family who have recently escaped from the law.
The Goonies is full of laughs and great action sequences which all the family can enjoy together. Another classic from this decade of amazing movies!
4. The Princess Bride (1987)
A classic fairytale with a twist… So, you're 8 years old, you're feeling a little under the weather so you stay off school. Your Grandpa comes over to keep you company and decides to read you the greatest fairytale of them all – The Princess Bride. What's not to love? Well, apparently there's nothing to love for a young kid (played by Fred Savage) who considers the thought of it all a bit old-fashioned, mushy and boring, that is until the story begins and he becomes entranced by this fantastic yarn (read by the fabulous Peter Falk as Grandpa).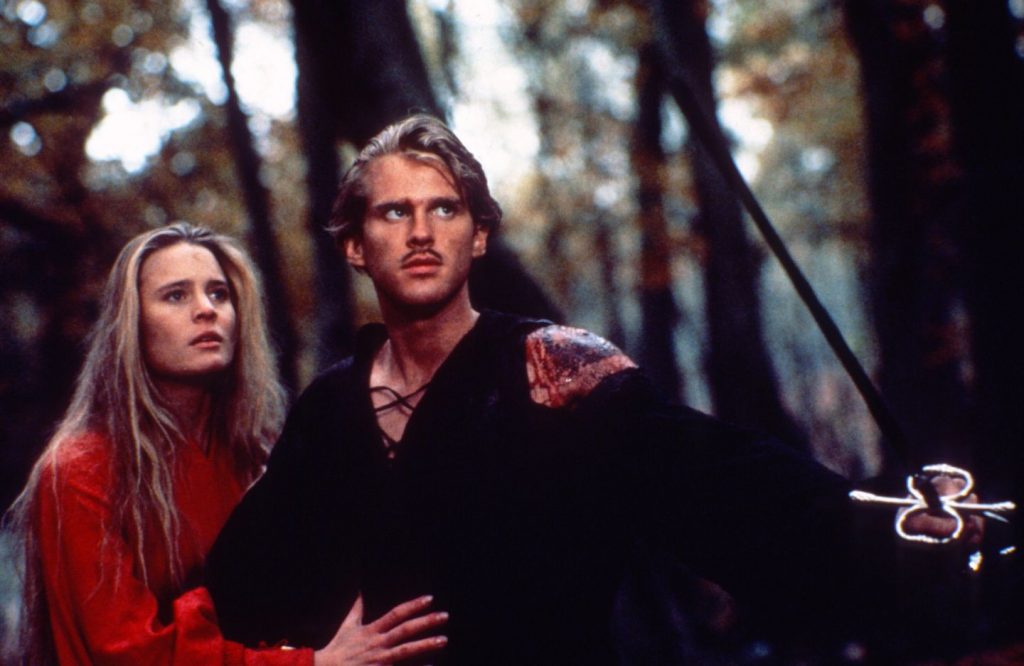 As the adventure unfolds and pulls us in to the world of Wesley and his beloved Princess Buttercup, we are transported on a journey to rescue the kidnapped princess from the clutches of the evil tyrant Prince Humperdinck. Meeting various adversaries along the way, the heroic Wesley is able to best his challengers and in several instances gain their trust and respect as they join him on his quest. Filled with comedy and adventure, The Princess Bride is a quintessential 80s film that still enjoys a huge fan base and will entertain the entire family from Once Upon a Time… to …The End!
5. E.T. the Extra-Terrestrial (1982)
Of all the blockbuster films that Steven Spielberg has directed over the years, the magic of E.T. – a story of a young boy who befriends an abandoned alien from outer space – is truly amazing. With special effects that still stand the test of time and a story that melts the hardest of hearts, E.T. is an incredibly emotional film that has the ability to make you laugh and cry in equal measure. The film follows 10-year-old Elliott who one night discovers an alien hiding in his bedroom. After the initial and mutual shock, the two become bonded and the lovable E.T. is soon assimilated into the lives of Elliott and his brother and sister.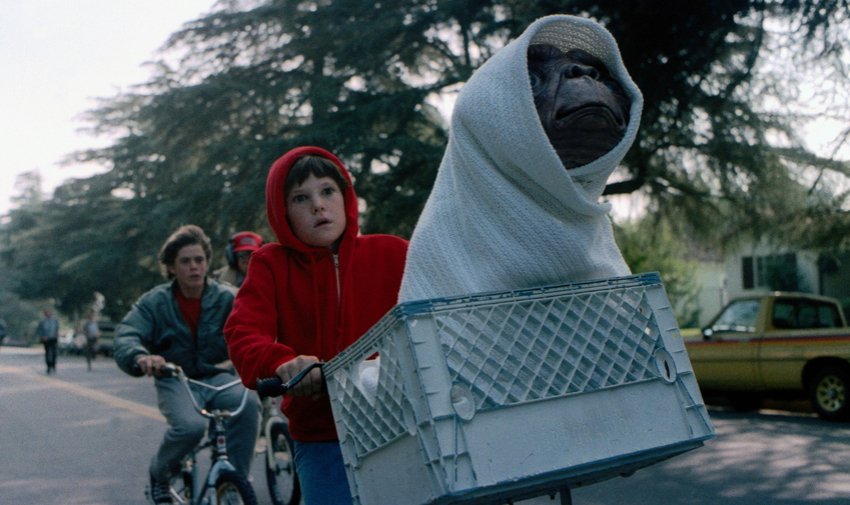 There are many enjoyable comedic moments with E.T. – he is dressed up by the kids and in one scene taken on a trick-or-treat walkabout around the neighbourhood. After a while the authorities manage to track the alien down and it's up to the children to save him from their clutches and help him get back to his spaceship. A truly modern classic, Spielberg's E.T. would be just as successful if it was released for the first time today. Guaranteed to become a firm family favourite for you and yours for years to come!
So there's 5 Great 80s Films to watch with the family!
Think we've missed any out, or not included your favourite 80s family film? Then let us know and tell us in the comments below.
You can read more of our articles here.
Please join us on social media on Facebook, Instagram, Tik Tok and Twitter. We really appreciate all the likes, shares, retweets etc., and we would love to hear from you and continue the wonderful celebration of all things cinema on these platforms.
If you love to watch videos on YouTube, then please subscribe to our channel here. There's lots of fun and informative videos uploaded that we hope you will enjoy!
We have a passion for movies and aim to produce entertaining and informative movie-related content. It certainly is a lot of hard work, but we love films so much that it's worth all the effort. We have to keep the lights on and make sure we have plenty of caffeine to keep all of the articles, videos and social media posts coming, so if you like our work, then please consider supporting us at Buy Me A Coffee here. You can also become a More Movies patron on Patreon here.
To help support us here at More Movies, we do use advertising in a few places, so we appreciate it if you do not use AdBlockers on our site, as this helps keep a few pennies trickling in. We also utilise affiliate links throughout the site, usually to help guide our readers to places to stream, rent or buy the movies we talk about. One of the biggest sources for movies online is Amazon Prime Video, where you can stream over 18,000 films. If you are interested in Prime and haven't signed up yet, you can get a 30-day free trial via this