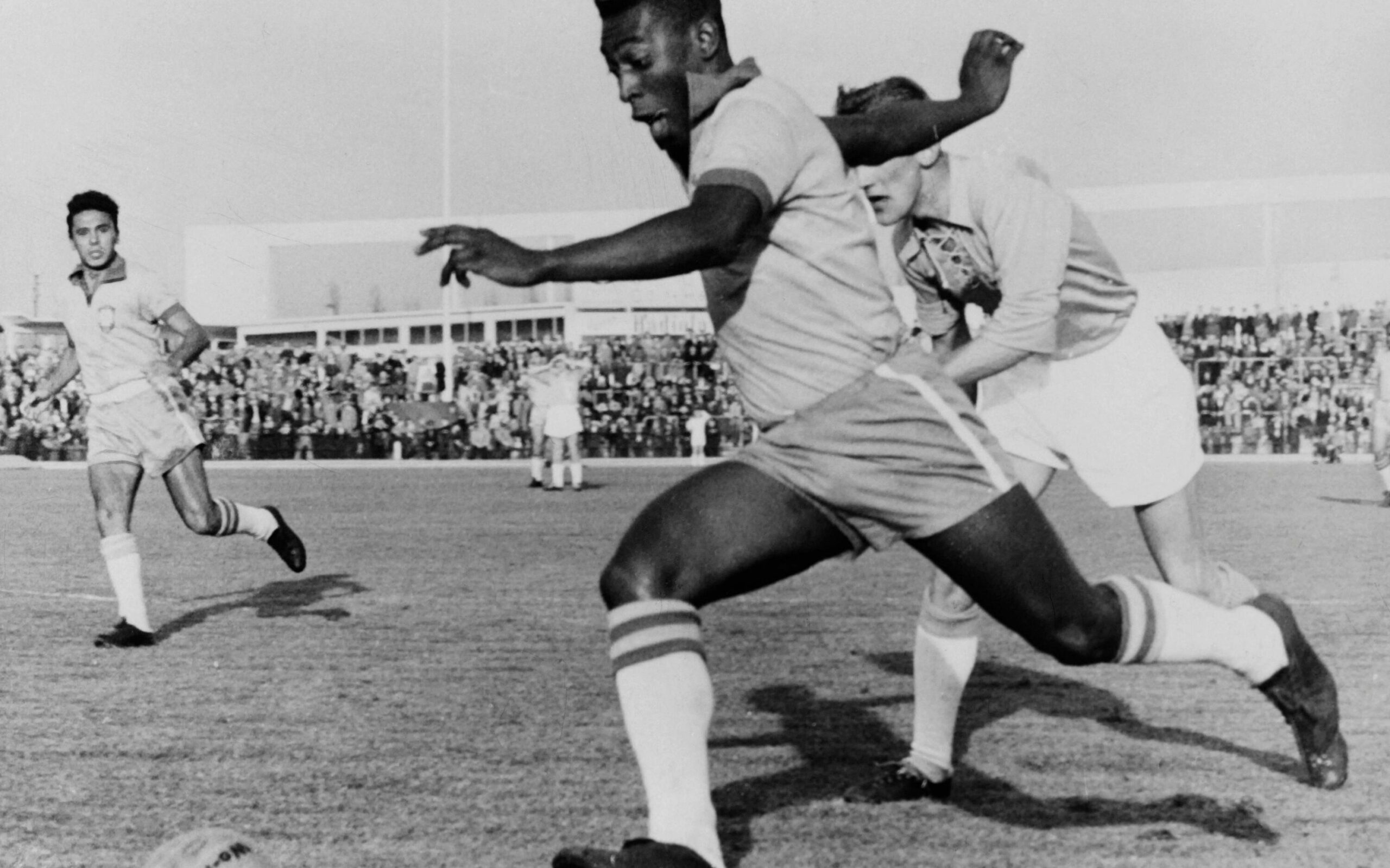 As we stand on the brink of the Euro 2020 final, it's a great time to dig through our collection and pick out some of our favourite football films to watch before the big match. There have been many films about soccer produced over the years, many of which aren't worth taking a shot at. But amongst them are some real gems, exploring some of the most moving and fascinating elements of the history of this great sport.
As arguably the world's most popular spectator sport, and a game watched by billions worldwide, it should come as no surprise that filmmakers have for years tried to capture the essence of football onto celluloid. So here we have picked out 10 of the very best films to get you into the soccer spirit.
1. Escape To Victory (1981)
Also known as Victory in some countries, Escape to Victory was the first real big football movie. The story is loosely based on a Hungarian film, Two Half Times in Hell (1961), which in turn is based on The Death Match, a match played in Kyiv in occupied Ukraine. The games were between a team made up of professional footballers of Dynamo Kyiv and Lokomotiv Kyiv, who were being forced to work at Bread Factory No.1, and a team of German soldiers. Many of the players were arrested, tortured and killed for disobedience in the end.
While the film's POWs are not Ukrainian but rather predominately Westerners, the story parallels are clear: they are threatened with death if they win, the playing ground is surrounded with Nazi guards and attack dogs, the referee ignores vicious and brutal fouls committed by the German team, yet the Allied prisoner team ignore the threat and draw the match, thus risking their lives.
The film is a lot more light-hearted than the actual story, becoming a great feel-good classic from John Huston. It's notable for the cast – with big stars such as Sylvester Stallone, Michael Caine and Max von Sydow performing alongside football greats like Pelé, Bobby Moore, Ossie Ardiles and Mike Summerbee.
Reportedly, Sylvester Stallone insisted that his character score the game-winning goal in this movie, as he felt he was the biggest star. However, the non-American crew was finally able to convince him of the absurdity of the goalkeeper scoring the winning goal, and the penalty save scene was specifically written to soothe his ego.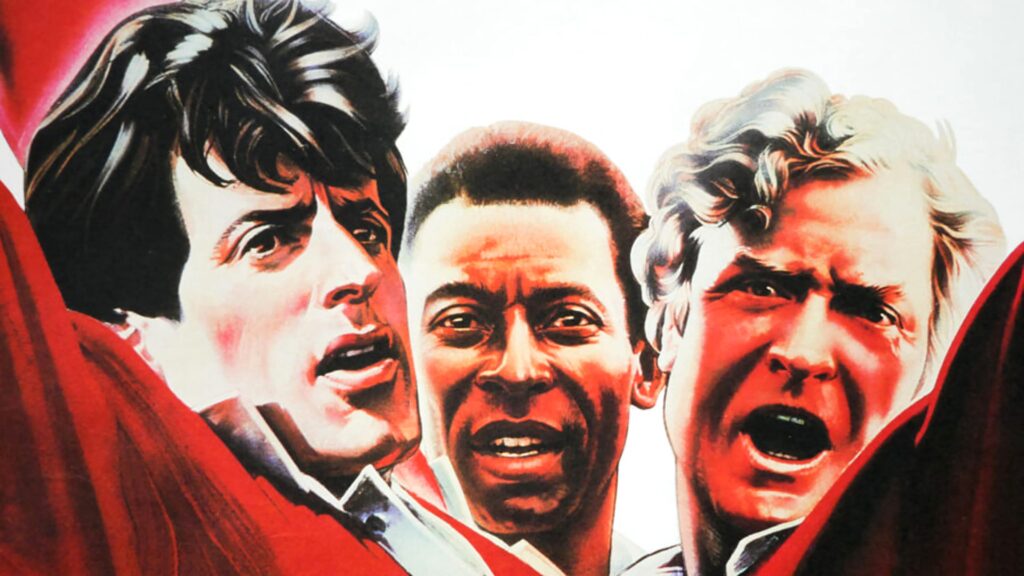 The head of a German POW camp, soccer enthusiast Karl von Steiner (Max von Sydow) organizes a match between Nazi players and their Allied captives. Orchestrated as a way to push the Third Reich agenda, the high-profile game is set to feature an international team led by John Colby (Michael Caine), a veteran British player. While the team, which also includes Luis Fernandez (Pelé) of Trinidad, trains for the match, Robert Hatch (Sylvester Stallone) plans a dangerous mass escape from the camp.
2. When Saturday Comes (1996)
A real-life "Roy of the Rovers" was an old football cliche, and this movie kind of represents those sentiments. A solid British football flick that portrays the hardship of Northern life with the fantastic Sean Bean leading the action, what else could you want?
It's the fairytale story of second chances, a man who gets another shot at the glory which evaded him previously. But his personal life is getting in the way. The drinking, the partying, problems at home, they are sending him spiralling towards disaster.
A great story with plenty of heart, When Saturday Comes deals with the reality of life and love in an emotional story. It has the stylistic "Grim Up North" feel to the cinematography that really puts you in the time and the place. Great performances from Sean Bean, Emily Lloyd and Pete Postlethwaite make this a British classic.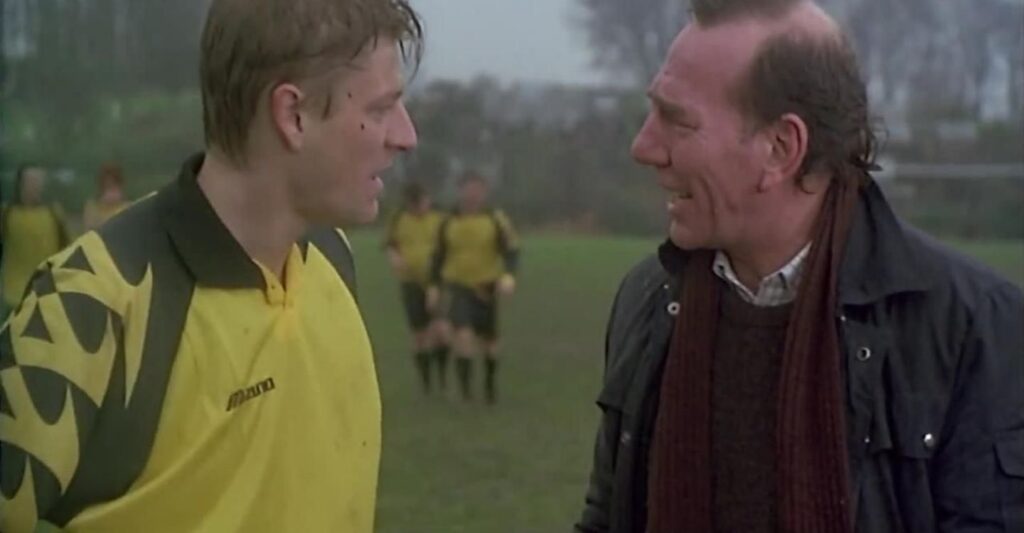 Jimmy (Sean Bean) aspires to be a professional soccer player, but as a heavy drinker with a go-nowhere job in a local brewery, his dream of making the team for Sheffield United seems an unlikely one. However, after starting a relationship with the pretty Annie (Emily Lloyd) and catching the eye of recruiter Ken (Pete Postlethwaite) during an amateur game, the future is suddenly looking brighter for Jimmy. Unfortunately, to make it into the big leagues, he'll first have to win his bout with the bottle.
3. Mike Bassett: England Manager (2001)
Mike Bassett: England Manager is hilarious. At least for those with a knowledge of English football, even one that's not very in-depth. It's interesting because the film was derided by many critics on its release, calling it crummy, cliched and empty. But really, they are all the things that make it work. The film is a parody of every stereotypical story that has ever been written about the England team by the national newspapers.
It takes the true to life stuff and spins it. It's almost a remake of An Impossible Job (1994), the documentary about England's Manager Graham Talyor from 1994. With hilarious references to Maradona's goals against England in 1986, Graham Taylor's bumbling assistant coach Phil Neal, Paul Gascoigne and even a Neil Warnock inspired half time team "talk".
With great performances from Ricky Tomlinson, Bradley Walsh and Phill Jupitus, the film is the quintessential representation of 1990s English football.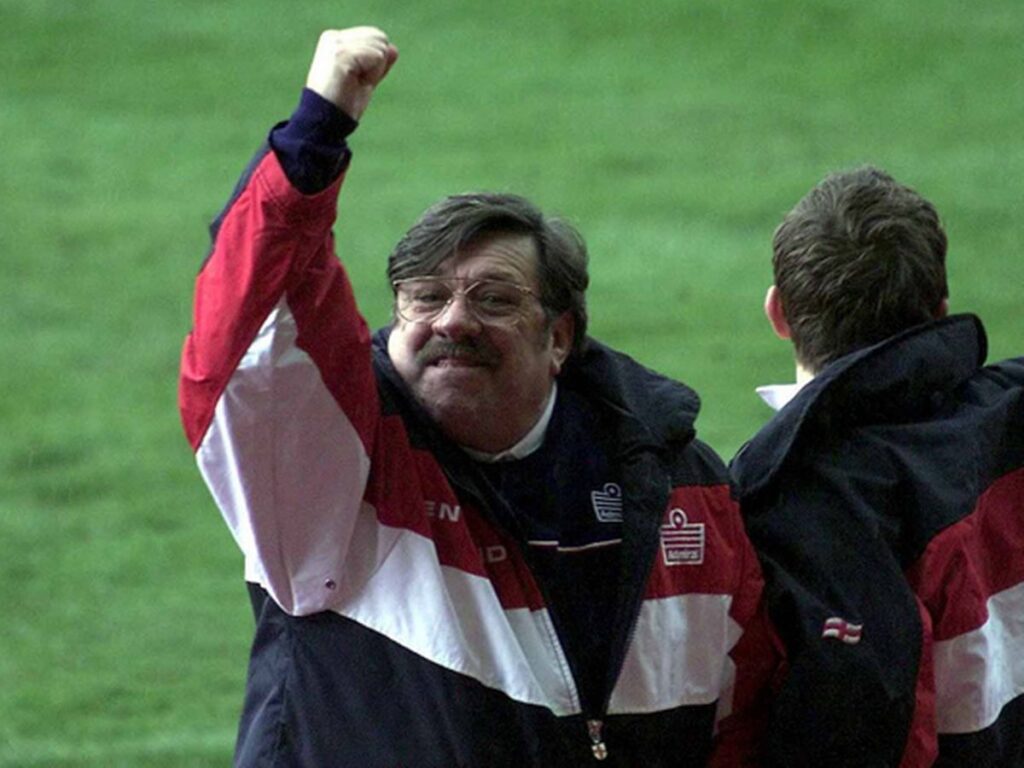 England's Football Association scrambles to find a replacement for the national team's manager after Phil Cope (Malcolm Terris) dies of a heart attack. Most candidates decline the position, and the FA must offer it to the inept Mike Bassett (Ricky Tomlinson), who accepts. He makes a series of bad decisions and loses his first two games as England manager. Bassett seems destined for a quick exit when he gets a chance at redemption after his team surprisingly gains entry into the World Cup.
4. Mean Machine (2001)
Mean Machine is a remake of The Longest Yard (1974), a sports comedy set in a U.S. prison where the game of choice is American Football. In this British version, we're at HM Prison Oxford, and football (soccer) is the choice of game. The film was created as a vehicle for famous "Crazy Gang" footballer Vinnie Jones, who had recently retired and dropped into acting in films such as Lock, Stock and Two Smoking Barrels (1998) and Snatch (2000). The film also reunited most of the cast from executive producer Guy Ritchie's aforementioned blockbusters.
The film is a fast-paced, action-filled, silly adventure into the prison world where the wardens and prisoners face each other in a tense football game. It's packed with clichés, and the plot is obvious, but that comfortable familiarity allows the film to entertain you with its witty, sharp dialogue, British humour and gritty violence. A pretty entertaining romp and one of the better "remakes" of this film.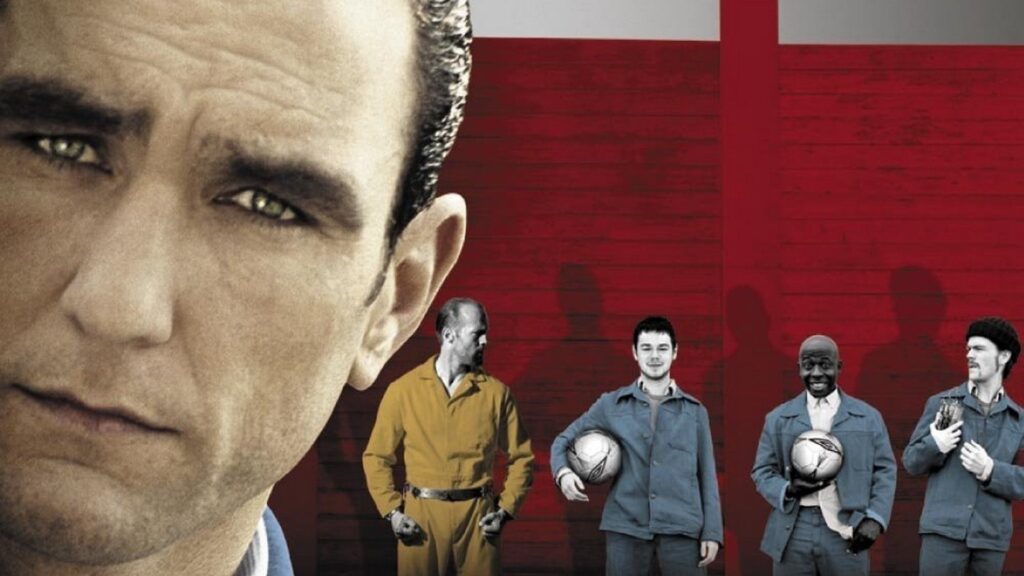 In a rough-and-tumble British prison, where murderers, thieves and assorted madmen are locked away, inmate Danny Meehan (Vinnie Jones) is about to lead them all in the ultimate battle of their degenerate lives — but no one could have guessed it would be a soccer match! Now, in an all-out playoff against the despised guards, the prisoners' goal isn't just to make goals; it's to prove the indomitable nature of their spirit, no matter how much they get kicked, bloodied or knocked around.
5. Shaolin Soccer (2001)
The 2001 Chinese film Shaolin Soccer is the perfect mixture of martial arts and monumental soccer. Packed full of high energy action and some incredible matchplay scenarios, this exciting movie is also hilarious to watch. You might not associate a country like China with its football prowess, but the sport is very popular in certain regions. When combined with the impressive, high-kicking action of Kung-Fu, soccer can become an even more exciting game to watch.
Although this film takes the idea to the extreme, you can still buy into the concept of a team of Shaolin warriors banding together to take down the local villains and go on to win the league as well as the respect of the fans! Incredible fun and not to be missed if you love a bit of martial arts mixed in with the beautiful game!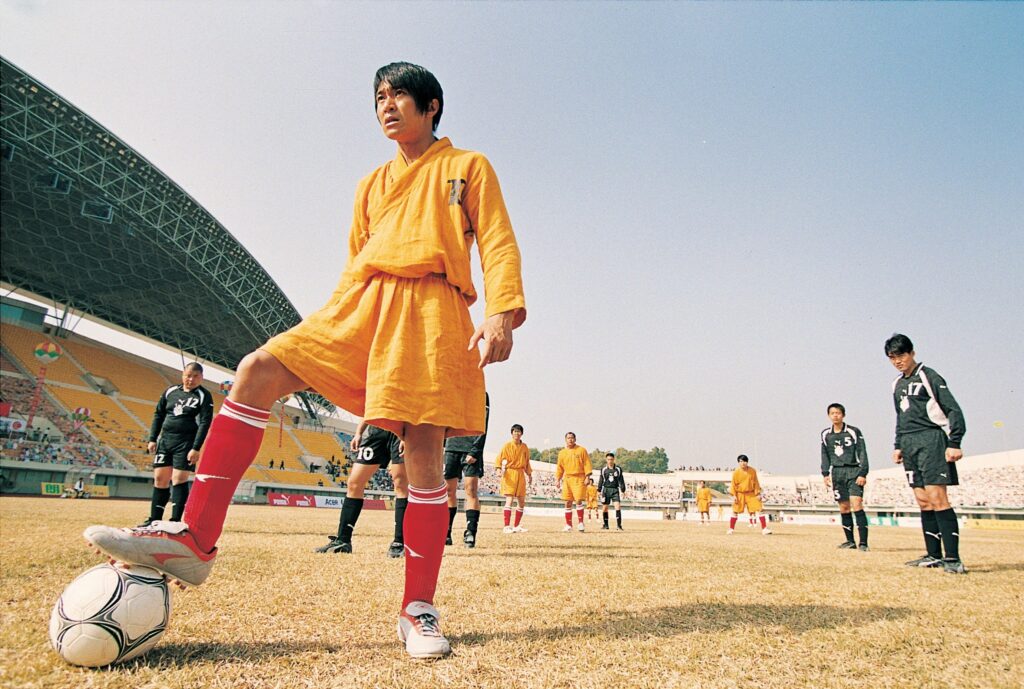 All his life, an ordinary young man (Stephen Chow) has been treated like dirt. Still, he's never given up believing that all the world's problems could be solved with a little kung fu. So he's teaming up with a band of misfits – six friends who were kung fu masters in their youth – to form a soccer team that only he believes has a chance to win a $1 million grand prize. Together, they're going to apply their hidden talents to a whole new game — and soccer will never be the same again.
6. Bend It Like Beckham (2002)
Finally, we come to a football film about the achievements of women in the sport but also one that contains a social commentary about old beliefs and religion.
The film follows Jess, the 18-year-old daughter of British Indian Sikhs in London. She is infatuated with football, but her parents have forbidden her to play because she is a girl. Against her parents' wishes, she joins a local women's team, making her way to the top of the league.
Inspiring and compassionate, Bend It Like Beckham is a lively feel-good movie that genuinely charms. It's a film about the bending of rules and social paradigms, similar to being able to finally curl that ball, bending it like Beckham, through the goalposts of ambition.
The film was released at a time of change in Britain and glimpsed at a divide in our society. But it also refreshingly punched through and showed us the changing values of Non-Resident Indian teens, including Jess's urge to break the social norm of the Indian home-maker, her sister's sexually active relationship and her gay Indian friend. A remarkable romantic comedy with much to say, Bend it Like Beckham is a must-watch.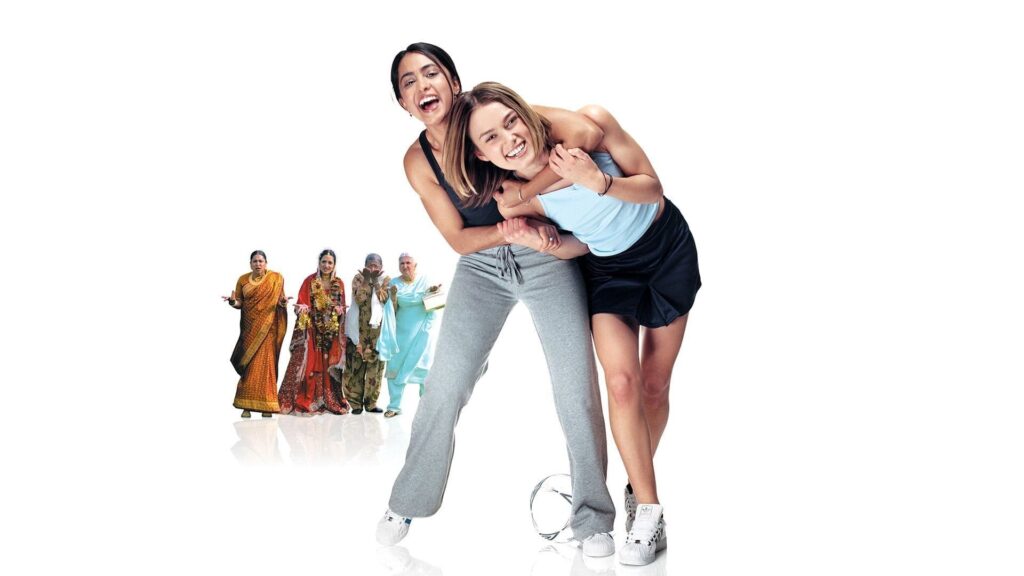 Jess Bhamra (Parminder Nagra), the daughter of a strict Indian couple (Anupam Kher, Shaheen Khan) in London, is not permitted to play organized soccer, even though she is 18. When Jess is playing for fun one day, her impressive skills are seen by Jules Paxton (Keira Knightley), who then convinces Jess to play for her semi-pro team. Jess uses elaborate excuses to hide her matches from her family while also dealing with her romantic feelings for her coach, Joe.
7. Green Street Hooligans (2005)
For all the romantic tales of football that films in the list have covered thus far, the game also has its dark side. Unfortunately, racism and homophobia have been a nasty side-affect within the fandom of the game. Of course, over the years, there have been countless disasters such as Hillsborough and Heysel. There is also Football Hooliganism, essentially gang warfare whilst wearing your club's colours. The height of hooliganism was back in the eighties, and it is something that, though it still exists, has thankfully declined over the years.
In the world of cinema, hooliganism has been covered a few times in films such as The Football Factory (2004) and I.D. (1995). But Green Street Hooligans is perhaps the most well known.
The film has received plenty of criticism from the unbelievability of Elijah Wood in his role, the accent of Charlie Hunnam and for allegedly glorifying soccer violence. But I think the film has plenty to offer as a look at the devastating destruction these men put themselves through, the terrifying effects on communities and what it does to their lives.
It shows that these hooligans are just regular guys and gives us a glimpse at the melodrama too. The violence is intense and gruesome at times, and the story is well told, and I do root for Elijah Wood. But, for those who criticise the authenticity, I would say "who cares?". It gets the flavour and feel across and tells a story whilst doing it. Documentaries are for authenticity. This is pure drama, and I think, very enjoyable at that.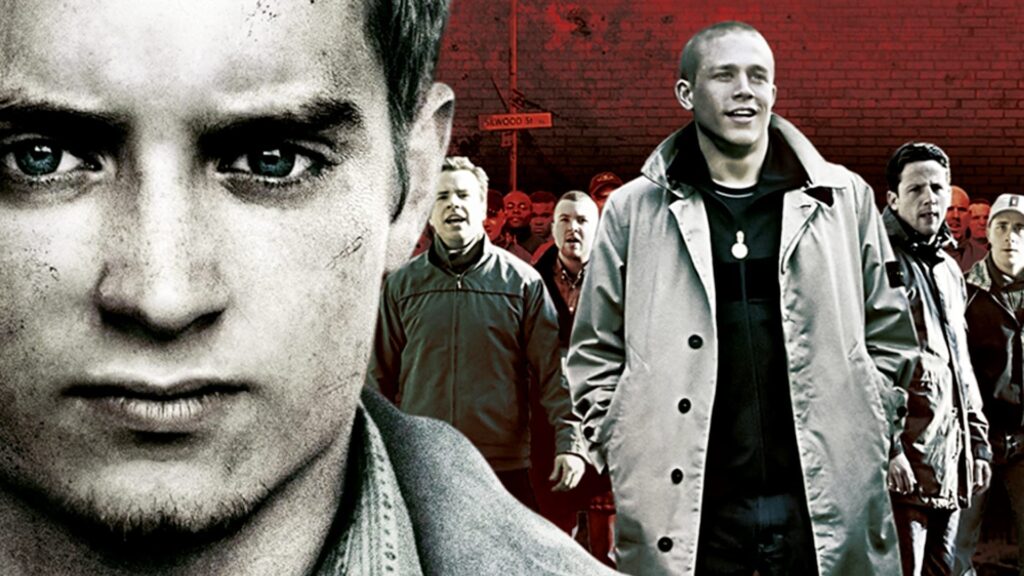 American journalism student Matt Buckner (Elijah Wood) moves in with his sister and her family in London. There, he meets football hooligan Pete Dunham (Charlie Hunnam), who introduces him to his rough tribal world, where supporters of opposing teams battle each other before and after games. But Pete's lieutenant, Bovver (Leo Gregory), suspects Matt's motives and inadvertently reopens a years-old rivalry between Pete's brother (Marc Warren) and the leader of a rival gang (Geoff Bell).
8. Offside (2006)
Offside is perhaps the most important football film on this list. This Iranian film directed by Jafar Panahi is about some girls who try to watch a World Cup qualifying match in Iran, which is forbidden by law because of their gender. The film was actually inspired by the director's daughter, who decided to attend a game in Iran anyway.
Most of the characters in the film are not named, and it has a documentary feel like you are there witnessing something that shouldn't be happening. Nevertheless, Offside is a spirited film that explores gender politics with comedy, intelligence, and a variety of exciting characters that humanizes the Iranians and shows that they're just as crazy about their sports as Westerners, if not more. If anything, it proves that soccer is truly an international language, providing an arena where anyone can communicate.
The film shows how true its politics are in the fact that it won at the Berlin Film Festival and is celebrated internationally, yet the film is still banned in Iran. There is so much progress still to be made.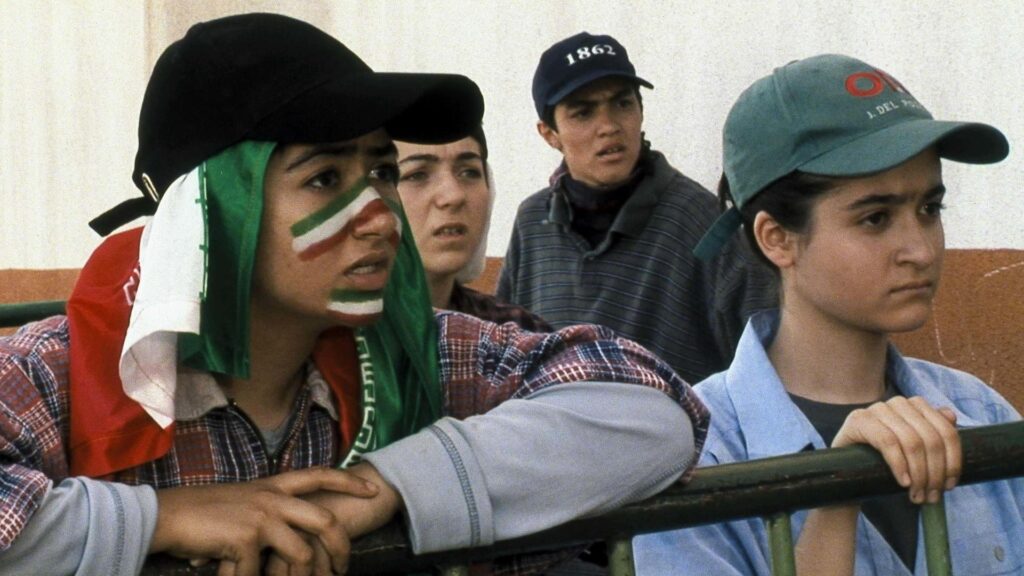 Since women are banned from soccer matches, Iranian females masquerade as males so they can slip into Tehran's stadium to see the game between Iran and Bahrain. The ones who are caught and arrested are taken to a holding area and guarded by soldiers. One sympathetic soldier agrees to watch the game through a peephole and recount the action to the impatient fans.
9. The Damned United (2009)
The Damned United is adapted by Peter Morgan from David Peace's bestselling 2006 novel – a largely fictional book based on the author's interpretation of Brian Clough's ill-fated tenure as football manager of Leeds United Football Club in 1974.
Michael Sheen takes on the role of Brian Clough in his typical, immaculate style of impersonating famous faces. His performance is truly breathtaking. Clough is one of the most enigmatic figures in all of football. Charismatic, outspoken and often controversial, he is considered one of the greatest managers of the English game. His achievements with Derby County and Nottingham Forest, two struggling provincial clubs with little prior history of success, are rated among the greatest in football history.
Here we dig right into the heart of the character, his rivalry with former Leeds manager Don Revie, his rift with Peter Taylor and the ill-fated 44-day tenure as Leeds manager. The movie is somewhat about football, but most of the film stays behind the scenes. The story is really about a man's obsession, a character study into one of this country's modern myths.
With impeccable direction, a flawless acting and a terrific script, this is a must-watch British drama, even for those non-football fans.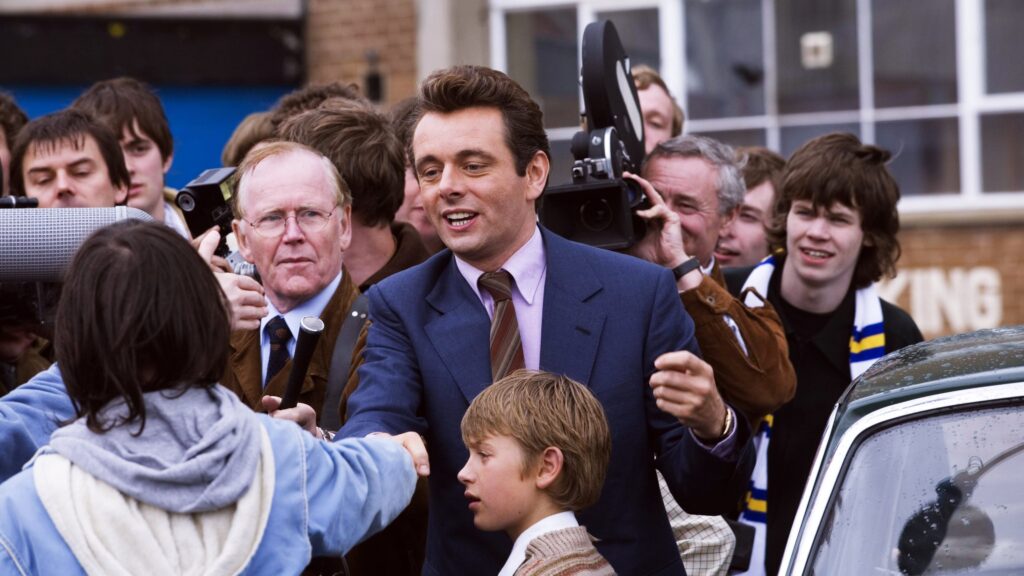 The story of Brian Clough's 44 day stint as manager of Leeds United Football Club takes place in 1974 England. When Don Revie quits Leeds to become the England boss, the outspoken Brian Clough takes charge. Determined to impose his own style upon Revie's tough tackling team. Clough soon alienates his players and the board. Based on the book by David Pearce.
10. United (2011)
The "Busby Babes" was the name given to the group of footballers, recruited and trained by Manchester United F.C. chief scout Joe Armstrong and assistant manager Jimmy Murphy, who progressed from the club's youth team into the first team under the management of the eponymous Matt Busby from the late 1940s and throughout the 1950s.
On the 6th February 1958, the team's plane crashed on its third attempt to take off from a slush-covered runway at Munich-Riem Airport in West Germany. The aircraft was carrying the Busby Babes along with supporters and journalists. There were 44 people on board, 23 of which did not survive the crash.
One of the darkest days of football, United follows the Munich air disaster and the devastating aftermath. In particular, the film focuses on the experiences of assistant manager Jimmy Murphy, played by David Tennant, and Bobby Charlton, played by Jack O'Connell. The film is a poignant historical drama exploring society and football from a different era.
It's beautifully crafted, powerful and haunting, and David Tennant's star performance is heartbreaking. Powerful stuff.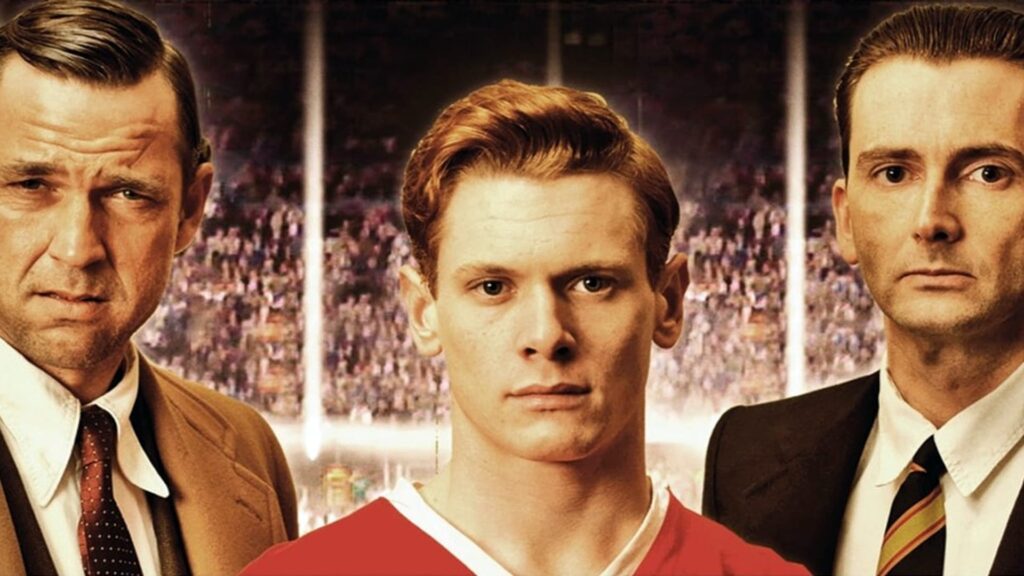 The Busby Babes were a group of legendary football players who played for Manchester United, becoming the youngest team to win the Football League. However, the team meets with a tragic end during the Munich air disaster, where the plane carrying the team back from a European fixture crashed, resulting in 23 fatalities. Based on the true story, the film's events take place between August 1956 and May 1958 in the aftermath of the disaster. In particular, the film focuses on the experiences of assistant manager Jimmy Murphy, played by David Tennant, and Bobby Charlton, played by Jack O'Connell.
That's our Top 10 football films!
Think we've missed any out, or not included your favourite football film? Then let us know in the comments below.
You can read more of our articles here.
Please join in 'the conversation' with us on social media on Facebook, Instagram, Tik Tok and Twitter. We really appreciate all the likes, shares, retweets etc., and we would love to hear from you and continue the wonderful celebration of all things cinema on these platforms.
If you love to watch videos on YouTube, then please subscribe to our channel here. There's lots of fun and informative videos uploaded that we hope you will enjoy!
We have a passion for movies and aim to produce entertaining and informative movie-related content. It certainly is a lot of hard work, but we love films so much that it's worth all the effort. We have to keep the lights on and make sure we have plenty of caffeine to keep all of the articles, videos and social media posts coming, so if you like our work, then please consider supporting us at Buy Me A Coffee here. You can also become a More Movies patron on Patreon here.
To help support us here at More Movies, we do use advertising in a few places, so we appreciate it if you do not use AdBlockers on our site, as this helps keep a few pennies trickling in. We also utilise affiliate links throughout the site, usually to help guide our readers to places to stream, rent or buy the movies we talk about. One of the biggest sources for movies online is Amazon Prime Video, where you can stream over 18,000 films. If you are interested in Prime and haven't signed up yet, you can get a 30-day free trial via this affiliate link, which helps support us too.