Charles Spencer Chaplin, more commonly known as Charlie, was born in London to a poor family of vaudeville performers in April, 1889. His childhood was extremely difficult, his father was a singer and an alcoholic who left his mother and the children not long after Charlie's birth.
His mother was also a singer and performer, but she suffered from mental illness and was eventually committed to a mental institute, leaving Charlie and his brother Sydney having to find refuge in the dreaded workhouse. This typically Victorian upbringing was commonplace amongst the working classes and many young children were forced into some form of labour during their childhood, in order to survive. Despite these impoverished and shocking conditions, Chaplin said of his upbringing:
"I was hardly aware of a crisis because we lived in a continual crisis; and, being a boy, I dismissed our troubles with gracious forgetfulness."

Charlie Chaplin
By the age of 14, Charlie Chaplin had taken to the stage himself and began to make a name for himself as a talented performer in London's theatres, being singled out for his hilarious comedic turns. The young Chaplin managed to join a troupe that toured England and so began a life-long career in entertainment.
By the time he was 18 years old, Charlie Chaplin joined the Fred Karno comedy company along with his brother. They went on to tour the United States with Karno's vaudeville performers, young Charlie becoming the star of the show and quickly making a name for himself and garnering attention with the newly formed motion picture companies that were becoming increasingly popular across America.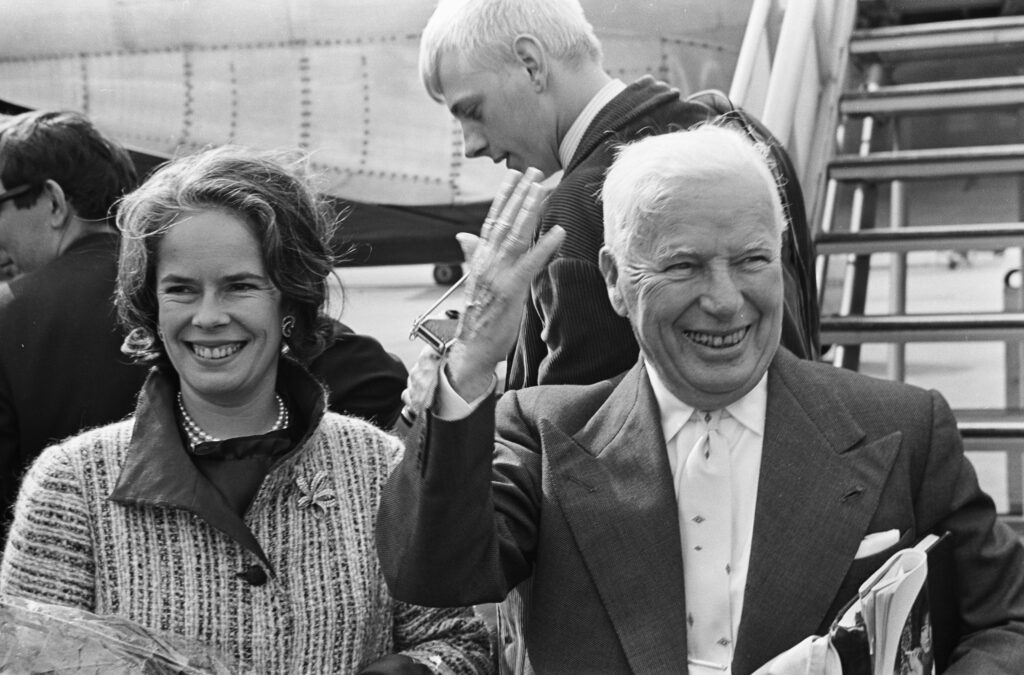 In 1914 Chaplin began working for the famous Keystone Company under studio boss Mack Sennett. He soon took it upon himself to learn the fundamentals of film-making and began to develop a character that would become a world-renowned icon, one that is still instantly recognisable today.
"The Little Tramp" character was conceived by Charlie Chaplin early on and he began to use this on-screen persona in all of his film performances. These early one-reelers proved to be incredibly popular with audiences and when Chaplin insisted that he be allowed to direct his own pictures, his increasing popularity paved the way and gave him more control over the films he was starring in.
Chaplin's popularity grew exponentially, and by the dawn of the 1920's he was firmly established as one of the first international film stars. His salaries were record-breaking and his popularity afforded him the independence to create his films without exterior influence or interference. By the time he was 26 years old, he had become one of the richest men in the world and certainly one of the most recognisable.
"I went into the business for the money, and the art grew out of it. If people are disillusioned by that remark, I can't help it. It's the truth."

Charlie Chaplin
A true rags to riches story, Chaplin never forgot his roots. His early experiences informed his work throughout his film-making career and his character the Little Tramp became a symbol for both comedy and pathos, becoming a champion for the down-trodden and the embodiment of the working-class hero.
Now rightly hailed as one of the early pioneers of modern film-making, Chaplin's career developed over a series of features that are now thought of as bonifide classics. Here, we have selected our top 5 Chaplin films in chronological order…
1. The Kid (1921)
Starring Charlie Chaplin as the Little Tramp and a four-year-old Jackie Coogan as the titular character, The Kid is the story of an abandoned child that is found and raised by Chaplin. They live in one tiny room in poor conditions and make a living by scamming unsuspecting customers into having their broken windows fixed by the Tramp, who is a glazier. What they don't realise is that the kid is breaking the windows by throwing stones at them. Happy in their little world, the child and his surregate father have little money but share lots of wholesome love and are very happy together.
Then one day, after the child becomes ill, the doctor who tends to him realises that the child is not rightly Chaplin's and he is taken away by the authorities. After an amazing rooftop chase (see below), the two central characters are reunited. The child is eventually taken from the Little Tramp and returned to his mother, who also opens her door to Chaplin, all of them being united in the arms of love by the end of the picture.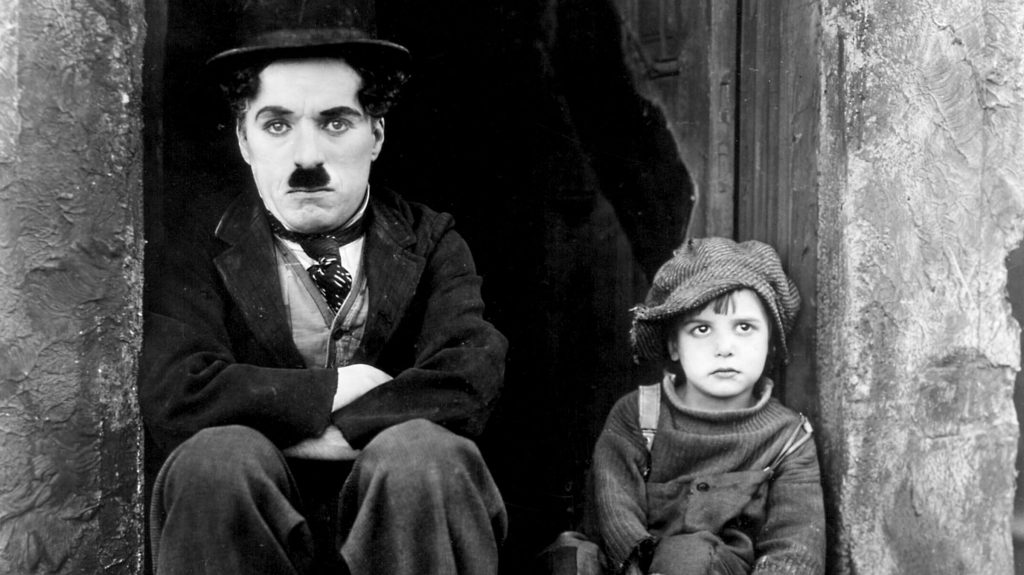 At 68 minutes long, The Kid was Charlie Chaplin's longest film to date. It was written, directed, produced and edited by Chaplin and he even wrote the score for the re-release in 1972. Such was his working method, Chaplin, a life-long perfectionist, favoured less speed and more haste when creating his films.
The Kid was an incredible success, costing $250,000 to make and earning over $5 million at the box office. It was selected for preservation in the National Film Library in 2011 and is rightly thought of as one of the very greatest films to come out of the silent picture era.
2. The Gold Rush (1925)
Calling it "The picture I want to be remembered by", The Gold Rush sees the Little Tramp (played by Charlie Chaplin) as a lonely prospector who becomes lost in a blizzard whilst looking for gold in the Klondikes. He stumbles into a cabin where he befriends another prospector, Big Jim who has recently discovered a huge gold deposit on his claim. The two have to deal with the cabin's occupant, Black Larsen who is a shotgun wielding brigand. The two prospectors disarm Larsen and send him out to find food, where he discovers Big Jim's gold deposit and hatches a plan to steal it from him.
Meanwhile, the Tramp and Big Jim become so hungry in the cabin that they have to eat a shoe in order to sustain themselves. The blizzard eventually eases and Big Jim returns to his claim only to be bushwhacked by Black Larsen. In the meantime Charlie ventures in to a nearby town and becomes smitten with a local entertainer.
Black Larsen steals some of Jim's gold but meets his maker at the hands of an avalanche. Awaking to find his memory wiped, Big Jim travels to the town and begins to remember his gold strike, though he cannot recall where the claim is. The Little Tramp helps him to remember the place and the two set off for the cabin and eventually become rich off the re-discovered hoard.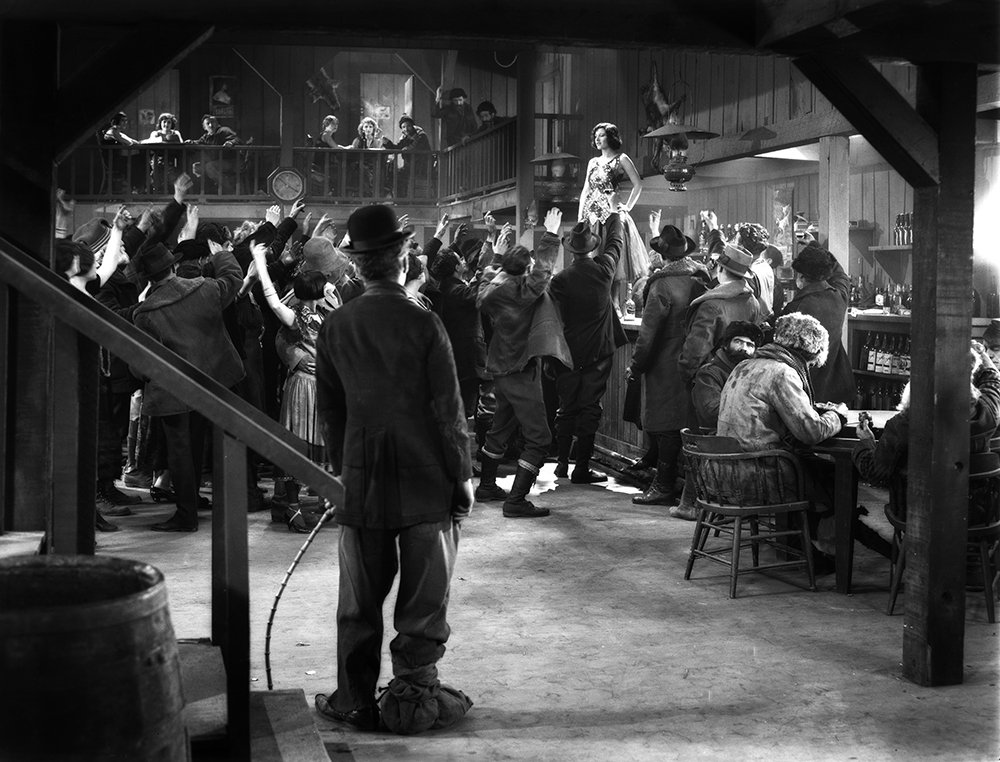 The Gold Rush opened to rave reviews and went on to be considered culturally, historically, and aesthetically significant and therefore added to the National Film Registry by the Library of Congress in 1992. One of Chaplin's most iconic performances, this film contains the famous bread roll dancing scene which the Little Tramp performs whilst waiting for his new romantic interest to arrive for a dinner date. Having been celebrated many times in subsequent films and TV shows, here's a clip from the original which showcases Chaplin's natural talent for iconic comedy.
3. City Lights (1931)
City Lights is Charlie Chaplin at the zenith of his silent movie career. By the time of it's production, 'talkies' were now all the rage and silent films were seen as old hat. Chaplin was unwilling to make the transition into talking pictures as he had made his name in the silent era. Therefore 1931's City Lights was Chaplin's swan song to a bygone age, but also one of his most celebrated films. This time, the Little Tramp finds himself in the big city and falls for a blind flower-girl.
Saving a drunken millionaire from a suicide attempt, Chaplin manages to help the girl financially, saving her from eviction and thanks to his millionaire aquaintance he is able to pay for an operation to have her sight restored. Due to a calamitous misunderstanding and a usual dose of ill-fated luck, the Little Tramp ends up in jail, but upon his release is re-united with the girl, beautifully illustrating the theme that love conquers all.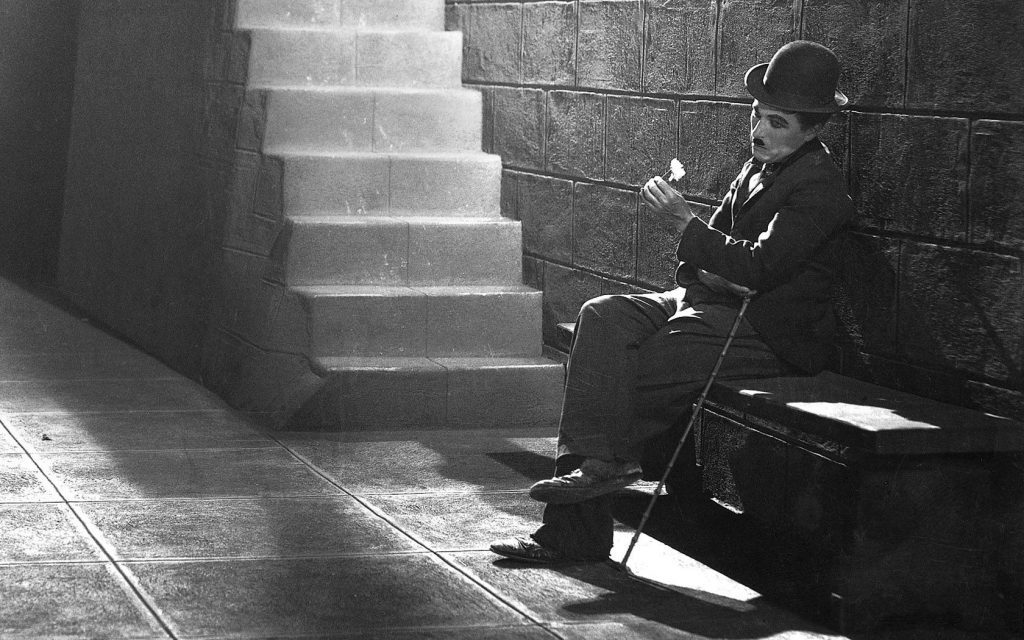 This film became Chaplin's favourite of all his works and as with the previous two selections, it was restored and preserved by the National Library of Congress in 1991. Beautifully shot with many hilarious visual gags and set-pieces, City Lights is perhaps Charlie Chaplin's most accomplished film in which he plays the Little Tramp.
As usual, the picture was written, directed, produced and edited by Chaplin, and for the first time, he was able to write the score for the film (which he later went on to do for all his films as they were gradually re-released in the subsequent decades). City Lights remains one of the most important and beloved films ever made.
4. The Great Dictator (1940)
Released as the British were embroiled in a war with Nazi Germany, The Great Dictator was Chaplin's first 'talkie' and one in which he parodies fascist dictator Adolf Hitler with the central character Adenoid Hynkel. He also plays a Jewish soldier who after losing his memory in the First World War becomes a barber in the ghetto.
The barber is persecuted by Hynkel's forces and eventually sent to a concentration camp. He escapes in a stolen uniform and the two men are mistaken for one another. Hynkel is sent to the camp whilst the barber travels to the capital where he ends up giving a life-affirming and hopeful speech (see below), posing as the Great Dictator himself.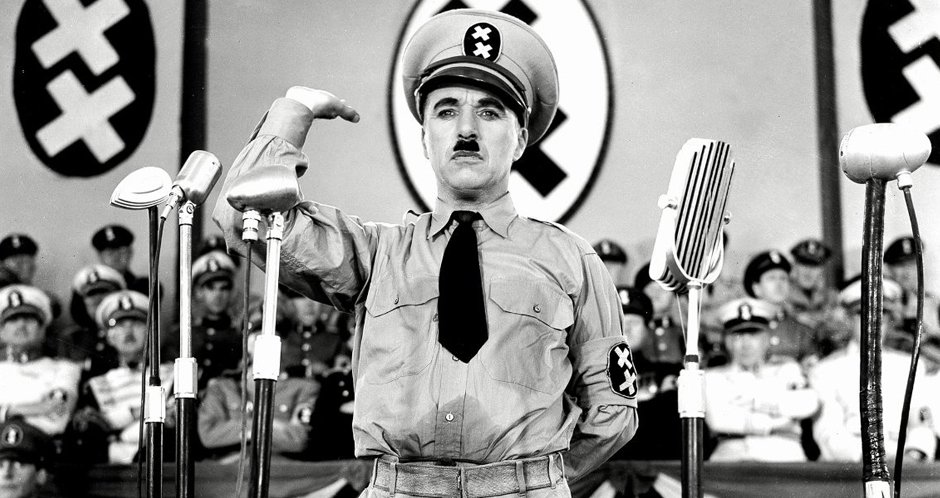 Charlie Chaplin hated fascism and particularly despised Hitler, Mussolini and everything their evil ethos stood for. Being over 50 years old at the time, Chaplin was too old to fight in the war and instead chose to use his creative talents to ridicule these tyrants on film.
There are many hilarious moments, such as the scene in which Hynkel plays with a globe of the Earth, bouncing it around in a balletic performance that perfectly encapsulates the megalomania of the character. Most famous is the aforementioned speech in which the Jewish barber uses the opportunity to convey a message of hope, love, peace and empathy. Something that is still worth reminding ourselves of, all these years later.
5. Limelight (1952)
Perhaps his most touching film, Limelight sees Charlie Chaplin play a washed up clown called Calvero, who saves a young girl from a suicide attempt and nurses her back to health. Having had her faith in life restored, the young girl, a dancer called Terry, rekindles her love for performing and is encouraged by Calvero to return to the stage and fullfil her destiny as a successful dancer.
She persuades Calvero to return to the stage one last time for a benefit concert, which he does with the help of his old partner (played by Buster Keaton). The performance is successful but results in Calvero suffering a heart attack and passing away in the wings, as the young dancer takes to the stage to perform the show's second half.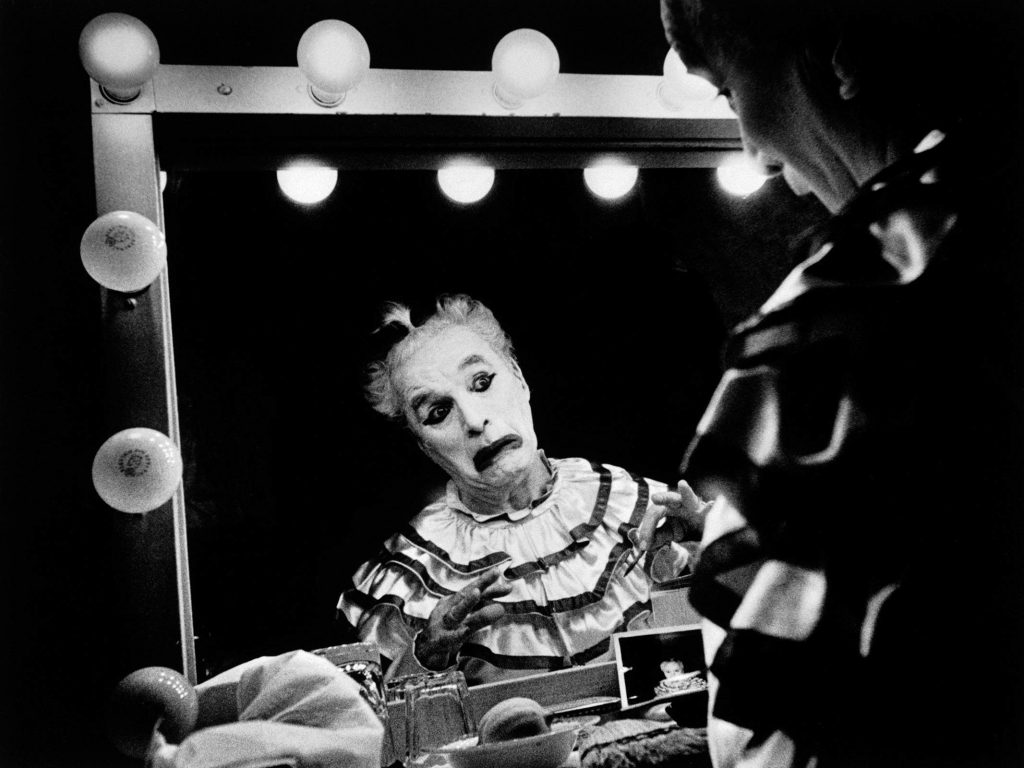 Limelight was not Chaplin's last film, but it was arguably his last great film. There is a lot of similarities between Calvero and Chaplin himself, both clowns that came from a different era, now feeling exhausted and over the hill. The final performance with Buster Keaton was a fitting and apt way for the two former silent-movie stars to go out with a bang and despite their advancing years, Chaplin and Keaton give a fantastic performance which reminds us of just how talented and funny these early film stars really were. Here's an excerpt from the film featuring the two celebrated legends of celluloid.
There you have it, our top 5 Charlie Chaplin films!
Think we've missed any out, or not included your favourite Charlie Chaplin movie? Then let us know in the comments below.
You can read more of our reviews here.
Please join in 'the conversation' with us on social media on Facebook, Instagram, Tik Tok and Twitter. We really appreciate all the likes, shares, retweets etc., and we would love to hear from you and continue the wonderful celebration of all things cinema on these platforms.
If you love to watch videos on YouTube, then please subscribe to our channel here. There's lots of fun and informative videos uploaded that we hope you will enjoy!
We have a passion for movies and aim to produce entertaining and informative movie-related content. It certainly is a lot of hard work, but we love films so much that it's worth all the effort. We have to keep the lights on and make sure we have plenty of caffeine to keep all of the articles, videos and social media posts coming, so if you like our work, then please consider supporting us at Buy Me A Coffee here. You can also become a More Movies patron on Patreon here.
To help support us here at More Movies, we do use advertising in a few places, so we appreciate it if you do not use AdBlockers on our site, as this helps keep a few pennies trickling in. We also utilise affiliate links throughout the site, usually to help guide our readers to places to stream, rent or buy the movies we talk about. One of the biggest sources for movies online is Amazon Prime Video, where you can stream over 18,000 films. If you are interested in Prime and haven't signed up yet, you can get a 30-day free trial via this affiliate link, which helps support us too.