Another Round (2020) is the compelling drama film directed by Thomas Vinterberg and starring Mads Mikkelsen.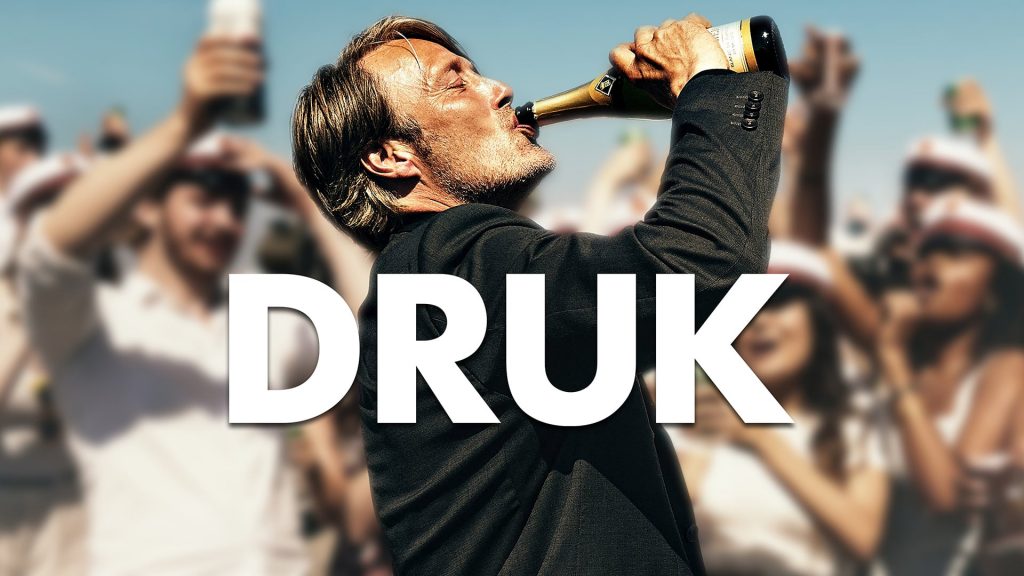 Co-written by Vinterberg and Tobias Lindholm, Another Round is a Danish film, the original title being Druk, translating to something like Binge Drinking in English. The film tells the story of four male friends in their 40s, all of whom are teachers and are at a point in their lives where they have become a little dissatisfied and bored with their lot, particularly Martin played by Mikkelsen.
Martin is in a malaise and possibly heading into a mid-life crisis. His work, his homelife and his social life have all become uninteresting and devoid of any passion. He is bored and this is noticed by his students, his wife and his friends.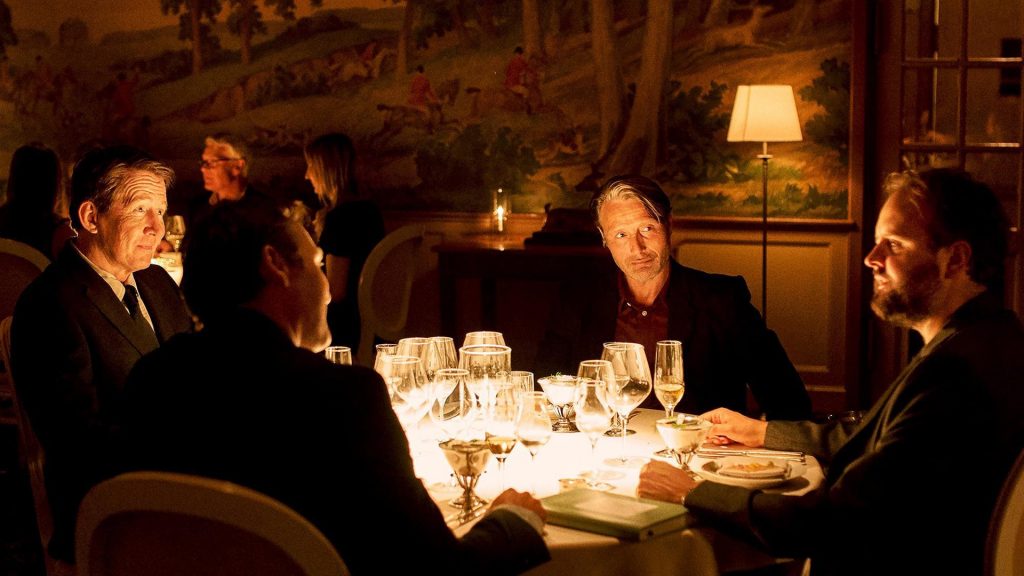 As the four friends gather to celebrate a birthday, they discuss Norweigian psychiatrist Finn Skårderud's theory that supposes that human beings are born with a deficient amount of alcohol in their bloodstream, and maintaining an intake of 0.05% of alcohol will help an individual to become more relaxed, at ease with the world and even more successful in any endeavours they undertake. The four men laugh it off and finish the night getting pretty inebriated, drinking away their troubles.
The conversation about Skarderud's theory has a profound effect on Martin and he proposes testing the theory to the other three, who are also excited by the idea and keen to get involved. They stipulate that they must approach the experiment scientifically and record their findings, only drinking enough to restore the 0.05% deficiency and only allowing themselves to drink in the day time, stopping at 8pm and abstaining at the weekends.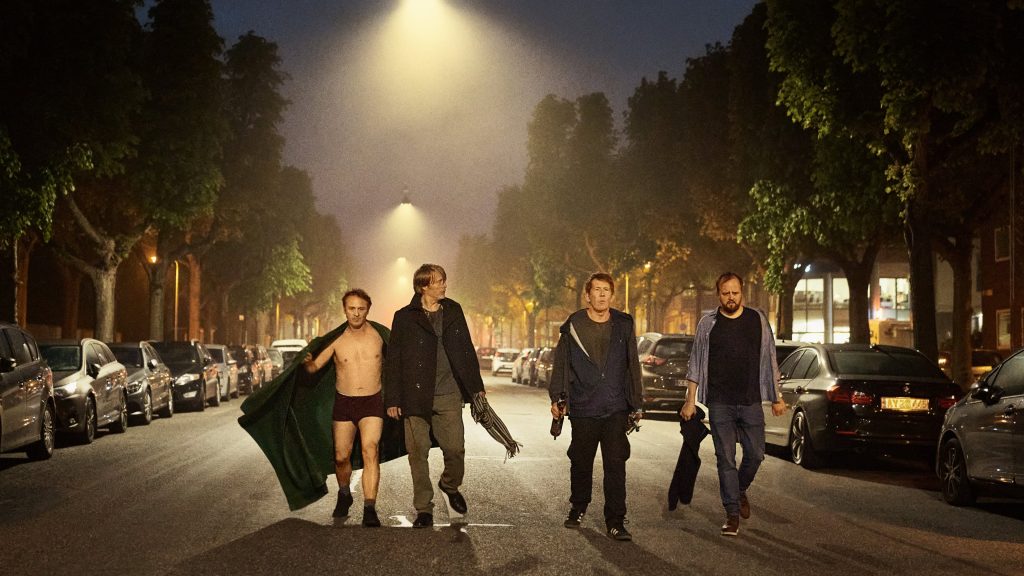 And so Martin and his mates begin to introduce a little booze into their working day. Being teachers, they have to keep a lid on things and make sure that nobody gets wise to their research project. The fun of the situation re-ignites a youthful frivolity in the four friends and the experiment begins to yield some positive results. Martin finds that he is becoming more passionate again, his students notice the change and respond to his enthusiasm. His wife and family benefit from this re-invigoration also and Martin and company hit a wonderful stride which sees them all becoming happier, more productive and more effective in their daily lives.
However, like any other drug, alcohol is extremely addictive and before long the small amounts they have been drinking to achieve the 0.05% start to gradually increase. As their tolerance for alcohol heightens they begin to drink more and before long the measured, scientific approach gives way to a more frivolous and inflated intake. This leads to a dangerous scenario where the friends begin to experience the darker side of drinking which can easily lead to full blown alcoholism.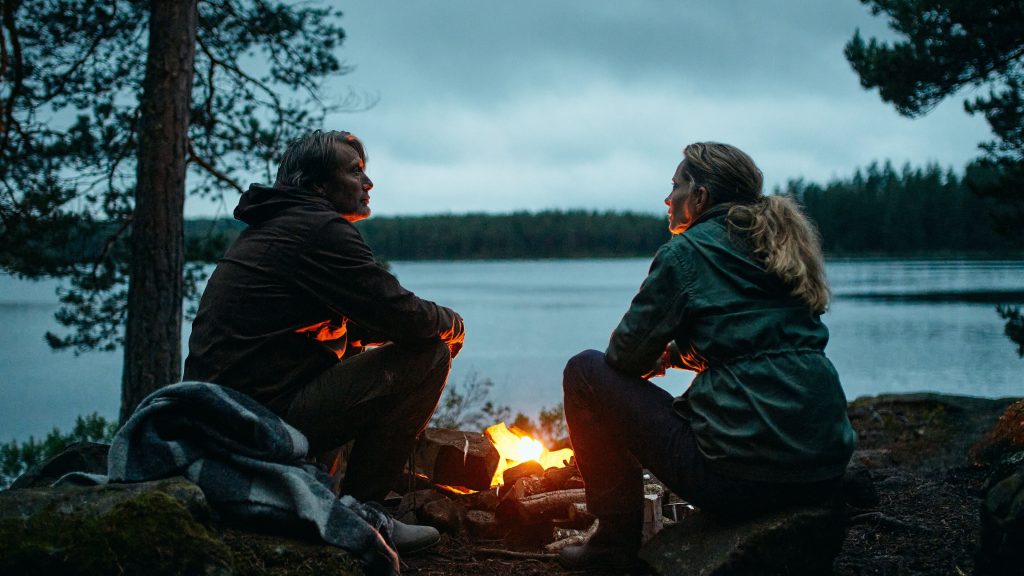 Another Round is a wonderful mix of drama, comedy, tragedy and the poetic nature of life. Vinterberg took home the Oscar for the Best International Feature at this year's Academy Awards, which he dedicated to his daughter Ida who had been responsible for encouraging him to adapt his original stage play into a movie. She was slated to play Mikkelson's daughter in the film but was tragically killed in an automobile accident before production began.
Vinterberg is an incredibly interesting writer and director who has produced some astonishing work, most notably such films as The Hunt (2012) (which also starred Mikkelson) and The Celebration (1998). He was responsible for starting the Dogme 95 film movement which he co-founded with Lars Von Trier and a few other Danish filmmakers and is now getting some well-deserved coverage due to the success of Another Round. There are already whispers about an English-language remake that is rumoured to potentially have Leonardo DiCaprio interested in the lead role, but I implore you not to wait for this version and go right ahead and watch the original Danish film.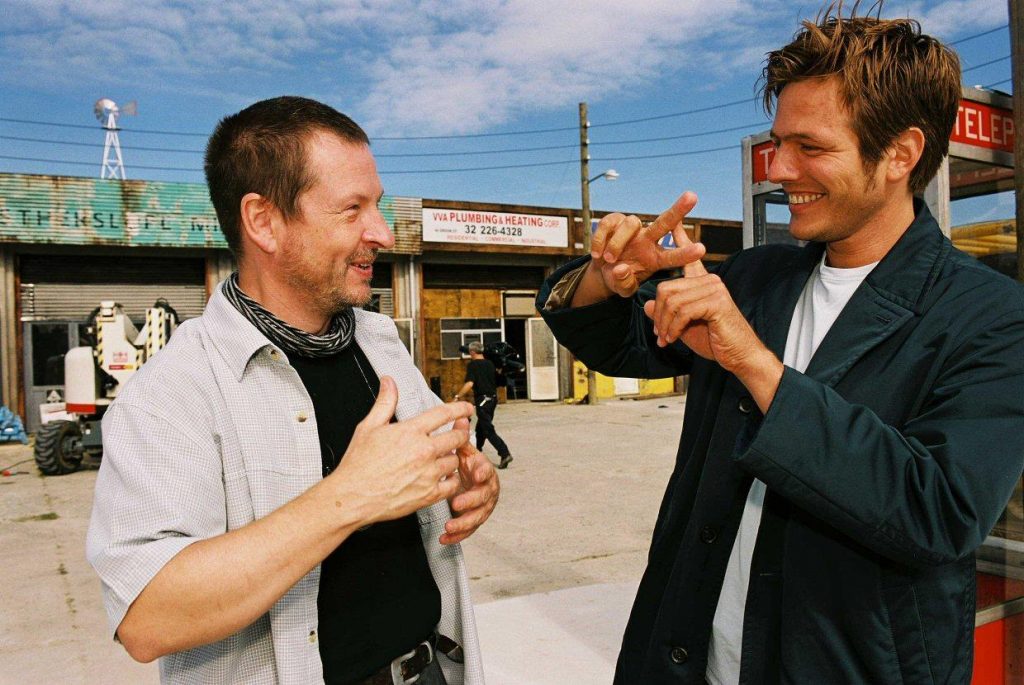 Another Round has great pacing and is very immersive. Once the lads start taking their daily drink, the excitement begins and you will want to know what is going to happen next as they delve deeper into the experiment, the results of which are both humorous and poignant in equal measure. You'll have to give it a spin yourself to see what transpires.
Talking of measures, there's just enough time for me to enjoy another wee dram and leave you with a quote from the famous Welsh Poet who said…
"An alcoholic is someone you don't like who drinks as much as you do!"

Dylan Thomas
That's it for this review of Another Round.
What did you think of Another Round? Did you find it intoxicating? Let us know in the comments below.
You can read more of our reviews here.
Please join us on social media on Facebook, Instagram, Tik Tok and Twitter. We really appreciate all the likes, shares, retweets etc., and we would love to hear from you and continue the wonderful celebration of all things cinema on these platforms.
If you love to watch videos on YouTube, then please subscribe to our channel here. There's lots of fun and informative videos uploaded that we hope you will enjoy!
We have a passion for movies and aim to produce entertaining and informative movie-related content. It certainly is a lot of hard work, but we love films so much that it's worth all the effort. We have to keep the lights on and make sure we have plenty of caffeine to keep all of the articles, videos and social media posts coming, so if you like our work, then please consider supporting us at Buy Me A Coffee here. You can also become a More Movies patron on Patreon here.
To help support us here at More Movies, we do use advertising in a few places, so we appreciate it if you do not use AdBlockers on our site, as this helps keep a few pennies trickling in. We also utilise affiliate links throughout the site, usually to help guide our readers to places to stream, rent or buy the movies we talk about. One of the biggest sources for movies online is Amazon Prime Video, where you can stream over 18,000 films. If you are interested in Prime and haven't signed up yet, you can get a 30-day free trial via this affiliate link, which helps support us too.