With protests across the United States over the murder of George Floyd by Minnesota Police, race inequality is once again being highlighted as a major issue for humanity and western society.
This is not a new issue, in fact protests and demonstrations against race inequality have been going on throughout all of our lives. So how has Hollywood reflected this huge problem in our society? How has it portrayed racism on film?

Here's a list of 7 films where Hollywood threw its hat in the ring and said "Black Lives Matter"…
1. Detroit (2017)
Kathryn Bigelow's 2017 film Detroit is based 50 years earlier in 1967, during race riots in Detroit, Michigan. Known as the 12th Street Riot, the film focuses on an incident at the Algiers Motel in which a party goer fired a starter pistol out of the motel room window as a prank. Alerting the National Guard to their location, the motel is quickly seized by local police and one man is shot dead as he attempts to flee the building in fear. The occupants of the hotel are mostly young black males who are accompanied by a couple of young white females. The police begin to interrogate the group using illegal tactics and eventually murdering one of them accidentally during a mock execution gone wrong.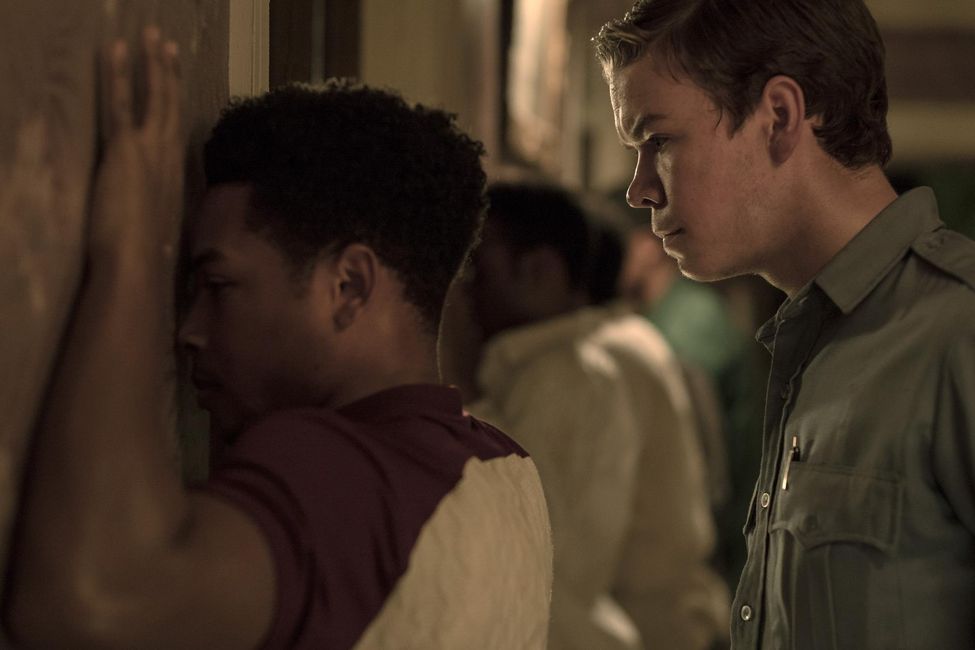 John Boyega plays a local security guard who gets embroiled in the events and it is through his eyes that we witness the police brutality and gross abuse of power that was used against the occupants of The Algiers. The film is tense and difficult to watch as the evil authoritarians belittle and bully the innocent party goers with impunity, resulting in needless loss of life and ultimately a miscarriage of justice, when all police officers are later acquitted of any wrong doing. Detroit is a powerful drama that reminds us that police brutality and injustice has been going on for a very long time.
Check out our Top 5 Kathryn Bigelow Films here.
2. Mississippi Burning (1988)
Alan Parker direct's Willem Dafoe and Gene Hackman in Mississippi Burning. This intense police drama is based on an incident in 1964 where three civil rights activists were abducted and murdered in Neshoba County, Mississippi. Hackman and Dafoe play two F.B.I. agents who have been sent from Washington to investigate the crime. Finding a town full of corrupt police and dodgy government officials who have likely ties to the Ku Klux Klan, the two agents find it increasingly difficult to gather any hard evidence without resorting to underhand tactics. Hackman shines as an old-fashioned Mississipian who understands how things work in the South. Dafoe is his younger less experienced partner who is opposed to using any illegal methods to procure evidence.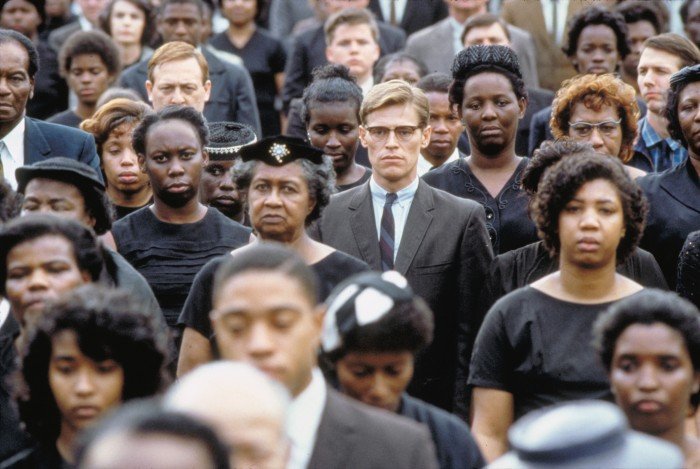 This excellent film asks many important questions about ethics and morality and pulls back the curtain on a dark chapter in American history that many would rather see forgotten. The performances are searing and intense and the film builds to a fever pitch as we witness the agents get closer to the truth amidst a society still rife with racism and divided by skin colour.
Check out our Top 5 Alan Parker Films here.
3. Django Unchained (2012)
Quentin Tarantino has drawn a lot of criticism during his career. Mainly for his use of violence in films and his use of the N-word. The filmmaker has defended himself stating that he reserves the right to create any character that he wants to, and to have them say anything he wants to have them say. It was fellow filmmaker Spike Lee that first took offence at Tarantino's liberal use of the word, criticising him as a white writer-director who has no right to use the word so frequently, implying that Tarantino was in fact a racist. In his defence, actors such as Samuel L. Jackson and Jamie Foxx (both of whom star in Django Unchained) have stated that Tarantino is anything but racist. Pam Grier, the lead in Tarantino's Jackie Brown (1997) has also defended the California filmmaker, mentioning how Quentin wrote the movie just for her, such was his love of the 70's star.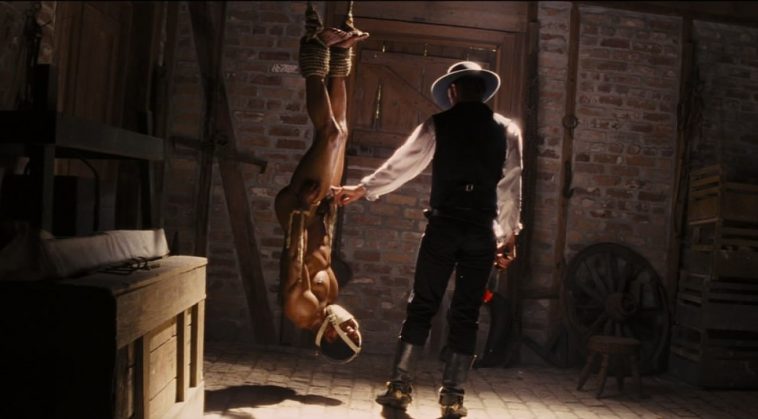 Never one to shy away from the debate, Tarantino wrote and directed Django Unchained in 2012, a western which follows a freed slave on a journey of revenge in which he must locate and rescue his still captive wife from the clutches of an evil slaver. Although the film is more of a tribute to the spaghetti westerns of the 1960s and 70s than a stark comment on the ills of slavery, it still deals with the topic in its own inimitable Tarantino style. This is a anti-slavery movie in which the racists worst nightmare comes true; the slave is unchained and on the loose looking for justice and spilling the blood of every bigot that he encounters along the way.
Check our our Top 5 Quentin Tarantino Films here.
4. 12 Years A Slave (2013)
Steve McQueen directs 12 Years A Slave the story of Solomon Northup, a once free man who is kidnapped and sold into slavery where he experiences 12 years of captivity and hardship at the hands of wicked slave masters. This period drama is a powerful portrayal of an educated man who is forced into servitude and experiences dehumanising treatment and abuse, something that he and his fellow slaves have to endure on a daily basis. Despite being beaten and down trodden at every turn, Solomon remains hopeful that one day he will escape and be free to return to his family and the life he once knew as a successful musician.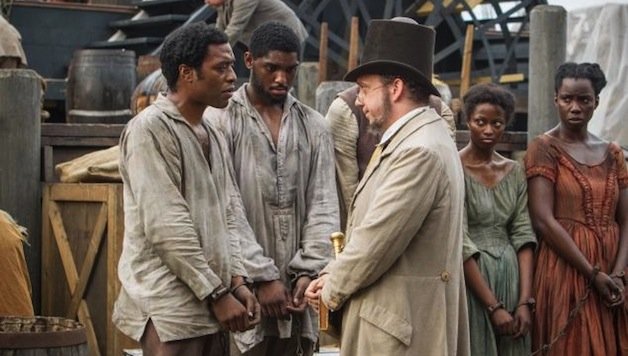 Adapted from an actual memoir, this film pulls no punches in its treatment of slavery. Michael Fassbender, Paul Dano, Brad Pitt and Paul Giamatti all give tremendous performances but it is the lead Chiwetel Ejiofor that truly shines as the protagonist of this painful story. This film is about never giving up hope and overcoming insurmountable odds in the face of pure evil. An important movie that deserves to be seen by everyone.
5. Amistad (1997)
Steven Spielberg's Amistad is part slave story, part courtroom drama and one of the first Hollywood films to deal with the subject of the slave trade and its despicable practices. Based on a true story, this film is adapted from a book entitled 'Mutiny on the Amistad: The Saga of a Slave Revolt' and Its Impact on American Abolition, Law, and Diplomacy'. It depicts an incident in which a group of African slaves were able to kill their captors aboard the Spanish ship La Amistad, only to be caught off the coast of Cuba by an American ship and brought to the mainland where their fate is decided in a court of law.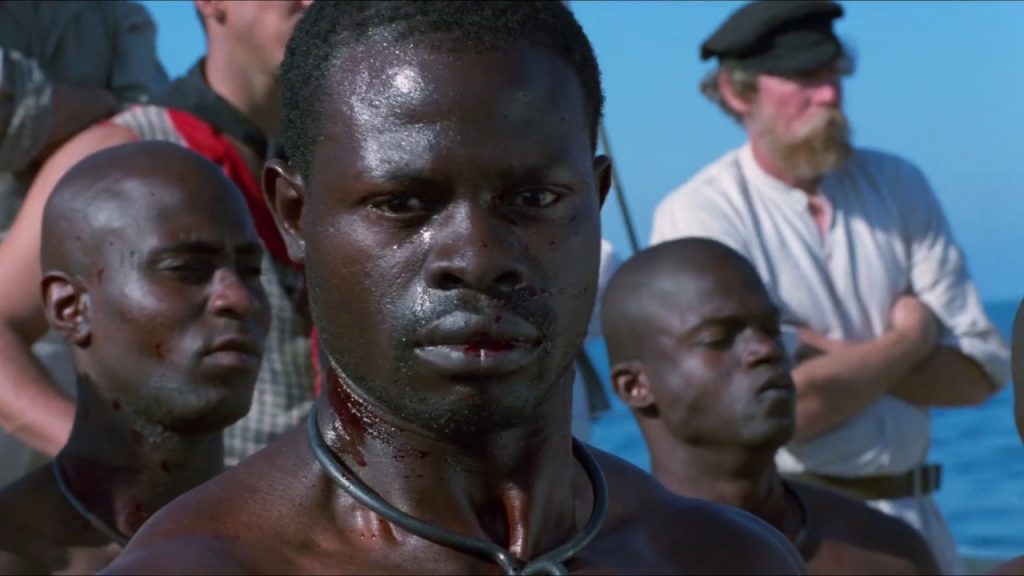 The cast and production are top notch as one would expect from a Spielberg movie, with stand out performances from Djimon Hounsou, Anthony Hopkins, Matthew McConaughey and Morgan Freeman. Amistad is an important film which highlight's white America's struggle with slavery as those who wish to see it abolished must take on those that wish to hold on to it. Amistad uncovers the hypocrisy of a so-called free nation which grows wealthy on the backs of enslaved human beings.
Check out our Top 5 Steven Spielberg Films here.
6. Do The Right Thing (1989)
Spike Lee has perhaps been the most consistent modern filmmaker to explore the theme of racism in his body of work. In fact, we could have filled our list with a collection of Spike Lee films such as Malcolm X (1992), Get On The Bus (1996) or BlacKkKlansman (2018) to name but a few. We have chosen one film from this master director that deals with the issues of racial tension in a more comical style. A black comedy with a difference, Do The Right Thing takes place in a poor neighbourhood of New York in which the local residents are a mix of majority African Americans and minority white Italian Americans. Tensions build between the two ethnicities culminating in a full-on race riot on the hottest day of the year. Lee himself plays the central character Mookie, a man caught up in the middle of a whole lot of tension between prejudice on both sides of the street.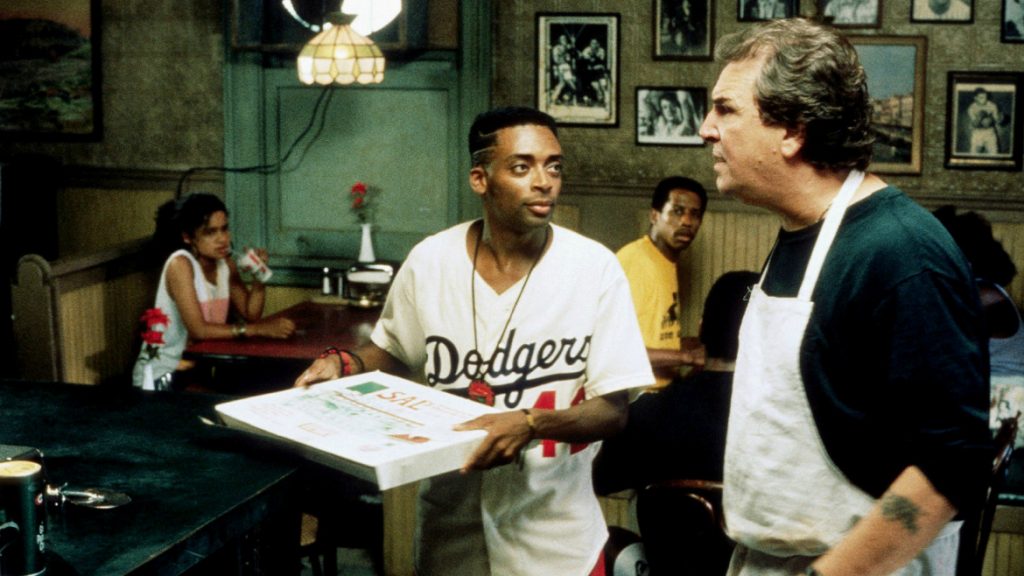 Do The Right Thing is a very brave film which attempts to show the points of view of both black and white communities and the ongoing struggle to live peacefully together without prejudices and division. The performances are absolutely brilliant and the use of comedy in the film helps to lighten a very serious subject just enough for us to be entertained by the ridiculousness of intollerance. The cast includes Danny Aiello, Giancarlo Esposito, Smauel L. Jackson, Ruby Dee and John Turturro to name but a few. Go get yourself a slice of this fantastic piece of cinema.
Take a look at our Top 5 Spike Lee Joints here.
7. In the Heat of the Night (1967)
A unique and important film at the time, In the Heat of the Night was one of the first major Hollywood productions to deal with the issue of racism in the police force and featured black actor and movie legend Sidney Poitier as the film's central character and main star. Directed by Norman Jewison and based on the book of the same name, In the Heat of the Night is a murder mystery drama that takes place in Mississippi, where Philadelphia detective Virgil Tibbs (Poitier) becomes involved in a murder investigation after first being arrested as a suspect. Once it becomes clear that Tibbs is innocent and in fact a leading homicide detective, he becomes involved in assisting the investigation alongside a bigoted police chief played by the amazing Rod Steiger.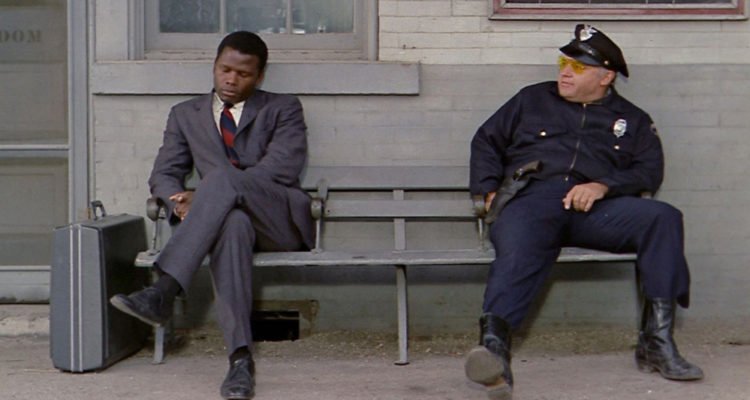 The two men work together and it soon becomes apparent that Tibbs is the greater detective as he brings a clear-headed and unbiased perspective to the investigation, which eventually leads to the capture of the murderer. By the end, Gillespie (played by Steiger) has a change of heart and reveals a new-found respect for Tibbs. The film was a great success upon release and even garnered a sequel with Poitier returning to the role of Virgil Tibbs. Coming out at a time of great racial tension in the United States, this movie helped to pioneer the idea of the black actor as the main character and dealt with everyday prejudice in a thoughtful and relatable way. An important incident in which Hollywood acknowledged that black lives matter.
That's 7 Time Hollywood said Black Lives Matter
You can read more of our articles here.
Please join us on social media on Facebook, Instagram, Tik Tok and Twitter. We really appreciate all the likes, shares, retweets etc., and we would love to hear from you and continue the wonderful celebration of all things cinema on these platforms.
If you love to watch videos on YouTube, then please subscribe to our channel here. There's lots of fun and informative videos uploaded that we hope you will enjoy!
We have a passion for movies and aim to produce entertaining and informative movie-related content. It certainly is a lot of hard work, but we love films so much that it's worth all the effort. We have to keep the lights on and make sure we have plenty of caffeine to keep all of the articles, videos and social media posts coming, so if you like our work, then please consider supporting us at Buy Me A Coffee here.
To help support us here at More Movies, we do use advertising in a few places, so we appreciate it if you do not use AdBlockers on our site, as this helps keep a few pennies trickling in. We also utilise affiliate links throughout the site, usually to help guide our readers to places to stream, rent or buy the movies we talk about. One of the biggest sources for movies online is Amazon Prime Video, where you can stream over 18,000 films. If you are interested in Prime and haven't signed up yet, you can get a 30-day free trial via this affiliate link, which helps support us too.