The Eyes of Tammy Faye (2021) is the biographical drama directed by Michael Showalter, based on the 2000 documentary of the same name.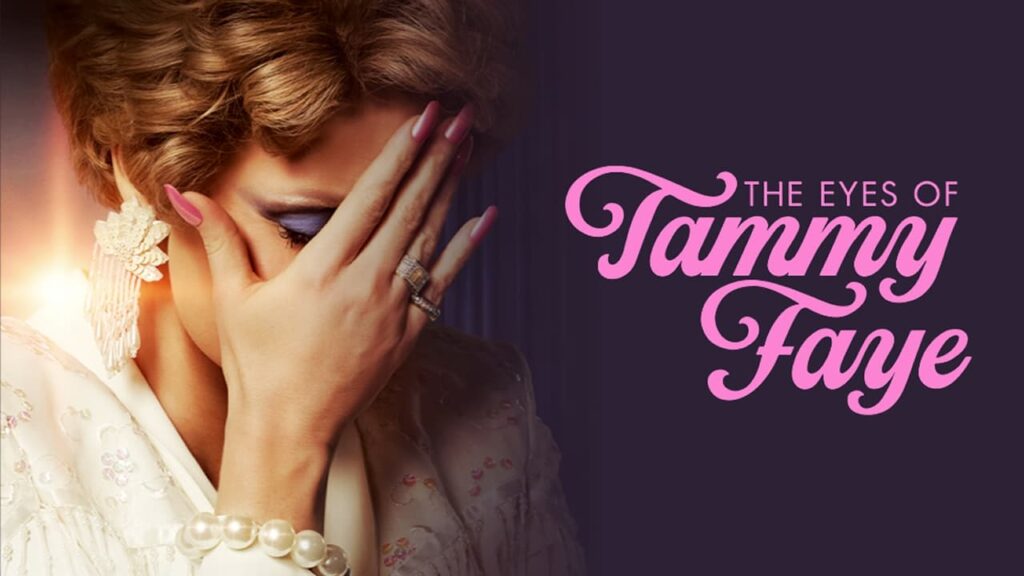 The Eyes of Tammy Faye tells the remarkable true story of Tammy Faye Bakker, played by Jessica Chastain, who won the Best Actress award for her performance in this movie. We follow Tammy's story from her humble beginnings in Minnesota, through the rise and fall of her career in televangelism and explore her eventful marriage to Jim Bakker, excellently played by Andrew Garfield.
At the beginning of the film, Tammy is studying at Bibler College at home in Minneapolis, where she meets Jim and falls madly in love with him. Despite disapproval from her mother, she drops out of college, marries Jim and moves out onto the road to preach and inspire Christians across America.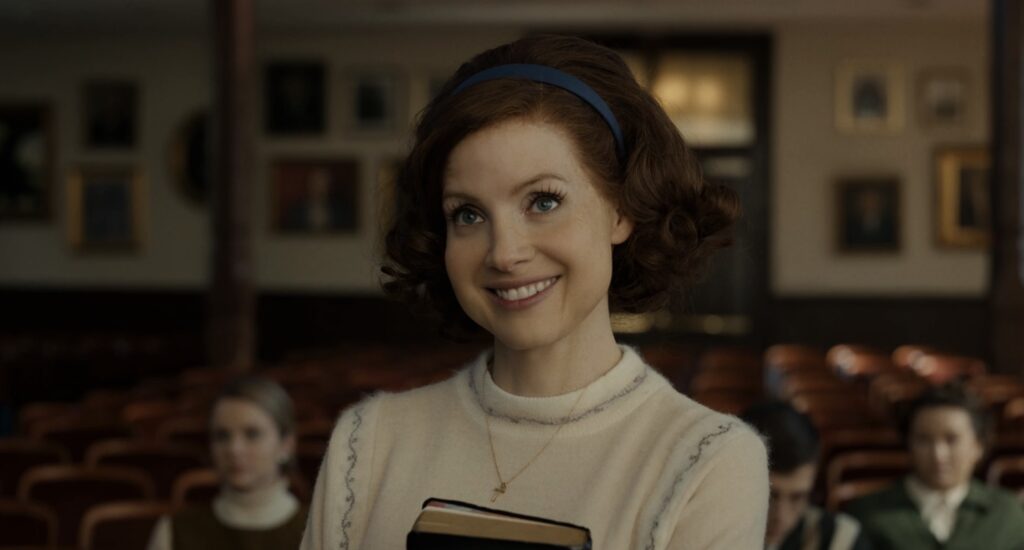 Their work gains the attention of Pat Robertson, who runs the Christian Broadcasting Network (CBN), and he hires them to present a children's show on the network. After the show is a success, Jim becomes the host of the 700 Club, the network's flagship show. But at a party at the house of CBN's owners, Tammy finds out that they aren't being compensated for their work as equally as others and realises that there are great rewards to be made.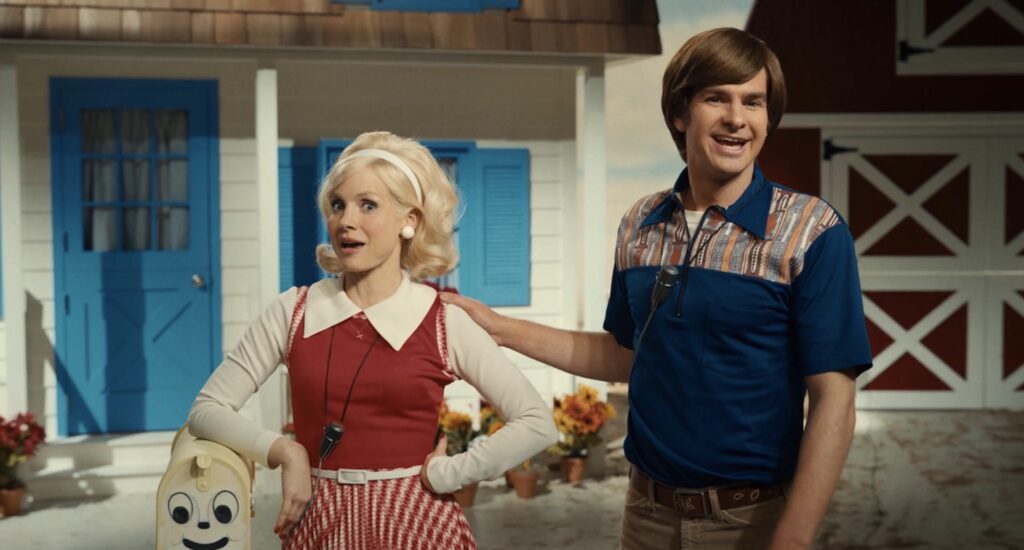 Tammy convinces Jim that they should set up their own broadcast, PTL Satellite Network, with the pair as the primetime stars of the shows. The network grows over the years to become a massive success, but Tammy's parents bring up suspicions about how the network gets its money. Tammy isn't fully aware of the business's financial operations, which Jim controls, and it is revealed that the company is on unsteady ground, both financially and legally. Over the next few years, we see the deterioration of the relationship between Tammy and Jim. Through pressure from the media and the authorities, the business also begins to crumble.
The film is ultimately a powerful indictment of America's evangelical right. We see the grotesque opulence that our central characters bask in and feel disgusted by the actions they took to get there. Their exploitation of naive and vulnerable people to take their money and use it for personal gain, rather than the charitable aims it claims, is astounding. But amazingly, the film also allows you to feel some sympathy for a character like Tammy, who is sometimes oblivious to reality and struggles with her own personal relationships and inner turmoil.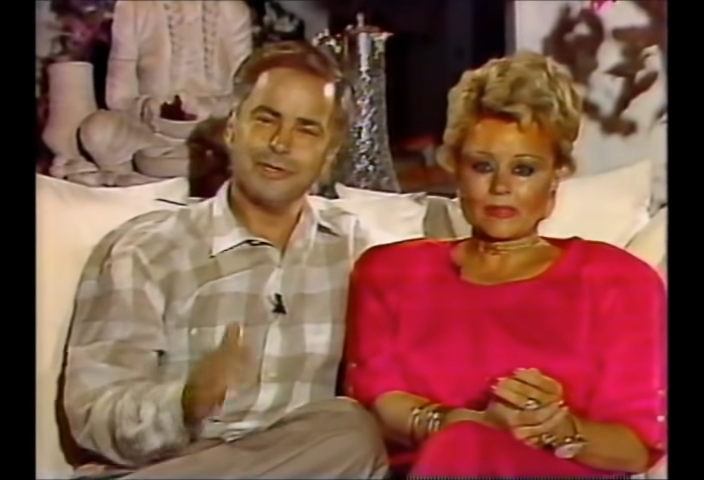 Chastain plays Tammy brilliantly, a woman full of contradiction who effortlessly moves and weaves through different moments on screen. The costume and makeup deserve a lot of credit for their work, but Chastain's chameleon-like approach allows you to truly believe the range of ages and emotions portrayed throughout the narrative. Garfield is also excellent as Jim, but just not quite hitting the raw tension that we see from our leading lady.
The film isn't perfect by any stretch. The plot feels very loose in the middle act, it's a little inconsistent and repetitive, and ultimately, it was a little too kind to the main character, not criticising her enough, in my opinion. But this movie is a fantastic character study and is worth seeing purely for the excellent performances.
And that's our review of The Eyes of Tammy Faye!
Did you enjoy The Eyes of Tammy Faye? What did you think of our review? Let us know in the comments!
You can read more of our reviews here.
Please join us on social media on Facebook, Instagram, Tik Tok and Twitter. We really appreciate all the likes, shares, retweets etc., and we would love to hear from you and continue the wonderful celebration of all things cinema on these platforms.
If you love to watch videos on YouTube, then please subscribe to our channel here. There's lots of fun and informative videos uploaded that we hope you will enjoy!
We have a passion for movies and aim to produce entertaining and informative movie-related content. It certainly is a lot of hard work, but we love films so much that it's worth all the effort. We have to keep the lights on and make sure we have plenty of caffeine to keep all of the articles, videos and social media posts coming, so if you like our work, then please consider supporting us at Buy Me A Coffee here. You can also become a More Movies patron on Patreon here.
To help support us here at More Movies, we do use advertising in a few places, so we appreciate it if you do not use AdBlockers on our site, as this helps keep a few pennies trickling in. We also utilise affiliate links throughout the site, usually to help guide our readers to places to stream, rent or buy the movies we talk about. One of the biggest sources for movies online is Amazon Prime Video, where you can stream over 18,000 films. If you are interested in Prime and haven't signed up yet, you can get a 30-day free trial via this affiliate link, which helps support us too.