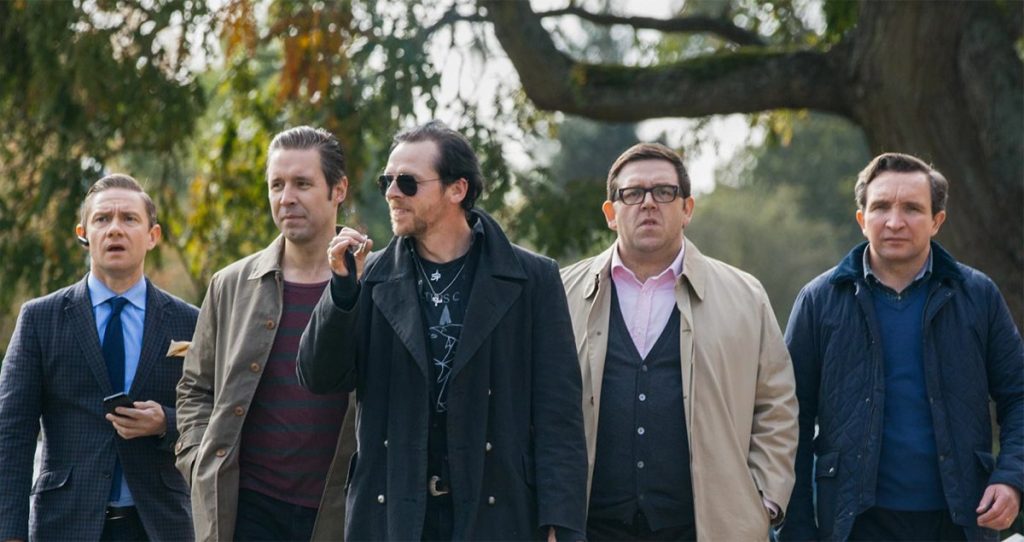 I had seen the trailer earlier in the year and I could not wait to see Edgar Wright's third instalment in the Three Flavours Cornetto Trilogy. The World's End looked promising and I sniggered and guffawed with eager anticipation, waiting for an opportunity to be able to see it on the big screen. Being a huge fan of the previous two films; 2004's Shaun of The Dead and the fantastic Hot Fuzz released in 2007, this was like waiting for the icing to be put on the Spaced-cake. One of the best contemporary British directors completes his trilogy… This is going to be… 'Epic' to use the parlance of our times; the Ironic Age.
So last Tuesday, I sauntered down to the local Megaplex cinema and watched it with about 33 other people, none of whom I knew, that were spread across Screen 13's ample seating. Not bad considering this was the final showing.
Much like the first two Cornettos, The World's End is, in a way, a tribute to different B-movie genres. Particularly social sci-fi films and TV adaptations popular in the late 1960s and early 70s. Think; Invasion of the Body Snatchers Meets the Fokkers or whatever. It is treated with just the right amount of tongue-in-cheek references (Vanishing Point, Village of the Damned) and subtle doffs of the cap to its own post-modernist influences, whilst still maintaining its own unique recipe of action and a humour that is quintessentially British.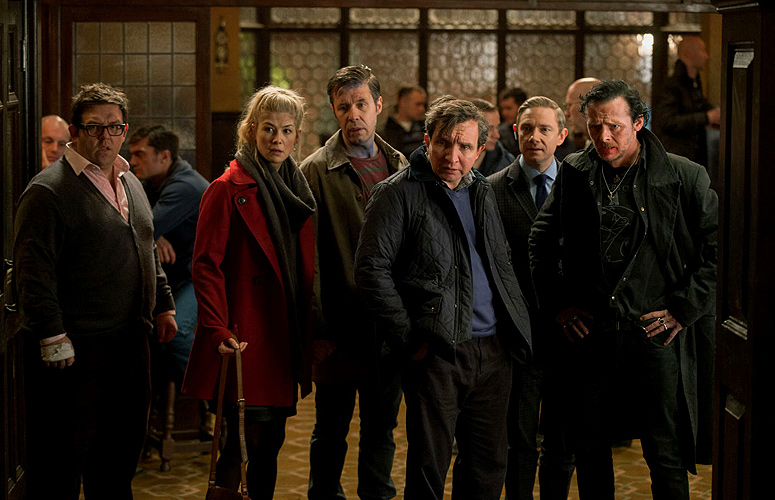 The lead characters; Gary and Andy are played by Simon Pegg and Nick Frost who are joined by other Edgar Wright aficionados; Paddy Considine and Martin Freeman. There are cameos from Mark Heap, Michael Smiley and Julia Deakin from TV's Spaced as well as appearances from the always excellent Eddie Marsan, Hogwart's own caretaker; David Bradley and the sadly lacking Rafe Spall in the smallest part ever. There is also an appearance by former James Bond; Pierce Brosnan. And so it is, all the ingredients are here to cook up a movie that equals, if not betters Hot Fuzz, which starred former Bond; Timothy Dalton.
I found this film was nowhere near as good as either of the previous Cornetto films. There, I said it. Believe me, I would be the first to praise Edgar Wright on his fantastic direction and there's no denying that the usual detail and production quality is of the highest order. But The World's End does not quite have the same gripping, laugh-a-minute originality and charm that were so prevalent in Shaun of the Dead and Hot Fuzz.
The first 15 minutes are a little elementary; the gags are a bit crass and stale. Central character Gary King (Pegg) takes the audience on a brief trip down his own personal memory lane which serves as a little bit of background, an introduction to the supporting characters, sets up the plot and establishes the scene for the entire film. Five friends reunited after twenty years in the sleepy town of Newton Haven, home to 'The UK's first roundabout. The friends are persuaded by the annoying Gary King, to complete a 12 stop pub-crawl across the town's golden mile, visiting all of the humorously named public houses along the way. Something they failed to complete in their youth. At first they don't want to go as they're all in their forties and have moved on with life, unlike the pathetic Gary who is painted as a kind of nineties Withnail, selfish, ruthless and never wrong.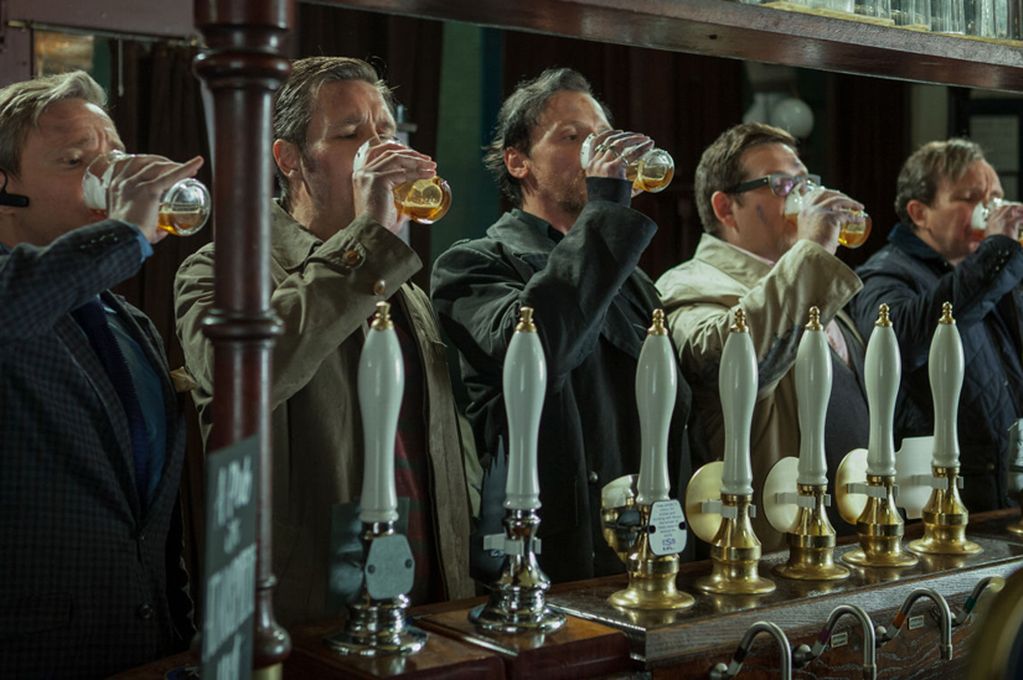 Inevitably and predictably we all end up as part of Gary's big night out via a mix of peer pressure, competitiveness, bullying and pity. There are some funny moments when the group are travelling from London to the small town and the fantastic Nick Frost injects a much needed dose of genuine levity during this scene. At last, a character we can empathise with, in that he dislikes his old pal, Gary.
However, in Newton Haven, the old friends find that all is not what it once was. They meet up with Sam (played by Rosamund Pike) and together they find out that the town has been invaded by an alien species, which has replaced 99% of the population with 'robot' replicas. These are referred to by our hapless heroes as 'blanks'.
Similar to most nights out on a pub crawl, the film starts awkwardly, but after a few pints starts to warm up and become a little bit more fun. There is a stand-off with some local teens in the pub toilet and the action starts. Some of it is rapid and it's all quite humorous. From here on out the characters become more inebriated and so does the film as they attempt to hide the fact that there really isn't enough attention to story development in this film. The characters just decide to carry on with Gary's plans in the hope that they will remain alive long enough to escape as soon as someone is sober enough to drive back to London.
And so on and so on and then a bit of an Indiana Jones 4 ending plus a coda that feels hurried as well as predictable. To me, this was a shame. As Townes Van Zandt said; "Shame that is a shame."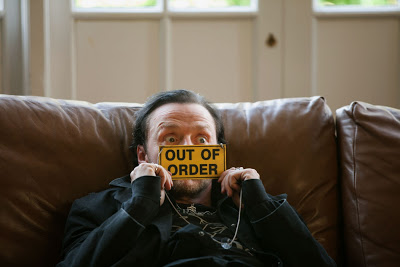 The central character Gary King is played well enough by Pegg, the trouble is, he's not very likable and therefore hard to invest in, emotionally. It is Gary's inner demons that we are supposedly exorcising throughout the course of the film but I think that both Shaun and Nicholas Angel were a lot easier to get behind as characters and accept as heroes, despite their flaws. The sneaky little Gary King is most certainly more of an anti-hero. Just not a very cool one.
Upon leaving the cinema, I felt like a bit Spaced-out, so to speak. Let down would be more accurate though less fun. I love walking out of a cinema having seen a great film and feeling inspired, and educated in some way. Better all over for having had the experience. The previous two Cornetto films (as well as Scott Pilgrim Vs. The World) all made me feel pretty good when I saw them. Maybe not as much as films such as There will Be Blood or The Dark Knight, but certainly enough to warrant the ticket fee. Which I don't mind paying, by the way, especially as it's a British film.
But when a film doesn't deliver and satisfy me on some level, then I do feel a bit ripped off. And I'm easily pleased. So, in short I was disappointed. I was really ready to love this film. I'm a fan, not a critic.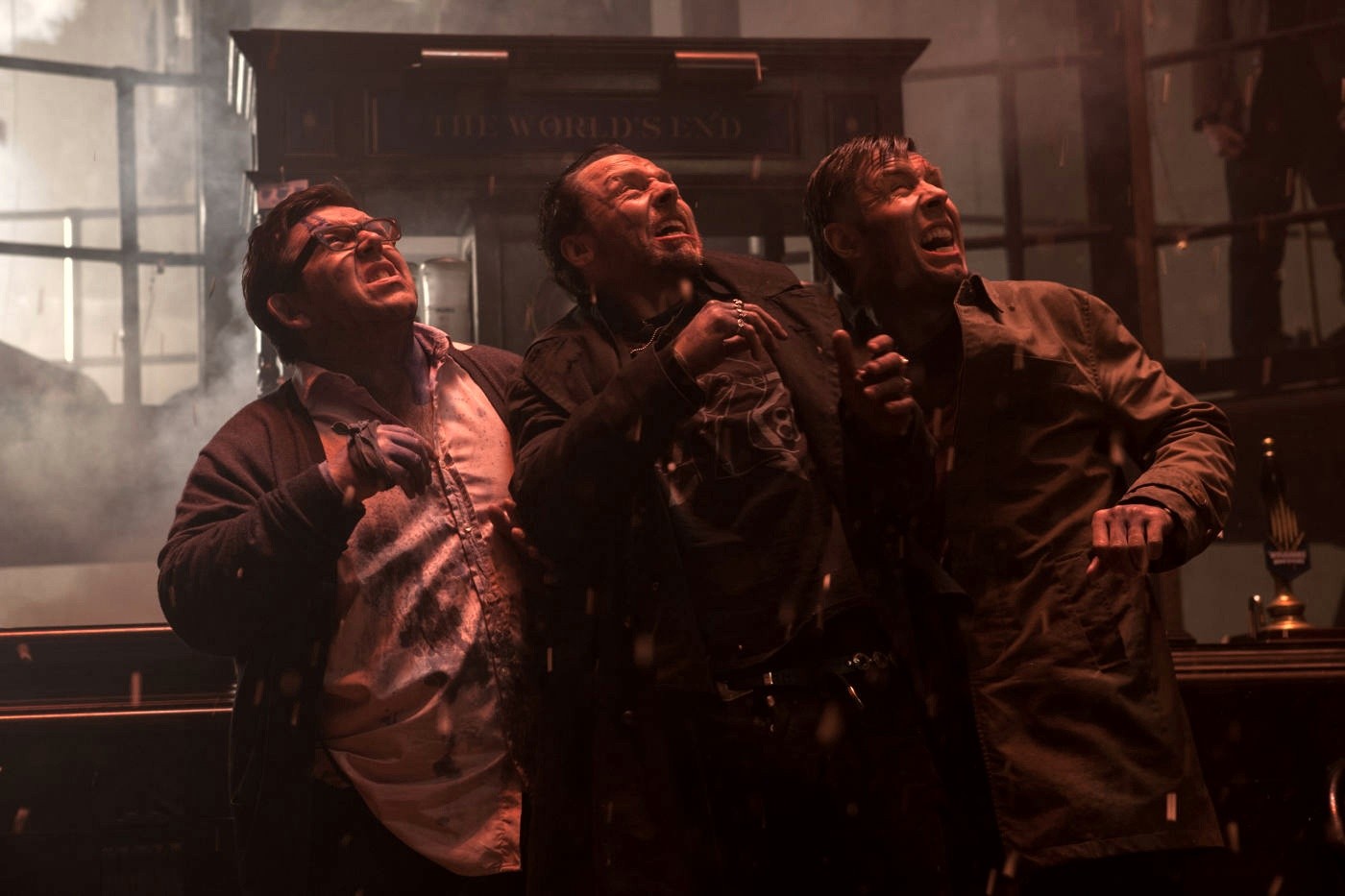 Don't get me wrong, it wasn't total crappola, it did have its merits. The special effects and sound are excellent, for example the scene where Nick Frost escapes the clutches of an animated robot/modern art sculpture is pretty impressive and very watchable. But the action itself is just fight then run then hide. Repeat. It gets a bit tired, quite quickly. It's as if nobody was feeling very improvisational or suddenly inspired whilst they were making it, in this one, things feel a little rehearsed. The performances are of a high quality and there are some laugh-out-loud moments, but alas, most of these already featured in the trailer. I would still advise my friends to see it and it will no doubt become a bona fide hit on DVD, as were its predecessors. But I'm afraid I won't be watching it over and over like so many of us did with Shaun and Fuzz.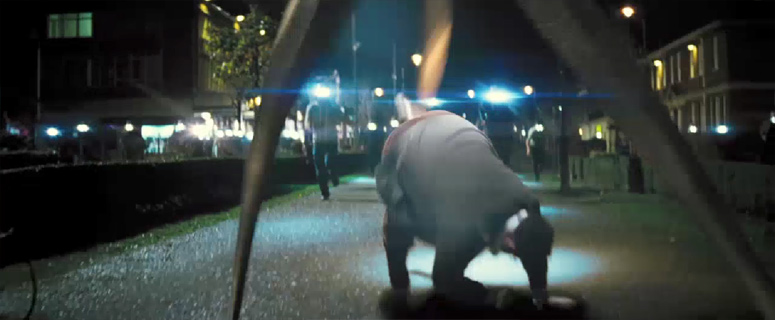 Certainly not the worst movie ever made, by a long shot. But much like Indiana Jones 4 and Return of the Jedi, it is out-shined by the earlier films it is intrinsically linked with.
Read more of our film reviews here and and come and say hello on Facebook and Twitter.
If you enjoy our content, please consider supporting us here.