Soul (2020) is the new Disney Pixar film released on December 25th 2020. Pete Docter and Kemp Powers direct the animated feature with stars Jamie Foxx, Tina Fey, Ahmir-Khalib Thompson, Phylicia Rashād, Richard Ayoade and Graham Norton amongst others providing the voices.
The latest Pixar instalment tells the story of Joe Gardner, a middle school teacher with a passion for jazz music. After a successful gig at the Half Note Club, he suddenly gets into an accident that separates his Soul from his body and is transported to the You Seminar, a centre in which souls develop and gain passions before being transported to a newborn child. Joe must enlist help from the other souls-in-training, like 22, a soul who has spent aeons in the You Seminar, to try to get back to Earth.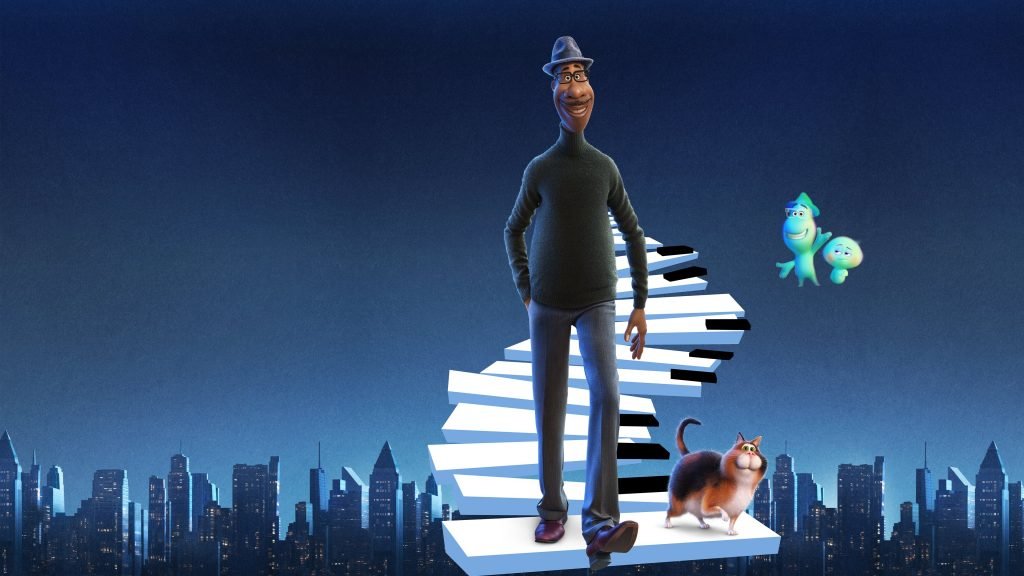 The philosophy and ideas in Soul
Soul is an interesting film considering it is a children's movie, talking about quite a heavy subject surrounding death and the philosophies of life. Going into the movie without any idea of what it was about, I was surprised at how intelligently it treated the audience, not talking down to the viewer and allowing us to contemplate the story they were trying to tell. Beautifully animated, it meets most Pixar releases' highest standards, a studio that has a knack of creating fascinating moral tales suitable for all audiences.
The philosophical outlook of Soul is quite remarkable. I appreciated the ideas it presents – the idea that it's not about having a purpose – it's about living, appreciated life and enjoying the moment. The simple things matter.
The visual cues in Soul
The brightly coloured scenery for which Pixar is well known decorates the screen with a vivid imagination. Bold and stunning, there is not a wasted frame in the film is wasted. Embracing its multi-layered complexity, the visual stylings were breathtakingly different. Utilising many distinct visual styles to evoke a variety of stories, from the more realistic "real world" to the ultra-marine blue Stargate-style afterlife, the abstract line-drawings, reminiscent of neon signs mixed with a very European art style to represent the counsellors to the vivid acid-soaked portrayal of the Astral Plane. The visual cues are fascinating. You can check out some of the design concept work in this fantastic post from Animation World Network.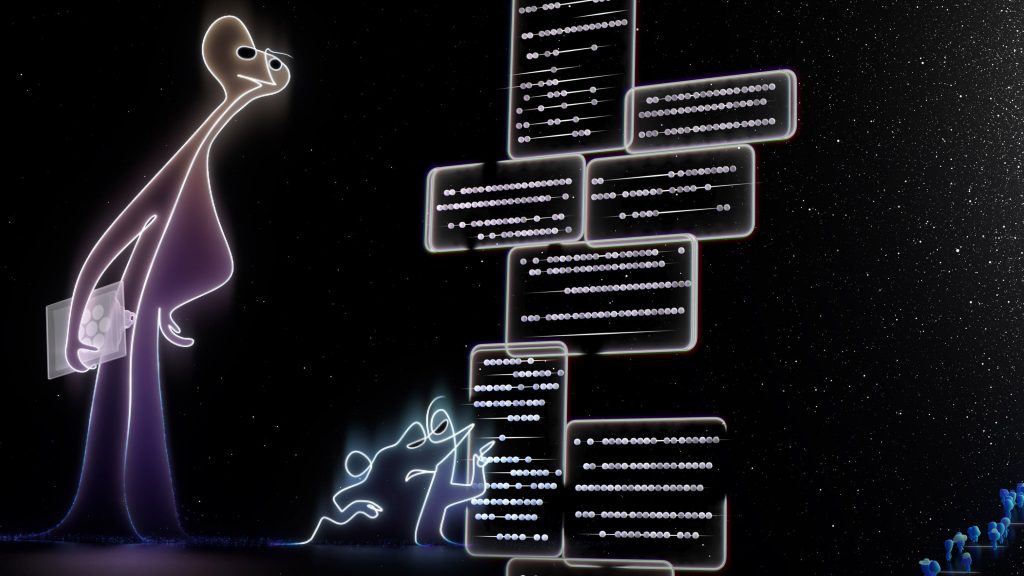 Fantastic performances from the cast
The cast of voices deliver perfectly, with some great casting choices – Richard Ayoade and Graham Norton voices were superb choices for the supporting cast, providing somewhat nasally otherworldly voices to the characters. But the stars are Jamie Foxx and Tina Fey. Soul may be Foxx's best role for quite a while, doing something different and channelling a man desperate to achieve, an endearingly flawed character and perhaps the most human of all Pixar's characters.
And Tina Fey? Well, who could be better to pick to play the know-it-all, fed up negative naysayer of 22 – those tones fit perfectly.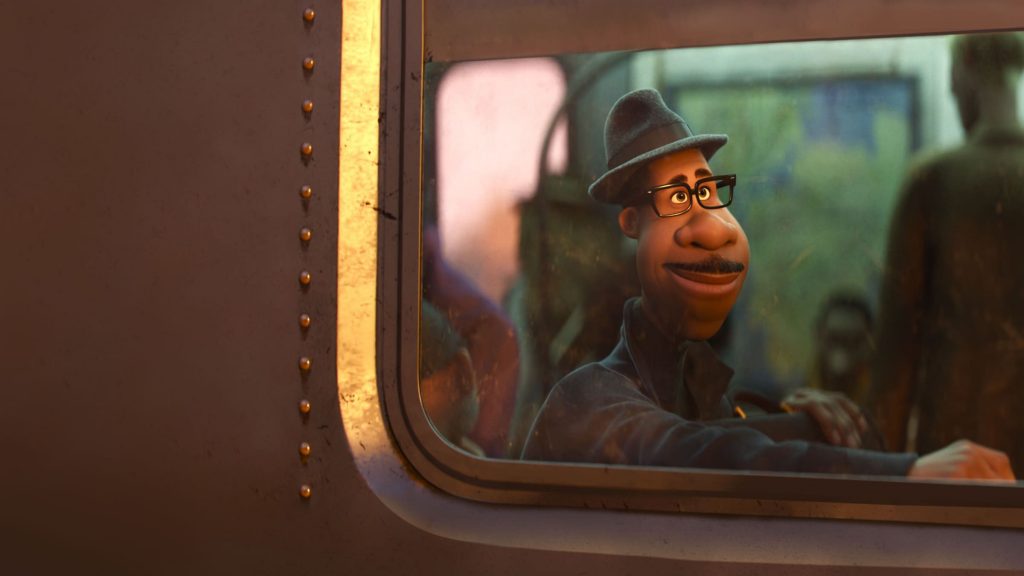 As a film about a jazz musician, the music is cool and very inventive. Along with the visual cues, the film separates the scores between the "dimensions" we occupy; the real-life world of Joe Gardner is brimming with a beautiful original Jazz score (Oscar nomination anyone?). The other side, the place beyond is given a traditional orchestral score, much more traditional in modern cinema. This separation hammers home the careful details that have gone into the film.
The Jazz score and design work in the New York settings are beautiful, and I felt I could smell, touch and taste the location, it really is spectacular.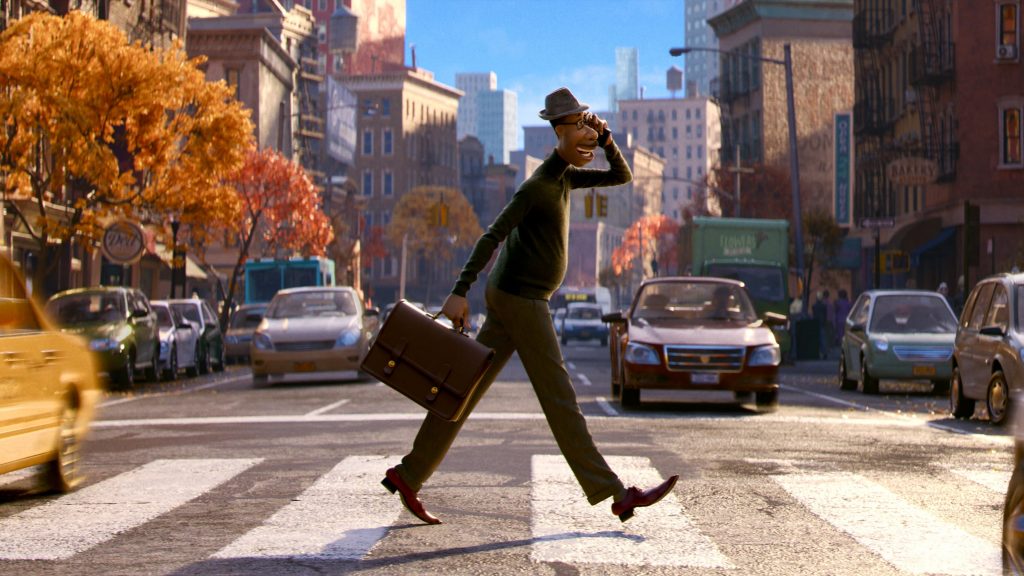 Soul is not perfect, and there are better Pixar films such as Up (2009), Wall-E (2008) and Toy Story 3 (2010), that offer more of an emotional punch than this did. Still, I think this movie has the best philosophical ideas and is a worthy entry into the Pixar canon, they really did something different this time. Well worth checking out for all ages.
You can read more of our reviews here.
Please join us on social media on Facebook, Instagram, Tik Tok and Twitter. We really appreciate all the likes, shares, retweets etc., and we would love to hear from you and continue the wonderful celebration of all things cinema on these platforms.
If you love to watch videos on YouTube, then please subscribe to our channel here. There's lots of fun and informative videos uploaded that we hope you will enjoy!
We have a passion for movies and aim to produce entertaining and informative movie-related content. It certainly is a lot of hard work, but we love films so much that it's worth all the effort. We have to keep the lights on and make sure we have plenty of caffeine to keep all of the articles, videos and social media posts coming, so if you like our work, then please consider supporting us at Buy Me A Coffee here.
To help support us here at More Movies, we do use advertising in a few places, so we appreciate it if you do not use AdBlockers on our site, as this helps keep a few pennies trickling in. We also utilise affiliate links throughout the site, usually to help guide our readers to places to stream, rent or buy the movies we talk about. One of the biggest sources for movies online is Amazon Prime Video, where you can stream over 18,000 films. If you are interested in Prime and haven't signed up yet, you can get a 30-day free trial via this affiliate link, which helps support us too.