Hailing from South Shields in the North East of England, Ridley Scott is one of the most prominent and influential film directors of the past four decades. You would have to go a long way to find someone who has not seen at least one of his movies. He did not make his first feature film until the age of forty, prior to which he had been making TV commercials and programmes for two decades.
He worked in theatre as an art director and designer and worked at the BBC, where he took his first forays into directing. Scott also started his own production company, RSA (Ridley Scott Associates) which he describes as "a kind of thoroughbred stable" of talented directors, which also included his brother Tony Scott.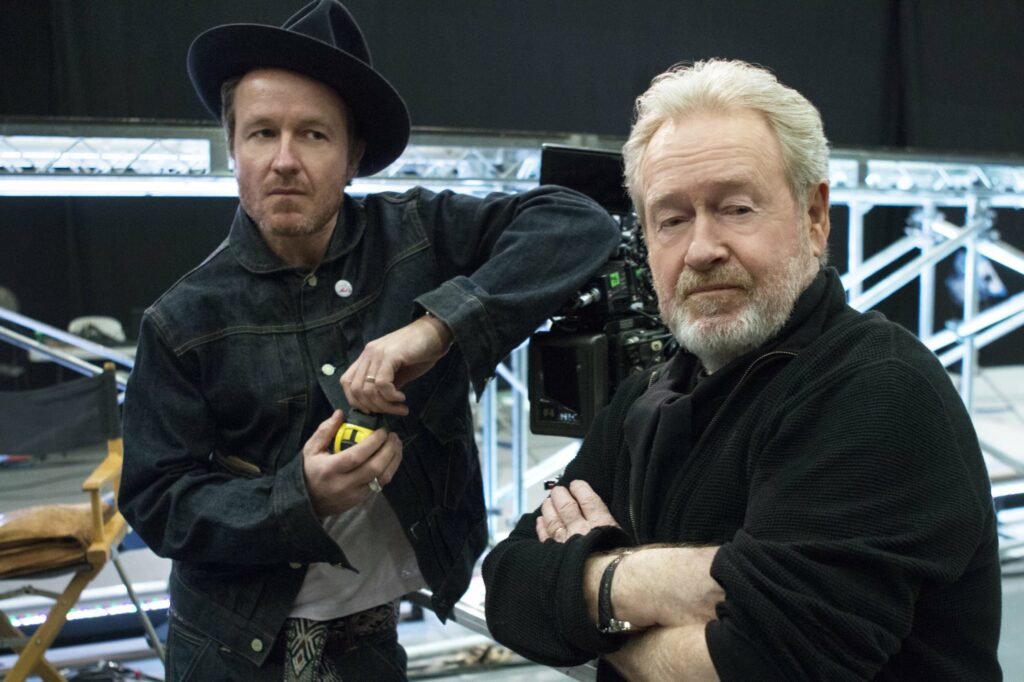 Having been inspired as a young man after watching Stanley Kubrick's 2001: A Space Odyssey (1968), Ridley Scott knew he would eventually end up making feature films himself, but this did not happen as quickly as he envisaged, and he spent a long time creating plenty of impressive television adverts, which no doubt enabled him to refine his craft and develop his skills and tools as a talented filmmaker.
Most notably, he created the Hovis commercial, which has since been voted as Britain's favourite TV advert of all time. See the video below for an insightful look at the restoration of the original film by the BFI. Ridley Scott also features, recollecting the production and revealing how he managed to capture the scene so beautifully…
After graduating from television into the world of full-length feature films, Ridley Scott went from strength to strength, producing a body of work that is always visually striking and engaging. His films have developed a clearly discernable grammar that often serves the characters and narrative without relying too heavily on dialogue. Scott has an incredible eye and has become notable for creating gripping films in a number of different genres. Ridley Scott's movies often feature strong female characters and always draw the audience in and envelop them in a well-crafted and engaging story.
We enjoy all of this great British director's work and encourage anyone to see as many Ridley Scott films as possible. We have shortlisted our Top 5 here as an introductory selection intended to entice the uninitiated. As always, our picks are listed chronologically…
1. The Duellists (1977)
As mentioned above, Ridley Scott was at the ripe age of forty when he got to make his first full length, bonafide feature film, The Duellists (1977). The film is a story about two French Hussar officers, one of whom is an obsessive duellist whose penchant for fighting has landed him in trouble when he nearly kills the nephew of a local city mayor in a sword fight. The second officer is charged with arresting the first one, and he, in turn, is challenged to a duel when he attempts to do so.
The first duel remains unresolved, but the two continue to duel one another over the coming years, developing an antagonistic relationship that sees both men embroiled in a blood feud where respect, pride and reputations are all on the line.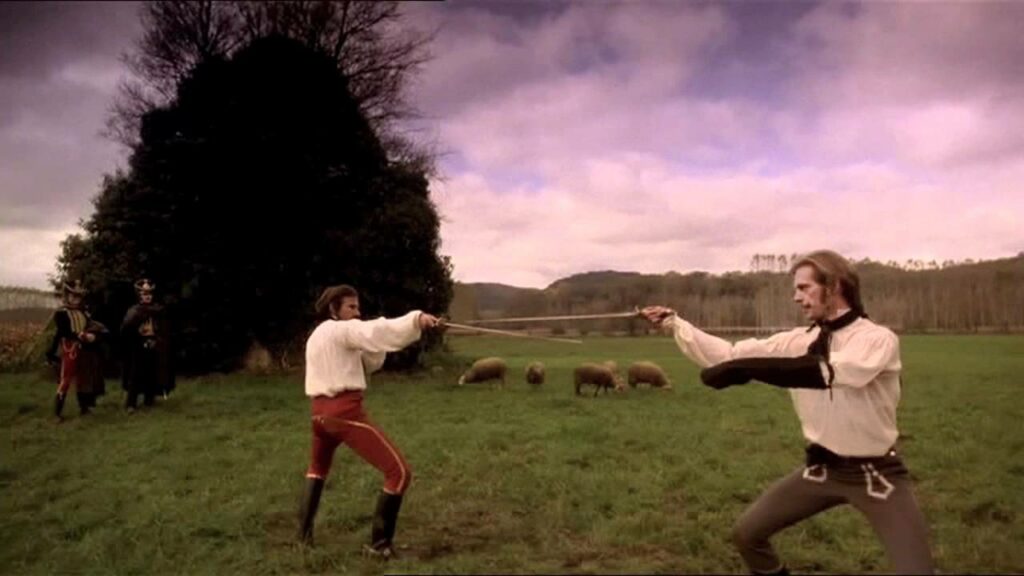 Beautifully shot by Frank Tidy, Ridley Scott creates an incredible period piece that is both visually stunning and painterly throughout. Harvey Keitel stars as Gabriel Feraud, a Bonapartist maniac who attempts to resolve everything by duelling. Keith Carradine plays Armand d'Hubert, the unlucky sap who is ordered to bring Feraud to justice and, as a result, becomes embroiled in an extensive and costly personal conflict.
The film did not make a huge impact at the box office upon release, but it did win Scott the Best Debut Film award at Cannes Festival in 1977 and has since gone on to be recognised as one of the finest period films ever created. Worth seeing for the astonishing cinematography and verisimilitude alone.
2. Alien (1979)
Crossing the genres of science fiction with horror, Alien (1979) is a seminal film that earned Ridley Scott international acclaim and recognition as a bright new talent in filmmaking. After seeing Star Wars (1977), Scott saw the potential in big-budget special effects films and agreed to direct Alien as a result. This was an important decision as this film unlocked the door to Hollywood and paved the way for Scott to cement his glowing reputation and go on to create more of the most recognisable and successful films ever made.
Unlike The Duellists, this film sky-rocketed at the box office, grossing over $100 million from a budget of $11 million. The combination of the horror aspect and the outer space setting resounded with moviegoers and critics alike at the time and went on to hatch a whole franchise of sequels.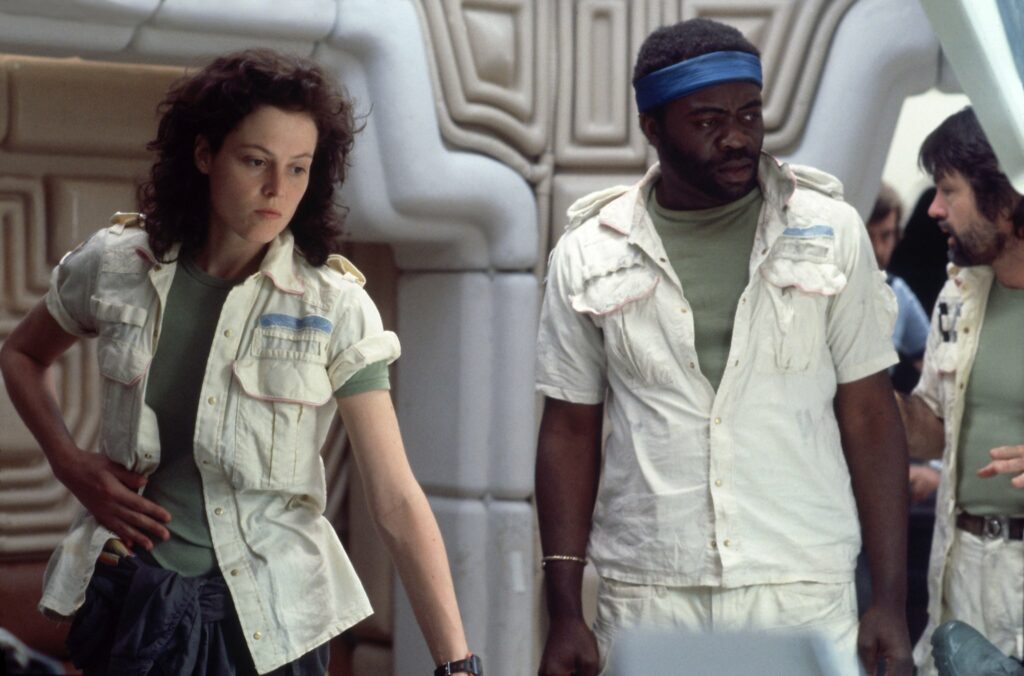 The story is a fairly simple one; a crew of seven astronauts who are returning to Earth in stasis are woken by the ship's computer when it receives a distress signal from a nearby moon. Company policy dictates that all distress signals need to be investigated, and so the team do just that. However, they soon discover that one of them has become infected with a strange alien parasite, and the tight confines of their spaceship becomes the scene of terrifying carnage as the creature in question runs amok and begins to kill the crew members, one by one.
The cast features the talents of Tom Skerritt, Harry Dean Stanton, Ian Holm, Yaphet Kotto and of course, Sigourney Weaver in her most celebrated role as heroine Ellen Ripley. Quite simply, one of the best films ever made.
3. Blade Runner (1982)
As if one seminal science fiction movie was not enough of an accolade on his resume, Ridley Scott capitalised on the success of Alien by directing another incredible masterpiece in the form of Blade Runner (1982). Based on the novel Do Androids Dream of Electric Sheep? by Philip K. Dick, Blade Runner did not have the same box office success as the aforementioned Alien, taking a meagre $41 million against a budget of $30 million. However, the striking visuals and vision of a not too distant future have lasted, and the film is now highly praised and widely adored by fans of the genre. The influence this film has had in terms of aesthetics and visual stylings is immeasurable.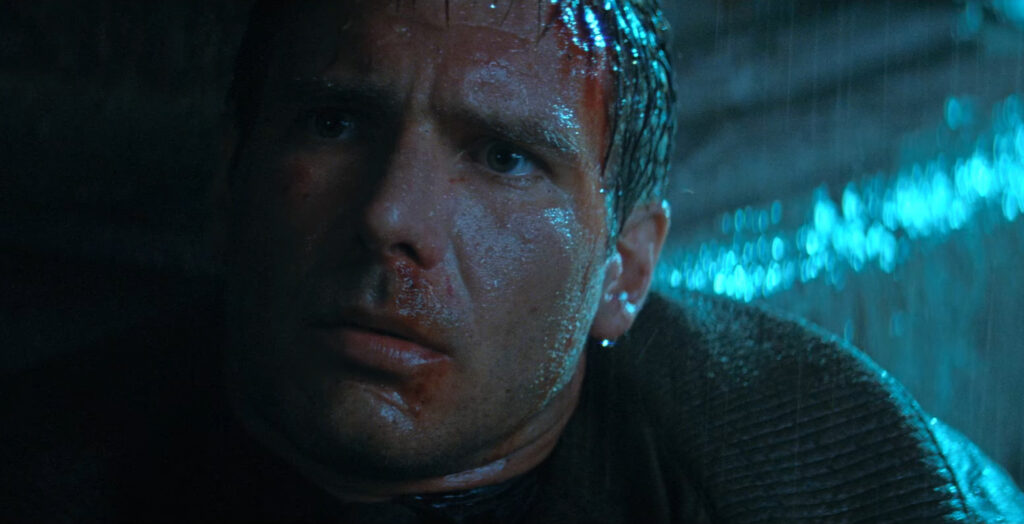 Although the film differs quite a lot from the source material, the central story about a police officer whose job it is to hunt down and kill rogue 'replicants', remains intact. Harrison Ford plays Deckard, a 'Blade Runner' who must track down and terminate a dangerous gang of criminal cyborgs before they can find a way to extend their own lifespans and escape the clutches of the law.
Also starring Sean Young, Rutger Hauer and Daryl Hannah, Blade Runner is, in fact, a deep and thoughtful philosophical film that invokes thoughts and conversation about existence and human rights as well as acting as a critique on modern living and the human race's determination to play God, noting the subsequent reliance on technology. There are several different cuts of the film now in existence, and they all have a slightly different spin. In my opinion, the Final Cut is probably the most successful of these, although each has its own merits.
Check out our indepth review of Blade Runner here
4. Thelma and Louise (1991)
Back in the early 1990s, the idea of a road movie that features a 'buddy relationship' was already well established and, to a certain extent, old hat. These films were almost always male-led and always told from the perspective of the male gaze. Thelma and Louise (1991) took these tropes and turned them upside down by telling the story from a female perspective.
Written by Callie Khouri, the story follows two friends who embark on a road trip to get away from the drudgery of their daily lives, but end up becoming involved in a series of crimes that see them on the run from the law. Nothing is especially new in terms of this type of film, but Thelma and Louise is irrepressibly fresh and vibrant due to the two central female characters.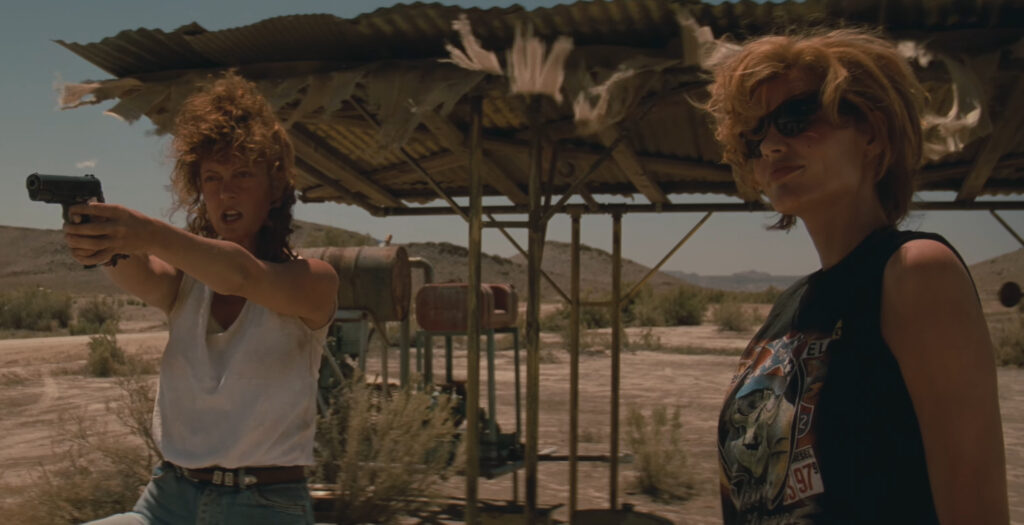 The two friends exist in a male-dominated world in which they have both been controlled and abused by men in their lives, and the road trip provides an unexpected opportunity to break free from their shackles and turn the tables on anyone who tries to take advantage of their femininity. Starring Geena Davis and Susan Sarandon as Thelma and Louise, the film also features a young Brad Pitt, Michael Madsen and Harvey Keitel, who Ridley Scott had previously worked with on The Duellists.
Scott was praised for his handling of the material, and the film was extremely successful at the box office, taking $45 million against a budget of $16 million. Loved by audiences and critics alike, Thelma and Louise has aged well and is still enjoyed by movie-lovers today who want to enjoy an exciting, female-led road movie.
We talk more about this movie in our podcast here
5. Gladiator (2000)
The so-called swords and sandals epics of the 1950s and 60s were a clear influence on Ridley Scott's historical action drama Gladiator (2000). This big-budget, modern masterpiece is one of the director's most successful films garnering critical acclaim from pundits and audiences in equal measure. The film won five Academy Awards, including Best Picture and Best Actor for Russell Crowe and was nominated for over 70 awards across the board. The story follows a Roman Army General who is betrayed by the Emperor's son after the leader's death and is forced into a life of slavery, becoming a gladiator and fighting to survive long enough to exact his revenge.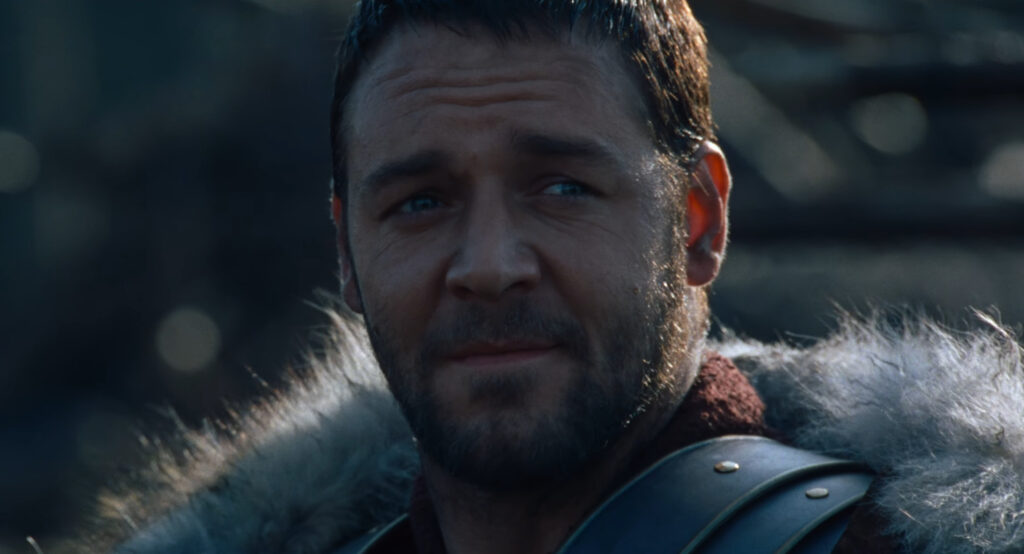 Films such as Ben-Hur (1959) and Spartacus (1960) were re-popularised as a result of the success of this film, and despite the modern filming techniques and special effects, Gladiator is a perfect tribute to the films of this previous era and can be viewed as a worthy edition to the genre. A testament to the talent of the director, Gladiator works on many different levels and has a wide appeal. The film took over $460 million at the box office against a budget of around $100 million and is still much loved and celebrated over twenty years on, as a classic of modern cinema.
Many filmmakers, no matter how well established, could have bitten off more than they could chew taking on a project of this magnitude, but in the hands of Ridley Scott, an incredible and iconic film was realised and created. There are rumours of a sequel on the horizon, but it is this writer's opinion that this excellent movie should remain a stand-alone piece, unsullied by the corporate greed wishing to cash in on its success all these years later.
So that's our Top 5 Ridley Scott Films!
Think we've missed any out or not included your favourite Ridley Scott movie? Then let us know in the comments below.
You can read more of our reviews here.
Please join in 'the conversation' with us on social media on Facebook, Instagram, Tik Tok and Twitter. We really appreciate all the likes, shares, retweets etc., and we would love to hear from you and continue the wonderful celebration of all things cinema on these platforms.
If you love to watch videos on YouTube, then please subscribe to our channel here. There's lots of fun and informative videos uploaded that we hope you will enjoy!
We have a passion for movies and aim to produce entertaining and informative movie-related content. It certainly is a lot of hard work, but we love films so much that it's worth all the effort. We have to keep the lights on and make sure we have plenty of caffeine to keep all of the articles, videos and social media posts coming, so if you like our work, then please consider supporting us at Buy Me A Coffee here. You can also become a More Movies patron on Patreon here.
To help support us here at More Movies, we do use advertising in a few places, so we appreciate it if you do not use AdBlockers on our site, as this helps keep a few pennies trickling in. We also utilise affiliate links throughout the site, usually to help guide our readers to places to stream, rent or buy the movies we talk about. One of the biggest sources for movies online is Amazon Prime Video, where you can stream over 18,000 films. If you are interested in Prime and haven't signed up yet, you can get a 30-day free trial via this affiliate link, which helps support us too.