Australian filmmaker Peter Weir was born in Sydney in 1944, a leading figure in the so-called 'Australian New Wave' film movement, he has directed some of the most beloved movies of the past 50 years. Having studied arts and law at university, Weir's interest in filmmaking was ignited after meeting fellow students, including director Phillip Noyce, who went on to establish the experimental Ubu Films collective which was active from 1965 until around 1970.
With a background in realism and subjects that espouse a social conscience and evoke real emotions, Peter Weir's early work would continually inform his later efforts for Hollywood. These big budget productions would benefit greatly from Weir's interest in characters and his use of story to express a belief in ethics and morality.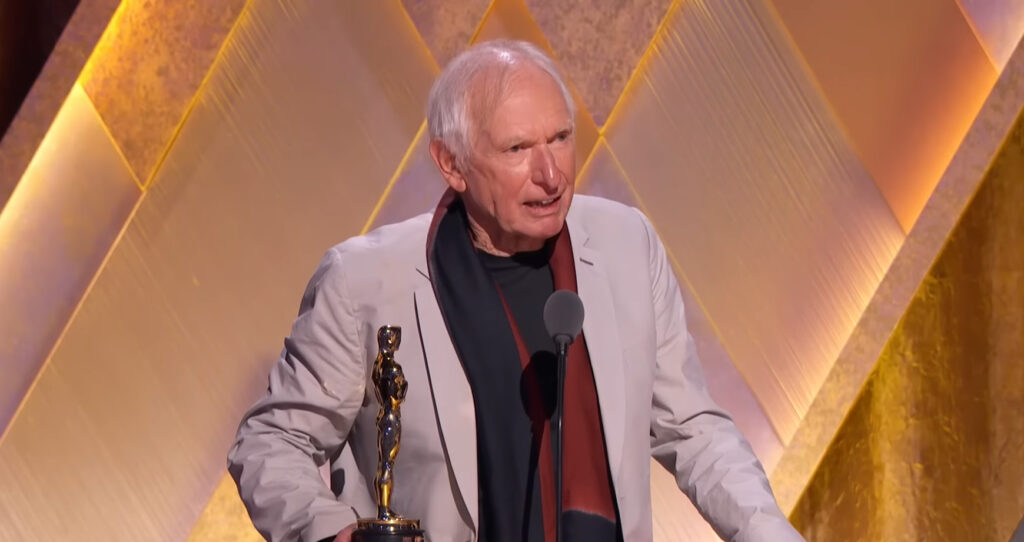 "The smallest detail can contribute to the whole, I think particularly with emotion, you want it to be as authentic as it can, whether it's an artifact or a theatrical event. But the whole is the sum of so many images."

Peter Weir
As is the case with many filmmakers, Peter Weir started his career in television and moved on to work for the Commonwealth Film Unit, producing short-films and documentaries. He directed the independent short-film Homesdale (1971) before making his first full-length feature film The Cars That Ate Paris (1974). In the 47 years since then he has gone on to produce work on the international stage, five of which we have listed here as an introductory collection, intended to entice the uninitiated to see this amazing filmmaker's canon of excellent work. As always, our selections are listed chronologically…
1. Picnic At Hanging Rock (1975)
Based on the novel of the same name by Joan Lindsay, Picnic At Hanging Rock (1975) is a period-drama and a mystery story about a group of teenage girls in 1900 who go on a picnic on Valentine's Day and vanish without a trace. Whether the events portrayed in the film are true or not has always been the subject of debate as the author, Lady Lindsay remained ambiguous on the subject. The film was a great success at the time, both critically and financially.
Made for a budget of $443,000 the film took $5.12 million at the Australian box office. The movie also helped to establish the Australian New Wave of filmmaking, which produced a series of films between the mid-1970s to the late 1980s, that elevated Australia's reputation as a film-producing nation and alongside the genre of "ocker films", popularised Australian culture and films, particularly in the United States of America.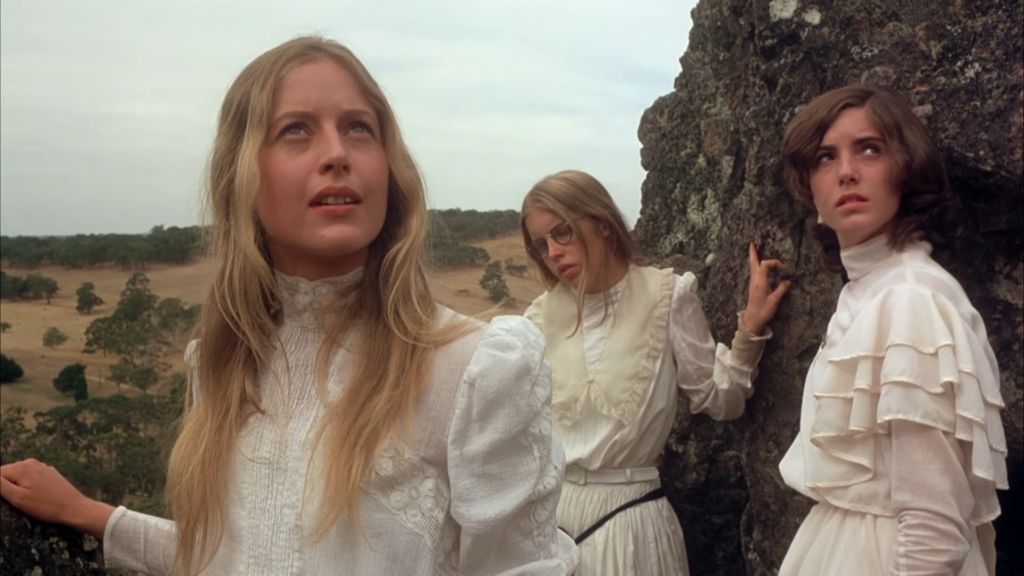 The film's impressionist look befits the period in which it is based, and this was achieved by draping bridal veil material of varying thicknesses over the camera lens, creating a soft-focus effect that carries a dream-like and painterly quality. Weir had to be approved as director by the story's author, and in a meeting with Lady Lindsay he asked her whether the story was true.
This was something he was warned not to do by the publisher, but felt he had to. Having already impressed the author during lunch, he was not scolded for asking, but her response was "Young man, I hope you do not ask me the question again." The book has since be re-made as a television series in 2018 starring Natalie Dormer, but it is this writer's opinion that the original 1975 film is the one to see.
2. Gallipoli (1981)
One of the most powerful anti-war films ever made, Gallipoli (1981) stars Mel Gibson and Mark Lee as Frank and Archie, two young sprinters who enlist in the Australian Armed Forces and travel to fight in the First World War together. Enamoured by the prospect of a great adventure, a smart uniform and fuelled by anti-German propaganda, the two friends convey a coming-of-age story that also acts as an allegory for Australia's loss of innocence at this time.
Due to the heavy death toll that was suffered during this drawn out and bloody conflict, The First World War remains the costliest war for Australia in terms of deaths and casualties. With a population of less than five million at the time, just under 417,000 men enlisted, of whom more than 60,000 were killed and 156,000 were wounded, gassed, or taken prisoner.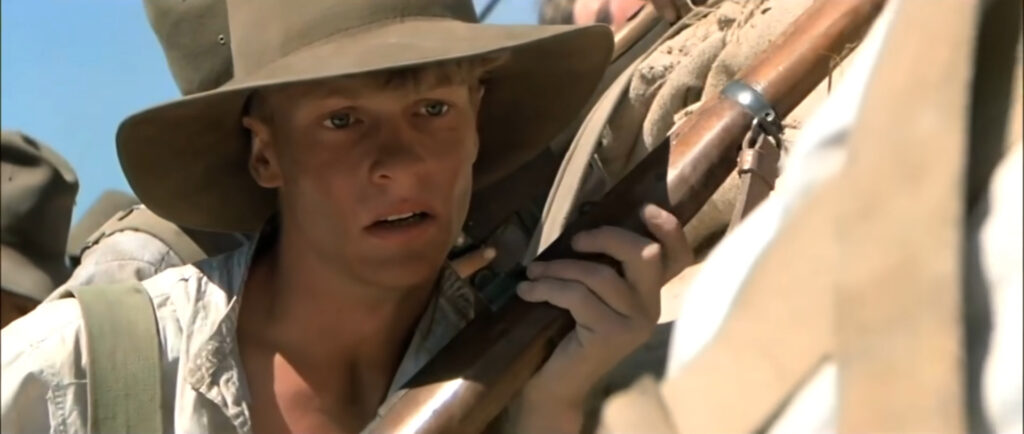 Peter Weir wanted to tell a personal story rather than concentrating on too many factual details and thereby avoid producing a more documentary style piece. Instead, he took two characters, one from a rural background, another from an urban setting and put them together in order to show the ANZAC soldier leaving the homeland as a young and innocent recruit.
We then follow them to the Turkish peninsula of Gallipoli where they are plunged into the depths of war with all its barbarity and indifferent leadership. This is a film that emblazons itself on the memory of anyone who has seen it and pulls on the heart-strings as we witness the futile loss of life and the needless death and destruction suffered in war. Harrowing, but essential viewing.
3. Witness (1985)
Witness (1985) is an American thriller directed by Peter Weir and starring Harrison Ford, Kelly McGillis, Alexander Godunov and Lukas Haas. The story follows a young Amish boy who witnesses the murder of an undercover police officer in a train station. After Detective John Book (Ford) takes a bullet in the line of duty, he is taken in and nursed back to health by the boy's recently widowed mother. He becomes attached the woman and her son and eventually wins the respect of the famously insular and religious society. This unique and romantic thriller perfectly juxtaposes the two worlds of the traditional Amish community and the modern, gritty underbelly of the big city.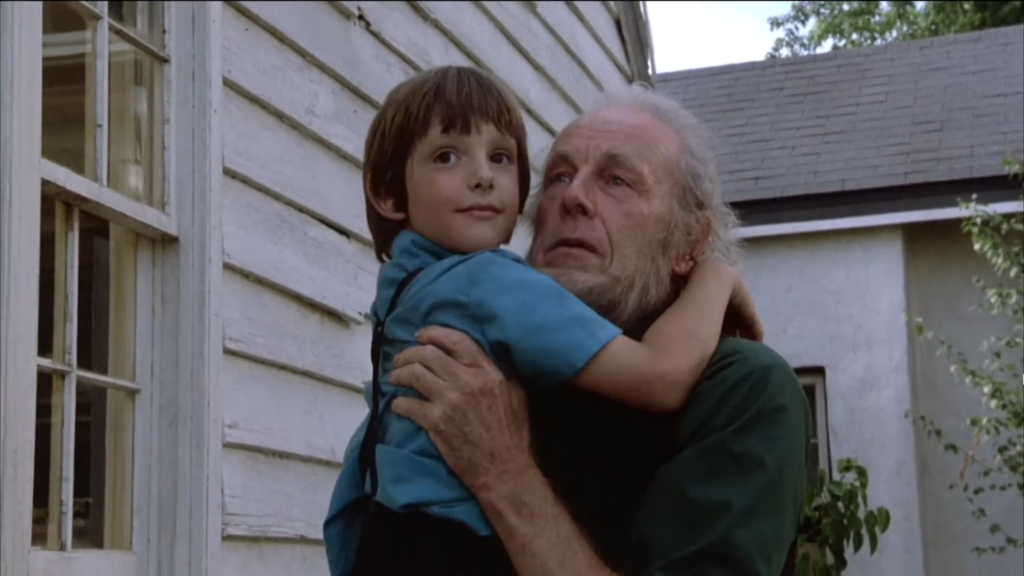 This film marked the first time that the Amish people had been featured so prominently in a mainstream feature film. Weir was looking for a picture that had been green lit by a studio, an "assignment" as he put it, so his agent sent him three scripts, out of which he chose Witness. Harrison Ford did some extensive research for his part, spending time with the Philadelphia Homicide Department, in order to bring as much authenticity as possible to his role. Danny Glover and Viggo Mortensen also feature in the supporting cast and the subtle and haunting music provided by Maurice Jarre perfectly complements the film's originality and atmosphere.
4. Dead Poets Society (1989)
One of the most beloved films of the 1980s and a strong favourite of ours at More Movies, Dead Poets Society (1989) is a period drama film that is set in a private boys school in the late 1950s. Starring Robin Williams in one of his finest film performances, the story follows a group of teenage students as they embark on another school year.
Their new English teacher, Mr. Keating (Williams) has a huge influence on them and they resurrect an old club that Keating was formerly a member of, 'The Dead Poets Society'. This is a movie that is spellbinding, funny, romantic and poignant. Peter Weir created a wonderful working environment for the young actors to develop their skills in and each cast member has noted how much they learned about their craft during the making of this incredible movie.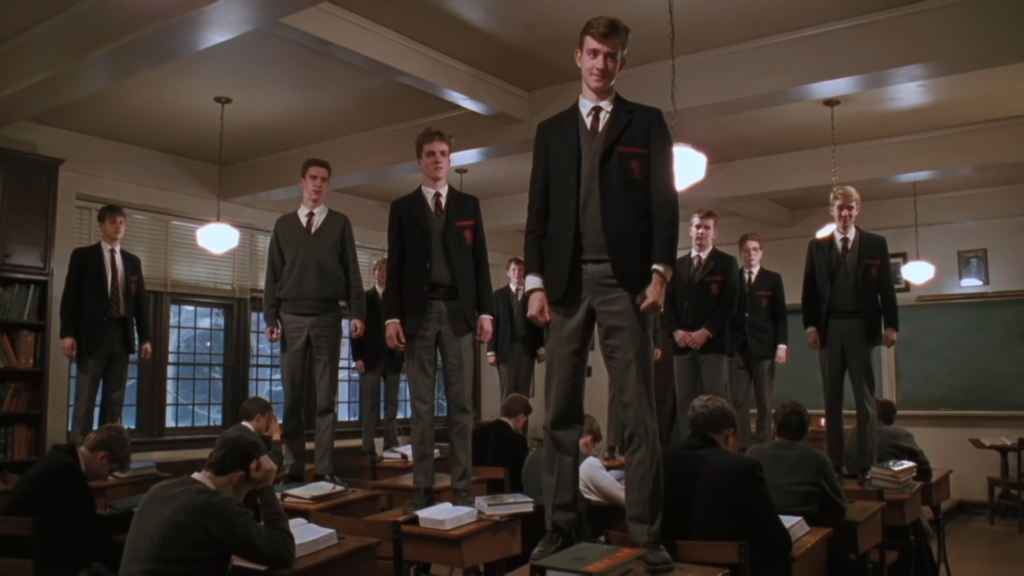 Robert Sean Leonard and Ethan Hawke played two of the prominent characters and this film helped to launch their careers, particularly Hawke who has said in interviews that his experience on "Dead Poets" changed his life and taught him so much, even going so far as to liken Weir to the Williams character John Keating, such was his influence on the young cast.
The themes in the story explore living in the moment, appreciating that which we have, a love of life, the importance of artistic creativity and the dangers of suppressing these outlets. The film features another beautiful score by Maurice Jarre, as well as gorgeous autumnal colours and mise en scene shot by John Seale. Dead Poets Society is considered by some to be Weir's crowning achievement. O' Captain, my Captain!
Check out our full review of this movie here.
5. The Truman Show (1998)
Another Peter Weir film that stands out as being completely unique is The Truman Show (1998). Ahead of its time and extremely prescient in its subject matter, this film is a psychological drama about a man trapped in a mundane existence who begins to develop a feeling that there must be more to life. This causes him to try and break out of his routine and develop a more spontaneous way of living. What he doesn't realise is that he is being watched and the powers that be are trying to do everything they can to contain him, foiling his efforts to emancipate himself from the drudgery of the daily grind.
The film stars Jim Carrey as Truman Burbank, the central character and despite his reputation for slapstick comedy, his performance here is much more measured and befits the pastoral timbre of the piece.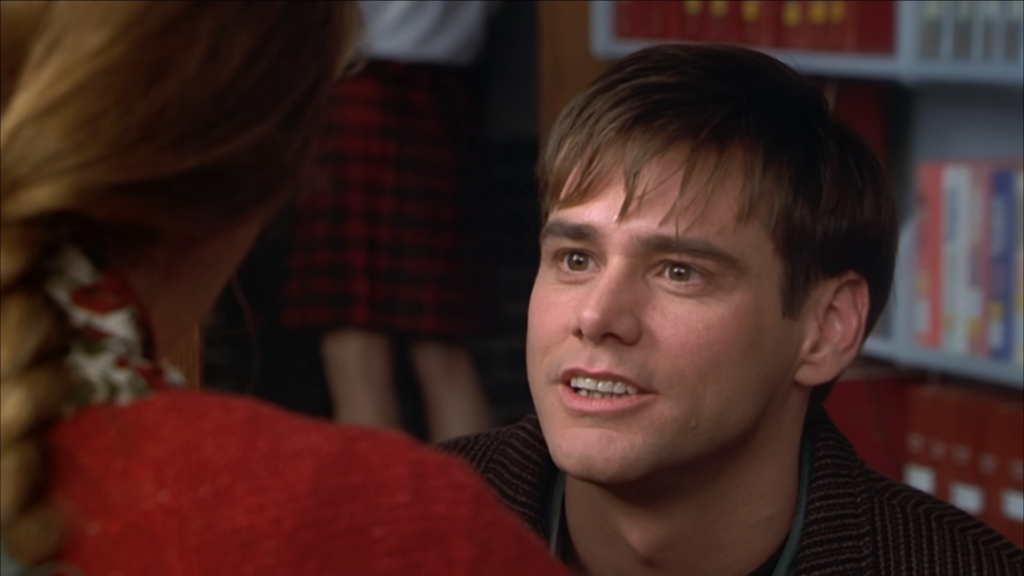 Weir took on the project having looked for something different from anything else he had made previously and having read Andrew Niccol's script, he was immediately drawn to this story about voyeurism, fly-on-the-wall media and the untameable human spirit. The original script set the story in modern day Manhattan and was much darker in its tone, but Weir changed the location to an idyllic suburban setting that had a holiday brochure feel and lightened the mood to be more colourful and amusing.
Also starring Ed Harris, Laura Linney and Noah Emmerich, this prophetic film was released on the cusp of the mass-media revolution and can be viewed retrospectively as a stark warning to us all about the trappings of 24hr television and our obsession with social media.
So, that's our Top 5 Peter Weir Films!
Think we've missed any out or not included your favourite Peter Weir movie? Then let us know in the comments below.
You can read more of our reviews here.
Please join in 'the conversation' with us on social media on Facebook, Instagram, Tik Tok and Twitter. We really appreciate all the likes, shares, retweets etc., and we would love to hear from you and continue the wonderful celebration of all things cinema on these platforms.
If you love to watch videos on YouTube, then please subscribe to our channel here. There's lots of fun and informative videos uploaded that we hope you will enjoy!
We have a passion for movies and aim to produce entertaining and informative movie-related content. It certainly is a lot of hard work, but we love films so much that it's worth all the effort. We have to keep the lights on and make sure we have plenty of caffeine to keep all of the articles, videos and social media posts coming, so if you like our work, then please consider supporting us at Buy Me A Coffee here. You can also become a More Movies patron on Patreon here.
To help support us here at More Movies, we do use advertising in a few places, so we appreciate it if you do not use AdBlockers on our site, as this helps keep a few pennies trickling in. We also utilise affiliate links throughout the site, usually to help guide our readers to places to stream, rent or buy the movies we talk about. One of the biggest sources for movies online is Amazon Prime Video, where you can stream over 18,000 films. If you are interested in Prime and haven't signed up yet, you can get a 30-day free trial via this affiliate link, which helps support us too.