Dead Poets Society (1989) is a classic drama directed by Peter Weir and stars Robin Williams, Ethan Hawke and Robert Sean Leonard.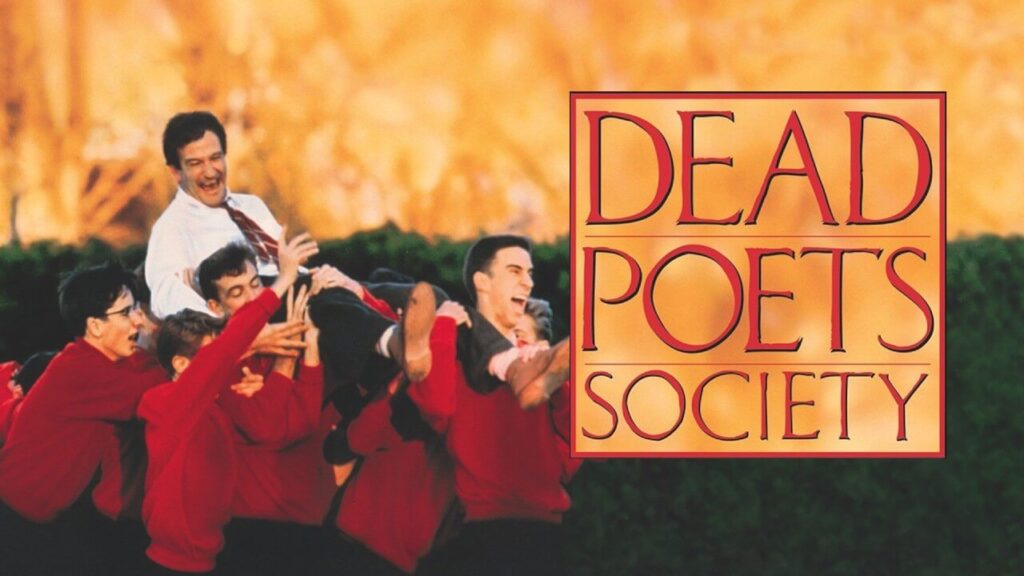 Set in Vermont in 1959, Dead Poets Society tells the story of a group of teenage boys who all live and study together at an exclusive boarding school called Welton Academy. Beginning at the start of a new semester, Todd Anderson (played by Ethan Hawke) arrives at Welton, jokingly called Hell-ton by the other boys, and falls in with his new roommate Neil Perry (played by Robert Sean Leonard) and his group of friends. Also new to Welton is an English teacher called Mr John Keating (played by Robin Williams), who himself is a former alumnus of the school.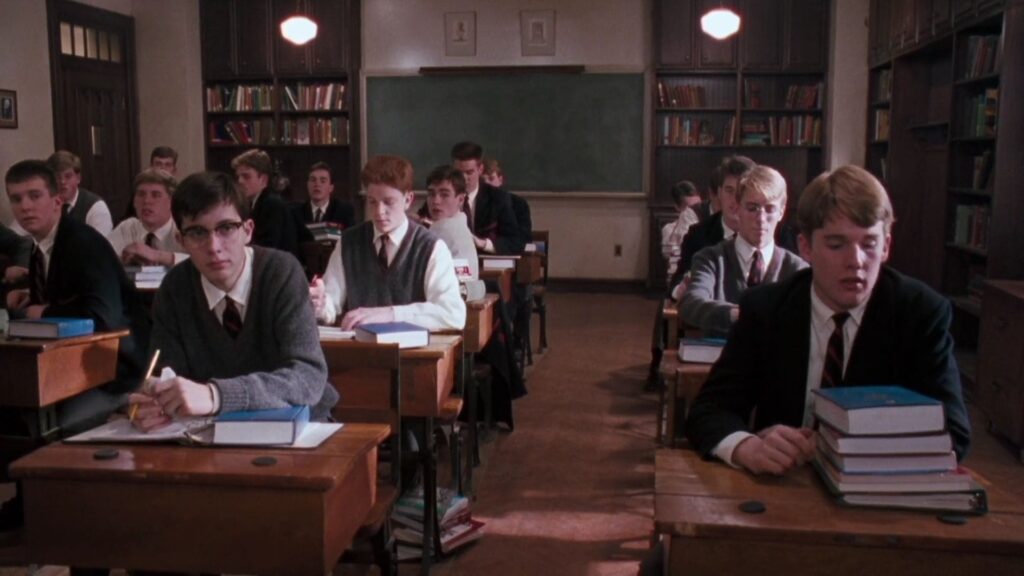 We see the boys begin the new school year by organising study groups and attending their lessons, which seem run-of-the-mill and mundane. That is until they attend Mr Keating's poetry class. In his very first lesson with the boys, Keating uproots the class from their sedentary positions and takes them to the reception hall of the building, inviting them to view photographs of former Welton students from years before. He proceeds to warn the class that time is fleeting and tells them that they, too, one day, will cease to be.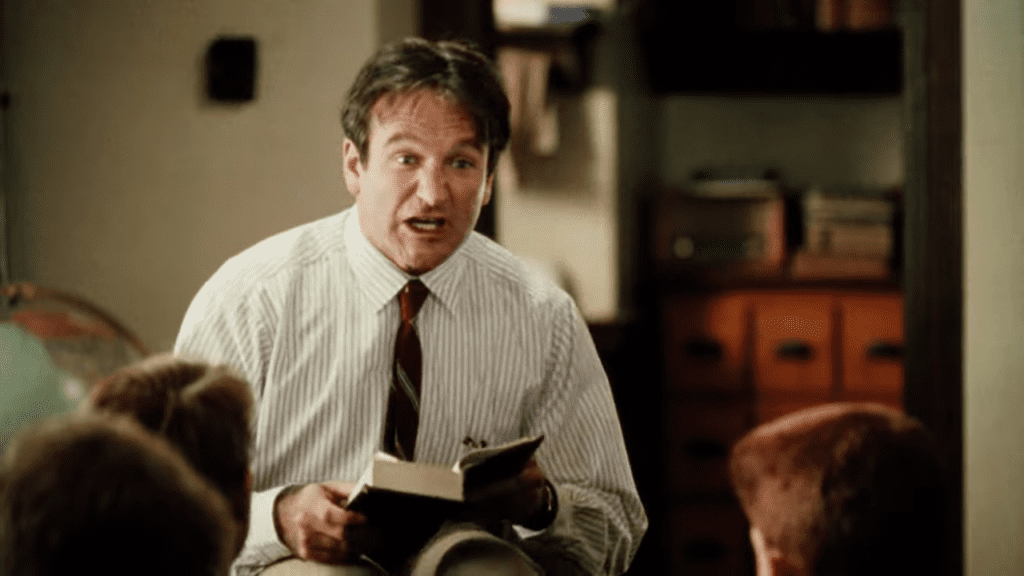 Keating then implores them to make their lives extraordinary and to seize the day. A little surprised and confused by this non-traditional lesson, Todd, Neil and the other boys in the class are left bemused by Keating's words, which have made an impression on them.
Throughout more lessons, we see Keating use unconventional teaching methods that contrast against the stuffy and old-fashioned techniques used by the other educators at the school. He encourages the class to see things from unique perspectives and sanctions rebellious actions such as standing up on his desk and ripping the introductions from the pages of their textbooks. The boys begin to be inspired by Keating's classes, and they do some research on their new teacher, finding his old yearbook and discovering he was a member of a secret club known as 'The Dead Poets Society'.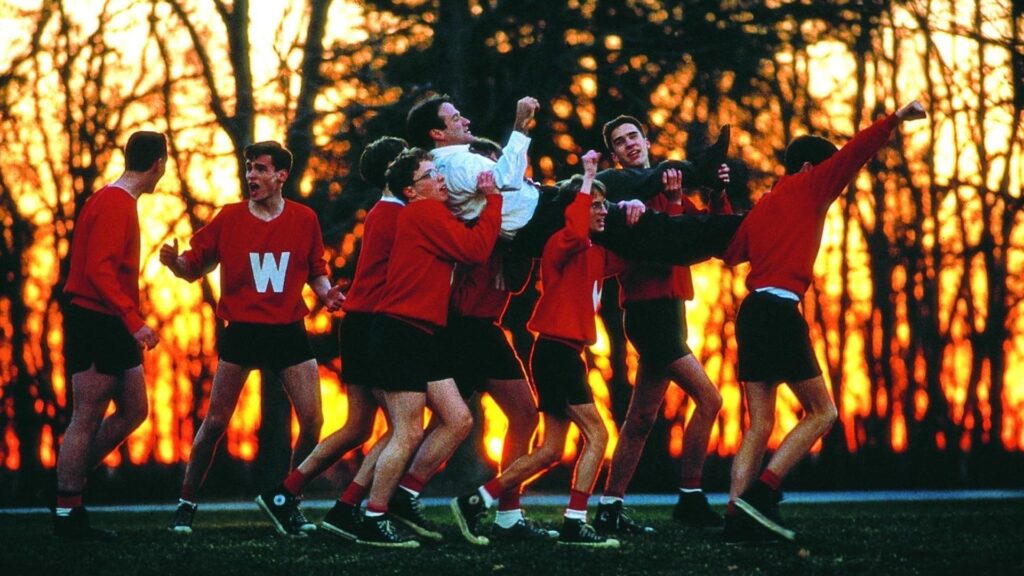 Neil, Todd and the gang confront Keating to ask him about the club. Amused by their intrigue, he tells them that they used to meet in an old cave just off the school grounds and recite poetry in order to celebrate life and woo women. Completely inspired by his teachings and excited by the thought of the secret club, Neil proposes that they all resurrect the Dead Poets Society and venture out to the cave in order to follow in Keating's footsteps.
Over the course of the school term, the group continues to be enamoured by Keating as they grow in confidence and decide to "suck the marrow" out of life and pursue their dreams.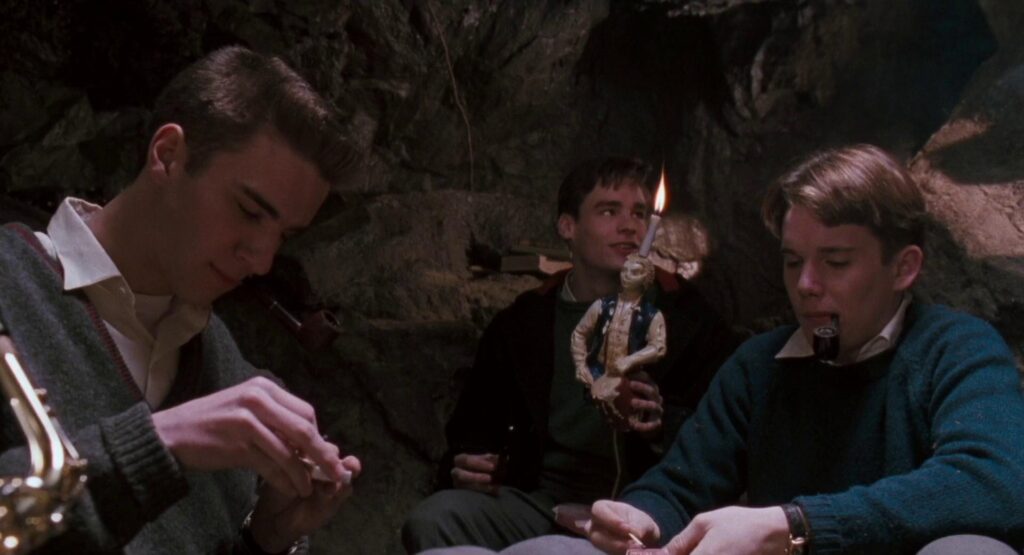 Neil gets cast in a production of A Midsummer Night's Dream, despite his stern father forbidding him to partake in any extracurricular activities. Young lovesick Knox decides to pursue a girl he has fallen for, despite the fact that she is going with a local jock from the nearby public school. Todd begins to come out of his shell and develop his personality, and Charlie, the real rebel of the gang, goes completely off the rails.
He re-christens himself as Nuwanda and publishes a controversial article in the school paper that calls for girls to be allowed at Welton. Following this up with an elaborate protest during a school assembly, we suddenly realise the extent of Keating's influence on the boys and suffice to say, trouble ensues.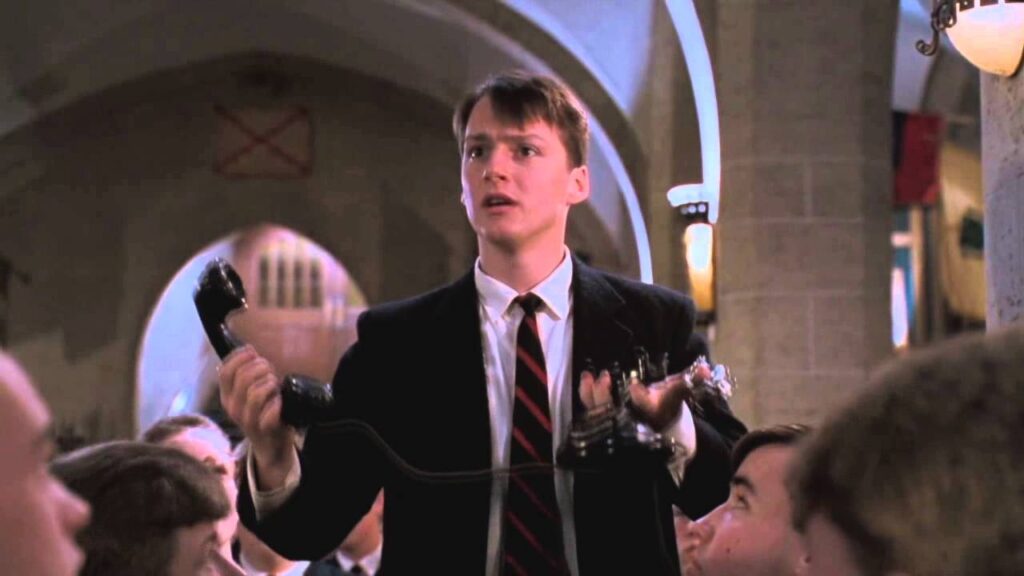 If you've seen the movie, then you know what lies in store for the boys and Keating following this incident, and if you haven't seen it yet, I strongly recommend viewing it and finding out what becomes of the Dead Poets Society.
The film is incredibly well made. Australian director Peter Weir did a stellar job with the young cast, none of whom had done anything on this level prior. The performances are very naturalistic and believable, as the school year heads into winter, we become fond of the gang and their exploits, leading us to feel sorry for them when the authoritarian Headmaster Mr Nolan, decides enough is enough and cracks down on the lads and their beloved teacher.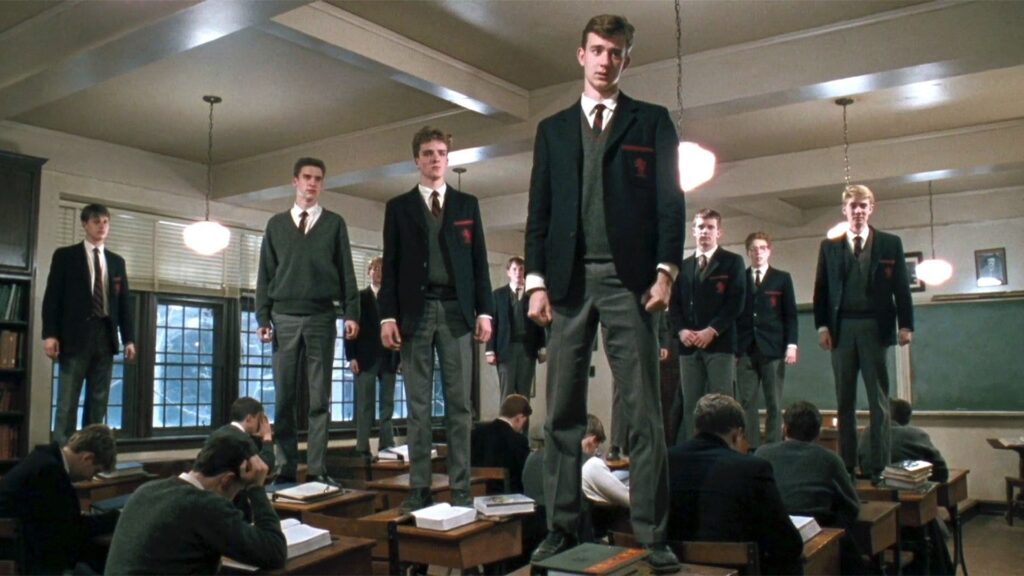 The casting of Robin Williams was a true masterstroke. Known primarily for his comedy performances in his stand-up shows and the hit TV series Mork and Mindy (1978 – 1982), Williams had not yet tackled a dramatic role of this calibre beforehand. But, rising to the challenge and not overdoing it, his performance as the young and charismatic English teacher is a joy to witness. We join in with the rest of the class in our admiration for his encouraging and inspirational guidance.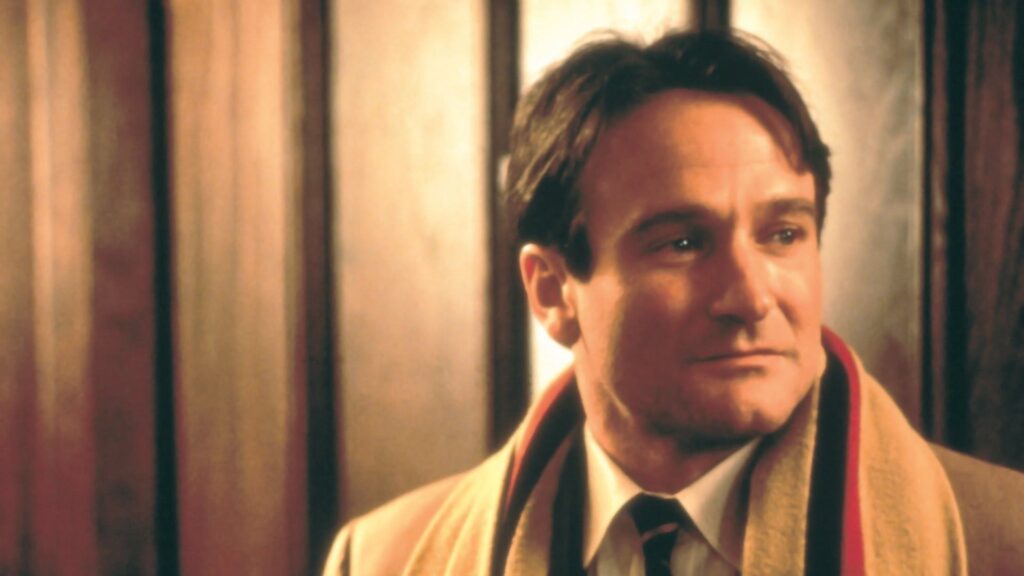 Ultimately, Dead Poets Society is a bittersweet tragedy that highlights the consequences of our actions as much as it encourages a carefree spirit of individuality. It promotes the idea of following our heart's true desires but emphasizes the fact that in this world, even our dreams may carry a cost.
And that's our review of Dead Poets Society!
Did you enjoy Dead Poets Society? What did you think of our review? Let us know in the comments!
You can read more of our reviews here.
Please join us on social media on Facebook, Instagram, Tik Tok and Twitter. We really appreciate all the likes, shares, retweets etc., and we would love to hear from you and continue the wonderful celebration of all things cinema on these platforms.
If you love to watch videos on YouTube, then please subscribe to our channel here. There's lots of fun and informative videos uploaded that we hope you will enjoy!
We have a passion for movies and aim to produce entertaining and informative movie-related content. It certainly is a lot of hard work, but we love films so much that it's worth all the effort. We have to keep the lights on and make sure we have plenty of caffeine to keep all of the articles, videos and social media posts coming, so if you like our work, then please consider supporting us at Buy Me A Coffee here. You can also become a More Movies patron on Patreon here.
To help support us here at More Movies, we do use advertising in a few places, so we appreciate it if you do not use AdBlockers on our site, as this helps keep a few pennies trickling in. We also utilise affiliate links throughout the site, usually to help guide our readers to places to stream, rent or buy the movies we talk about. One of the biggest sources for movies online is Amazon Prime Video, where you can stream over 18,000 films. If you are interested in Prime and haven't signed up yet, you can get a 30-day free trial via this affiliate link, which helps support us too.