With the recent release of Baz Lurhman's star-studded Elvis (2022) film, which we recently covered on our podcast, we thought it would be a good time to look back on some of our favourite music biopics and pick out the nine we consider to be the best.
Biopics often divide people in their attempt to reveal something audiences don't know about the film's subject. Everyone's life is viewed differently depending on your perspective. When constructing a narrative to tell a story, liberties must be taken to move things around or remove certain elements to create a compelling story. To some die-hard fans, it can sometimes feel sacrosanct to "rewrite" history in this way.
To me, a good music biopic captures the essence of the personalities involved whilst creating a compelling story based on their life's journey. The performances of the actors need to feel like the people they are playing, but not neccesarily be a perfect imitation. This is not an impersonation contest.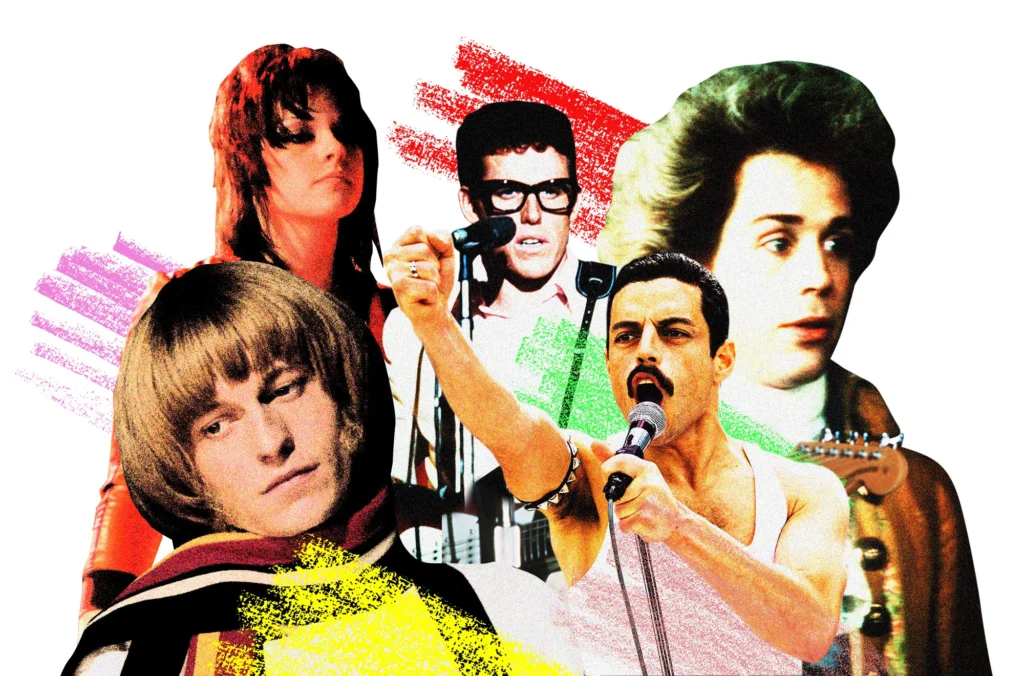 That all being said, there has been a mixed bag over the years regarding music biopics. There are some profoundly disappointing films, but there have also been some fantastic entries, films that captivate you and even educate you on the stories of our favourite music stars. We have gone through the catalogue of music biopics from over the years and wittled down a list of our favourites.
As always, our selections are listed chronologically, not ranked. Check out our top 10 picks below…
1.) Coal Miner's Daughter (1980)
We kick off our list with Coal Miner's Daughter (1980), the emotional story about country music legend Loretta Lynn. In an incredible performance by Sissy Spacek, we witness the back story of one of the most famous country stars of all time. We witness her steady rise to fame as she deals with her domineering husband, raises her young family and overcomes stage fright to become one of the most adored and celebrated artists in her genre.
Tommy Lee Jones is also excellent in an early role for him as Loretta's husband Doolittle Lynn. The cast also features real-life musicians Levon Helm and Ernest Tubb, providing some assurance that the soundtrack for the film is nothing short of note perfect. A real treat for country music lovers and anyone who enjoys a good old under-dog story.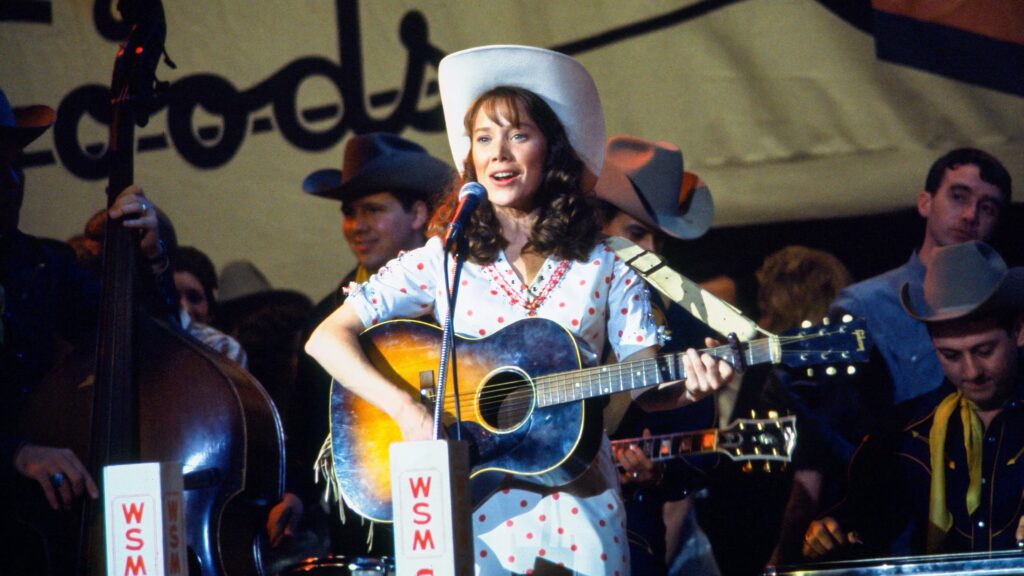 Raised in rural Kentucky poverty and married at the age of 13, Loretta Lynn begins writing and singing her own country songs. With the tireless help of her husband Oliver "Mooney" Lynn, Loretta rises from local honky-tonk bars and small-time record deals to national tours and hit singles, befriending her idol Patsy Cline and becoming a country music icon despite the toll stardom takes on her family and her marriage.
2.) Amadeus (1984)
Next up is Amadeus (1984), Miloš Forman's period biopic about Wolfgang Amadeus Mozart, widely regarded as the greatest composer in the history of music. But Mozart's story is about more than the wonderful music he composed. It is also about the drama of his life, the extravagance and the humour. The performances of Tom Hulce as the titular character, Jeffrey Jones' hilarious portrayal of Emperor Joseph II and F. Murray Abraham's remarkable Oscar-winning turn as Antonio Salieri make the film incredibly special. Amadeus is visually stunning, full of energy and laughter. It also packs a dramatic punch.
The film has received widespread acclaim and was a box office hit, receiving 40 awards, including eight Academy Awards (including Best Picture), four BAFTAs, four Golden Globes and a Directors Guild of America award. It's incredible. If you haven't already, check it out!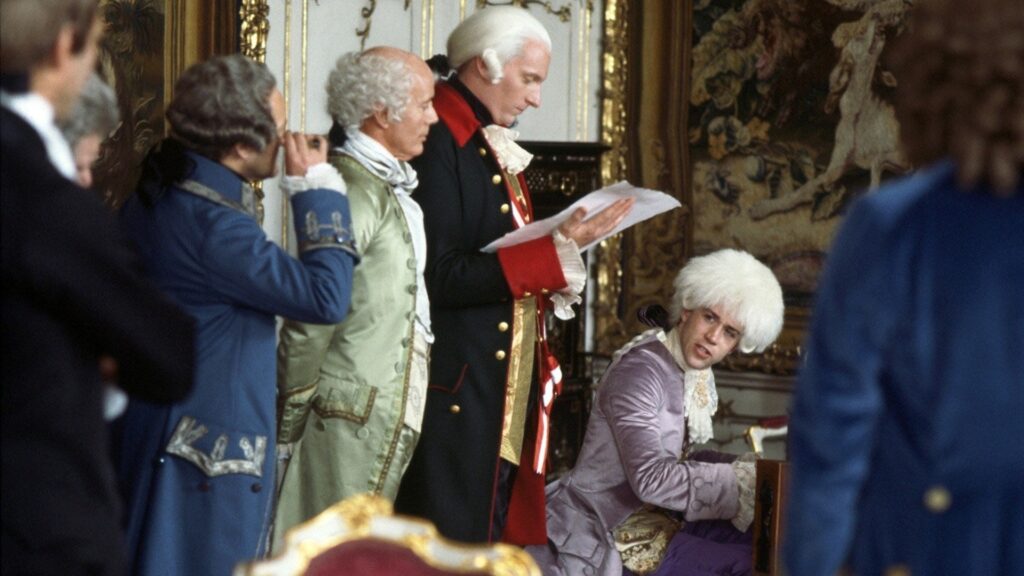 Wolfgang Amadeus Mozart is a remarkably talented young Viennese composer who unwittingly finds a fierce rival in the disciplined and determined Antonio Salieri. Resenting Mozart for both his hedonistic lifestyle and his undeniable talent, the highly religious Salieri is gradually consumed by his jealousy and becomes obsessed with Mozart's downfall, leading to a devious scheme that has dire consequences for both men.
3.) La Bamba (1987)
The story of Ritchie Valens is a tragedy, the boy who died aged just seventeen on that fateful "Day the Music Died", along with Buddy Holly and The Big Bopper. He was only eight months into his music career but had already laid down a legacy for pioneering Latin and Chicano rock with hits like "Come On, Let's Go", "Donna", and of course the title track "La Bamba".
The film's strength comes from Lou Diamond Phillips' mesmerising performance as Valens and the simple tale of the kid who never got to show the world what he was truly capable of. The film is sweet and sincere and gives us all a little glimpse into the early years of Rock n' Roll.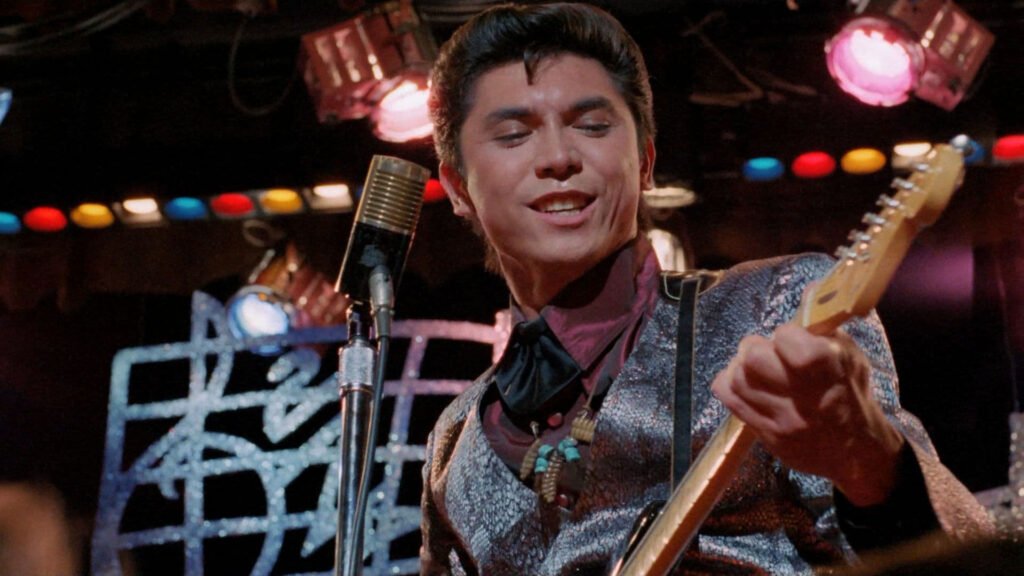 Los Angeles teenager Ritchie Valens becomes an overnight rock 'n' roll success in 1958, thanks to a love ballad called "Donna" that he wrote for his girlfriend whose parents didn't want her to date a Latino boy. But as his star rises, Valens has conflicts with his jealous brother, Bob, and becomes haunted by a recurring nightmare of a plane crash just as he begins his first national tour alongside Buddy Holly.
4.) The Doors (1991)
At the beginning of the 90s, veteran filmmaker Oliver Stone shifted his focus from making political biopics to music biopics when he made The Doors (1991) which explores the career of the infamous American rock band, focusing on their enigmatic lead singer Jim Morrison. Val Kilmer played The Lizard King to a tee, even recording his own vocals and achieving an uncanny resemblance to the rock god.
The film renewed interest in the band and its music, introducing their body of work to a new generation and further cementing their place as pioneers of 60s psychedelic rock. The Doors recaptures the wild and hedonistic spirit of the times and includes strong supporting performances from Kyle MacLachlan and Meg Ryan. It includes a cameo by the director as Jim's film school teacher. Despite the usual liberties being taken in terms of what actaully happened when, this is a very well conceived movie that covers the mythology of one of rock and roll's most notorious icons.
This movie is also included in Our Top 5 Oliver Stone films article here.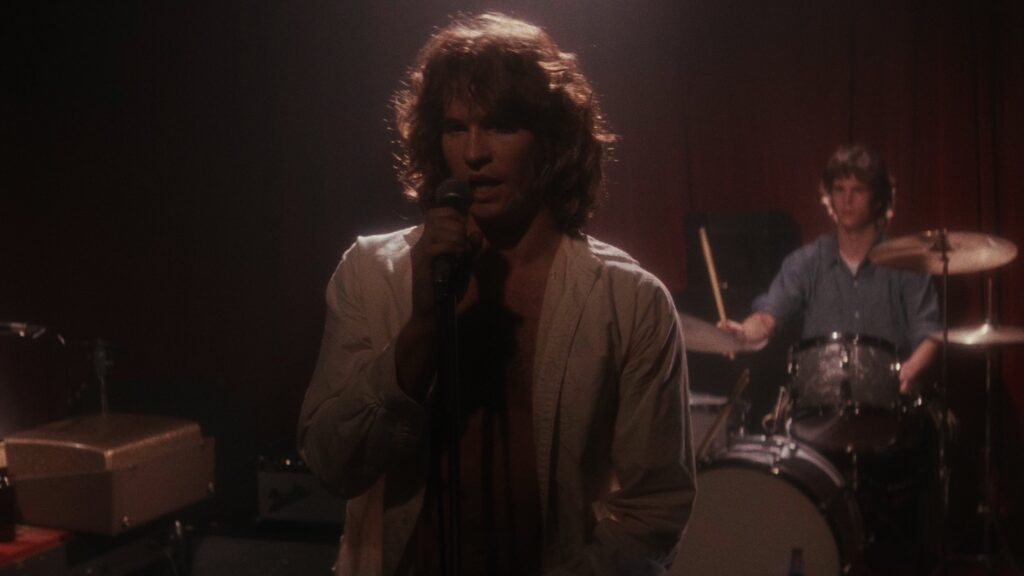 After a psychedelic experience in the California desert, Jim Morrison, lead singer of The Doors, and his bandmates begin performing in Los Angeles and quickly become a sensation. However, when Jim begins ditching his musical responsibilities and his girlfriend, Pamela, in favor of his dangerous addictions and the affections of the seductive, occult-obsessed Patricia, the band starts to worry about their leader.
5.) What's Love Got To Do With It (1993)
She is one of the most iconic performers of all time, but her journey to the top was fraught with hardships and domestic violence. Based on the book 'I. Tina' written by the star and co-author Kurt Loder, What's Love Got To Do With It (1993) stars Angela Bassett in an amazing performance as Anna Mae Bullock AKA Tina Turner. The film has all the usual elements of a great music biopic, with awesome performances, costumes and attention to detail which all help draw you into to the story.
But this film is notably different in that it was amongst the first of its kind to tackle the harrowing subject of domestic abuse and the resulting impacts. Not easy watching by any degree, but all the more poignant and important as a result. Laurence Fishburne gives a chilling performance as the vindictive Ike Turner and both he and Bassett were nominated for Academy Awards for their work on this movie. In my opinion they should have won, this film is "simply the best!"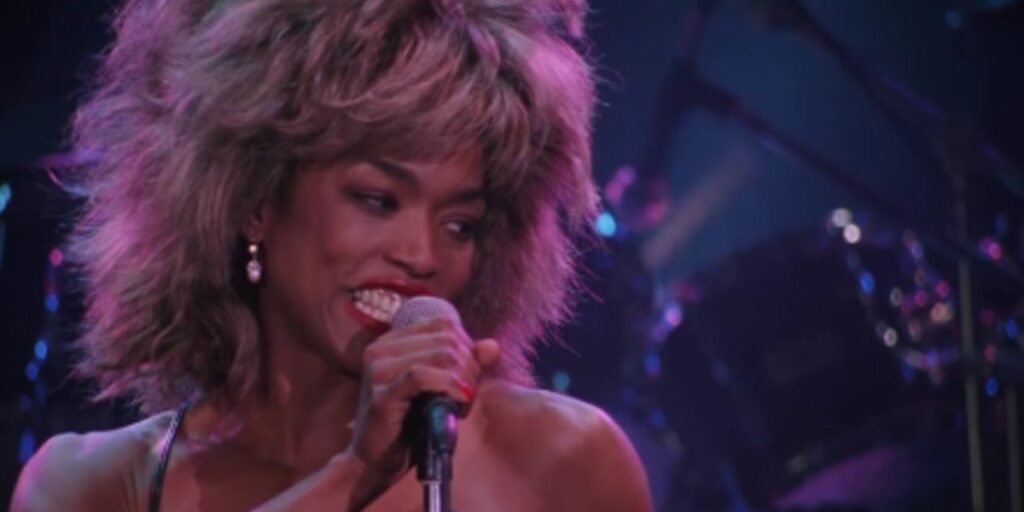 Based on the life of the legendary soul singer, Tina Turner (born Anna Mae Bullock) who discovers her love of singing in her church choir. She moves to St. Louis to pursue a career, and there she meets the charismatic Ike Turner, who rechristens her Tina and offers to help her succeed. As a musical team, Ike and Tina take the charts by storm. But as his physical abuse worsens, Tina has to make the tough decision to leave Ike and set out on her own.
6.) Ray (2004)
Simply put, Jamie Foxx's role as rhythm and blues legend Ray Charles is a real power powerhouse performance, one that rightfully earned him an Academy Award. It's a portrayal full of charisma and energy that believably brings to life a personality that is so highly regarded. Ray (2004) would be worth watching just for Foxx's performance and the wonderful music alone, but the film achieves much more.
The engrossing story of a life filled with tragedy that produces such music and soul is expertly told here. Focusing on more than just the music, the film uncovers the man and his battle against the world. A real joy to watch and a crowning achievement for director Taylor Hackford.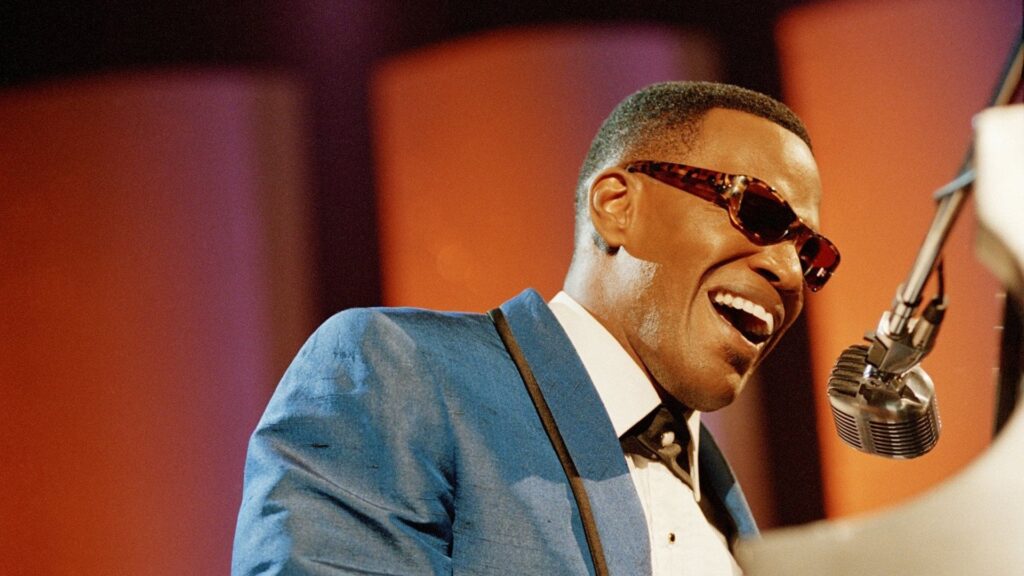 Legendary soul musician Ray Charles is portrayed by Jamie Foxx in this Oscar-winning music biopic. Young Ray watches his 7-year-old brother drown at age seven. When he loses his sight at the age of 9, his hardworking mother (Sharon Warren) urges him not to feel sorry for himself. He rises through the ranks of the Seattle jazz scene, struggling with drug addiction and infidelity while on the road. Supported by his wife (Kerry Washington), Ray Charles redefines soul music and inspires a generation.
7.) Walk the Line (2005)
Joaquin Phoenix stars as the man in black alongside Reese Witherspoon, who won the Academy Award for Best Actress for her portrayal of June Carter. The two stars shine in authentic performances that tell the story of country music's most iconic musician. A portrait of the man, his music, the demons he battled and the love that saved him.
Phoenix's portrayal of Johnny Cash is sensational, full of subtlety and matches the crooning twang we all know and love. Walk the Line (2005) captures all those iconic moments from his tumultuous life up to his iconic performance at Folsom State Prison. Truly inspiring and a great tribute to the man and his music.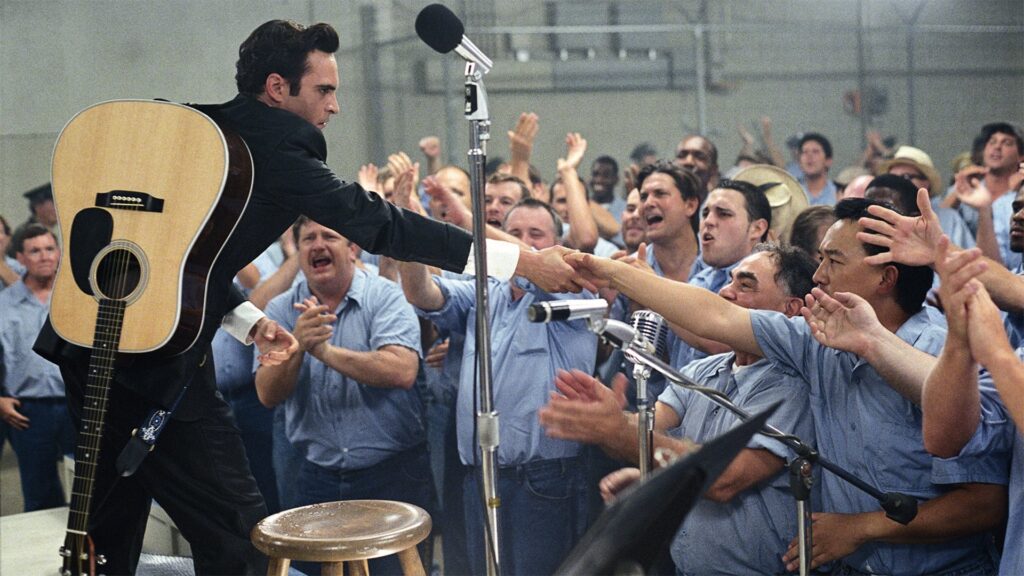 The rise of country music legend Johnny Cash (Joaquin Phoenix) begins with his days as a boy growing up on the family farm, where he struggles under the scorn of his father (Robert Patrick). As the years pass, Cash ends up in Memphis, Tenn., with his wife, Vivian (Ginnifer Goodwin), and breaks into the music scene after finding his trademark sound. While on tour, Cash meets the love of his life, singer June Carter (Reese Witherspoon), but Cash's volatile lifestyle threatens to keep them apart.
8.) Straight Outta Compton (2015)
"Our art is a reflection of our reality", Ice Cube replies to the critical press in Straight Outta Compton (2015). He is talking not just about their music at the time, but this very film as well, as it expertly explores themes of racism, police brutality and disenfranchisement of young black men that are as relevant today as they were when N.W.A. released the protest anthem "F**k Tha Police" in 1988.
With evocative cinematography, the film has magnetic energy that captures a very particular moment in time. Even for those who are not massive fans of the group or hip-hop in general, the film is a fascinating insight into the social change of the period. With massive performances from the entire cast, this film is well worth a viewing if you haven't seen it yet.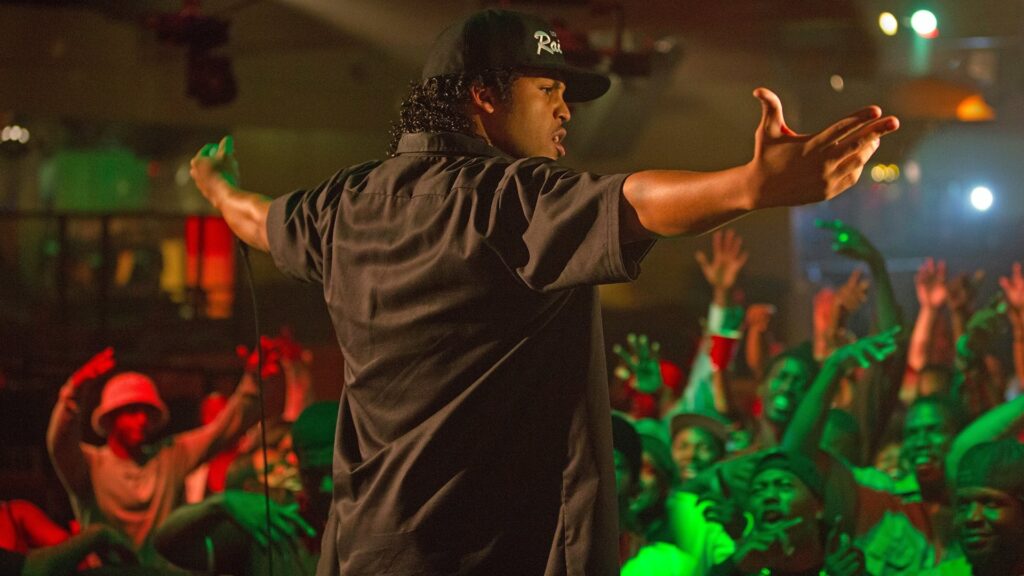 In 1987, five young men, using brutally honest rhymes and hardcore beats, put their frustration and anger about life in the most dangerous place in America into the most powerful weapon they had: their music. Taking us back to where it all began, Straight Outta Compton tells the true story of how these cultural rebels—armed only with their lyrics, swagger, bravado and raw talent—stood up to the authorities that meant to keep them down and formed the world's most dangerous group, N.W.A. And as they spoke the truth that no one had before and exposed life in the hood, their voice ignited a social revolution that is still reverberating today.
9.) Bohemian Rhapsody (2018)
Rami Malek bravely takes on the role of Freddie Mercury in this glossy and fun ride through the story of the legendary British rock band Queen. Starting with the band's formation in London in 1970, the film follows the ups and downs, the fantastic achievements and even briefly touches on the darker side of Freddie's life until their breathtaking performance at Live Aid in Wembley Stadium in 1985.
Although this movie is not a truly accurate telling of the story, Bohemian Rhapsody (2018) hits all the right notes with an infectious soundtrack and dazzling performances that could only be achieved in a story about one of the greatest bands of all time. The recreations are iconic, and the film is a fun, flamboyant tribute to a truly larger-than-life personality.
Check out our article 7 Best Musicals of the 21st Century (so far..) in which Bohemian Rhapsody features.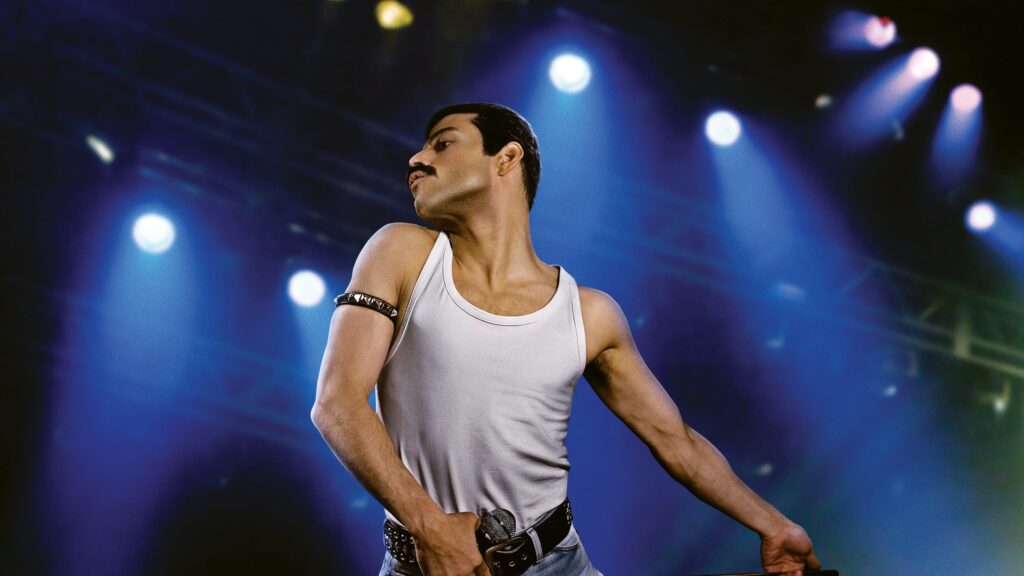 Singer Freddie Mercury, guitarist Brian May, drummer Roger Taylor and bass guitarist John Deacon take the music world by storm when they form the rock 'n' roll band Queen in 1970. Hit songs become instant classics. When Mercury's increasingly wild lifestyle starts to spiral out of control, Queen soon faces its greatest challenge yet – finding a way to keep the band together amid the success and excess.
10.) Elvis (2022)
Austin Butler stars as the iconic Elvis Presley in the recent biopic from Baz Lurhmann, who delivers a dazzling, energetic piece of cinema as only he can. Exploring the myth of the legendary rock n' roll singer through the eyes of his controversial manager Colonel Tom Parker, played by Tom Hanks, Elvis delivers something truly magical.
Butler almost disappears into the role sometimes, and the moments on stage are guaranteed to get you all shook up. But the quieter moments are just as important, touching on Presley's upbringing, cultural influence and later personal struggles, which led to his untimely passing. A really great and refreshingly different music biopic.
We recently covered the film on our podcast, which you can check out here. You can also check out our original reaction to the trailer here.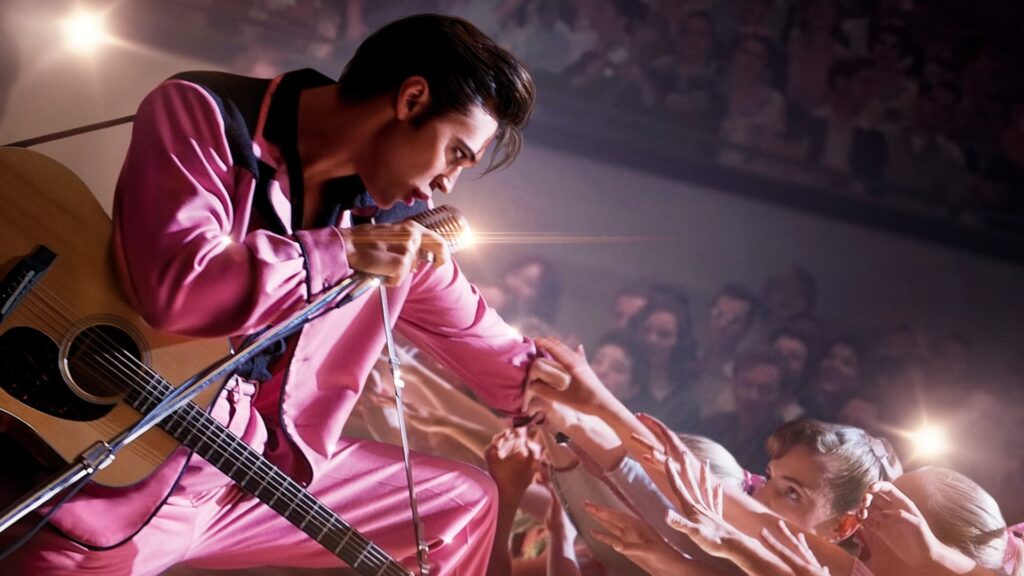 The film explores the life and music of Elvis Presley, seen through the prism of his complicated relationship with his enigmatic manager, Colonel Tom Parker. The story delves into the complex dynamic between Presley and Parker spanning over 20 years, from Presley's rise to fame to his unprecedented stardom, against the backdrop of the evolving cultural landscape and loss of innocence in America. Central to that journey is one of the most significant and influential people in Elvis's life, Priscilla Presley.
So, that's our list… Our Top Ten Music Biopics!
Think we've missed any out or not included the movie you think is one of the best music biopics ever made? Then let us know in the comments below.
You can read more of our articles here.
Please join us on social media on Facebook, Instagram, Tik Tok and Twitter. We really appreciate all the likes, shares, retweets etc., and we would love to hear from you and continue the wonderful celebration of all things cinema on these platforms.
If you love to watch videos on YouTube, then please subscribe to our channel here. There's lots of fun and informative videos uploaded that we hope you will enjoy!
We have a passion for movies and aim to produce entertaining and informative movie-related content. It certainly is a lot of hard work, but we love films so much that it's worth all the effort. We have to keep the lights on and make sure we have plenty of caffeine to keep all of the articles, videos and social media posts coming, so if you like our work, then please consider supporting us at Buy Me A Coffee here. You can also become a More Movies patron on Patreon here.
To help support us here at More Movies, we do use advertising in a few places, so we appreciate it if you do not use AdBlockers on our site, as this helps keep a few pennies trickling in. We also utilise affiliate links throughout the site, usually to help guide our readers to places to stream, rent or buy the movies we talk about. One of the biggest sources for movies online is Amazon Prime Video, where you can stream over 18,000 films. If you are interested in Prime and haven't signed up yet, you can get a 30-day free trial via this affiliate link, which helps support us too.