One of the most controversial and prolific American directors of all time, Oliver Stone is a giant of contemporary cinema. A writer, a producer and a director with extraordinary powers, Stone has always been synonymous with subverting the American ideal and exposing hypocrisy in the corridors of power. His Vietnam-era films are a testament to a war that he fought in and his political biographies reveal his passion for examining the past, warts and all.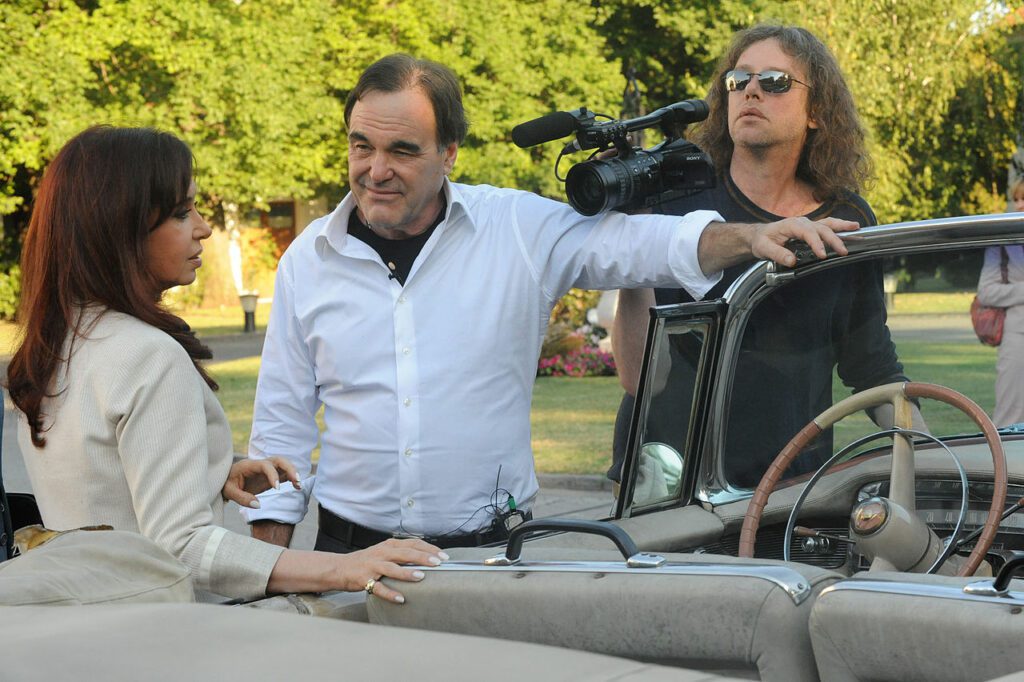 "When you look at a movie, you look at a director's thought process."

Oliver Stone
Oliver Stone's interest in filmmaking developed during his time at the prestigious Yale University, where he studied under esteemed director Martin Scorsese.
Over the years, Stone has tackled various themes and genres, ranging from war dramas to exposes on corporate greed. In addition to his directorial work, Stone has also produced numerous films and documentaries, further exemplifying his commitment to bringing important stories to the screen.
Although it is difficult to list only a handful of this amazing artist's movies (and we do advise seeing as many as you can) here are our Top 5 Oliver Stone films in chronological order…
1. Salvador (1986)
Salvador stars James Woods as an out of work reporter Richard Boyle, who travels to the Central-American country El Salvador in an attempt to find a story due to an impending civil war. Taking his friend DJ Rock (James Belushi) along for the ride, the two get much more than they bargain for upon arrival. Death squads, government corruption and many innocent civilians caught up in the horror of a war-torn revolution. As the veil of bureaucratic deceit lifts, Boyle continues to dig deeper and risks his own life several times, narrowly escaping death more than once.
Gritty, unrelenting and at times very difficult to watch, this is war and politics at their most visceral and realistic. A very bold and brave move for any film-maker to attempt at that time. In 1986 this was recent history, the events taking place just 6 years earlier at the dawn of the Reagan era, a political climate that was sweltering when Salvador was released.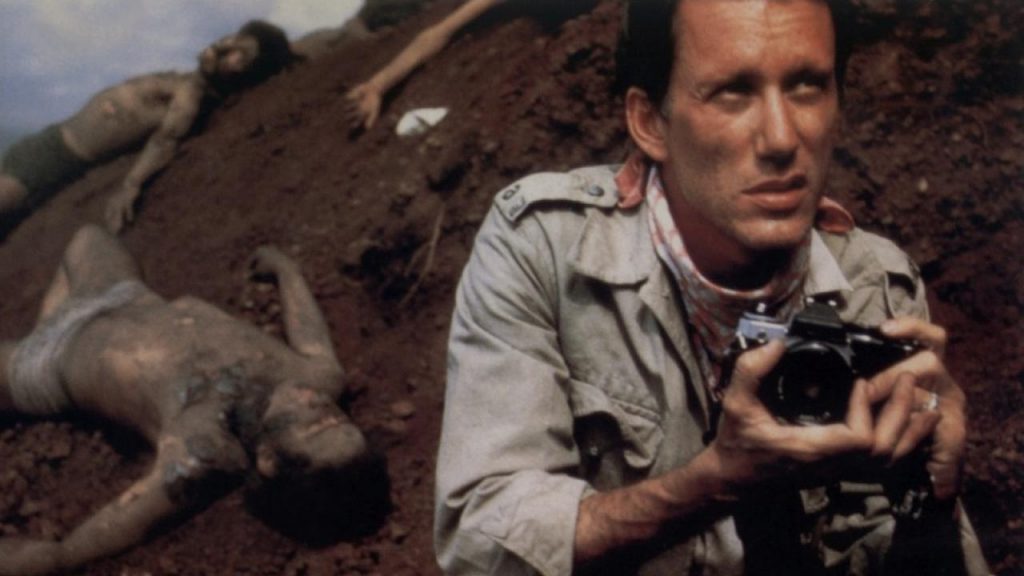 Woods is excellent as Boyle, bringing his unique style to this wise-cracking, tenacious stalwart. He perfectly encapsulates this journalist's conflict, a man who is torn between self-preservation and a more altruistic incline. His journey is one of salvation (Salvador translated) from a neutral observer looking for a controversial exposé, to someone with integrity who will lay everything on the line to uncover the truth and a man who will risk it all in an attempt to save those that he loves.
John Savage also plays an excellent part as war correspondent John Cassady, someone who serves as a moral-counterpoint to Boyle's initial self-centred naivety.
Stone co-wrote the script with the real-life Boyle after the two met and toured several countries in Latin America together. Stone read Boyle's manuscript and was impressed. After struggling to get Platoon made, he wanted a new project to work on and this film was it. Shot very cheaply in an almost guerilla-style, this film marks the start of Stone's collaboration with cinematographer Robert Richardson, who got hired having previously worked in El Salvador on a documentary for the BBC.
An absolute must-see for all fans of gritty-realism and contemporary history, Salvador is Oliver Stone at his most dangerous, effectively portraying humankind's propensity for cruelty, and exposing collusion and indifference at the highest echelons of leadership and government.
2. Platoon (1986)
Considered by many to be one of the greatest war films ever made, Platoon was a critical and box office success at the time of its release in 1986, but this project took Oliver Stone many years to realise. Based on the film-maker's own experiences in Vietnam, though not specifically autobiographical, this is a story of Chris (Charlie Sheen), an average American soldier who descends into hell as he enters the war in Vietnam and becomes caught up in a internal division within his own army platoon.
Half of the men follow the enigmatic Staff Sgt. Barnes (Tom Berenger), a scarred and grizzled older veteran who is bloodthirsty and has a death wish. The other half align themselves with the more even-handed Sgt. Elias (Willem Dafoe); another great warrior, but more of an idealist who displays more humane considerations to other human beings. This ultimately tells the tale of a good man's decline into savagery, brought on by a turbulent environment where good and evil fight for the soul on a daily basis.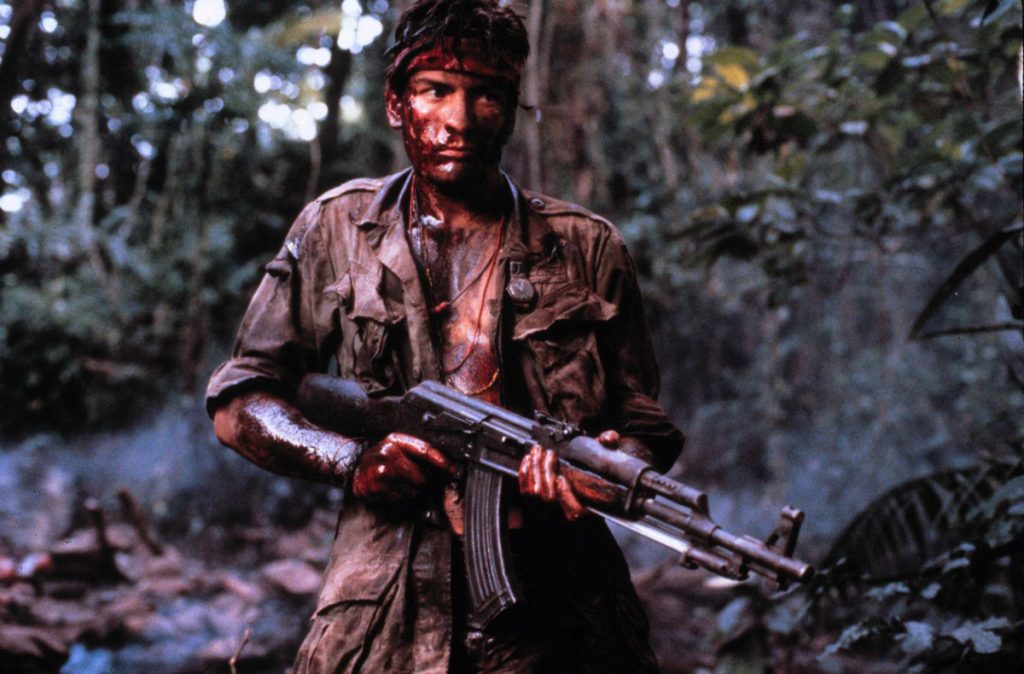 Having served two tours as an infantryman in Vietnam War, Stone had a unique perspective on this dark chapter in American history, and spent ten years trying to get the funding together. The first draft of the script existed in 1976, but no Hollywood producers would touch anything to do with Vietnam for at least several years after, most notably The Deer Hunter (1978) and Apocalypse Now (1979).
After producer Dino De Laurentiis reneged on a deal he had cut with Stone to produce the film, production was further delayed. The planned shoot in the Philippines was also threatened when then leader Ferdinand Marcos was toppled by a new party. The film was eventually made, being shot in just 54 days and grossing $140 million at the box office, an incredible achievement for a war film and considering it only cost $6 million to make, a huge boost for Stone's career as a financially successful film-maker.
3. Talk Radio (1988)
This lesser known film is a intense drama-thriller starring Eric Bogosian who conceived the original concept and co-wrote the finished screenplay with Stone. Talk Radio is about Dallas-based shock-jock, Barry Champlain (Bogosian) who hosts a prominent late night talk show in which he berates his guests with his acerbic wit and outrageous opinions.
Receiving calls from racists, rednecks and other far-right types, the confrontational appeal of the show becomes sufficiently popular to go national. This brings things to a head in the studio as Champlain revolts against his boss, co-workers and ultimately himself in a show-stopping rant that culminates in a shock-ending.
The performances are strong with John C. McGinley as the shows producer Stu, Alec Baldwin as corporate boss Dan and Michael Wincott giving his crazy all as a deranged and deluded show guest. The dialogue is furious and unrelenting, yet flows and feels natural. In the late 80's when it was released, some of the material would have been thought of as more dangerous and progressive, which makes it ahead of its time in that it sounds much more contemporary in today's multi-media world.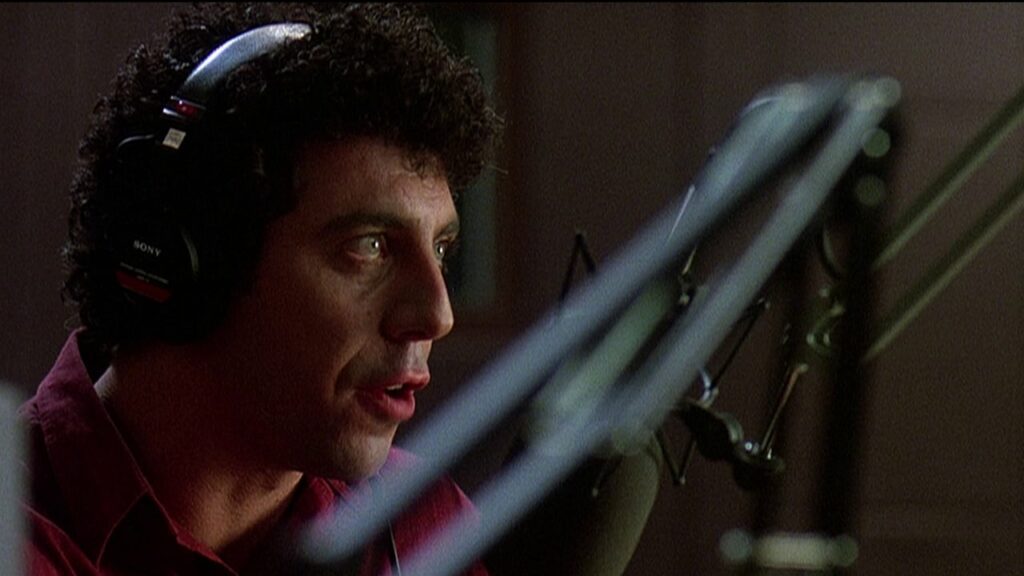 Stone was asked to come onboard as producer and got more heavily involved as a co-writer and director whilst waiting for Tom Cruise to finish working on Rain Man so Stone could begin shooting Born on the Fourth of July. Stone began working with Borgosian and quickly developed the structure and new screenplay for the project and shot the entire film in 25 days.
Although a critical success, the film performed poorly at the box office, making back just $3.5 million of its $4 million budget. It has since gone on to become a respected film that provides a perfect example of a director and star both at the height of their powers. Talk Radio tells a story influenced by the real life instance of DJ Alan Berg (See Talked to Death: The Life and Murder of Alan Berg) and other famous personalities such as Howard Stern.
The material comments on society and social institutions by smashing them before our very ears and peeling back the layers of depravity that we naturally regale from, yet can't take our eyes off. This is a good example of a film that warned us of the darkness to come, if we continue to live in a way that worships the cult of personality and is obsessed with the sound of its own voice.
4. The Doors (1991)
Chronicling the rise of one of the great 1960's rock bands, The Doors tells the story of the prolific, yet short-lived career of this unique and infamous Los Angeles-based group. It particularly focuses on the iconic lead singer Jim Morrison (who is played perfectly by Val Kilmer) as it attempts to explore his psyche and inspiration as one of America's most subversive and controversial artists.
With help from the three surviving members of the band, Stone brings to life a time of sex, drugs and excess that is supported by amazing music and live performance sequences that take the audience right back to the epicentre of the counter-culture revolution. Meg Ryan, Kyle McLachlan, Frank Whaley and Kevin Dillon all play excellent supporting roles as Morrison's long-term girlfriend (Ryan) and the other band members respectively.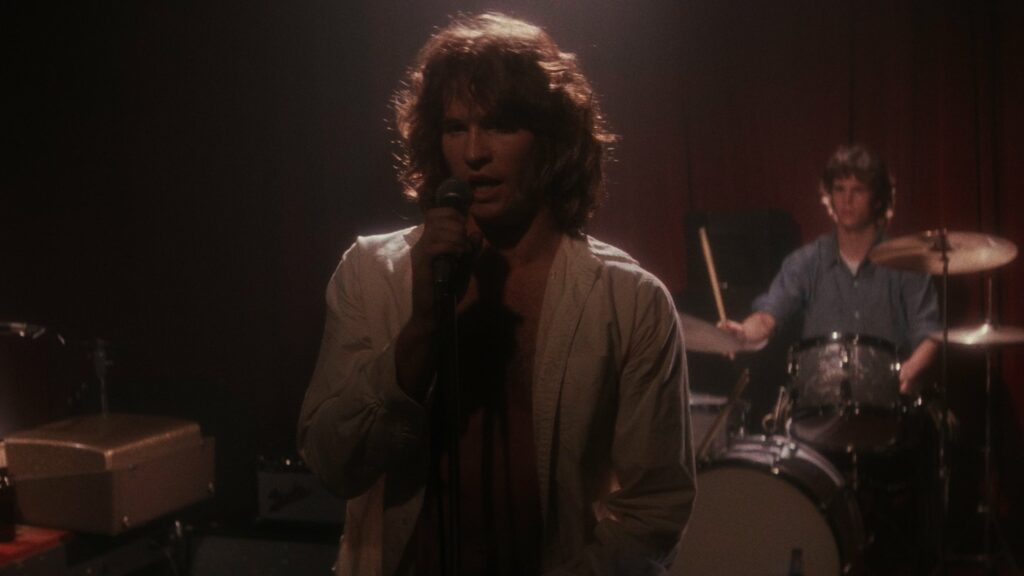 Stone has a small cameo as the lecturer at UCLA Film School, where Morrison attended before dropping out to pursue a career in music. Robert Richardson returns as cinematographer, successfully capturing the warm, Dionysian excess and oneiric mysticism that surrounds the lizard king- lore of this legendary performer. The concert scenes in particular are incredibly well shot, giving the viewer a front-row seat and often a place on stage amongst the band members.
The Doors is an exciting film that will impress fans of their music and serves well as one of the more successful rock bio-pics that deal with this genre. It helped to re-ignite interest in the Doors' back catalogue as well as recordings of Morrison's spoken word poetry. This allowed a new generation to discover the wealth of material from this often over-looked and frequently underrated band.
5. Nixon (1995)
Formerly the most controversial leader to ever walk the halls of the White House, Richard Milhous Nixon was the 37th President of the United States and the subject of Stone's biographical film Nixon. Although initially thought of as a peculiar casting, Anthony Hopkins plays the lead role and despite being bemused himself as to why Stone wanted him for the film, the native Welshman does an amazing job. On casting Hopkins, Stone said 'When I saw him in Remains of the Day I saw that sense of depression and isolation I felt about Nixon.'
As with a lot of Stone's films, there is an expansive ensemble cast, some of whom could be considered Stone regulars including James Woods who plays Bob Haldeman, one of Nixon's most trusted advisers. There is also an excellent and uncanny performance from Paul Sorvino who plays Henry Kissenger. Other notables include the always excellent J.T. Walsh and Powers Boothe as well as a memorable turn from Bob Hoskins as J. Edgar Hoover.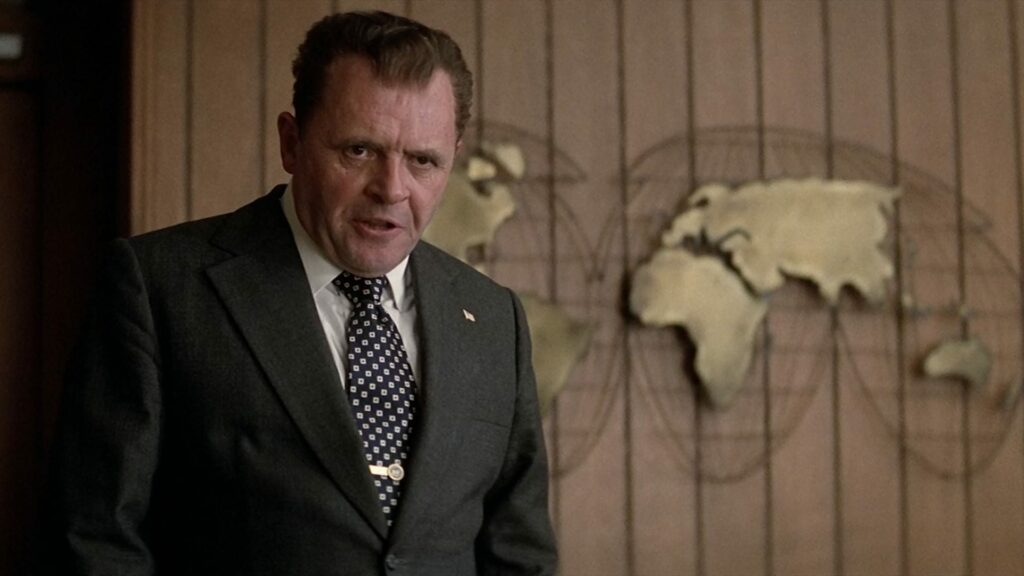 Joan Allen also gives a strong performance as Nixon's long-suffering yet loyal wife Pat. Perhaps the only character not willing to bend to the President's will and certainly the only one that knows the real man with all his flaws and paranoia. Nixon was terrified of being seen as weak, and this film shows him as a man who gradually rose to the top by pure tenacity and determination, fuelled by a deep-seated desire to be recognised as worthy and valuable by those closest to him.
Considered by Stone to be amongst his best work, the film was a financial failure. The subject matter proved to be too bleak and stiff for movie-going audiences and the former success of JFK was not matched. However, the film works as an amazing drama and it's Hopkins' idiosyncratic and energetic performance that carries the film through it's 3.5 hour runtime.
Compared with his later effort W. this film is a lot more successful at exploring the personality and psychology of a the former president. Nixon is portrayed as an underdog who never quits or admits wrong-doing, even in the face of insurmountable evidence against him. Nixon is Stone's most Shakespearean work and deserves to be thought of as being amongst his most accomplished films.
And that's our Top 5 Oliver Stone films!
Think we've missed any out, or not included your favourite Oliver Stone film? Then let us know in the comments below. Make sure to take a look at more of our articles here and come and say hello on Facebook and Twitter.
If you enjoy our content, please consider supporting us here.
Please join us on social media on Facebook, Instagram, Tik Tok and Twitter. We really appreciate all the likes, shares, retweets etc., and we would love to hear from you and continue the wonderful celebration of all things cinema on these platforms.
If you love to watch videos on YouTube, then please subscribe to our channel here. There's lots of fun and informative videos uploaded that we hope you will enjoy!
We have a passion for movies and aim to produce entertaining and informative movie-related content. It certainly is a lot of hard work, but we love films so much that it's worth all the effort. We have to keep the lights on and make sure we have plenty of caffeine to keep all of the articles, videos and social media posts coming, so if you like our work, then please consider supporting us at Buy Me A Coffee here. You can also become a More Movies patron on Patreon here.
To help support us here at More Movies, we do use advertising in a few places, so we appreciate it if you do not use AdBlockers on our site, as this helps keep a few pennies trickling in. We also utilise affiliate links throughout the site, usually to help guide our readers to places to stream, rent or buy the movies we talk about. One of the biggest sources for movies online is Amazon Prime Video, where you can stream over 18,000 films. If you are interested in Prime and haven't signed up yet, you can get a 30-day free trial via this affiliate link, which helps support us too.