Film Studies: Hollywood Cinema – Look Back at Philedelphia
In this essay we discuss semiotics and issues of representation and as an example for discussion in these areas, we will examine the film 'Philadelphia' (1993).
As the camera sweeps across the waterfront towards the city, we approach Philadelphia by helicopter. We are then taken into the city streets as the dusty voice of Bruce Springsteen mumbles a sad lament about being "bruised and battered" and "not recognising himself". At first we see the more affluent areas of the city centre and as the shots change, the streets of Philadelphia become more run down. The language of cinema is already speaking to us in these opening credits via the use of a 'signifier' in the form of a shop sign brandishing the words 'Condom Nation'. The insinuation that society is divided in stark contrast between affluence and poverty, is also represented by the semiotics of these street shots. Thus begins Jonathan Demme's 1993 (released January 1994 UK) film 'Philadelphia'.
The film stars Tom Hanks, who gives an Oscar-winning performance as a successful Lawyer, wrongfully dismissed by his law firm because he is suffering from AIDS. The film also stars Denzel Washington who truly shines in an equally worthy performance, playing Hanks' sole advocate and representation in court, when suing his former employers for wrongful dismissal. Playing the more complex character, Washington was arguably worthy of the Academy Award for Best Actor himself. Washington plays Joe Miller, a small-time 'TV' lawyer who specialises in small accident claims against injury in the workplace and such. Miller is the ideological 'every man', he works hard raising a young family, constantly looks for new business opportunities and tries to earn and provide for that which he loves. He also represents the bigot in all of us. Miller is a prominently masculine character, he likes women, confrontation, football, red meat etc. He is more well-defined by what he does not like, in this particular story we witness his fear of and disgust for homosexuals and his ignorance of the disease AIDS. Hanks plays Andrew Beckett, a brilliant young Lawyer who until the appearance of a lesion on his forehead, was being groomed for the very top by his employers. As soon as the employers suspect Beckett has AIDS, he becomes a victim of their machinations and plotting to discredit him, in this they afford themselves an opportunity to fire him.
Having already seen and been turned down by several lawyers , Beckett ends up at Joe Miller's door. They initially meet in an earlier scene, wherein they are discussing points of law with a judge. They also have a brief exchange of words in an elevator and time has passed several months by the time Beckett comes to see Miller as a client. Miller does not recognise Beckett at first, his appearance has changed considerably since their first encounter. Beckett has several lesions on his face, he is not shaven nor in a suit. His hair is cropped very shortly and he has a very pale countenance. When Miller finds out Beckett has AIDS he becomes visibly perturbed and paranoid. The camera implies a POV (point of view) shot wherein Miller is focusing on Beckett's hat on the desk and other items that Beckett has touched.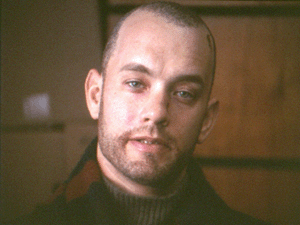 Miller also refuses to help Beckett due to his fears of the deadly disease he does not fully understand. In speaking to his wife, we hear of his prejudice against homosexuals and in a visit to the family doctor we are shown that he is paranoid about the possibility of having caught AIDS off Beckett by coming into contact with him. However, in a scene in the library, we see Miller relate to Beckett when a pompous librarian asks him to move to a private room.
Initially hiding himself from Beckett's view so as not to be spotted by him, Miller senses the injustice and prejudice of the situation and decides to go over and speak to Beckett. Soon after he agrees to take on Beckett's case and the second half of the film is essentially a courtroom drama, mixed with other narrative of Beckett's private life and gradual decline in health. Miller proves himself to be a worthy adversary in the courtroom and gradually he uses his own prejudices against those he cross examines. The longer the case goes on, the more Miller comes to terms with his own ignorance and the realisation that homosexuals and indeed AIDS sufferers are equal human beings, above all else. As the character we are most likely to relate to when watching 'Philadelphia', perhaps we to reconsider our attitudes and fears about that which we do not fully understand.
A brave and critically acclaimed film, 'Philadelphia' was one of the first Hollywood movies to engage these issues to a degree of success. Ten years before it's release, the whole world was generally ignorant to the AIDS epidemic, its causes and indeed how it is contracted. The film is relatively reserved in its representation of homosexual men and I feel this benefits the narrative, which instead concentrates on attitudes towards homosexuals and more importantly AIDS sufferers. There are also moments of levity and laughter thrown in amidst the obvious emotional turmoil this film instills.
After seeing this film, I was struck by the power it wielded over me in its tale of injustice challenged and bested by a righteous force for equality. The ending is bittersweet in that there is an overall victory in the courtroom, but a loss in the fact that Andrew Beckett dies of the awful disease that the semiotics of the entire film revolve around. A courageous and bold film, 'Philadelphia' appeals to the compassionate human being in all of us and very successfully challenges our own willingness to understand this dark and depressing subject.
So, that's our look back at Philadelphia.
You can read more of our articles here.
Please join us on social media on Facebook, Instagram, Tik Tok and Twitter. We really appreciate all the likes, shares, retweets etc., and we would love to hear from you and continue the wonderful celebration of all things cinema on these platforms.
If you love to watch videos on YouTube, then please subscribe to our channel here. There's lots of fun and informative videos uploaded that we hope you will enjoy!
We have a passion for movies and aim to produce entertaining and informative movie-related content. It certainly is a lot of hard work, but we love films so much that it's worth all the effort. We have to keep the lights on and make sure we have plenty of caffeine to keep all of the articles, videos and social media posts coming, so if you like our work, then please consider supporting us at Buy Me A Coffee here. You can also become a More Movies patron on Patreon here.
To help support us here at More Movies, we do use advertising in a few places, so we appreciate it if you do not use AdBlockers on our site, as this helps keep a few pennies trickling in. We also utilise affiliate links throughout the site, usually to help guide our readers to places to stream, rent or buy the movies we talk about. One of the biggest sources for movies online is Amazon Prime Video, where you can stream over 18,000 films. If you are interested in Prime and haven't signed up yet, you can get a 30-day free trial via this affiliate link, which helps support us too.