Strangers on a Train (1951) is a film noir, psychological thriller from master filmmaker Alfred Hitchcock.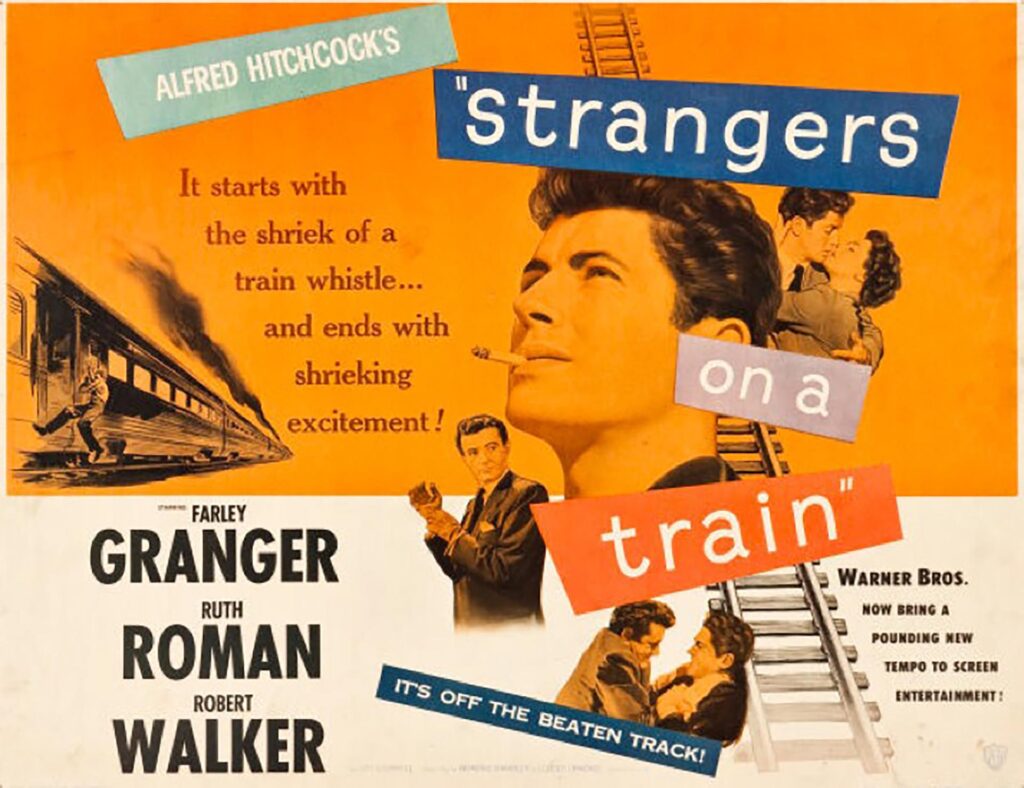 The film stars Farley Granger, who had worked with Hitch on his 1948 film Rope, which I previously covered here on the website. It also stars Ruth Roman, Robert Walker, Laura Elliott and Alfred's daughter Pat Hitchcock.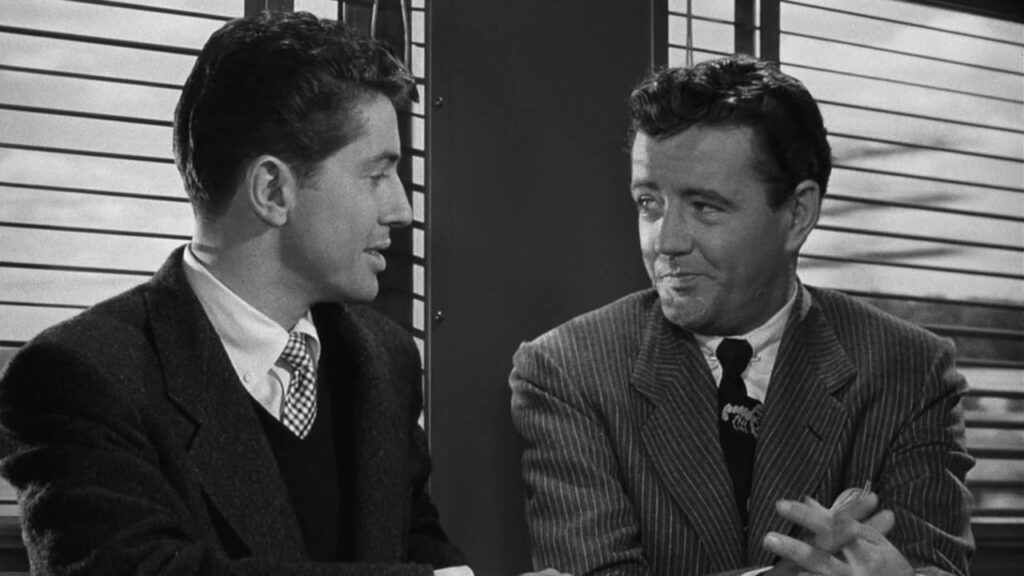 Granger stars as Guy Haines, an amateur tennis star who is currently trying to get a divorce from his promiscuous wife Miriam to marry his new love Anne Morton, the daughter of a US senator. He meets Bruno Antony, played by Robert Walker, a wealthy and smooth-talking man who ingratiates himself with Guy on a train journey. During their conversations on the train, he reveals a fanciful scheme he has concocted about the idea of strangers "swapping murders" so that neither has a motive for their killing, allowing them a much better chance to get away with the evil deed.
Guy humours the idea but laughs it off before hastily exiting the train. But he accidentally leaves behind his engraved cigarette lighter in a rush to get away, and Bruno takes the lighter with him.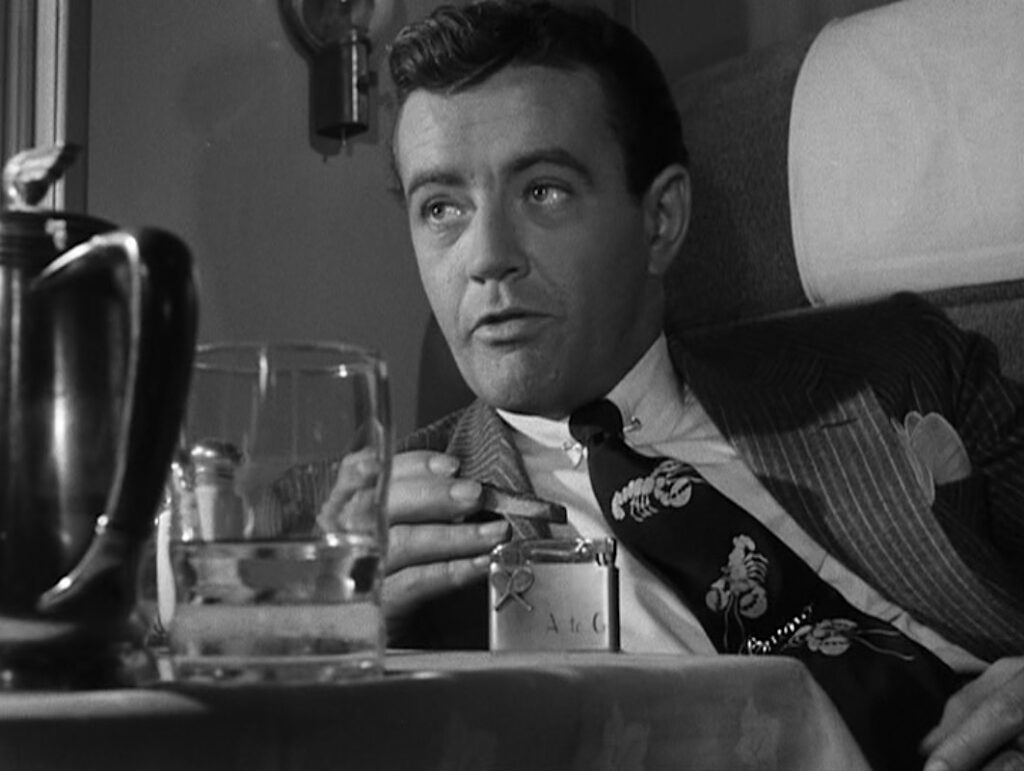 Later, Bruno follows Miriam, Guy's wife, to an amusement park and onto the secluded Tunnel of Love island. Here, he strangles Miriam to death before making his escape. He then informs Guy that he has committed his side of the bargain and asks Guy to complete his murder by killing Bruno's father. Guy is horrified and actively tries to avoid Bruno, only to be stalked by the psychopath, who badgers him to fulfil his end of the deal.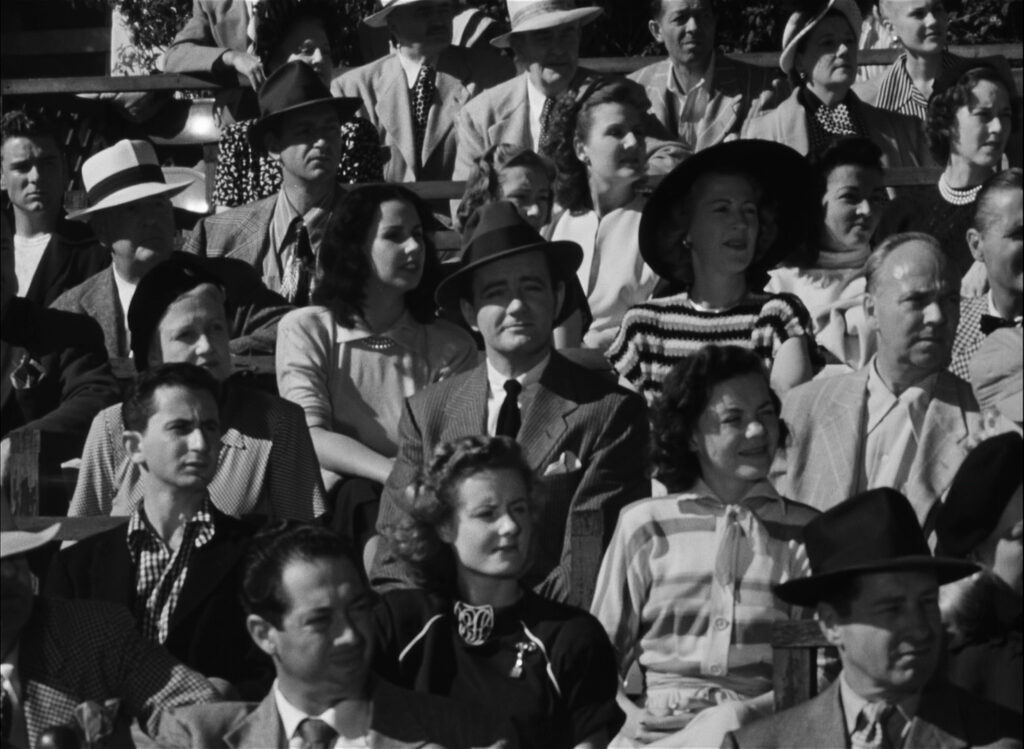 Strangers on a Train is a diabolical masterpiece and one of Hitchcock's most entertaining thrillers. In a coming of age for the director, the compositions of the cinematography perfectly frame the tensions and suspense in the tightly scripted drama. There are long sequences within the film where no character says a word, but the images on the screen tell you everything you need to know. You get a feeling that something terrible will happen, but you are teased endlessly before any of the answers are revealed.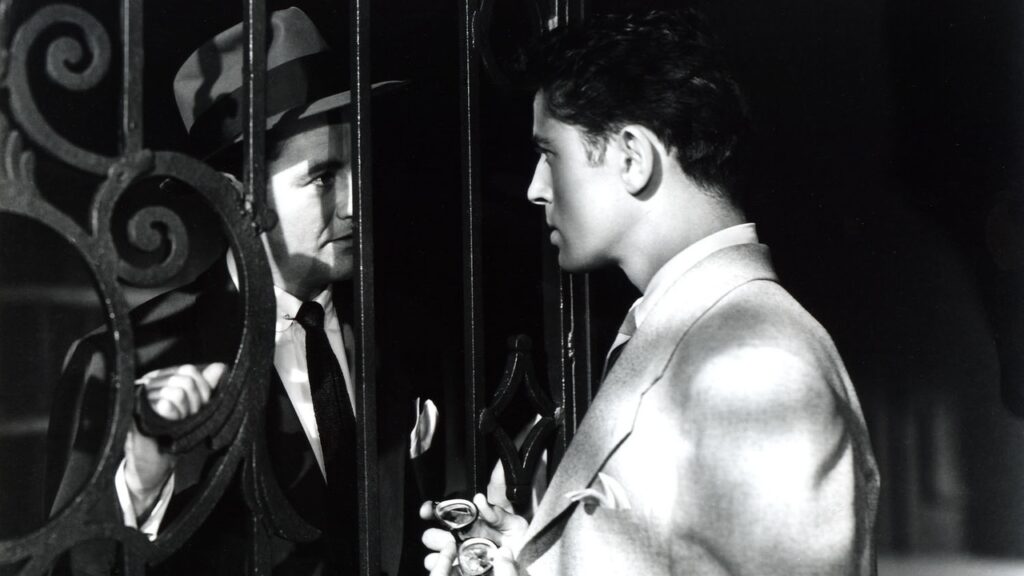 The imprisoning lines, from the Venetian blind effect, trap our characters in the shadows, guilt-ridden and scared of what will happen. Morality is questioned, and like the previously mentioned Rope, an evil psychopathic scheme is dreamt up with the idea of getting away with murder – the boilerplate noir tale.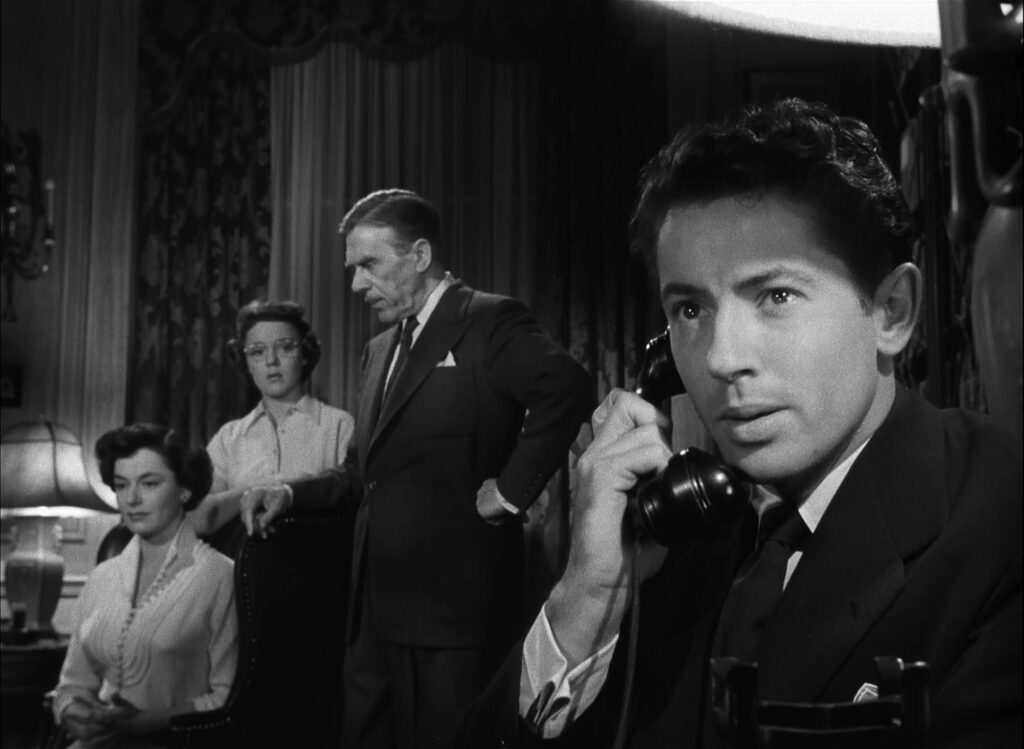 One of the most famous shots in the film saw Hitchcock and cinematographer Robert Burks collaborate on a double printing technique to create this iconic image that has influenced so many filmmakers since. It shows the light and dark but also conveys duplicity, a key theme throughout the film. Everything comes in two's – our two main characters, two lovers, two father figures. Guy is torn between two careers. The concept of doubles and double lives is at the core of the story.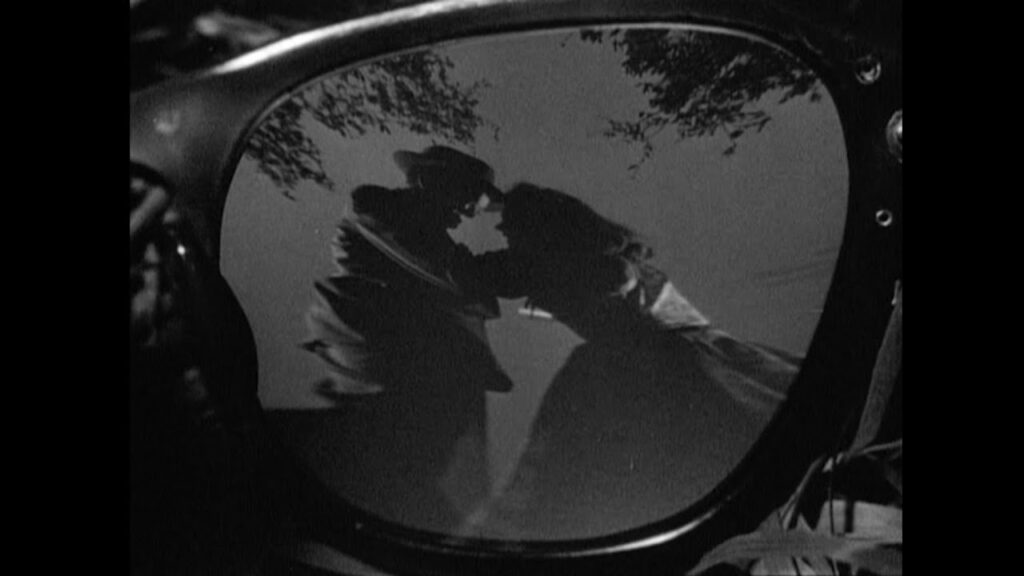 Strangers on a Train is also one of Hitchcock's most layered and complex movies, which he would further develop to significant effect later with Vertigo (1958). This film is rooted in Greek mythology, with Bruno representing Pluto, the Greek god of the underworld, with his malevolent and devious persona.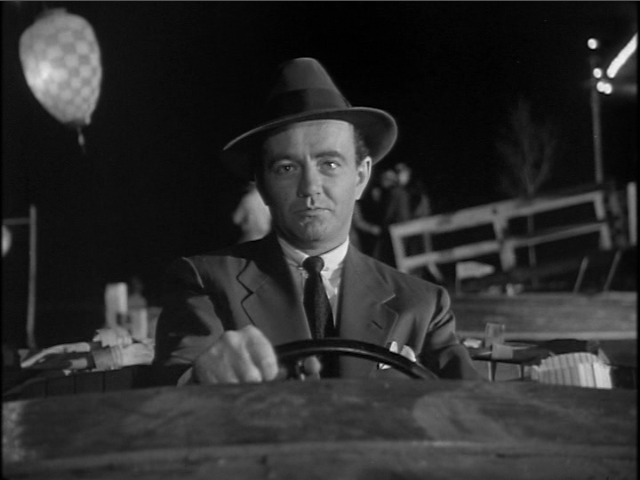 Miriam pays the ferryman to get onto the boat at the carnival, heading into the tunnel into the underworld, stalked by Bruno in his Pluto boat. Bruno's shadow envelops Miriam's, much like the "darkness in the gloom" as the Greeks purportedly described Pluto.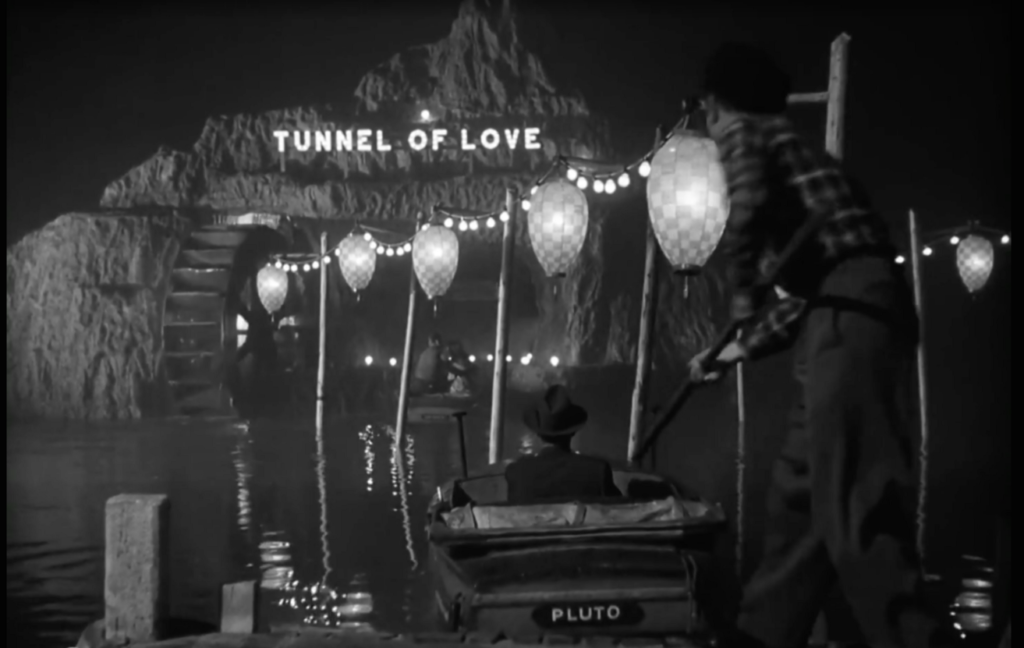 Her death plays out like the "Rape of Persephone", the goddess of vegetation. In her dress, patterned with fern, Miriam eats popcorn at the funfair, like the pomegranate seeds fed to Persphone. She is then killed in the grass, away from civilization, in the dark, away from the light of the funfair, similar to the field described in the myth.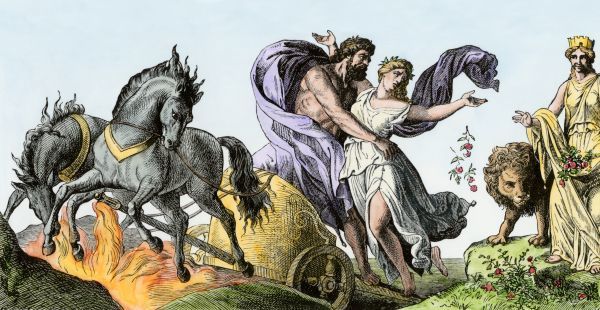 All in all, Strangers on a Train is beautiful and timeless, tense and action-packed, violent and explosive. It's a demonstration of what Hitchcock did best, an exploration of human morality and a fixation on the schemes people talk about in hushed tones but never actually act out. Doing all this with just the right amount of suspense and black comedy to keep you hooked, Strangers on a Train deserves its reputation as one of the greatest of all time.
Well, that's our review of Strangers on a Train
Did you enjoy Strangers on a Train? What did you think of our review? Let us know in the comments!
You can read more of our reviews here.
Please join us on social media on Facebook, Instagram, Tik Tok and Twitter. We really appreciate all the likes, shares, retweets etc., and we would love to hear from you and continue the wonderful celebration of all things cinema on these platforms.
If you love to watch videos on YouTube, then please subscribe to our channel here. There's lots of fun and informative videos uploaded that we hope you will enjoy!
We have a passion for movies and aim to produce entertaining and informative movie-related content. It certainly is a lot of hard work, but we love films so much that it's worth all the effort. We have to keep the lights on and make sure we have plenty of caffeine to keep all of the articles, videos and social media posts coming, so if you like our work, then please consider supporting us at Buy Me A Coffee here. You can also become a More Movies patron on Patreon here.
To help support us here at More Movies, we do use advertising in a few places, so we appreciate it if you do not use AdBlockers on our site, as this helps keep a few pennies trickling in. We also utilise affiliate links throughout the site, usually to help guide our readers to places to stream, rent or buy the movies we talk about. One of the biggest sources for movies online is Amazon Prime Video, where you can stream over 18,000 films. If you are interested in Prime and haven't signed up yet, you can get a 30-day free trial via this affiliate link, which helps support us too.