In the history of American film, there have only been a handful of filmmakers that have been able to cultivate their own unique vision and voice throughout their careers. One such filmmaker is the artist and visionary David Lynch. Something of a renaissance man, Lynch has turned his creative mind to painting, music, acting, photography and writing, at times pouring all of his originative talents into the mix, producing some genuinely profound work that is critically acclaimed, but more importantly adored by his fans and followers.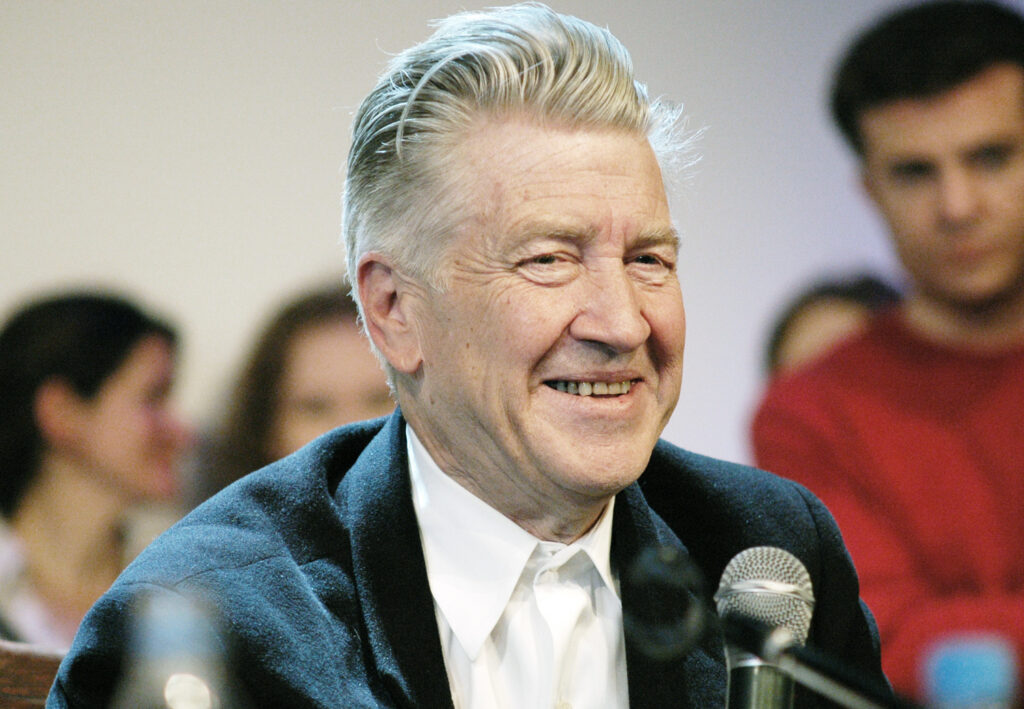 The price of such an authentic output coupled with firm principles has restricted his output, but perhaps we are too used to Hollywood churning out films, year after year, that it is easy to forget the old adage 'quality, not quantity'. Lynch's films are often non-linear, illogical in structure and always difficult to completely comprehend (perhaps with the exception of The Straight Story) and herein lies his appeal. These are films that make you think and invite you to draw your own conclusions and inspiration.
Negativity is the enemy of creativity.

David Lynch
Always intriguing, usually hilarious and often shocking, here are top our 5 picks from this truly original auteur, presented here in chronological order…
1. The Elephant Man (1980)
The film that launched David Lynch's career, 1980's The Elephant Man tells the story of John Merrick, a terribly disfigured 'side-show freak' whose life is turned around after a kindly doctor rescues him from his carnival captors and takes him home. Here he cares for him and discovers a highly intelligent and and thoughtful person, who despite the abuse he has suffered, remains hopeful, sophisticated and kind in a world of darkness and tragedy.
Based on a true story of the life of Joseph Merrick, the film was adapted by Lynch who was hired by Mel Brooks as the director after he saw Lynch's first independent feature Eraserhead (1977). Filmed in London to capture the authentic locations for the film's Victorian setting, Lynch shot in black and white giving the picture an antiquated and befitting look that matched the material.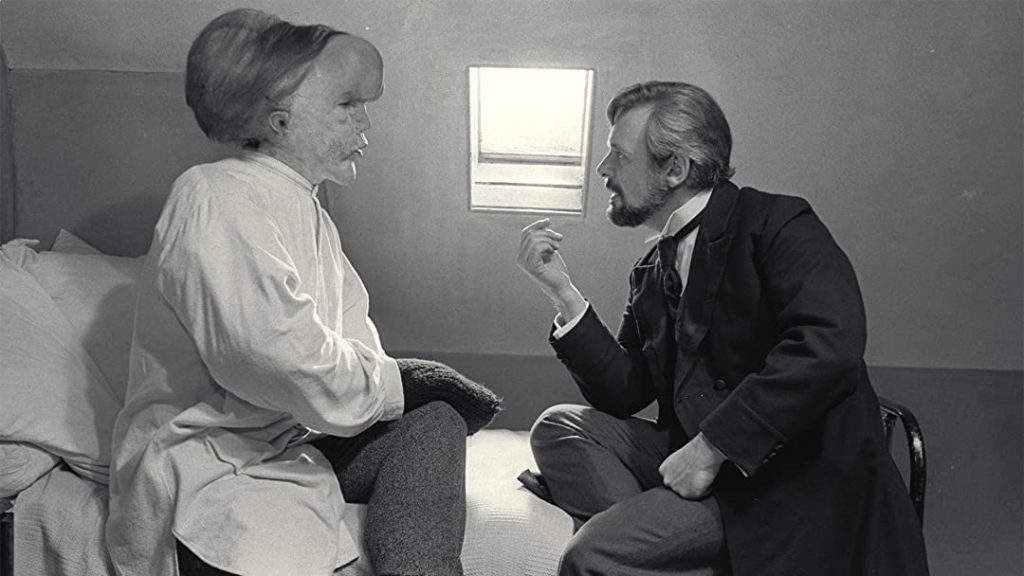 The cast is excellent and includes John Hurt as Merrick, Anthony Hopkins as Dr. Frederick Treves alongside Anne Bancroft , Hannah Gordon, Freddie Jones, Michael Elphick and John Gielgud. This was pure bliss for Lynch, who was overjoyed at the opportunity to work with such a wealth of talent in what was essentially his first major picture.
The narrative is more straightforward than in his later films, but this is much more appropriate when telling a story like Merrick's. The Elephant Man is bursting with incredible performances and contains strikingly unique images shot by Freddie Francis. This is a film about compassion and empathy and teaches us that superficial appearances mean nothing once we begin to scratch the surface. It also contains one of the greatest endings to a film that has ever been produced; a soul's journey through a field of stars and the affirmation that life is eternal and nothing ever dies.
2. Blue Velvet (1986)
Once seen, never forgotten. The 1986 neo-noir film Blue Velvet is nothing if not controversial. The plot is fairly straight forward in that it follows one man's decent into darkness, as all good noir films do. But the surrealist symbolism and downright creepiness that the characters experience and delve into are irreverent and quite shocking still today. Lynch himself described the film as being "…about the mysteries of darkness and love."
The film's central character Jeffrey Beaumont is played by Kyle McLachlan who worked with Lynch on Dune (1984) and would go on to collaborate with him on the Twin Peaks TV series and subsequent movie Fire Walk With Me. Returning home from college to visit his ill father, Beaumont comes across a severed human ear in a nearby field. It gets stranger.
The mystery of the severed appendage deepens when the daughter of a local police detective, Sandy (Laura Dern) steers Beaumont on a trail that leads to a lounge singer called Dorothy Vallens (played by Isabella Rossellini). He soon becomes aquainted with Vallens and a wider network of colourful characters, none more chilling and depraved as the seedy and vicious Frank Booth, played by the one and only Dennis Hopper.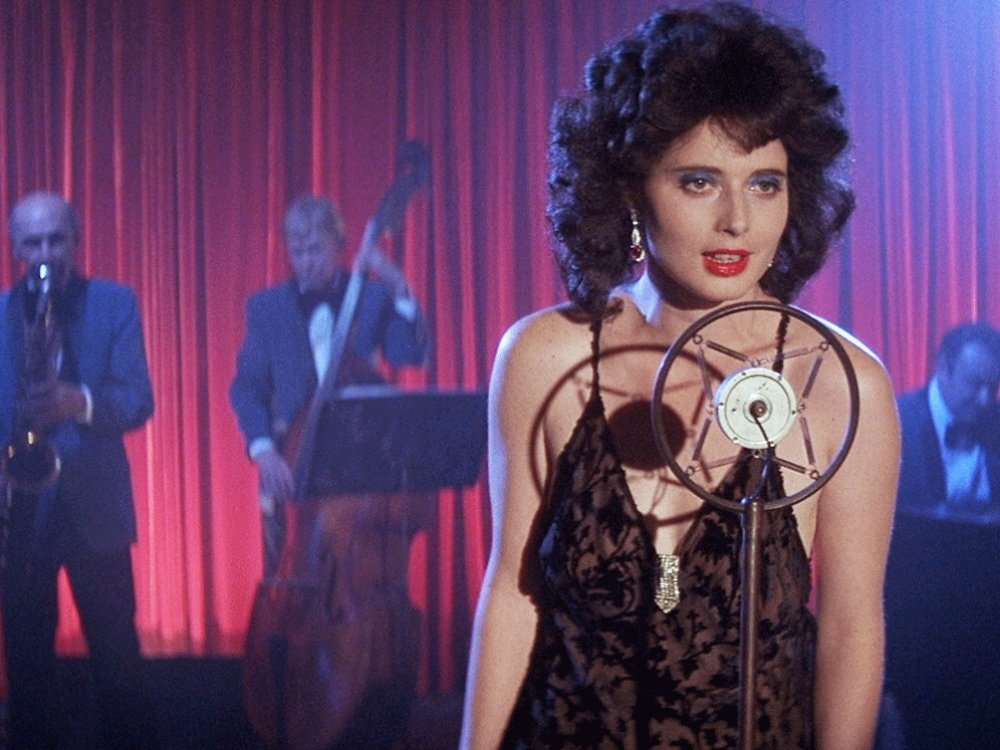 The film soon descends into a world of cruel, sexual depravity and abuse that would previously have not been witnessed on mainstream American film screens. At the time audiences and critics were divided on the movie, some thinking it to be unnecessarily grotesque and sexually violent, others proclaiming it to be a masterwork. This is cinema at its best, when it is on the edge and truly following an artistic vision.
It is indeed a strange world, and this film takes that notion to the outer limits with a cast of characters that hint at what was still to come from Lynch's surrealist imagination. Thematically and stylistically, Blue Velvet is a quirky mix of darkness and light. The film is shot beautifully by Frederick Elmes, and its colourful and visceral images will emblazon themselves on your memory for a long time afterwards. Now considered to be one of the very best and certainly most important American films ever made, Blue Velvet deserves the acclaim it has earned since its release.
3. Wild At Heart (1990)
Much like Blue Velvet, 1990's Wild At Heart divided audiences with its depraved characters, sexual content and overt use of violence. Essentially a road movie about two young lovers, it can be viewed as a precursor to a number of similar movies that would be released in this new decade, including films like Natural Born Killers, Kalifornia and True Romance.
The film stars Nicolas Cage and regular Lynch collaborator Laura Dern as star crossed lovers Sailor and Lula. Sailor is sent to jail for killing a man who attacked him and it is revealed that the assailant was hired by Lula's mother Marietta (played by Dern's real-life mother Diane Ladd) who is opposed to their union. Upon his release, Sailor and Lula decide to run away together to California, leaving the past behind them and escaping the evil machinations of Marietta. Little do they know that she has hired gangsters to track them down and kill Sailor.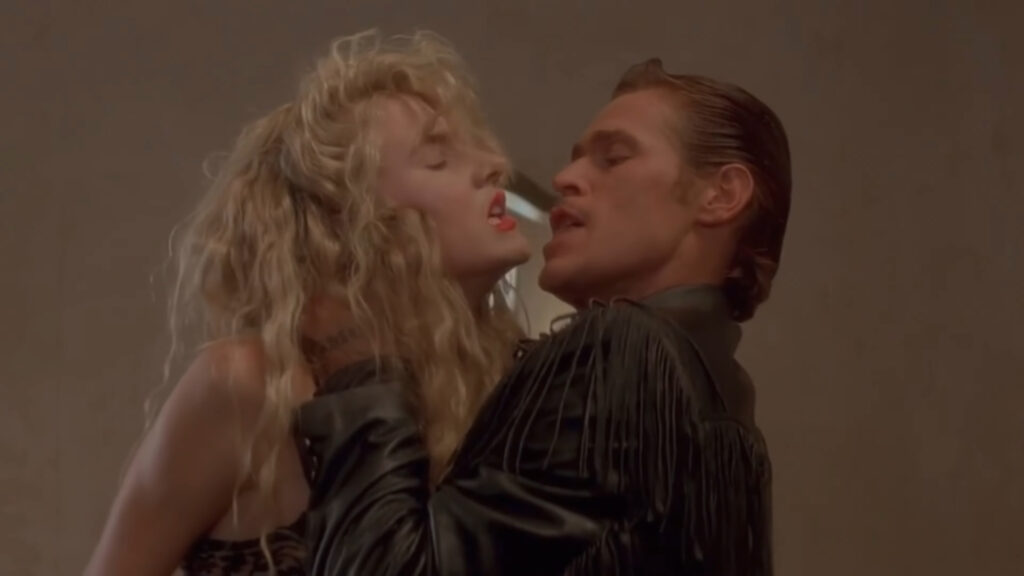 Lynch is on record as saying the film is essentially about finding love in hell. At the start of the 90's, violent crime in America was at an all time high, Lynch related this destructive and bloody atmosphere to the book he was given to read by colleague Monty Montgomery; Wild At Heart: The Story of Sailor and Lula by Barry Gifford. Falling in love with the book and deciding to adapt a screenplay and direct the film, Lynch changed the ending to the book so that the two ill-fated lovers end up together.
Critical reception was divided, some people feeling the film was too violent. Others lauded it and it went on to win the Palme D'or at the Cannes Film Festival. Cage plays his heart out as the energetic protagonist, Dern is as always, superb as his sidekick and betrothed and one must tip the hat to Willem Dafoe who plays the seedy and disgusting Bobby Peru, a character that is equally as repellent as Dennis Hopper's Frank Booth. A wild ride that you won't forget in a hurry, this movie is currently showing on Netflix along with Blue Velvet.
4. The Straight Story (1999)
Markedly different from all of David Lynch's other films, The Straight Story is based on real events and does not contain any of the director's usual wacky characters, delineated structures or stark portrayal of sex and violence. It is however a fantastic film about an elderly man who is determined to visit his brother one last time and decides to embark on a 240 mile road trip on his lawn mower.
Written by John Roach and long-time Lynch associate and partner Mary Sweeney, the true story of Alvin Straight is both touching and humorous. The central character is played by Richard Farnsworth who was suffering from cancer at the time, and later was nominated for Best Actor at the Academy Awards. Farnsworth own suffering at the hands of the disease was akin to his character's pain and lack of mobility, to the point that his co-stars and crew were astonsihed by his commitment to the role.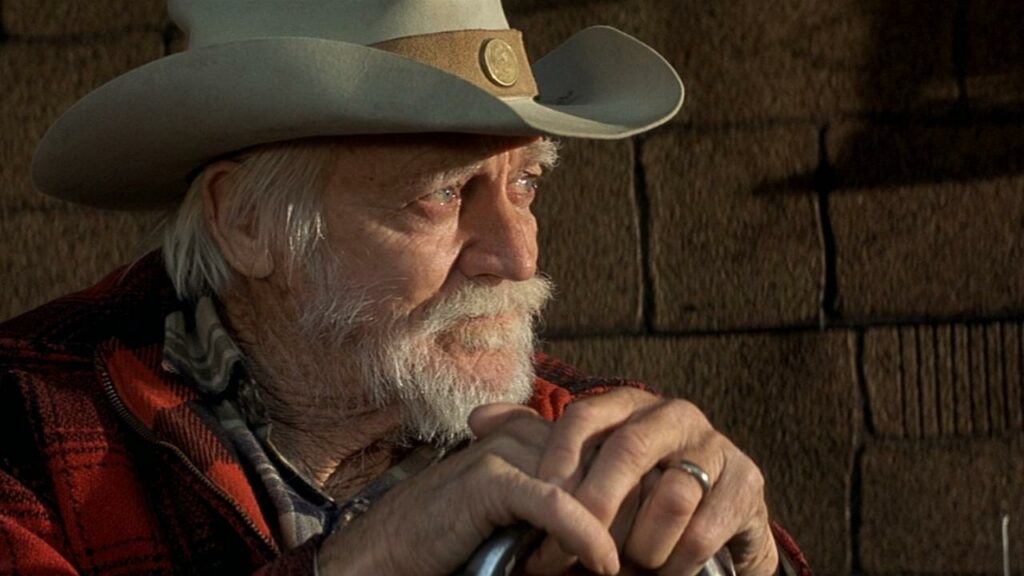 Lynch shot the film in sequence along the actual route that the real-life Straight took. Very much a road movie, the cinematography shows off the incredible scenery of backwater America, shot beautifully by Freddie Francis who workled with Lynch on The Elephant Man. This movie also features Sissy Spacek as Alvin's daughter and Lynch's long time friend and collaborator Harry Dean Stanton as Alvin's brother.
Critically acclaimed by audiences and pundits alike, The Straight Story is David Lynch at his most wholesome and straightforward, proving his capacity as a director and ability to create a sweet and heart-warming film that is suitable for all ages to view. When asked about making it, Lynch said it was his "most experimental film."
5. Mulholland Drive (2001)
Mulholland Drive is undoubtedly David Lynch's masterpiece and reveals a filmmaker at the height of his creative powers. Described as a neo-noir mystery thriller, this is a film that is so multi-layered and thematically rich that it is impossible to understand in any conventional way. On the contrary, it has been much debated and analysed by critics, film-fans and even its cast, compounded by the fact that Lynch remains incredibly tight-lipped about it all, failing to offer any explanations or interpretations. Instead he prefers people to draw their own conclusions and apparently delights in hearing all the wild theories and postulations that surround this enigmatic movie.
Starring Naomi Watts and Laura Harring as two interloped characters, nothing is as it seems in this story about Hollywood people experiencing a chaotic and often dismal life, which revolves around movie-making, criminals and high-powered moguls. Some say it is a death letter to Hollywood, others proclaim it to be a nightmarish vision of a modern-day society and people's tendancy to get lost in their own dreams.
After Rita (Harring) survives a terrible car crash, she loses her memory and is discovered by aspiring actress Betty (Watts) who is keen to help her find out who she is and what has happened to her. So begins a downward spiral of events that becomes difficult to differentiate between the character's reality and a dream-like world in which neither of them are what they think they are. Confusing? Yes. But incredibly watchable and enthralling.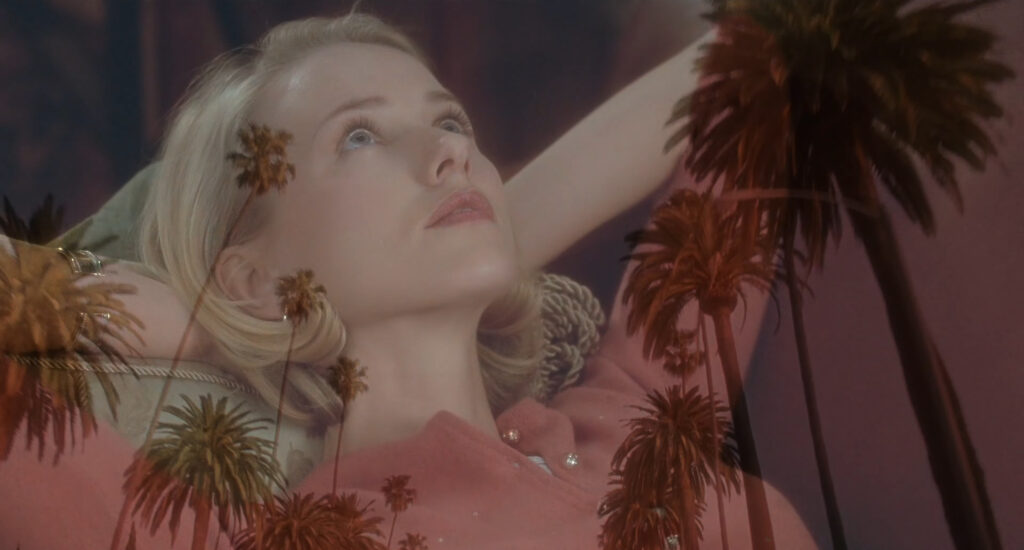 Originally conceived as a pilot episode for a TV show, there are many elements that can be likened to Twin Peaks and some believe this may explain some of the open-ended plot-lines that some of the film's vignettes leave wide open. Perhaps people are trying to conjure up too much meaning for a film that is essentially an artistic expression and should be experienced only by watching it, rather than attempting to interpret it with words and after thoughts.
Doubtless, Mulholland Drive will be discussed and pulled apart only to be put back together again for a long time to come. Its imagery, music and flawless performances make it one of the truly great pictures of recent times and solidify David Lynch's reputation as an incredibly original voice of American cinema, and one that is sadly missed since his hiatus / retirement from film-making.
Well, there's our Top 5 David Lynch Films!
Think we've missed any out or not included your favourite David Lynch movie? Then let us know in the comments below.
You can read more of our articles here.
Please join in 'the conversation' with us on social media on Facebook, Instagram, Tik Tok and Twitter. We really appreciate all the likes, shares, retweets etc., and we would love to hear from you and continue the wonderful celebration of all things cinema on these platforms.
If you love to watch videos on YouTube, then please subscribe to our channel here. There's lots of fun and informative videos uploaded that we hope you will enjoy!
We have a passion for movies and aim to produce entertaining and informative movie-related content. It certainly is a lot of hard work, but we love films so much that it's worth all the effort. We have to keep the lights on and make sure we have plenty of caffeine to keep all of the articles, videos and social media posts coming, so if you like our work, then please consider supporting us at Buy Me A Coffee here. You can also become a More Movies patron on Patreon here.
To help support us here at More Movies, we do use advertising in a few places, so we appreciate it if you do not use AdBlockers on our site, as this helps keep a few pennies trickling in. We also utilise affiliate links throughout the site, usually to help guide our readers to places to stream, rent or buy the movies we talk about. One of the biggest sources for movies online is Amazon Prime Video, where you can stream over 18,000 films. If you are interested in Prime and haven't signed up yet, you can get a 30-day free trial via this affiliate link, which helps support us too.