Comic books movies have had the best decade ever – in the last 10 years the cinema landscape has been dominated by these behemoth franchises and huge superhero movies. Most of these belong to Marvel or DC, and are part of an already established huge comic book history that we have all known and in some cases loved. Remakes of old tv shows and films or new adaptions of some of our old favourite comic books from when we were younger. Or younger at heart at least.
However, there have been many great comic book / graphic novel inspired movies over the years, some you may know, some may have gone under your radar. Fantastically different adaptions, the movies are often darker in tone to the mainstream films you may have seen. So we have put together a list of 7 alternative comic book movies you must go and check out. We only had one rule – no DC or Marvel films. Anything else was fair game. So in no particular order, here are our picks.
1. The Crow (1994)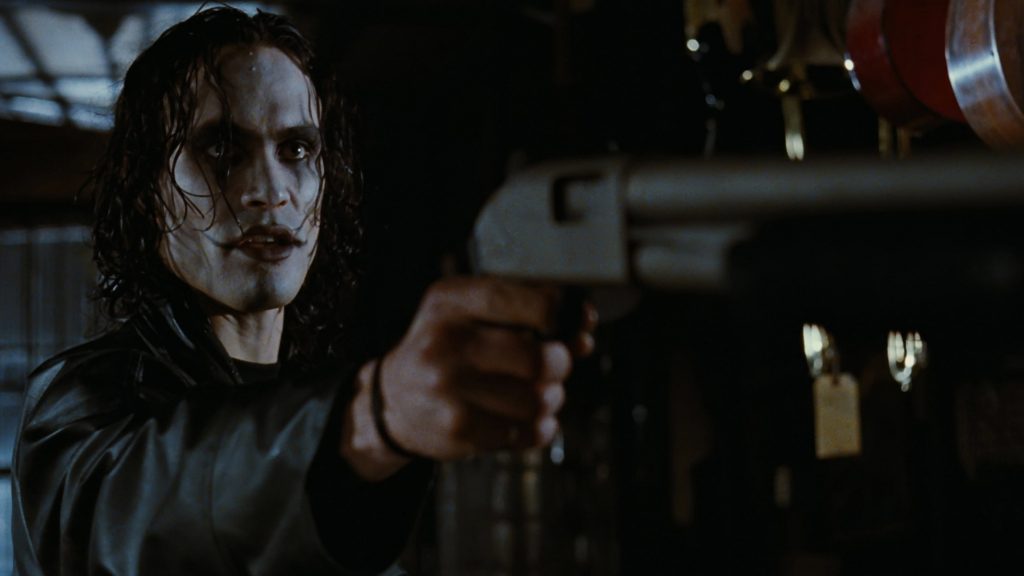 This film perhaps became more famous for the off-screen stories – the sad, tragic death of the star Brandon Lee in an on-set accident during production indeed turned the movie into a different product. But the fact the film tells the story of a murdered man returning from the dead to seek vengeance for his wife's murder is even more strange and portentous. Regardless, it's now a cult classic, and the film is a brilliantly dark gothic tale, especially for the adults. Read more about this film in our article here.
"Exactly one year after young rock guitarist Eric Draven and his fiancée are brutally killed by a ruthless gang of criminals, Draven — watched over by a mystical crow — returns from the grave to exact revenge."
2. Unbreakable (2000)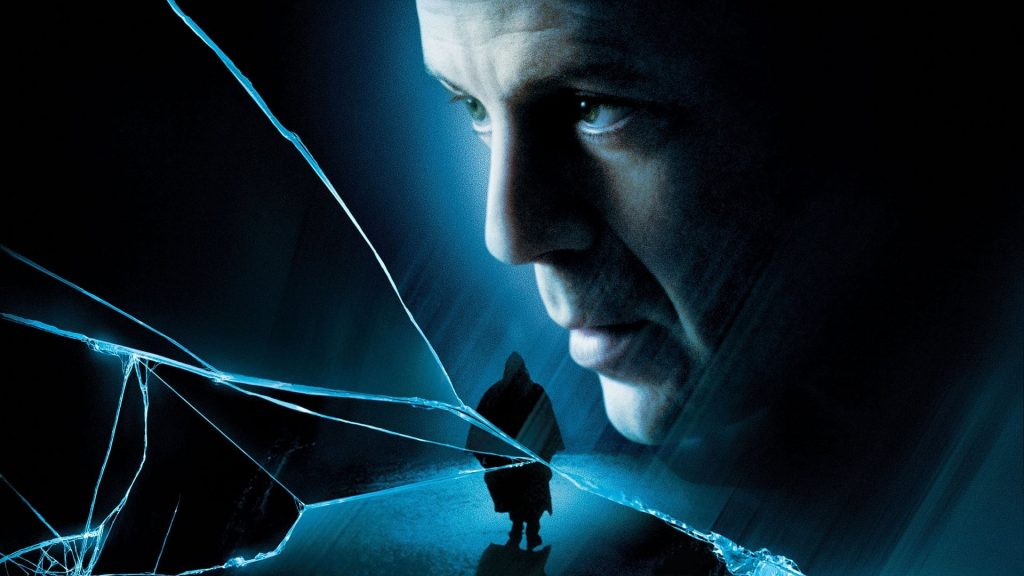 Unbreakable has now become part of the Eastrail 177 Trilogy – with it's sequel Split coming 16 years after this. But back in 2000, Unbreakable was just a film of its own – and a very different and brilliant one at that. It's a film on Tarantino's 20 best movies since 1992, if you trust Quentin's judgment then you're guaranteed to enjoy this one. The film downplays the overt superhero traits of other films to explore how comic book morality and characters might function in a more realistic setting, something that has inspired many films since.
"An ordinary man makes an extraordinary discovery when a train accident leaves his fellow passengers dead — and him unscathed. The answer to this mystery could lie with the mysterious Elijah Price, a man who suffers from a disease that renders his bones as fragile as glass."
3. V For Vendetta (2006)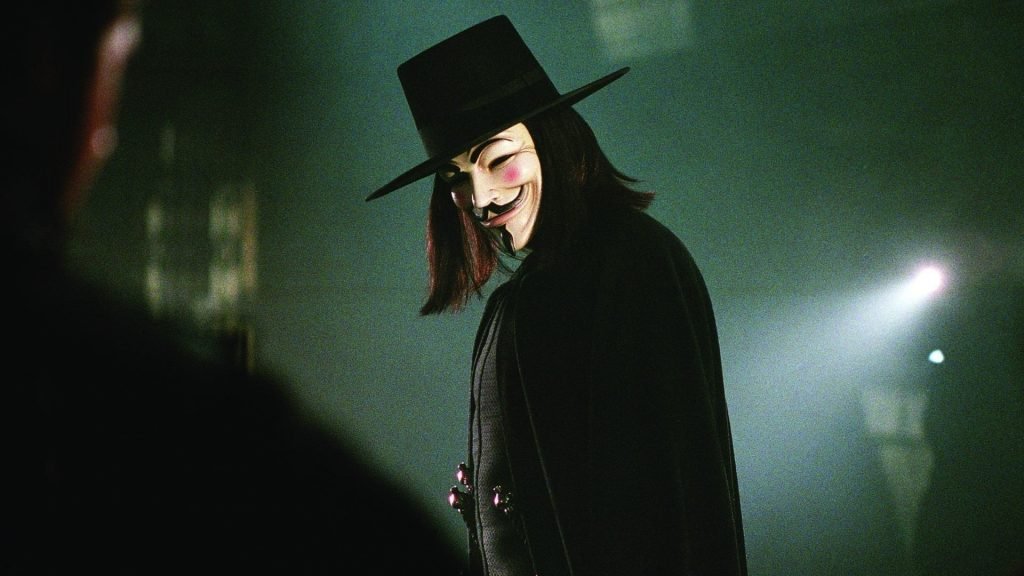 Based on Alan Moore's excellent graphic novel, V for Vendetta is the British option. At its core a political thriller, the film is packed with deep layers of emotional and philosophical substance that is influenced by such literary work as 1984 by George Orwell. Set in an alternative reality under a fascist regime, it's an unsettling look into what has been and a frightening glance at what could be. With a tremendous cast that includes Natalie Portman, Hugo Weaving, Stephen Rea, Stephen Fry and John Hurt, this is what they call champagne casting.
"In a world in which Great Britain has become a fascist state, a masked vigilante known only as "V" conducts guerrilla warfare against the oppressive British government. When V rescues a young woman from the secret police, he finds in her an ally with whom he can continue his fight to free the people of Britain."
4. Kick-Ass (2010)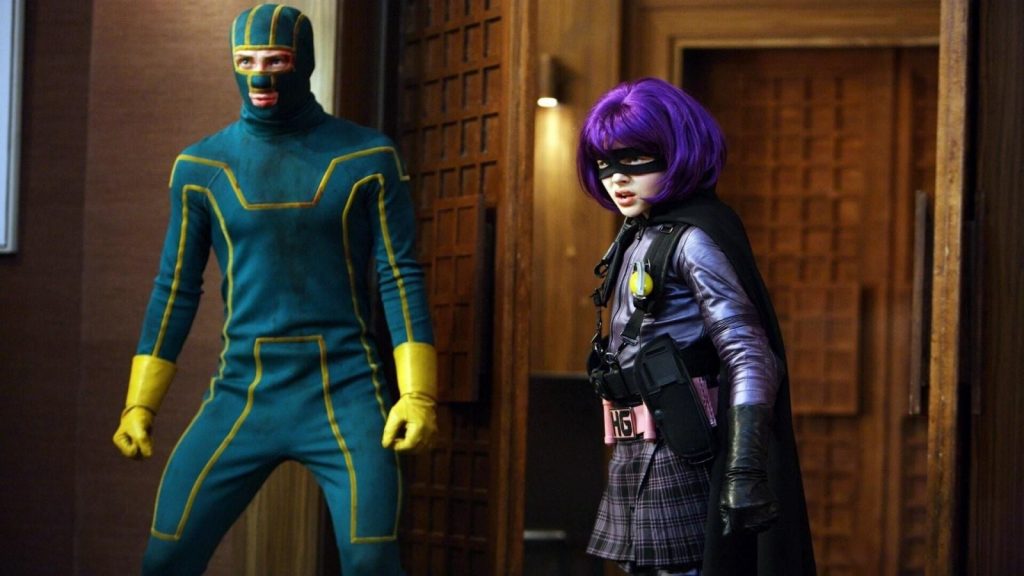 Kick-Ass is the film that asks 'what if there were real superheroes'? Not people with powers, that can't happen in real life, but ordinary people becoming superheroes of their own accord. Outlandish and wacky, but thoroughly entertaining, the film pays off with a brutal war with the heroes and vigilantes against a local crime boss and his cronies. This movie is packed with fun and humour but also delivers an emotional weight in the tale. And it has Nicholas Cage – what's not to love!
"Dave Lizewski is an unnoticed high school student and comic book fan who one day decides to become a super-hero, even though he has no powers, training or meaningful reason to do so."
5. Watchmen (2009)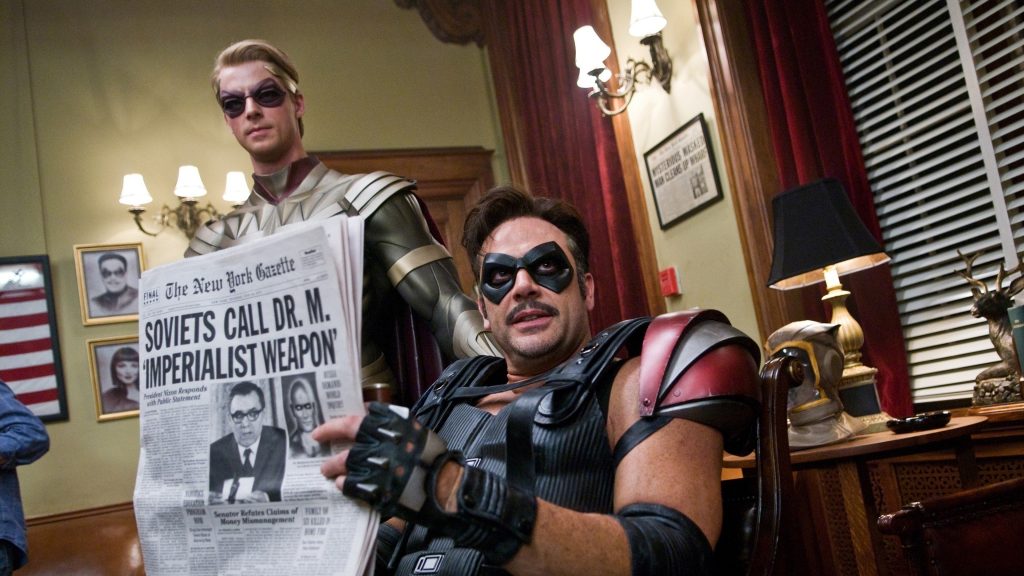 Zack Snyder has called his film "the anti-Avengers," and it's clear to see why. Watchmen is much, much darker and has a harder aesthetic. At times it feels creepy and very unnerving. The film takes place within an alternate reality, in a world under constant threat of nuclear annihilation.
It features a team of not-so-super heroes who are forced back in to action to uncover a conspiracy which threatens their lives. Only, they find there is a much bigger plot at play, more significant than they could have imagined. The more adult themes and darker toned ideas make this a real breath of fresh air.
"In a gritty and alternate 1985 the glory days of costumed vigilantes have been brought to a close by a government crackdown, but after one of the masked veterans is brutally murdered, an investigation into the killer is initiated. The reunited heroes set out to prevent their own destruction, but in doing so uncover a sinister plot that puts all of humanity in grave danger."
6. Sin City (2005)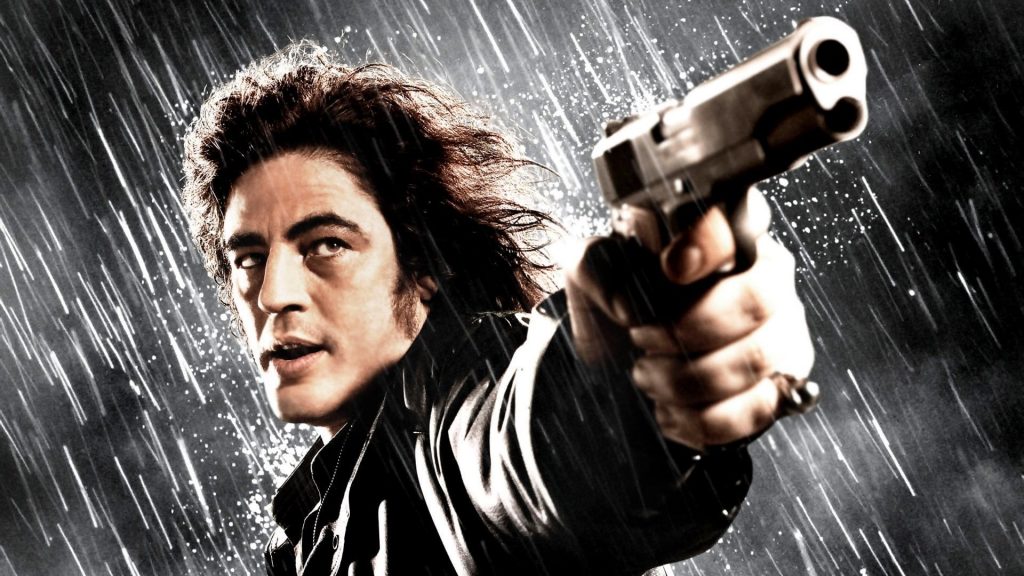 Perhaps the most different film of all those listed here, Sin City, was visually groundbreaking. Robert Rodriguez used the latest technology to create this hyperreal neo-noir look, of just black, white and red. It's stunning to look at, and feels like you are in the comic book.
It is style over substance – with witty lines and terrific pace accompanied by buckets of heavy violence. But there is a quality to it, and the movie flows terrifically. It's vivid, absorbing and cynical. A thrill ride from start to finish.
"Welcome to Sin City. This town beckons to the tough, the corrupt, the brokenhearted. Some call it dark… Hard-boiled. Then there are those who call it home — Crooked cops, sexy dames, desperate vigilantes. Some are seeking revenge, others lust after redemption, and then there are those hoping for a little of both. A universe of unlikely and reluctant heroes still trying to do the right thing in a city that refuses to care."
7. Hellboy (2004)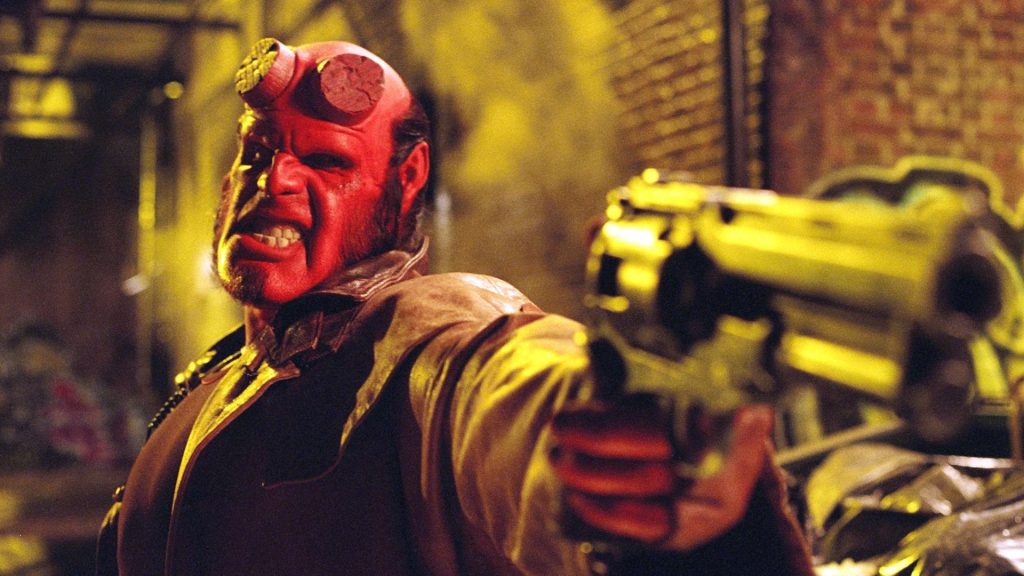 It's goofy and silly in some ways, but Guillermo del Toro's 2004 Hellboy movie was tremendous fun. Full of wit and humour and a transcending visual style, it did something unique with the genre.
Ron Perlman, performing under a massive ember-red suit, is perfect as the cigar-puffing, wisecracking, kitten-loving demon, who covertly battles supernatural monsters. This movie is intelligent and shrewd, taking us on the journey with a unique anti-hero, in uncertain times.
"In the final days of World War II, the Nazis attempt to use black magic to aid their dying cause. The Allies raid the camp where the ceremony is taking place, but not before a demon—Hellboy—has already been conjured. Joining the Allied forces, Hellboy eventually grows to adulthood, serving the cause of good rather than evil."
That's our top 7 alternative comic book
movies you must see!
Do you agree with our list? Did we miss any your favourite alternative comic book films out? Let us know in the comments.
You can read more of our articles here.
Please join in 'the conversation' with us on social media on Facebook, Instagram, Tik Tok and Twitter. We really appreciate all the likes, shares, retweets etc., and we would love to hear from you and continue the wonderful celebration of all things cinema on these platforms.
If you love to watch videos on YouTube, then please subscribe to our channel here. There's lots of fun and informative videos uploaded that we hope you will enjoy!
We have a passion for movies and aim to produce entertaining and informative movie-related content. It certainly is a lot of hard work, but we love films so much that it's worth all the effort. We have to keep the lights on and make sure we have plenty of caffeine to keep all of the articles, videos and social media posts coming, so if you like our work, then please consider supporting us at Buy Me A Coffee here.
To help support us here at More Movies, we do use advertising in a few places, so we appreciate it if you do not use AdBlockers on our site, as this helps keep a few pennies trickling in. We also utilise affiliate links throughout the site, usually to help guide our readers to places to stream, rent or buy the movies we talk about. One of the biggest sources for movies online is Amazon Prime Video, where you can stream over 18,000 films. If you are interested in Prime and haven't signed up yet, you can get a 30-day free trial via this affiliate link, which helps support us too.