Born in Austria and then emigrating to the United States of America at the age of 27 due to the rise to power of the evil Nazi regime in Germany in the early 1930s, Billy Wilder became one of the most revered and celebrated Hollywood film directors of all time. Wilder started as a screenwriter, having his first major success with the award-winning Ninotchka (1939). In the early 1940s, he began to develop his skills as a director, and by the 1950s, he had gained a reputation as one of the very best talents in Hollywood, worthy of being mentioned in the same breath as the likes of the revered John Ford.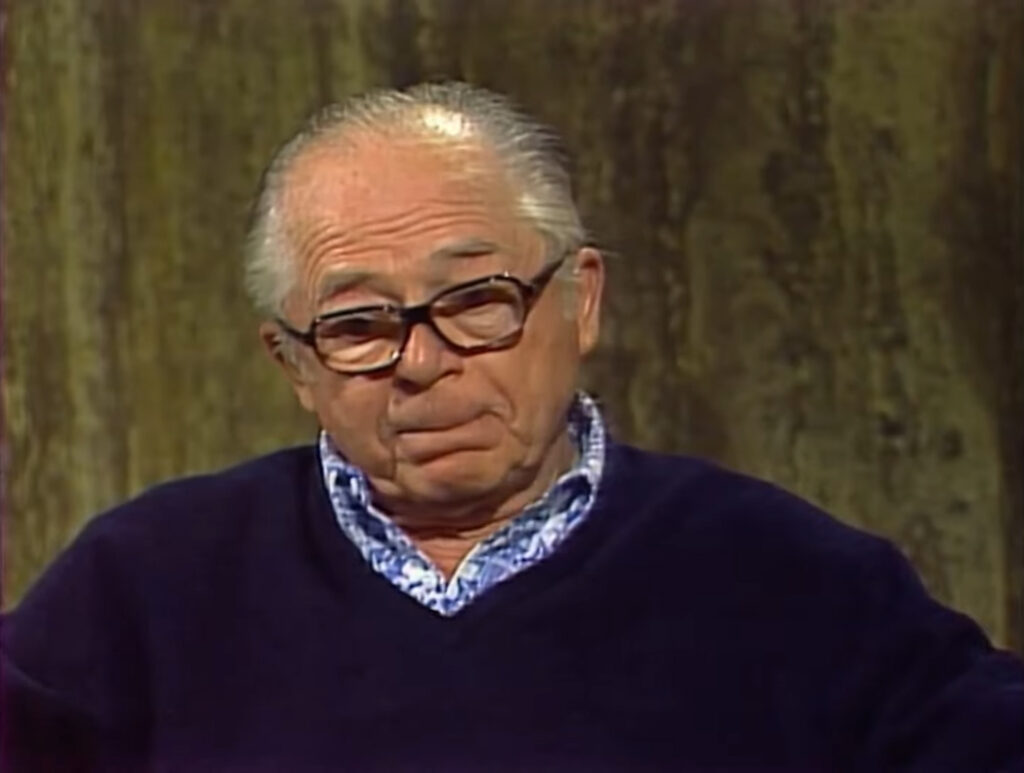 "If you're going to tell people the truth, be funny or they'll kill you."

Billy Wilder
Billy Wilder's experience as a writer informed his directorial stylings. He preferred to let the page dictate the calibre of the movie and believed that cinematography that called attention to itself was in danger of detracting from the all-important narrative. He was also renowned for being able to procure excellent performances from his actors. A total of 14 actors were nominated for Academy Awards as a result of Wilder's direction. He was no stranger to accolades himself, receiving 21 Oscar nominations, he won six. He was also honoured by The Cannes Film Festival and the BAFTAs, as well as the Directors Guild of America and the Writer's Guild of America.
We recommend seeing as many Billy Wilder films as you can and have shortlisted five films here that we believe serve as a solid introduction to this master craftsman's work.
As always, our selections are listed chronologically…
1. Double Indemnity (1944)
One of the two all-time classic film-noir movies on our list, Double Indemnity (1944), is an early entry in the genre and instrumental in terms of its impact and influence on the many examples that would follow. Fred McMurray is the hapless schlep that gets caught in the web of deadly-spider Barbara Stanwyck. Her femme fatale, supercool chic became the benchmark for the deadly enchantress, and it is Billy Wilder's note-perfect direction that gives this masterpiece the respect it has earned.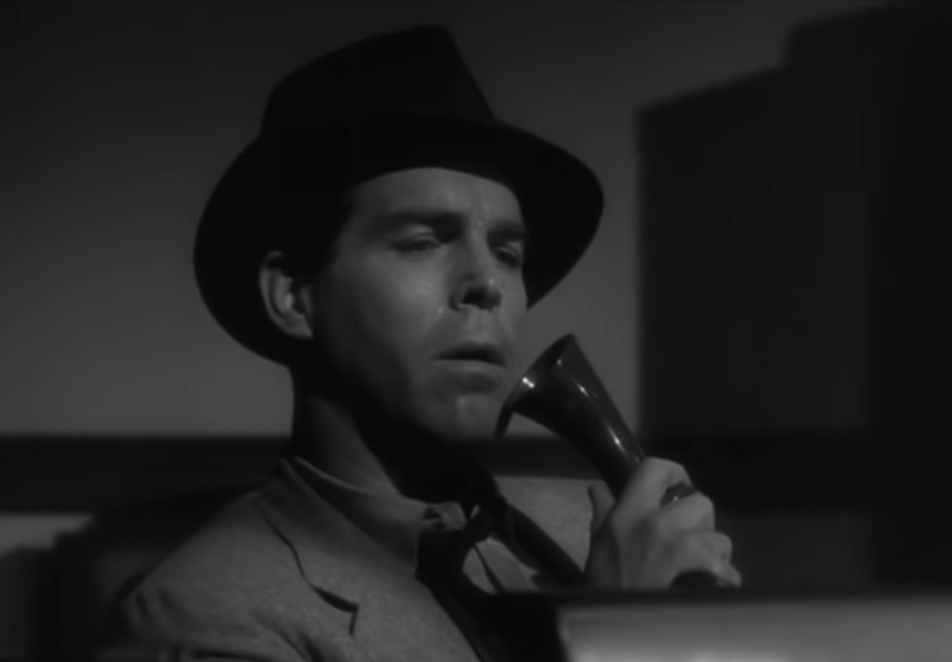 Edward G. Robinson gives the film a gravitas it would certainly have lacked had a lesser-known player been cast as Keyes. His portrayal of the wily investigator is so commanding that even now, over three-quarters of a century later, one becomes transfixed by his performance and completely invest in the charade.
One of our very first podcasts was a discussion about Double Indemnity as an entry in one of our Favourite Films series. You can listen to or watch that here.
In this classic film noir, insurance salesman Walter Neff gets roped into a murderous scheme when he falls for the sensual Phyllis Dietrichso. She is intent on murdering her husband and then living off the accidental death claim. Prompted by the late Mr. Dietrichson's daughter, insurance investigator Barton Keyes looks into the case, and gradually begins to uncover the awful truth.
2. Sunset Blvd. (1950)
This incredible classic is the second legendary American film-noir movie on our list and is considered to be one of the great films of the 20th Century. Sunset Blvd. (1950) is a movie about Hollywood, filmmaking, and the characters' delusions that inhabit that world. Billy Wilder persuaded silent-era stars Gloria Swanson and Eric Von Stroheim to come out of retirement and portray characters that were undoubtedly inspired by people they would have known in their professional lives. There is iconic imagery within the key scenes, and the immortal line "Mr. DeMille, I'm Ready for My Close-Up" has gone down in the annals of Hollywood history and seeped into the modern lexicon as one of our most well-known movie quotes.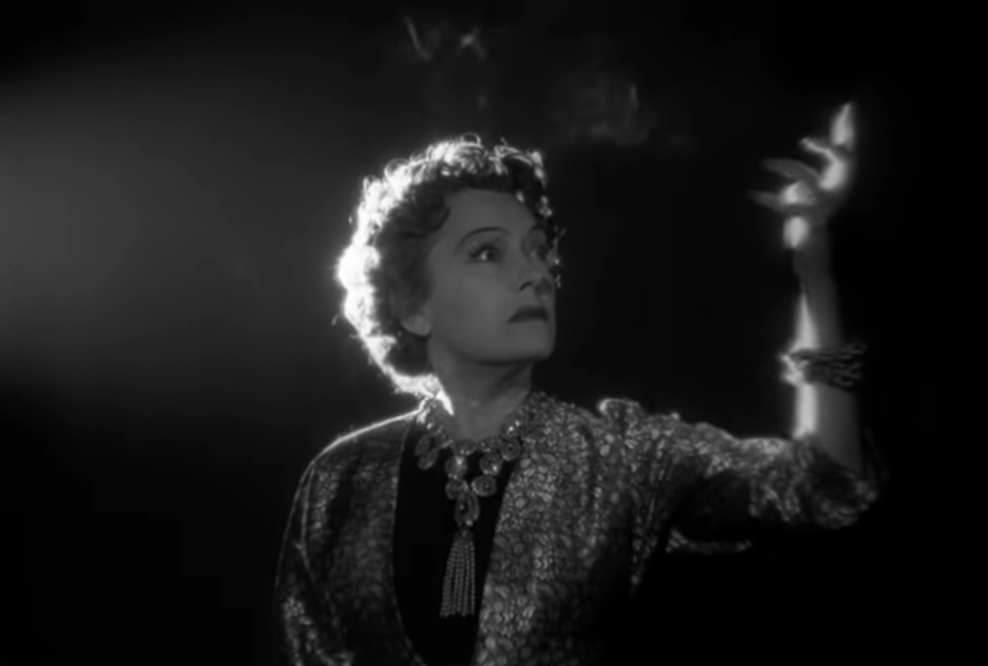 Cecil B. DeMille, who is referred to in the line, is actually playing himself in the film alongside infamous gossip columnist Hedda Hopper who also appears as a version of herself. Wilder also managed to cast Buster Keaton, H. B. Warner and Swedish silent-era star Anna Q. Nilsson to also appear. This movie marked an early example of Hollywood reflecting on itself, its history and taking a critical look at the nature of 'the business' as interpreted through Wilder's uncanny ability with dialogue and storytelling.
An aging silent film queen refuses to accept that her stardom has ended. She hires a young screenwriter to help set up her movie comeback. The screenwriter believes he can manipulate her, but he soon finds out he is wrong. The screenwriters ambivalence about their relationship and her unwillingness to let go leads to a situation of violence, madness, and death.
3. Witness For The Prosecution (1957)
Witness For The Prosecution (1957) is an intense and riveting courtroom drama starring Marlene Dietrich, Tyrone Power and Charles Laughton. The action takes place at the Old Bailey in London, and the story itself was co-adapted by Billy Wilder from the play of the same name by Agatha Christie. This is a very clever murder mystery turned on its head. Despite suspicions of the accused party's guilt, the audience is led on a merry dance and to say any more about the events that transpire would be to spoil a damn fine series of twists and turns.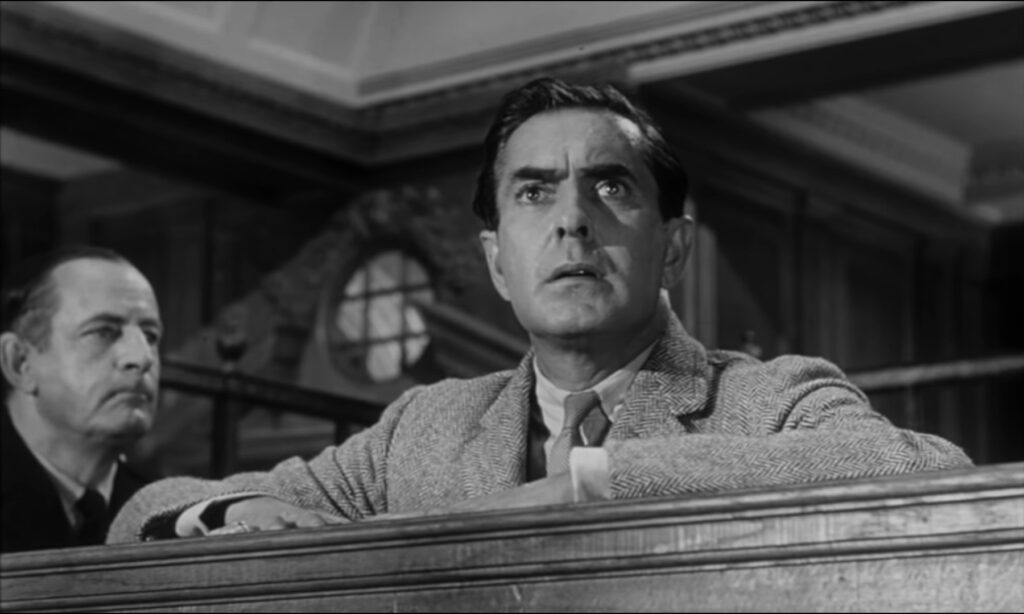 Indeed, the theatrical run included a 'surprise ending caveat' from United Artists in the form of an announcement at the end of the film which stated, "The management of this theatre suggests that, for the greater entertainment of your friends who have not yet seen the picture, you will not divulge to anyone the secret of the ending of Witness for the Prosecution." So, if you have not seen this incredible noir-themed trial thriller, then we shall remain tight-lipped on the understanding that you will see it soon and discover this movie's amazing conclusion.
The affable Leonard Vole is being tried for the murder of a wealthy woman, and legendary lawyer Sir Wilfrid Robarts has chosen to represent him. Unfortunately, Leonard's alibi depends on the testimony of his callous wife, Christine who, after the discovery of a legal loophole, makes the shocking decision to appear in court against him. To Sir Wilfrid's surprise, this is only the first in a series of puzzling revelations and reversals.
4. Some Like It Hot (1957)
One of the most beloved comedies of the period, Some Like It Hot (1957), stars Jack Lemmon and Tony Curtis as a couple of musicians on the run from the mob after they witness a gangland massacre. Disguised as women, they enlist in an all-female band headed to Florida and bump into the one and only Marilyn Monroe. What ensues is the perfect farcical romantic comedy of errors, as Lemmon and Curtis grow closer to Monroe but have to maintain their disguises as two females, struggling to control themselves and not make a pass at Monroe.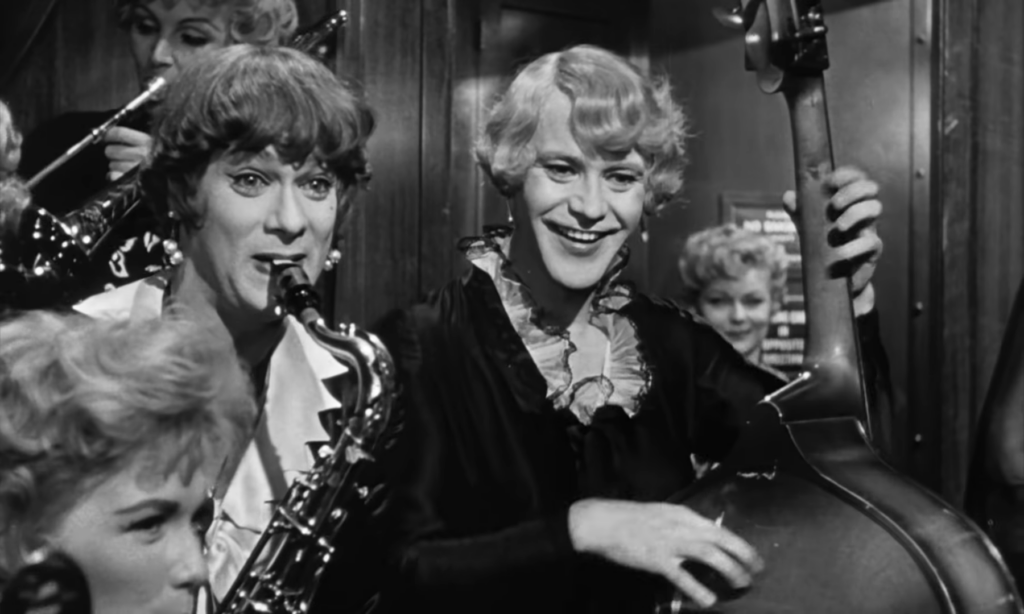 Billy Wilder was at the height of his powers he made this movie, which has become one of the truly iconic films of all time. He would further collaborate with both Monroe and Lemmon on future projects. But this movie is arguably the most well-known and beloved on our list, and its ability to entertain all these years later is a testament to the stars and Wilder's note-perfect direction.
After witnessing a Mafia murder, slick saxophone player Joe and his long-suffering buddy, Jerry, improvise a quick plan to escape from Chicago with their lives. Disguising themselves as women, they join an all-female jazz band and hop a train bound for sunny Florida. While Joe pretends to be a millionaire to win the band's sexy singer, Sugar, Jerry finds himself pursued by a real millionaire (Joe E. Brown) as things heat up and the mobsters close in.
5. The Apartment (1960)
For The Apartment (1960), Billy Wilder again cast Jack Lemmon in the lead role. He plays a man who lets his company managers have the use of his apartment as a place to meet their mistresses and carry on without anybody getting wise. When Lemmon's character falls for one of his bosses former mistresses, played by Shirley MacLaine, there begins an emotional bonding between the two. Wilder also cast Fred McMurray, whom he had worked with 16 years beforehand on Double Indeminty.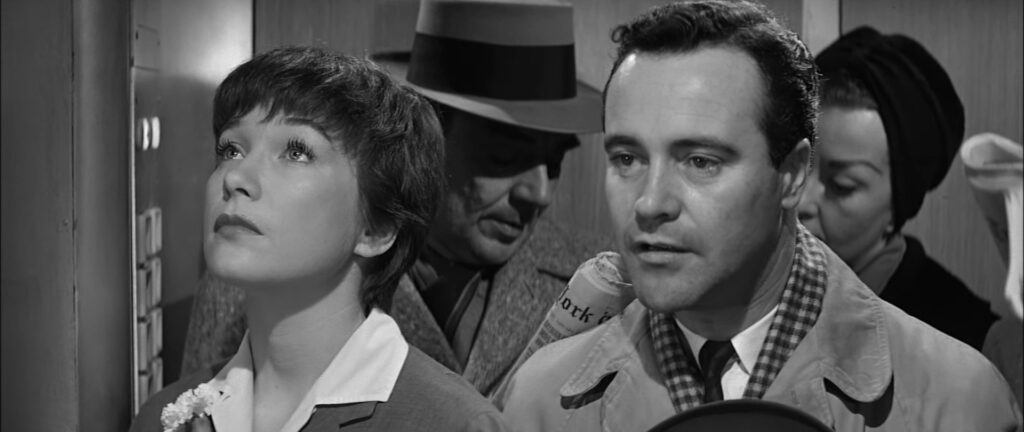 The whip-smart script and wonderful performances from Lemmon and MacLaine make this movie a real classic. The Apartment shows Billy Wilder's unrivalled talent for reflecting the times and doing so in such a way that feels universal yet completely fresh and unique. This film was incredibly popular with audiences at the time, taking $24 million at the Box Office from a budget of $3 million, which is roughly equivalent to taking over $222 million from a budget of $27 million in today's money.
Insurance worker C.C. Baxter lends his Upper West Side apartment to company bosses to use for extramarital affairs. When his manager Mr. Sheldrake begins using Baxter's apartment in exchange for promoting him, Baxter is disappointed to learn that Sheldrake's mistress is Fran Kubelik, the elevator girl at work whom Baxter is interested in himself. Soon Baxter must decide between the girl he loves and the advancement of his career.
So, there's our Top 5 Billy Wilder Films!
Think we've missed any out or not included your favourite Billy Wilder movie? Then let us know in the comments below.
You can read more of our articles here.
Please join us on social media on Facebook, Instagram, Tik Tok and Twitter. We really appreciate all the likes, shares, retweets etc., and we would love to hear from you and continue the wonderful celebration of all things cinema on these platforms.
If you love to watch videos on YouTube, then please subscribe to our channel here. There's lots of fun and informative videos uploaded that we hope you will enjoy!
We have a passion for movies and aim to produce entertaining and informative movie-related content. It certainly is a lot of hard work, but we love films so much that it's worth all the effort. We have to keep the lights on and make sure we have plenty of caffeine to keep all of the articles, videos and social media posts coming, so if you like our work, then please consider supporting us at Buy Me A Coffee here. You can also become a More Movies patron on Patreon here.
To help support us here at More Movies, we do use advertising in a few places, so we appreciate it if you do not use AdBlockers on our site, as this helps keep a few pennies trickling in. We also utilise affiliate links throughout the site, usually to help guide our readers to places to stream, rent or buy the movies we talk about. One of the biggest sources for movies online is Amazon Prime Video, where you can stream over 18,000 films. If you are interested in Prime and haven't signed up yet, you can get a 30-day free trial via this affiliate link, which helps support us too.