The Black Cauldron (1985) is the Disney animated dark fantasy adventure film, directed by Ted Berman and Richard Rich, that almost destroyed the future of Disney's animation department.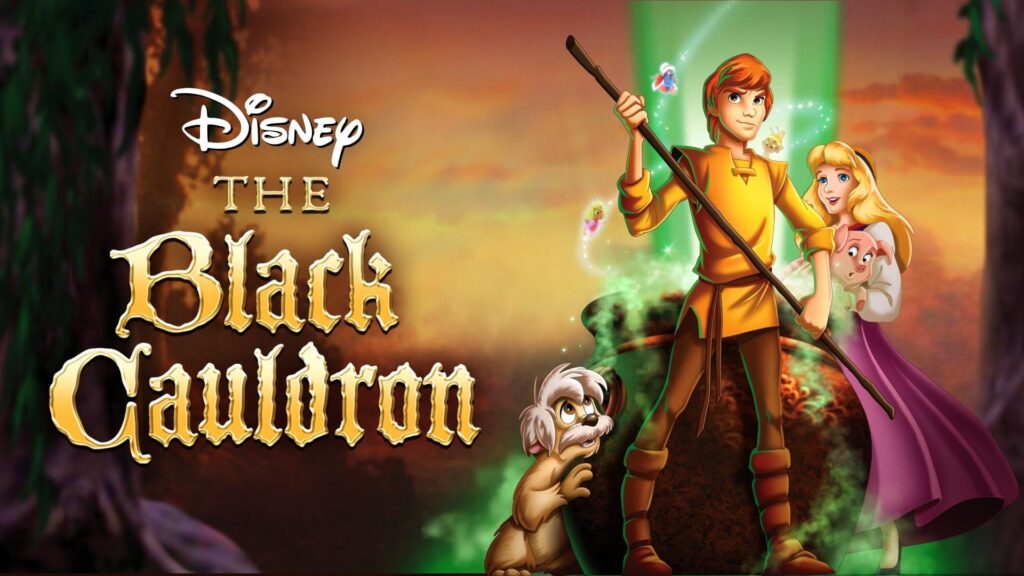 The film is very loosely based on The Chronicles of Prydain, a pentalogy of children's high fantasy written by Lloyd Alexander. Our hero is Taran, from the land of Prydain, a teenage boy and "assistant pig-keeper" who dreams of becoming a famous warrior. Dallben the Enchanter, Taran's boss, learns that the evil Horned King is searching for a mystical relic known as the Black Cauldron to create an invincible army of undead warriors. Fearing he will kidnap and use his pig, Hen Wen, who has oracular powers, to locate the cauldron, Dallben directs Taran to take Hen Wen to safety. Unfortunately, Taran's foolish daydreaming causes Hen Wen to be captured by the Horned King's dragon-like creatures.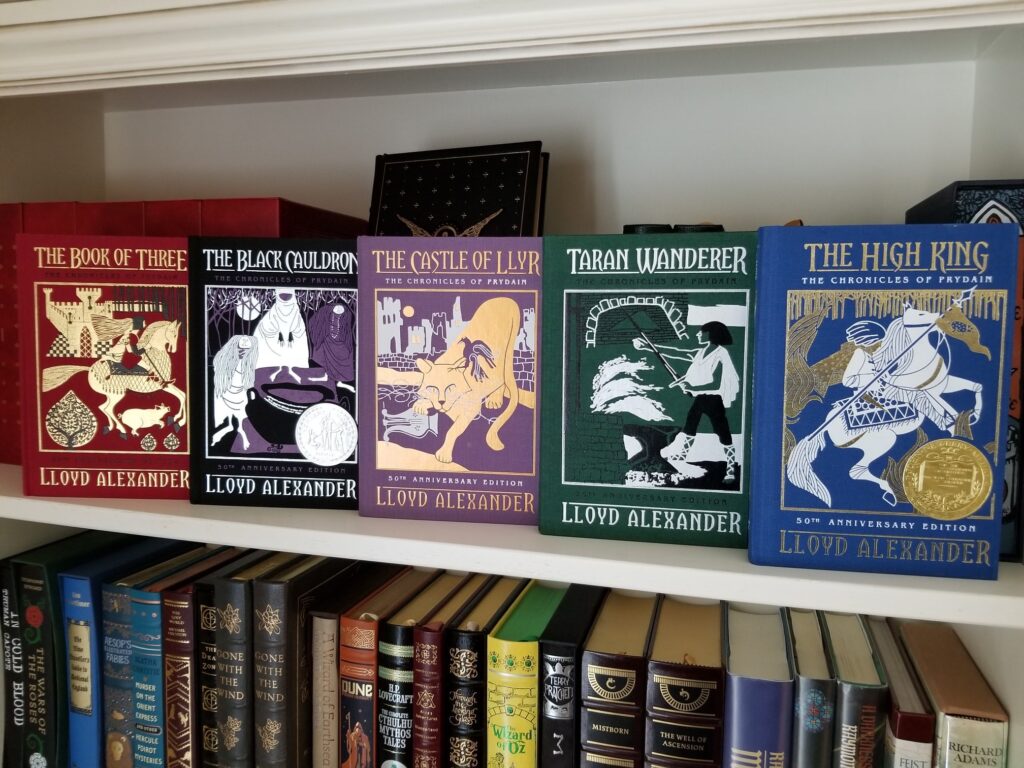 Taran follows them to the Horned King's castle and sneaks in to rescue Hen Wen, but is captured and thrown into the dungeon. Another captive named Princess Eilonwy frees him as she tries to escape. In the catacombs underneath the castle, Taran and Eilonwy discover the ancient burial chamber of a king. Taran arms himself with the king's sword, which is imbued with magic that allows him to effectively fight the Horned King's minions, thus fulfilling his dream of being a warrior.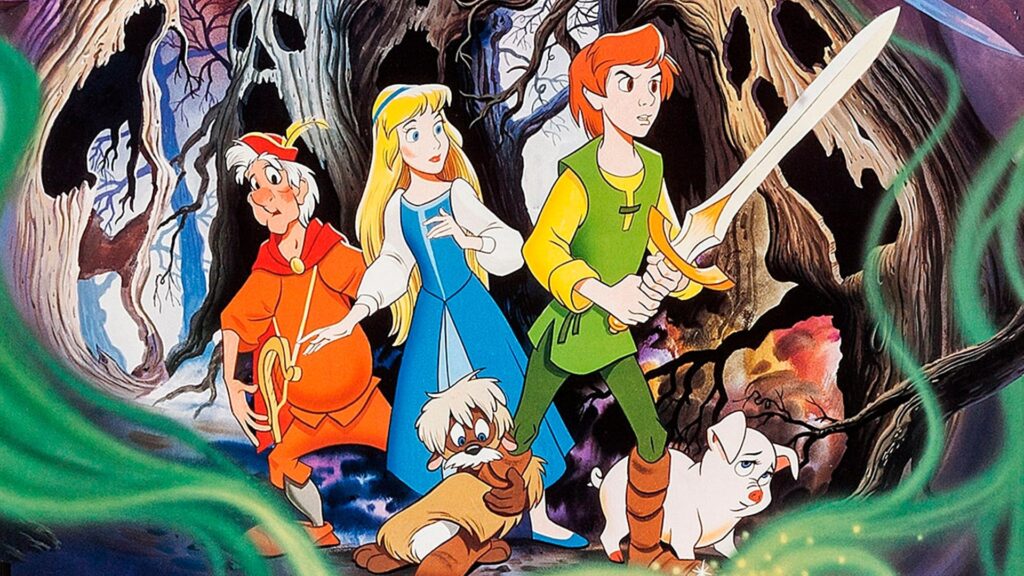 From here, Taran and his friends must complete their quest to stop the Horned King at all costs.
The film's plot is simply a mess, a convoluted labyrinth of undetailed, unexplained, and underdeveloped ideas. It is easy to see why the film ended up this way, however. Through a prolonged decade of development hell, The Black Cauldron became an albatross around the neck of the animators at the house of mouse.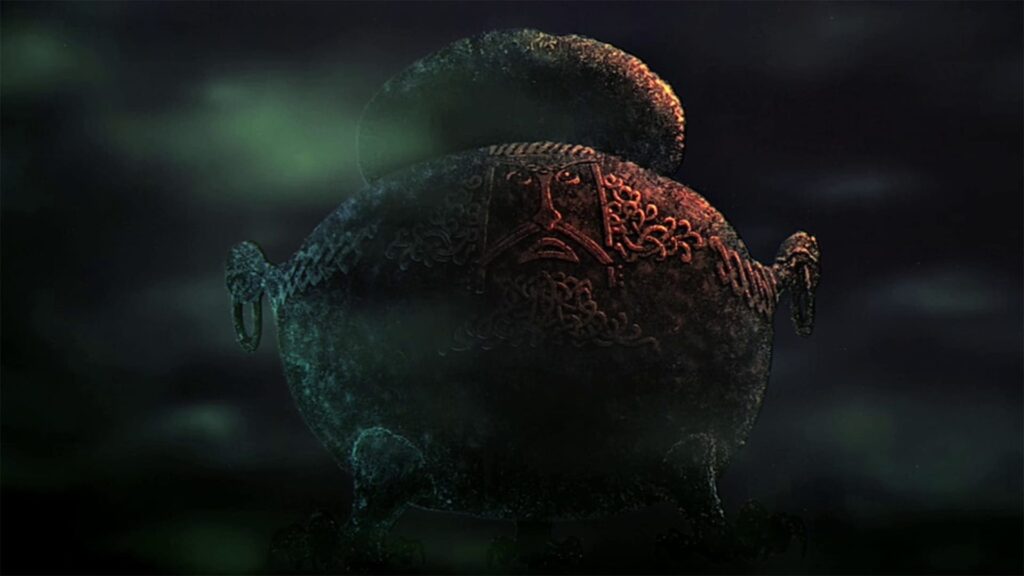 Through corporate politics and management, many different people were assigned to the project before swiftly moving on elsewhere.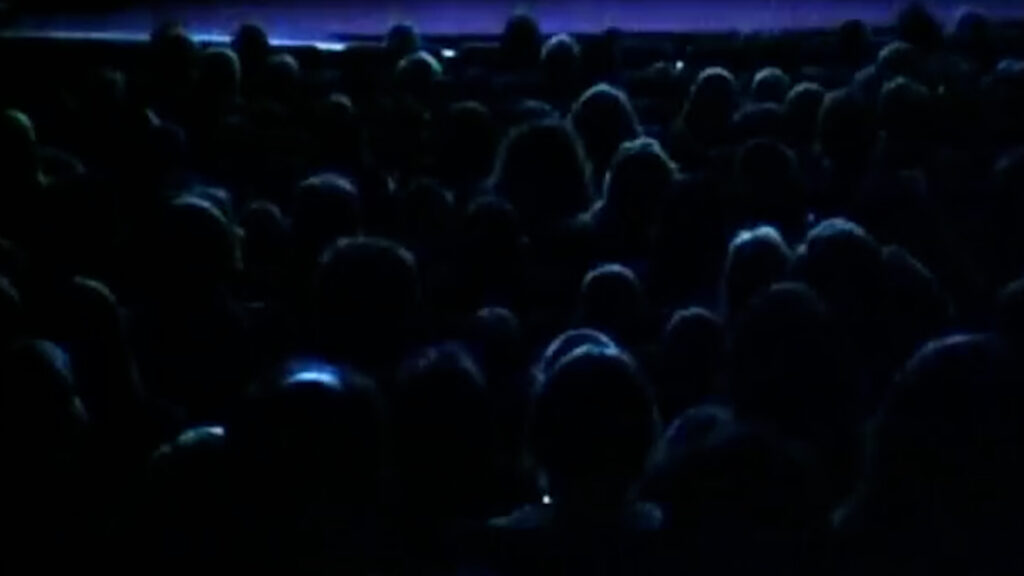 During a test screening in 1984, the film was deemed to be traumatising to the young audience, with children running out in terror. Newly appointed Disney studio chairman Jeffrey Katzenberg demanded over 10 minutes of cuts before its release in a battle with new CEO Michael Eisner, further butchering the fractured film. Some of these cuts are even noticeable in the final movie, creating jumps in the film's soundtrack.
The first cut of the film was also incredibly dark and strayed far from the kind of movie that Disney eventually put out.
From blood and violence, including decomposing bodies and sacrificial suicide, to kidnapping and overtly sexual imagery, the film was a far cry from Cinderella (1950) and Sleeping Beauty (1959). The cut scenes contained even darker elements, including the melting faces of undead soldiers. There was a belief by some at Disney that the company wasn't cool and that teenagers would never go to see a Disney cartoon, so they set out to entice them with this darker material. In the eighties, we had seen family films get darker in places, films like The Secret of NIMH (1982), The Dark Crystal (1983) and even scenes of melting Nazi's in Raiders of the Lost Ark (1981).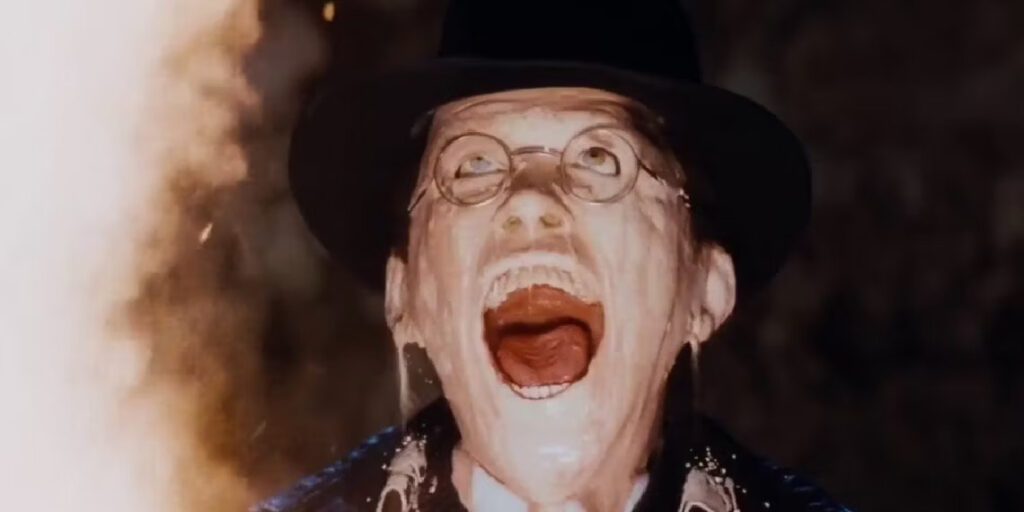 However, the filmmakers failed to understand that audiences really expected Disney's films to be completely family-friendly, suitable for the very youngest viewers. In the end, The Black Cauldron became a commercial and critical failure, the worst in the company's history, due to the massive costs of the production. Its failure almost caused the heads at Disney to finally close the animation department after years of decline. It was only due to the fact that The Great Mouse Detective (1986) was already in production that this never happened.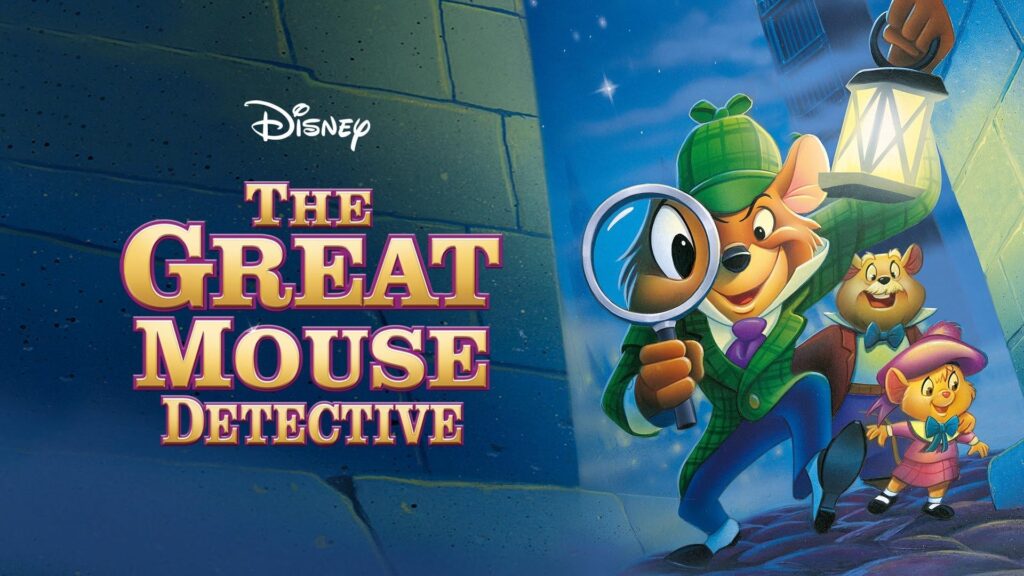 Luckily, The Great Mouse Detective was a hit, and Disney Animation Studios would go on to renewed success in the next decade with a string of hits during the Disney Renaissance.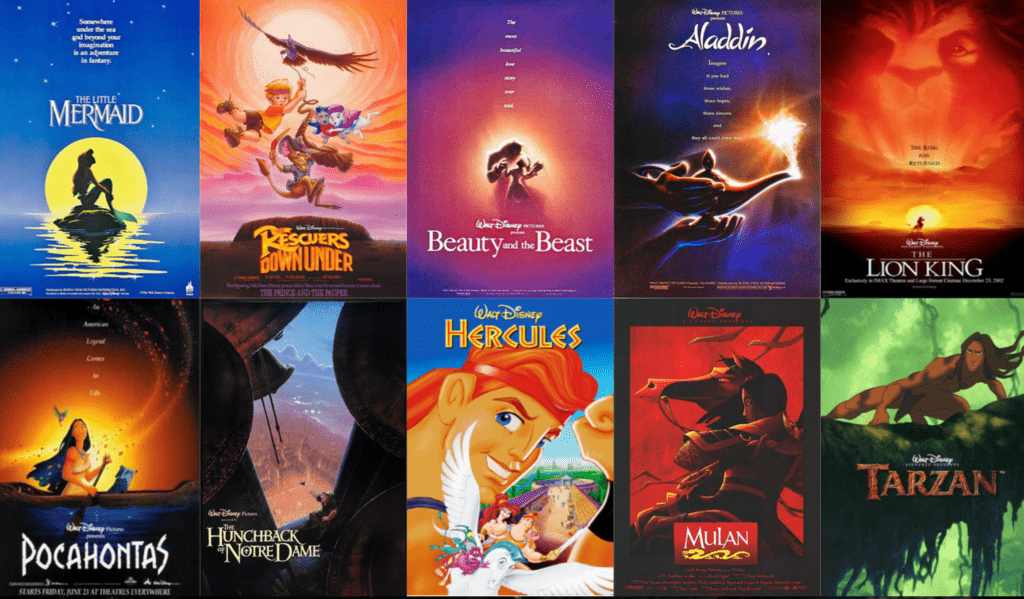 Despite its many flaws, The Black Cauldron is quite an interesting film and visually stunning for its time. It is the first Disney animated film to feature computer-generated imagery. It may have stumbled, but it served as some inspiration for darker-toned material to come, such as The Hunchback of Notre Dame (1996) and even some Pixar movies. It doesn't seem as dark compared to modern-day efforts, and it has since become a cult classic. But more than anything, the film is notable due to the changes it brought about.
Well, that's our review of The Black Cauldron!
Did you enjoy The Black Cauldron as a child? Let us know in the comments!
You can read more of our reviews here.
Please join us on social media on Facebook, Instagram, Tik Tok and Twitter. We really appreciate all the likes, shares, retweets etc., and we would love to hear from you and continue the wonderful celebration of all things cinema on these platforms.
If you love to watch videos on YouTube, then please subscribe to our channel here. There's lots of fun and informative videos uploaded that we hope you will enjoy!
We have a passion for movies and aim to produce entertaining and informative movie-related content. It certainly is a lot of hard work, but we love films so much that it's worth all the effort. We have to keep the lights on and make sure we have plenty of caffeine to keep all of the articles, videos and social media posts coming, so if you like our work, then please consider supporting us at Buy Me A Coffee here. You can also become a More Movies patron on Patreon here.
To help support us here at More Movies, we do use advertising in a few places, so we appreciate it if you do not use AdBlockers on our site, as this helps keep a few pennies trickling in. We also utilise affiliate links throughout the site, usually to help guide our readers to places to stream, rent or buy the movies we talk about. One of the biggest sources for movies online is Amazon Prime Video, where you can stream over 18,000 films. If you are interested in Prime and haven't signed up yet, you can get a 30-day free trial via this affiliate link, which helps support us too.