Vice (2018) is a political drama film written and directed by Adam McKay and starring Christian Bale, Amy Adams, Steve Carell and Sam Rockwell.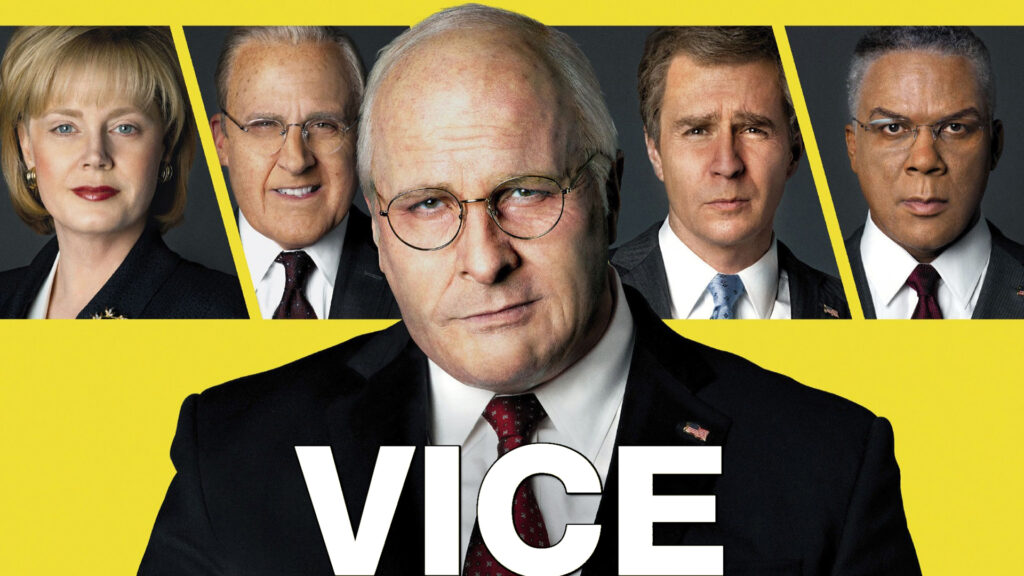 The film starts in 1963, with a young Dick Cheney working as a lineman in Wyoming. In his early life, he is a drunk, a college dropout and a waste of space. His wife Lynne is furious at the state his life is in and threatens to leave if he doesn't clean up his act.
By 1969, he has joined an intern programme at the White House, working under the Nixon administration. Here, he meets Donald Rumsfeld, wonderfully portrayed by Steve Carell, who is Nixon's economic adviser and will play a key role in Cheney's future.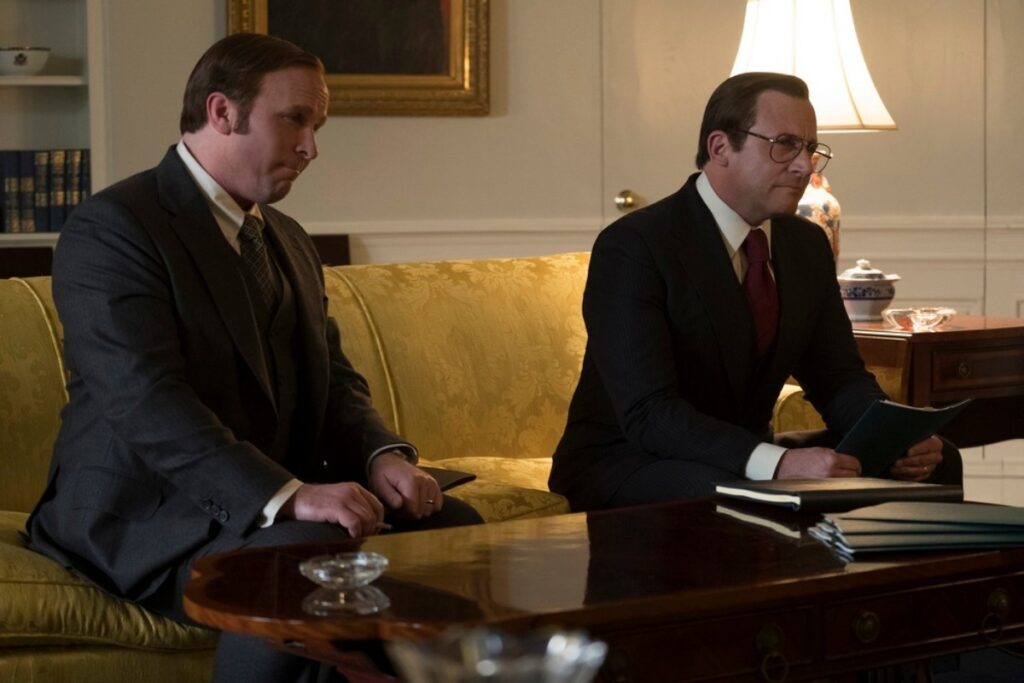 In these early years, Cheney is new to the political game but quickly learns the ropes whilst on the job, becoming a savvy operator in the corridors of power. After overhearing Henry Kissinger discussing the secret bombing of Cambodia with Richard Nixon, without approval from Congress, he discovers the true power that the executive branch has in Washington.
After Nixon's resignation, Cheney rises to the position of White House Chief of Staff for President Gerald Ford while Rumsfeld becomes Secretary of Defense. But after Ford is voted out after only one term, Cheney is left unemployed and adrift.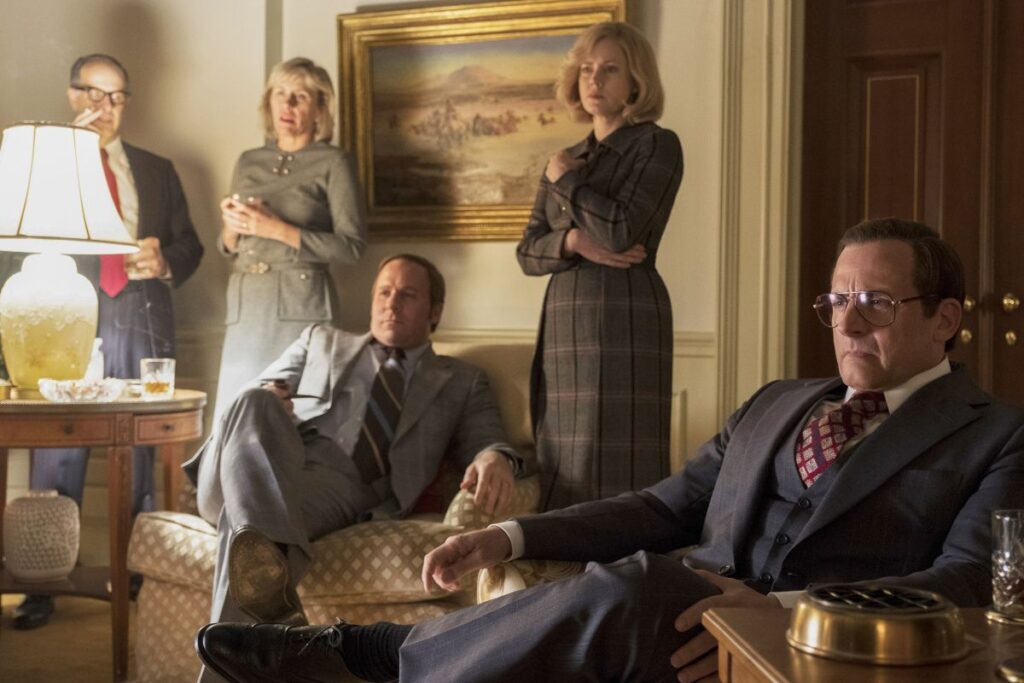 He then decides to run for office as a representative for Wyoming. However, there is a problem, as Cheney is a very awkward and uncharismatic man, although he can work the movers and shakers in the halls of power, this doesn't translate when trying to impress the voters. Here, he suffers his first heart attack, hospitalizing him during the campaign. But this actually turns out to be the lucky break he needs. His wife Lynne campaigns on his behalf and is much more charismatic and relatable to the people of Wyoming, which helps him win the seat.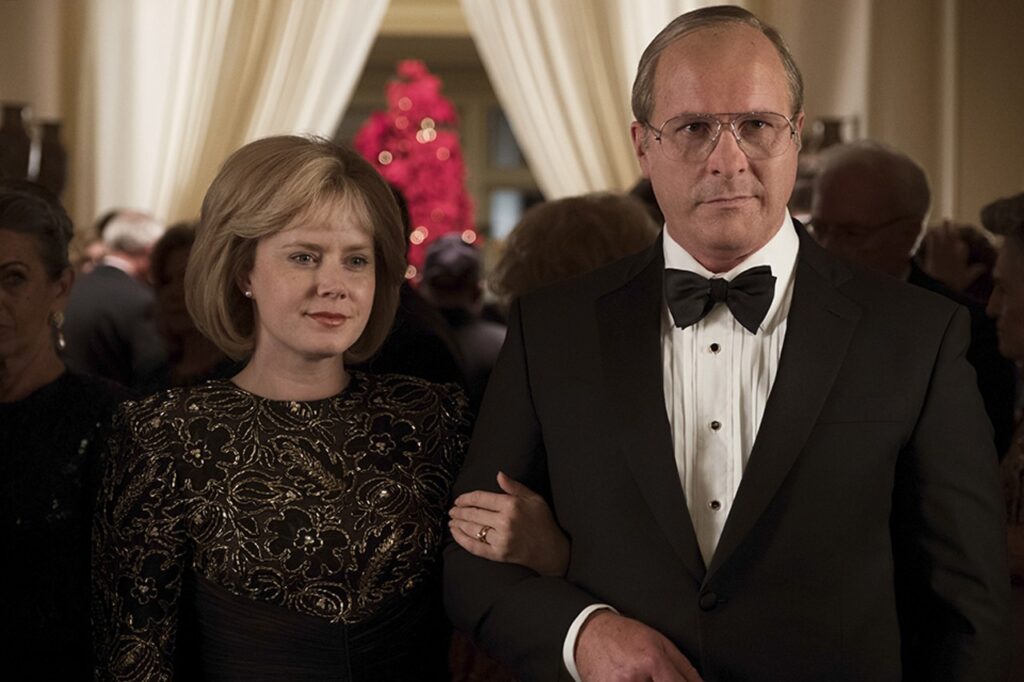 During the Ronald Reagan presidency, Cheney became a mover and shaker in the House of Representatives and served under President George Bush Senior during the first Gulf War. By this point, he has become a massive player in the Republican party and has developed an ambition to run for President. However, in his personal life, he and his wife are raising a family, and their daughter Mary reveals to them that she is a lesbian. To spare her from massive media scrutiny, Cheney decides not to run for President and steps away from office.
He then becomes the CEO of the multinational corporation Halliburton, and he and his family live the rest of their lives healthy and happy. The end.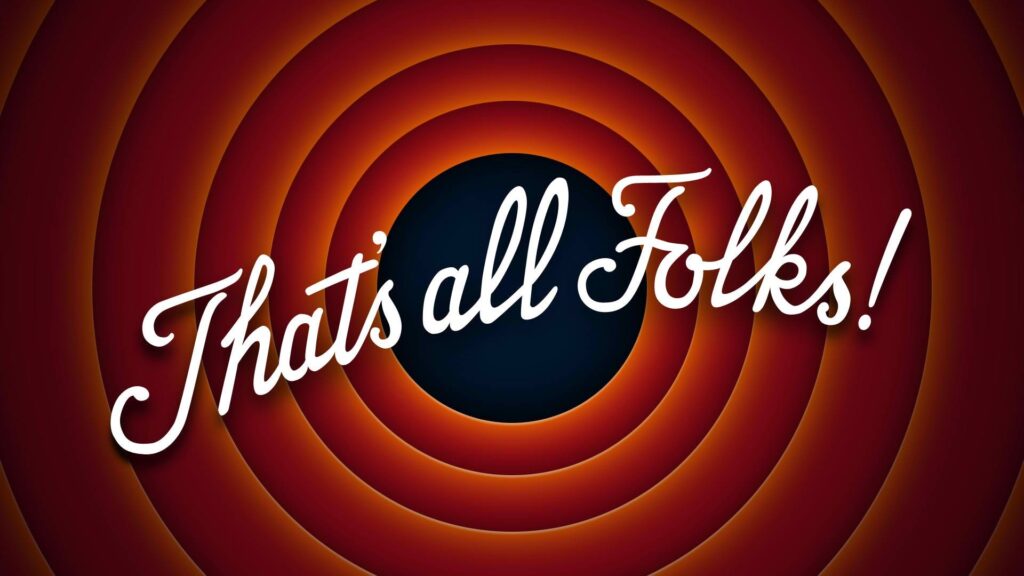 Of course, I joke. This review, and the film, does not end there. The film pulls this trick, though, with a false ironic epilogue before skipping back to carry on examining Cheney's rise to power as Vice President under George W. Bush, his reuniting with Rumsfeld and his actions during 9/11 and the Iraq War.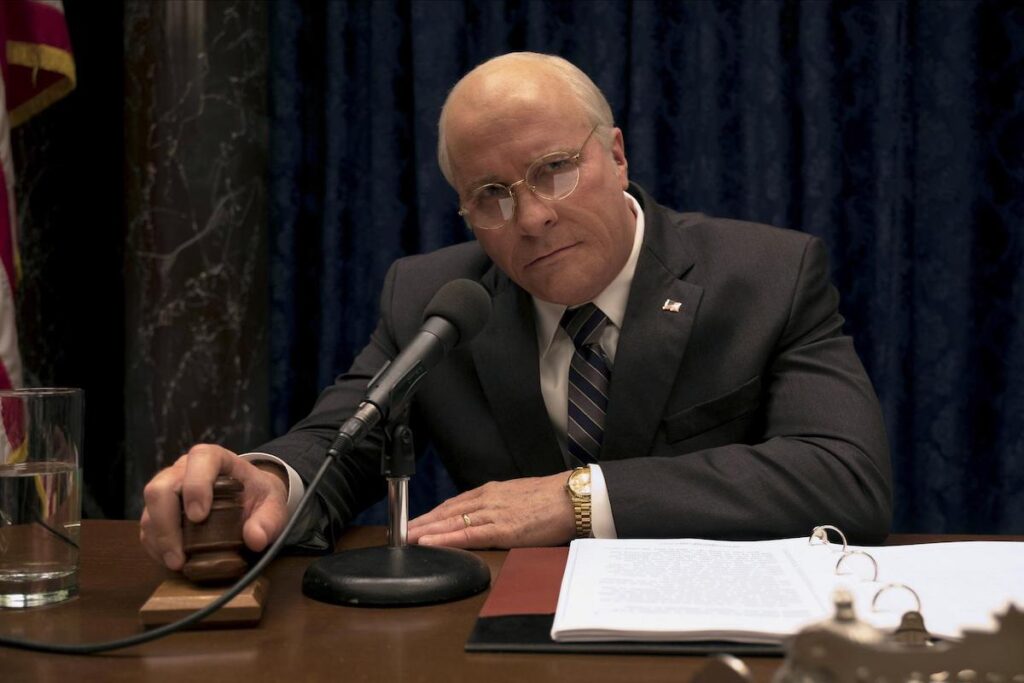 The film is undoubtedly ambitious and exciting, flitting between different time frames with a ferocious pace and never lingering too long. The dramatization is interspersed with montages of real-life footage, re-enactments and drama, with narration by Kurt, a fictitious veteran of the Afghanistan and Iraq Wars. It is like a History Channel documentary and is very reminiscent of Oliver Stone's JFK (1991).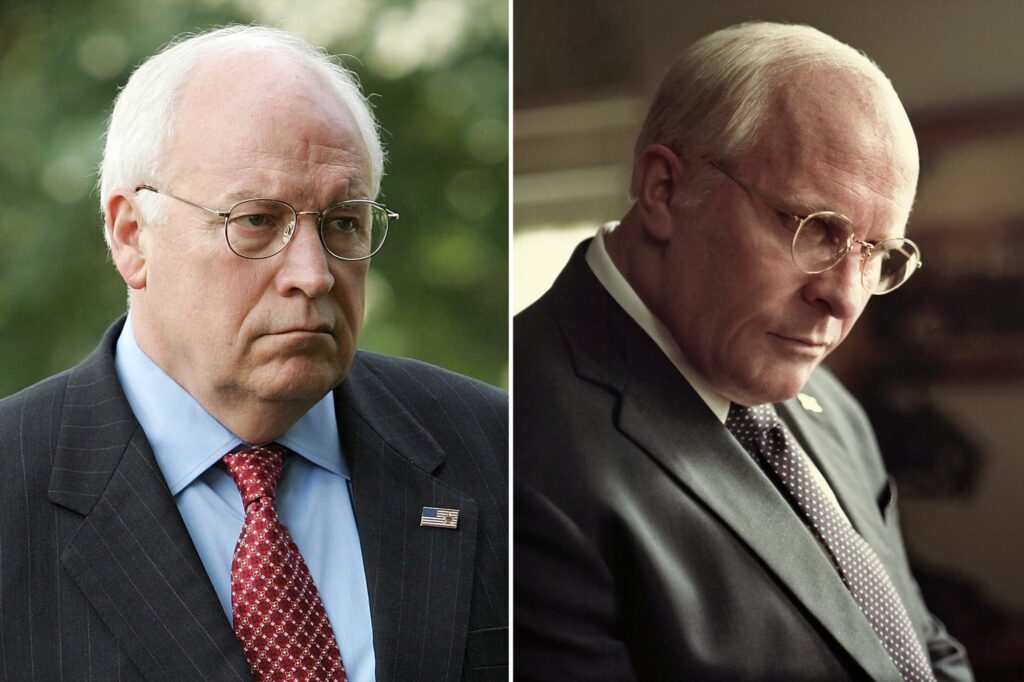 The performance by Christian Bale as Cheney is outstanding. The little ticks and nuances create a caricature of the man, which captures him perfectly, revealing a gradual development of a malicious character that is simply chilling. He is supported fantastically by Steve Carell as Rumsfeld in another stellar performance, and Amy Adams, Sam Rockwell, Tyler Perry and Jesse Plemons are all equally compelling in their roles.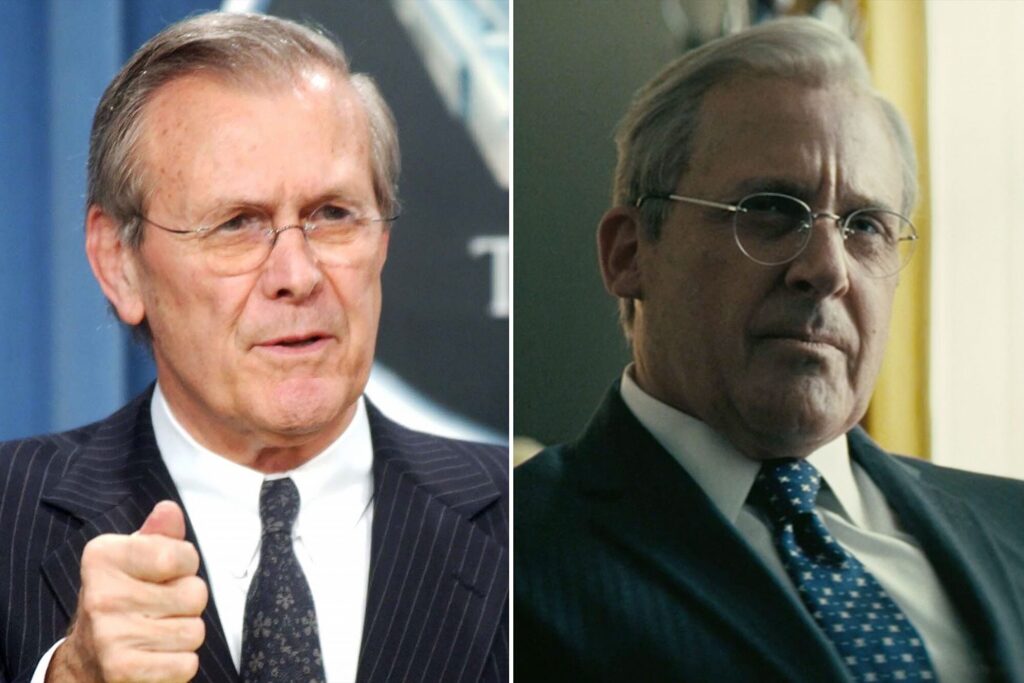 Vice is unconventional and bitterly ironic, making it both hilarious and frightening. Cheney is an ambiguous character, a man we know so much and so little about, as the film professes, but what we see on screen is believable as what we know to be true is very accurately portrayed. The film was incredibly divisive on release due to its political nature and the stance it takes. But a movie like this would not be any good if lots of people didn't hate it.
The storytelling is compelling, and the sarcasm is riveting, resulting in an enjoyable and singular political biopic. Dick Cheney will go down as one of the most divisive political figures in modern history. The machiavellian manipulator wielded power like no other during some of the most turbulent times in American history. Some would call him a war criminal. Some would call him a corporate-military gangster. Whatever you think of the man, he is a fascinating study and makes a perfect subject for a movie like this.
Well, that definitely is it for this review of Vice!
Did you enjoy Vice? Let us know in the comments!
You can read more of our reviews here.
Please join us on social media on Facebook, Instagram, Tik Tok and Twitter. We really appreciate all the likes, shares, retweets etc., and we would love to hear from you and continue the wonderful celebration of all things cinema on these platforms.
If you love to watch videos on YouTube, then please subscribe to our channel here. There's lots of fun and informative videos uploaded that we hope you will enjoy!
We have a passion for movies and aim to produce entertaining and informative movie-related content. It certainly is a lot of hard work, but we love films so much that it's worth all the effort. We have to keep the lights on and make sure we have plenty of caffeine to keep all of the articles, videos and social media posts coming, so if you like our work, then please consider supporting us at Buy Me A Coffee here. You can also become a More Movies patron on Patreon here.
To help support us here at More Movies, we do use advertising in a few places, so we appreciate it if you do not use AdBlockers on our site, as this helps keep a few pennies trickling in. We also utilise affiliate links throughout the site, usually to help guide our readers to places to stream, rent or buy the movies we talk about. One of the biggest sources for movies online is Amazon Prime Video, where you can stream over 18,000 films. If you are interested in Prime and haven't signed up yet, you can get a 30-day free trial via this affiliate link, which helps support us too.