Uncle Frank (2020) is an American comedy drama road movie directed by Alan Ball for Amazon Prime. The film stars the brilliant Paul Bettany, Sophia Lillis and Peter Macdissi and is set in Creekville, South Carolina, in 1973.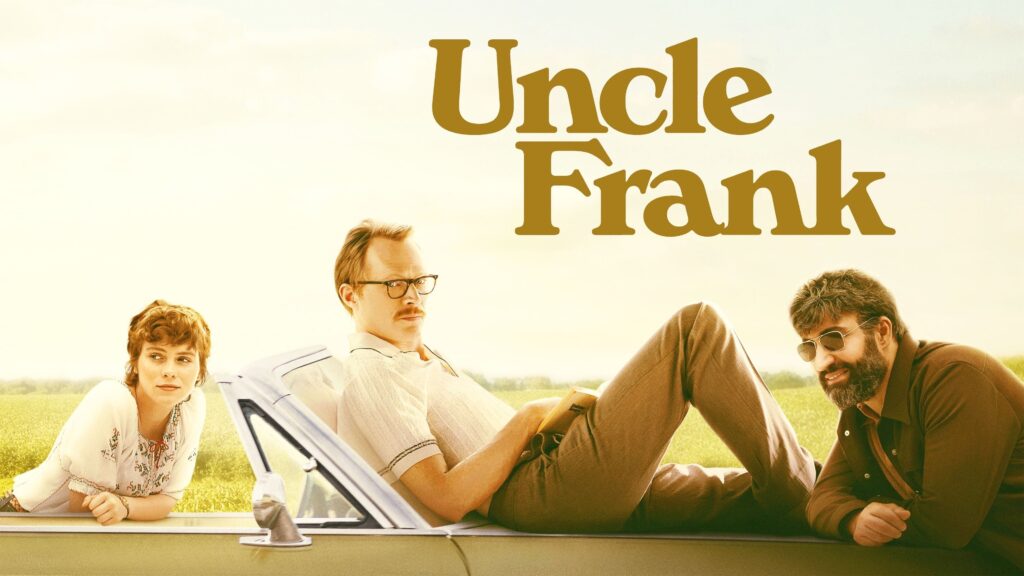 The film follows Beth Bledsoe, played by Lillis, who moves to New York City to attend college. She is looking to escape into a more meaningful life, inspired by her Uncle Frank, played by Bettany, a New York professor. She looks up to Frank, who she sees as a more intelligent and thoughtful man compared to the rest of her family.
In New York, Beth meets a boyfriend, Bruce, and shows up with him unannounced to a party at Frank's apartment. During the eventful soiree, she finds out that her Uncle Frank is gay and his flatmate Walid is his boyfriend of over ten years. As for her boyfriend Bruce, he's gay too, and tries to come on to Frank but is rejected by the professor. After a crazy night, Frank cares for Beth in her drunken state and pleads with her not to tell anyone in the family.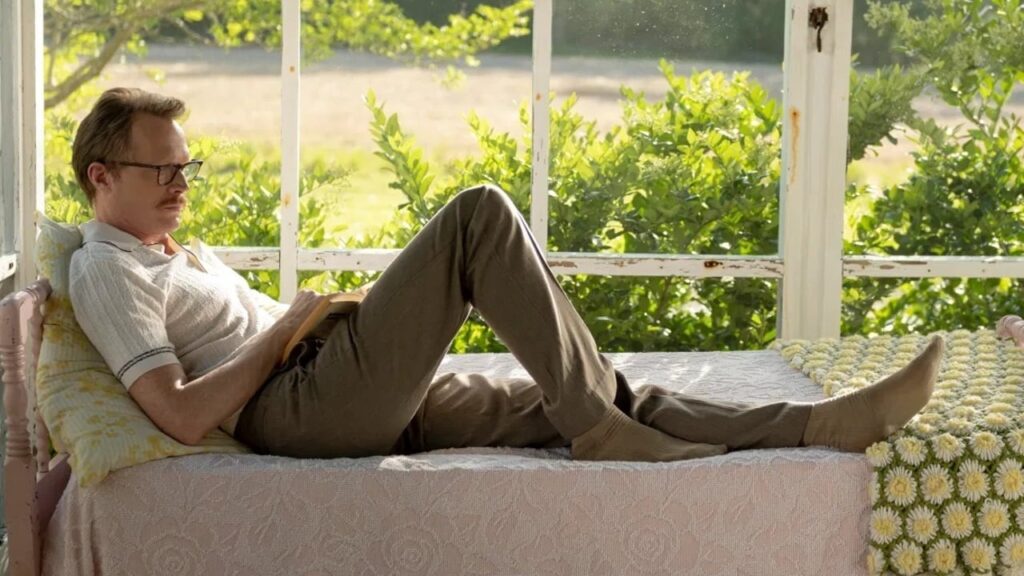 The next day, Beth's grandfather and Frank's father, Daddy Mac, dies of a sudden heart attack. Frank agrees to drive Beth back to South Carolina for the funeral. Wally asks to come along and meet Frank's family, but Frank refuses, not yet ready to reveal the truth to them. However, Wally rents a car and follows them most of the way there. When Frank catches him, he agrees to let him come along but insists he stay in a motel during the funeral, fearful of what the locals might do if they discover their true relationship.
What follows is a journey of discovery for Beth and one of acceptance for Frank. We delve into Frank's past on the trip, his first love, a boy named Samuel. We learn of the deep religious hate he experienced when growing-up, that forced him to keep his true feelings buried deep. He also reveals the awful relationship he had with his father and how this had a negative effect on his closeness with the rest of the family. The film also covers the devastating effects of alcoholism, resulting from the terrible oppression early in his life.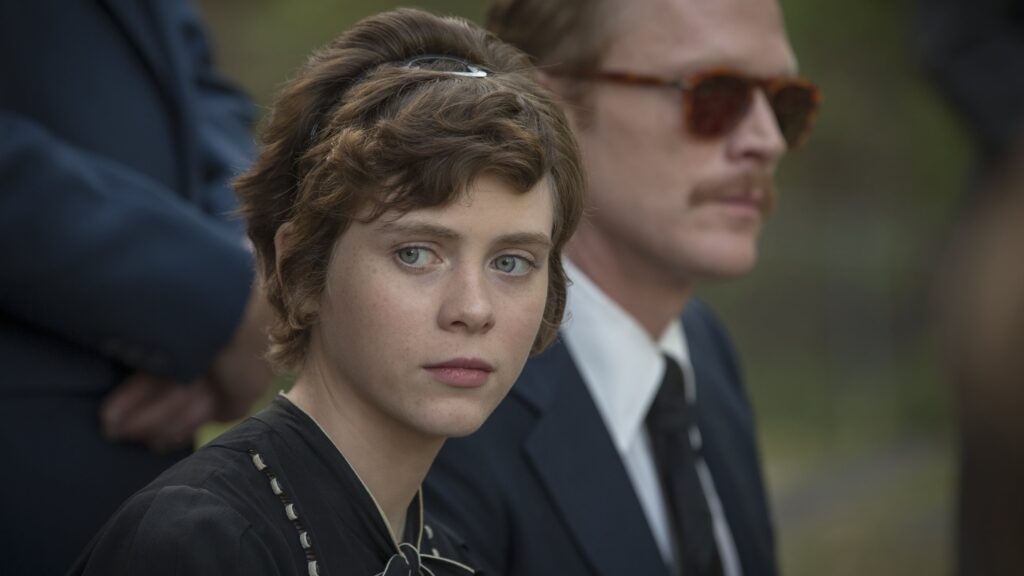 It's ultimately a story about gay people and small towns, in that everyone knows, yet no one talks about it. The film shows us that bottling these feelings up inside is unhealthy, as the resulting fear and hatred can have devastating consequences. Paul Bettany gives a career-great performance here. I have always enjoyed Bettany on screen, with performances such as Stephen Maturin, the ship's doctor in Master and Commander: The Far Side of the World (2003) and his masterfully funny role as Geoffrey Chaucer in A Knight's Tale (2001) being personal highlights.
But here, Bettany expertly plays a wounded figure brilliantly, putting a lot of pathos and emotion into the character. Peter Macdissi's performance is equally brilliant as the hilarious and likeable Wally, anchoring the character of Frank, pushing him to become his true self. It's a demonstration of the sacrifices we can make for each other so that we can live in love together.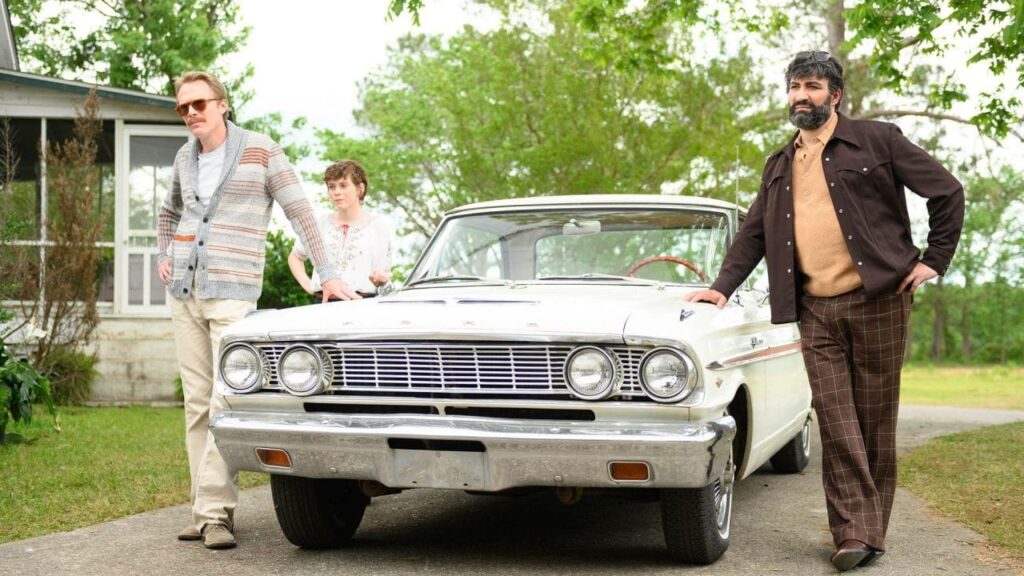 The film is beautifully shot with a vintage sunny 1970s backdrop that provides an evocative slice of retro Americana. But this shiny veneer covers the dark underbelly of the treatment of our two main gay protagonists, one exiled from his family in the American South for their prejudices, the other exiled from his family far away due to their strict Muslim beliefs. A reminder that we are all united in our struggles, and at the end of the day, despite our varying lifestyles, we are not so different from one another.
For me, the most moving part of the film is Frank's flashbacks to his childhood and his first love Samuel. These moments that unfurl throughout the movie are a devastating insight into a reality we know exists but is hard to fathom. These scenes are difficult to watch and really tug on the heartstrings.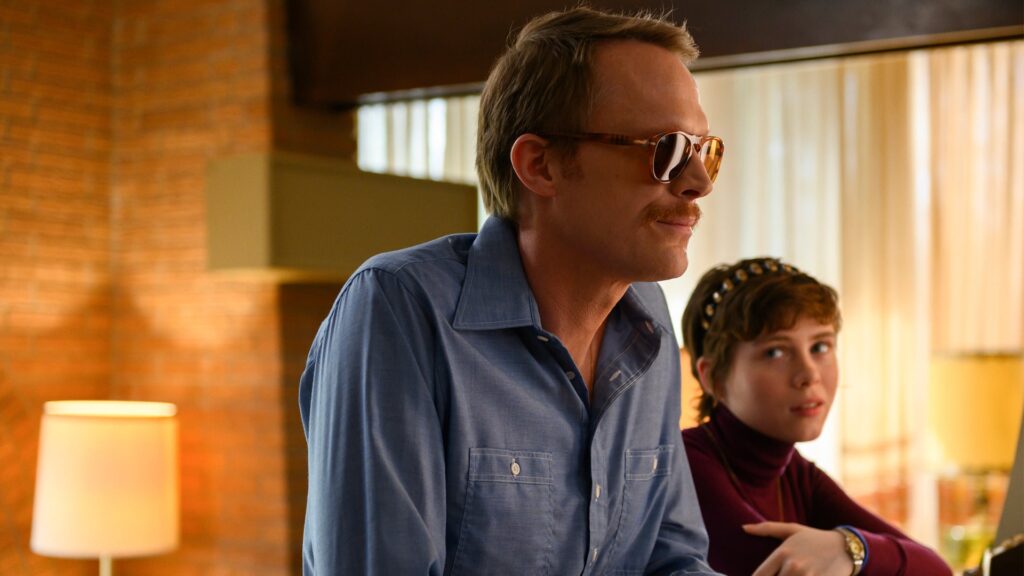 This film is also incredibly funny, with its dry humour and pardon the pun, the frankness of its topic. The stereotypical language and silly jokes littered throughout provide great comic relief to juxtapose the more poignant moments. Wally provides an excellent comic foil that shows great strength and humour throughout all that he experiences, which helps us connect with the story.
Uncle Frank is touching, funny, heartbreaking and beautiful. It may be schmaltzy at times, but it ultimately provides an entertaining road movie with a fantastic story arc. One that makes you believe in the characters that we are presented with.
Well, that's it for this review of Uncle Frank!
What did you think of Uncle Frank? Did you enjoy it? Let us know in the comments below.
You can read more of our reviews here.
Please join us on social media on Facebook, Instagram, Tik Tok and Twitter. We really appreciate all the likes, shares, retweets etc., and we would love to hear from you and continue the wonderful celebration of all things cinema on these platforms.
If you love to watch videos on YouTube, then please subscribe to our channel here. There's lots of fun and informative videos uploaded that we hope you will enjoy!
We have a passion for movies and aim to produce entertaining and informative movie-related content. It certainly is a lot of hard work, but we love films so much that it's worth all the effort. We have to keep the lights on and make sure we have plenty of caffeine to keep all of the articles, videos and social media posts coming, so if you like our work, then please consider supporting us at Buy Me A Coffee here. You can also become a More Movies patron on Patreon here.
To help support us here at More Movies, we do use advertising in a few places, so we appreciate it if you do not use AdBlockers on our site, as this helps keep a few pennies trickling in. We also utilise affiliate links throughout the site, usually to help guide our readers to places to stream, rent or buy the movies we talk about. One of the biggest sources for movies online is Amazon Prime Video, where you can stream over 18,000 films. If you are interested in Prime and haven't signed up yet, you can get a 30-day free trial via this affiliate link, which helps support us too.