Nicolas Cage has made some crazy movies over ther past four decades. Some of them have fallen flat, some of them rightly so. His bombastic and unpredictable style lends itself to the more eccentric material he has chosen to convey. As he has admitted himself, sometimes it works, sometimes it does not. However, the epic fantasy horror revenge thriller Mandy (2018) is probably one of the best films in his entire back catalogue, and his manic, crazy-eyed leanings are put to perfect use in this exceptional piece of cinema.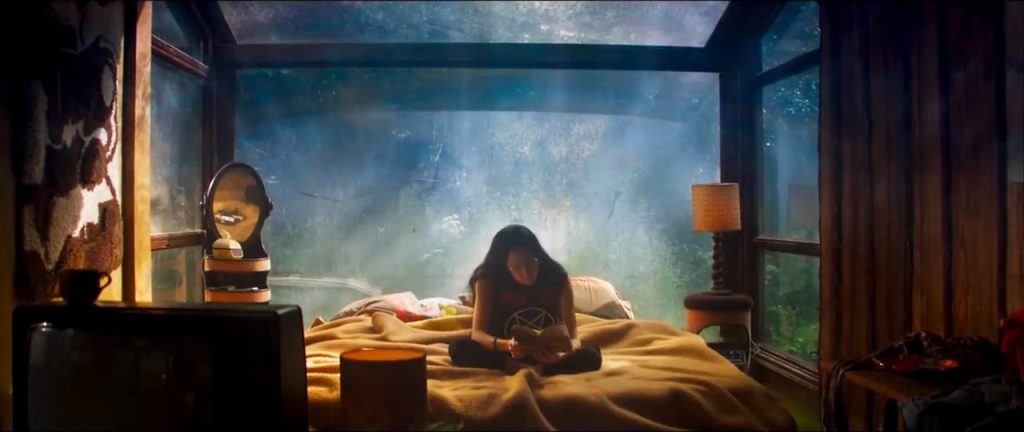 The story is very simple. Mandy (Andrea Riseborough) and Red (Cage) are deeply in love. They live a sheltered life together deep in the forest. One day and evil hippie cult cross paths with Mandy on the road and their delirious leader (played by Linus Roache) decides he must "have her". His minions are charged with bringing her to him and they enlist the help of several demonic, bike-riding psychopaths to capture Mandy.
Suffice to say, she is kidnapped and Red is bound and gagged. The despotic cult members then drug Mandy and their leader Jeremiah attempts to entice her. When she rejects his despicable advances and laughs at him, the beast is let loose and Mandy's fate is sealed as Red helplessly looks on. The rest of the film sees Red escape and then embark on a voyage of violence and revenge as he hunts down the demonic bikers and the hippie cult responsible for these atrocities.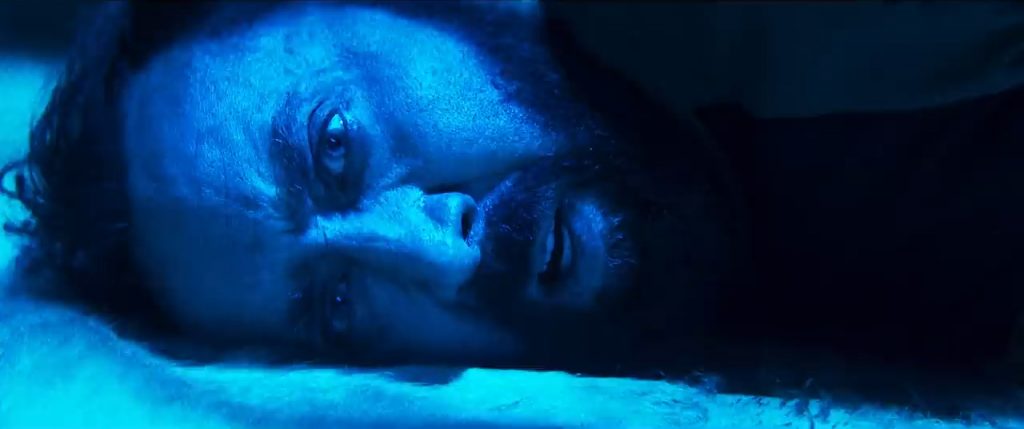 Although I have just given a brief overview of the entire story, there is nothing I have divulged here that cannot be gleaned from the trailer (see below). However, I have only skimmed the surface of this amazing film and not even began to relay the incredible experiences it has to offer as a piece of genre filmmaking. This is a movie peppered with an array of mutual influences. There is a dark foreboding from the very outset that establishes the tone as a mystical, drug-soaked fantasy which borrows heavily from the stylings of the 1980's. Think Clive Barker's Hellraiser meets Mad Max meets The Texas Chainsaw Massacre and you'll start to get a picture of where this film is coming from.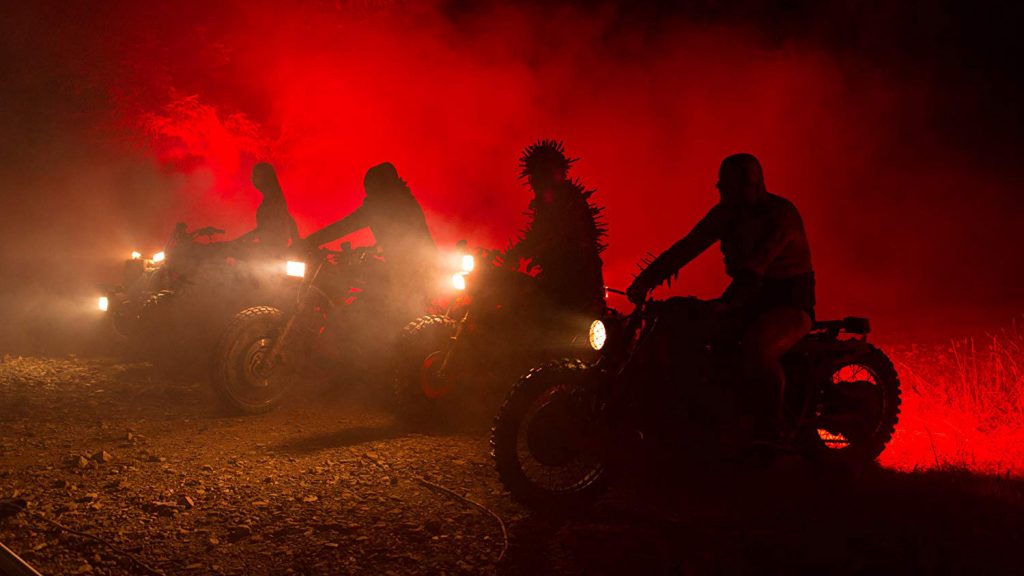 Two important elements of Mandy are provided by the incredible cinematography by Benjamin Loeb and the hauntingly beautiful, synth-soaked score by the late Jóhann Jóhannsson. The bold use of colour is incredibly significant here, with each scene being drenched in a single primary veneer of light and spectacle that is impossible to forget.
Fans of Panos Cosmatos' previous work Beyond The Black Rainbow will recognise his penchant for this spectral display of emotive iridescence. In short, this is a fantastically beautiful film. The striking imagery is perfectly complemented by the dark and undulating tremors of Jóhannsson's score, which evokes shades of Tangerine Dream and Vangelis whilst adding in the extra spice of heavy metal influence that also foreshadows the films style.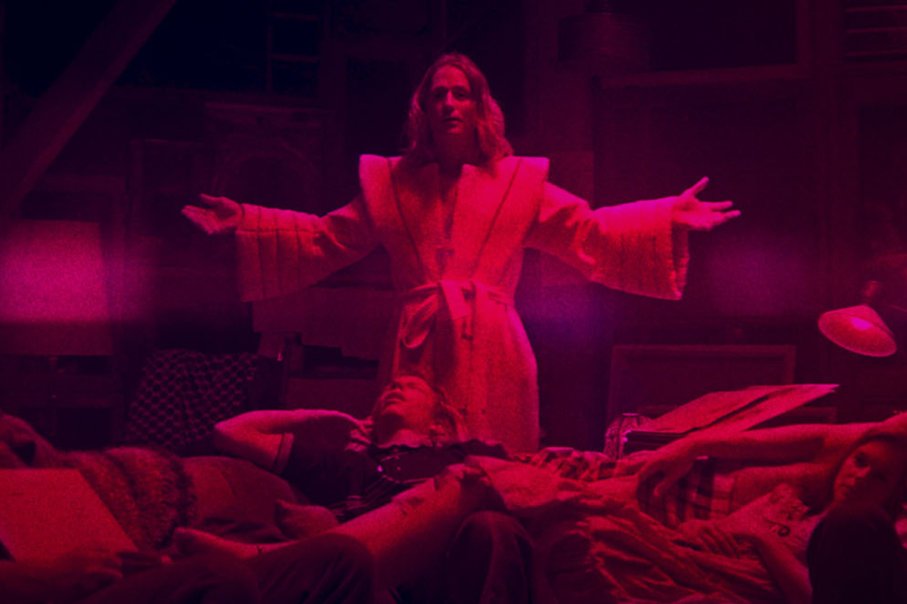 The casting and performances are near perfect. Cage is left to run free as the pain-fuelled angel of vengeance, let loose on an evil so insipid that we rejoice in every blow he reigns down on each of the sick and twisted antagonists on his extensive list. These ghoulish characters are perfect examples of the slack-jawed, inbred hillbilly types that we have been fearing since watching The Hills Have Eyes or Deliverance, all those years ago.
Linus Roache gives a career boosting performance as the main villain, playing against type and creating a terrifyingly egotistical meglomaniac who is so self-obsessed and deranged with delusion that his very existence makes us shudder in fear. There is also a fantastic cameo from Bill Duke whose character Caruthers is seemingly a tribute to The Shining's Scatman Crothers. There is excellent support from Ned Dennehy, Olwen Fouéré and Richard Brake who all play their sychophantic characters to a tee. Not forgetting the titular character played with appropriate pathos by Riseborough, whose Mandy is reminiscent of a young Shelley Duvall with shades of Sissy Spacek's Carrie thrown in for good measure.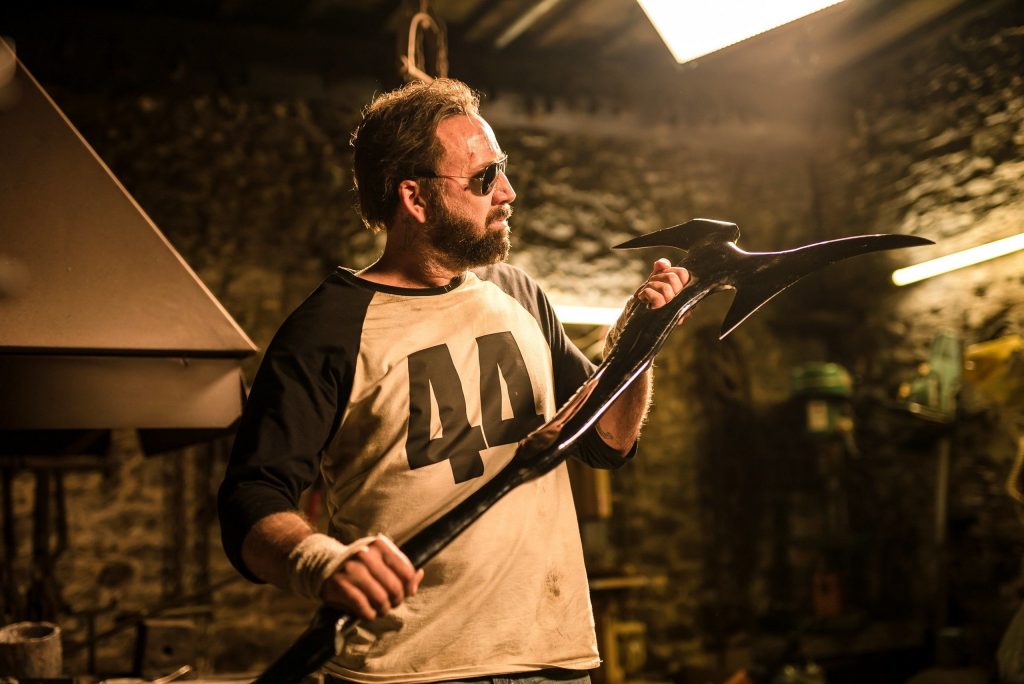 Cosmatos has created a near-perfect piece of genre filmmaking here. Cleverly entwining a plethora of influences to create something that feels very contemporary in its post-modernist approach. The ride is set out before you like a scary rollercoaster. You can see the dips and loops instore but it is the ride itslef that provides the pleasure. The pacing is on point and Mandy never feels overly long or boring at any point, even with the oneiric sequences that revel in slow motion and smoky haziness, this film keeps you gripped from the outset and won't let you go until the very end.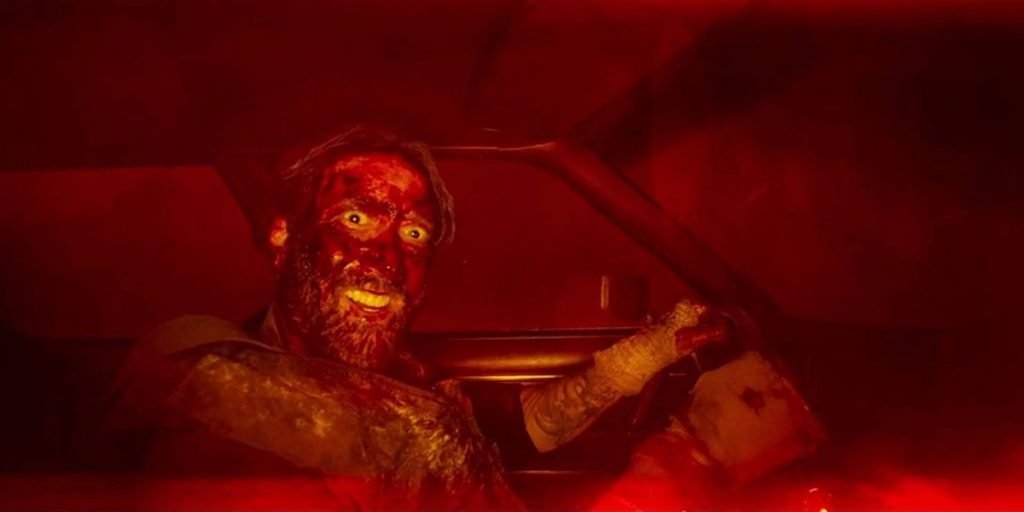 I highly recommend this film to fans of the horror genre and anyone who may have wrote Cage off for some of his recent endeavours will be overjoyed to see a return to form in this incredibly sensuous and at times, hilarious film. It did not perform well at the box office but has gone on to prove a cult favourite with movie-lovers, so if this one slipped past you in the middle of the night when released a few years ago, make sure you wake up and throw it on before someone summons a gang of demon bikers and comes for you in the middle of the night!
Well, that's our review of Mandy
Did you enjoy Mandy? What did you think of our review? Let us know in the comments!
You can read more of our reviews here.
Please join us on social media on Facebook, Instagram, Tik Tok and Twitter. We really appreciate all the likes, shares, retweets etc., and we would love to hear from you and continue the wonderful celebration of all things cinema on these platforms.
If you love to watch videos on YouTube, then please subscribe to our channel here. There's lots of fun and informative videos uploaded that we hope you will enjoy!
We have a passion for movies and aim to produce entertaining and informative movie-related content. It certainly is a lot of hard work, but we love films so much that it's worth all the effort. We have to keep the lights on and make sure we have plenty of caffeine to keep all of the articles, videos and social media posts coming, so if you like our work, then please consider supporting us at Buy Me A Coffee here. You can also become a More Movies patron on Patreon here.
To help support us here at More Movies, we do use advertising in a few places, so we appreciate it if you do not use AdBlockers on our site, as this helps keep a few pennies trickling in. We also utilise affiliate links throughout the site, usually to help guide our readers to places to stream, rent or buy the movies we talk about. One of the biggest sources for movies online is Amazon Prime Video, where you can stream over 18,000 films. If you are interested in Prime and haven't signed up yet, you can get a 30-day free trial via this affiliate link, which helps support us too.