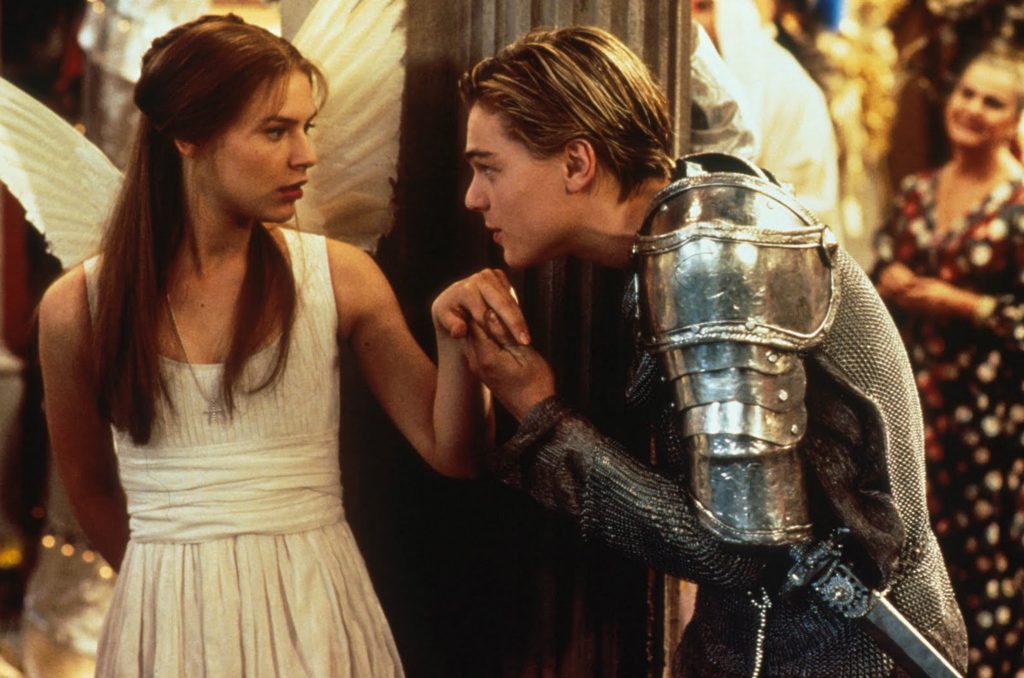 With Valentine's Day here once again, it's time to look on the Blu-ray / DVD shelf or the streaming service for some good old slushy romantic films! Lots of us to watch these warm and fuzzy tales of passion, love at first sight, life-long romance, unrequited love and broken hearts, even if we swear blind that we don't!
Over the years there have been oodles of romantic films churned out by Hollywood and the rest of the planet for that matter. It seems that love really does make the world go round. So, without waiting for a second arrow from Cupid's bow, we present to you our Top 9 Romantic Films…
1. Casablanca (1942)
Humphrey Bogart and Ingrid Bergman star in this story of two lovers that were pulled apart and then brought back together by the dangers and horrors of the Second World War. Both actors give blistering performances, producing a timeless and iconic romantic on-screen couple that evoke archetypal imagery of cinematic chemistry. If you've never Casablanca (1942), it's never too late to immerse yourself in this classic love story. If you have seen it before, you probably fancy watching it again, right? "Here's looking at you, kid!"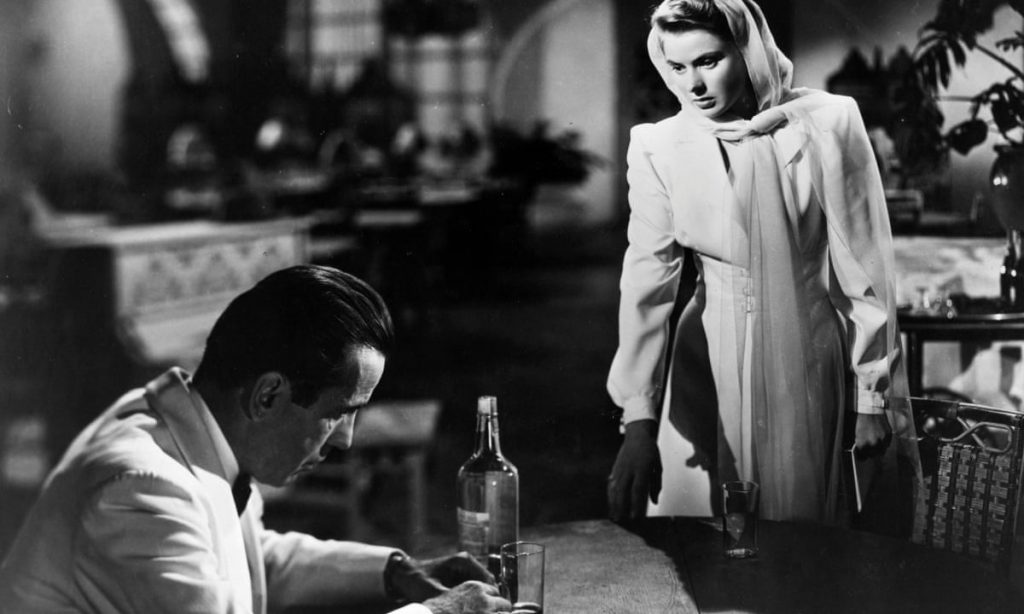 In Casablanca, Morocco in December 1941, a cynical American expatriate meets an old flame, the love of his life. He must decide whether or not to help his former lover and her fugitive husband escape the Nazis.
2. Titanic (1997)
One of the most successful films ever produced, James Cameron's epic story of the ill-fated ship which sank on its maiden voyage, combines action, suspense and a huge dollop of juicy romance. Kate Winslet and Leonardo DiCaprio are perfect as Rose and Jack, two young love-birds who are divided by class but ultimately united by their deep feelings for one another. Watching Titanic (1997) requires a box of tissues to mop up all the blubbering that you will undoubtedly partake in, during the film's dramatic climax. A modern masterpiece that has all the ingredients of a classic love story.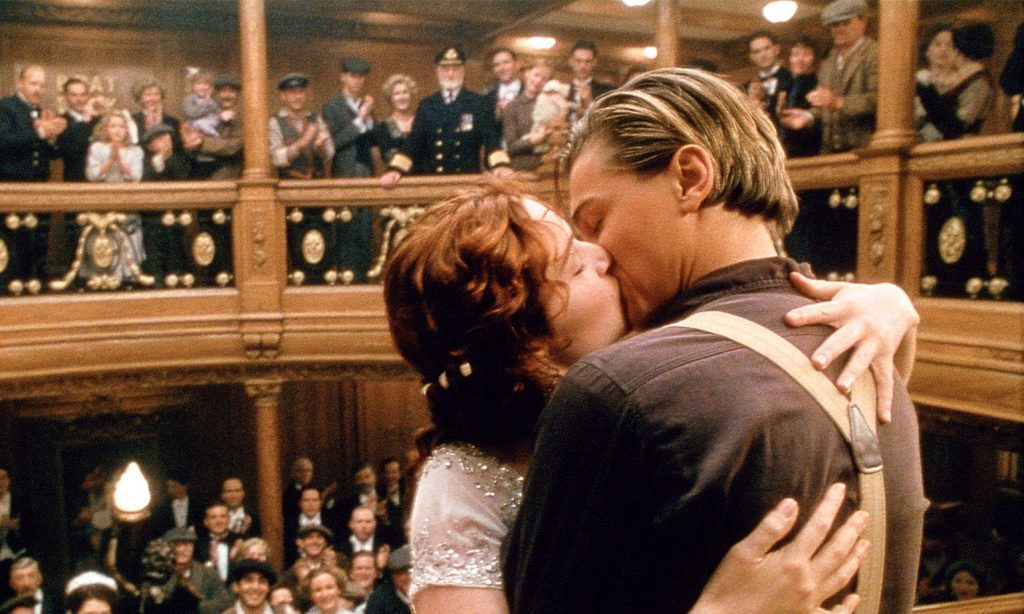 101-year-old Rose DeWitt Bukater tells the story of her life aboard the Titanic, 84 years later. A young Rose boards the ship with her mother and fiancé. Meanwhile, Jack Dawson and Fabrizio De Rossi win third-class tickets aboard the ship. Rose tells the whole story from Titanic's departure through to its death—on its first and last voyage—on April 15, 1912.
3. Portrait of a Lady on Fire (2019)
Directed by Céline Sciamma and starring Noémie Merlant and Adèle Haenel, Portrait of a Lady on Fire (2019) is the first French-language film on our list, but not the last. I mean, who knows more about love than the French, right? This historical drama takes place in a remote but stunning location, where two young women find solace and true love with one another in the brief time that they are together. The cinematography is incredible, and each frame is steeped in beauty and passion. As A.O. Scott of the NY Times put it; "less a chronicle of forbidden desire than an examination of how desire works". Highly recommended viewing.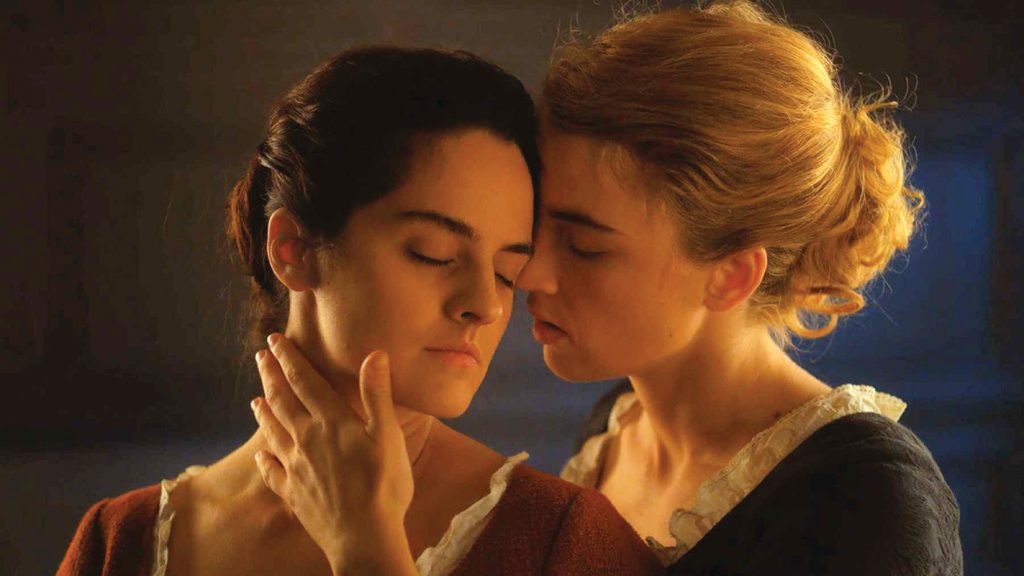 On an isolated island in Brittany at the end of the eighteenth century, a female painter is obliged to paint a wedding portrait of a young woman, with the caveat that it must be done in secret as the subject will not pose for the painting. In the solitude of the setting, a love blossums between painter and model.
4. Dirty Dancing (1987)
No one who was alive in the 1980s was able to escape this film! As a young lad, I was subjected to seeing it over and over again, it being a favourite of both my mum and sister. I hated it then, and would much rather have been watching Robocop (also a love story) than being made to sit through another few hours of Patrick Swayze and Jennifer Grey grinding on each other ad nauseam. Alas, I have grown a little since those heady 80s afternoons and I must admit that Dirty Dancing (1987) is a bonifide classic and a sure-fire hit for anoyone who revels in a great love story, with lots of wonderfully choreographed dance scenes and an amazing rock n' roll soundtrack.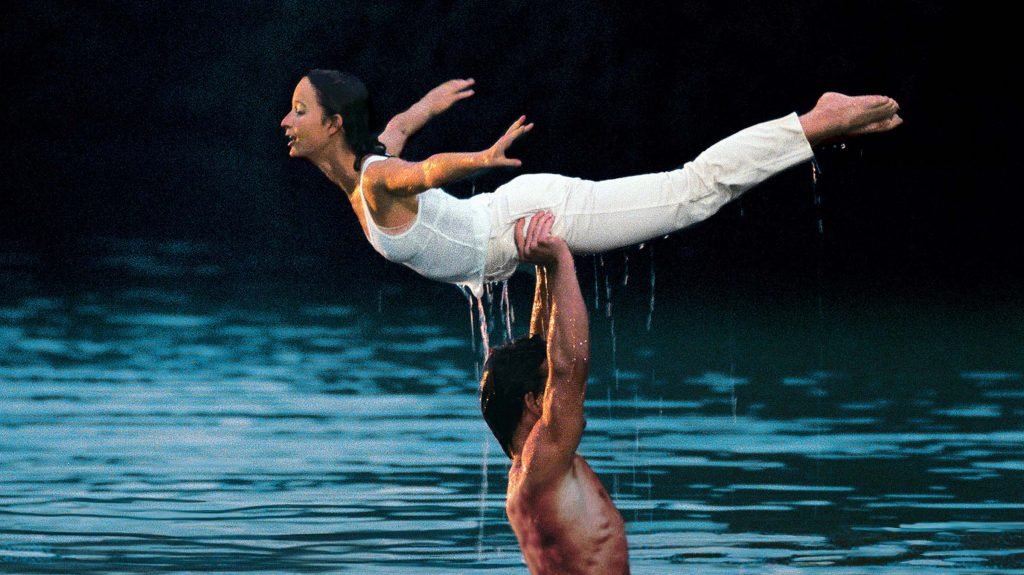 Expecting the usual tedium that accompanies a summer in the Catskills with her family, 17-year-old Frances 'Baby' Houseman is surprised to find herself stepping into the shoes of a professional dancer—and unexpectedly falling in love with the resorts hunk of a dance teacher.
5. Brokeback Mountain (2005)
An incredibly important film at the time, in terms of breaking down barriers and raising awareness. Ang Lee's beautiful and heart-breaking film about two modern-era cowboys who find love on a summer shepherding job, is incredibly moving. The leads Heath Ledger and Jake Gyllenhaal give powerful renditions as Ennis and Jack, two men unable to admit their love for one another due to the intolerance and bigotry of the times they live in. A remarkable film that deserves to be seen by everyone, despite sexual orientation, Brokeback Mountain (2005) is a modern masterpiece. Warning, this one is another tear-jerker.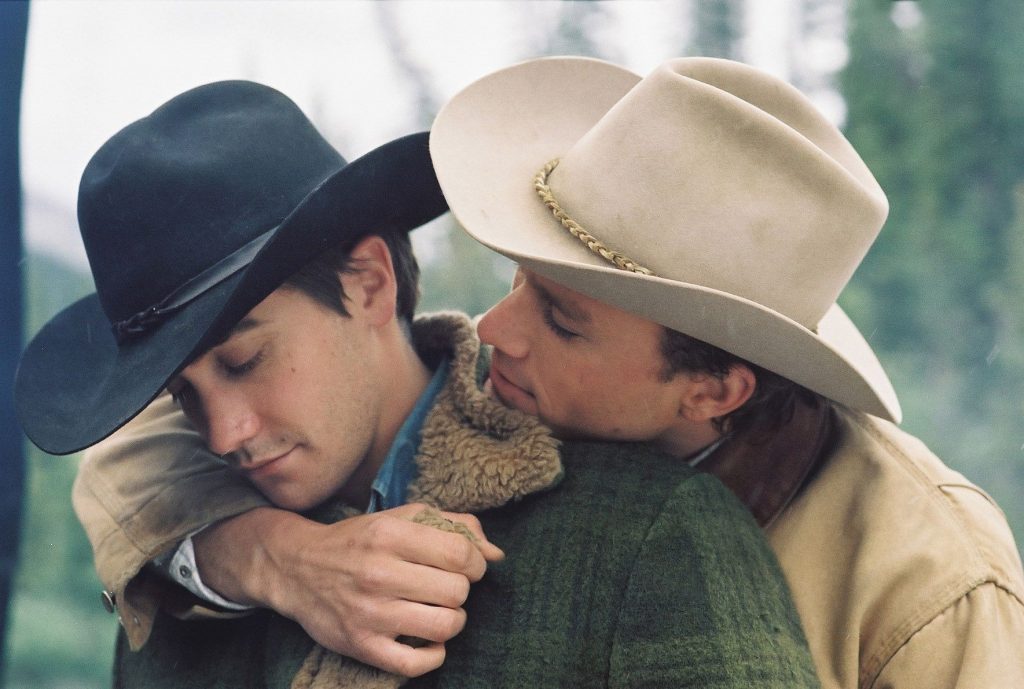 Two modern-day cowboys meet on a shepherding job in the summer of 1963 on Brokebabck Mountain. The two share a raw and powerful summer together that turns into a lifelong relationship of conflict and regret.
6. The Notebook (2004)
Speaking of tear-jerkers, The Notebook (2004) is probably the most tear-inducing film on our list. Son of John Cassavetes and Gena Rowlands (who stars in the film), Nick Cassavetes directs Ryan Gosling and Rachel McAdams as two people who are kept apart by their social standings. Noah is a young man of modest means who falls for Allie, a beautiful girl from a rich background. With everything in their way trying to prevent their union, the two lovers must overcome all odds in order to be together and therein, truly happy in their lives. Told in a series of flashbacks read from 'the notebook', this touching and surprising story is a major favourite with fans of the romantic film genre.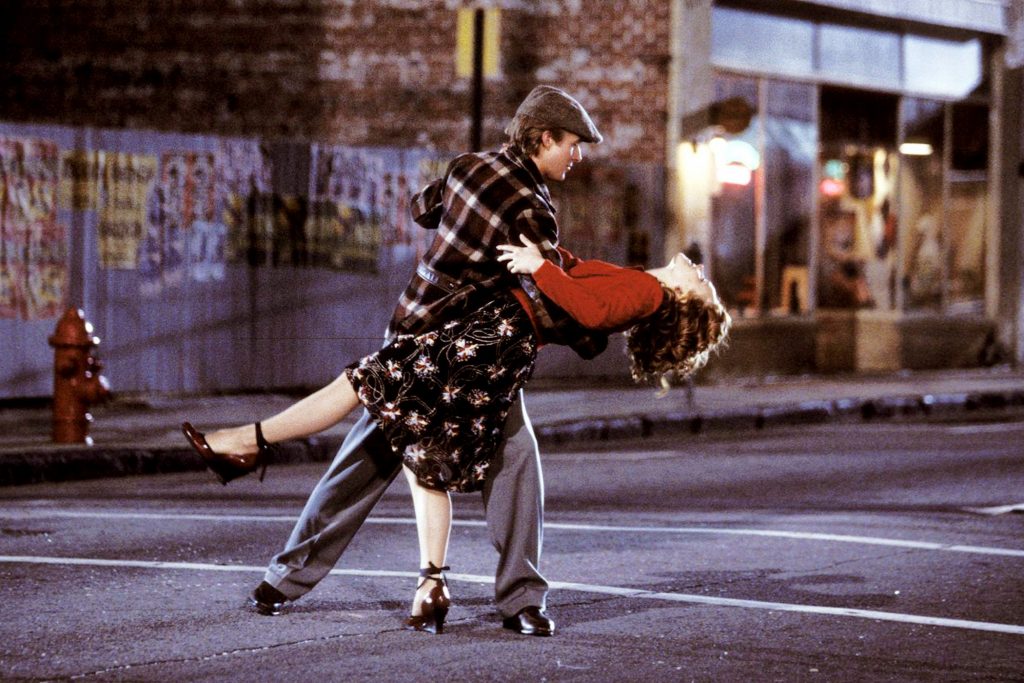 An epic love story centered around an older man who reads aloud to a woman with Alzheimer's disease. From a faded notebook, the old man's words bring to life the story about a couple who is separated by World War II, and is then passionately reunited, seven years later, after they have taken different paths.
7. Amélie (2001)
The second of our Frech language picks, Amélie (2001) stars Audrey Tautou as the titular character in this incredible and magical film from director Jean-Pierre Jeunet. There's style, laughter and the usual amount of French flair in this story about a young do-gooder who spends all her time secretly attempting to bring others together and helping them find love. But when she meets the man of her dreams, will young Amélie be able to overcome her inherent shyness and let the course of true love run free? A beautiful movie that is visually stunning; once seen never forgotten.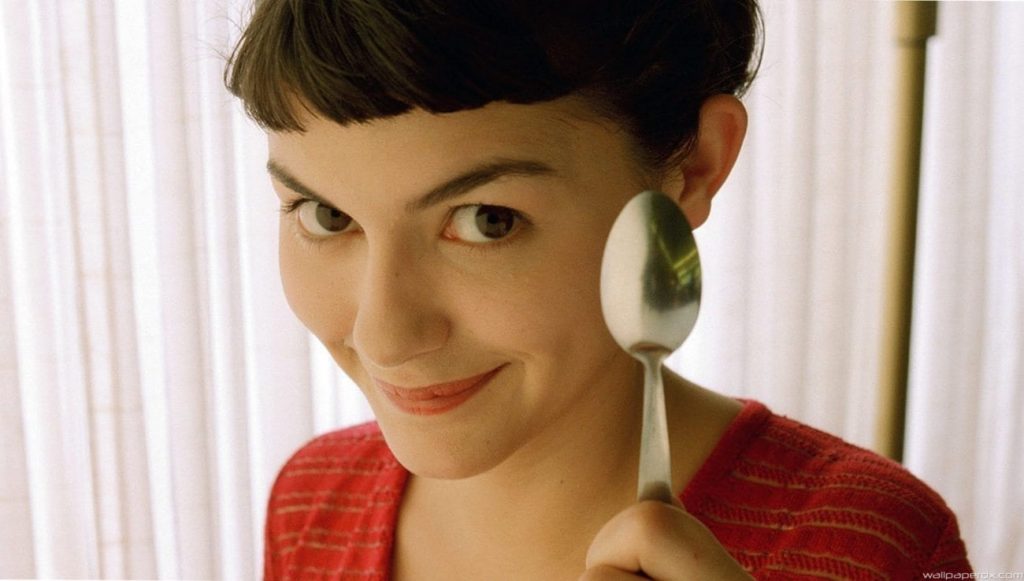 At a tiny Parisian café, the adorable yet extremely shy Amélie accidentally discovers a gift for helping others. Soon she is spending her days as a matchmaker, guardian angel, and all-around do-gooder. But when she bumps into a handsome stranger, she must find the courage to become the star of her very own love story.
8. Pretty Woman (1990)
Back to the 90s for this entry, and what a modern classic this film truly is! Garry Marshall directs Richard Gere and Julia Roberts, two of the biggest stars of the time, in a modern-day spin on the Cinderella story. Roberts plays Vivian, a professional Hollywood hooker who is picked up by Edward, a rich and successful businessman. He hires her services for the week in need of an escort but gets more than he bargains for when he falls head over heels for the beautiful and enigmatic prostitute. A timeless love story that has seen countless interpretations, Pretty Woman (1990) is one of the best and most iconic Hollywood romantic films of the modern age.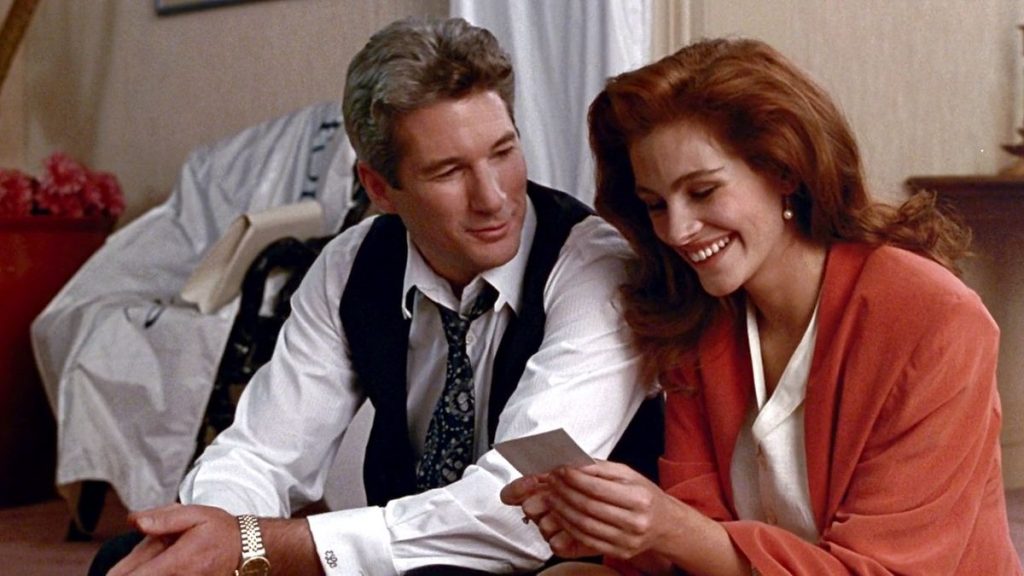 When Edward Lewis a millionaire wheeler-dealer, enters a business contract with Hollywood hooker Vivian Ward, he loses his heart in the bargain. A Cinderella story for the modern age, Edward must overcome his greatest fears if he is to keep Vivian by his side.
9. The Bodyguard (1992)
Kevin Costner and Whitney Houston star in this action thriller that is also a cleverly disguised romantic love story. He is a ex-secret service agent, she is the world's biggest pop sensation, and when her life is threatened by a maniacal fan, she needs a bodyguard who knows what he is doing. Initially the pair rub each other up the wrong way, but eventually, they rub each other up the right way and fall in love. This is a dangerous predicament for both of them as their feelings could get in the way of their professional relationship, something which could have deadly consequences. The Bodyguard (1992) is a bit corny and probably a little dated now, but it's a great choice if you like a bit of action with your romance and also a stark reminder of how beautiful and talented the late Whitney Houston was.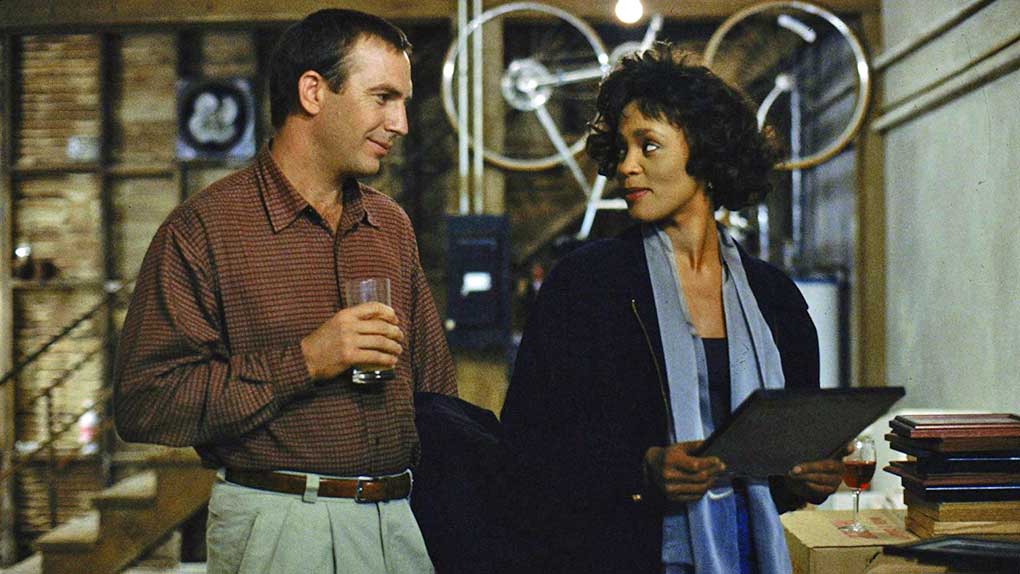 A former Secret Service agent grudgingly begins an assignment to protect a pop idol who's threatened by a crazed fan. At first, the safety-obsessed bodyguard and the self-indulgent diva totally clash. But before long, all that tension sparks fireworks of another sort, and the bodyguard is torn between duty and romance.
That's our top 9 romantic films!
Think we've missed any out, or not included your favourite romantic movie? Then let us know in the comments below.
You can read more of our articles here.
Please join in 'the conversation' with us on social media on Facebook, Instagram, Tik Tok and Twitter. We really appreciate all the likes, shares, retweets etc., and we would love to hear from you and continue the wonderful celebration of all things cinema on these platforms.
If you love to watch videos on YouTube, then please subscribe to our channel here. There's lots of fun and informative videos uploaded that we hope you will enjoy!
We have a passion for movies and aim to produce entertaining and informative movie-related content. It certainly is a lot of hard work, but we love films so much that it's worth all the effort. We have to keep the lights on and make sure we have plenty of caffeine to keep all of the articles, videos and social media posts coming, so if you like our work, then please consider supporting us at Buy Me A Coffee here. You can also become a More Movies patron on Patreon here.
To help support us here at More Movies, we do use advertising in a few places, so we appreciate it if you do not use AdBlockers on our site, as this helps keep a few pennies trickling in. We also utilise affiliate links throughout the site, usually to help guide our readers to places to stream, rent or buy the movies we talk about. One of the biggest sources for movies online is Amazon Prime Video, where you can stream over 18,000 films. If you are interested in Prime and haven't signed up yet, you can get a 30-day free trial via this affiliate link, which helps support us too.