The Crow is a 1994 action-thriller starring the late Brandon Lee and directed by Australian Alex Proyas. Released a few years after Tim Burton's two Batman films, it borrowed heavily from the Burton style of production design, which gives the film a very gothic and noir-inspired look. The tagline on the original posters stated 'Darker Than the Bat' as a direct reference to the Batman franchise and hinting at the fact that this film is much more violent and grittier than Burton's Caped Crusader films.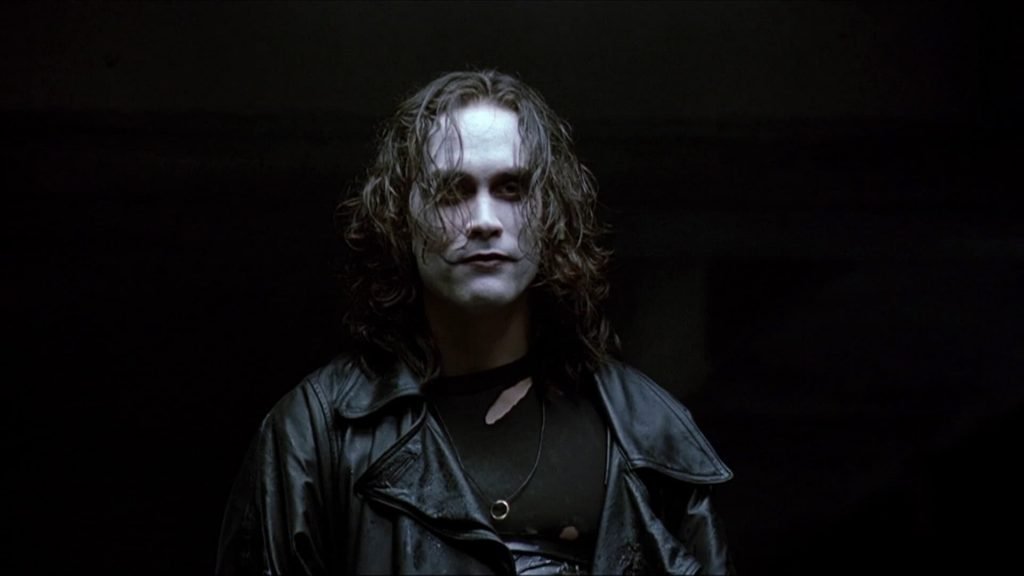 Not technically a horror film, more of an action movie with horror and fantasy influences, The Crow is based on a comic book of the same name written by James O'Barr and released in 1989. The story takes place on Devil's Night (October 30th) the eve of Halloween. A night when the cities low-life gangs traditionally go out and raise hell by burning buildings, committing heinous crimes and generally wreaking havoc all over town.
The central character Eric Draven (Lee) comes home to his apartment to find his girlfriend is being brutally beaten and sexually assaulted. He in turn is horrifically killed by her attackers and thrown from the window of their top floor apartment. A year later, Eric is brought back from the dead by a mystical crow in order to avenge the death of his beloved.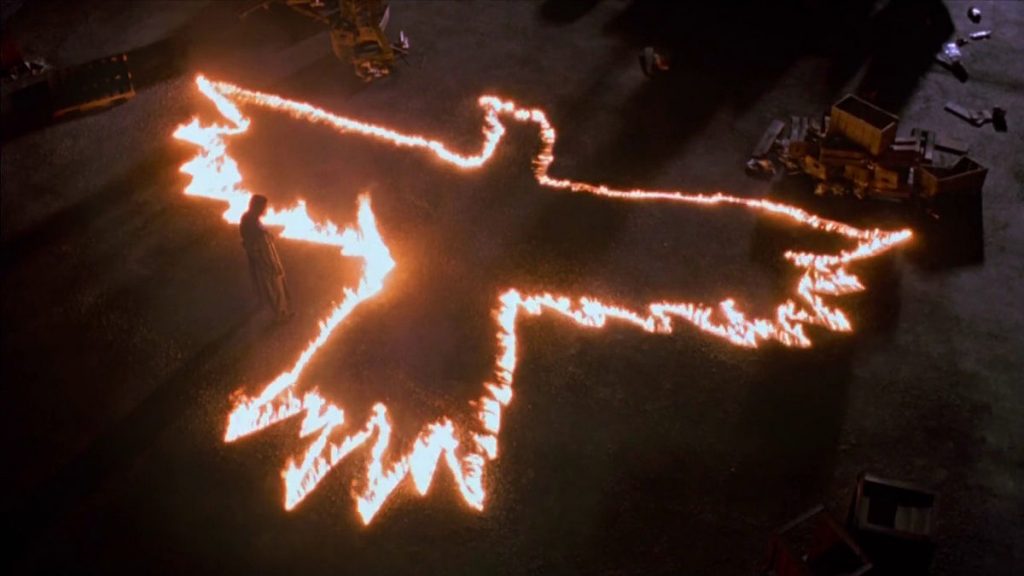 Eric is aided on his journey of revenge by the mysterious crow, who gives him the power of immortality, making him impervious to injuries or pain. He is also helped out by a local Police officer, Sgt. Albrecht (played by Ernie Hudson) who befriends both Eric and a teenager called Sarah. Sarah's Mum is a heroine addict, so the young girl was looked after by Eric and his fiancé Shelley, before they were murdered. Albrecht investigated the murder of Eric and Shelley but was unable to prove the gang's guilt.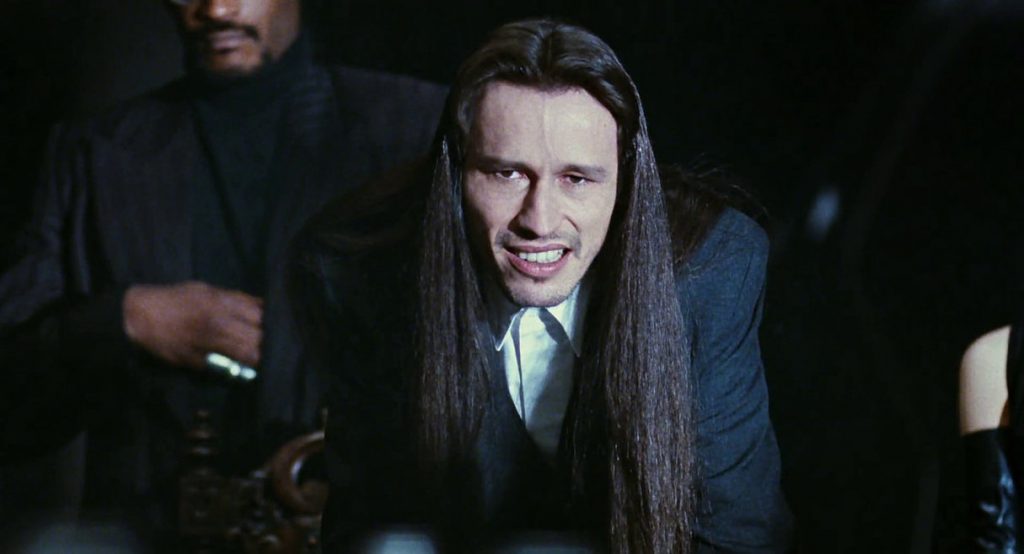 Throughout the film, Eric tracks down the gang of murderers one by one and kills them until there is only one left. The last gang member is being protected by an evil crime syndicate. Eric faces-off with the syndicate's boss Top Dollar (played by the excellent Michael Wincott) and becomes embroiled in a fight with the entire entourage. The film builds to an exciting climactic finish which puts a very gothic and grungey spin on the fight between good and evil.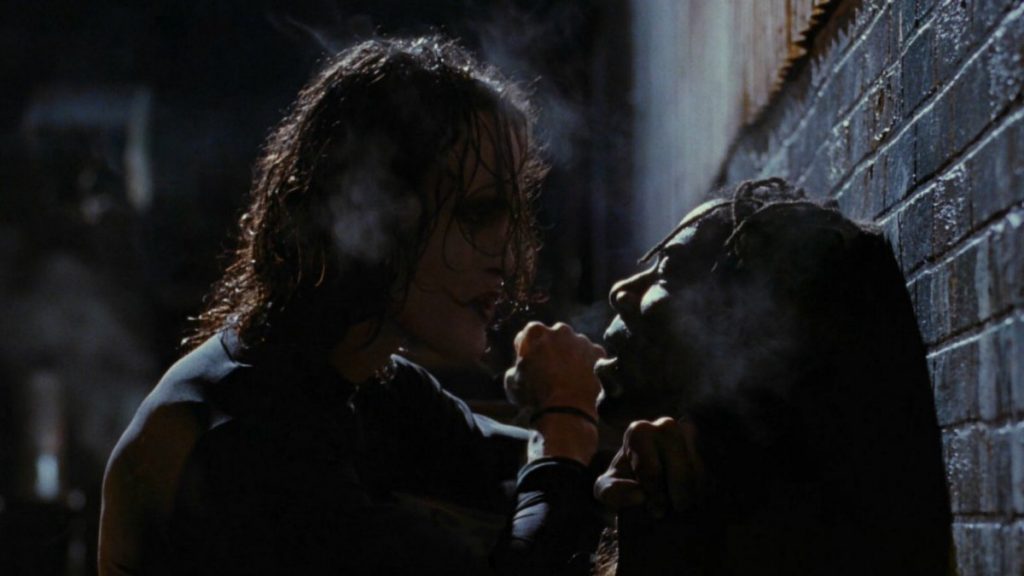 The film was plagued with production problems and due to the low budget and time constraints, the rising star (son of the legendary Bruce Lee) was accidentally killed during filming, when a prop gun discharged a projectile and he was shot in the chest. Initially intended for a straight-to-video release, Miramax eventually picked up the incomplete film, pumped millions of dollars into finishing it and The Crow went on to be a financial and critical success. The death of it's main star and the dark nature of the film's content may have had a lot to do with it selling so well at the time and has certainly added to the cult appeal of this classic nineties comic book adaptation.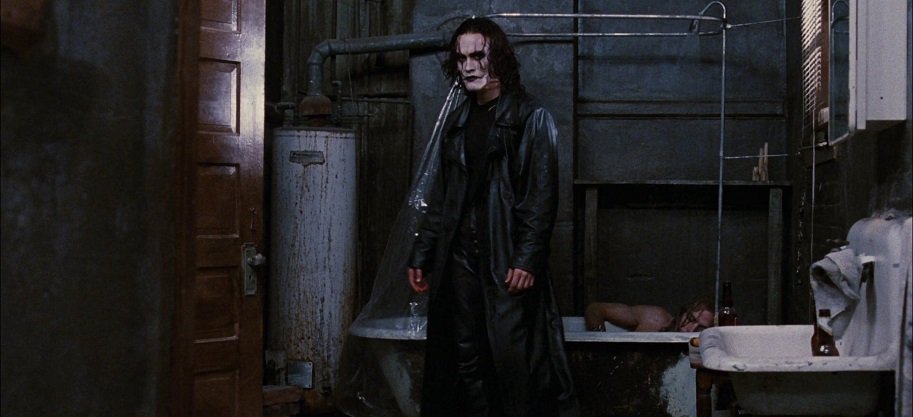 I first watched The Crow when it was released in the nineties. Although it has dated slightly since then, it still holds up as an exciting and dark film. The dialogue is edgy and the performances are solid and played with integrity. Most notably Michael Wincott as the insidious villain and also Jon Polito who plays Gideon, a sleazy pawnbroker who is allowed to live, in order to deliver the message to the other gang members that "Death is coming for them!" Ernie Hudson also provides excellent support as Albrecht and brings a warmth and familiarity to an otherwise dank and cold picture.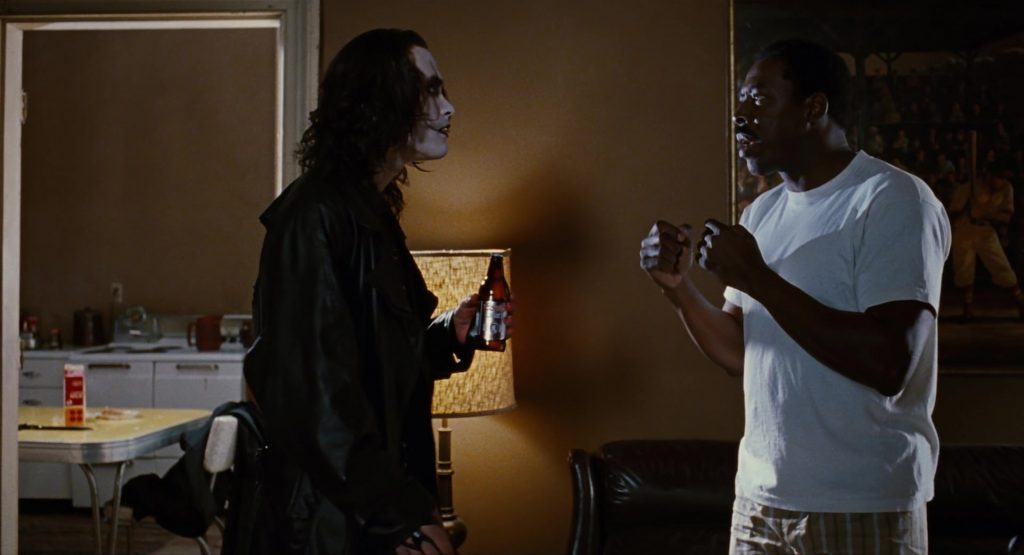 The soundtrack is excellent, bands such as The Cure, Nine Inch Nails, Rage Against the Machine and Pantera add a hard-edged, rocking musicality that is indicative of the nineties and adds to the neo-gothic elements of the film.
This movie is basically a tragic love story in which the central character is brought back from the dead to exact terrible vengeance on his assailants. The incessant rain and the dark look of the film (99% of the scenes take place at night) provide the perfect backdrop to this particular tale of supernatural revenge. The action is well choreographed and Brandon Lee's performance is excellent as the spooky ghost-like avenger.
The Crow provided Lee with a role he could get his teeth into and had he lived to enjoy the films success, he would've undoubtedly gained more respect and therefore offers of better roles in the future. This film may have provided a break from the martial arts fare he had starred in previously. Just like his father, he did not survive to enjoy his popularity and cult status which is a great shame, as in my opinion both Bruce and Brandon had a great potential as movie actors that was over-shadowed by their abilities as martial artists.
Did you enjoy this article about The Crow?
You can read more of our film reviews here.
Please join us on social media on Facebook, Instagram, Tik Tok and Twitter. We really appreciate all the likes, shares, retweets etc., and we would love to hear from you and continue the wonderful celebration of all things cinema on these platforms.
If you love to watch videos on YouTube, then please subscribe to our channel here. There's lots of fun and informative videos uploaded that we hope you will enjoy!
We have a passion for movies and aim to produce entertaining and informative movie-related content. It certainly is a lot of hard work, but we love films so much that it's worth all the effort. We have to keep the lights on and make sure we have plenty of caffeine to keep all of the articles, videos and social media posts coming, so if you like our work, then please consider supporting us at Buy Me A Coffee here. You can also become a More Movies patron on Patreon here.
To help support us here at More Movies, we do use advertising in a few places, so we appreciate it if you do not use AdBlockers on our site, as this helps keep a few pennies trickling in. We also utilise affiliate links throughout the site, usually to help guide our readers to places to stream, rent or buy the movies we talk about. One of the biggest sources for movies online is Amazon Prime Video, where you can stream over 18,000 films. If you are interested in Prime and haven't signed up yet, you can get a 30-day free trial via this affiliate link, which helps support us too.