He's the world's favourite super-spy, and now that he's back in his latest adventure, No Time To Die, we thought we would rank all of the James Bond movies from best to worst. Of course, when we say "all", we mean all of the "official" movies from the long-running franchise, so we have not included the comedy spoof Casino Royale (1967) starring David Niven, Woody Allen and Peter Sellers, or Never Say Never Again (1983) which was produced by Warner Bros. and saw Sean Connery return to the role in a rehashed version of Ian Fleming's novel Thunderball.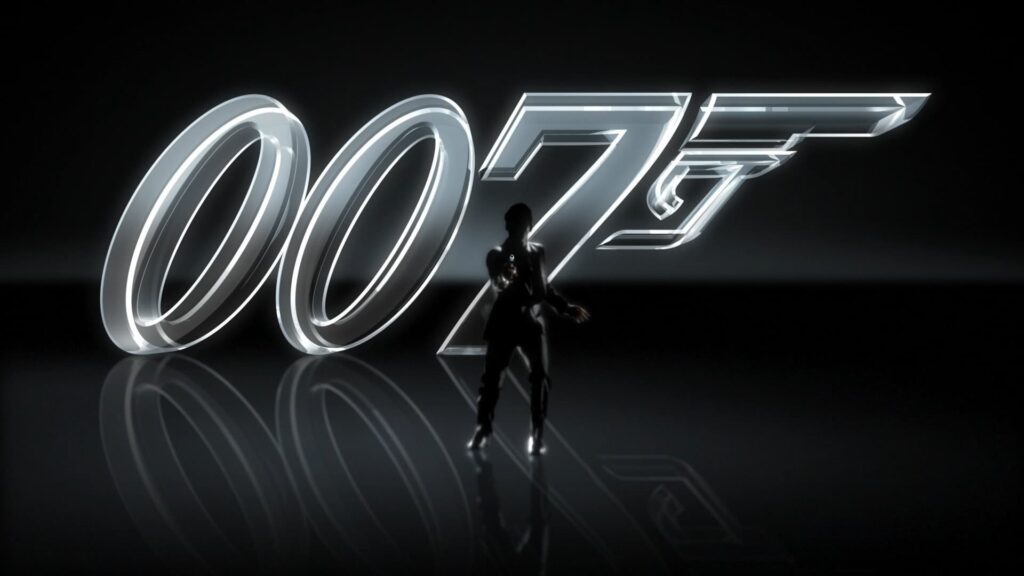 Dating all the way back to 1962, the James Bond franchise has now clocked up 25 official movies, which have seen six different actors play the role of 007. Synonymous with glamourous locations, world-beating stunt work, explosive action, hilarious one-liners, hi-tech cars, gadgets, guns and high fashion, these movies have become a British institution and enjoy huge popularity the world over. Some of the films are better than others, so we have spent a good amount of time debating the Bond saga in order to place all 25 films in a ranking list that we feel best reflects the anthology.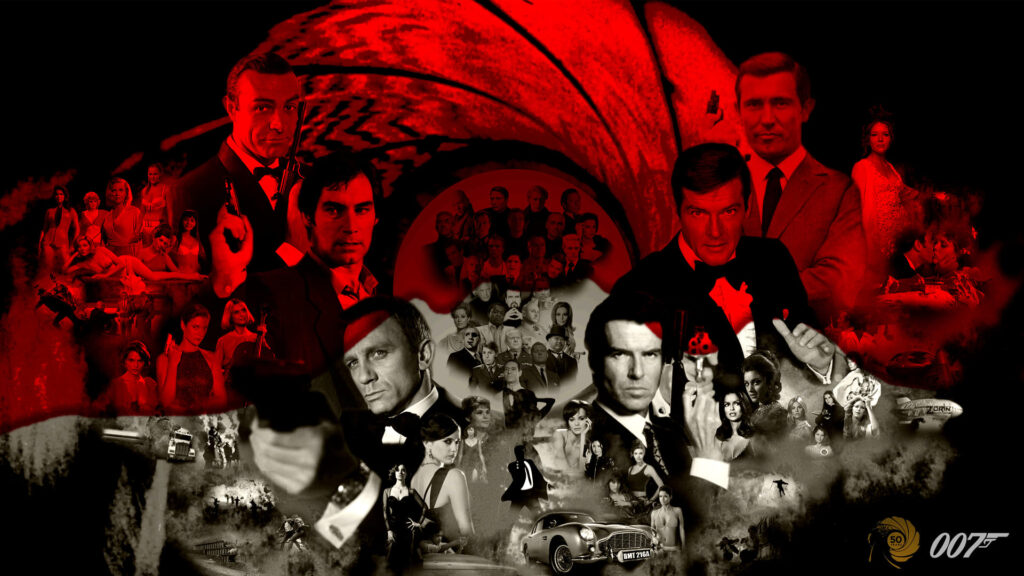 Believe it or not, this was not an easy task for us. Everyone has their favourite James Bond actor and 007 film, and to be honest, and it is really just a matter of opinion when it comes down to what is best or worst. Some people prefer the gritty realism of the newer films, and others prefer the original outings made in the 60s. The debate over who is the best James Bond is still raging, and there is simply no accounting for taste. Suffice to say, when we were finally agreed on our definitive list, we were somewhat shaken, but not stirred!
So, without further a do, here our All of the James Bond Movies ranked from best to worst…
1. Goldfinger (1964)
James Bond: Sean Connery
Director: Guy Hamilton
Producers: Harry Saltzman and Albert R. Broccoli
Distributor: United Artists
Goldfinger (1964) is quintessentially James Bond. It introduced all the elements that the franchise would become known and loved for in one fantastic movie. Gert Fröbe as the titular villain, is incredibly charismatic and a brilliant foil to Bond, throwing around funny one-liners such as "No, Mr Bond, I expect you to die", just like our very own 007. Shirley Eaton as Jill Masterson meets her iconic demise covered in gold paint, and Honour Blackman provides some Bond-girl power as the humorously named Pussy Galore.
Connery is on top form here as the arrogant and reckless super spy. This was his third outing as Bond, and you can see how comfortable he has become with the character, making it his own and enjoying every second. The Shirley Bassey theme song set the standard and accompanied a dazzling opening title sequence, and the tricked out Aston Martin with an ejector seat was an instant classic. Goldfinger, in our opinion, is the perfect James Bond movie.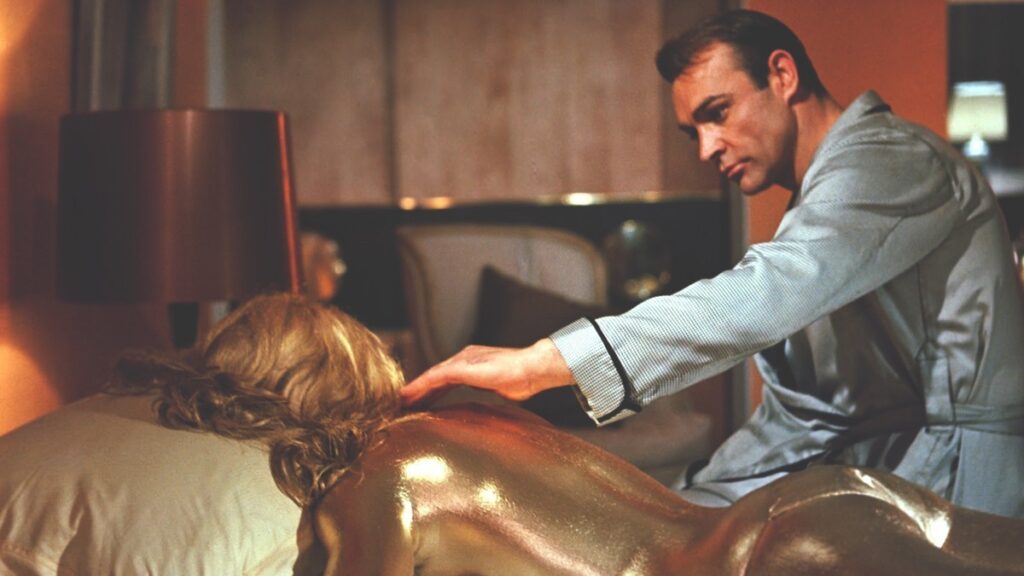 Special agent 007 (Sean Connery) comes face to face with one of the most notorious villains of all time, and now he must outwit and outgun the powerful tycoon to prevent him from cashing in on a devious scheme to raid Fort Knox — and obliterate the world's economy.
2. Skyfall (2012)
James Bond: Daniel Craig
Director: Sam Mendes
Producers: Barbara Broccoli and Michael G. Wilson
Distributor: Sony Pictures Releasing
In Daniel Craig's third performance as 007, we learn about Bond's secretive past as he faces his deadliest enemy yet in the form of the dastardly Raoul Silva. With an explosive opening pre-title sequence that sees Bond shot by Moneypenny and left for dead, the action and intrigue is ramped up to the limit and all the ingredients that make a quintessential Bond movie are present.
Skyfall (2012) is in our second slot for good reason. In this adventure, Bond must draw on all his experience in order to keep up with the bad guys. The incredible action sequences are electrifying, and the sense of peril is heightened when MI6 is targeted, seeing flames over the London skyline, evoking visions of real-life terror that secure our emotional investment in this particular chapter.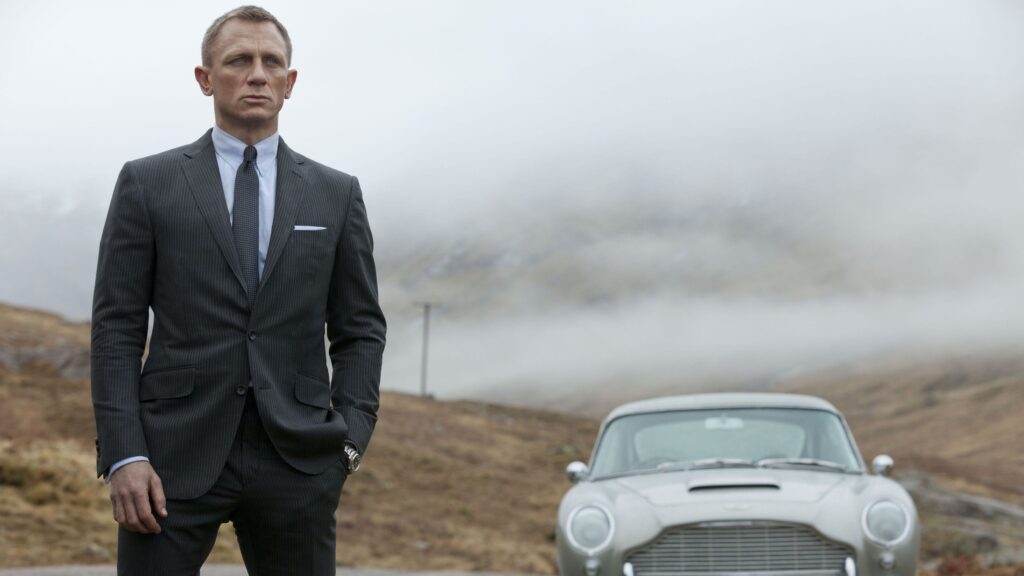 When James Bond's (Daniel Craig) latest assignment goes terribly wrong, it leads to a calamitous turn of events: Undercover agents around the world are exposed, and MI6 is attacked, forcing M (Judi Dench) to relocate the agency. With MI6 now compromised inside and out, M turns to the one man she can trust: Bond. Aided only by a field agent (Naomie Harris), Bond takes to the shadows and follows a trail to Silva (Javier Bardem), a man from M's past who wants to settle an old score.
3. Live and Let Die (1973)
James Bond: Roger Moore
Director: Guy Hamilton
Producers: Harry Saltzman and Albert R. Broccoli
Distributor: United Artists
Despite being older than Connery by three years, Roger Moore took over the role of 007 in Live and Let Die (1973). Moore immediately carved his own path with the character and transformed the franchise, ushering in a new era for James Bond that would see the films become slightly lighter in tone, yet successfully maintain a mass appeal during what would become an incredibly competitive decade in terms of box office success.
This movie is arguably Moore's best Bond. It is still quite edgy despite the highly polished Roger Moore quips and gags. It was as close as James Bond films got to Blaxploitation cinema, with an incredible performance from Yaphet Kotto as the sinister Kananga, Geoffrey Holder as Baron Samedi and Julius Harris as the ice-cool Tee Hee.
There's also a memorable turn from Clifton James as the archetypal redneck sheriff and the incredible Jane Seymour as the mysterious Solitaire. Bond has to voodoo what you don't dare do in order to live and let die, and as far as the franchise goes, this one has to be earmarked as one of the very best. Live and Let Die also contains one of the greatest Bond theme songs ever!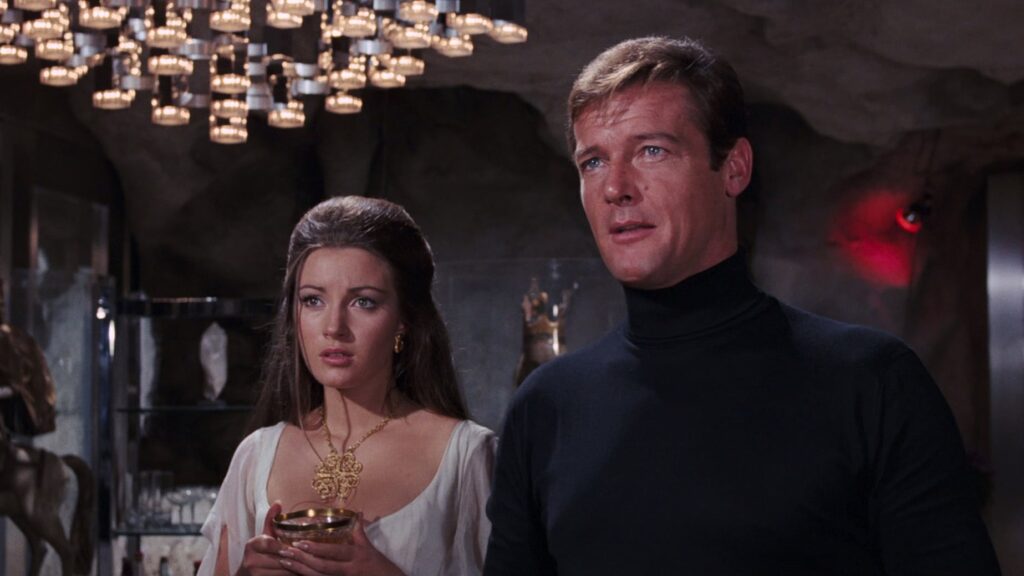 When Bond (Roger Moore) investigates the murders of three fellow agents, he finds himself a target, evading vicious assassins as he closes in on powerful Kananga (Yaphet Kotto). Known on the streets as Mr. Big, Kananga is coordinating a global threat, using tons of self-produced heroin. As Bond tries to unravel the mastermind's plan, he meets Solitaire (Jane Seymour), a beautiful tarot-card reader, whose magic is crucial to the crime lord.
4. GoldenEye (1995)
James Bond: Pierce Brosnan
Director: Martin Campbell
Producers: Barbara Broccoli and Michael G. Wilson
Distributor: Metro-Goldwyn-Mayer
By the time it came to GoldenEye (1995), the James Bond franchise seemed a bit old hat. After years of declining box office and poor films, plus confounding legal issues over the franchise, it may have been curtains for the films. But GoldenEye ushered in Pierce Brosnan to the role and delivered one of the finest films in the long history of the series.
Director Martin Campbell injected vital life into the franchise, updating the series with a more modern style and grittier storyline. Sean Bean's iconic performance as the villainous 006 and Dame Judi Dench's debut as M raised the bar. All the pieces come together to form an even more appealing whole. When coupled with some of the best action set-pieces in the franchise, we are left with the best Bond movie of the decade.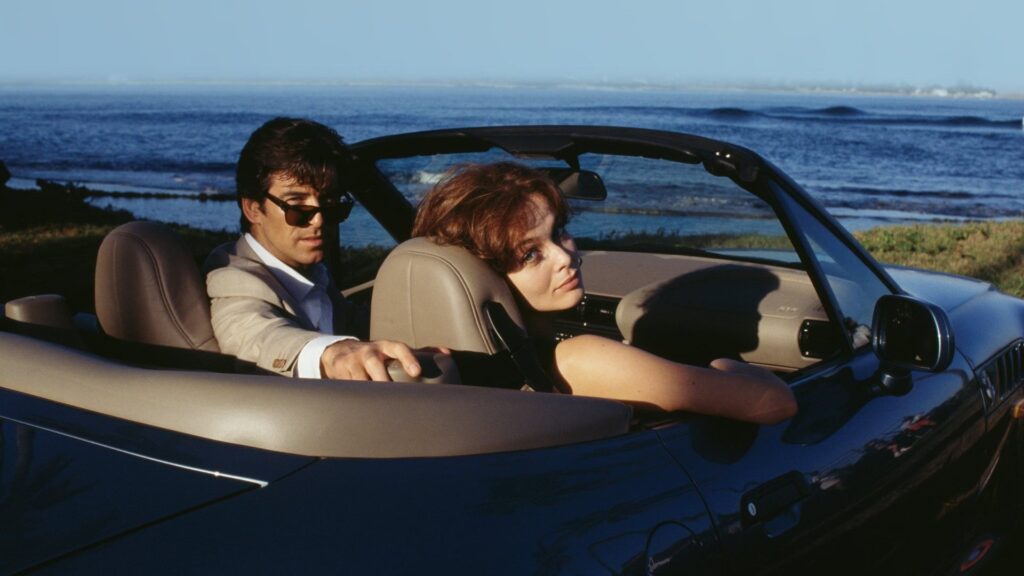 When a powerful satellite system falls into the hands of Alec Trevelyan, AKA Agent 006 (Sean Bean), a former ally-turned-enemy, only James Bond (Pierce Brosnan) can save the world from an awesome space weapon that could destroy the planet! As Bond squares off against his former compatriot, he also battles Trevelyan's stunning ally, Xenia Onatopp (Famke Janssen), an assassin who uses pleasure as her ultimate weapon.
5. From Russia With Love (1963)
James Bond: Sean Connery
Director: Terence Young
Producers: Harry Saltzman and Albert R. Broccoli
Distributor: United Artists
From Russia With Love (1963) is an excellent film with both a gritty affair and an exciting cinematic adventure. Faithful to the novel, this entry was one of the rare Bond outings that continued on from the previous with the shady SPECTRE seeking revenge on Bond for the death of Dr. No. We are also introduced to Q and his array of gadgets for the first time, we hear the first mutterings about a mysterious man named Blofeld, and this is the first time we get a pre-credits sequence.
Most of all, From Russia with Love is known for having the best fight scene in the franchise between Connery's Bond and Robert Shaw's Red Grant, which takes place on a moving train. This scene was brutal and felt very real, and it inspired the fighting style used later in the series, especially with the Daniel Craig films, as well as other similar films across the industry.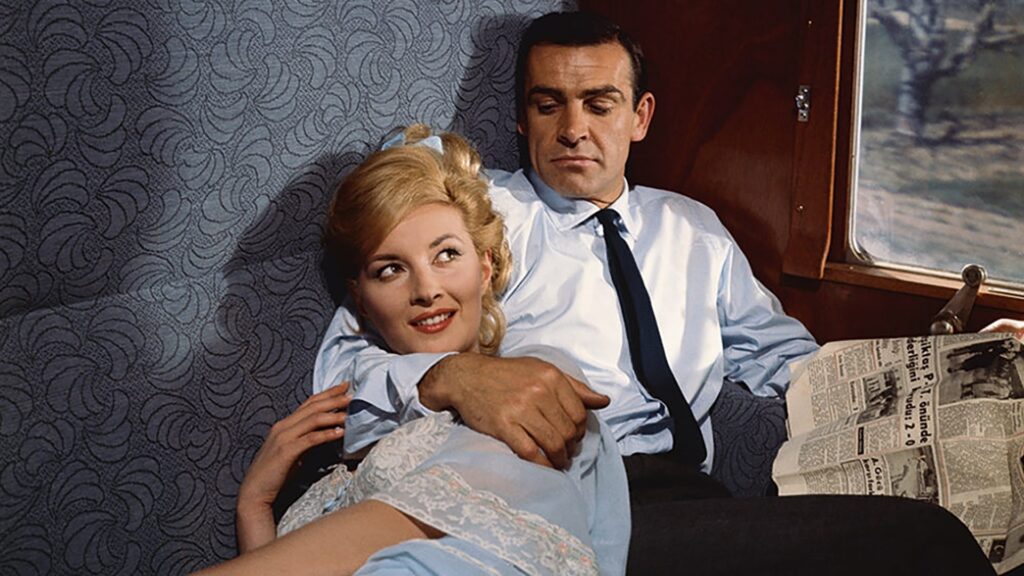 Agent 007 (Sean Connery) is back in the second installment of the James Bond series, this time battling a secret crime organization known as SPECTRE. Russians Rosa Klebb (Lotte Lenya) and Kronsteen are out to snatch a decoding device known as the Lektor, using the ravishing Tatiana (Daniela Bianchi) to lure Bond into helping them. Bond willingly travels to meet Tatiana in Istanbul, where he must rely on his wits to escape with his life in a series of deadly encounters with the enemy.
6. On Her Majesty's Secret Service (1969)
James Bond: George Lazenby
Director: Peter R. Hunt
Producers: Harry Saltzman and Albert R. Broccoli
Distributor: United Artists
After Connery left the series, it was unsure if the franchise would continue. Fortunately, the producers brought in Australian actor George Lazenby, and although it was hard for audiences at the time to shake off the memory of Connery in the role, it was a tremendous critical success that has been rightly praised ever since.
On Her Majesty's Secret Service (1969) was a remarkably refreshing interpretation of the Bond character, one that was less suave, rougher around the edges, and capable of sympathy and vulnerability. His marriage proposal to romantic foil Tracy di Vicenzo took the film in a very different direction, and Telly Savalas' performance as Blofeld is a real treat. The film has some stunningly exciting action scenes, and the ending is still one of the most jaw-dropping in the franchise's history.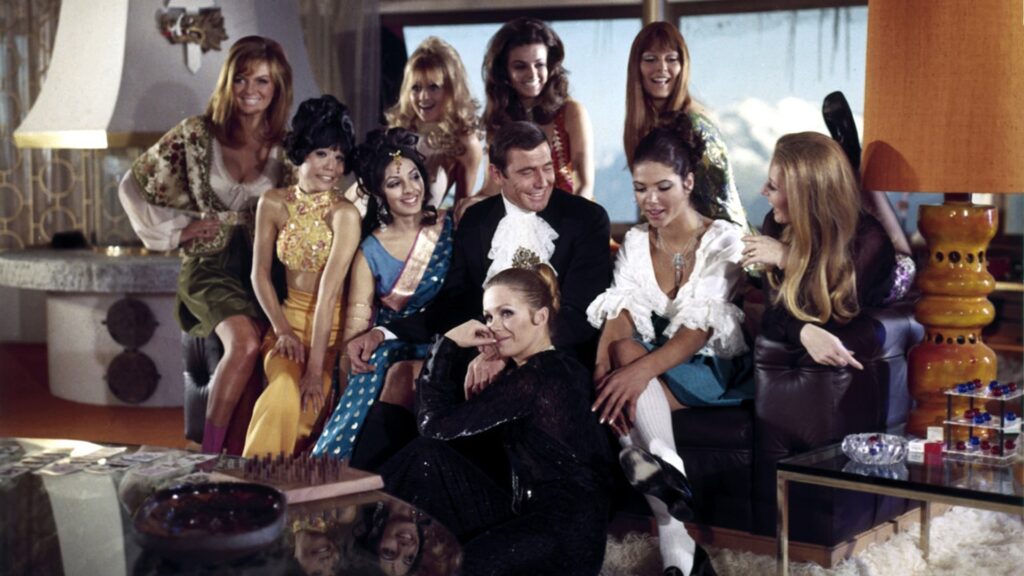 Agent 007 (George Lazenby) and the adventurous Tracy Di Vicenzo (Diana Rigg) join forces to battle the evil SPECTRE organization in the treacherous Swiss Alps. But the group's powerful leader, Ernst Stavro Blofeld (Telly Savalas), is launching his most calamitous scheme yet: a germ warfare plot that could kill millions!
7. Casino Royale (2006)
James Bond: Daniel Craig
Director: Martin Campbell
Producers: Barbara Broccoli and Michael G. Wilson
Distributor: Sony Pictures Releasing
Based on Ian Fleming's original James Bond novel, Casino Royale (2006) re-launched the franchise with a brand new James Bond in the shape of Daniel Craig. After declining interest in the series after the disastrous Die Another Day, the beloved franchise needed an overhaul. So the creators decided to take Bond back to his origins with this retelling of the first novel, and in so doing, created a film that is fresh, exciting and a James Bond movie for a new era.
Craig is commanding as 007, and the haters were quickly silenced after the film was released. Despite taking the character in a different direction in this so-called soft reboot, all of the usual Bond signifiers are present in terms of the cars, the glamour, the gadgets and the stunning tropical locations. The second modern James Bond movie to make it into our Top 10, we feel that history will look back kindly on this thrilling instalment.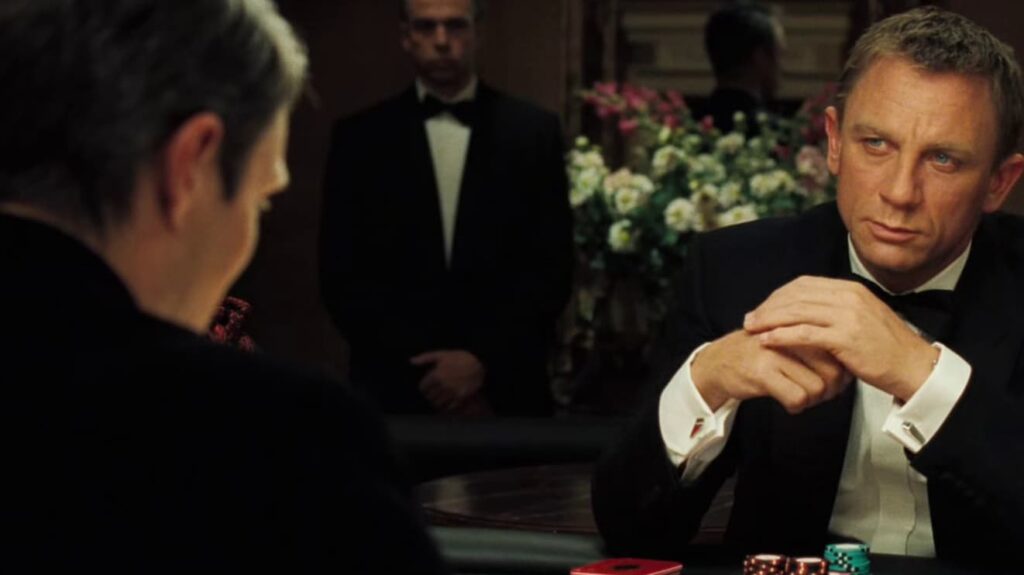 After receiving double "O" status and a license to kill, British Secret Service agent James Bond (Daniel Craig) heads to Madagascar, where he uncovers a link to Le Chiffre (Mads Mikkelsen), a man who finances terrorist organizations. Learning that Le Chiffre plans to raise money in a high-stakes poker game, MI6 sends Bond to play against him, gambling that their newest "00" operative will topple the man's organization.
8. Licence To Kill (1989)
James Bond: Timothy Dalton
Director: John Glen
Producers: Albert R. Broccoli and Michael G. Wilson
Distributor: Metro-Goldwyn-Mayer
Timothy Dalton's tenure as James Bond was brief. His second and final performance in Licence To Kill (1989) is a tour de force. This was a different Bond than anybody had seen before. Much more faithful to the source material, the character was portrayed as gritty, unrelenting and rebellious, and Dalton smoulders as the rogue agent, hell-bent on revenge.
This entry in the series is unique in that it places James Bond at odds with his superiors and sees his licence to kill revoked by M when he refuses to toe the line. However, despite his suspension, he is still aided by his trusted colleague Q, and the adventure explores new highs when Bond destroys a huge Latin American cocaine empire controlled by the vicious Franz Sanchez. It is a real shame Dalton did not do another James Bond movie after this one, but at least he went out with a bang.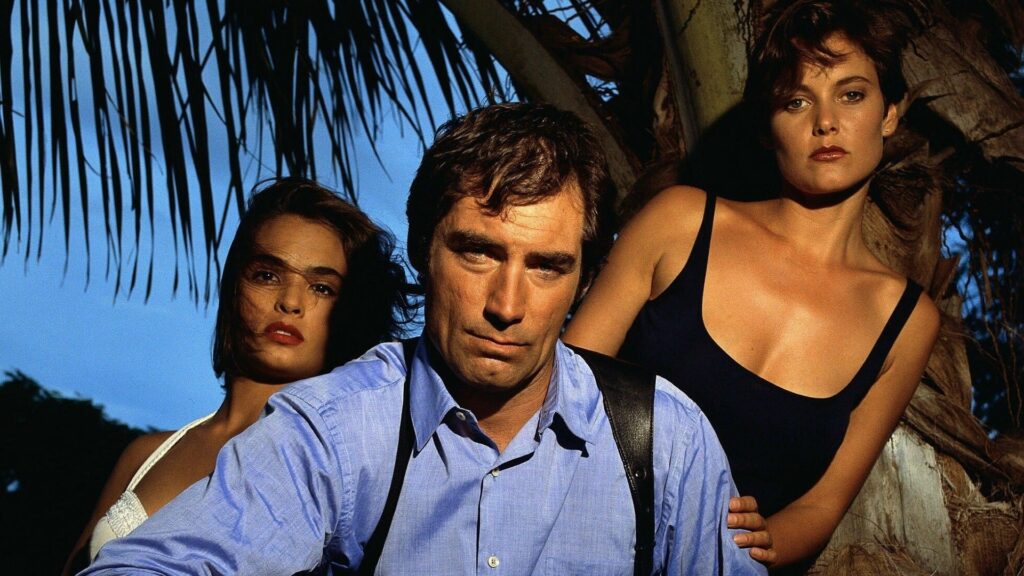 James Bond (Timothy Dalton) takes on his most-daring adventure after he turns renegade and tracks down one of the international drug cartel's most-brutal and powerful leaders. After the murder of his just-married friend, he is fighting not only for country and justice, but for personal revenge!
9. The Spy Who Loved Me (1977)
James Bond: Roger Moore
Director: Lewis Gilbert
Producers: Albert R. Broccoli
Distributor: United Artists
A memorable adventure in the series, The Spy Who Loved Me (1977) was Roger Moore's third outing as James Bond and saw him in a race against time and the Russians to locate some missing nuclear submarines that have vanished at sea. With the introduction to a new Bond henchman in the shape of Jaws, played by the gargantuan Richard Kiel, this episode has bags of action and plenty of entertaining sequences that we have come to expect from the franchise.
By this film, Moore had well and truly settled into the role, and his eyebrow-raising one-liners are finely tuned to note-perfect comical timing. Barbara Bach sizzles as the feisty Russian agent Anya Amasova, and Curd Jürgens provides the quintessential James Bond villain in the form of Stromberg. This nautical Bond adventure is one of Roger's best.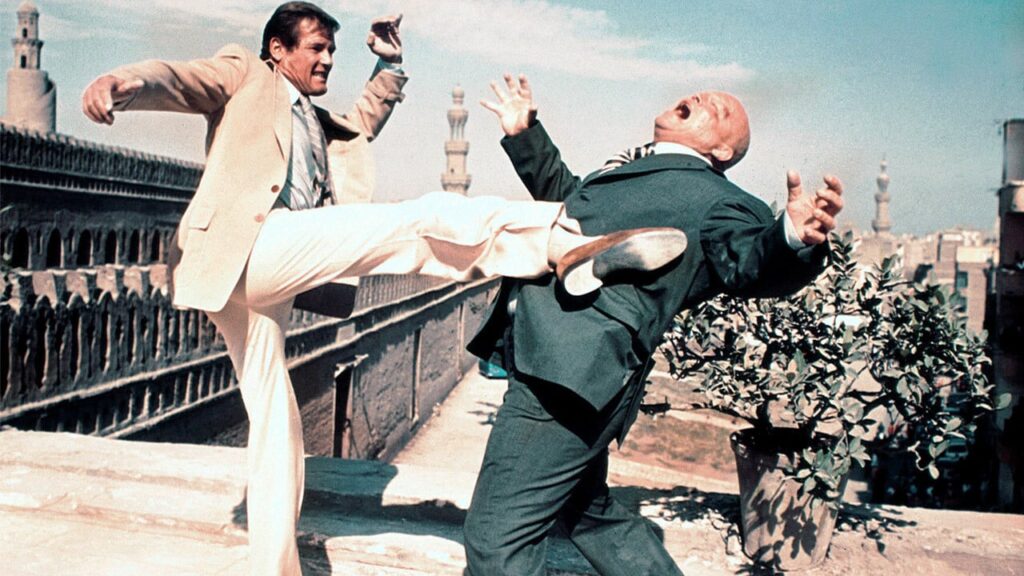 In a globe-trotting assignment that has him skiing off the edges of cliffs and driving a car deep underwater, British super-spy James Bond (Roger Moore) unites with sexy Russian agent Anya Amasova (Barbara Bach) to defeat megalomaniac shipping magnate Karl Stromberg (Curt Jurgens), who is threatening to destroy New York City with nuclear weapons. Bond's most deadly adversary on the case is Stromberg's henchman, Jaws (Richard Kiel), a seven-foot giant with terrifying steel teeth.
10. Diamonds Are Forever (1971)
James Bond: Sean Connery
Director: Guy Hamilton
Producers: Harry Saltzman and Albert R. Broccoli
Distributor: United Artists
After George Lazenby decided to walk away from the role after just one movie, the producers decided to ask Sean Connery to return to the role, which he did for his last outing in the official canon, Diamonds Are Forever (1971). A return to form for Connery, this movie is packed with action, humourous dialogue, great locations and two of the best Bond villains from the entire franchise. Mr Wint and Mr Kidd, played by Bruce Glover and Putter Smith, are hilariously camp and menacing as a pair of sadistic yet oddball assassins who make James Bond's mission all the more difficult with their insidious machinations.
The film also sees the return of Blofeld, this time played by Charles Gray, who had incidentally also appeared in You Only Live Twice as a different character called Henderson. This film also features Jill St. John as Tiffany Case and Lana Wood as Plenty O'Toole, who both dazzle as Bond's associates. Packed full of all the usual thrills and spills that audiences expect from a great James Bond movie, this final outing for Connery is one of his best turns as 007.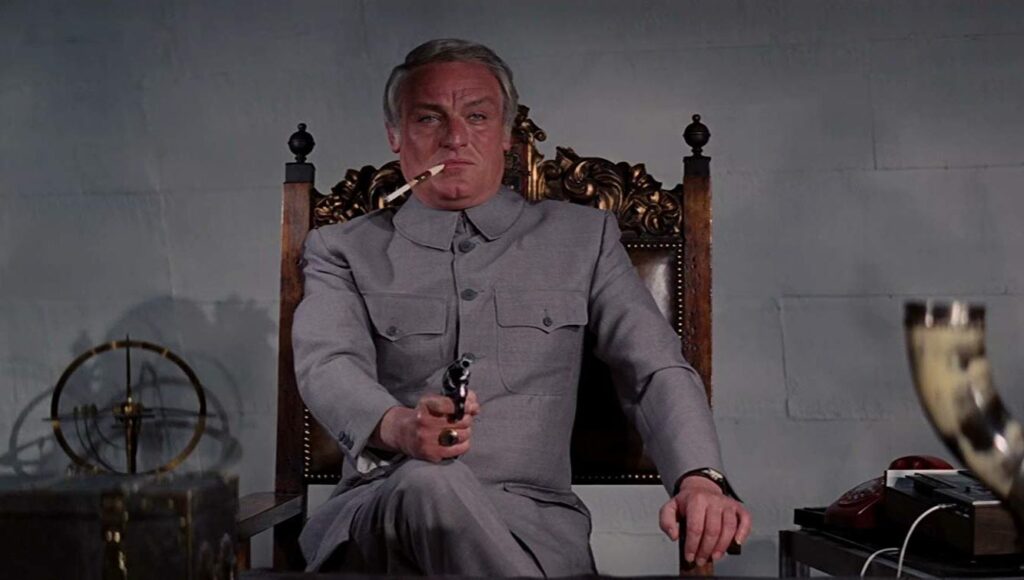 While investigating mysterious activities in the world diamond market, 007 (Sean Connery) discovers that his evil nemesis Blofeld (Charles Gray) is stockpiling the gems to use in his deadly laser satellite. With the help of beautiful smuggler Tiffany Case (Jill St. John), Bond sets out to stop the madman — as the fate of the world hangs in the balance!
11. No Time To Die (2021)
James Bond: Daniel Craig
Director: Cary Joji Fukunaga
Producers: Barbara Broccoli and Michael G. Wilson
Distributor: Universal Pictures
No Time To Die (2021) is the latest chapter in the James Bond franchise and the final film to star Daniel Craig in the lead role. A fitting conclusion to the Craig era, this movie makes some bold decisions and takes chances in terms of what stalwart fans come to expect from a James Bond film. This is a conclusion to the four movies that preceded it, and there is no doubt that opinions will be divided in terms of the direction the story takes.
As the 25th Bond film, there are plenty of easter eggs and references to the past, both recent and older Bond elements being celebrated in typical 007 style. Craig is particularly good in this entry, perhaps knowing it would be his last performance as the character encouraged him to give a more emotional and nuanced portrayal. This movie also contains one of the best openers to any Bond movie.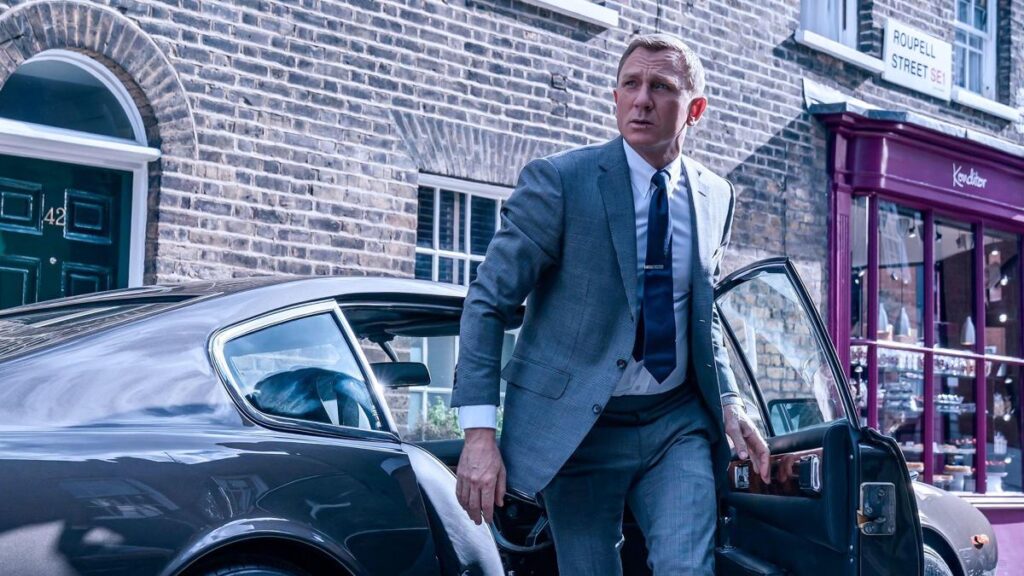 In No Time To Die, Bond has left active service and is enjoying a tranquil life in Jamaica. His peace is short-lived when his old friend Felix Leiter from the CIA turns up asking for help. The mission to rescue a kidnapped scientist turns out to be far more treacherous than expected, leading Bond onto the trail of a mysterious villain armed with dangerous new technology.
12. Tomorrow Never Dies (1997)
James Bond: Pierce Brosnan
Director: Roger Spottiswoode
Producers: Barbara Broccoli and Michael G. Wilson
Distributor: Metro-Goldwyn-Mayer
Tomorrow Never Dies (1997) is Pierce Brosnan's second film as Bond, and here he is more sophisticated and relaxed than he was in GoldenEye. This one sees a typical superpower standoff between UK and China in an action-packed affair. Jonathan Pryce's role as media mogul Elliot Carver is a fantastically hammy performance, and Michelle Yeoh as Wai Lin is still among the most capable Bond women we have witnessed.
There are some great martial arts fights and exciting chase sequences to entertain us, and although the plot is middling, it's a great fun outing for Bond. Although the Brosnan era has not dated very well, Tomorrow Never Dies carries all the appropriate earmarks of classic James Bond movies.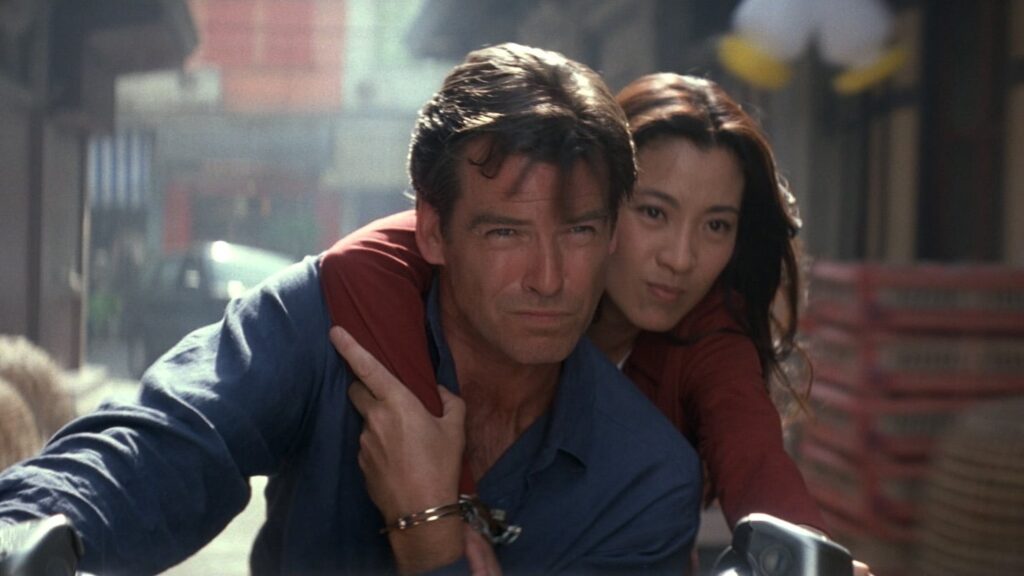 Media mogul Elliot Carver (Jonathan Pryce) wants his news empire to reach every country on the globe, but the Chinese government will not allow him to broadcast there. Carver doesn't take no for an answer and plans to use his media empire to fuel flames of war between the Western world and China. Thankfully, James Bond (Pierce Brosnan) is on to the insane news tycoon and travels to China to stop him with the help of Chinese secret agent Wai Lin (Michelle Yeoh).
13. You Only Live Twice (1967)
James Bond: Sean Connery
Director: Lewis Gilbert
Producers: Harry Saltzman and Albert R. Broccoli
Distributor: United Artists
You Only Live Twice (1967) was the end of Connery's initial run as Bond, until his brief return four years later in Diamonds Are Forever. However, the franchise was running out of steam after five movies, and the filmmakers decided to reach for the stars as Bond tried to find out who has been snatching American and Soviet spacecraft out of orbit. That leads him to Blofeld and his massive lair hidden in a volcano, tropes that would be parodied for decades to come.
The film is best remembered for the excellent performance by Donald Pleasence, who steals the show as Ernst Stavro Blofeld. The Japanese setting and explosive conclusion make this a fun, if somewhat far fetched, entry in the canon, even by Bond standards. However, it is still a great adventure for 007 and a classic Connery-era offering.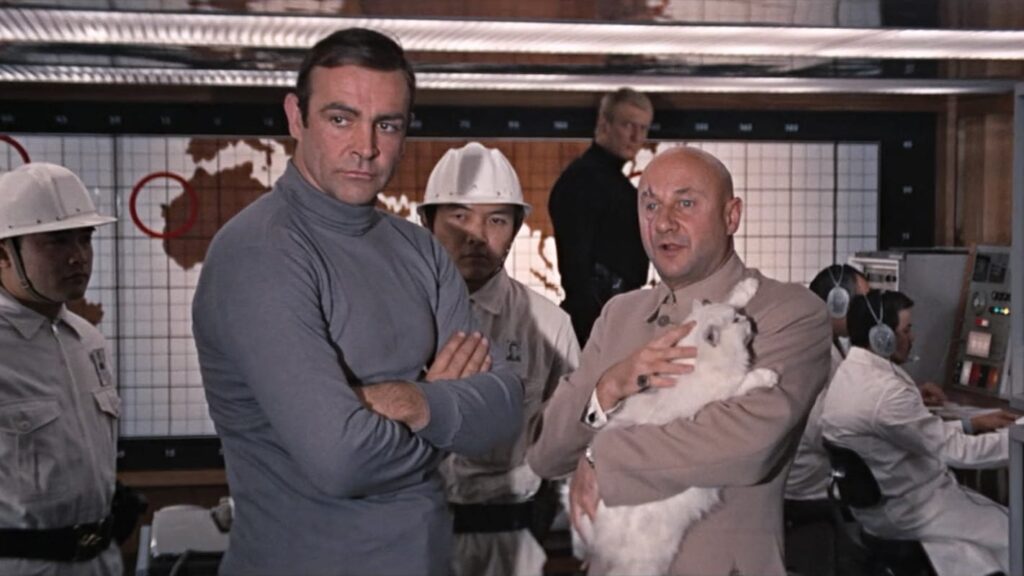 During the Cold War, American and Russian spacecrafts go missing, leaving each superpower believing the other is to blame. As the world teeters on the brink of nuclear war, British intelligence learns that one of the crafts has landed in the Sea of Japan. After faking his own death, secret agent James Bond (Sean Connery) is sent to investigate. In Japan, he's aided by Tiger Tanaka (Tetsuro Tamba) and the beautiful Aki (Akiko Wakabayashi), who help him uncover a sinister global conspiracy.
14. Spectre (2015)
James Bond: Daniel Craig
Director: Sam Mendes
Producers: Barbara Broccoli and Michael G. Wilson
Distributor: Sony Pictures Releasing
In Daniel Craig's fourth adventure as James Bond, we finally get to the bottom of the mystery that is the evil and shadowy organisation known as Spectre (2015). There are thrills and spills aplenty in this action-packed instalment which sees Bond's past once again catch up with him when it is revealed that his very own stepbrother has been the architect of all his recent misadventures.
Ralph Fiennes replaces Judi Dench as M, and Ben Whishaw, Naomie Harris and Rory Kinnear return as Q, Moneypenny and Tanner. Spectre also re-introduces Bond's arch-nemesis into the franchise in the form of Blofeld, who is played to a T by the excellent Christoph Waltz. An exciting chapter in the franchise, but a lacklustre finale stops it from ranking any higher, in our humble opinion.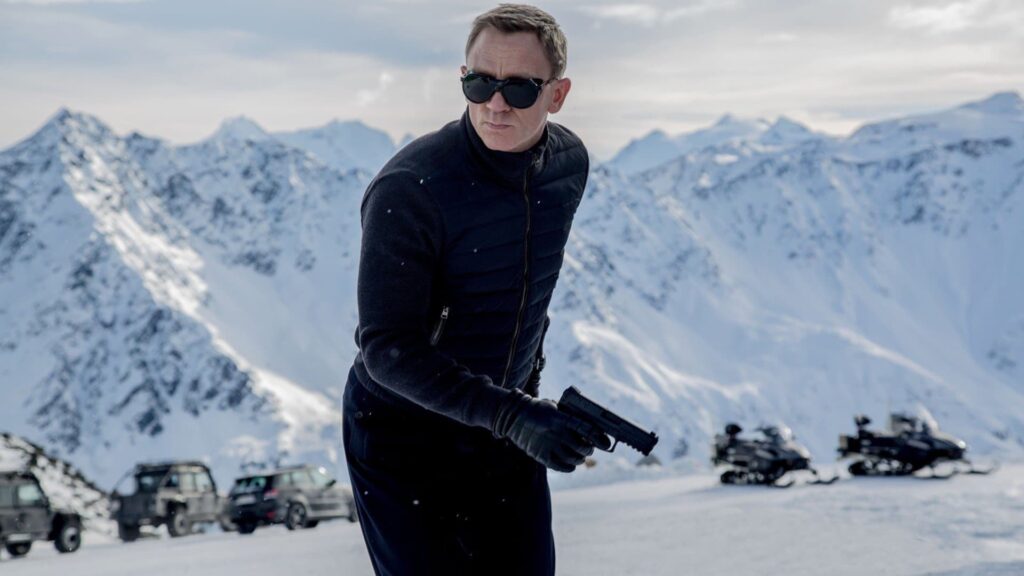 A cryptic message from the past leads James Bond (Daniel Craig) to Mexico City and Rome, where he meets the beautiful widow (Monica Bellucci) of an infamous criminal. After infiltrating a secret meeting, 007 uncovers the existence of the sinister organization SPECTRE. Needing the help of the daughter of an old nemesis, he embarks on a mission to find her. As Bond ventures toward the heart of SPECTRE, he discovers a chilling connection between himself and the enemy (Christoph Waltz) he seeks.
15. For Your Eyes Only (1981)
James Bond: Roger Moore
Director: John Glen
Producers: Albert R. Broccoli
Distributor: United Artists
Roger Moore returns for his fifth Bond film with the entertaining For Your Eyes Only (1981). This adventure pits 007 against the Russians as he teams up with members of the Greek underworld to uncover a secret communication device that would become deadly in the enemy's hands. Despite Moore's advancing years, he still manages to keep the British end up and give a convincing performance as Bond.
For Your Eyes Only contains a highly amusing pre-title credits sequence in which Bond dispatches Blofeld with a helicopter. This marks the only time Blofeld appears in any of the Roger Moore films, and it is a memorable appearance at that, albeit a brief one. The movie holds up as a decent outing for Bond, but it also marks a turning point for the franchise, where things began to sag somewhat.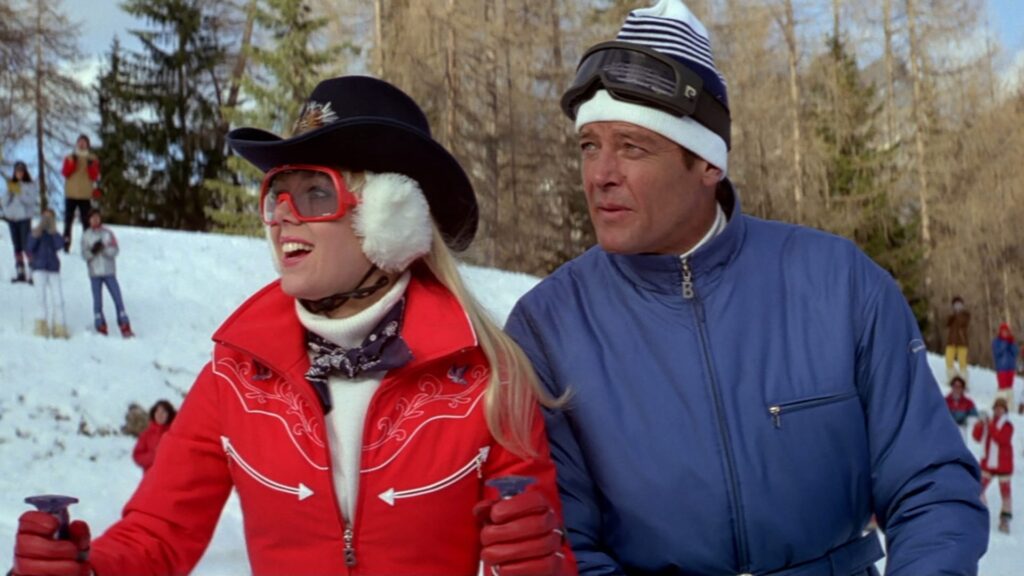 When a British ship is sunk in foreign waters, the world's superpowers begin a feverish race to find its cargo: a nuclear submarine control system. And 007 (Roger Moore) is thrust into one of his most riveting adventures as he rushes to join the search … and prevent global devastation!
16. A View To A Kill (1985)
James Bond: Roger Moore
Director: John Glen
Producers: Albert R. Broccoli and Michael G. Wilson
Distributor: Metro-Goldwyn-Mayer
A View To A Kill (1985) was Roger Moore's final appearance as Bond as he was 58 years old when it was released and starting to get a little bit long in the tooth when it came to playing the world's most accomplished secret agent. Despite this, the film is pretty solid. There are excellent villains in the form of Max Zorin and Mayday, played by Christopher Walken and the inimitable Grace Jones. In this movie, Bond has to prevent Zorin from detonating a bomb that will trigger a massive earthquake along the San Andreas fault.
With a cool theme tune provided by 80s hipsters Duran Duran and a plethora of amazing stunt work, A View To A Kill is a fitting swansong to the Moore-era that manages to stay up to date at the same time as projecting a tradition of Bond that by this point was stretching back over two decades. Not Moore's best Bond movie, but not his worst either.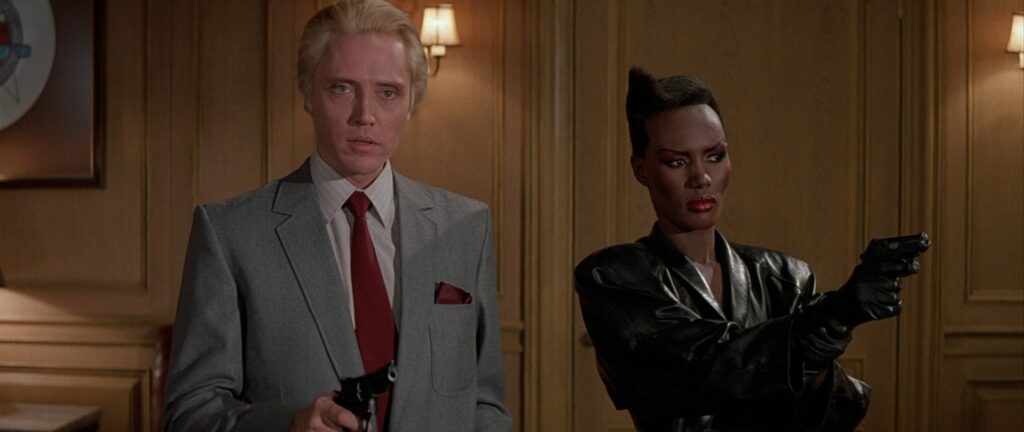 After recovering a microchip from the body of a deceased colleague in Russia, British secret agent James Bond (Roger Moore) discovers that the technology has the potential for sinister applications. Investigating further, Bond is led to Max Zorin (Christopher Walken), the head of Zorin Industries. Soon Agent 007 faces off against the villainous Zorin and his tough Amazonian bodyguard, May Day (Grace Jones), who are scheming to cause massive destruction that will eliminate the competition.
17. Quantum Of Solace (2008)
James Bond: Daniel Craig
Director: Marc Forster
Producers: Barbara Broccoli and Michael G. Wilson
Distributor: Sony Pictures Releasing
Widely regarded as the weakest of the Daniel Craig Bond films, Quantum of Solace (2008) continues directly after the events of Casino Royale. In fact, some have suggested that the two films are actually two halves of one epic movie and this film is a lot better when played as a double feature with its predecessor. Following the death of Vespa Lynd, Bond tracks down those responsible for her death which leads to a whole new adventure, pitting him against a corrupt corporation that is attempting to eliminate valuable resources.
A more toned down adventure, 'Quantum' is perhaps viewed as less exciting than the other Craig adventures, but after re-visiting it, we found it was a genuinely riveting watch and will perhaps be viewed with a little more esteem in the future when people begin to look back on Craig's time in the hot seat. Jeffrey Wright, Judi Dench and Rory Kinnear reprise their roles a Felix Leiter, M and Tanner in this underrated sequel.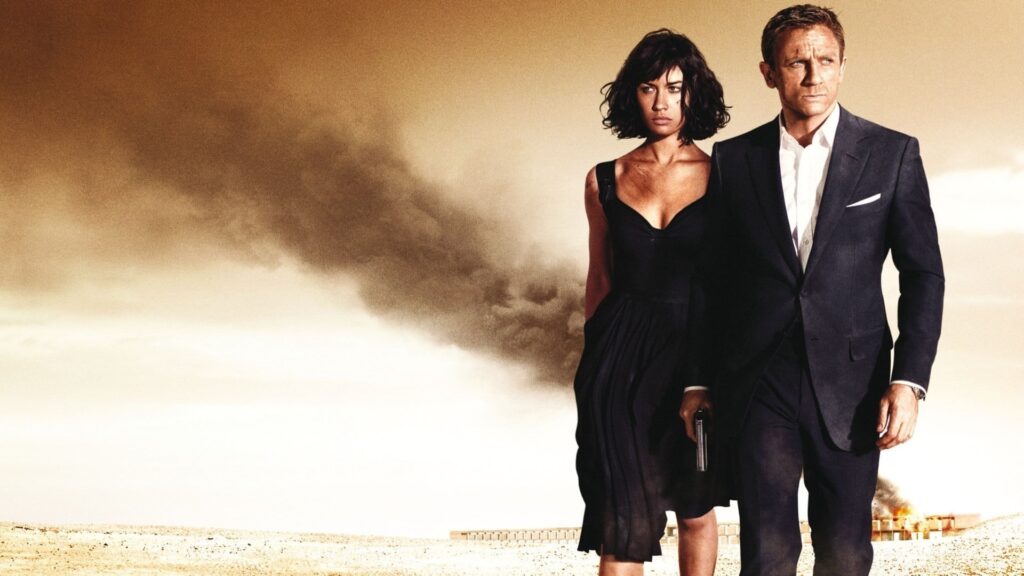 Following the death of Vesper Lynd, James Bond (Daniel Craig) makes his next mission personal. The hunt for those who blackmailed his lover leads him to ruthless businessman Dominic Greene (Mathieu Amalric), a key player in the organization which coerced Vesper. Bond learns that Greene is plotting to gain total control of a vital natural resource, and he must navigate a minefield of danger and treachery to foil the plan.
18. Dr. No (1962)
James Bond: Sean Connery
Director: Terence Young
Producers: Harry Saltzman and Albert R. Broccoli
Distributor: United Artists
The first entry in the series, Dr. No (1962), laid the groundwork for the character we would come to know and love in the coming years. Here, Sean Connery expertly created a suave, arrogant, humorous agent with the perfect blend of brutal machismo and sardonic British humour. Largely faithful to Fleming's fifth novel, the film introduced the world to secret agent 007, and the rest, as they say, is history.
Dr. No is a slower movie than the ones that followed, and the villain is understated compared to later larger-than-life characters. But it laid out the blueprint for a franchise we would come to know and love and got the franchise off to a good start. The characters of M, Moneypenny and Felix Leiter have been introduced here, making this instalment a must-see in the canon, even if it isn't one of the most exciting.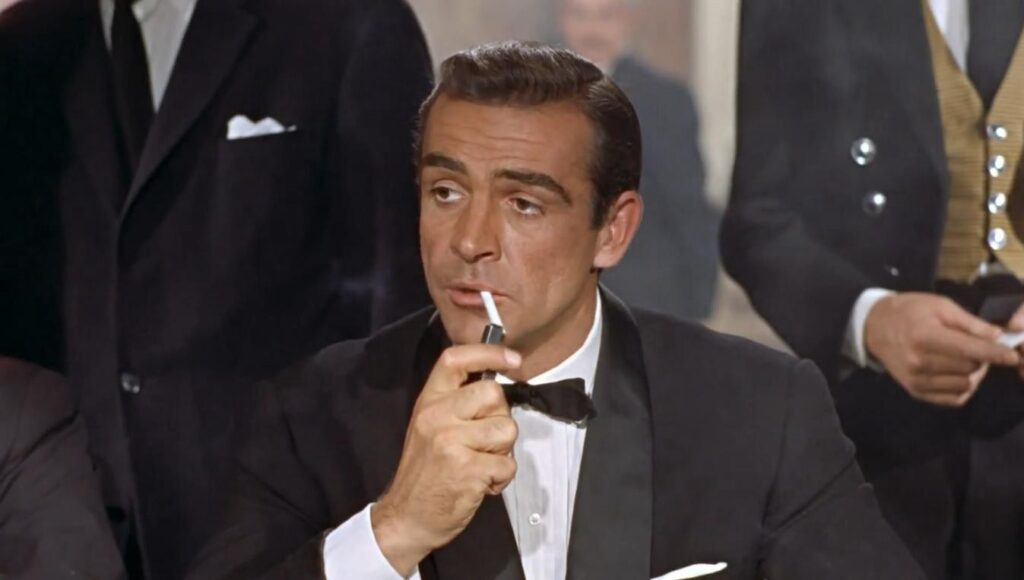 In the film that launched the James Bond saga, Agent 007 (Sean Connery) battles mysterious Dr. No, a scientific genius bent on destroying the U.S. space program. As the countdown to disaster begins, Bond must go to Jamaica, where he encounters beautiful Honey Ryder (Ursula Andress), to confront a megalomaniacal villain in his massive island headquarters.
19. The World Is Not Enough (1999)
James Bond: Pierce Brosnan
Director: Michael Apted
Producers: Barbara Broccoli and Michael G. Wilson
Distributor: Metro-Goldwyn-Mayer
Pierce Brosnan's third film as 007 sees him up against a Russian terrorist, hellbent on creating havoc by detonating a nuclear device. Co-starring Robert Carlyle, Sophie Marceau and Denise Richards, The World is Not Enough (1999) isn't a terrible Bond film, but it lacks the tight scripting and engrossing plotline of the previous two Brosnan outings. An exciting boat chase sequence in London's docklands culminates in an explosive conclusion on the Millenium Dome. But after this, the film trails off a little and becomes a bit predictable for the rest of the duration.
This particular movie was the last one in which Desmond Llewelyn appeared as Q, and his exit from the franchise is both touching and memorable. However, the introduction of John Cleese as his replacement is just annoying. Not the greatest film featuring Brosnan in the lead role, but a damn sight better than the one that would follow!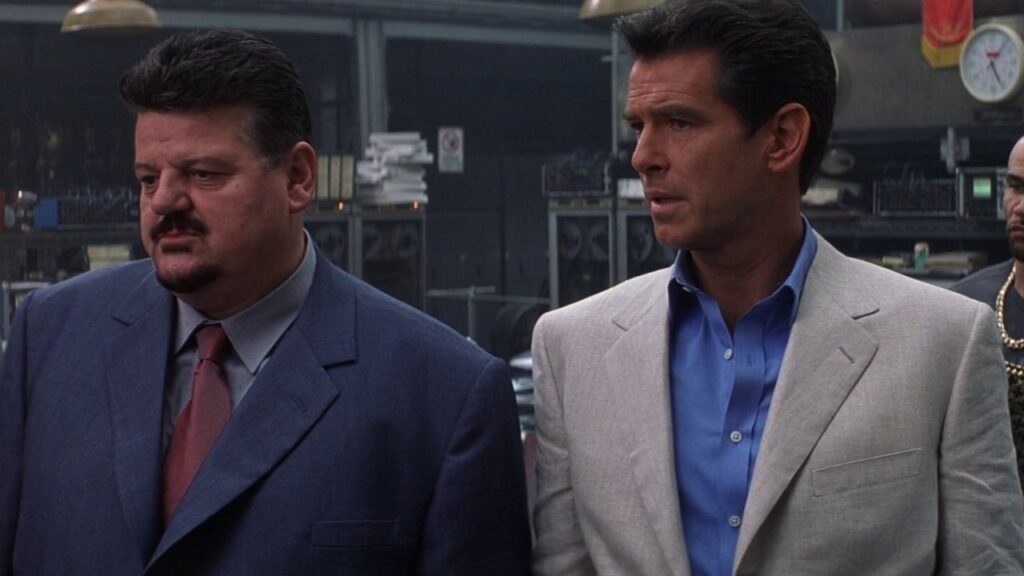 Bond (Pierce Brosnan) must race to defuse an international power struggle with the world's oil supply hanging in the balance. Elektra King (Sophie Marceau), is the daughter of a murdered oil tycoon whom Bond is assigned to protect. The villain is Renard (Robert Carlyle), who has a bullet lodged in his brain rendering him unable to feel pain. Also featuring nuclear weapons expert Dr. Christmas Jones (Denise Richards).
20. The Man With The Golden Gun (1974)
James Bond: Roger Moore
Director: Guy Hamilton
Producers: Harry Saltzman and Albert R. Broccoli
Distributor: United Artists
Roger Moore returned to the role after the resounding success of Live and Let Die for the next instalment in the series, The Man With The Golden Gun (1974). This time Bond has to face the deadly Scaramanga played by legendary actor Christopher Lee. This film retains the exotic locations and places the majority of the action on a secluded tropical island. There's a stand out performance from the diminutive Herve Villechaize as Scaramanga's maniacal minion, Nick Nack.
Bond stalwarts Lois Maxwell and Desmond Llewelyn make appearances as Moneypenny and Q, giving the proceedings a sense of tradition, but with Swedish supermodel Britt Eckland starring, this was a new era with fresh ideas and concepts, which, although not consistently successful, did help evolve the saga, which as a result managed to remain relevant in popular culture.
The Man With The Golden Gun is a fun outing, but ultimately it falls short of greatness and tends to let the comical elements dominate the tone, sacrificing a shot at producing something darker and more perilous. Having said that, Christopher Lee has to be acknowledged as bringing another legendary arch-nemesis to the Bond canon via his portrayal of Fransisco Scaramanga.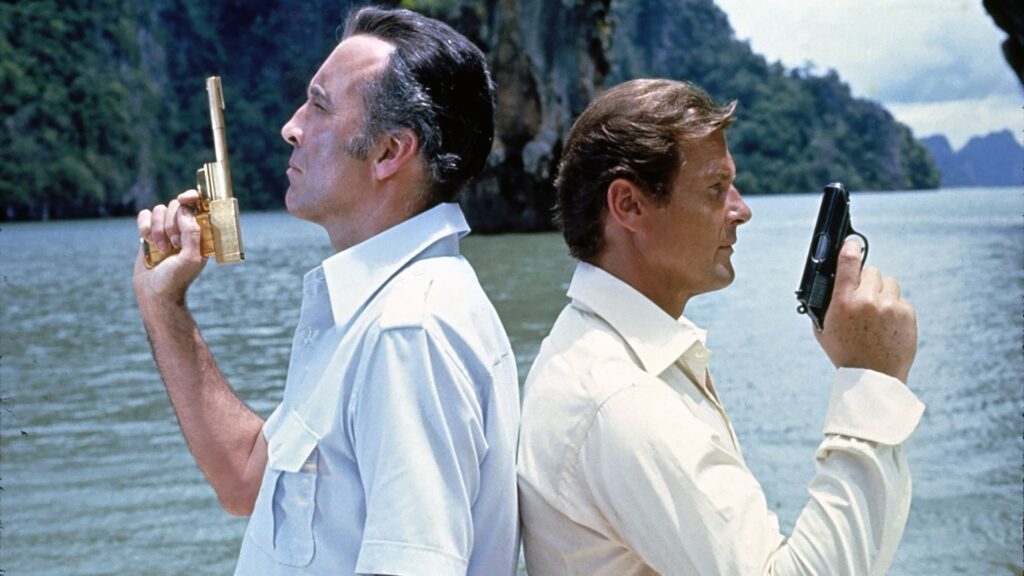 Cool government operative 007 (Roger Moore) searches for a stolen invention that can turn the sun's heat into a destructive weapon. He soon crosses paths with the menacing Francisco Scaramanga (Christopher Lee), a hit man so skilled he has a seven-figure working fee. Bond then joins forces with the swimsuit-clad Mary Goodnight (Britt Ekland), and together they track Scaramanga to a tropical isle hideout where the killer-for-hire lures the slick spy into a deadly maze for a final duel.
21. The Living Daylights (1987)
James Bond: Timothy Dalton
Director: John Glen
Producers: Albert R. Broccoli and Michael G. Wilson
Distributor: Metro-Goldwyn-Mayer
The Living Daylights (1987) is the 15th film in the franchise and the first starring Timothy Dalton as 007. It was made at a time of uncertainty for the Bond films, as their appeal had begun to wain over the last few years. When huge SFX blockbusters like Star Wars dominated the big screen, the Bond movies were beginning to be seen as a bit repetitious and old hat.
It was hoped that the casting of a new James Bond would reinvigorate the franchise, providing an opportunity to take the character in a new direction and polish the image of the saga. Unfortunately, this was done more successfully in Dalton's second outing, Licence To Kill, more so than in The Living Daylights. It isn't a terrible film, but it is rather forgettable compared to most of the other Bond movies. All the same, there are a few thrilling sequences and all of the usual Bond tropes, but it isn't enough to bring this one up to speed. Not the worst Bond movie, but a far cry from the best.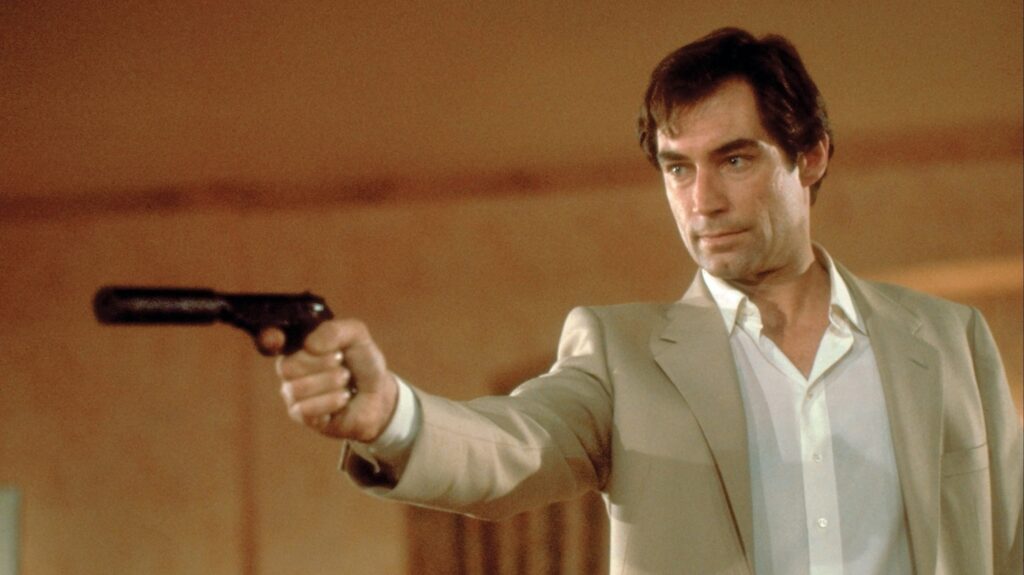 British secret agent James Bond (Timothy Dalton) helps KGB officer Georgi Koskov (Jeroen Krabbé) defect during a symphony performance. During his debriefing, Koskov reveals that a policy of assassinating defectors has been instated by new KGB head Leonid Pushkin (John Rhys-Davies). But as Bond explores this threat, a counterplot surfaces, involving a shady American arms dealer (Joe Don Baker) and a pair of Russian assassins, Necros (Andreas Wisniewski) and Kara Milovy (Maryam d'Abo).
22. Thunderball (1965)
James Bond: Sean Connery
Director: Terence Young
Producers: Kevin McClory
Distributor: United Artists
Thunderball (1965) is one of the most successful Bond films, the highest-grossing when adjusted for inflation. It came out in the heyday of "Bondmania" and had all the classic hallmarks of the franchise, but it has not aged very gracefully. It is probably the most sexist and misogynistic Bond movie ever produced.
The plot is sluggish and a bit dull compared to the previous high calibre of Goldfinger, and the characters are also a bit forgettable. The film's finale underwater battle, filled with sharks and fireballs, is the movie's highlight. But even this sequence eventually grows a little tiresome. Not the greatest Connery Bond film and not really one of the great Bond movies. However, it does have an excellent theme tune sung by none other than the mighty Tom Jones, which is an absolute banger.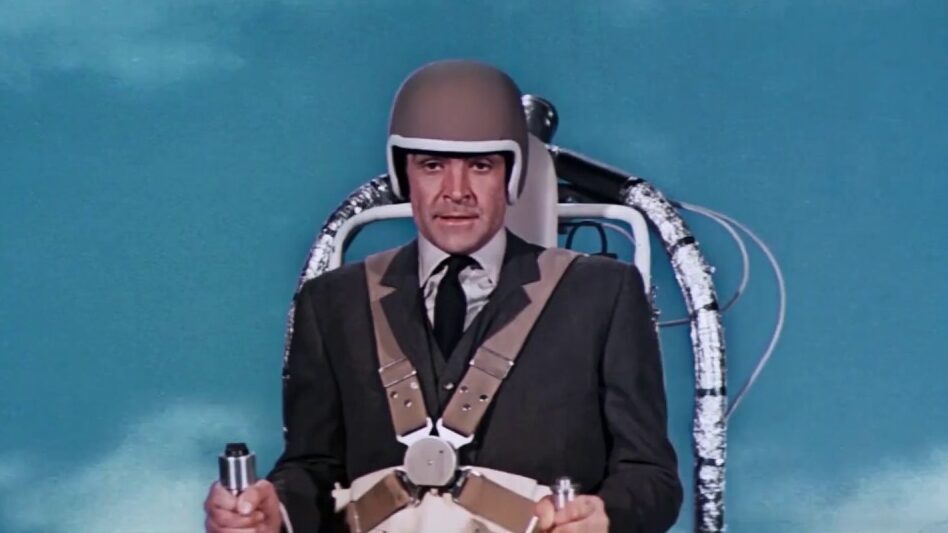 Led by one-eyed evil mastermind Emilio Largo (Adolfo Celi), the terrorist group SPECTRE hijacks two warheads from a NATO plane and threatens widespread nuclear destruction to extort 100 million pounds. The dashing Agent 007, James Bond (Sean Connery), is sent to recover the warheads from the heart of Largo's lair in the Bahamas, facing underwater attacks from sharks and men alike. He must also convince the enchanting Domino (Claudine Auger), Largo's mistress, to become a key ally.
23. Octopussy (1983)
James Bond: Roger Moore
Director: John Glen
Producers: Albert R. Broccoli
Distributor: Metro-Goldwyn-Mayer
Roger Moore was persuaded to return to the role, despite his own trepidation that he was now far too old to play the part. However, that didn't stop the producers from making him a huge offer and surrounding him with a plethora of young, beautiful women in the 13th chapter in the saga Octopussy (1983). After another 00 agent is killed in the field, Bond is sent to investigate and gets into more trouble than he bargained for when he must strive to halt a full-scale invasion of Europe by the Russians.
A typical plotline is further impeded by drab dialogue and a ridiculous narrative that sees an ageing Moore work his way through a record number of women before having them save his skin during the final shoot out. Ridiculous, goofy and one of the worst films in the series. Staunch fans will still enjoy the ride, but serious film enthusiasts will not be impressed by this lacklustre effort.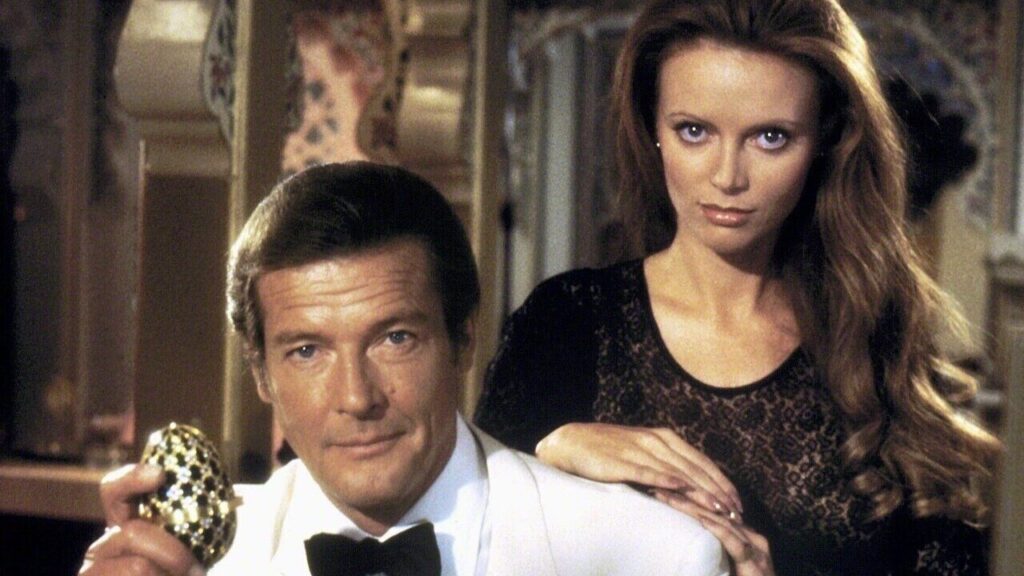 James Bond (Roger Moore) may have met his match in Octopussy (Maud Adams), an entrancing beauty involved in a devastating military plot to destroy détente. From the palaces of India to a speeding circus train in Germany and a mid-air battle on the wing of a high-flying jet, only Agent 007 can stop the nightmarish scheme!
24. Moonraker (1979)
James Bond: Roger Moore
Director: Lewis Gilbert
Producers: Albert R. Broccoli
Distributor: United Artists
As a direct result of the success of Star Wars, producers decided to send 007 into space for the 12th film in the sage, Moonraker (1979). Having travelled to every nook and cranny on the entire planet, there really was nowhere else for Bond to go, other than to blast him into space to take down the evil villain Drax. Admittedly, this outing has some redeemable elements, such as Richard Kiel's return as the ever-amusing Jaws. But on the whole, this is frankly a terrible Bond film.
This is the height of the Roger Moore era, and if camped-up, ludicrous plotlines and corny dialogue is your thing, then you will probably enjoy this adventure. But when compared to the gritty realism that we have come to enjoy in the latest releases, Moonraker just seems laughable. Perhaps this is its charm, but we could not in good conscience rank it any higher when compared to the rest of the canon.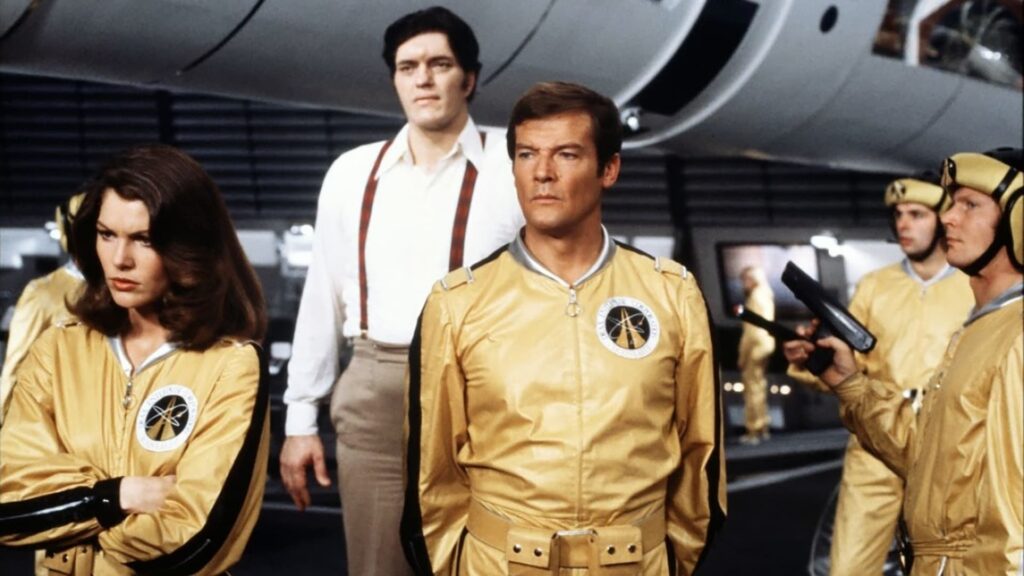 Agent 007 (Roger Moore) blasts into orbit in this action-packed adventure that takes him to Venice, Rio De Janeiro and outer space. When Bond investigates the hijacking of an American space shuttle, he and beautiful CIA agent Holly Goodhead (Lois Chiles) are soon locked in a life-or-death struggle against Hugo Drax (Michael Lonsdale), a power-mad industrialist whose horrific scheme may destroy all human life on earth!
25. Die Another Day (2002)
James Bond: Pierce Brosnan
Director: Lee Tamahori
Producers: Barbara Broccoli and Michael G. Wilson
Distributor: Metro-Goldwyn-Mayer
Poor old Pierce Brosnan. There never was an actor more suited to stepping into the shoes of James Bond. He had the looks, the delivery and the essence of the character down to a fine art. He was, in short, the archetypal 007. It started so well with GoldenEye, but gradually began to slide downhill over the course of the next few movies, resulting in the frankly ridiculous Die Another Day (2002).
This is an excellent example of the producers going too far and asking the audience to suspend its disbelief to the point of accepting the existence of an invisible car. The opening sequence, which sees Bond captured and interrogated by the North Koreans, is actually a real blinder. But once the title credits have rolled, this one takes a nose dive downwards and never recovers. A real shame that Pierce went out on such a stinker, but Die Another Day is, without a doubt, the worst of all the Bond movies.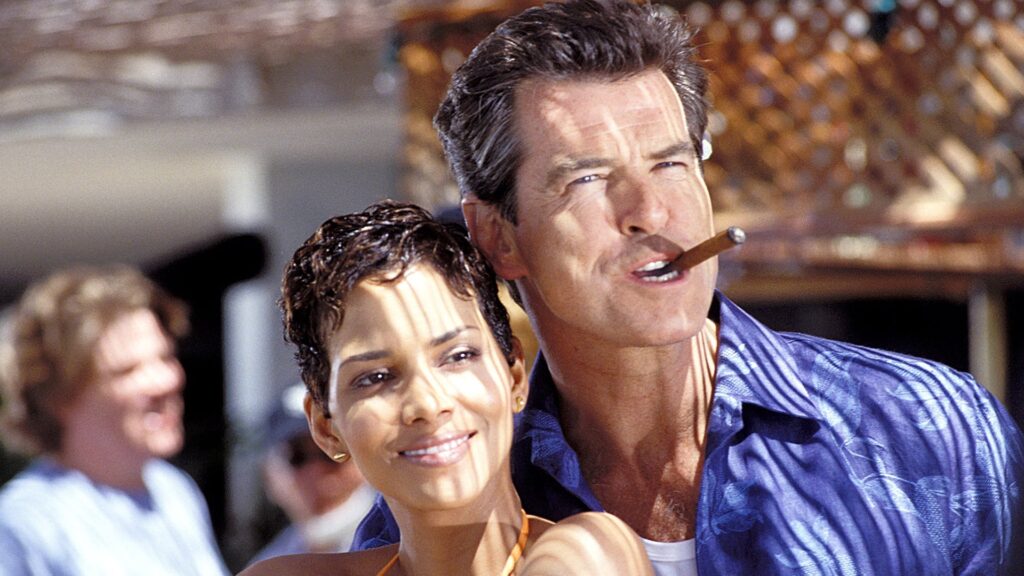 James Bond (Pierce Brosnan) is captured by North Korean agents and must serve a grueling prison sentence. He's finally released, and is convinced that someone in his own agency betrayed him. He escapes from custody and travels to Cuba, hot on the heels of Zao (Rick Yune), the agent who put Bond behind bars. Meanwhile, Bond begins romancing NSA agent Jinx (Halle Berry) as he uncovers a scheme concocted by Zao and British millionaire Graves (Toby Stephens), involving a highly destructive laser.
There you have it, all the James Bond films ranked from best to worst!
How did we do? What's your favourite James Bond movie? Let us know in the comments below.
You can read more of our articles here.
Please join us on social media on Facebook, Instagram, Tik Tok and Twitter. We really appreciate all the likes, shares, retweets etc., and we would love to hear from you and continue the wonderful celebration of all things cinema on these platforms.
If you love to watch videos on YouTube, then please subscribe to our channel here. There's lots of fun and informative videos uploaded that we hope you will enjoy!
We have a passion for movies and aim to produce entertaining and informative movie-related content. It certainly is a lot of hard work, but we love films so much that it's worth all the effort. We have to keep the lights on and make sure we have plenty of caffeine to keep all of the articles, videos and social media posts coming, so if you like our work, then please consider supporting us at Buy Me A Coffee here. You can also become a More Movies patron on Patreon here.
To help support us here at More Movies, we do use advertising in a few places, so we appreciate it if you do not use AdBlockers on our site, as this helps keep a few pennies trickling in. We also utilise affiliate links throughout the site, usually to help guide our readers to places to stream, rent or buy the movies we talk about. One of the biggest sources for movies online is Amazon Prime Video, where you can stream over 18,000 films. If you are interested in Prime and haven't signed up yet, you can get a 30-day free trial via this affiliate link, which helps support us too.