Often star-studded and laden with effects, disaster movies have been colossal blockbuster affairs. They rose to prominence in the 1970s thanks to the major releases of The Poseidon Adventure and The Towering Inferno, only to go into hibernation for the next decade or so, then returning in the 90s with spectacular modern special effects extravaganzas such as Armageddon and Deep Impact.
Disaster epics can cover a massive range of catastrophic scenarios, including natural disasters like tornadoes, asteroids, icebergs and volcanoes as well as man-made disasters such as fires, industrial accidents, terrorist attacks and global warming.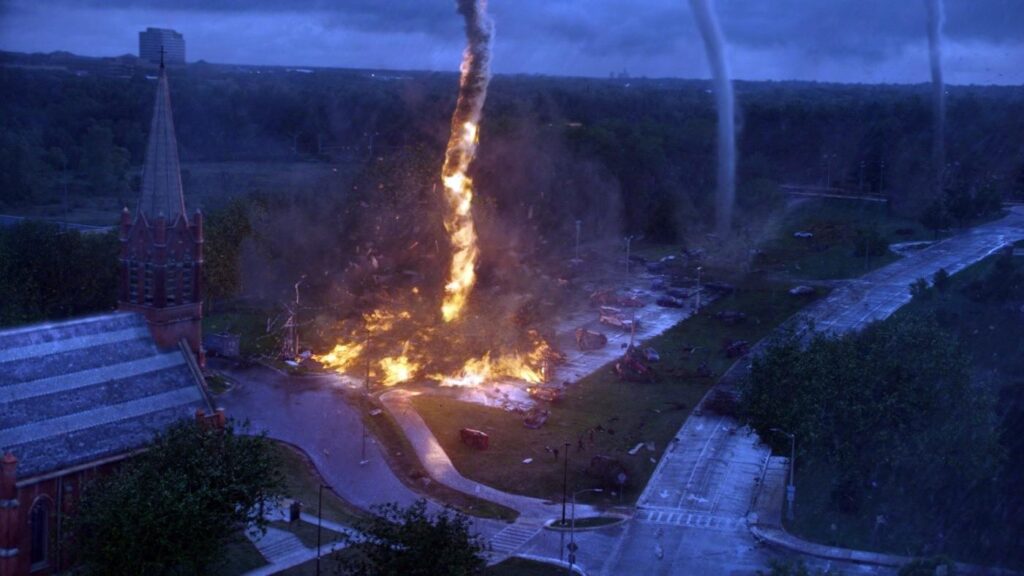 Providing a mix of ludicrous adrenaline rushes, dramatic tear-jerkers, and angst-inducing sci-fi spectacles, disaster movies have provided some of the most breathtaking on-screen action that cinema-goers have witnessed over the years, so here we present our top 9 disaster movies, covering a whole range of destruction that we recommend you check out if you haven't already seen them. As always, our picks are listed chronologically…
1. The Poseidon Adventure (1972)
Based on Paul Gallico's 1969 novel of the same name, The Poseidon Adventure (1972) became a blueprint for the future disaster movie formula and is still considered one of the best examples of the genre. Director Ronald Neame assembled a star-studded cast that included five Oscar winners, including Gene Hackman, Ernest Borgnine, Jack Albertson, Shelley Winters and Red Buttons.
The story of the disaster aboard the fictional SS Poseidon was partially filmed aboard the RMS Queen Mary and had spectacular special effects for the time, winning an academy award for Visual Effects. It also picked up an Oscar for Best Original Song (The Morning After), a BAFTA for Gene Hackman in his leading role, a Golden Globe for Shelley Winters in a supporting role and Best Sound from the Golden Reel Awards.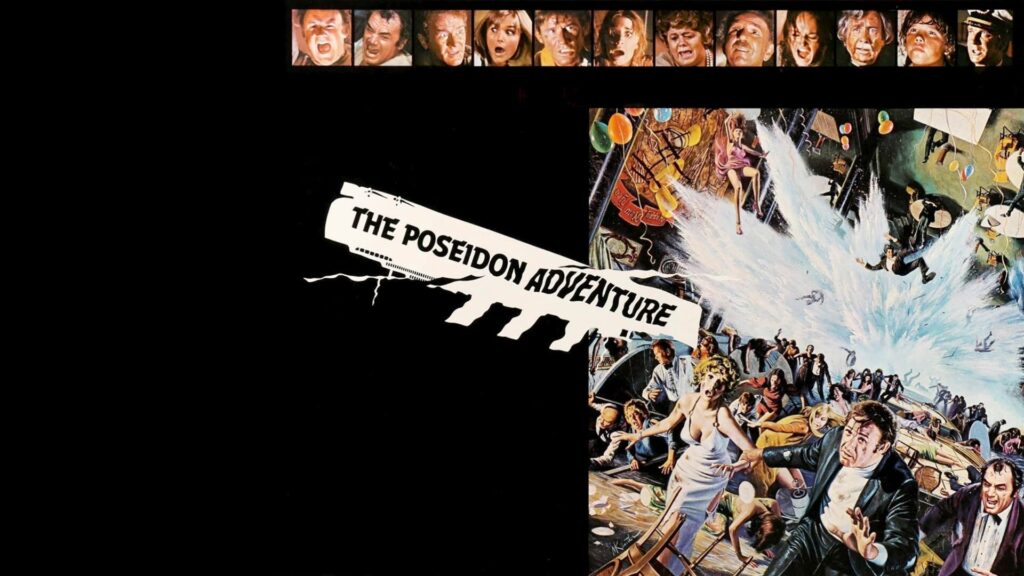 In the vein of other all-star disaster films of the 1970s, such as Airport (1970) and Earthquake (1974), The Poseidon Adventure has become a cult film. Some people accuse the movie of being "cheesy" and enjoyable only because it is a "bad" movie, but I think the film offers a lot more than that.
The Poseidon Adventure exemplifies the disaster film done right, going down smoothly with each water-logged scene increasing the tension to produce a palpable and intense disaster scenario. The terrific ensemble cast do a fantastic job of portraying the panic felt during such peril and captivate the audience at the selflessness humanity can sometimes display.
There have been attempts at recapturing the magic since. A 1979 sequel, Beyond the Poseidon Adventure, which was also based on a novel by Gallico, was released later with an equally star-studded cast. In addition, the original film has been remade twice, first as a television special in 2005 with the same name and as a theatrical feature release titled Poseidon (2006). But none of them have ever matched the quality of the original, which has become a timeless classic.
En route from New York City to Greece on New Year's Eve, majestic passenger ship the S.S. Poseidon is overtaken by a tidal wave. With the captain (Leslie Nielsen) dead, surviving passengers, including the passionate Rev. Scott (Gene Hackman), band together in the ship's ballroom. The group struggles to avert fires, flooding, structural instability and mechanical malfunctions as they make their way through a maze of ladders and tunnels in a desperate attempt to escape a watery grave.
2. The Towering Inferno (1974)
The Towering Inferno (1974) is a gigantic film. The story was adapted from two novels, The Tower (1973) by Richard Martin Stern and The Glass Inferno (1974) by Thomas N. Scortia and Frank M. Robinson. The film was the first ever to be a co-production by two major Hollywood studios, in this case, 20th Century Fox and Warner Brothers. The film's two stars demanded top billing, which eventually resulted in equal billing for Steve McQueen and Paul Newman.
To provide dual top billing, the credits were arranged diagonally, with McQueen lower left and Newman upper right. Thus, each appeared to have "first" billing depending on whether the credit was read left-to-right or top-to-bottom. This was the first time this "staggered but equal" billing was used in a movie.
Newman and McQueen were paid $1 million for their roles in the film. They were joined by a massive cast of stars, including William Holden, Faye Dunaway, Fred Astaire, Susan Blakely, O. J. Simpson, Robert Vaughn and Robert Wagner, amongst many, many others. Usually, films with this much money, star power and prestige, seem doomed to fail. But The Towering Inferno was a tremendous success, earning a nomination for the Academy Award for Best Picture and becoming the highest-grossing film of 1974.
The amazing stunts and real fires produce a staggering visual design, perfectly captured with breathtaking cinematography. It is a visual spectacle which is accompanied by some of the best actors of the day. It ultimately executes the disaster premise with flair and has become one of the greatest disaster pictures ever made.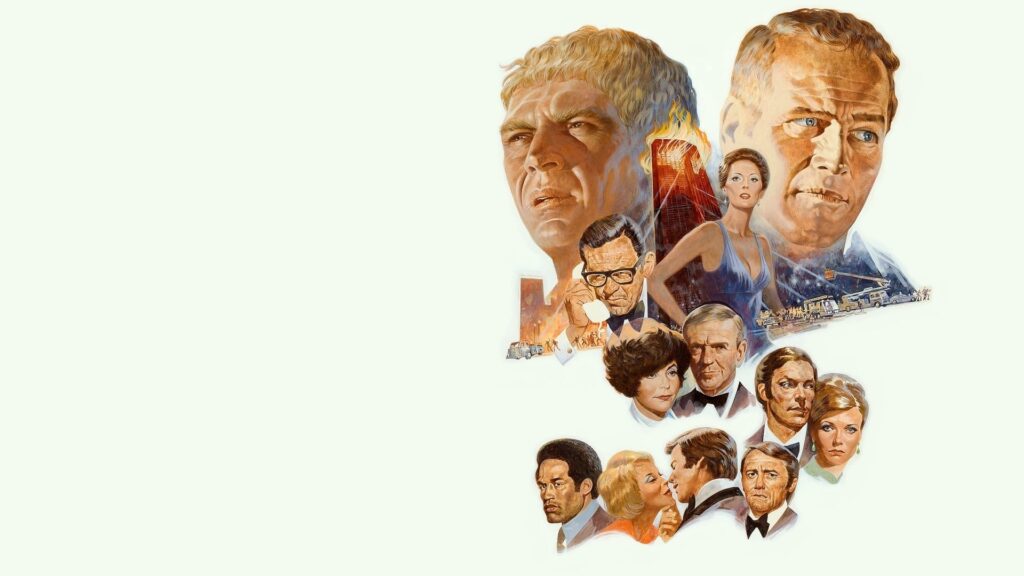 Classic 1970s disaster movie about a fire that breaks out in a state-of-the-art San Francisco high-rise building during the opening ceremony attended by a host of A-list guests. An overworked fire chief and the building's architect must cooperate in the struggle to save lives and subdue panic while a corrupt, cost-cutting contractor tries to evade responsibility for the disaster.
3. Airplane! (1980)
Airplane! (1980) is a unique entry in this list due to the fact that it is a spoof of the disaster genre. It primarily spoofs Zero Hour! (1957) as well as Airport (1975) and other films in the 'Airport' series. The film parodies the genre so well that I think it qualifies expertly for this list. It would also make a top comedy films list, as it is one of the funniest films ever made.
Jerry Zucker, Jim Abrahams, and David Zucker wrote Airplane! while they were performing with the Kentucky Fried Theatre, a performance group they founded in 1971. The script initially stayed close to the dialogue and plot of Zero Hour! and they thought the script borrowed so much from Zero Hour! that they believed they needed to negotiate the rights to create the remake of the film and ensure they remain within the allowance for parody within copyright law.
Airplane! is well known for its surreal humour and fast-paced slapstick comedy, including visual and verbal puns, gags, and obscure japes. But what mostly made it work was the dead-pan delivery, performing the jokes as if it was a serious film. The trick was to cast actors like Robert Stack, Peter Graves, and Lloyd Bridges, who, up to that time, had never done comedy, and were known for the disaster genre.
The genius turn was the performance of Leslie Nielsen in his first comedy role, which launched a successful revival for the star in a string of funnier roles in films such as The Naked Gun film series. Airplane! not only became a template for comedy films but also a complete distillation of the disaster genre.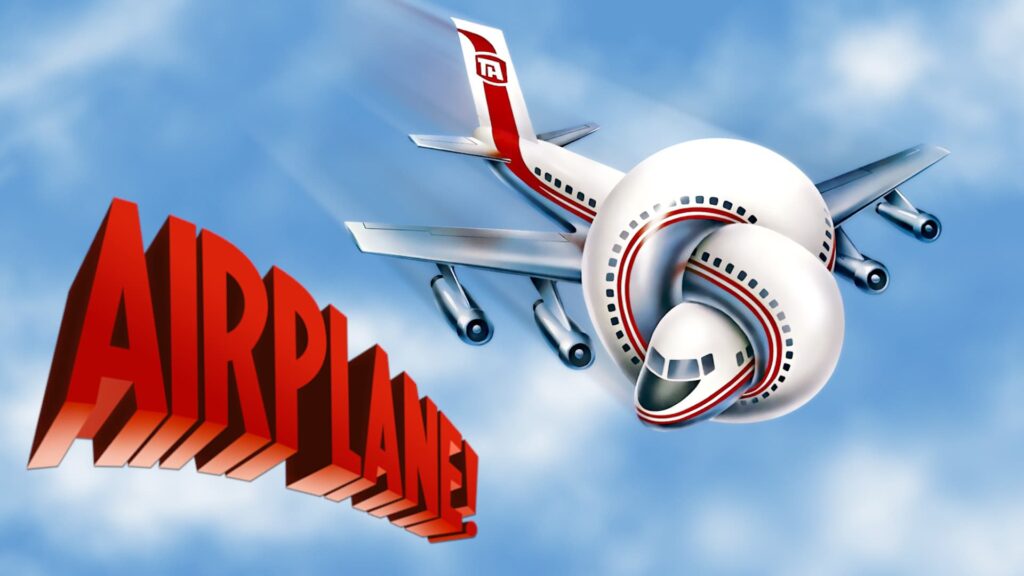 This spoof comedy takes shots at the slew of disaster movies that were released in the 70s. When the passengers and crew of a jet are incapacitated due to food poisoning, a rogue pilot with a drinking problem must co-operate with his ex-girlfriend turned stewardess to bring the plane down to a safe landing.
4. Apollo 13 (1995)
For our next entry, we are heading to space with a great crew that includes Tom Hanks, Kevin Bacon, Bill Paxton, Ed Harris and Gary Sinise in Apollo 13 (1995).
Ron Howard's film depicts astronauts Jim Lovell, Jack Swigert and Fred Haise aboard Apollo 13 for America's fifth crewed mission to the Moon, which was intended to be the third to land. En route, an onboard explosion deprives their spacecraft of much of its oxygen supply and electrical power, which forces NASA's flight controllers to abort the Moon landing and turns the mission into a struggle to get the three men home safely.
This was the first space-themed disaster movie and was based on the true story of the 1970 spaceflight that went wrong. It is an incredibly technically accurate movie, employing NASA's assistance in astronaut and flight controller training for the cast and obtaining permission to film scenes aboard a reduced gravity aircraft for the realistic depiction of the weightlessness experienced by the astronauts in space.
The realism and docu-drama feel give an insight into a dangerous real-life situation where there is very little support if something goes wrong. It pulls no punches and is a masterfully told drama with solid performances from a great cast. Even if you know how it all turned out, this amazing journey is harrowing and exhilarating.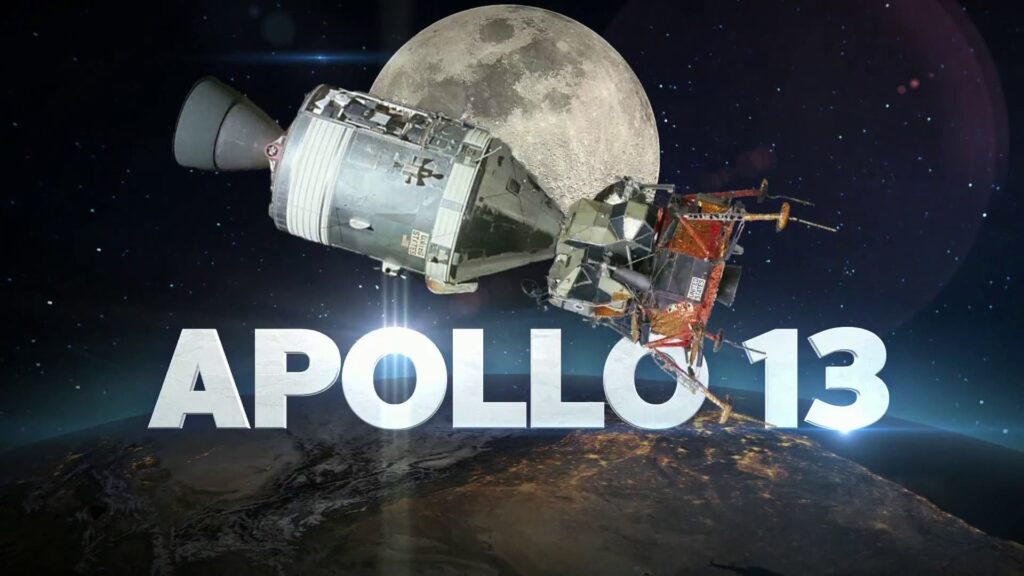 This Hollywood drama is based on the events of the Apollo 13 lunar mission, astronauts Jim Lovell (Tom Hanks), Fred Haise (Bill Paxton) and Jack Swigert (Kevin Bacon) find everything going according to plan after leaving Earth's orbit. However, when an oxygen tank explodes, the scheduled moon landing is called off. Subsequent tensions within the crew and numerous technical problems threaten both the astronauts' survival and their safe return to Earth.
5. Twister (1996)
The first time we saw a massive tornado on screen was the classic musical family film Wizard of Oz (1939). It was innovative for its time and looked great, but it is a little quaint and of its era. However, by the time we reach Twister (1996), our on-screen tornadoes are so destructive, they are simply awe-inducing.
Directed by Jan de Bont and penned by Michael Crichton, the film stars Helen Hunt, Bill Paxton, Jami Gertz and Cary Elwes. It focuses on a group of storm chasers trying to deploy a tornado research device during a severe outbreak in Oklahoma.
Even though Twister received mixed critical reviews, audiences couldn't get enough, with the film raking in nearly $500 million at the box office. The jaw-dropping special effects that brought the storms to life were groundbreaking, the action pulse-quickening, and the two leads smart and likeable.
The story is a little clunky in parts and contains a bickering romantic thread through the leads, which is hard to believe, but the action more than makes up for it. And hell, that's what we watch disaster movies for, right?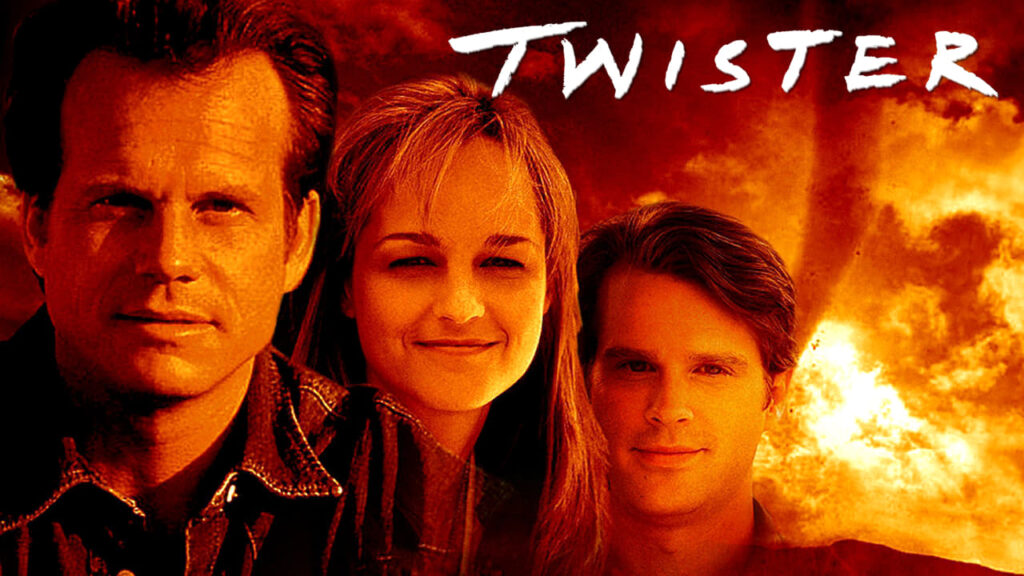 During the approach of the most powerful storm in decades, university professor Dr. Jo Harding (Helen Hunt) and an underfunded team of students prepare the prototype for Dorothy, a ground-breaking tornado data-gathering device conceived by her estranged husband, Bill (Bill Paxton). When Harding tells Bill that Dorothy is ready for testing — and that their privately funded rival Dr. Jonas Miller (Cary Elwes) has stolen the idea and built his own — Bill rejoins the team for one last mission.
6. Deep Impact (1998)
For me, Mimi Leder's 1998 science-fiction disaster film is the standout of the 90s disaster collection. Starring Robert Duvall, Elijah Wood, Vanessa Redgrave and Morgan Freeman, the film depicts the attempts to prepare for and destroy a 7-mile wide comet set to collide with Earth and cause a mass extinction.
Deep Impact (1998) was released at the same time as Armageddon (1998), a similar disaster movie that faired much better at the box office. But many scientists have pointed out that Deep Impact is far more scientifically accurate. But more than that, the melodrama of Deep Impact is much more significant. Whereas in most disaster films, there seems a way to survive, a deus ex machina, a way to save the day, at least for some, there is no such thing here. The attempts to save the Earth fail, and what the film really grapples with is fatalism, riding the tension of life or death and what people might do when facing the end of the world.
The film has a far more brooding tone than the disaster genre usually contains, but it keeps your attention and takes you along for the ride. The final 30 minutes – where all of humanity starts looking for anywhere to duck and cover – is great disaster movie stuff. Ultimate destruction on-screen, but you had to wait for the payoff. It has all the makings of a cinematic masterpiece but falls just a tad short of joining the all-time classics.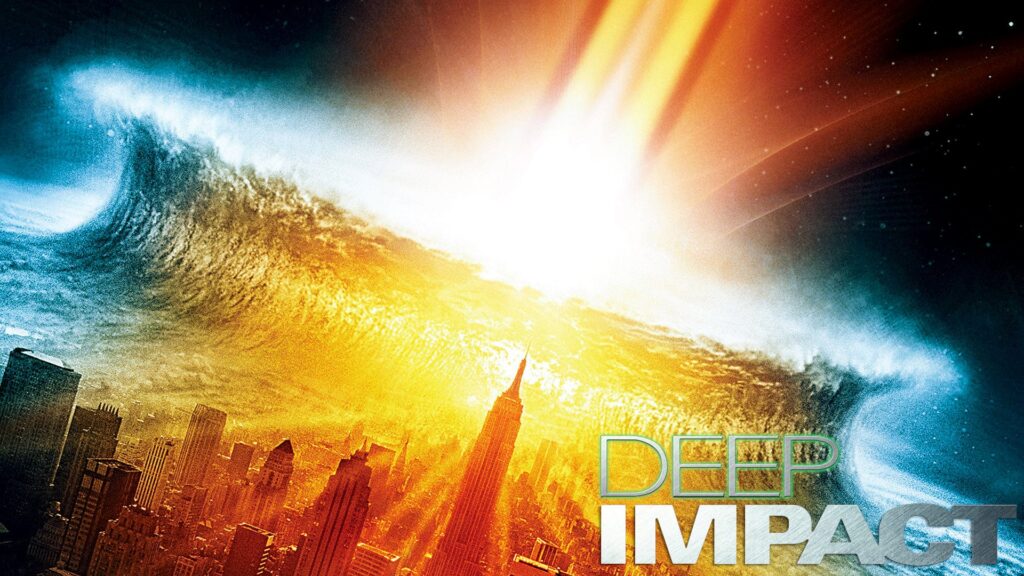 A comet is hurtling toward Earth and could mean the end of all human life. The U.S. government keeps the crisis under wraps, but crack reporter Jenny Lerner (Tea Leoni) uncovers the truth — forcing U.S. President Beck (Morgan Freeman) to announce his plan. Grizzled astronaut Spurgeon "Fish" Tanner (Robert Duvall) and his team will land on the comet and lay explosives, hopefully deterring the object from its doomsday course. If not, humanity will have to prepare for the worst.
7. The Perfect Storm (2000)
The Perfect Storm (2000) is Wolfgang Petersen's biographical disaster film based on the 1997 non-fiction book of the same name by Sebastian Junger.
Starring George Clooney, Mark Wahlberg, Diane Lane, Michael Ironside, John C. Reilly and Karen Allen, the film tells the story of the Andrea Gail. This commercial fishing vessel was lost at sea with all hands after being caught in the Great Storm of 1991.
While it is not packed with great character building or a strong emotional core, you can't deny that its action sequences make for a truly awe-inspiring spectacle. The film is essentially a series of fateful 'moments of truth', that leaves you on the edge of your seat. Truly nail-biting stuff.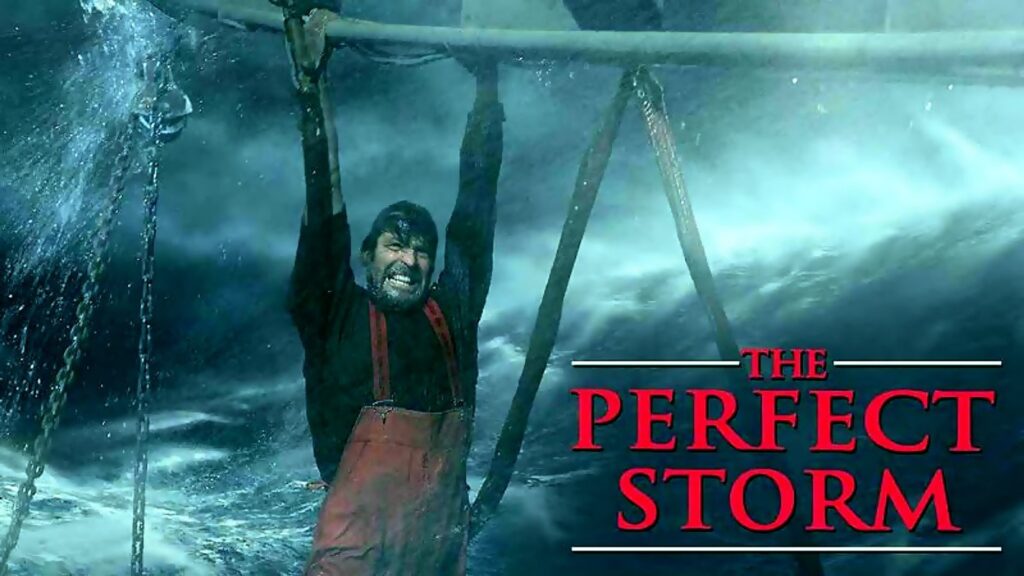 Based on a true story, the film tells of the courageous men and women who risk their lives every working day, pitting their fishing boats and rescue vessels against the capricious forces of nature. Their worst fears are realized at sea on Halloween of 1991, when they are confronted by three raging weather fronts which unexpectedly collide to produce the greatest, fiercest storm in modern history — "The Perfect Storm."
8. Contagion (2011)
Due to the COVID pandemic, Contagion (2011) has seen a resurgence in popularity due to its plots similarity to the real-life situation we have been dealing with for the past 18 months. Steven Soderbergh's thriller has a fantastic ensemble cast, including Marion Cotillard, Matt Damon, Laurence Fishburne, Jude Law, Gwyneth Paltrow, Kate Winslet, Bryan Cranston, Jennifer Ehle, and Sanaa Lathan.
The plot concerns the spread of a virus transmitted by respiratory droplets and fomites, attempts by medical researchers and public health officials to identify and contain the disease, the loss of social order in a pandemic and the introduction of a vaccine to halt its spread.
The film is what is referred to as hyperlink cinema, a style popularized in several of Soderbergh's films. Hyperlink cinema is where the characters or actions reside in separate stories, but a connection or influence between those disparate stories is slowly revealed to the audience in an interwoven cinematic narrative.
At the time, the film was inspired by epidemics such as the 2002–2004 SARS outbreak and the 2009 flu pandemic and foreshadowed a lot of what we have just been experiencing. The film is tense and tight, with outstanding performances from an excellent cast. Both exceptionally smart and delightfully scary, critics have praised the film for its narrative achievements, and by scientists for its accuracy. Well worth a watch!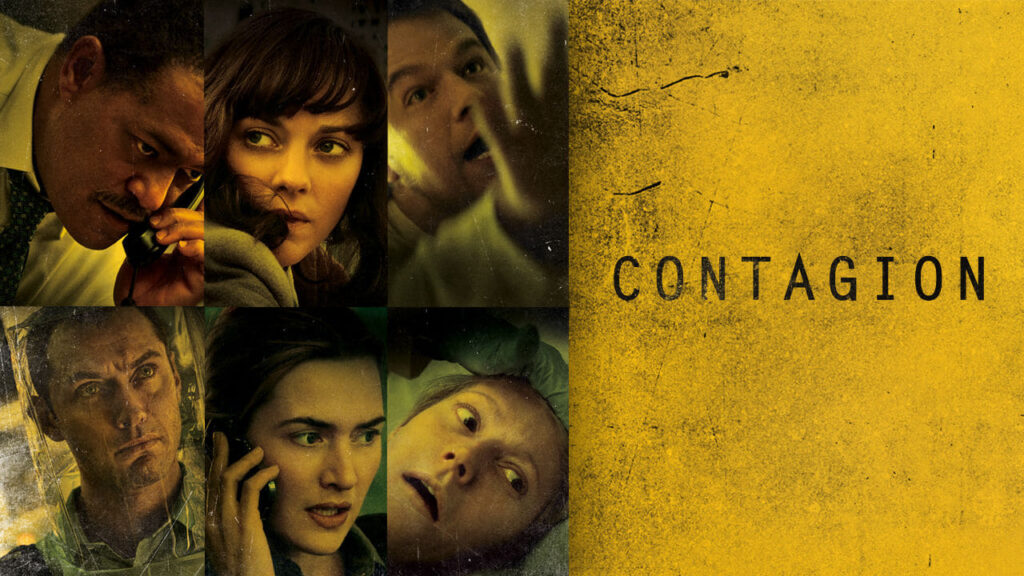 When Beth Emhoff (Gwyneth Paltrow) returns to Minnesota from a Hong Kong business trip, she attributes the malaise she feels to jet lag. However, two days later, Beth is dead, and doctors tell her shocked husband (Matt Damon) that they have no idea what killed her. Soon, many others start to exhibit the same symptoms, and a global pandemic explodes. Doctors try to contain the lethal microbe, but society begins to collapse as a blogger (Jude Law) fans the flames of paranoia.
9. The Day After Tomorrow (2004)
I felt it appropriate to end this list with a film covering something we are struggling to tackle right now, a real-life disaster that is looming over the horizon.
Roland Emmerich's The Day After Tomorrow (2004), based on the 1999 book The Coming Global Superstorm by Art Bell and Whitley Strieber, depicts catastrophic climatic effects following the disruption of the North Atlantic Ocean circulation in a series of extreme weather events that usher in global cooling and lead to a new ice age.
Starring Dennis Quaid, Jake Gyllenhaal, Ian Holm, Emmy Rossum, and Sela Ward, the film is a frightening glimpse at what could happen if the fragile eco-system is altered beyiond repair. Although the film is a bit clunky at times and isn't completely scientifically accurate (what films are?), it does deliver amazing special effects and poses a question. Are you willing to let climate change escalate to a point where these levels of destruction become a reality?
The special effects in the film are breathtaking and took 1,000 artists working on the film over a year to complete. The opening flyover of Antarctica was entirely computer-generated, and it is considered to be the longest all-CGI opening scene in film history, surpassing the space zoom-out from the opening of Contact (1997).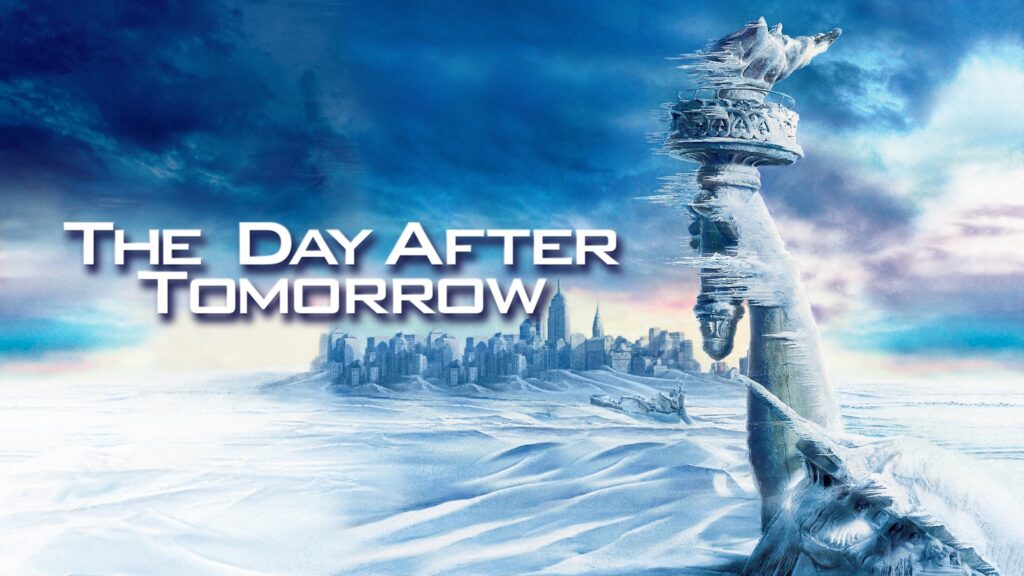 After climatologist Jack Hall (Dennis Quaid) is largely ignored by U.N. officials when presenting his environmental concerns, his research proves true when an enormous "superstorm" develops, setting off catastrophic natural disasters throughout the world. Trying to get to his son, Sam (Jake Gyllenhaal), who is trapped in New York with his friend Laura (Emmy Rossum) and others, Jack and his crew must travel by foot from Philadelphia, braving the elements, to get to Sam before it's too late.
So, that's our Our Top 9 Disaster Films!
Think we've missed any out or not included your favourite disaster movie? Then let us know in the comments below.
You can read more of our reviews here.
Please join in 'the conversation' with us on social media on Facebook, Instagram, Tik Tok and Twitter. We really appreciate all the likes, shares, retweets etc., and we would love to hear from you and continue the wonderful celebration of all things cinema on these platforms.
If you love to watch videos on YouTube, then please subscribe to our channel here. There's lots of fun and informative videos uploaded that we hope you will enjoy!
We have a passion for movies and aim to produce entertaining and informative movie-related content. It certainly is a lot of hard work, but we love films so much that it's worth all the effort. We have to keep the lights on and make sure we have plenty of caffeine to keep all of the articles, videos and social media posts coming, so if you like our work, then please consider supporting us at Buy Me A Coffee here. You can also become a More Movies patron on Patreon here.
To help support us here at More Movies, we do use advertising in a few places, so we appreciate it if you do not use AdBlockers on our site, as this helps keep a few pennies trickling in. We also utilise affiliate links throughout the site, usually to help guide our readers to places to stream, rent or buy the movies we talk about. One of the biggest sources for movies online is Amazon Prime Video, where you can stream over 18,000 films. If you are interested in Prime and haven't signed up yet, you can get a 30-day free trial via this affiliate link, which helps support us too.