Wrestling is theatre – a live performance in front of thousands with no retakes. They perform ungodly stunts and acrobatics. Many of these charismatic muscle men have made the leap over the last 40 years into movies. Often the leap is not successful, with plenty of terrible movies. Films like The Scorpion King (2002), The Marine (2006) and Ready to Rumble (2000) that give the wrestling fraternity a bad name in Hollywood.
However, there is a slew of examples of wrestlers making appearances in films that are great fun. Sometimes, they pull off a brilliant performance, that takes many by surprise. So we've whittled down a list and picked out 9 great films that star wrestlers, in no particular order.
Check out our list, it should give you something to grapple with!
1. Macho Man Randy Savage in Spider-Man (2002)
Spider-Man was a great film in 2002, and is still the most popular portrayal of the costumed Peter Parker to date. The Sam Raimi directed superhero adventure stars, Tobey Maguire as Parker. A shy bullied boy, Peter's life changes when bitten by a genetically altered spider. The classic comic book tale is perfect for the big screen.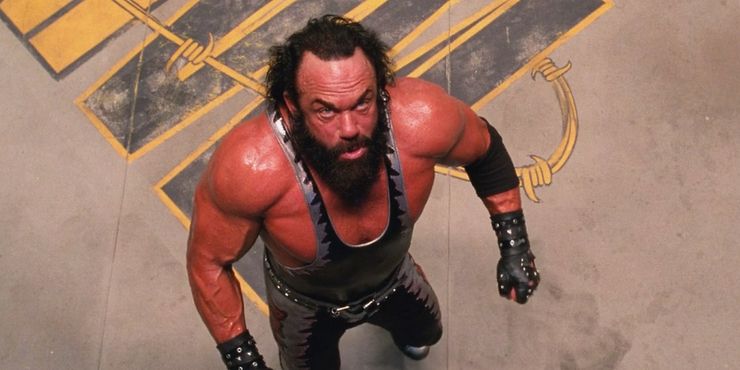 By 2002, Randy Savage's career was behind him. Years had past since showstopping performances at Wrestlemania against Ricky Steamboat. But he turns up to play a small but crucial role in the film – as a wrestler! His huge frame as he takes on the tiny "Human Spider" is hilarious. The short match they have creates combines the world of super heroes and wrestling perfectly. A crucial and entertaining performance, that works just perfectly. Oooh yeahhh!!
2. Hulk Hogan in Rocky III (1982)
Rocky III is an important film for many reasons – none more so than for Hulk Hogan. Rocky I and II were great films and when Rocky III came along in the explosion of a new wave of pop culture. it was a huge sensation and box office smash. The film cemented Stallone as a box office star and raised the profile of Mr T, and Carl Weathers. It provided a smash hit for Survivor with "Eye of the Tiger". But perhaps best of all, it made Hulk Hogan a household name. And furthermore, wrestling and the WWF, which was about to explode in popularity at the height of the 1980's.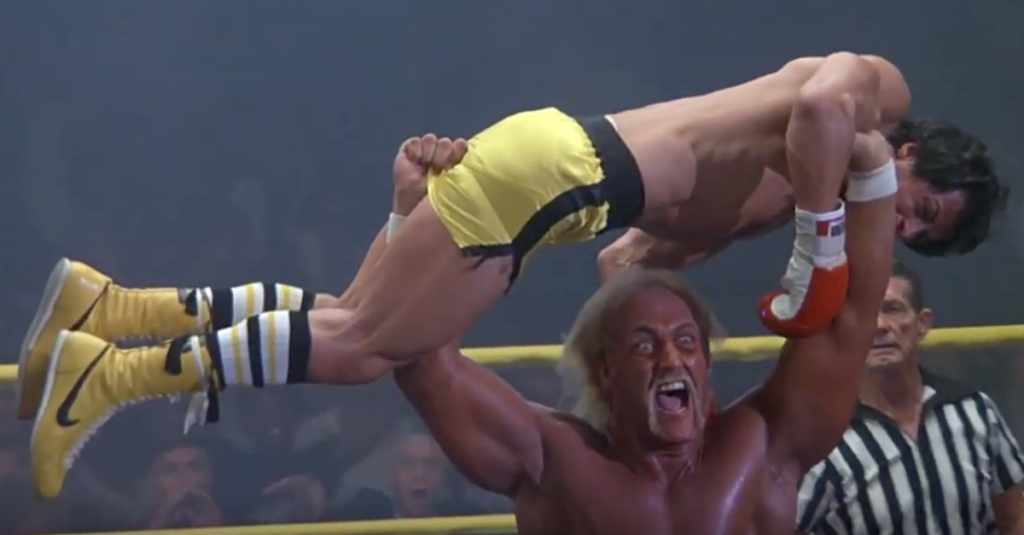 Hulk Hogan plays a character called Thunderlips. The so-called "ultimate male" who fights Rocky in an exhibition match for charity. The fight starts with Hogan throwing Balboa around and holding the match due to his dominant size. But later Thunderlips succumbs to the wiser ring skills of The Italian Stallion. A great film, with a cheesy 80s cameo from Hogan, just before Hulkamania ran wild, brother!
3. "Rowdy" Roddy Piper in They Live (1988)
There were quite a few crossovers into Hollywood by wrestlers after Rocky III, usually to play big strong men. But Roddy Piper's performance in They Live came out of nowhere and is very different. Piper stars as Nada, a wanderer without meaning who discovers a pair of sunglasses that shows the world how it truly is – the subliminal messages in advertising, the population held back and the shocking discovery that the elite are skulled aliens, hell-bent on world domination.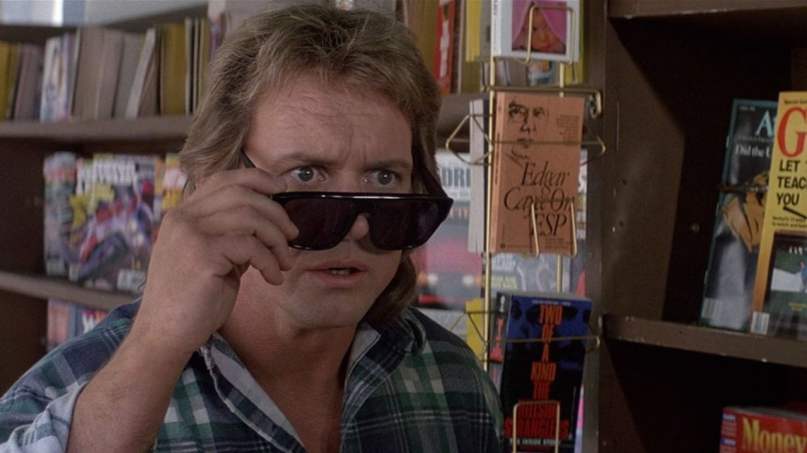 In excellent John Carpenter directed action movie fashion, he fights back on behalf of humanity – stomping around with a pump action shotgun in surreal fashion, fighting a war that no-one knows is happening. Over the top but equally brilliant, it is perhaps the best film on the list. It is time to kick ass and chew bubblegum – but we're all outta gum!
4. R-Truth, Nigel McGuinness, Jay Lethal and many more in The Wrestler (2008)
The Wrestler is a 2008 drama film that explores the wrestling industry like no other movie has. Mickey Rourke stars as Randy "The Ram " Robinson, an ageing star of yesteryear, still wrestling around the independent circuit. The fame and money have died away, and he works a minimum wage job whilst wrestling on the side, hoping for that one last moment in the spotlight.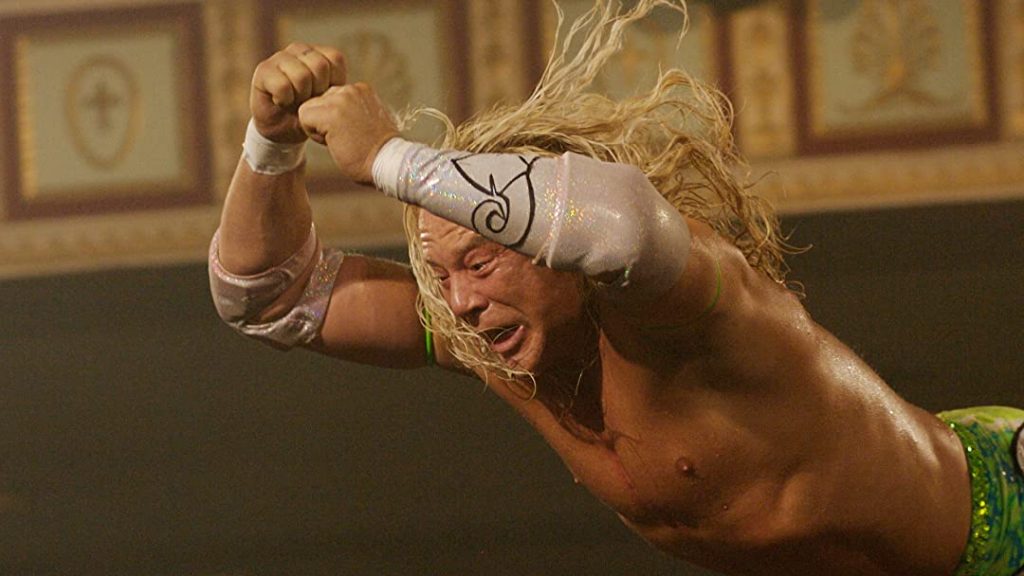 Showing the brutal life on the road, the drug use, the abuse, the unhealthy relationships, it's a hard-hitting film. It is also a movie full to the brim with wrestlers – many whom none-wrestling fans may not know – but are popular amongst followers of the sport. Stars such as R-Truth (Ron Killings), Nigel McGuinness and Jay Lethal are among many wrestlers who perform in the film, both in the ring and generally in supporting roles. A real suplex of a film!
5. Triple "HHH" in Blade: Trinity (2004)
Perhaps the weakest of the trilogy, and maybe the most formulaic, Blade: Trinity is still a fun romp through a human vs. vampire war. With plenty of action and fighting to be delivered by Wesley Snipes and cast, this film is all just about bigger, badder, better. So when you need physicality, why not invite "The Game".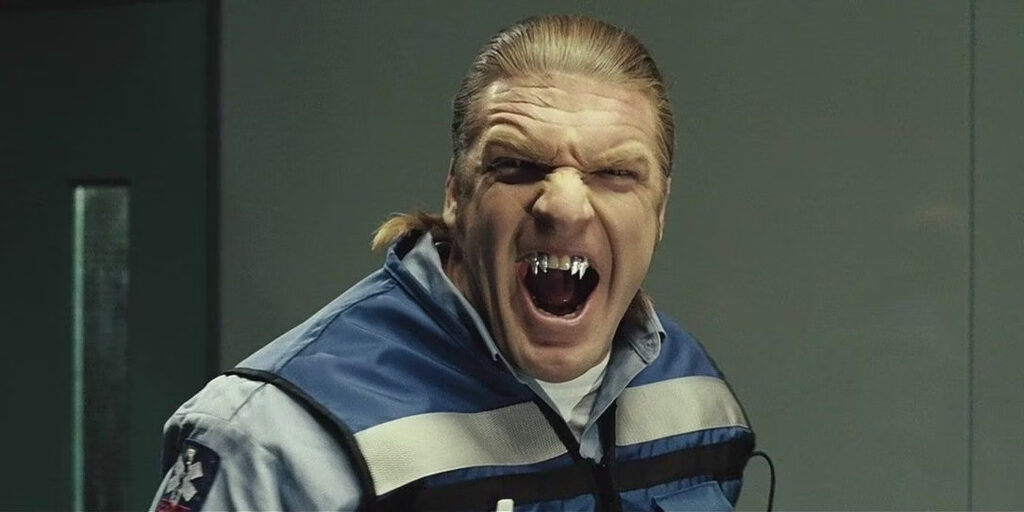 Triple H (Paul Levesque) stars in the film as Jarko Grimwood, a vampire in the House of Talos. He makes brief appearances building up to a starring scene where he has a huge fight with Hannibal King, played by Ryan Reynolds. A great physical performance, that definitely required the powerful physicality. He really bought the pain, and plenty of dick jokes – maybe he should have told them to "SUCK IT!!"
6. The Rock in Jumanji: Welcome to the Jungle (2017)
The Rock is the breakout wrestler turned actor, starring in over 50 films over the last 20 years. Most of these films have really disappointed. Which is a shame, because everyone loves the Rock, he's cool. But a lot of terrible movies and cringe sequels. However, more recent outings have been better, a few performances in the Fast and Furious movies have helped up his game, but what's really helped is meeting Kevin Hart – for whom he has created an excellent bond. The funny chemistry between the two works well.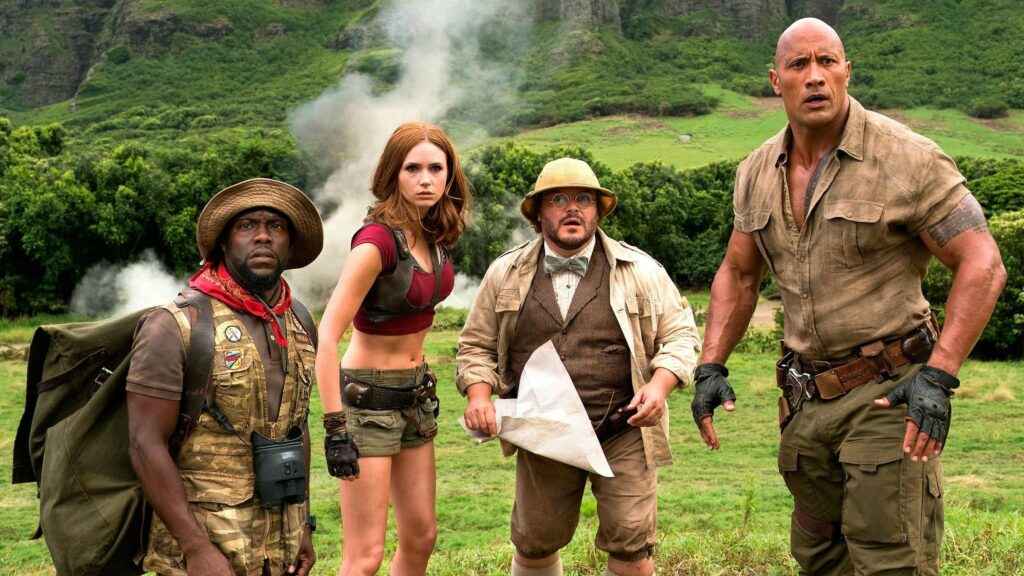 I was not a fan of the idea of a Jumanji remake when it came out – and it still doesn't touch the brilliance of the original Robin Williams outing – but it is surprisingly funny. Full of action and hilarious dialogue with 4 great talents at the helm – The Rock, Kevin Hart, Karen Gillan and Jack Black. What more could you want? The Rock does what he does best – he's funny, witty and charming – whilst laying the smack down!
7. Terry Funk – Road House (1989)
A lesser-known performance from a wrestler is the legendary Terry Funk appearing in Road House. A box office flop at the time, the Patrick Swayze vehicle has become a cult favourite in the years since for its typical 80s fun and action. Swayze stars as a bouncer at a new roadside bar in Missouri, trying to protect the joint from a corrupt businessman and his band of violent thugs.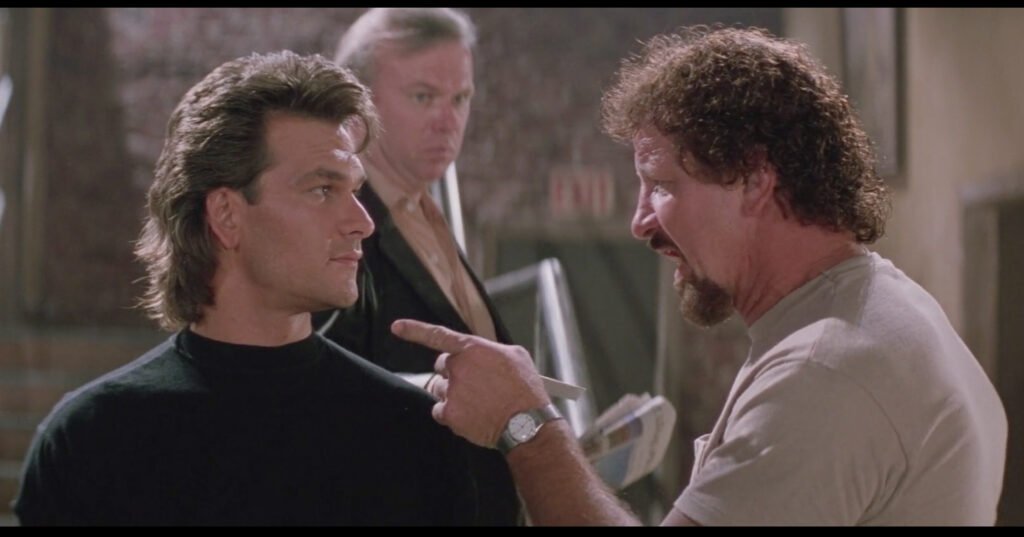 Full of romance, action, violence and fun, it's a real nostalgic treat. There's a great musical role by blues player Jeff Healey too!
Terry Funk plays the role of Morgan, another bouncer at the bar, who starts the film as a bit of an old-timer, who is fired by Swayze for his crooked ways. He then leaves to join the bad guys only to return to the bar and start his own royal rumble against his former boss. Funky!
8. André The Giant in The Princess Bride (1987)
There are many stories about André the Giant, particularly on the set of Princess Bride, which could perhaps be funnier and overshadow the movie we are talking about. But The Princess Bride is a great family movie, a fairy tale about true love, and the quest to find it in a journey fraught with danger .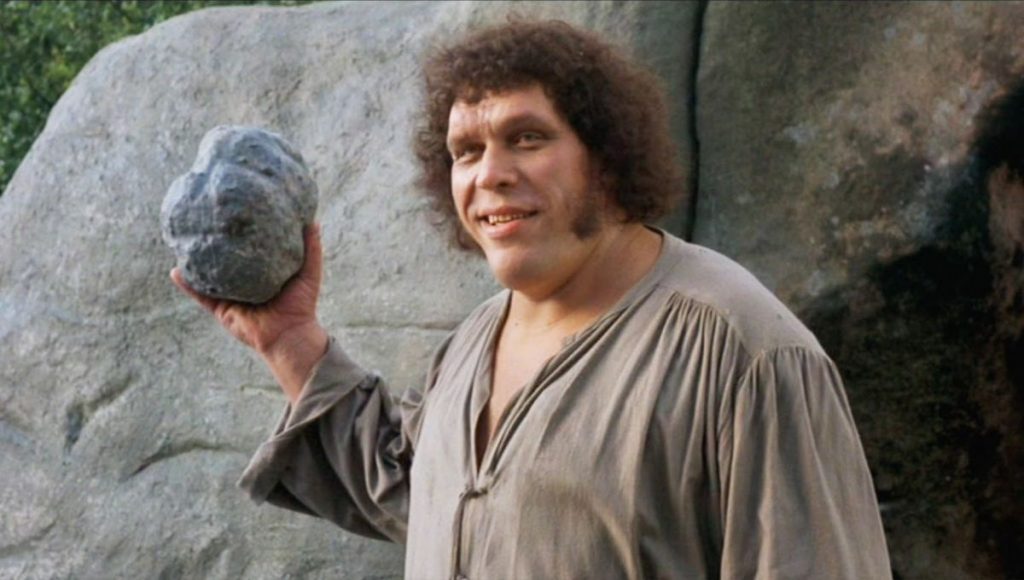 André the Giant was a mammoth of a man, like something out of a fairy tale himself, billed at 7′ 4in and 520lbs. But he was a sweetheart as well, perfect for the part. He played Fezzik, a giant employed by the inconceivable Vizzini, a criminal who plans to kidnap Princess Buttercup. Fezzik is tired of working for Vizzini and after he is defeated by the film's hero Wesley, he joins him on his quest to rescue the princess. A true gentle giant and a good guy after all!
9. Jesse Ventura in Predator (1987)
He's been a governor, a Navy SEAL, a fighter, a wrestler. He's heard things that will blow your mind. He also starred as commando Blain in the 1987 sci-fi classic Predator alongside Arnold Schwarzenegger. Predator is a well loved film that laid a path for many sequel films to follow. But the original will always be the best. The story of a commando team rescuing hostages in a Central America jungle, only to discover they are targeted by an invisible extraterrestrial warrior who is hunting them for sport.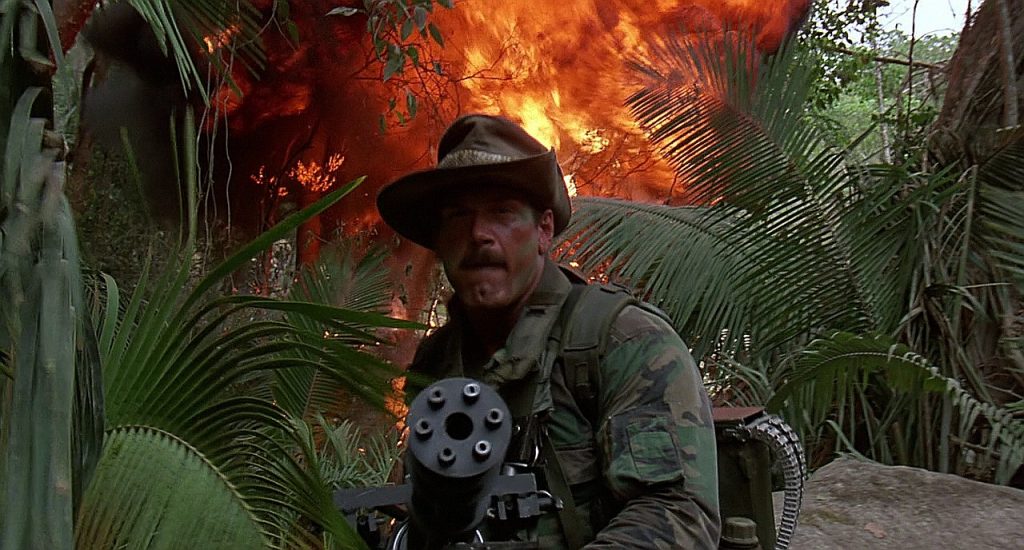 Ventura puts in a terrific performance as the obnoxious commando, a "Sexual Tyrannosaurus" as he puts it. Pulling in his marine experience and the over the top theatrics of wrestling, he gives a stand out portrayal of a mini-gun toting madman in one of the 80s best action movies. A real screen stealing performance!
And that's the list we've been wrestling with….
Think we've missed any out or not included the movie that stars your favouite wrestling icon? Then let us know in the comments below.
You can read more of our articles here.
Please join us on social media on Facebook, Instagram, Tik Tok and Twitter. We really appreciate all the likes, shares, retweets etc., and we would love to hear from you and continue the wonderful celebration of all things cinema on these platforms.
If you love to watch videos on YouTube, then please subscribe to our channel here. There's lots of fun and informative videos uploaded that we hope you will enjoy!
We have a passion for movies and aim to produce entertaining and informative movie-related content. It certainly is a lot of hard work, but we love films so much that it's worth all the effort. We have to keep the lights on and make sure we have plenty of caffeine to keep all of the articles, videos and social media posts coming, so if you like our work, then please consider supporting us at Buy Me A Coffee here. You can also become a More Movies patron on Patreon here.
To help support us here at More Movies, we do use advertising in a few places, so we appreciate it if you do not use AdBlockers on our site, as this helps keep a few pennies trickling in. We also utilise affiliate links throughout the site, usually to help guide our readers to places to stream, rent or buy the movies we talk about. One of the biggest sources for movies online is Amazon Prime Video, where you can stream over 18,000 films. If you are interested in Prime and haven't signed up yet, you can get a 30-day free trial via this affiliate link, which helps support us too.