Minari is a 2020 drama film written and directed by Lee Isaac Chung and starring Steven Yuen, Yeri Han and Yuh-Jung Youn.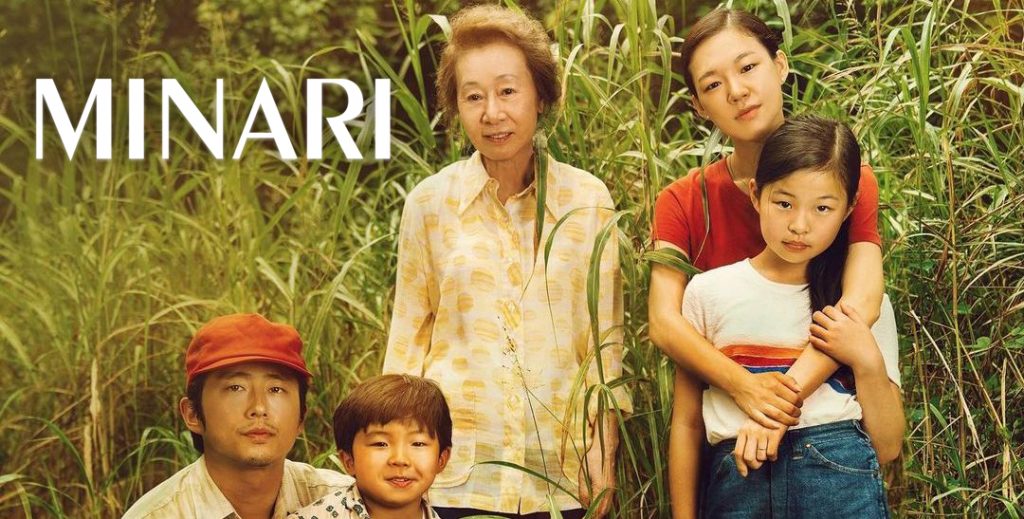 Named after an edible plant that grows freely and of its own accord once scattered, Minari is a thoughtful drama film about a young Korean family, who having left South Korea for the United States, then moved from California to Arkansas with the intention of becoming vegetable farmers. The film is semi-autobiographical, Chung weaving elements of his own childhood upbringing into the narrative, having moved from Atlantic City to a small farm in the Ozark foothills, when he was a young boy.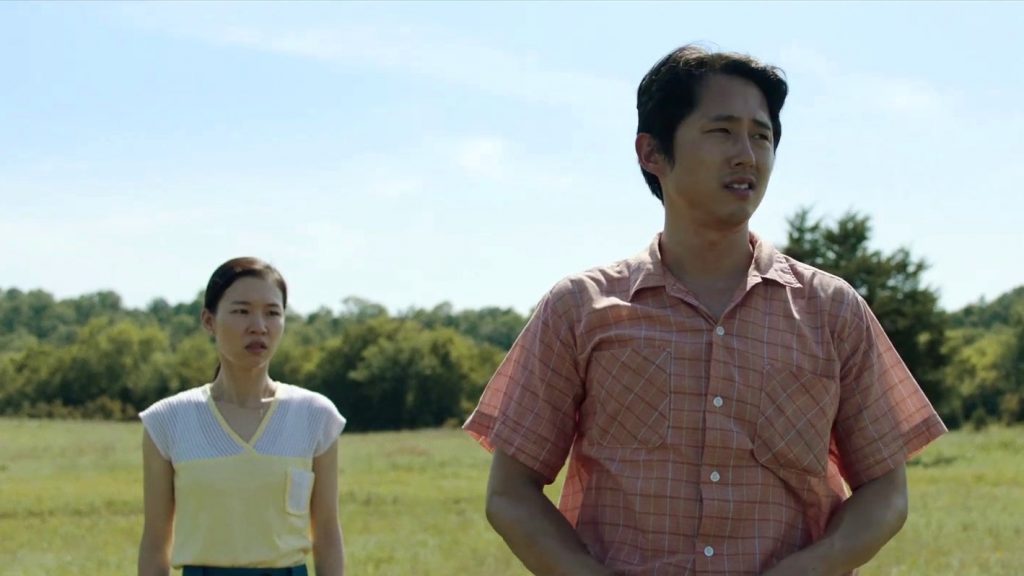 The Story of Minari
The film begins with the Yi family arriving at their new home in rural Arkansas, the landscape is luscious and green, albeit secluded and basic. This takes mother Monica, played by Yeri Han, very much by surprise as she does not seem to share her husband Jacob's enthusiasm for the location or their new, peculiar domicile. The couple have two small children to look after, Anne and David, the latter of which has a heart condition. Because of this, the new home's remote location adds to Monica's concerns regarding the family's recent move. Jacob however, is determined to make a go of things. He is a man on a mission, eager to make a success growing and selling Korean produce. He is also adamant that his children should see him become successful in his farming endeavour. Monica seems reticent to invest in his dream and implores Jacob to move her mother from South Korea to their home. The couple have to work at a local hatchery, sexing chicks to make ends meet and therefore need a more permanent solution in terms of having someone to watch the children while they are gone. So, Grandmother Soonja is flown over and immediately enrolled as a surrogate guardian, but when she does not meet young David's expectations of what a Grandmother should be, a tension develops between them which leads to some hilarious moments.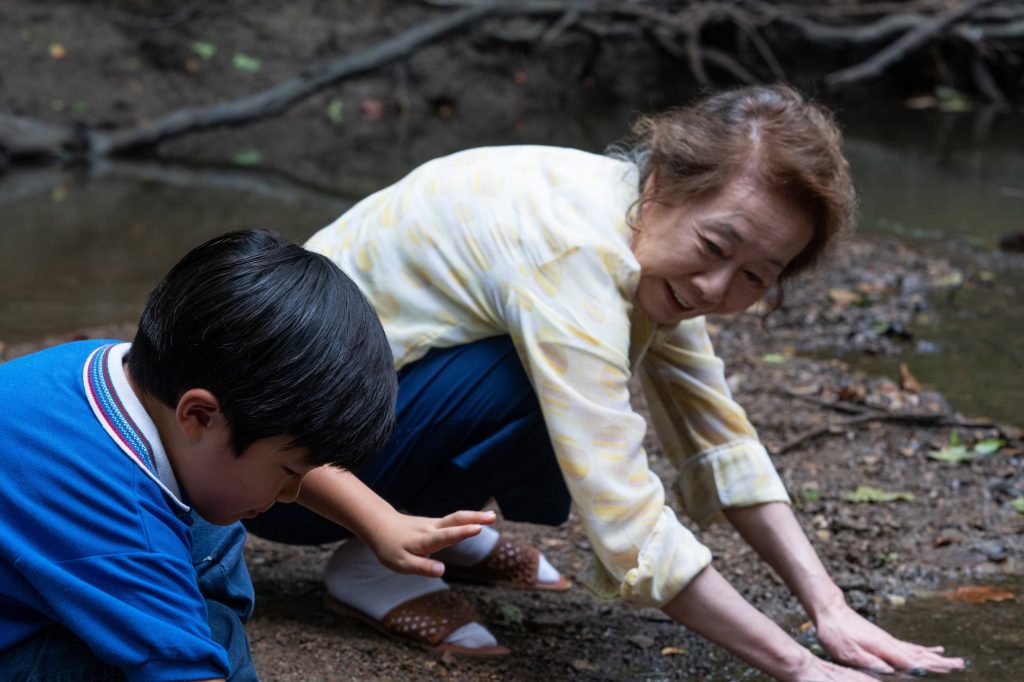 As time passes, David begins to warm to his Grandma and their relationship strengthens. However, one inauspicious event after another puts Jacob's dream at risk, as he drifts further away from his wife, becoming obsessed with his work on the farm. Things come to a head and the the couple's love is put to the ultimate test via an unexpected event which catches them completely off guard.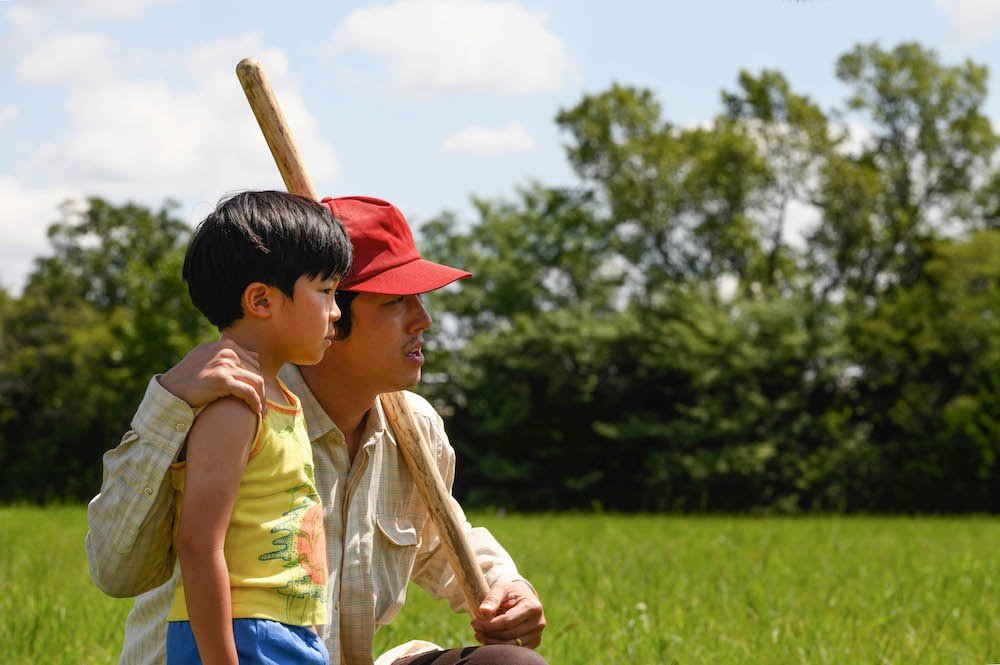 Thoughts on Minari
Minari is a slow moving and thoughtful drama that deals with issues of faith, family loyalty and resiliency in the face of adversity. As this young family attempt to fulfil the American ideals of prosperity and success through grit and hard work, we see the strains that they are put through on a personal level and the ways in which the hardships of such a life can take its toll. Produced by A24, this film is notable for being an American production that is also predominantly non-English language. Although there are various scenes in which English is spoken, the majority of the movie is presented in Korean with subtitles. The performances are all very strong. Steven Yuen, which most people will recognise from TV's The Walking Dead gives a mature and believable performance as Jacob. Yeri Han is also more than competent in her role as Monica. The children played by Alan S. Kim and Noel Cho are both very believable and perfectly cast, but it is Yuh-Jung Youn that steals the show with an idiosyncratic and memorable performance as the lovable matriarch Soonja. It is also worth mentioning Will Patton who plays the strange but kindly Paul, a man consumed by religious fervour who proves to be a faithful and trustworthy friend to the Yi family.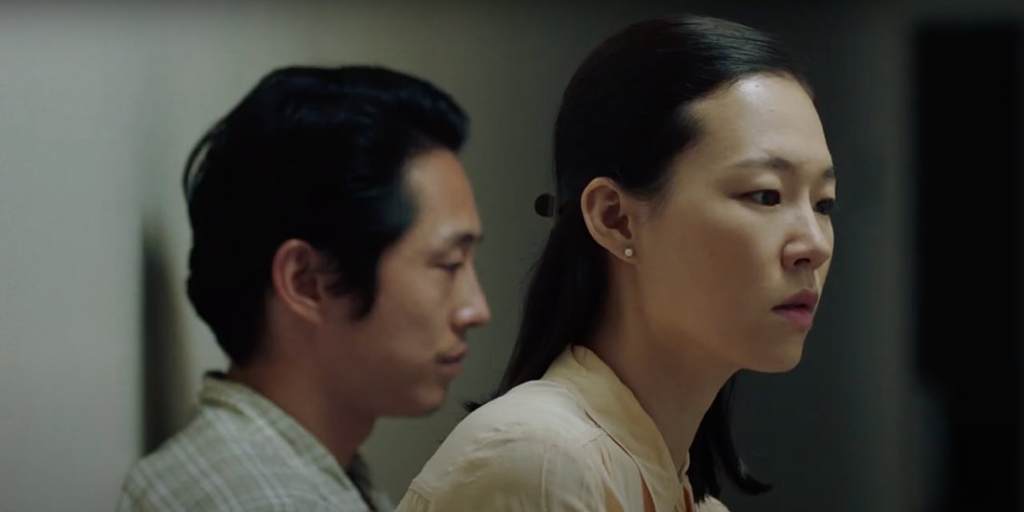 Summary
There's a lot to be taken from Minari, and although some are bound to find it a little too dry and introspective for their taste, others will relish in the beautiful Arkansas vistas and the relaxed pace of this touching family drama. The cinematography is understated and emphasises the beauty of nature and the film's score is unassuming and eerily ubiquitous, signalling the hard times that lay ahead for the characters as well as maintaining a motif of hope, perhaps suggesting that the old adage that 'love will conquer all' is still, and will always remain a relevant meditation.
That's it for this review of Minari.
What do you think of Minari? Let us know in the comments.
You can read more of our reviews here.
Please join us on social media on Facebook, Instagram, Tik Tok and Twitter. We really appreciate all the likes, shares, retweets etc., and we would love to hear from you and continue the wonderful celebration of all things cinema on these platforms.
If you love to watch videos on YouTube, then please subscribe to our channel here. There's lots of fun and informative videos uploaded that we hope you will enjoy!
We have a passion for movies and aim to produce entertaining and informative movie-related content. It certainly is a lot of hard work, but we love films so much that it's worth all the effort. We have to keep the lights on and make sure we have plenty of caffeine to keep all of the articles, videos and social media posts coming, so if you like our work, then please consider supporting us at Buy Me A Coffee here.
To help support us here at More Movies, we do use advertising in a few places, so we appreciate it if you do not use AdBlockers on our site, as this helps keep a few pennies trickling in. We also utilise affiliate links throughout the site, usually to help guide our readers to places to stream, rent or buy the movies we talk about. One of the biggest sources for movies online is Amazon Prime Video, where you can stream over 18,000 films. If you are interested in Prime and haven't signed up yet, you can get a 30-day free trial via this affiliate link, which helps support us too.