As the Olympics has just got underway over in Tokyo, albeit a year later than planned, we thought we would compile a list of some of our favourite films with a connection to the Olympic Games.
The Olympics is a special moment for humanity that surpasses boundaries and brings everybody together every four years, in the pursuit of sporting greatness. Packed with drama and pageantry, we get to witness incredible feats of athelticism and celebrate the highs and lows of professional competition. It is also an opportunity to embrace culture and to demonstrate the rich history and heritage of the host city.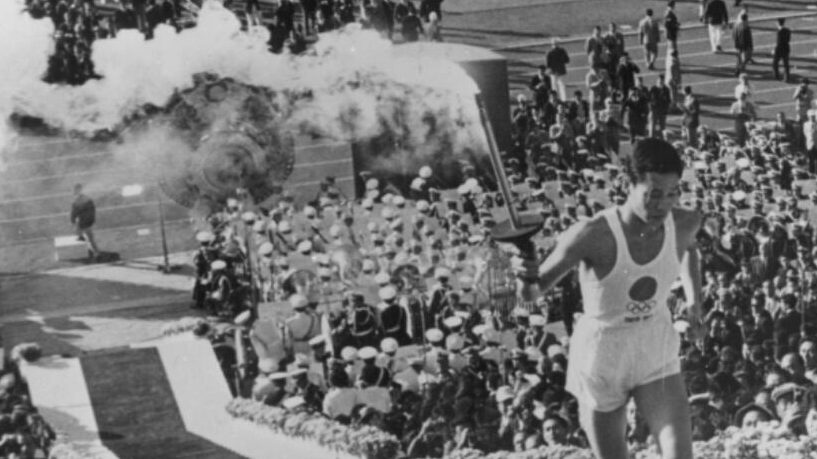 But more than anything, as is often the case with sports, it is the opportunity to tell us an underdog story. It is these tales of achievement against all the odds that we love so much, and hence, these stories have been turned into fantastic films for us to watch and enjoy. So here, in chronological order, are our Top 7 Olympics films…
1. Chariots of Fire (1981)
A film whose title was inspired by the line "Bring me my Chariot of fire!" from the William Blake poem "Jerusalem", Chariots of Fire (1981) was a smash hit with critics and audiences alike, winning four Academy Awards, including Best Picture.
Producer David Puttnam was looking for a story in the mould of A Man for All Seasons (1966), regarding someone who follows his conscience. Puttnam felt sports provided explicit situations in this sense. He discovered Eric Liddell's story by accident in 1977, when he happened upon a reference book about the Olympics.
Puttnam chose Hugh Hudson, a multiple award-winning advertising and documentary filmmaker who had never helmed a feature film, to direct Chariots of Fire. Hudson and Puttnam had known each other since the 1960s when Puttnam was an advertising executive, and Hudson was making films for ad agencies.
The film tells the true story of two British athletes in the 1924 Olympics, Eric Liddell, a devout Scottish Christian who runs for the glory of God, and Harold Abrahams, an English Jew who runs to overcome prejudice.
In the modern era of sports, which since the film's release has progressed a lot more, it is nice to look back on a simpler time in the Olympics. It wasn't about the best equipment, perfect diets or sports science, but the will and determination of athletes to win. It is also about what is right, about morality and what is sacrificed in the pursuit of glory.
The now-famous opening scene of pale young men racing barefoot along the beach, full of hope and elation, backed by Vangelis's evocative anthem, is etched into movie history. It is worth watching for this scene alone.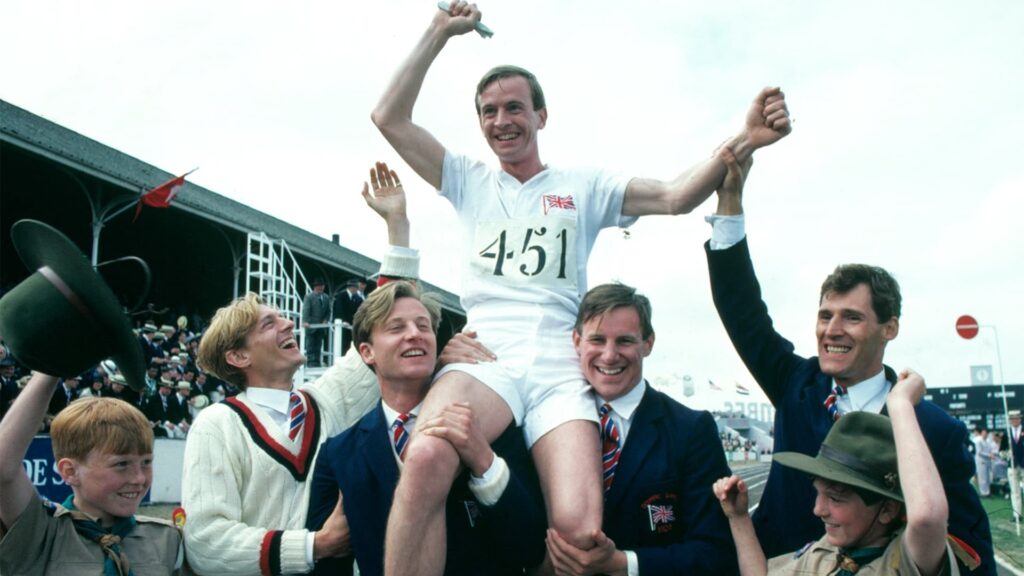 In the class-obsessed and religiously divided United Kingdom of the early 1920s, two determined young runners train for the 1924 Paris Olympics. Eric Liddell (Ian Charleson), a devout Christian born to Scottish missionaries in China, sees running as part of his worship of God's glory and refuses to train or compete on the Sabbath. Harold Abrahams (Ben Cross) overcomes anti-Semitism and class bias, but neglects his beloved sweetheart Sybil (Alice Krige) in his single-minded quest.
2. Cool Runnings (1993)
Cool Runnings (1993) is loosely based on the true story of the Jamaica national bobsleigh team's debut in competition during the 1988 Winter Olympics in Calgary, Alberta, Canada. This is the story of four Jamaican bobsledders who dream of competing in the Winter Olympics, despite never having seen snow.
Leon Robinson, Doug E. Doug, Rawle D. Lewis, Malik Yoba star alongside the legendary John Candy, who is hilarious as always, in one of his last roles. The charming performances of the entire cast are what raises the film to a top-level comedy and a cult favourite for many over the years.
It's a light-hearted film, full of humour with a very uplifting narrative. We all love an underdog story, and this is the ultimate one. It is a theme you will notice throughout this list, the story of people either held back or in difficult circumstances that beat impossible odds through hard work and perseverance to reach their goals. That is the crux of this movie, and it is damn good laugh along the way.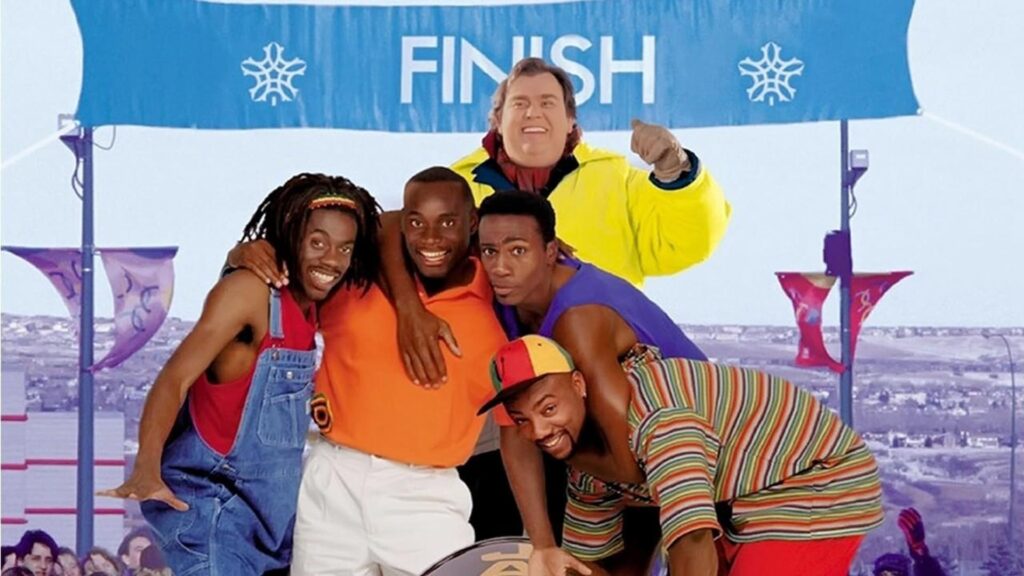 Four Jamaican bobsledders dream of competing in the Winter Olympics, despite never having seen snow. With the help of a disgraced former champion desperate to redeem himself, the Jamaicans set out to become worthy of Olympic selection, and go all out for glory.
3. Munich (2005)
The next film on our list is associated with a tragedy. During the 1972 Olympics which was hosted in Munich, Germany, the Palestine terrorist group Black September killed 12 people (6 Israeli coaches, 5 Israeli athletes and 1 German police officer) after a bungled kidnap attempt.
Munich (2005) is the story of the Israeli Government's retaliation in response to the massacre. Produced and directed by Steven Spielberg, the film is based on the book Vengeance by George Jonas. Furtively called Operation Wrath of God, the mission involved several Jewish operators who form a team that is intent on killing 11 Palestinian terrorists who were linked to the Munich massacre.
The incident in 1972 was one of the darkest chapters in Olympics history. This film attempts to view the aftermath as even-handedly as possible, showing the conflicting ethical conundrums that the revenge squad face, particularly when they find themselves responsible for the deaths of innocent by-standers during one of their assassination attempts. This film is a white-knuckle ride of tension and peril which is expertly directed by the master himslef, Mr. Spielberg. Despite the dark subject matter and loose affiliation with the Olympics, Munich is nevertheless, a powerful reminder of how terrorists will try to use the biggest world stages in order to further their causes and ideologies.
Check out our Top 5 Steven Spielberg films here.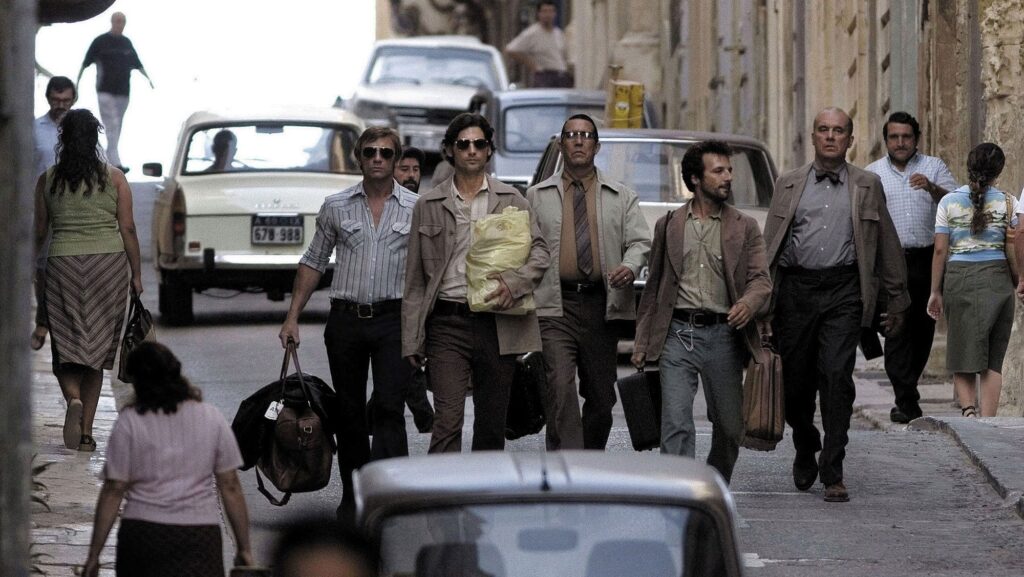 After the murder of 5 Israeli athletes and 6 Israeli coaches at the 1972 Olympics, the Israeli government secretly assigns Avner Kaufman (Eric Bana) to carry out a series of strategic retaliations. With the help of a driver (Daniel Craig), a forger (Hanns Zischler), a bomb-maker (Mathieu Kassovitz) and a former soldier (Ciarán Hinds), Avner conducts a worldwide operation, targeting 11 individuals. As the assassinations pile up, Avner begins to doubt the morality of his actions.
4. Foxcatcher (2014)
Foxcatcher (2014) tells the incredible story of multimillionaire John du Pont and his recruitment of two 1984 U.S. Olympic gold medalist wrestlers, Mark and David Schultz, to help coach U.S. Olympics wrestlers and the subsequent murder of David Schultz by du Pont in January 1996. Loosely based on a true story, the film stars Steve Carell, Channing Tatum, and Mark Ruffalo in a chilling true-crime drama.
The movie is interesting because it is the antithesis of the ideals usually found in the sports genre. The clamour for greatness and overcoming the odds is part of the American dream. We're used to seeing the uplifting training montage and comeback victory where against all odds, our heroes succeed. But here, the curtain is pulled back, and the ugly truth about high-level competitive sports is laid bare.
The ambition and brotherly rivalry are far removed from tropes like winning the big game and growing as a person. Under the watchful eye of Moneyball director Bennett Miller, these characters are grappling with something far heavier and more mysterious. Reality.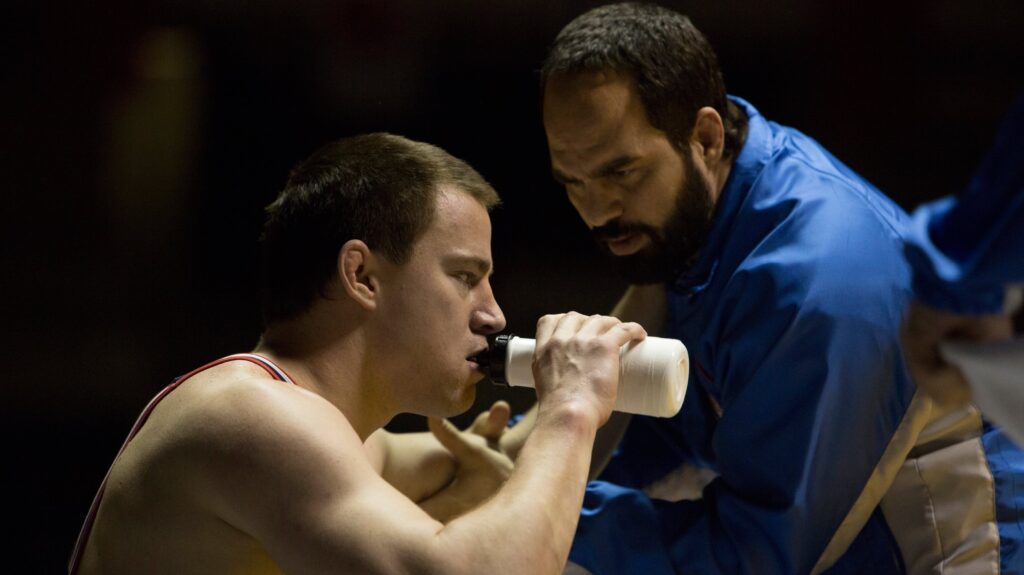 When wealthy John du Pont (Steve Carell) invites Olympic wrestler Mark Schultz (Channing Tatum) to move to his estate and help form a wrestling team for the 1988 Olympics, Mark sees a way to step out of the shadow of his charismatic brother, Dave (Mark Ruffalo). However, du Pont begins to lead Mark down a dark road, causing the athlete's self-esteem to slip. Meanwhile, du Pont becomes fixated on bringing Dave into the fold, eventually propelling all three toward an unforeseen tragedy.
5. Eddie the Eagle (2016)
The story of Michael Edwards, or "Eddie the Eagle", has gone down in folklore in Britain. The working-class lad who, against all the odds, managed to compete at the Olympics is a story we all love, and the media were all over it. His lack of success endeared him to people not just at home but around the globe, and subsequently, he became a media celebrity and appeared on talk shows, newspapaers and magazines the world over.
Starring Taron Egerton, Hugh Jackman, Christopher Walken, Iris Berben and Jim Broadbent, Eddie the Eagle (2016), directed by Dexter Fletcher, is a sweet tale of an ordinary man. Following the life story of Edwards from a young boy all the way to his Olympic fame, we see a very British class battle. It is both folk and fairy tale, but a very engrossing and irresistible story. Everyone loves a rags-to-riches tale, even if Eddie never quite won the riches.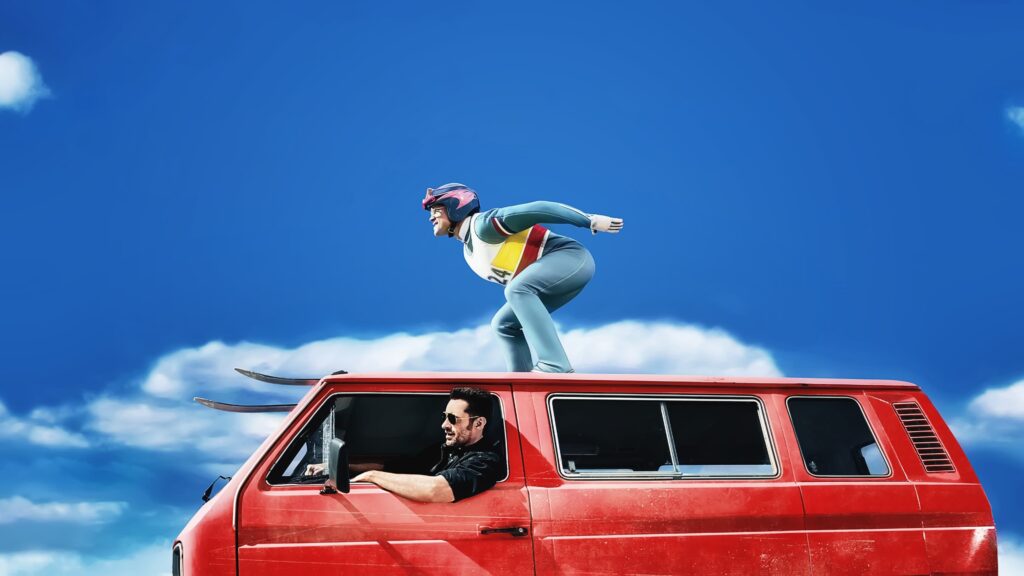 Cut from the Olympic ski team, British athlete Michael "Eddie" Edwards travels to Germany to test his skills at ski jumping. Fate leads him to Bronson Peary, a former ski jumper who now works as a snowplow driver. Impressed by Edwards' spirit and determination, Peary agrees to train the young underdog. Despite an entire nation counting him out, Eddie's never-say-die attitude takes him all the way to a historic and improbable showing at the 1988 Winter Olympics in Calgary, Alberta.
6. Race (2016)
Jesse Owen was an American athlete who won four gold medals at the 1936 Olympics which was held in Berlin. As anyone who knows their history will realise, Germany was under a Nazi dictatorship at the time, led by Adolf Hitler. As Owens was a black athlete, his superiority in his events did not go down well with the white-supremacist fascists whose central ethos was that Aryan people were the superior human beings, and that all other non-white humans were inferior.
Race (2016) depicts Owens story from a young up and coming athlete in Ohio State University, who faces racism in his own country from bigoted and jealous rivals. After being singled out by atletics coach Larry Snyder, Owens is convinced to train for and compete in the Berlin Olympics, despite protests from the NAACP on gorunds of the Nazi propaganda and discrimination that was pouring out of Germany at the time.
This film shows how Jesse Owens had to overcome great challenges in his life in order to compete in the Olympics. He had a young family at the time and had to support them by working. Dreaming of Olympic competition was just that, a dream that seemed unattainable. But with incredible dedication and hard work, plus the support of Coach Snyder, Owens makes it to Berlin and shines brightly, winning several events, much to the chagrin of Hitler, Goebbels et al. An important film which celebrates triumph in the face of insurmountable adversity and exemplifies the Olympic message of man's struggle to overcome all odds and become a champion via self-belief, hard work and unshakable determination.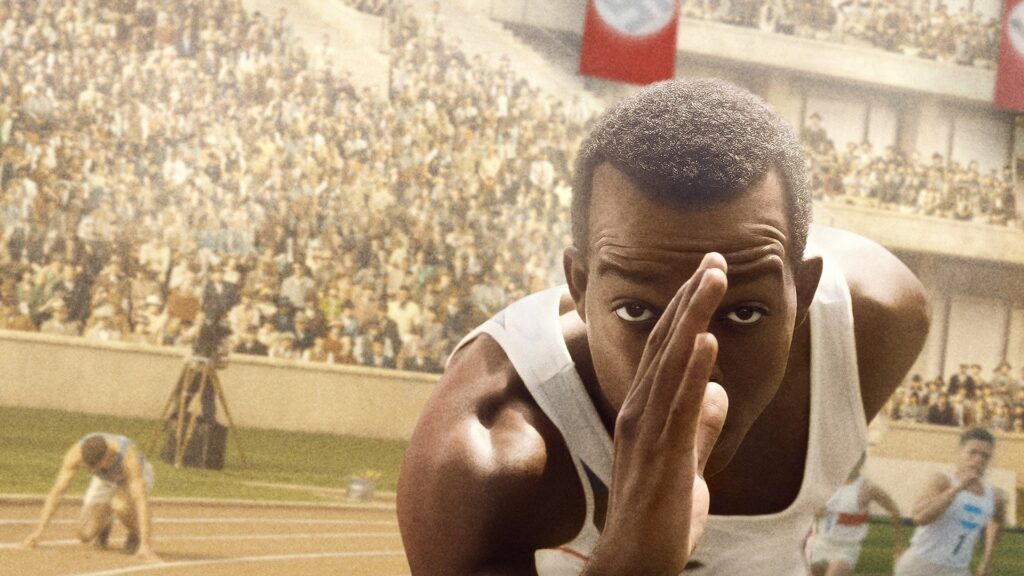 Young Jesse Owens (Stephan James) becomes a track and field sensation while attending the Ohio State University in the early 1930s. With guidance from coach Larry Snyder (Jason Sudeikis), Owens gains national recognition for breaking numerous records. After heated debates, the United States decides not to boycott the Olympics in Nazi Germany. Overcoming racism at home and abroad, Owens seizes the opportunity to show Berlin and the the world that he's the fastest man alive.
7. I, Tonya (2017)
Margot Robbie plays the central role of Olympic figure skater Tonya Harding in the powerful and darkly comedic drama film I, Tonya (2017). The film is a biopic of the athletes upbringing and competitive life as a United States figure skating talent. Harding was a promising young star in the 1980s and despite her poor working-class background and reputation as temperamental, she was initially set for great things in the competetive world of international ice skating.
The film shows how Harding was dominated and manipulated at a young age by her mother and her abusive husband. Told through a series of mock interviews with several of the characters, I, Tonya attempts to uncover the truth behind the attack on Harding's rival Nancy Kerrigan in January, 1994. At the time, this event became world news and shocked the United States Olympic community to the core. Harding was eventually banned from competing again after the case was investigated and she was found to have links to the assault.
Robbie is excellent in the part and is joined by Sebastian Stan and Allison Janney in supporting roles who play Harding's husband and mother, respectively. Despite the serious material, the film has a lighter style which invites the audience to enjoy the ridiculousness of the character's actions, showing how destructive and influential toxic family members can be on an individual, with their selfsih actions resulting in tragedy and ultimately robbing a bright young athlete of fulfilling her dreams of glory in the Olympics.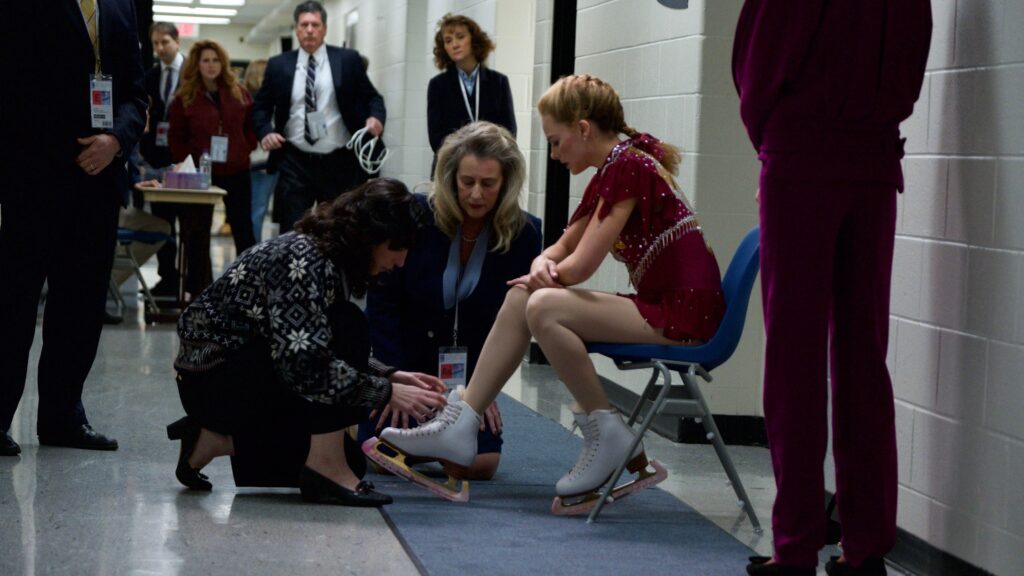 In 1991, talented figure skater Tonya Harding becomes the first American woman to complete a triple axel during a competition. In 1994, her world comes crashing down when her ex-husband conspires to injure Nancy Kerrigan, a fellow Olympic hopeful, in a poorly conceived attack that forces the young woman to withdraw from the national championship. Harding's life and legacy instantly become tarnished as she's forever associated with one of the most infamous scandals in sports history.
So, that's our Our Top 7 Olympics Films!
Think we've missed any out or not included your favourite movie about the Olympics? Then let us know in the comments below.
You can read more of our reviews here.
Please join in 'the conversation' with us on social media on Facebook, Instagram, Tik Tok and Twitter. We really appreciate all the likes, shares, retweets etc., and we would love to hear from you and continue the wonderful celebration of all things cinema on these platforms.
If you love to watch videos on YouTube, then please subscribe to our channel here. There's lots of fun and informative videos uploaded that we hope you will enjoy!
We have a passion for movies and aim to produce entertaining and informative movie-related content. It certainly is a lot of hard work, but we love films so much that it's worth all the effort. We have to keep the lights on and make sure we have plenty of caffeine to keep all of the articles, videos and social media posts coming, so if you like our work, then please consider supporting us at Buy Me A Coffee here. You can also become a More Movies patron on Patreon here.
To help support us here at More Movies, we do use advertising in a few places, so we appreciate it if you do not use AdBlockers on our site, as this helps keep a few pennies trickling in. We also utilise affiliate links throughout the site, usually to help guide our readers to places to stream, rent or buy the movies we talk about. One of the biggest sources for movies online is Amazon Prime Video, where you can stream over 18,000 films. If you are interested in Prime and haven't signed up yet, you can get a 30-day free trial via this affiliate link, which helps support us too.