If you have never seen a Wes Anderson film, then you are missing out. His quirky movies are easily identifiable and his body of work stands out as a unique and distinct cinematic voice. In each of his films, Anderson creates a world all of his own. Nostalgic and innocent, Anderson's characters are like childhood memories that fuzz the lines between fiction and fact.
Much like his contemporary Quentin Tarantino, Anderson often writes his own screenplays. He also uses particular actors that have become synonymous with his work, he emphasises peculiar dialogue, loves to use familiar yet unsung music in each of his films and his stylised backdrops pay tribute to the genres he loves. All this while simultaneously inventing one of his own which is exclusive to his productions.
Anything even mildly similar would be likened to his own wacky style. Perhaps it is here that the comparisons with Tarantino cease. The themes and topics dealt with by Wes Anderson are a far cry from the seedy and overtly violent world that QT regularly explores. Wes tends more towards existential problems, family dynamics, broken relationships and the search for self-worth.
His images are always streamline and hyperrealistic. The Wes Anderson 'look' is unique in its pronounced and somewhat child-like aesthetics. The uniformity, the decisively measured accuracy of each shot is too jarring for some, but has others roused to a standaing ovation crying "Genial! Encore! Bravo!"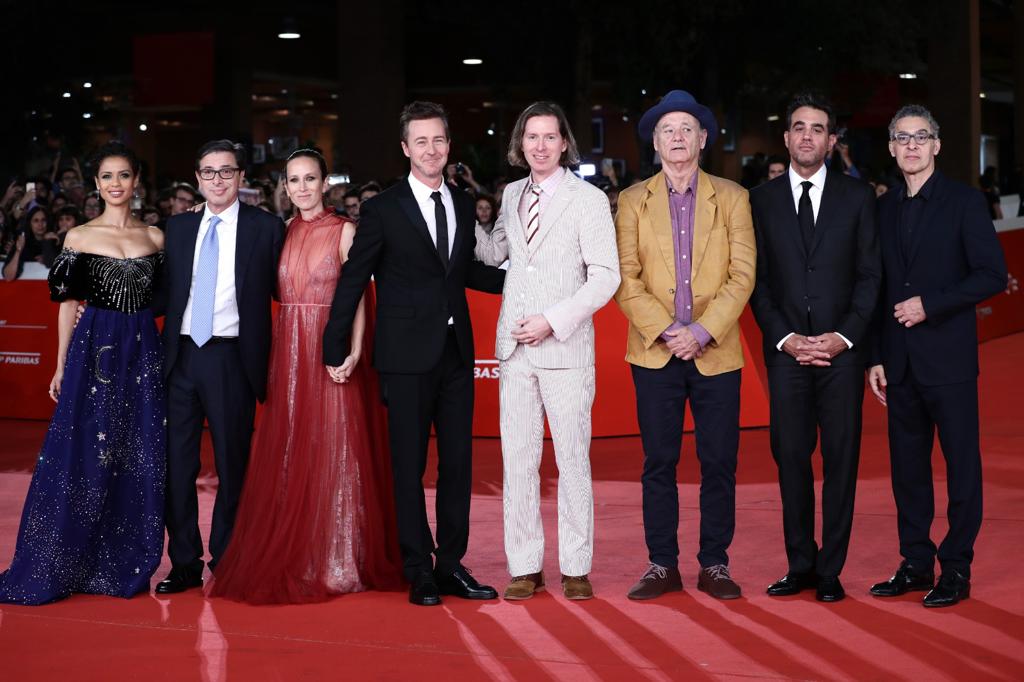 There's no story if there isn't some conflict. The memorable things are usually not how pulled together everybody is. I think everybody feels lonely and trapped sometimes.

Wes Anderson
Wes Anderson was born on May 1, 1969, in Houston, Texas, USA. He grew up in a creative family, with parents who encouraged his interest in the arts. Anderson studied philosophy at the University of Texas at Austin, where he met Owen Wilson, who would become his frequent collaborator.
Anderson and Wilson wrote a screenplay for a short film, Bottle Rocket (1996) which they expanded into a feature film in 1996. The film, which starred Owen and his brother Luke Wilson, was well-received and helped launch Anderson's career.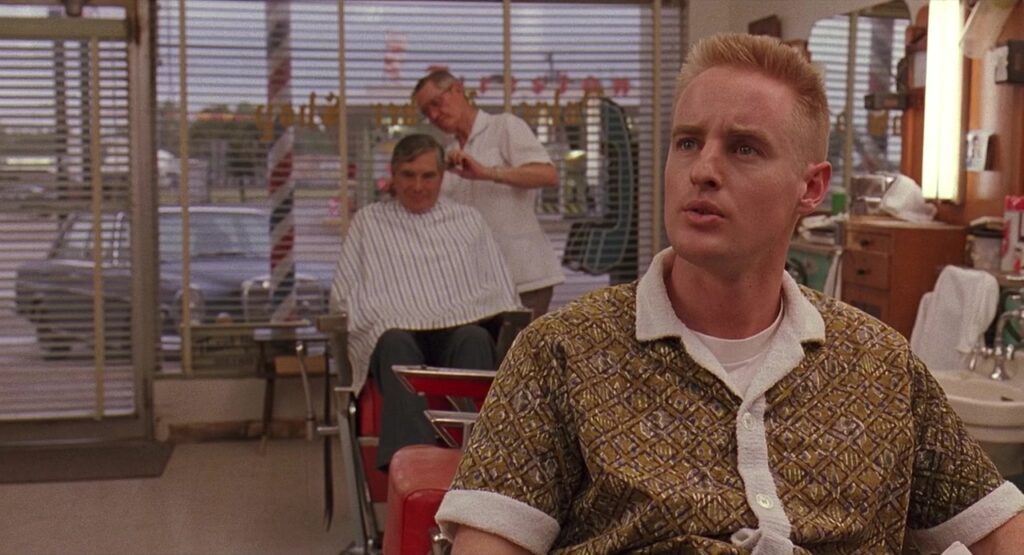 In addition to his film work, Anderson has also directed commercials and music videos, and has contributed to a number of anthologies and art projects. He is known for his meticulous attention to detail and highly stylized visual aesthetic, and has inspired a devoted following among film fans.
Here's an advert for American Express directed by Anderson which playfully mocks his own style.
We advise seeing as many Wes Anderson films as possible, but for those who are unfamiliar with his oeuvre, here are Our Top 5 Wes Anderson movies which are, as always, listed chronologically not ranked…
1. The Royal Tenenbaums (2001)
Featuring an all-star cast that includes Gene Hackman, Gwyneth Paltrow, Ben Stiller, Bill Murray, Luke and Owen Wilson, Danny Glover and Anjelica Houston, The Royal Tenenbaums (2001) is a tale about a family of misfits that have never shared a strong bond, yet yearn for a deeper connection.
Hackman plays Royal Tenenbaum, an ageing grifter who seeks to re-establish a relationship with his ex-wife and now fully grown children, by appealing to their better nature and telling them he has terminal cancer, which it turns out, he does not.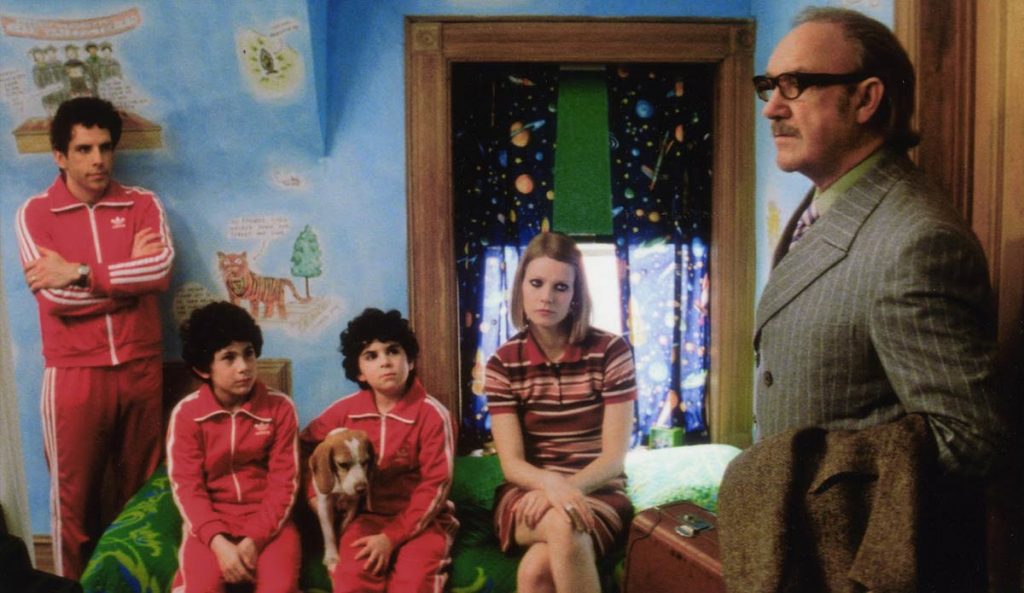 The Tenenbaum offspring are all former child prodigies who are struggling with depression for various individual reasons. Stiller plays Chaz who has just lost his wife, Luke Wilson is Richie, a former tennis star that is suffering with bi-polar disorder and Paltrow plays Margot, a playwright who is experiencing an unhappy marriage.
This colourful comedy is often poignant and sometimes quite dark. The laughs are absurdist and dry, and the themes explored cover everything from incest to systemic racism. The characters are awkward and idiosyncratic. There is no clear hero and no out and out villain. In getting to know the Tenenbaums, we are invited to compare and contrast our own experiences and feelings when it comes to love, loss and family.
Royal Tenenbaum and his wife Etheline had three children and then they separated. All three children are extraordinary in that they are all considered child-geniuses. Virtually all memory of the brilliance of the young Tenenbaums was subsequently erased by two decades of betrayal, failure, and disaster. Most of this was generally considered to be their father's fault. This is the story of the family's sudden, unexpected reunion one recent winter.
2. The Life Aquatic With Steve Zissou (2004)
This deep-sea adventure is a tribute to famous French Oceanographer Jacques Cousteau and to the wonderment of childhood dreams. Again, Wes Anderson creates his own version of the world in this odyssey about parenthood and abandonment. Regulars Bill Murray and Owen Wilson star in The Life Aquatic with Steve Zissou (2004), a story about an outdated, over-the-hill adventurer whose wayward tactics and askew moral compass, get himself and his crew into more trouble than any of them bargained for.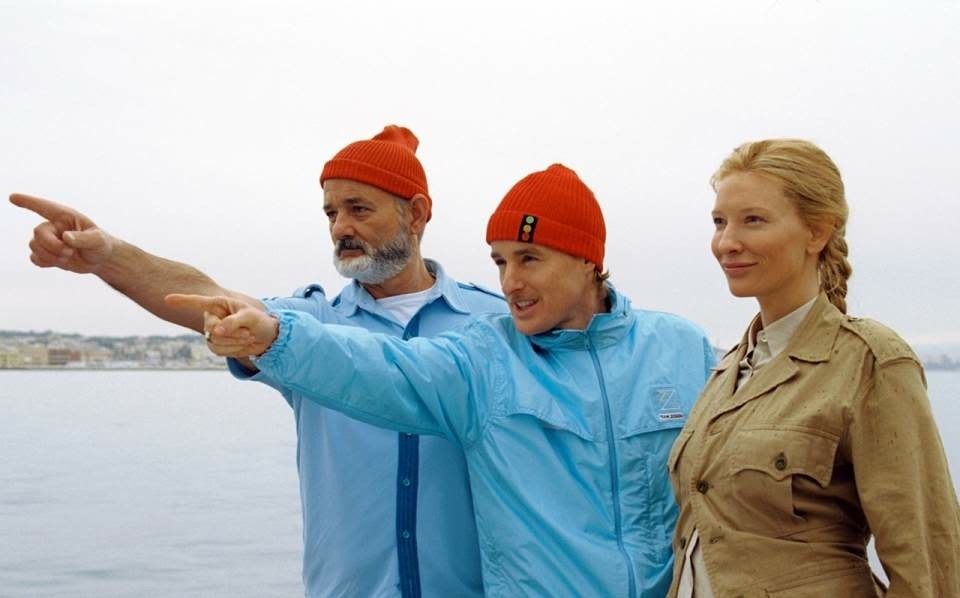 The film uses stop motion animation intertwined with the live action footage to create a colourful and authentic impression of life above and below the sea. The rich cast of familiar as well as unfamiliar faces comprise the crew of the Bellafonte (Zissou's ship), as we follow them on a revenge mission to hunt down a rare shark that ate one of their own in a previous encounter.
The story focuses on the relationships between the crew members and how their adventure brings them together and tears them apart simultaneously. There's action and calamity alongside a healthy dose of comedy. Bill Murray shines as the crazy-eyed Captain Zissou and there are strong supporting performances from Wilson, Cate Blanchett, Angelica Houston, Willem Dafoe and Jeff Goldblum.
Renowned oceanographer Steve Zissou has sworn vengeance upon the rare shark that devoured a member of his crew. In addition to his regular team, he is joined on his boat by Ned, a man who believes Zissou to be his father, and Jane, a journalist pregnant by a married man. They travel the sea, all too often running into pirates and, perhaps more traumatically, various figures from Zissou's past, including his estranged wife, Eleanor and her old flame Alistair Hennessey, Steve's nemesis.
3. The Darjeeling Limited (2007)
The Darjeeling Limited (2007) follows three brothers Francis, Peter and Jack (Owen Wilson, Adrien Brody and Jason Schwarzman) on a spiritual journey as they travel by train across India. Originally touted as a trip of self-discovery, it is revealed that the oldest brother Francis intends for the brothers to seek out their mother who is in retreat at a monastery in the Himalayas.
This does not sit well with the other two who proclaim to have no desire to see her. Francis soon annoys Peter and Jack, being overly controlling and the three soon begin to quarrel with one another as the train ploughs on through the beautiful Indian landscape.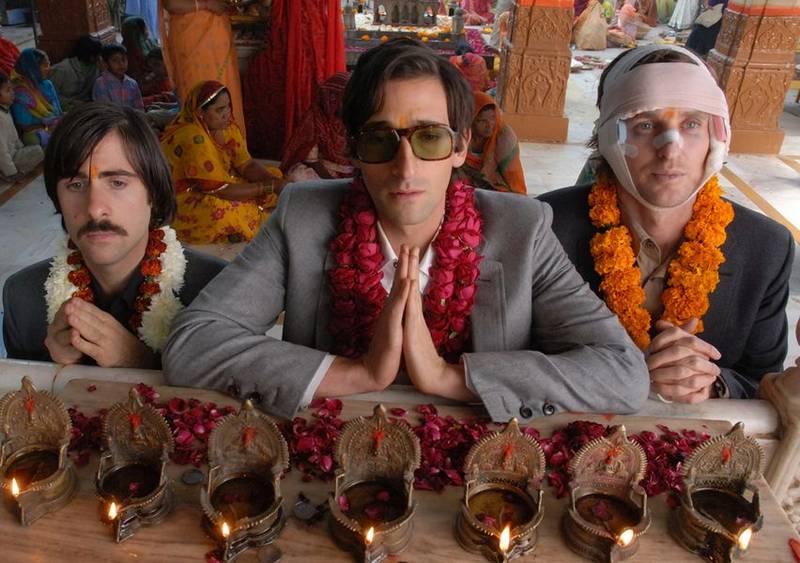 This is a story of family, loss and abandonment that captures a hilarious snap shot of three men linked by blood, who seemingly have little else in common. On the journey, we discover details about all three that reveal traits and idiosyncrasies that they share, bringing them closer together albeit without a conscious effort on any part.
The film is a mixture of comedy and tragedy and contains all the usual Wes Anderson trademarks. The colourful mise en scene, the esoteric soundtrack, the familiar cast of players and the penchant for romanticism that lie at the heart of all his films.
A 'road movie' with a difference, more of a 'train movie' if you will, that captures the dynamic of three brothers, who as grown men have not yet learned how to deal with their past, as they travel together into an unknown future.
Estranged brothers Francis, Peter and Jack reunite for a train trip across India. The siblings have not spoken in over a year, ever since their father passed away. Francis is recovering from a motorcycle accident, Peter cannot cope with his wife's pregnancy, and Jack cannot get over his ex-lover. The brothers fall into old patterns of behavior as Francis reveals the real reason for the reunion: to visit their mother in a Himalayan convent.
4. Fantastic Mr. Fox (2009)
A departure from live action, Fantastic Mr. Fox (2009) is a stop motion animation film based on the Roald Dahl book of the same name. The titular character is voiced by George Clooney who is joined by Meryl Streep, Bill Murray, Owen Wilson, Willem Dafoe and Jason Schwarzman in a cast of furry characters that move, dress and talk just like humans.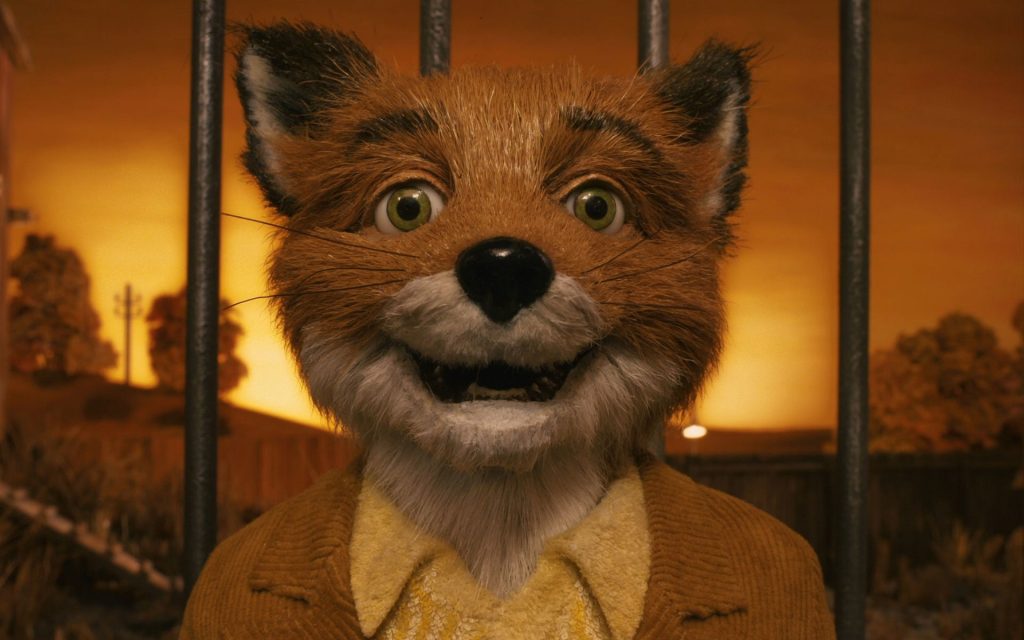 Mr Fox is a clever thief who becomes the target of three farmers; Boggis, Bunce and Bean – after they grow weary of him for stealing from their land. What ensues is a battle of wits between the animals of the neighbourhood and the three begrudging farmers. Embracing a subterranean existence, the Fox family and their various friends intend to tunnel their way to victory in this hilarious adaptation of the classic children's book.
Despite being entirely animated, the typical Wes Anderson style is prevalent throughout. The camera moves and set dressings are typical of his live action productions and the dry and sardonic sense of humour prevails to great effect.
Anderson has recently made another animated film called Isle of Dogs (2018) which has been produced in a similar fashion. With the inclusion of the stop-motion animation in films such as The Life Aquatic with Steve Zissou (see above), one can consider this particular technique to be a firm favourite in the arsenal of this master of contemporary cinema.
After 12 years of bucolic bliss, Mr. Fox breaks a promise to his wife and raids the farms of their human neighbors, Boggis, Bunce and Bean. Giving in to his animal instincts endangers not only his marriage but also the lives of his family and their animal friends. When the farmers force Mr. Fox and company deep underground, he has to resort to his natural craftiness to rise above the opposition.
5. The Grand Budapest Hotel (2014)
Ralph Fiennes leads a stellar ensemble cast in this hilarious tale about a once magnificent hotel that sits in the fictitious Republic of Zubrowka. Based on old pictures of alpine hotels and the novels of Stefan Zweig, The Grand Budapest Hotel (2014) explores the themes of friendship and nostalgia as well as the threat of fascism and tragedy.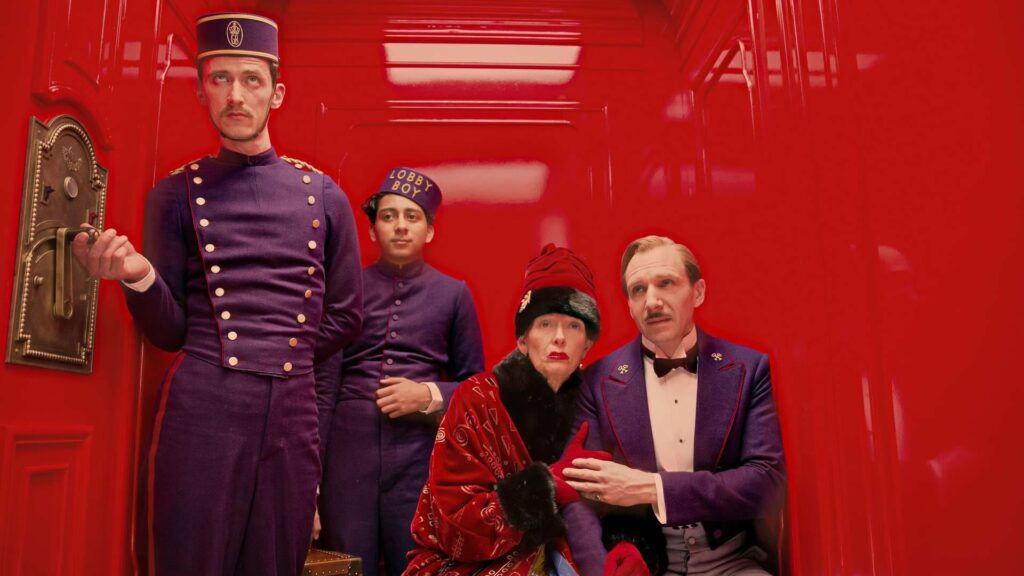 Fiennes plays Gustave H. the concierge at the popular hotel who is framed for the murder of one of his patrons after she bequeaths him a priceless painting in her will. Assisted by his loyal protege Zero (Tony Revolori), Gustave attempts to avoid capture and prove his innocence as he is mercilessly tracked down and persecuted by the patron's surviving son, Dmitri (played by Adrien Brody).
A truly epic film, The Grand Budapest Hotel is an incredible achievement from beginning to end. The cast is expansive and contains usual Anderson alumni Willem Dafoe, Jeff Goldblum, Edward Norton, Bill Murray and Owen Wilson, alongside new faces such as Saoirse Ronan and F. Murray Abraham. It made the most money of any of Anderson's films to date and was nominated for nine academy awards, winning four of them.
In the 1930s, the Grand Budapest Hotel is a popular European ski resort, presided over by concierge Gustave H. Zero, a junior lobby boy, becomes Gustave's friend and protege. Gustave prides himself on providing first-class service to the hotel's guests, including satisfying the sexual needs of the many elderly women who stay there. When one of Gustave's lovers dies mysteriously, and he finds himself the recipient of a priceless painting as well as the chief suspect in her murder.
So, that's Our Top 5 Wes Anderson Films!
Think we've missed any out or not included your favourite Wes Anderson movie? Then let us know in the comments below.
You can read more of our reviews here.
Please join in 'the conversation' with us on social media on Facebook, Instagram, Tik Tok and Twitter. We really appreciate all the likes, shares, retweets etc., and we would love to hear from you and continue the wonderful celebration of all things cinema on these platforms.
If you love to watch videos on YouTube, then please subscribe to our channel here. There's lots of fun and informative videos uploaded that we hope you will enjoy!
We have a passion for movies and aim to produce entertaining and informative movie-related content. It certainly is a lot of hard work, but we love films so much that it's worth all the effort. We have to keep the lights on and make sure we have plenty of caffeine to keep all of the articles, videos and social media posts coming, so if you like our work, then please consider supporting us at Buy Me A Coffee here. You can also become a More Movies patron on Patreon here.
To help support us here at More Movies, we do use advertising in a few places, so we appreciate it if you do not use AdBlockers on our site, as this helps keep a few pennies trickling in. We also utilise affiliate links throughout the site, usually to help guide our readers to places to stream, rent or buy the movies we talk about. One of the biggest sources for movies online is Amazon Prime Video, where you can stream over 18,000 films. If you are interested in Prime and haven't signed up yet, you can get a 30-day free trial via this affiliate link, which helps support us too.