The United States vs Billie Holiday (2021) is a biographical drama directed by Lee Daniels (probably best known for the 2009 film Precious (2009) ) that stars Andra Day in the titular role of legendary jazz singer and American cultural icon Billie Holiday.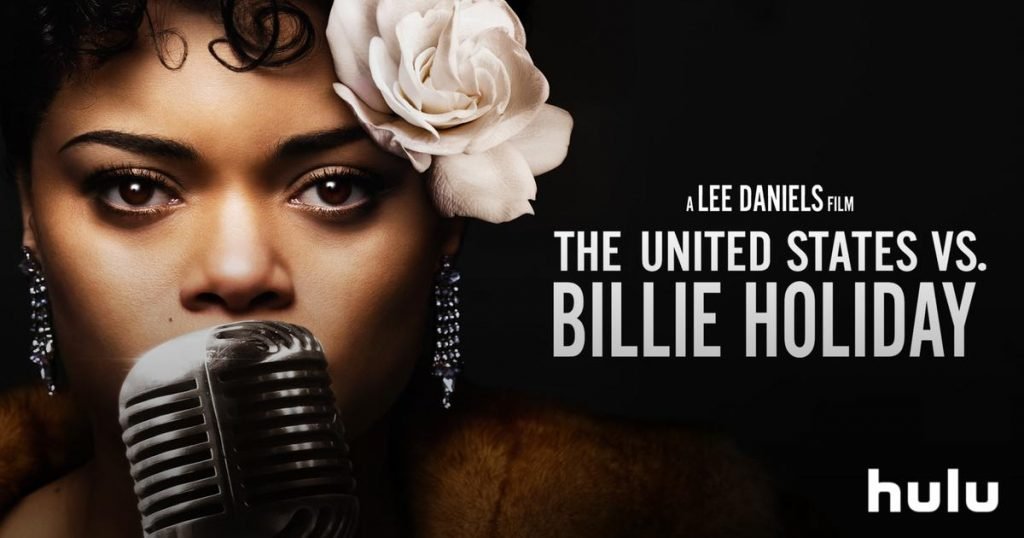 Billie Holiday
Since a very early age, I have been listening to Billie Holiday. Thanks to my Dad, I am pretty well versed in a lot of the music produced by the main icons from the modern jazz era. Whether it be the cool blues of Miles Davis or the frenzied bebop stylings of Dizzy Gillespie and Charlie Parker, jazz as a cultural phenomenon was an intrinsic part of my childhood and suffice to say, this particular slice of 20th Century American culture has always been of keen interest to me.
Billie, known affectionately as 'Lady Day', is perhaps the most well-known chanteuse from this era. Her impressive yet tragic life has already been extensively covered in various documentaries and films. Billie's most notable portrayal was in the film Lady Sings the Blues (1972), which starred Diana Ross as Holiday, alongside Billy Dee Williams and Richard Pryor.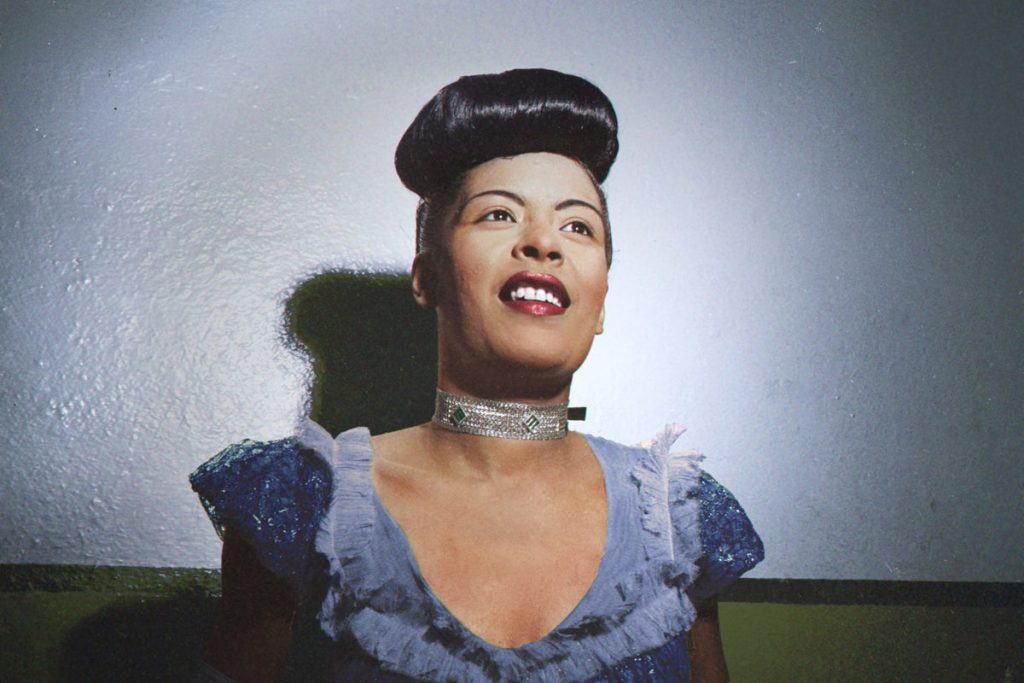 The Story of The United States Versus Billie Holiday
As you might expect, The United States vs Billie Holiday is a more modern rendering of Billie's story. It is loosely based on the book Chasing the Scream: The First and Last Days of the War on Drugs by British writer Johann Hari. He profiles Holiday's struggle with heroin addiction as part of a wider retrospective investigation.
Less all-encompassing than Lady Sings The Blues, The United States vs Billie Holiday concentrates on Holiday's life and career at its zenith, around a time when the F.B.I. was looking to crack down on her as a drug user. However, their real motive was to stop her singing the powerful song Strange Fruit, which was an overt comment on the lynching of black people in the southern states; sadly, something that was still a common occurrence at the time.
In The United States vs Billie Holiday we see Holiday consistently badgered and harassed by undercover agents, using her addiction to heroin as a method of trapping her in order to lock her up and therefore shut her up. Operating under the veil of a war on drugs, this film reveals that certain factions within the bureau went to great lengths to convict Holiday to stop her from singing the song, and we see several attempts to stitch her up as we travel with the band, touring across the country.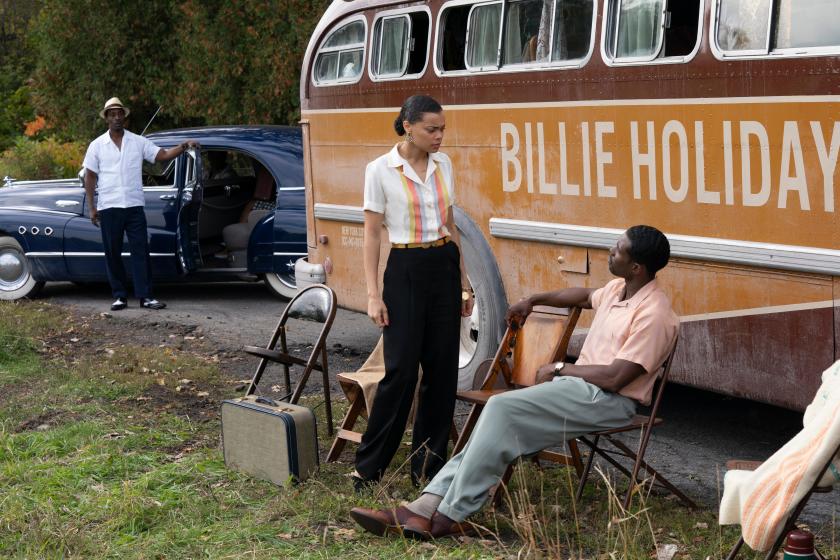 Critique of The United States vs Billie Holiday
Holiday is portrayed as a strong but troubled woman who is a victim of physical abuse at the hands of her overbearing husband. Andra Day is truly incredible in the role and brings a powerful and husky persona to the character. On stage, she is a queen, the focus of everyone's attention and a strikingly beautiful performer who was universally loved and respected. Backstage we witness a more streetwise and sedated Billie – a woman caught between several worlds, through which she must navigate to achieve her personal ambitions and, indeed at times, to survive.
Her determination to use her voice and fame to raise awareness and take a stand against overt racism is this character's primary motivation. We see a woman who at times is squashed by the surrounding pressures and therefore finds a release in taking heroin which is for her a crutch and a form of escapism.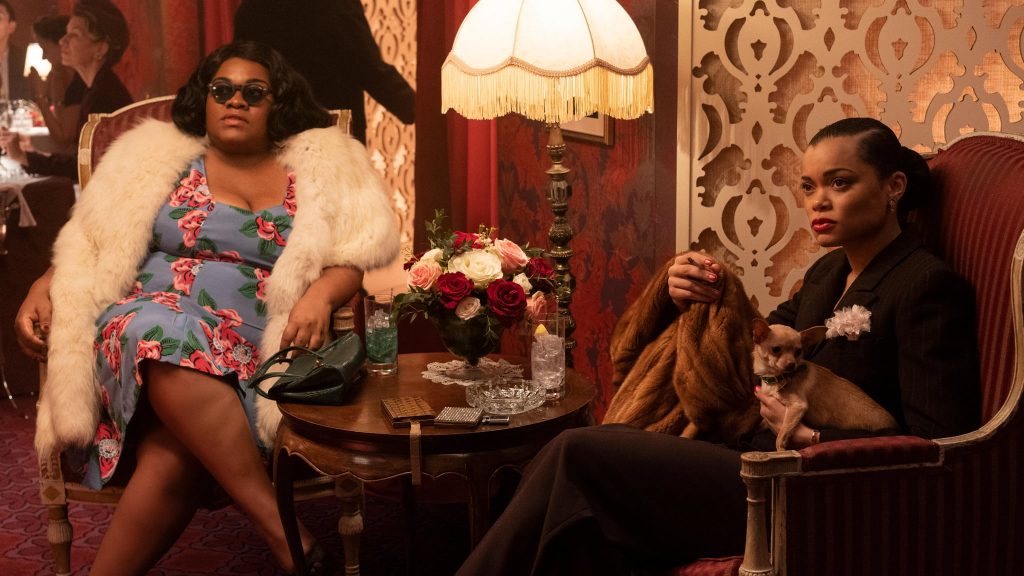 The film has received mixed reviews, with some critics complaining of a messy and unfocussed narrative that meanders and lacks a consistent thread. This may be true to some degree, but I found the film to be engrossing and never really felt unsatisfied with the directions that the story took. Andra Day's performance has been very well received and rightfully so. Considering this was her first significant role, she gives an incredible performance that pulls you in and evokes a strong sympathy for this talented and tragic character.
There is excellent support from Trevante Rhodes and Natasha Lyonne, and the musical numbers are fantastically well produced. The costume design, art direction and mise en scene are of very high quality, and cinematographer Andrew Dunn does a great job behind the camera.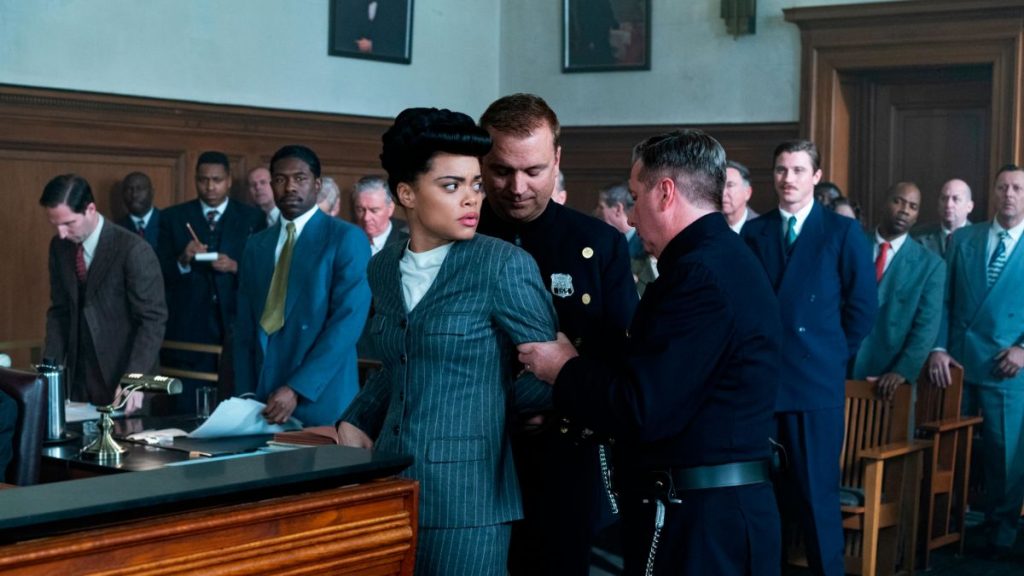 Summary of The United States Versus Billie Holiday
Don't let the mixed opinions throw you off or stop you from seeing this film. Fans of Holiday, jazz music or Black American culture will find this to be a very satisfying watch. The film has drama, humour and pathos and is worth seeing for Andra Day's performance alone. Day has been nominated for Best Actress at the forthcoming Academy Awards. Personally, I would like to see her win for this wonderful and touching rendition of her namesake, the inimitable Lady Day.
Check out our initial reaction the the trailer below
You can read more of our reviews here.
Please join us on social media on Facebook, Instagram, Tik Tok and Twitter. We really appreciate all the likes, shares, retweets etc., and we would love to hear from you and continue the wonderful celebration of all things cinema on these platforms.
If you love to watch videos on YouTube, then please subscribe to our channel here. There's lots of fun and informative videos uploaded that we hope you will enjoy!
We have a passion for movies and aim to produce entertaining and informative movie-related content. It certainly is a lot of hard work, but we love films so much that it's worth all the effort. We have to keep the lights on and make sure we have plenty of caffeine to keep all of the articles, videos and social media posts coming, so if you like our work, then please consider supporting us at Buy Me A Coffee here.
To help support us here at More Movies, we do use advertising in a few places, so we appreciate it if you do not use AdBlockers on our site, as this helps keep a few pennies trickling in. We also utilise affiliate links throughout the site, usually to help guide our readers to places to stream, rent or buy the movies we talk about. One of the biggest sources for movies online is Amazon Prime Video, where you can stream over 18,000 films. If you are interested in Prime and haven't signed up yet, you can get a 30-day free trial via this affiliate link, which helps support us too.