Born in Düsseldorf, Germany in 1945, Wim Wenders is a filmmaker, writer and photographer who has directed a large volume of feature films and documentaries, and much like his contemporary Werner Herzog, he is considered to be one of the major players of the New German Cinema movement. He has won many awards and accolades for his film work and has been the President of the European Film Academy for the past 25 years.
Having briefly studied medicine and then philosophy at university, Wenders dropped out and moved to Paris to become a painter. He soon became obsessed with cinema and began to hatch plans to dedicate his life to the art form. Moving back to Düsseldorf, he landed a job with United Artists and began to develop his skills and knowledge as a filmmaker after enrolling at the University of Television and Film in Munich. He also found work as a film critic, writing for several German publications as a student and completed his studies in 1970 by making his first feature length film Summer in the City (1971).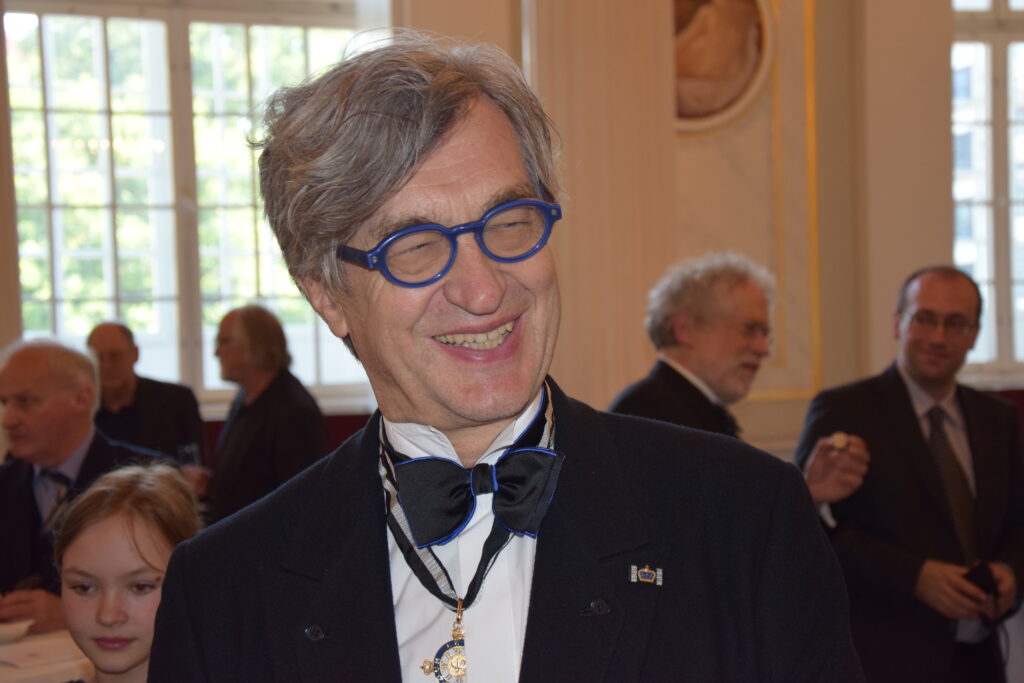 "Film is a very, very powerful medium. It can either confirm the idea that things are wonderful the way they are, or it can reinforce the conception that things can be changed."

Wim Wenders
Wim Wenders developed his style throughout the 1970s producing short films, features and documentaries, often collaborating with Dutch cinematographer Robby Müller. He has over 70 directorial credits to his name and has produced a consistently high standard of work over the past half a century. We advise seeing as many Wim Wenders movies as possible but have compiled a shortlist here intended as a diverse and solid introduction to this amazing artist's work.
As always, our selections are listed chronologically…
1. Kings of the Road (1976)
Kings of the Road (1976) is the third instalment in Wim Wenders "Road Movie Trilogy," which also includes the films Alice in the Cities (1974) and Wrong Move (1975). The three films are linked thematically, but each story is individual and unrelated to the other two narratives. Kings of the Road stars Rüdiger Vogler and Hanns Zischler as two unlikely companions who meet by chance and travel along the East/West German border, meeting several people along the way and visiting movie theatres where one of them is them fixes and maintains projection equipment.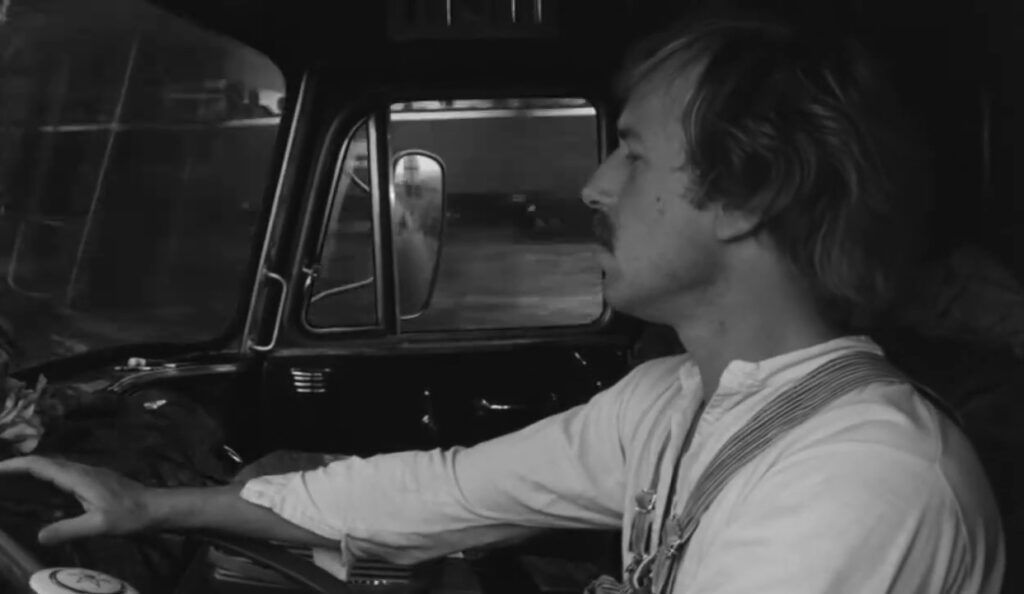 The drama is funny, thoughtful and personal, with the road serving as a timeline between the old ways and the new. The men eventually part ways after a minor scuffle, and both continue their travels alone. An excellent and thought-provoking road movie that will inspire young filmmakers and delight fans of the road movie genre.
While traveling his route along the border between East and West Germany, projector repairman Bruno meets pediatrician Robert, when the latter attempts suicide by driving his car into a shallow lake. From such off beginnings, the two form a genuine friendship as Robert accompanies Bruno on the road. They discuss the decline of German film, the hegemony of America culture and their challenging relationships with women before ultimately parting ways.
2. The American Friend (1976)
Wim Wenders followed up Kings of the Road with The American Friend (1976), adapted from the novel Ripley's Game by American author Patricia Highsmith. The film features Dennis Hopper as Tom Ripley and Bruno Ganz as Jonathan Zimmerman. A big fan of Highsmith's work, Wenders wanted to use one of her novels as the basis of his next film, but when he learned the rights to various novels that he wanted to use had been sold, he met with Highsmith, who offered him the yet unpublished manuscript for Ripley's Game.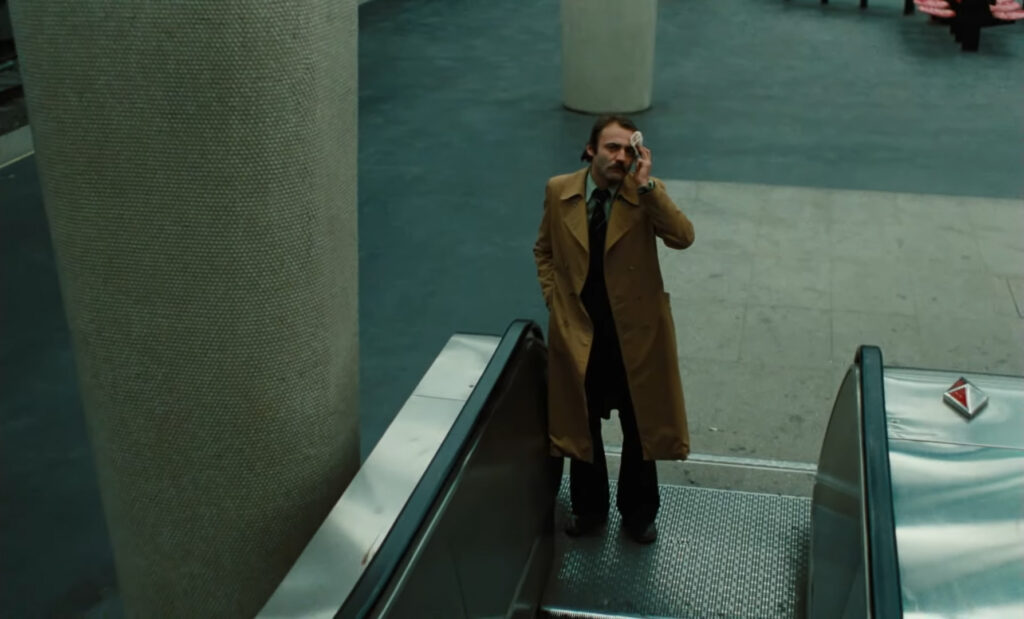 Wenders wanted John Cassavetes to play Tom Ripley, but Cassavetes declined and suggested Hopper for the role. The film is brimming with humour, excellent performances and realistic action. Although it has been criticised for being a little confusing in terms of the plot, many people would agree that The American Friend is an excellent adaptation of any of Highsmith's Ripley novels. Definitely worth a watch for the amazing soundtrack alone, which features The Kinks, Bob Dylan and The Beatles.
American expatriate Tom treats Hamburg, Germany, like it's the Wild West and makes a living by hawking art forgeries, but decides to take part in a murder plot for extra cash. All Tom has to do to earn his share is find a potential assassin who won't do any talking, and he has the perfect man: Jonathan, a dying cancer patient desperate to leave his family an inheritance. Jonathan begrudgingly accepts, but he's no gunman, and the scheme quickly goes awry.
3. Paris, Texas (1984)
inner of the Palme d'Or at the 1984 Cannes Film Festival, Paris, Texas (1984), is one of the great films of the 1980s and arguably one of the greatest films ever made. Part family drama, part love story, part road movie, the film stars Harry Dean Stanton, Nastassja Kinski and Dean Stockwell and was co-written by actor and screenwriter Sam Shepard. Stanton is excellent as the lead character, and the cinematography by long-time Wim Wenders collaborator Robby Müller is sublime. There is also wonderful music supplied by guitarist Ry Cooder that slides and plucks its way into the film's heart with nonchalant ease.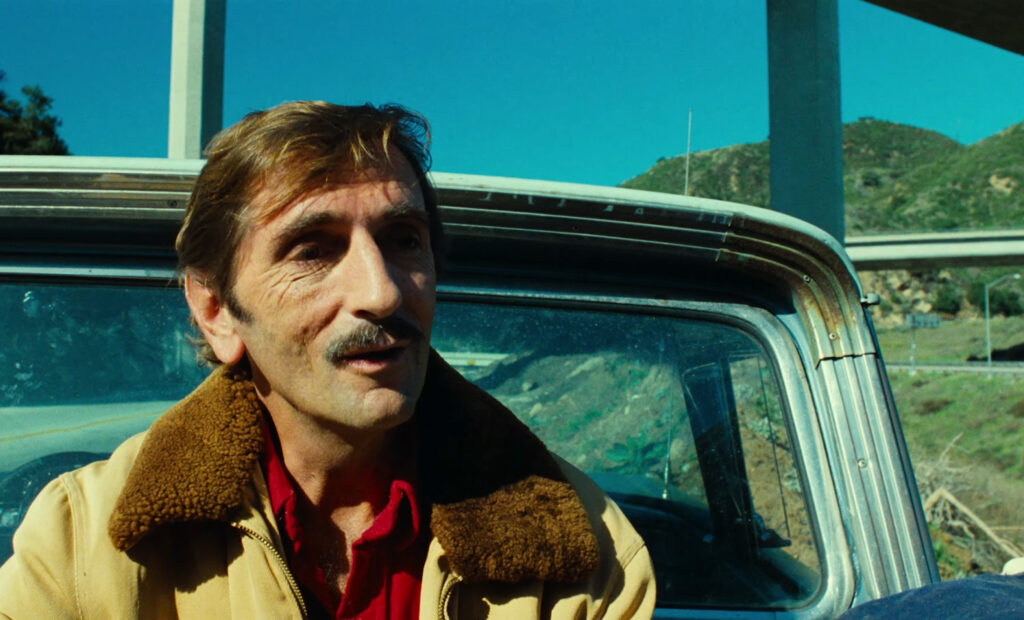 Another fantastic example of the road movie genre, Paris, Texas contains impressive vistas of the desert landscape and incorporates astounding lighting and colour-palettes to help tell this heart-rending and emotional story in a strikingly visual style. The film won a plethora of awards, including a BAFTA for Best Direction and a Golden Globe for Best Foreign Film. A modern masterpiece that needs to be seen by all film-lovers and budding cinema aficionados.
A disheveled man who wanders out of the desert, Travis Henderson, seems to have no idea who he is. When a stranger manages to contact his brother, Walt , Travis is reunited with his sibling. Travis has been missing for years, and his presence unsettles Walt and his family, which also includes Travis's own son, Hunter, who has been living with Walt and his wife as surrogate parents. Soon Travis must confront his wife, Jane, who has also been missing for some time, and try to put his life back together.
4. Wings of Desire (1987)
Wim Wenders' other notable masterpiece is the exceptional film Wings of Desire (1987). It serves as a love letter to Berlin and as an allegory for film, acting as a medium through which people can experience and contemplate new ideas and possibilities. Returning to his native Germany after having lived in the United States of America for eight years, Wenders found inspiration in poetry and the urban art that adorned West Berlin's walls, citing the recurring portrayals of angels as a key influence when developing the idea for the film.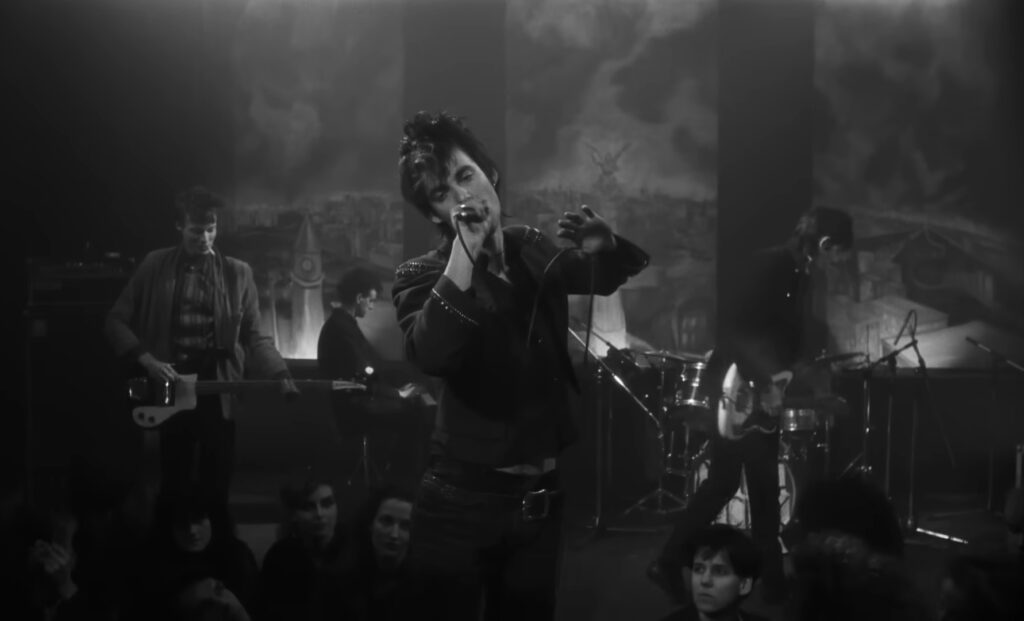 A truly singular concept, Wings of Desire works on several levels and portrays the perspective of the angels in black and white and that of mortal humans in colour. The themes of love, despair, longing and loneliness are explored through a series of sequences and imagery that emblazon themselves onto the viewers' hearts. Featuring brilliant performances by Bruno Ganz, Otto Sander and Peter Falk, this movie is, in our opinion, a top tier must-watch and infinitely enjoyable, inviting repeated viewings. Wenders made a sequel in 1993 entitled Far Away, So Close!
Two angels, Damiel and Cassiel, glide through the streets of Berlin, observing the bustling population, providing invisible rays of hope to the distressed but never interacting with them. When Damiel falls in love with lonely trapeze artist called Marion, the angel longs to experience life in the physical world, and finds out, with some words of wisdom from actor Peter Falk (playing himself), that it might be possible for him to take human form.
5. Buena Vista Social Club (1999)
The Cuban music documentary Buena Vista Social Club (1999) follows American musician Ry Cooder and his son Joachim, to Havana where they search for a group of musicians to record an album and play a series of concerts in Amsterdam and New York. The film intersperses the concert footage with rehearsals and interviews with Cooder and the Cuban musicians, as well as slices of life from the residents of Havana and some incredible footage of the city, which had been closed off to the western world for decades prior.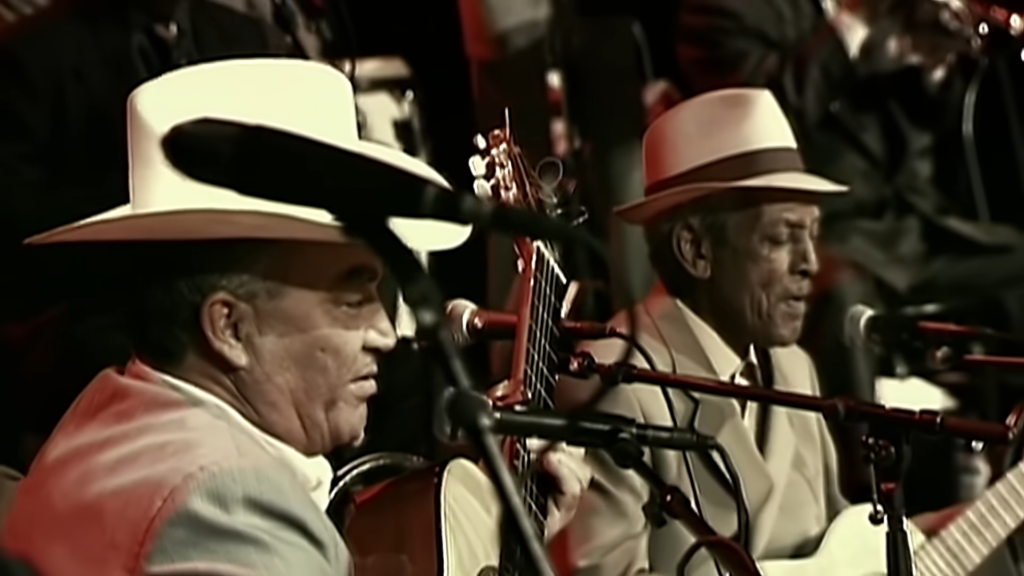 Wender's film propelled the Cuban musicians to international stardom, and despite some of them being in their nineties, the collective enjoyed extensive popularity in the years following the film's release, with music-lovers eager to see these excellent musicians playing live. The accompanying album also became an international best-seller. A follow-up documentary Buena Vista Social Club: Adios directed by Lucy Walker, was released in 2017.
This excellent documentary follows renowned guitarist Ry Cooder and his son, Joachim, as they travel to Cuba and assemble a group of the country's finest musicians to record an album. Among the artists included in the project are singer Ibrahim Ferrer and pianist Rubén González, who are both interviewed and featured in studio footage. Eventually the ensemble travels to the United States to perform in front of rapt audiences.
Well, there's our Top 5 Wim Wenders Films!
Think we've missed any out or not included your favourite Wim Wenders movie? Then let us know in the comments below.
You can read more of our articles here.
Please join us on social media on Facebook, Instagram, Tik Tok and Twitter. We really appreciate all the likes, shares, retweets etc., and we would love to hear from you and continue the wonderful celebration of all things cinema on these platforms.
If you love to watch videos on YouTube, then please subscribe to our channel here. There's lots of fun and informative videos uploaded that we hope you will enjoy!
We have a passion for movies and aim to produce entertaining and informative movie-related content. It certainly is a lot of hard work, but we love films so much that it's worth all the effort. We have to keep the lights on and make sure we have plenty of caffeine to keep all of the articles, videos and social media posts coming, so if you like our work, then please consider supporting us at Buy Me A Coffee here. You can also become a More Movies patron on Patreon here.
To help support us here at More Movies, we do use advertising in a few places, so we appreciate it if you do not use AdBlockers on our site, as this helps keep a few pennies trickling in. We also utilise affiliate links throughout the site, usually to help guide our readers to places to stream, rent or buy the movies we talk about. One of the biggest sources for movies online is Amazon Prime Video, where you can stream over 18,000 films. If you are interested in Prime and haven't signed up yet, you can get a 30-day free trial via this affiliate link, which helps support us too.