In this article we take a look at Stanley Kubrick. A name familiar to all cinephiles and someone who is widely considered to be one of the greatest filmmakers of all time. Born in Manhattan in 1928 and raised in the Bronx borough of New York, Kubrick grew up in a middle-class family. His father was a homoeopathic doctor and physician, and measured by relative standards, the family was fairly well-off.
Having had this privileged start in life, Stanley Kubrick was able to grow up in a supportive environment, which enabled him to indulge his love of reading, playing chess and allowed him to pursue his keen interest in photography, something which everybody can do now but at the time could have been considered an extravagant pursuit.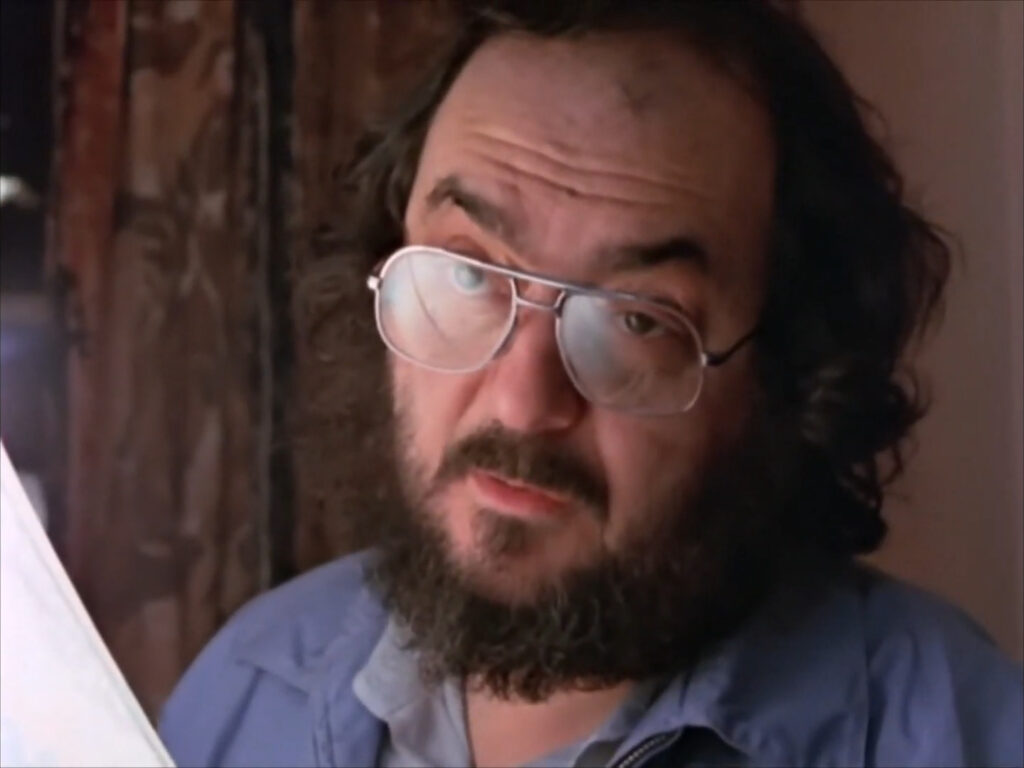 Kubrick had a very good eye for the still image and developed his skills as a photographer very quickly. At the age of just 17, he managed to sell some of his photographic work to Look magazine, which eventually led to an apprenticeship there. Despite having very little experience in the field and having neglected his school studies, Kubrick's talent for capturing striking images set him in very good stead for the future. He also made a little money on the side by playing chess in Washington Square Park.
"A film is – or should be – more like music than like fiction. It should be a progression of moods and feelings. The theme, what's behind the emotion, the meaning, all that comes later."

Stanley Kubrick
Despite his disdain for schoolwork, Kubrick had an extremely inquisitive mind and taught himself an incredible amount about film stock, lenses, cameras et al., via his own didactic inclinations. He shared a love of movies with his school friend, and in the early 1950s, he began to create short films and documentaries, teaching himself as much as he could about the filmmaking process.
By the mid-1950s, Stanley Kubrick had advanced to feature films, and his early forays led to work in Hollywood, where his career as a renowned filmmaker began. Having formed a production company with his friend and colleague James B. Harris, himself a film producer, Kubrick made The Killing (1956) starring Sterling Hayden, and the impressive result solidified his reputation as a talented and notable director.
The next four decades would see Stanley Kubrick produce ten incredible films, most of which are considered to be seminal works of cinema. We have shortlisted five of them here, intended to be a good introduction to this amazingly talented man's work. As always, our picks are listed chronologically…
1. Paths of Glory (1957)
A powerful anti-war film that features incredible performances from Kirk Douglas, Timothy Carey and Ralph Meeker, Paths of Glory (1957) is based on the novel of the same name by Humphrey Cobb. Stanley Kubrick adapted it for the screen, co-writing with Calder Willingham and Jim Thompson. Kubrick would often work this way on his future films, writing and re-writing the scripts, developing ideas as he progressed through each picture, such was his independent nature and strong artistic vision. The film follows Colonel Dax (Douglas) in his attempt to defend some of the men under his command who have refused to continue a suicidal attack on the enemy during the First World War.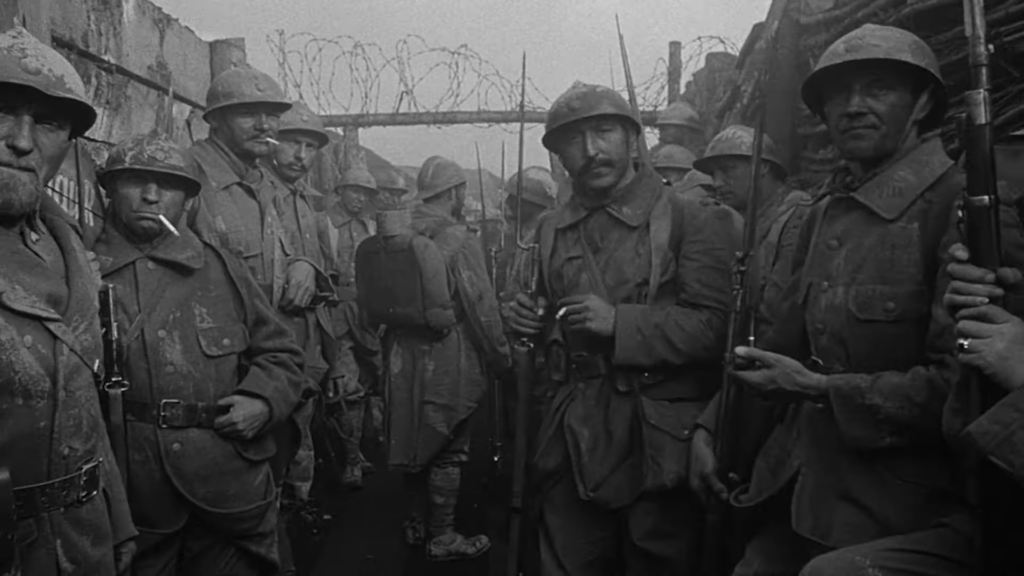 There are some stunning battlefield scenes portraying the soldiers in the grim conditions of trench warfare, but the majority of the film takes place in a military court. The ethics (or lack thereof) of the leadership is called into question, and the film acts as a scathing attack on the futility of war, pointing out the hypocrisy and immorality of the commanders and top brass who intend to execute the soldiers for cowardice. A brave and gripping drama, Paths of Glory is one of Stanley Kubrick's finest films, and it is my opinion that it is also one of Kirk Douglas's best as well.
2. Dr. Strangelove or: How I Learned to Stop Worrying and Love the Bomb (1964)
Throughout the cold war, the entire world feared nuclear annihilation. Stanley Kubrick was no different, and in the early 1960s, the topic had become something of a pre-occupation for him. He read scores of military and research books about the situation between the west and the Soviet Union and eventually concluded: "…nobody really knew anything and the whole situation was absurd."
This sentiment became the central theme of the film Dr. Stangelove or: How I Learned to Stop Worrying and Love the Bomb (1964). Based loosely on the novel Red Alert, Kubrick developed the screenplay with the book's author Peter George. The book was a serious critique of the situation, and this more sombre and severe tone was changed by Kubrick into a black comedy and political satire, which he felt was more befitting and would make things easier for an audience to digest while still maintaining the terrifying ridiculousness of the situation at hand.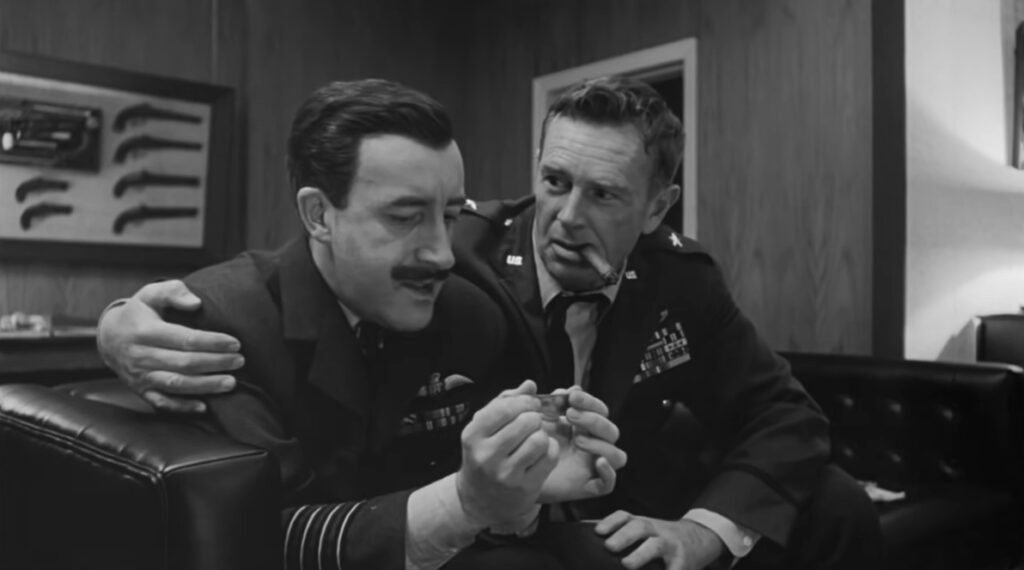 There are excellent performances from George C. Scott, Sterling Hayden, James Earl Jones and Slim Pickens, but it is British comedian and actor Peter Sellers who steals the show playing three different roles in the movie. He portrays Group Captain Lionel Mandrake – an RAF officer, the president of the United States Merkin Muffley and the title character Dr. Strangelove, a former Nazi scientist and nuclear war expert who is an over-the-top amalgamation of some of the war criminals that were taken in and utilised by The U.S. after the Second World War in Operation Paperclip.
Hilarious, outrageous and thought-provoking, "Dr. Strangelove" is one of the most successful satires ever produced and should be seen by everyone who loves great cinema.
3. 2001: A Space Odyssey (1968)
One of the very best films of all time and certainly one of the best "Hollywood" films ever produced, 2001: A Space Odyssey (1968) is based on the Arthur C. Clarke short story The Sentinel. Stanley Kubrick developed the screenplay with Clarke, who concurrently wrote the novel during this process. The novel was later released after the film. The story follows a team of astronauts who embark on a journey to Jupiter after the discovery of a monolith which has brought into question the theory of human evolution. The small crew are accompanied by a sentient computer known as HAL. "2001" covers themes about human existence, artificial intelligence and the possibility of alien life in the universe.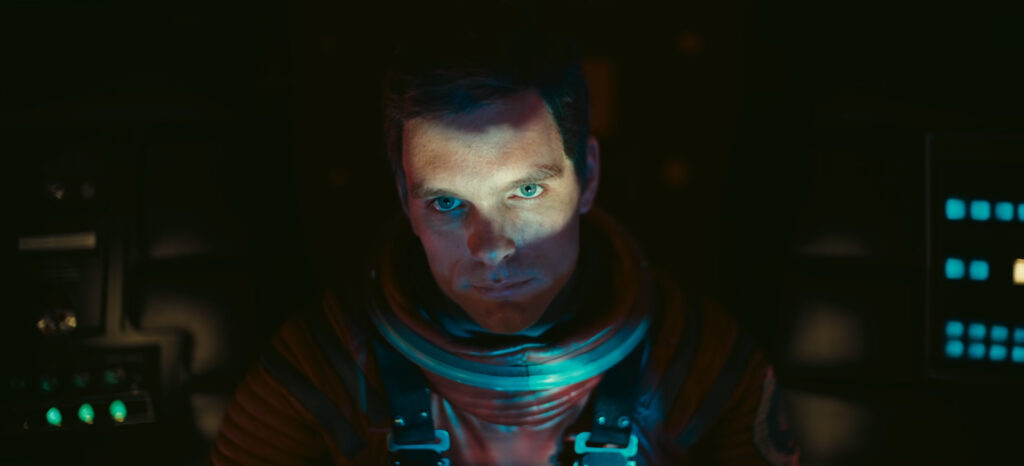 A huge undertaking at the time, the result of Kubrick's work on this film altered cinema and was ground-breaking in many ways, not least of all in terms of the special effects. However, it is the deep philosophical questions that arise as a result of seeing this film that confirm the fact that it is completely singular and unequalled in terms of its subtext and deeper meanings. Kubrick did extensive research when preparing the film, being allowed to observe NASA operations to recreate the conditions of space so accurately.
Years later, filmmaker George Lucas cited this film as a direct influence on him to make Star Wars (1977), so enamoured was he by the technical excellence produced on-screen by Kubrick. Even now, over 50 years after its release, this incredible film still has the power to shock and astound.
4. The Shining (1980)
Based on another novel, this time by horror author Stephen King, The Shining (1980) stars Jack Nicholson and Shelley Duvall, along with Danny Lloyd and Scatman Crothers. This cerebral adaptation is another extremely well-regarded movie. Nicholson plays Jack Torrance, who becomes the caretaker of the humongous Overlook Hotel during a harsh winter in the Rocky Mountains. Duvall and Lloyd play his wife Wendy and son Danny. Slowly, Jack becomes consumed with madness as a dark presence in the Hotel dominates his mind. One of the most disturbing films ever made in popular cinema, The Shining is a genuinely unsettling first-time watch.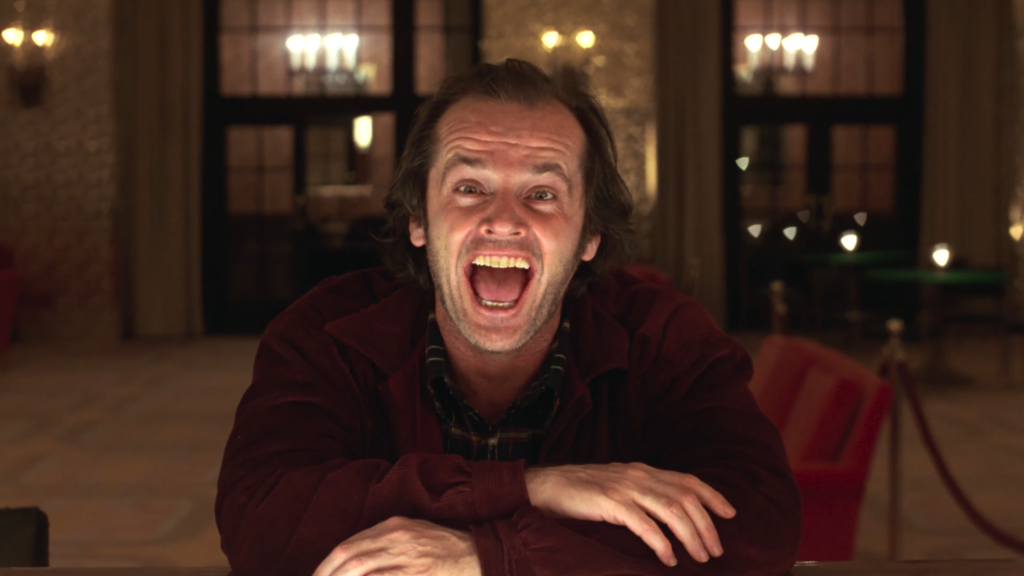 Kubrick employs a number of incredible technical devices to ramp up the tension, and Nicholson was given carte blanche to improvise and therefore create one of modern film's most memorable lines ever heard; "Here's Johnny!" There are many different conspiracy theories that suppose that Stanley Kubrick had a hand in creating the moon landing films and that the entire 1969 U.S. moon landing was faked. There are supposedly many clues scattered throughout this movie that could be interpreted as implying that the theories could be true. See the documentary film Room 237 (2013).
5. Full Metal Jacket (1987)
We started the Top 5 with one of the most powerful anti-war films ever made, and we conclude it with another comment on war in the form of Full Metal Jacket (1987). In this film, Stanley Kubrick explores the Vietnam war through the eyes of some young Marine recruits as they are trained in boot camp and eventually sent out to the war. Kubrick filmed everything in the U.K. and had palm trees airlifted in to recreate an authentic look.
Many of the actors used were relatively unknown; Matthew Modine and Vincent D'Onofrio were young theatre actors, and R. Lee Ermey, who portrayed the unforgettable Gunnery Sgt. Hartman, was brought in for technical advice and ended up getting cast in the role, lending the film a truly credible element.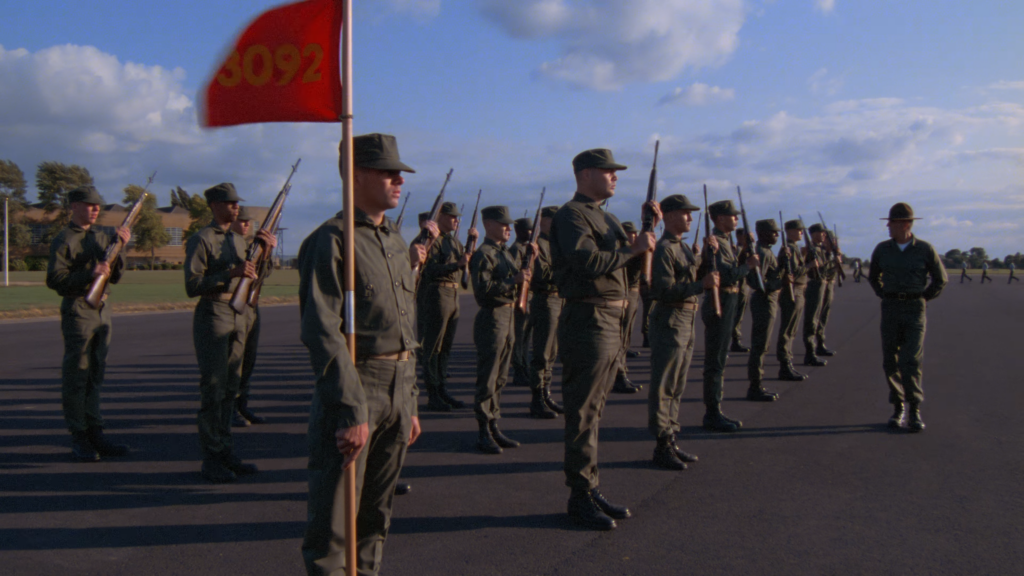 A movie of two halves, Full Metal Jacket, shows that the enemy is not always around the other side of the planet, but sometimes a lot closer to home, even hinting at the enemy within. A truly Kubrickian vision, the atmosphere and intensity are incredibly palpable throughout. Released a year after Oliver Stone's numbing Platoon (1986), this movie tread further explored America's grief over the Vietnam conflict and exposed the insidious underbelly of the war machine behind the curtain. Further evidence that Stanley Kubrick was keen to remind us of the fact that war is hell.
So, that's our Top 5 Stanley Kubrick Films!
Think we've missed any out or not included your favourite Stanley Kubrick movie? Then let us know in the comments below.
You can read more of our reviews here.
Please join in 'the conversation' with us on social media on Facebook, Instagram, Tik Tok and Twitter. We really appreciate all the likes, shares, retweets etc., and we would love to hear from you and continue the wonderful celebration of all things cinema on these platforms.
If you love to watch videos on YouTube, then please subscribe to our channel here. There's lots of fun and informative videos uploaded that we hope you will enjoy!
We have a passion for movies and aim to produce entertaining and informative movie-related content. It certainly is a lot of hard work, but we love films so much that it's worth all the effort. We have to keep the lights on and make sure we have plenty of caffeine to keep all of the articles, videos and social media posts coming, so if you like our work, then please consider supporting us at Buy Me A Coffee here. You can also become a More Movies patron on Patreon here.
To help support us here at More Movies, we do use advertising in a few places, so we appreciate it if you do not use AdBlockers on our site, as this helps keep a few pennies trickling in. We also utilise affiliate links throughout the site, usually to help guide our readers to places to stream, rent or buy the movies we talk about. One of the biggest sources for movies online is Amazon Prime Video, where you can stream over 18,000 films. If you are interested in Prime and haven't signed up yet, you can get a 30-day free trial via this affiliate link, which helps support us too.