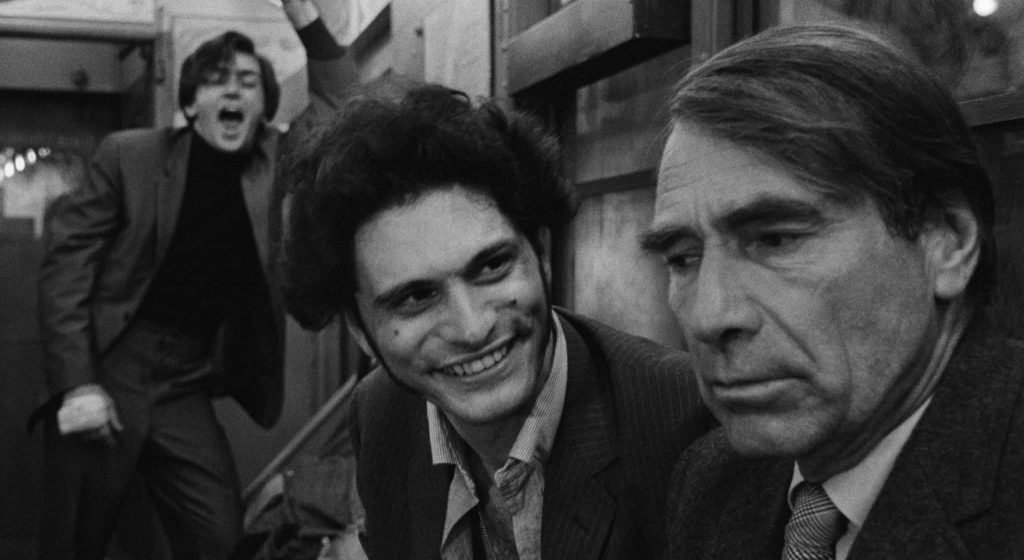 Right from the outset The Incident (1967) is a hard-hitting, neo-noir thriller which is dark, intense and at times, frightening. Fans of Scorsese's early work (especially Mean Streets, 1973) will immediately recognise the dark pool halls and back alleys of New York. Tony Musante and Martin Sheen run riot as a pair of thugs, hellbent on starting trouble for kicks and raising hell just for the sake of it.
During the first ten minutes we are introduced to these two evil characters as they scour the quiet streets looking for trouble. Robbing a man and badly beating him, we realise very quickly that Joe and Artie (Musante and Sheen both in their feature film debuts) are out to cause as much chaos as possible. Both characters are particularly menacing and at times resembles a 'Joker' style character with their maniacal laughter and psychopathic stares. These hoodlums just want to get smashed and thrive on being bad.
Shot in black and white to maintain a visceral and realistic feel, The Incident is a pre-cursor to the neo-realism of the new Hollywood that would dominate the U.S. cinema throughout the 1970s. Most of us are familiar with or have at least heard of such films as Taxi Driver, The French Connection and Dog Day Afternoon, but this riotous and often shocking drama is less known and in our opinion, underrated.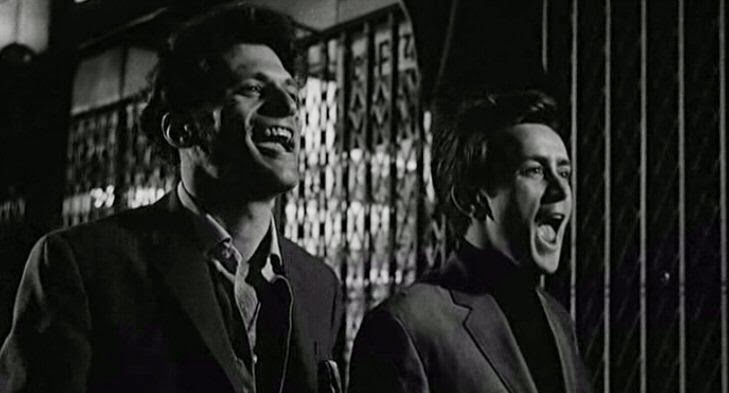 After the title credits have rolled, we are introduced to a host of different characters, all of whom have one thing in common. They will all take the same subway train to get home. Little do any of them know that they will soon be thrown in to a nightmarish scenario, that sees Joe and Artie hold them all prisoner as the two men terrorise the train carriage.
The passengers are a mixed demographic, mostly couples. The first couple are out late and the man (played by Ed McMahon before his fame on the Tonight Show with Johnny Carson) is carrying his young daughter, asleep in his arms. This couple argue over whether to get a cab or take the train. In the end they take the train to save money. Their fate is now sealed. Another elderly couple arrive at one of the stations and they too argue with one another, the old man complaining that the youth have a duty to help the elderly.
Simultaneously a younger couple head for the train, the young man is pressuring his girlfriend to be intimate with him in public, making her very uncomfortable. He then makes her feel guilty and she yields to his oppressive insistence. Then there is a young black couple, the male of which is bigoted against white people and has an argument with the ticket master at the station over a perceived insult. Each of the passengers are very flawed characters that bicker with one another over petty squabbles. Most of the men seem to be opinionated, prejudiced and uncompromising.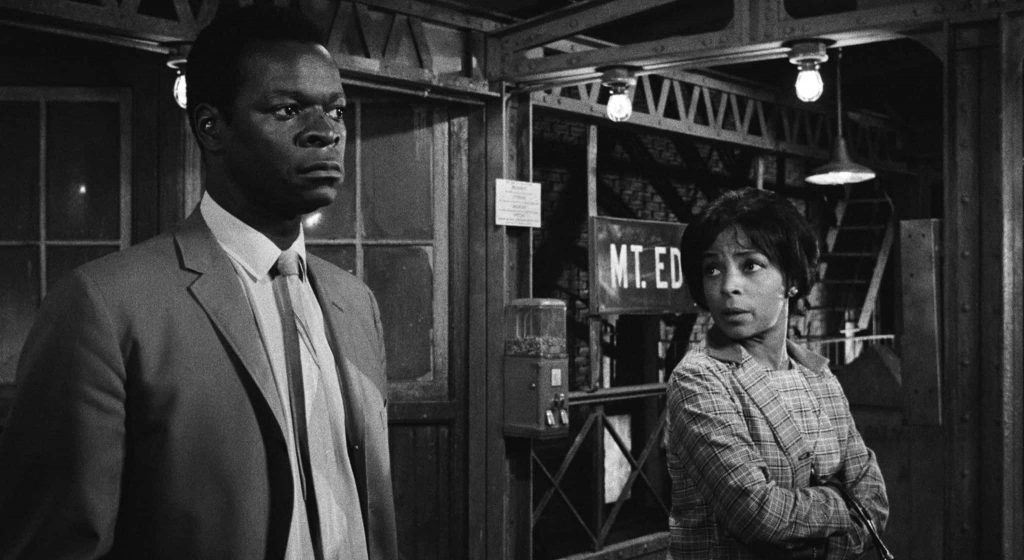 We also see a young man and a older man in a small bar who cross paths in the bathroom before meeting again later on the train platform. The young man seems to have a lot on his mind and seems eager to introduce himself to the older fellow. The older man is not interested in getting to know the younger man, and after a brief phone call we learn that this older man is a former alcoholic. It is also implied that the younger man is gay, something that would have been much more taboo and kept quiet in the late 60s.
All of the passengers seem to be at odds about something, including another middle-aged couple who are also unhappy in their relationship. But then we are introduced to two young guys in military uniforms who are obviously friends and on their way back from a family supper.
These two are getting along well (much like Joe and Artie) but are in fact the antithesis of the two aforementioned villains. They are tidy and respectful and much more wholesome and clean cut.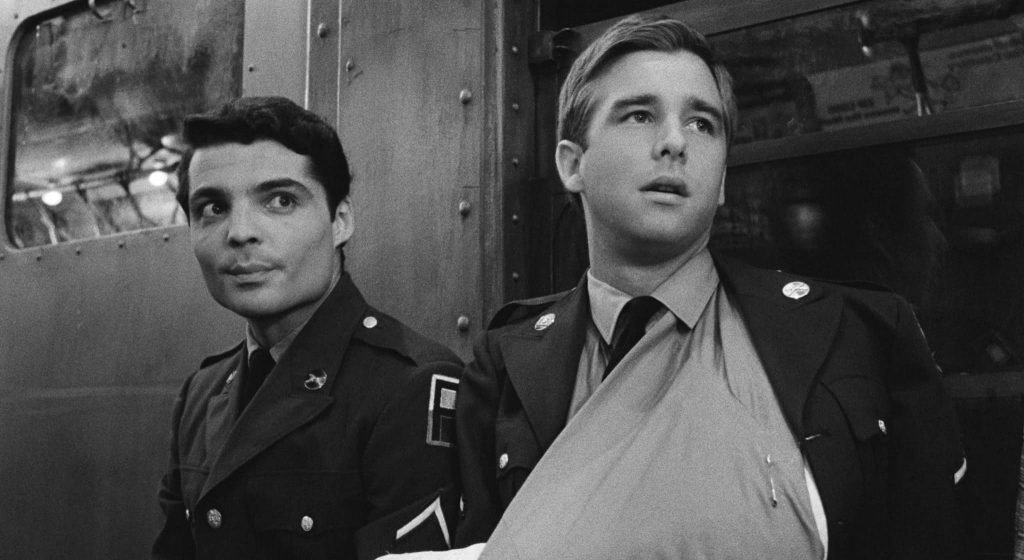 A very young Beau Bridges plays Felix, a young army recruit with a broken arm who is being escorted by his friend and fellow recruit Harry, to catch a train to Central Station for his connection back home to Oklahoma. Felix is an out-of-towner. A wholesome american boy who is unassuming, polite and comes across as a hard-working realist. Felix represents the very best of america. He has a positive outlook despite being injured and he is not judgemental or aggressive in any way, but has a calm strength that you could not help but warm to.
It seems that the two opposing forces have been laid out and before long the passengers are all aboard the train, minding their own business and ignoring a homeless man that has fallen asleep at the end of the carriage. Then, all of a sudden at the next stop, Joe and Artie burst on to the train and immediately begin to wreak havoc and unsettle everyone.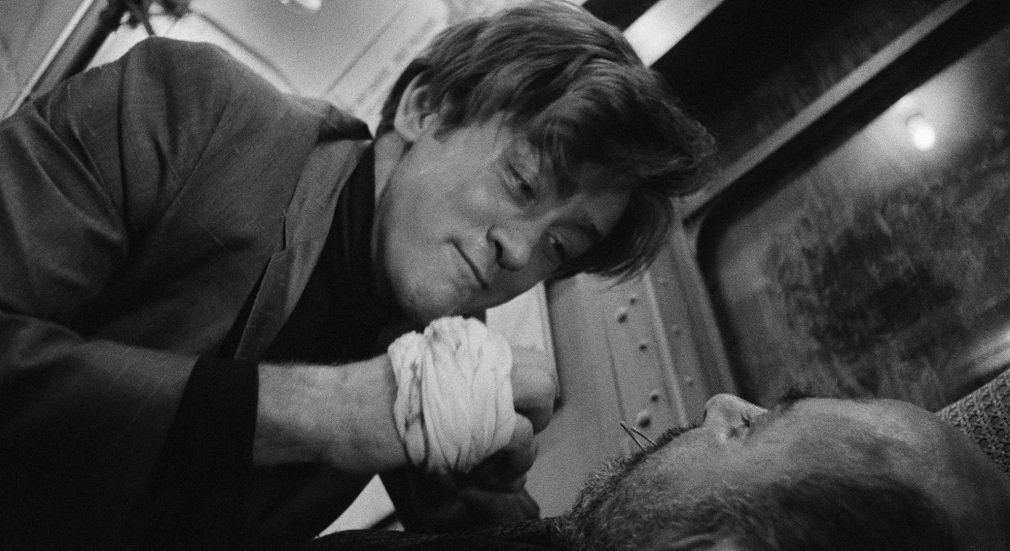 The two punks target the sleeping homeless guy first, putting matches in his mouth and attempting to light them. At this point the former-alcoholic older man tells them to leave him alone, and sure enough they turn on him. From here on in and for the remainder of the journey, Joe and Artie antagonise, bully, threaten and belittle each of the passengers in a sick, booze-fuelled game that only they are allowed to play. These scenes are intense and for the period, shockingly aggressive. The realism in the portrayal of this nihilistic evil makes for some amazing cinema.
The performances here are electric. Despite being made over 50 years ago, one cannot help but feel uncomfortable and exasperated for each of the innocent passengers as they are mocked and taunted. Any voice of decent is quickly crushed by Joe as he works his way around the couples, interrogating everyone in a passive-aggressive and intimidating way. The two stop anyone from leaving when the train stops in stations and won't let any new passengers on board. The tension built up by the increased pace of the cuts and the characters become more afraid of what might happen next.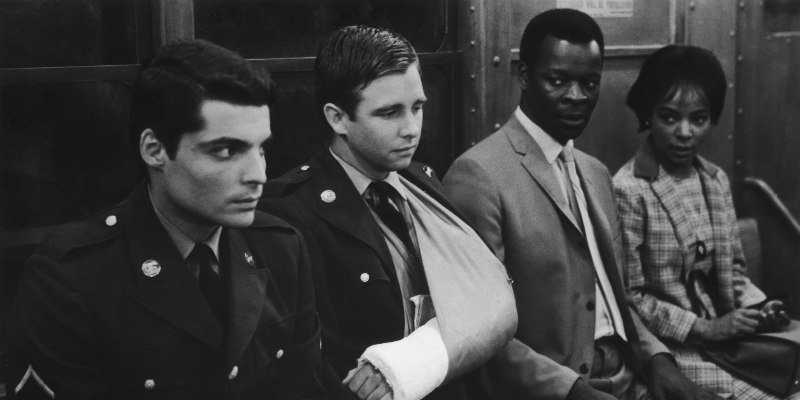 Only Felix, the injured army recruit is brave enough to stand up to the villains and in his lone struggle against them, the rest of the carriage and we as the audience, are wracked with a feeling of guilt and helplessness while this one courageous person decides enough is enough.
There are a lot of themes going on in The Incident and the film serves as a sober and revealing comment on american society of the era. Racism, poverty, anger, ethics and a community divided is all laid bare in this mesmerising narrative that takes place in real time. The camera work is experimental in places, giving a roving point of view in the scenes when Joe and Artie are swinging around the train compartment like wild apes. In other places the shots are beautifully composed, employing a noir chiaroscuro contrast that is the very emblem of dark versus light, evil versus good.
The recent re-release by Eureka Classics is a beautifully restored picture and fantastic sound quality, giving this forgotten classic a well deserved update. I highly recommend it to any fans of the American New Wave cinema in the style of Martin Scorsese, Brian De Palma and John Cassavetes.
Well, that's it for this review of The Incident!
What did you think of The Incident?  Let us know in the comments below.
You can read more of our reviews here.
Please join us on social media on Facebook, Instagram, Tik Tok and Twitter. We really appreciate all the likes, shares, retweets etc., and we would love to hear from you and continue the wonderful celebration of all things cinema on these platforms.
If you love to watch videos on YouTube, then please subscribe to our channel here. There's lots of fun and informative videos uploaded that we hope you will enjoy!
We have a passion for movies and aim to produce entertaining and informative movie-related content. It certainly is a lot of hard work, but we love films so much that it's worth all the effort. We have to keep the lights on and make sure we have plenty of caffeine to keep all of the articles, videos and social media posts coming, so if you like our work, then please consider supporting us at Buy Me A Coffee here. You can also become a More Movies patron on Patreon here.
To help support us here at More Movies, we do use advertising in a few places, so we appreciate it if you do not use AdBlockers on our site, as this helps keep a few pennies trickling in. We also utilise affiliate links throughout the site, usually to help guide our readers to places to stream, rent or buy the movies we talk about. One of the biggest sources for movies online is Amazon Prime Video, where you can stream over 18,000 films. If you are interested in Prime and haven't signed up yet, you can get a 30-day free trial via this affiliate link, which helps support us too.