Those Who Wish Me Dead (2021) is an action thriller starring Angelina Jolie that was co-written and directed by the Taylor Sheridan.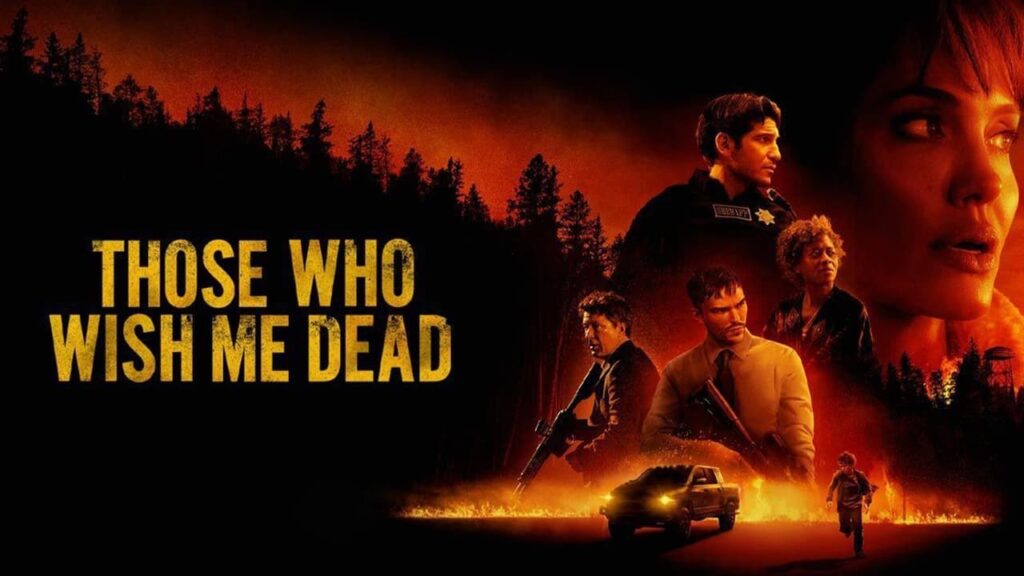 I'm an Angelina Jolie fan so when I saw she was back in a new film that was directed by Taylor Sheridan I was excited. Sheridan has produced some great work as a writer, with films like Sicario (2015) and Hell or High Water (2016) ranking highly on my crime-thriller list, I also very much enjoyed Wind River (2017) which he also wrote and directed.
So this teaming-up of Jolie and Sheridan was a no-brainer for me and suffice it to say I automatically had high expectations from the outset.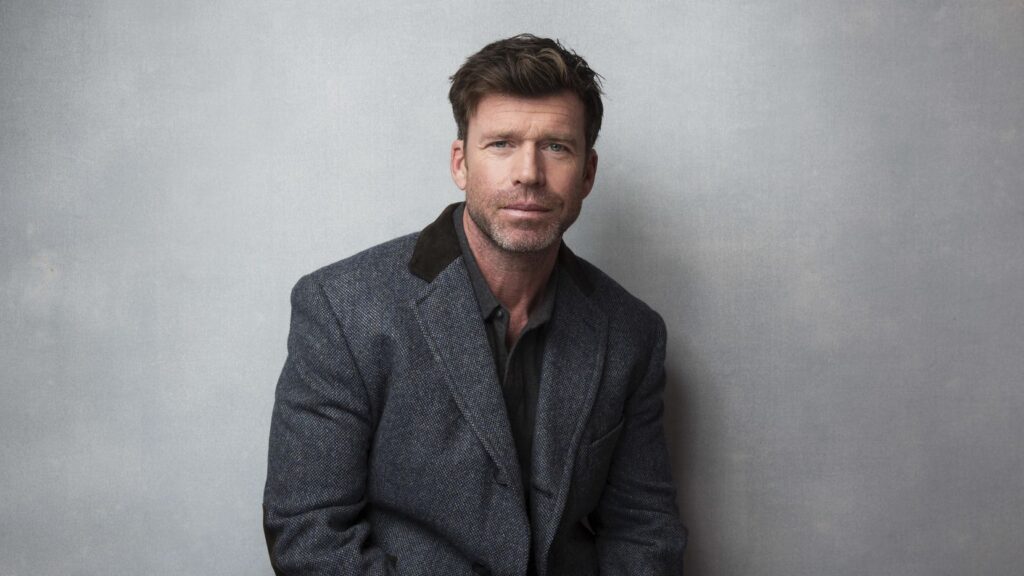 Joile plays Hannah, a time-served 'smokejumper' whose job is to parachute into a remote wildfire and fight to put it out before it grows out of control. Elsewhere, accountant Owen (played by Jake Weber), learns of the death of his boss in a domestic gas explosion. This news rattles Owen as he suspects foul play. He takes his son Connor (played by Finn Little) with the intention of seeking refuge with his brother-in-law Ethan (played by John Bernthal). Ethan is a deputy sheriff living out in Park County, Montana. He and his wife Allison (played by Medina Senghore) are expecting a baby. We also find out that Ethan is the ex-boyfriend of Hannah.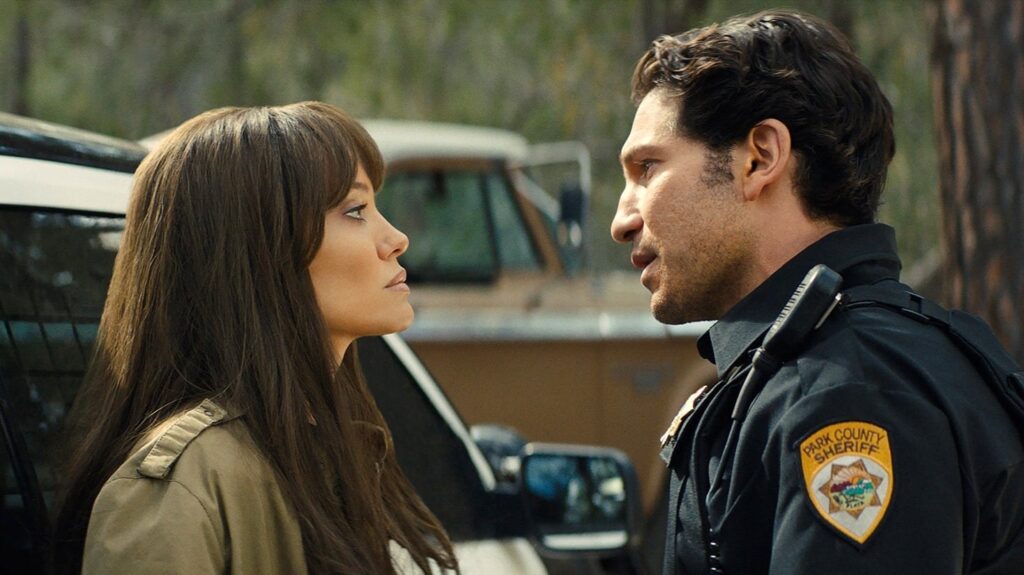 Before Owen and Connor can reach Ethan, they are ambushed by two assassins who work for the mob. The hitmen Jack and Patrick are played by Aidan Gillen and Nicholas Hoult, and we learn that they were responsible for the death of Owen's boss and are now attempting to silence Owen and retrieve evidence he possesses, that could incriminate their employer.
The opening half-an-hour sets up the narrative, but the focus is too widely spread. We learn a little bit about all of these characters, assassins included, but there is no clear protagonist through which we can experience the events as they unfold. Instead we get a meandering set-up that is bedecked with obvious exposition and graceless dialogue. By this point my inner alarm bells were ringing.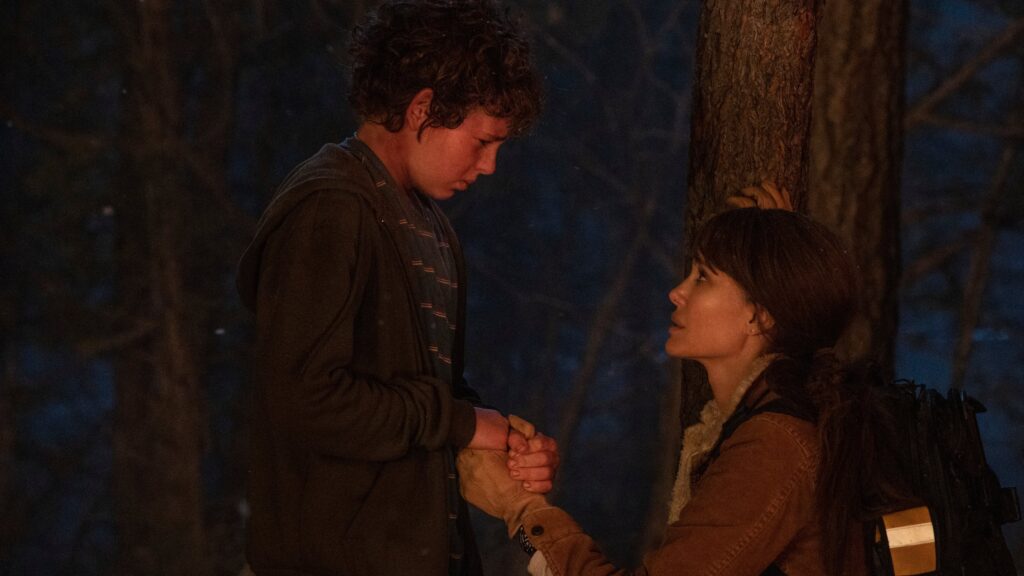 Owen is killed in the ambush, but before Jack and Patrick can retrieve the evidence, Owen gives it to young Connor and tells him to flee and deliver the evidence to a TV station.
While all this is happening, Hannah is stationed in a fire look-out tower, haunted by the death of some young children that she failed to save from a previous blaze. As Connor wanders alone in the forest, he of course, stumbles upon Hannah and the rest of the movie is spent with Hannah attempting to get Connor to safety, whilst been pursued by Jack and Patrick, who start a massive forest fire in an attempt to smoke out their target.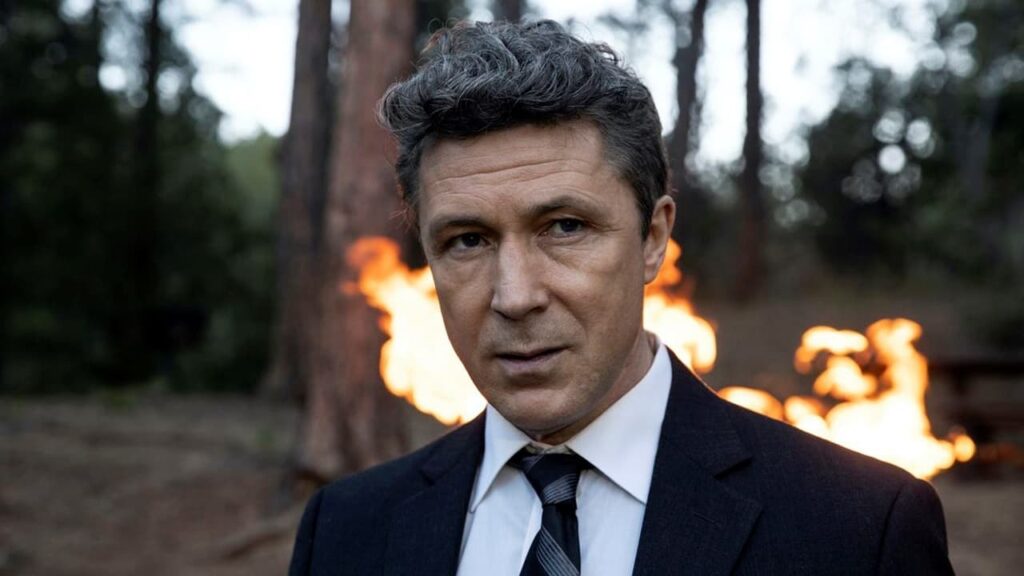 I won't go in to everything else that happens, but I will say my favourite character in this whole movie was Ethan's wife Allison, who despite being heavily pregnant, takes on the slimy assassins and gives them more of a run for their money than they bargained for.
It doesn't take a genius to figure out how this film was going to pan out. The script was unfocussed and despite strong performances from all of the well-established actors I have mentioned, the material is just too goofy to be taken seriously. Angelina's finest work, this is not. Which is a great shame as I was very much looking forward to it.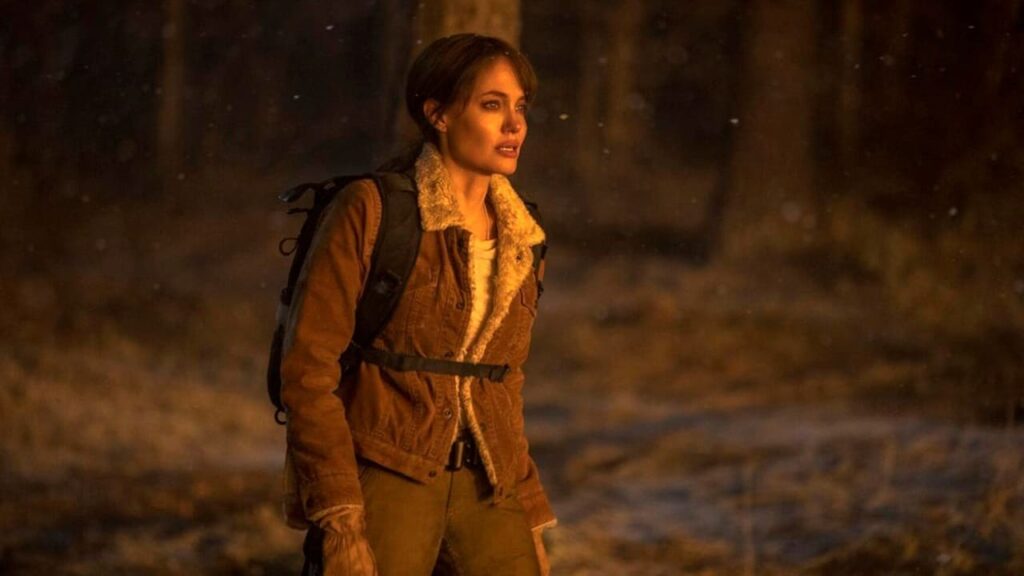 Her character is just not believable, the anguish that she feels as a result of those that she could not save could never be sated by helping this young tyke deliver his father's evidence to the media. Besides this, she falls from the top of the look-out tower, gets struck by lightning and is beaten to a pulp by the evil antagonists, yet she still comes limping through it all like John McClane bimbling out of a smoking Nakatomi Tower. That may have worked 30 years ago in Die Hard, but this kind of far-fetched resilience seems out of place in a modern film.
I can only assume that these shortcomings are the result of inout from Michael Koryta and Charles Leavitt who co-wrote the screenplay with Sheridan. His previous work has been very solid and devoid of this kind of obvious banality and despite all the respect I have for Jolie as an artist and a humanitarian, Those Who Wish Me Dead just didn't do it for me.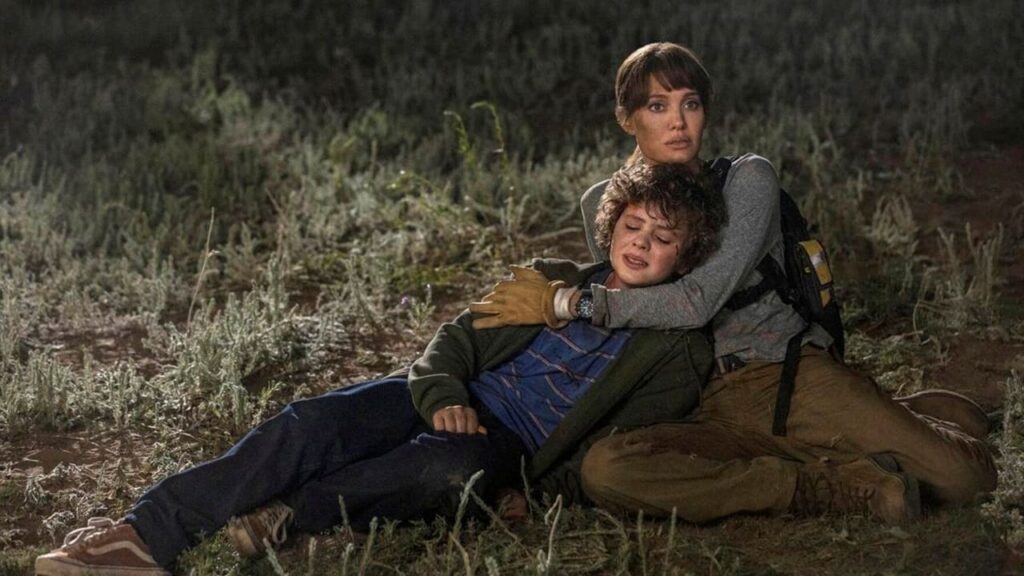 As a piece of shiny action pap, this film is passable, but as we all know, if you don't have a great script, you don't have a great movie. It is certainly not the worst film I have ever seen, but it is a far cry from some of the engrossing Sheridan movies that I mentioned above.
Well, that's it for this review of Those Who Wish Me Dead!
What did you think of Those Who Wish Me Dead? Did you enjoy it? Let us know in the comments below.
You can read more of our reviews here.
Please join us on social media on Facebook, Instagram, Tik Tok and Twitter. We really appreciate all the likes, shares, retweets etc., and we would love to hear from you and continue the wonderful celebration of all things cinema on these platforms.
If you love to watch videos on YouTube, then please subscribe to our channel here. There's lots of fun and informative videos uploaded that we hope you will enjoy!
We have a passion for movies and aim to produce entertaining and informative movie-related content. It certainly is a lot of hard work, but we love films so much that it's worth all the effort. We have to keep the lights on and make sure we have plenty of caffeine to keep all of the articles, videos and social media posts coming, so if you like our work, then please consider supporting us at Buy Me A Coffee here. You can also become a More Movies patron on Patreon here.
To help support us here at More Movies, we do use advertising in a few places, so we appreciate it if you do not use AdBlockers on our site, as this helps keep a few pennies trickling in. We also utilise affiliate links throughout the site, usually to help guide our readers to places to stream, rent or buy the movies we talk about. One of the biggest sources for movies online is Amazon Prime Video, where you can stream over 18,000 films. If you are interested in Prime and haven't signed up yet, you can get a 30-day free trial via this affiliate link, which helps support us too.