One Night in Miami… (2020) is the directorial debut by Regina King, written by Kemp Powers, based on his stage play of the same name.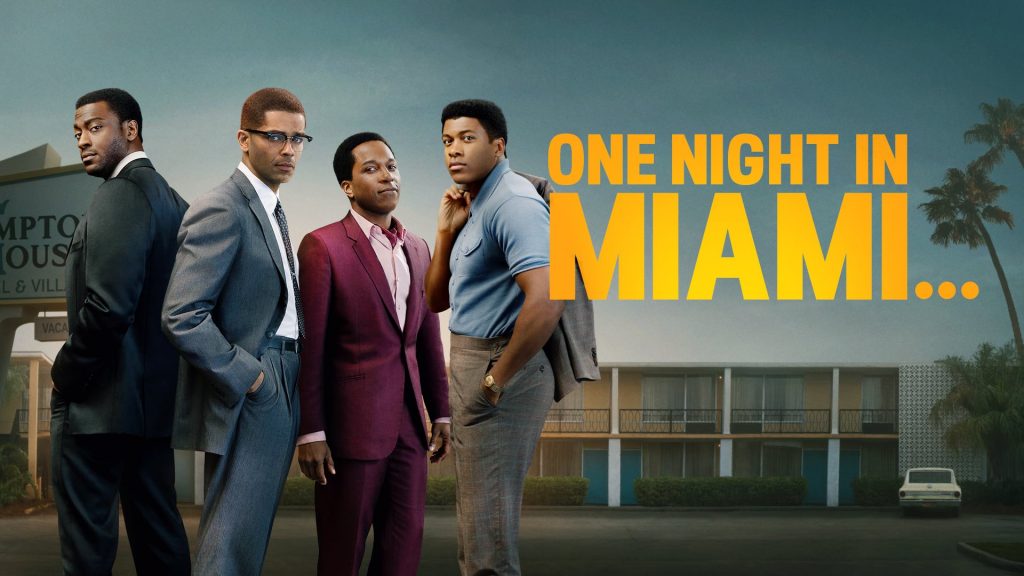 The film is a fictionalised account of a meeting that took place in February 1964 after Muhammad Ali's surprise victory over Sonny Liston to become WBA/WBC Heavyweight Champion. Muhammad Ali or Cassius Clay, played by Eli Goree, arrives at the Hampton House Hotel in Miami in an organised after-party hosted by controversial African-American Muslim minister and human rights activist Malcolm X, played by Kingsley Ben-Adir. They are joined by American football player and actor Jim Brown, played by Aldis Hodge, and American singer, songwriter and King of Soul Sam Cooke, played by Leslie Odom Jr.
The Story of One Night In Miami
The story starts with a look at the lives of the four men. We see Cassius Clay close to losing a boxing match to Henry Cooper at Wembley Stadium, highlighting the young boxer's over-confidence. At the Copacabana in New York City, soul singer Sam Cooke gives a live performance in front of a cold, all-white audience, demonstrating his desire to fit in but the inability to do so.
We see Malcolm X return home and discuss his plans to leave the Nation of Islam with his wife, Betty, revealing his self-belief and determination to strike out on his own. Perhaps the most shocking of all, we also see Jim Brown visiting a family friend called Mr Carlton back home in Georgia. They greet each other kindly and share a lemonade on the porch when the reality of the period suddenly hits home.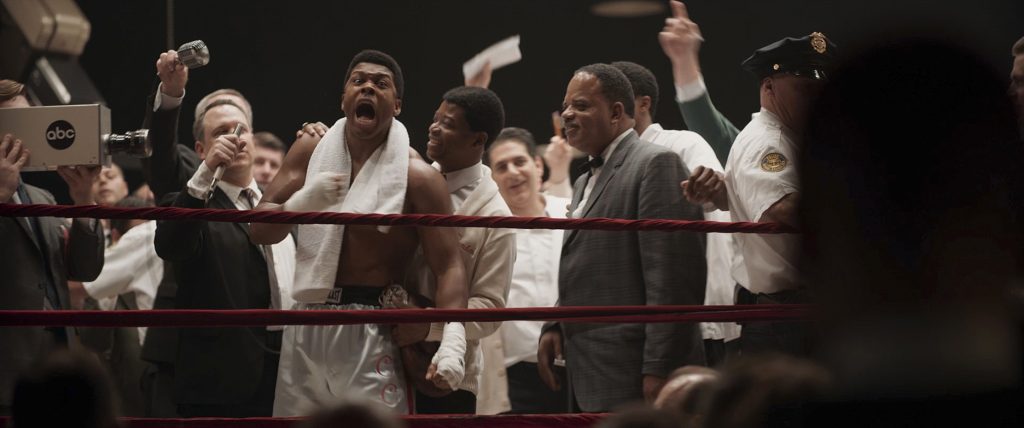 It's a compelling moment in the film as it really anchors the period that we are watching. The first 30 mins of the film are like a prelude to the last 90 mins, giving us a background to the story that wasn't possible to portray in the stage play. It sets up the world these men live in. You see the racism. You see the divide.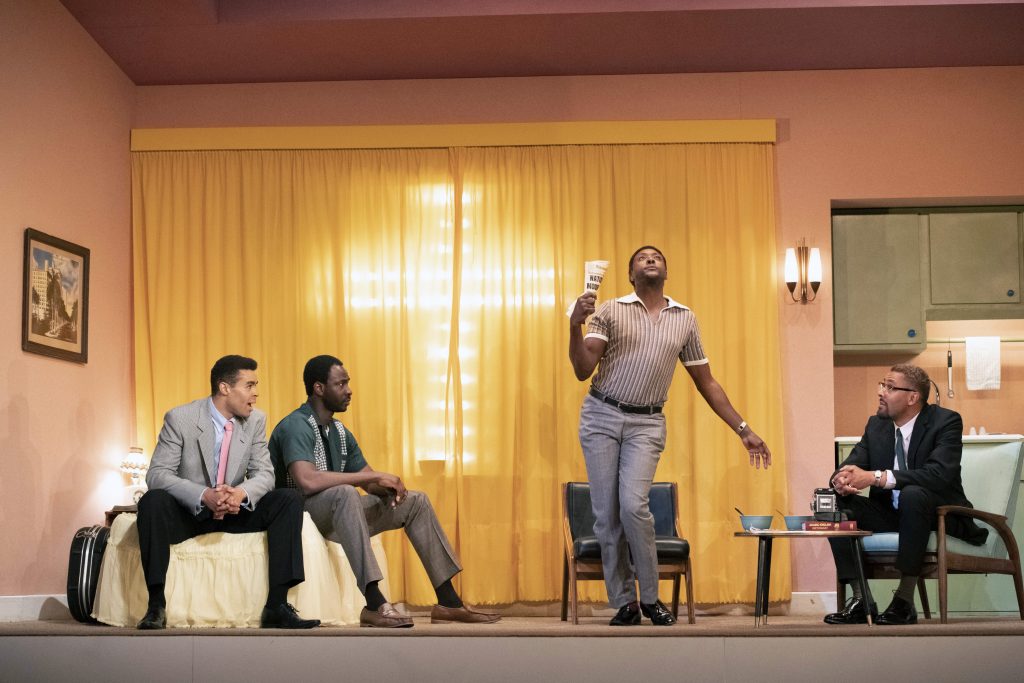 After Clay's victory, they return to the hotel, which is where we stay, pretty much, for the rest of the film. Lots of things transpire in the meeting. For example, we learn that Malcolm X and Cassius have been meeting for quite some time, and Cassius has decided that he wants to join the Nation of Islam and be known as Muhammad Ali. This is a pivotal moment we see unfolding behind closed doors.
However, these victory drinks soon turn into a friendly but forthright debate, mainly discussing the subject of black oppression. Cooke is noticeably upset at Malcolm X's accusations that he has sold out the black community to pander to white audiences. Cooke retorts that his success and creative autonomy are an inspiration. He also says protest songs aren't commercially viable, of which Malcolm X replies by playing Bob Dylan's "Blowin' in the Wind".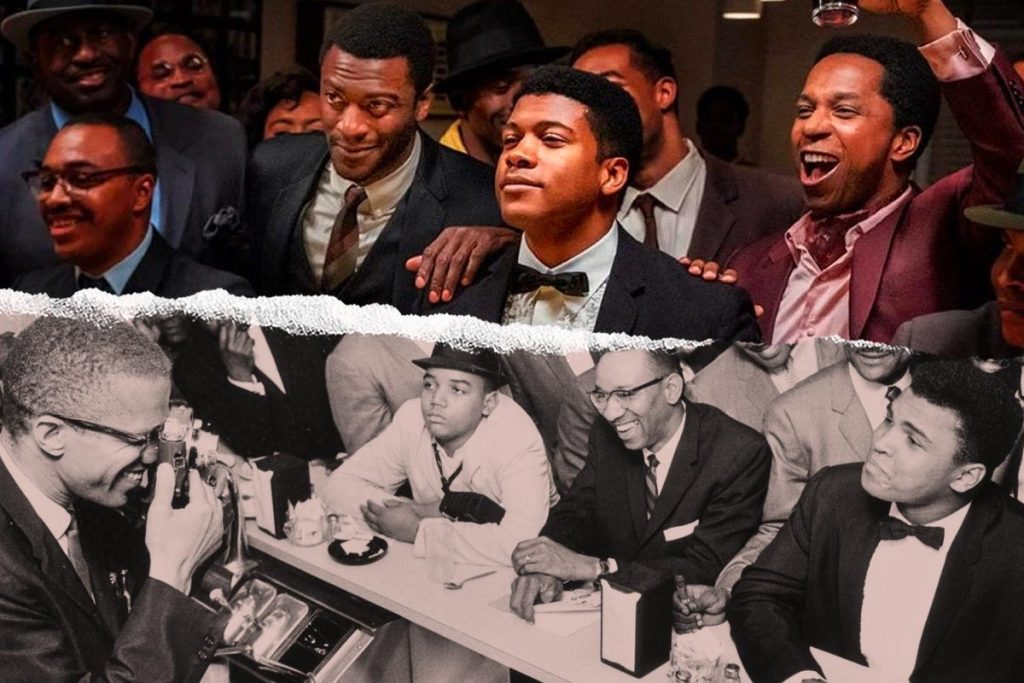 There is more going on than meets the eye as we realise that Malcolm X is under a lot of stress and understandably paranoid. The FBI is harassing him, and arguments with Elijah Muhammad about the Nation of Islam's direction are playing heavily on his mind. X reveals that he is starting a new organisation leaving Clay feeling betrayed, thinking this has all been a ploy to use him.
All these arguments that take place in the hotel room centre around ways to fight oppression. Is the use of violence the answer? Is being "anti-white" the answer to those who are "anti-black"? Are there more innovative ways to use the system to your advantage to help those that are disadvantaged?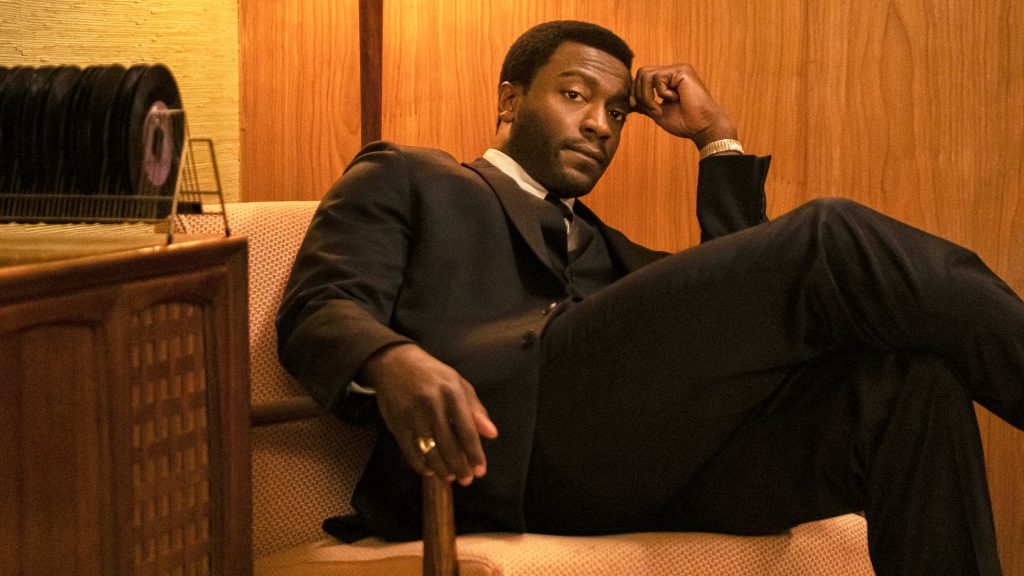 Thoughts on One Night in Miami
It's an interesting debate that Kemp Powers cleverly lays out in his excellent script. It's a clever use of these four famous icons, placing them at the centre of this philosophical and political debate and presenting it in a way that will make people listen. They talk, argue, embrace, and experience catharsis as they flit between celebrity and advocacy during some of America's most turbulent times.
The four characters here are fictionalised representations of the men. They are the myths built up over time, and the film attempts to distil them, revealing the men behind the image. One Night in Miami is not a biopic. We do not delve into the deep history of the people the film presumes we already know about, but instead focuses on one moment in time when these young renegades came together under one roof.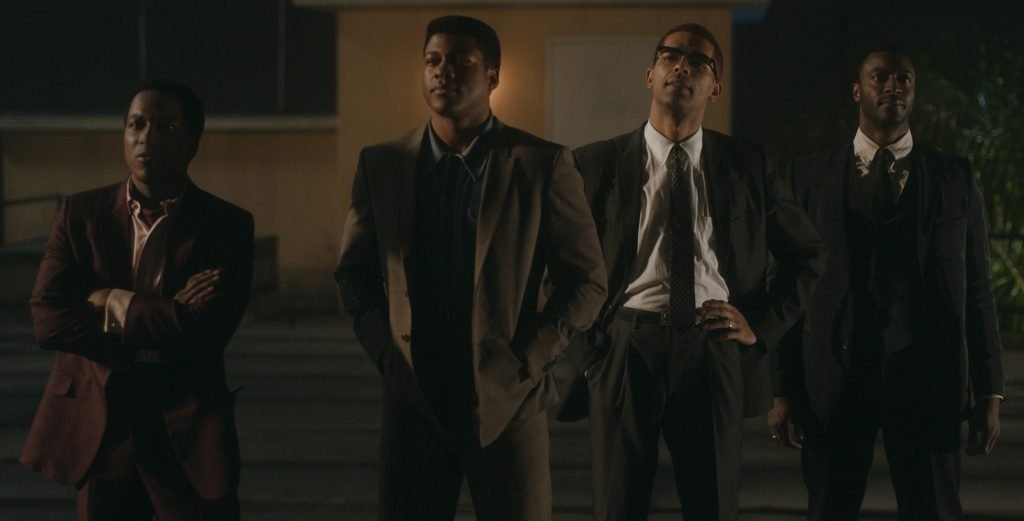 Much of what works in this film is down to the fantastic performances from four very talented actors. It's a dialogue-heavy chamber piece, so much so that it is obvious that it is adapted from the stage play. But it works and delivers a powerful message about a time of racial segregation in the United States that still feels every bit as relevant today.
The film ends with Cooke debuting his song "A Change is Gonna Come" on The Tonight Show. What we know, looking back as an audience, is that he sadly died of gunshot wounds inflicted by a motel manager less than a year later. After the blaze at Malcolm X's household shown at the end of the film, we also know that he was assassinated by gunmen in New York just a few years later. The film is holding up a mirror of the past and comparing it to today. We knew back then that a Change has to Come, but we still haven't seen it fully realised.
That's it for this review of One Night in Miami…
What do you think of One Night in Miami…? Did you find it as powerful as I did? Let us know in the comments below.
You can read more of our reviews here.
Please join us on social media on Facebook, Instagram, Tik Tok and Twitter. We really appreciate all the likes, shares, retweets etc., and we would love to hear from you and continue the wonderful celebration of all things cinema on these platforms.
If you love to watch videos on YouTube, then please subscribe to our channel here. There's lots of fun and informative videos uploaded that we hope you will enjoy!
We have a passion for movies and aim to produce entertaining and informative movie-related content. It certainly is a lot of hard work, but we love films so much that it's worth all the effort. We have to keep the lights on and make sure we have plenty of caffeine to keep all of the articles, videos and social media posts coming, so if you like our work, then please consider supporting us at Buy Me A Coffee here.
To help support us here at More Movies, we do use advertising in a few places, so we appreciate it if you do not use AdBlockers on our site, as this helps keep a few pennies trickling in. We also utilise affiliate links throughout the site, usually to help guide our readers to places to stream, rent or buy the movies we talk about. One of the biggest sources for movies online is Amazon Prime Video, where you can stream over 18,000 films. If you are interested in Prime and haven't signed up yet, you can get a 30-day free trial via this affiliate link, which helps support us too.