Last night I had the pleasure of watching Leave No Trace (2018), a very moving and powerful story about a unique father and daughter relationship, directed by Debra Granik who is known for her hard-hitting works Winter's Bone (2010) and Down To The Bone (2004).
This is a story about Tom (played by Thomasin McKenzie), a thirteen-year-old girl who lives with her father Will (played by Ben Foster) in the forest parkland outside of Portland, Oregan. The two live an isolated life, using survival techniques to sustain themselves and occasionally visiting the city for essential supplies. Will is a war veteran and suffering from PTSD. He sells his meds to other veterans to make a little money so that he and Tom can buy basic food and any equipment they require to live off the grid in the forest.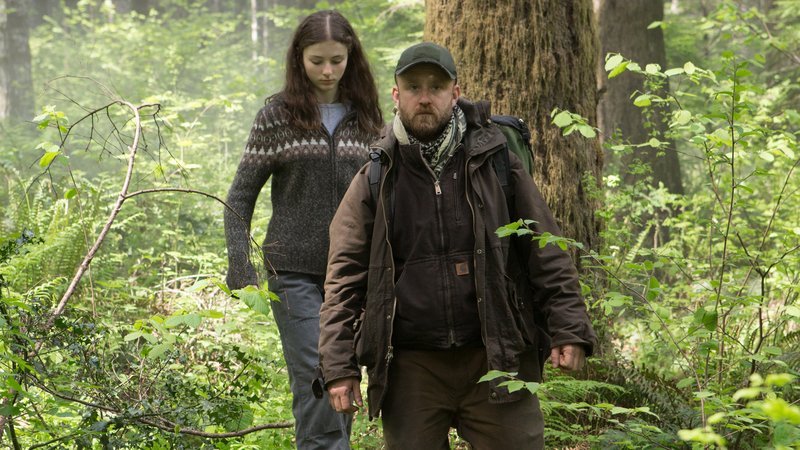 Will has taught Tom a litany of survival skills that involve making fire, catching and cooking food outdoors and utilising basic equipment to gather water. He has also taught her to read well and play chess, taking responsibility for her education as she does not attend school. Their camp is basic and they regularly run a drill in which they drop whatever they're doing and flee, should anyone encroach on their dwelling and attempt to disrupt their way of life.
This inevitably happens when Tom is spotted by a jogger in the forest, which results in the authorities raiding the camp and arresting Will. The two are taken in by social services and separately interviewed and tested to determine their circumstances, mental health and in Tom's case her education. Despite their unique circumstances, Tom is found to have above-average abilities for her age and it is soon determined that the relationship between her and Will is not abusive (albeit unconventional) and they are found a place to live on a Christmas Tree farm where Will can work in exchange for lodging.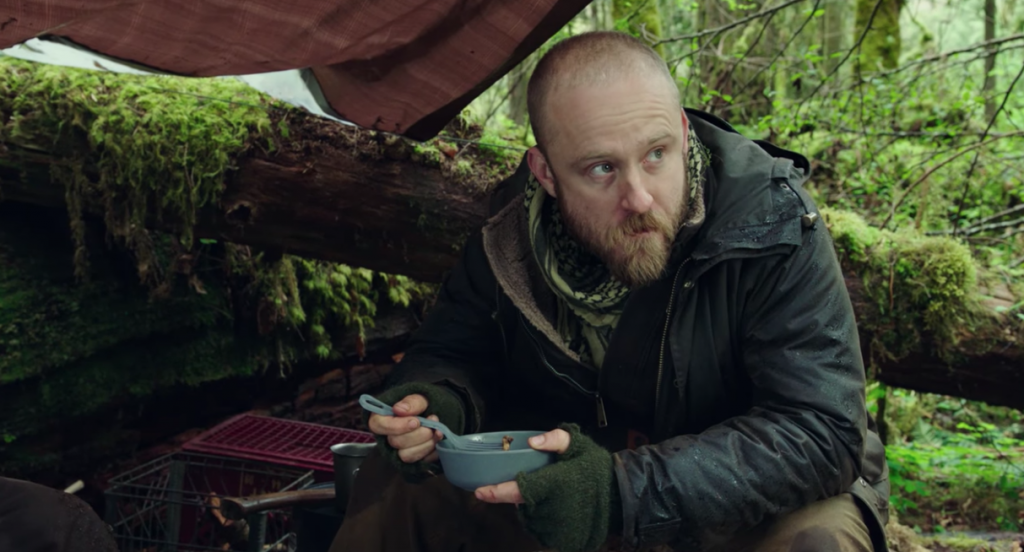 Intitially relieved to be reunited, the two begin to settle in to their new life on the farm. Tom enjoys the stability of having a roof over their heads and other people her own age to interact with, but Will struggles to bond with others and is disturbed by the helicopters that are used to fly in the Christmas trees, the sound of their whirring rotars triggering unwanted memories and exacerbating his untreated PTSD.
Before long he uproots them both and heads back into the forest. Tom is reticent to leave but follows her father back into the wilderness where they find their former camp has been destroyed. Will then manages to hitch a lift with a kindly truck driver, who takes the pair over the state line into Washington and drops them in a remote area where they hike into the dense woodland in order to find a new camping spot to shelter in.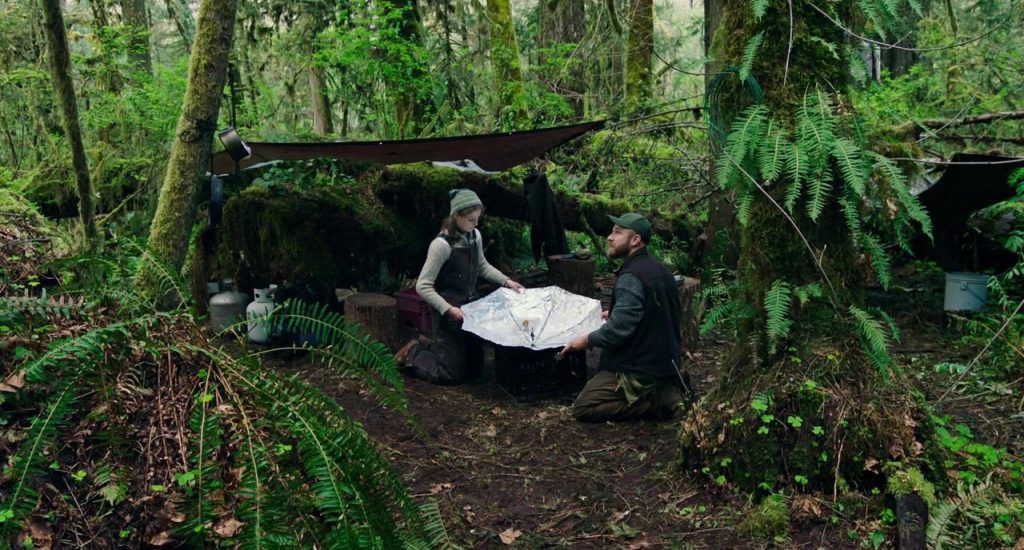 As they have travelled north and are on higher ground, the temperature is much colder and Tom suffers the early on-set of hyperthermia. Will does his best to create a shelter and manages to warm them both up sufficiently to get through the night, but here we see that poor Tom is starting to really suffer in the elements which adds to her distress at having to leave a warm and much more stable situation on the farm. Her love for her father keeps her by his side and willing to follow him further into the forest where they eventually find an abandoned cabin.
They spend the night in the relative comfort of the cabin before Will plans to make a journey to a local town to get supplies. When he does not return, Tom goes looking for him and finds him unconcious at the bottom of a ravine. She is able to find some nearby people to help lift Will to safety, but when he is taken to a local trailer park, she stops the concerned owner from calling an ambulance. This makes the park owner a little suspicious that the two are in trouble, but she is good to her word and instead makes arrangements with another military veteran that she knows, to come and treat Will.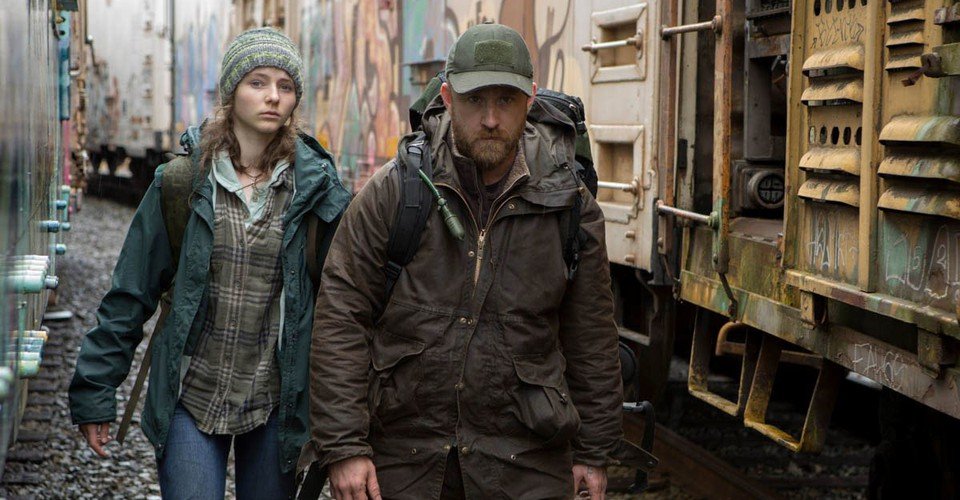 The kindly park owner puts Tom and Will up in one of her empty trailers and having been attended to, Will begins to slowly recover form the injuries induced by his fall. In the meantime, Tom develops a friendship with the park owner and starts to meet some of the other residents who take an interest in her, one of them showing her the interior of a bee hive. This scene is greatly symbolic for the young character as she learns about the colony of bees and how there is warmth that comes from the hive. This represents her desire to belong to a wider society and no longer suffer the isolation of their disparate existence in the forest.
Tom settles in to a routine in the park and attempts to rent the trailer from the park owner who reassures her that they will not be asked to leave. However, Will soon recovers and predictably makes plans to leave and return to the wild. Here we see that Tom is no longer willing to walk her father's path and the two are forced to part in an emotional ending that is both gut-wrenching yet pleasantly satisfying in a typically bittersweet way. Tom has found comfort and belonging that she so craves amongst the friendly trailer park community, and Will is free to venture further into his self-imposed isolation minus the burden of raising a teenage daughter amidst the harsh environment of the great outdoors. The price that each must pay is having to let one another go.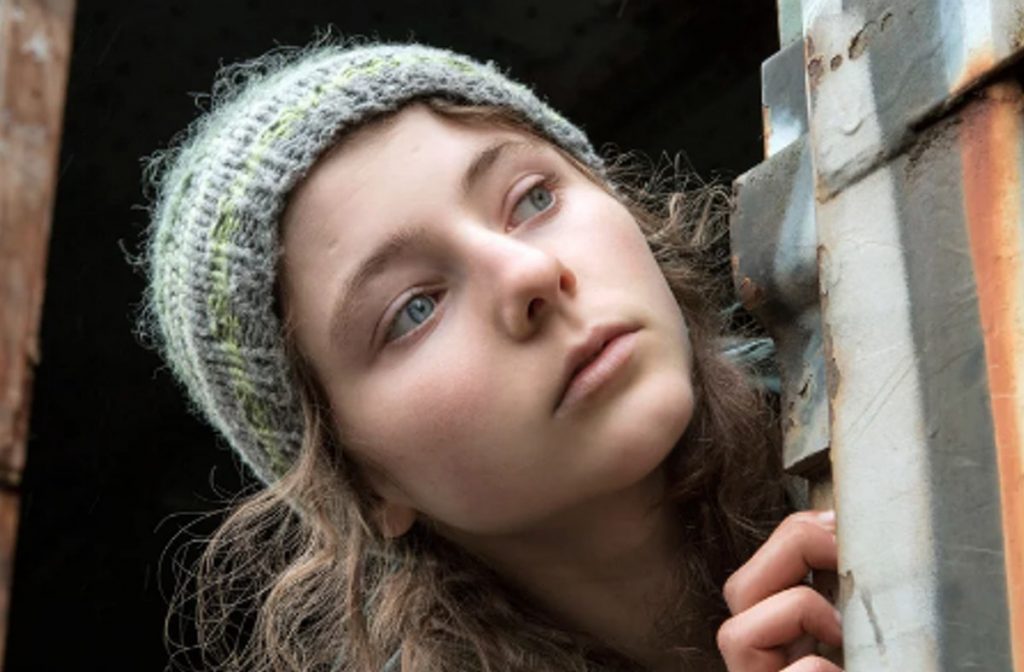 Leave No Trace is a very emotional journey that is heavily reliant on the incredible performances from McKenzie and Foster. The young girl in particular gives an astonishingly informed and empathetic performance in the central role, displaying an excellent ability to portray pathos, innocence and joy in very subtle yet powerful expressions. This is a very quiet film, light on dialogue but packed with glances and unspoken communication that only very close family members could develop.
Foster is also brilliant as the stoic father who is trying to do his best by his daughter, whilst quietly surpressing a sea of emotional torment at the hands of his Post Traumatic Stress Disorder. His quiet authority is warmed by a genuine compassion that perfectly illustrates the characters struggle between a desire to do the right thing and an inability to stave off the trauma experienced in his earlier life.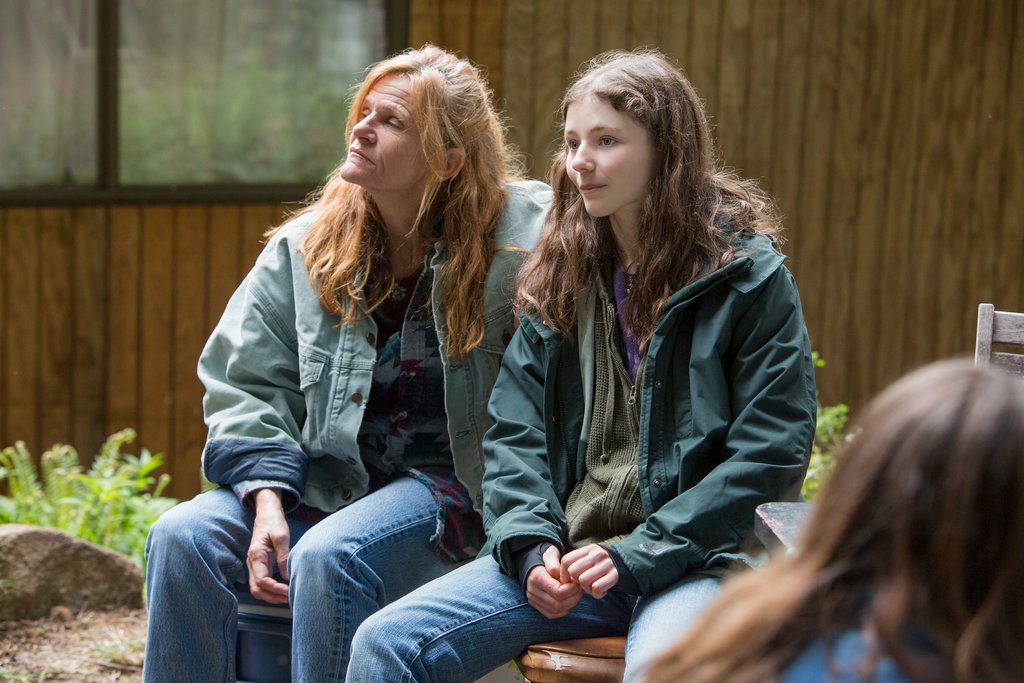 Granik does another exemplary job in the directors chair, also co-authoring the screenplay which is based on a book by Peter Rock (which is informed by a true story). The cinematograpahy beautifully captures the expansive greenery of the wilderness and is also used to great effect at close range reflecting the silent, deep ruminations of Will and Tom. The soundtrack, also unobtrusive, lends itself to the overall sense of isolation coupled with a deeper yearning to belong, gracefully undulating beneath an intensely emotional and heart-rending story, one that cannot help but bring a tear to even the coldest of eyes.
A thoroughly satisfying work, Leave No Trace comes as highly recommended by this reviewer. McKenzie is certainly a developing talent that will be one to keep an eye on as she transitions into adulthood. Her work on this and Jojo Rabbit (2019) alone are enough evidence to expect great things to come from this talented actor. Currently available to stream on Netflix in the U.K.
Well, that's it for this review of Leave No Trace!
What did you think of Leave No Trace? Do you love the film as much as I do? Let us know in the comments below.
You can read more of our reviews here.
Please join us on social media on Facebook, Instagram, Tik Tok and Twitter. We really appreciate all the likes, shares, retweets etc., and we would love to hear from you and continue the wonderful celebration of all things cinema on these platforms.
If you love to watch videos on YouTube, then please subscribe to our channel here. There's lots of fun and informative videos uploaded that we hope you will enjoy!
We have a passion for movies and aim to produce entertaining and informative movie-related content. It certainly is a lot of hard work, but we love films so much that it's worth all the effort. We have to keep the lights on and make sure we have plenty of caffeine to keep all of the articles, videos and social media posts coming, so if you like our work, then please consider supporting us at Buy Me A Coffee here. You can also become a More Movies patron on Patreon here.
To help support us here at More Movies, we do use advertising in a few places, so we appreciate it if you do not use AdBlockers on our site, as this helps keep a few pennies trickling in. We also utilise affiliate links throughout the site, usually to help guide our readers to places to stream, rent or buy the movies we talk about. One of the biggest sources for movies online is Amazon Prime Video, where you can stream over 18,000 films. If you are interested in Prime and haven't signed up yet, you can get a 30-day free trial via this affiliate link, which helps support us too.