Army of the Dead (2021) is an action adventure horror film from Netflix. It is directed by Zack Snyder and stars Dave Bautista, Ella Purnell and Ana de la Reguera.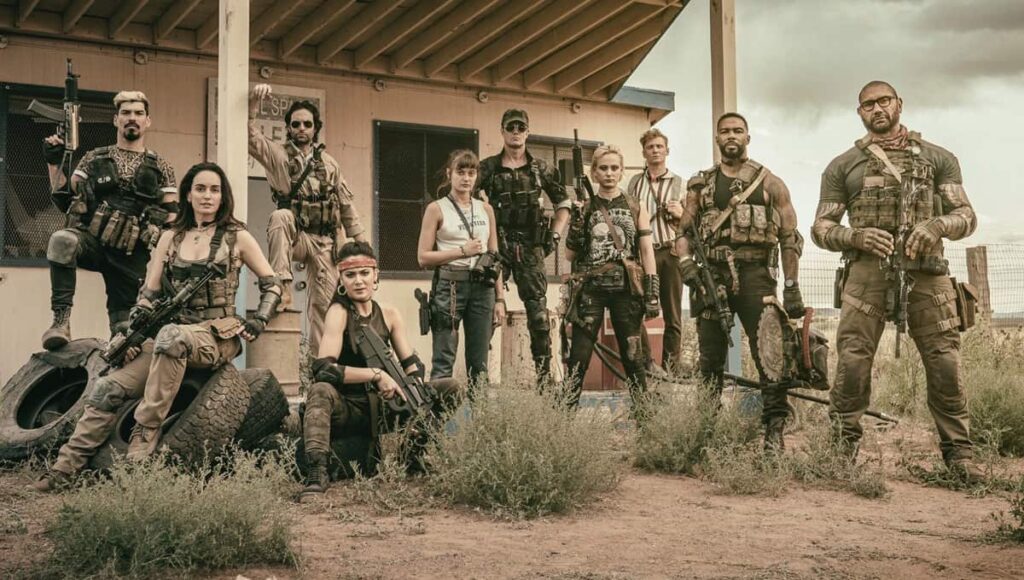 The film has an ensemble cast that includes Dave Bautista, Ella Purnell, Omari Hardwick, Ana de la Reguera, Theo Rossi and Matthias Schweighöfer. It initially starred Chris D'Elia, but after several sexual misconduct accusations were made against him in August 2020, Tig Notaro was hired to replace his character. Snyder reshot his scenes using green screen and body doubles, and it must be said that they pulled off quite a technical achievement that is very hard to spot.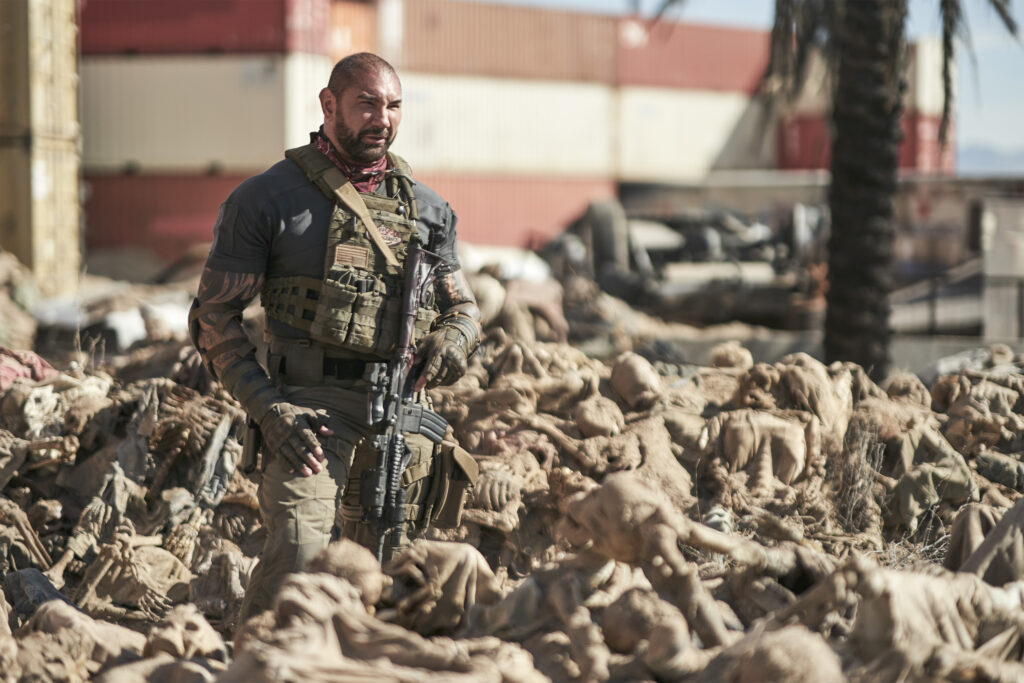 Army of the Dead starts with a US military convoy transporting confidential cargo from Area 51. When the truck collides with a car on the highway, it is discovered that the shipment it contained was a zombie and a powerful one at that. It kills and infects the soldiers from the convoy and travels to nearby Las Vegas, infecting most of the city's population. After a failed military intervention, the government quarantines the city.
Casino owner Bly Tanaka and his associate Martin approach former mercenary Scott Ward, played by Dave Bautista. Ward had previously escaped Vegas after the Outbreak, and the two men offer him a job to recover 200 million dollars from a casino vault before the military destroys the city with a tactical nuclear strike. Ward agrees and recruits his former teammates Maria Cruz and Vanderohe, along with helicopter pilot Marianne Peters, German safecracker Ludwig Dieter, and Chicano sharpshooter Mikey Guzman, who brings along his associate Chambers. Martin joins the team to give them access to the casino. Ward's estranged daughter Kate, who works at a quarantine camp, directs them to Lily "The Coyote", a smuggler familiar with the city. Lily recruits Burt Cummings, a camp security guard. When Kate learns Lily escorted her friend Geeta into Vegas, Kate insists on joining the team, despite her father's objections. From here, they enter the zombie-infested city, ready to face the horde.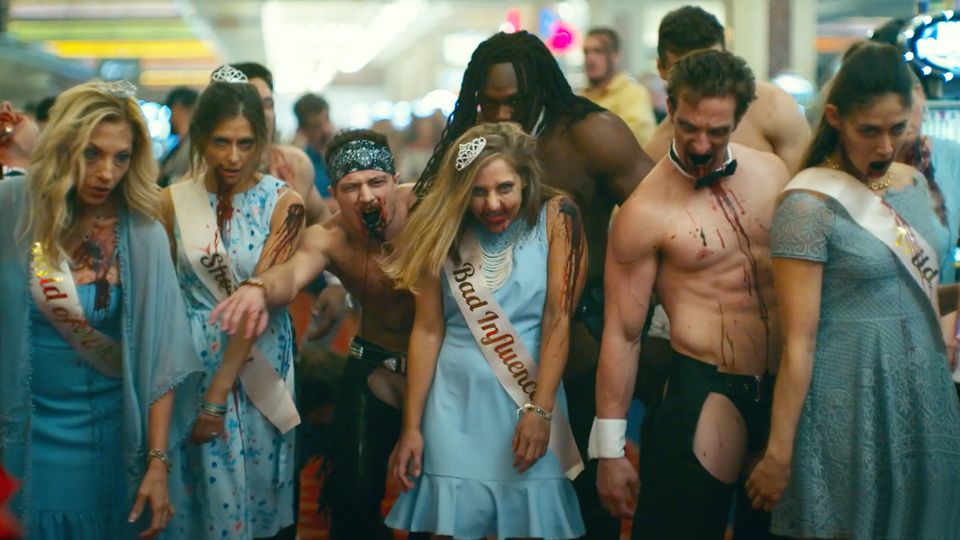 This is not the first time Zack Snyder has directed a zombie movie. He, of course, helmed the 2004 remake of Dawn of the Dead, a re-imagining of the 1978 George A. Romero classic, from a much more action-oriented perspective. But as with all remakes, the comparison to the original was hard to shake off, and it was rightly criticised for its lack of character development and sociopolitical subtext.
However, Army of the Dead has great characters that you root for, a crack team of individuals with skills and personalities, much like Ocean's Eleven (2001) (this is a heist movie, after all). It's an ambitious film with a big plot that tries to achieve something more than it is perhaps possible to deliver. In terms of sheer ridiculous fun, this film is packed with silliness. These include zombified Siegfried and Roy tigers, the severed head of a zombie queen and undead bodies exploding around a Vegas casino floor from a grenade strapped victim. In short, all kinds of over the top nonsense that is great to watch.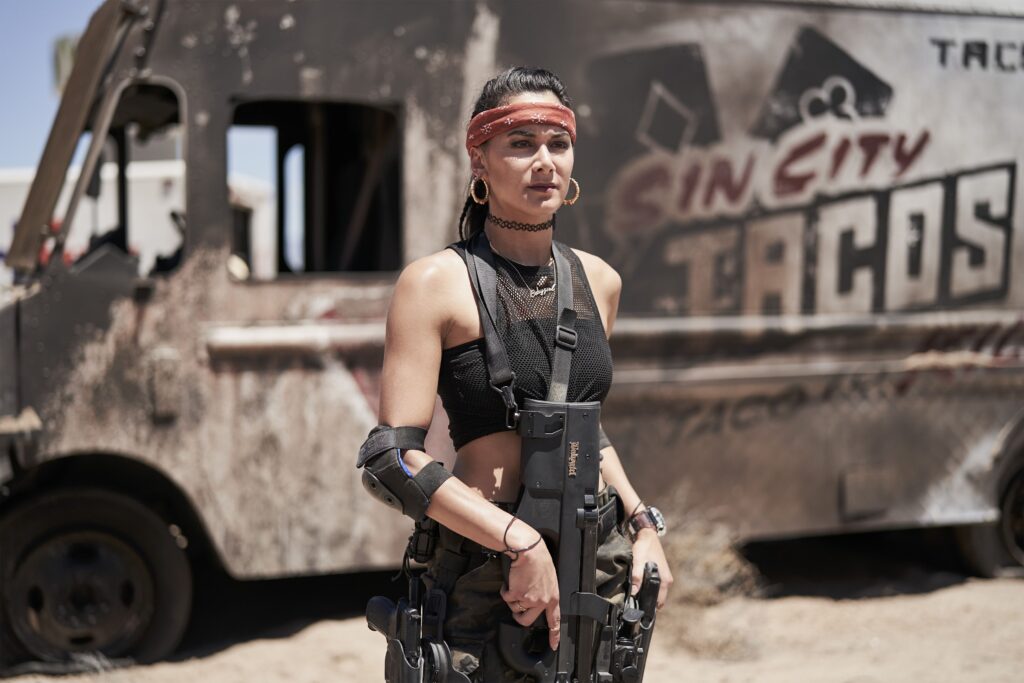 This is what Zack Snyder is great at, creating fun moments, utilising slow-motion effects and providing over the top blood-soaked anarchy. But where Snyder fails, as usual, is structure, pacing and substance. The third act, the actual heist, feels rushed, as our team perishes way too quickly without providing enough emotion or jeopardy. There really isn't any thought process in terms of deeper meaning or character development. This is purely a zombie action film, and it does succeed in this respect.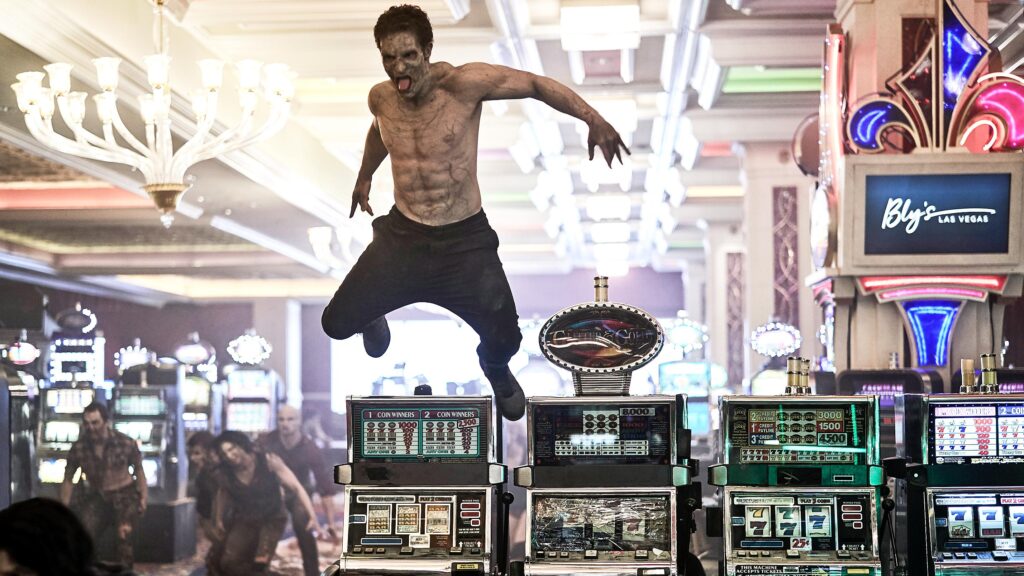 This movie has a good soundtrack with many acoustic or modernised covers of classic hits over the top of Snyder's trademark montages and good CGI and action sequences, with Dave Bautista doing a great job in a role perfect for him, flying around the screen kicking zombie ass.
There are some strange moments in the film that didn't make much sense, as is often the case, particularly moments when some of the zombies being killed seemed to be robots. But with announcements of a prequel and spin-off material, I guess that is something to be explained there. Does the film warrant a franchise? I don't think so, but I guess that's par the course these days.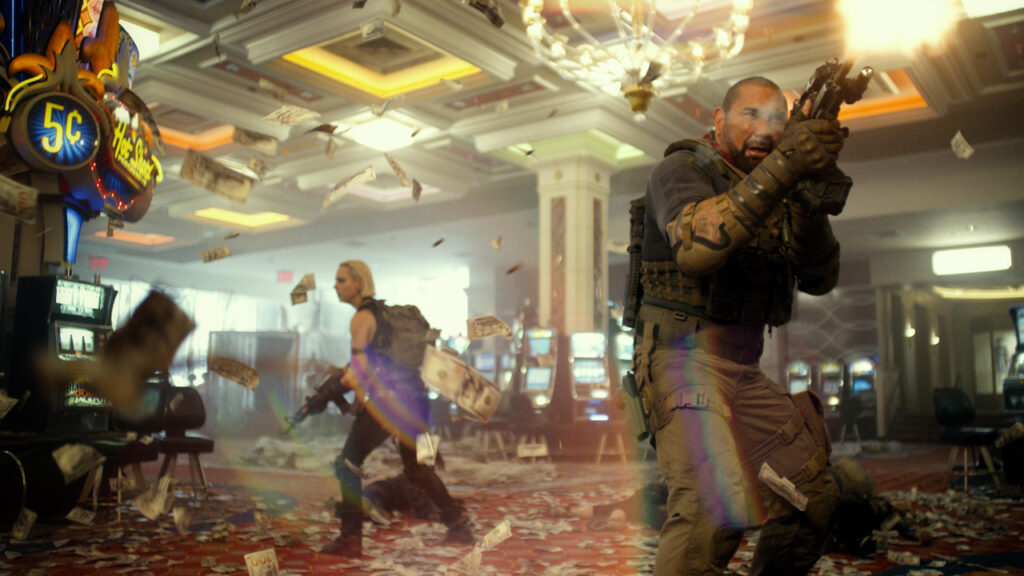 Violent, action-packed, funny, and surprisingly moving, it delivers a lot, but Snyder's inconsistent and ill-disciplined editing make the film as a whole feel a bit disjointed. If you're looking for blood-soaked zombie death action and not substantial meaning, this is one for you.
Well, that's it for this review of Army of the Dead!
What did you think of Army of the Dead? Did you enjoy it? Let us know in the comments below.
You can read more of our reviews here.
Please join us on social media on Facebook, Instagram, Tik Tok and Twitter. We really appreciate all the likes, shares, retweets etc., and we would love to hear from you and continue the wonderful celebration of all things cinema on these platforms.
If you love to watch videos on YouTube, then please subscribe to our channel here. There's lots of fun and informative videos uploaded that we hope you will enjoy!
We have a passion for movies and aim to produce entertaining and informative movie-related content. It certainly is a lot of hard work, but we love films so much that it's worth all the effort. We have to keep the lights on and make sure we have plenty of caffeine to keep all of the articles, videos and social media posts coming, so if you like our work, then please consider supporting us at Buy Me A Coffee here. You can also become a More Movies patron on Patreon here.
To help support us here at More Movies, we do use advertising in a few places, so we appreciate it if you do not use AdBlockers on our site, as this helps keep a few pennies trickling in. We also utilise affiliate links throughout the site, usually to help guide our readers to places to stream, rent or buy the movies we talk about. One of the biggest sources for movies online is Amazon Prime Video, where you can stream over 18,000 films. If you are interested in Prime and haven't signed up yet, you can get a 30-day free trial via this affiliate link, which helps support us too.