She is one of America's most talented filmmakers and to date, her 40-year career has produced some unforgettable and groundbreaking films. Pioneering hand-held camera work, an ability to subvert genres whilst simultaneously satisfying audience expectations and the first woman to win an Academy Award for directing, Kathryn Bigelow is one of the most distinct voices in modern Hollywood cinema.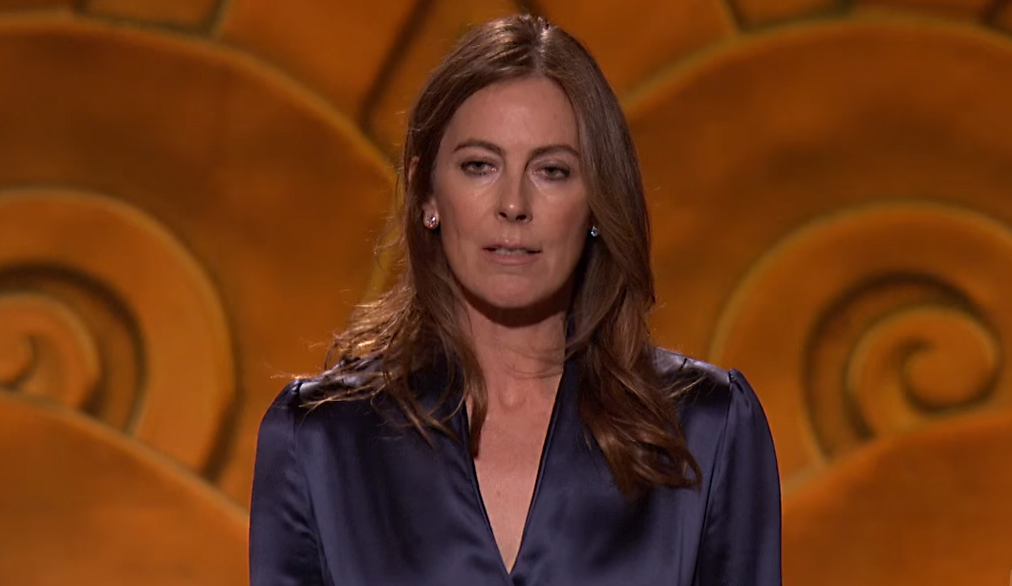 Known primarily for action films, her output has been varied and recently took a turn towards more weighty and dramatic award-winning pieces. Kathryn Bigelow began making short-films in the 1970's, after graduating from several highly regarded artistic institutes, her debut film The Loveless (1981) launched her Hollywood career, paving the way for some of the best-loved cult hits ever released.
"When I made my first film, I didn't think of it as directing, so it wasn't like I set out to become a director."

Kathryn Bigelow
She was married to movie giant James Cameron for a brief period in the late 1980's and went on to develop her own unique voice in cinema throughout the 90's. Despite shunning any emphasis on her gender as a film-maker, Bigelow has to be admired as standing tall against a sea of mysogyny and sexism in an industry that has been primarily dominated by men.
So with twenty credits as a director under her belt, here are our Top 5 Kathryn Bigelow Films in chronological order…
1. Near Dark (1987)
Co-written by Bigelow with collaborator Eric Red and featuring a brilliant soundtrack supplied by Tangerine Dream, 1987's Near Dark is a genre-altering vampire western that has achieved a huge fanbase and cult film status since its release.
The story follows a gang of depraved vampires who attempt to bring a new member into their fold when one of them, Mae (Jenny Wright) falls for a small town guy Caleb (Adrian Pasdar) and bites his neck to turn him. Unwilling to kill for blood, Caleb eventually becomes an enemy to the gang and is hunted at the behest of their leader Jesse (Lance Henriksen) and his psychopathic henchman Severen (Bill Paxton).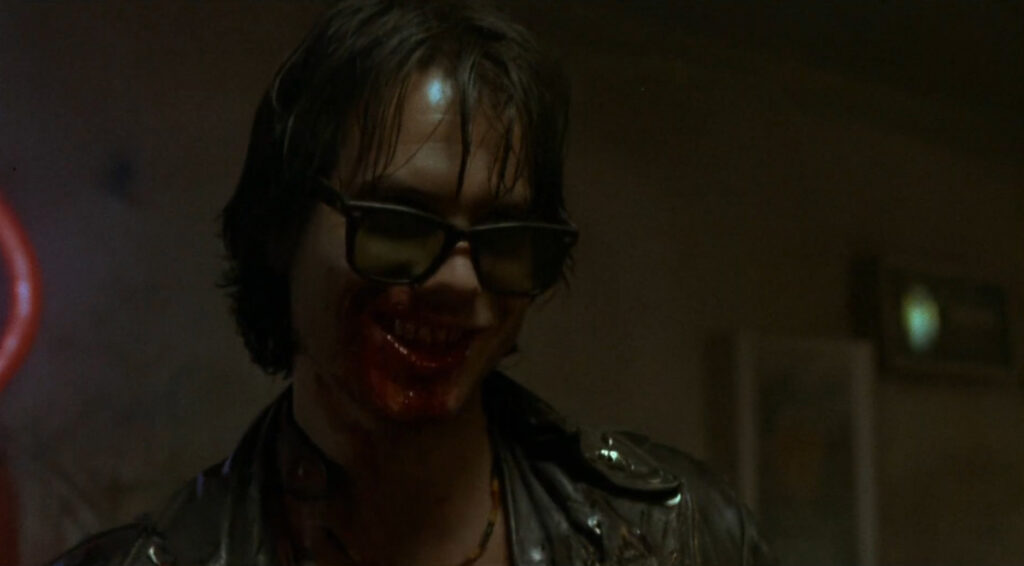 The idea to create a highbred film that is essentially a western with vampires, was a result of Bigelow's inability to get a pure western funded. Due to the success of films such as Fright Night (1985) and The Lost Boys (1987), Bigelow and Red decided to incorporate a horror element and in so doing, produced one of the most beloved and respected vampire films of the decade, and arguably of all time.
Featuring stand out performances from Paxton and Henriksen, Near Dark makes the previously mentioned The Lost Boys feel like a Disney film in comparison. One can easily detect the influence this film has had on subsequent vampire movies, perhaps most notably Tarantino and Rodriguez's From Dusk Till Dawn (1996). Watch this and you'll pray for daylight!
2. Blue Steel (1990)
Bigelow's follow-up to Near Dark was also co-written by Eric Red and features Jamie Lee Curtis in the lead role. Years before Derek Zoolander re-defined the term, Blue Steel (1990) was a tough crime thriller that cast Lee Curtis as Megan Turner, a rookie New York City cop who is accused of shooting an unarmed man during her first day on the job.
As she investigates the shooting in an attempt to clear her name, Turner uncovers a series of grisly gun-crimes that eventually lead to a serial killer. Played by the menacing Ron Silver, the clandestine killer is obsessed with Turner as she becomes embroiled in his wicked machinations. With excellent support from Clancy Brown, Kevin Dunn and Elizabeth Pena, this intense thriller is a forgotten gem.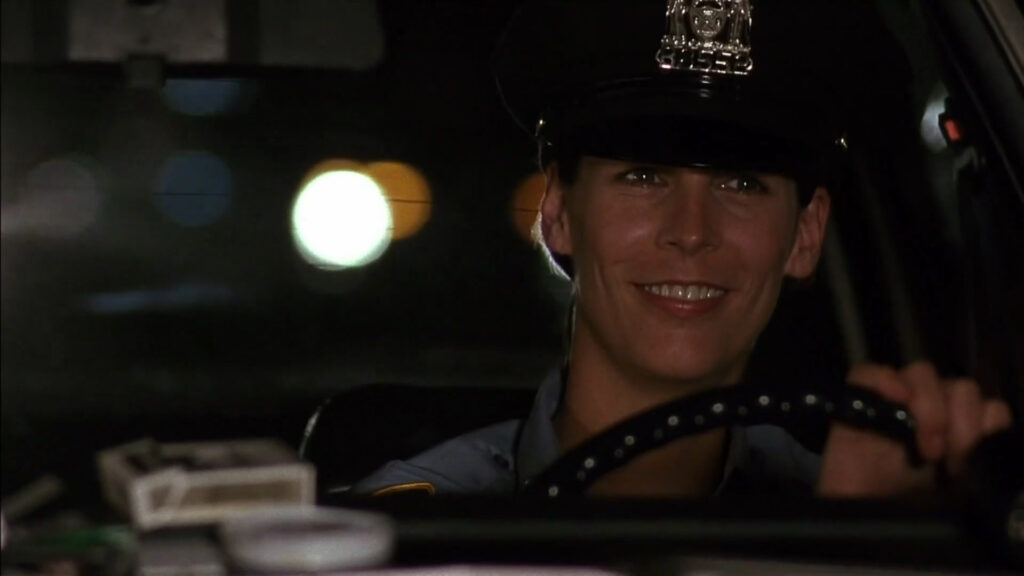 At the time, the choice to write and direct a film with a female lead was much less common and a decidely brave and subversive decision on Bigelow's part. Jamie Lee Curtis gives an electric performance as a maligned character that has to fight dirty to prove her validity and uncover the truth behind the slayings.
Serving as a metaphor for Bigelow's own struggles to make a name for herself in Hollywood, this gritty thriller is beautiully shot by Amir Mokri and is well worth digging out and dusting off for a re-watch. First time viewers will also get a great introduction to Bigelow's earlier work in the action genre and gain a chance to see Lee Curtis in a excellent leading role.
3. Point Break (1991)
Surf's up in the classic heist / undercover cop movie Point Break (1991) which was Bigelow's breakthrough financial success, grossing $83.5 million from a $24 million budget. The film stars Keanu Reeves as Johnny Utah, a fresh-faced F.B.I. agent who is assigned to the Bank Robbery Department and partnered with a veteran officer called Angelo Pappas, played by the uncomparable Gary Busey.
Utah and Pappas investigate a successful heist crew known as the Ex-Presidents, who fuel their summers of surfing and thrill-seeking by robbing banks whilst wearing masks of former presidents in order to conceal their identities. Whilst posing undercover as a rookie surfer, Utah becomes friendly with Bodhi (played by Patrick Swayze), a charismatic surfer dude who introduces Johnny to his crew and their penchant for big wave surfing and sky diving.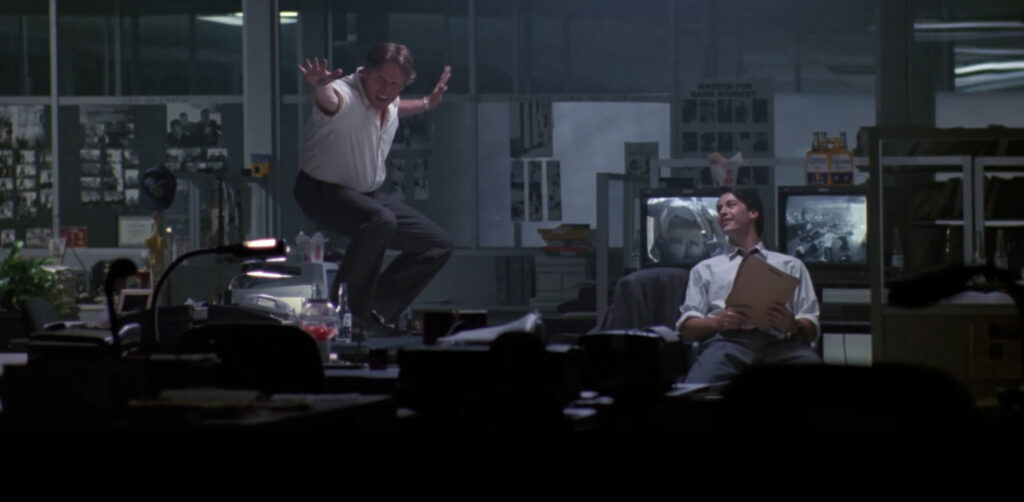 As Utah and Pappas draw closer to catching the Ex-Presidents, the tension mounts when Johnny realises his new found friends may well be the perpetrators that he is looking for. Full of fast-paced action and excellent performances from Reeves, Busey and Swayze, Point Break is one of the 90's most celebrated action thrillers.
Critisised by film pundits but loved by audiences, this film has enjoyed a prolonged status as a fan favourite and remains one of Bigelow's most successful productions. Here's a scene in which Utah is chasing 'Reagan', the leader of the Ex-Presidents, through the Los Angeles suburbs in a thrilling sequence that really pushes the use of a steadicam to the next level…
4. The Hurt Locker (2008)
After a few misfires which include Strange Days (1995) and K19: The Widowmaker (2002), Bigelow bounced back with a film that was lauded by critics and movie-goers alike. The Hurt Locker (2008) is a powerful drama about a bomb disposal expert who works in war-torn Iraq. Sgt. William James (Jeremy Renner) begins a new posting as team leader for a U.S. Army bomb disposal unit, where he is soon thought of as being reckless and potentially dangerous by his teammates Sanborn (Anthony Mackie) and Eldridge (Brian Geraghty).
James's dicey behaviour causes already high tensions to reach a fever pitch within the team, in an environment where death surrounds them and every decision can have mortal consequences. The triumvirate become entangled in several extreme situations and the film is uncompromising in its realistic treatment of the Iraq War, all of which makes for some incredibly nerve-shattering cinema from the very outset.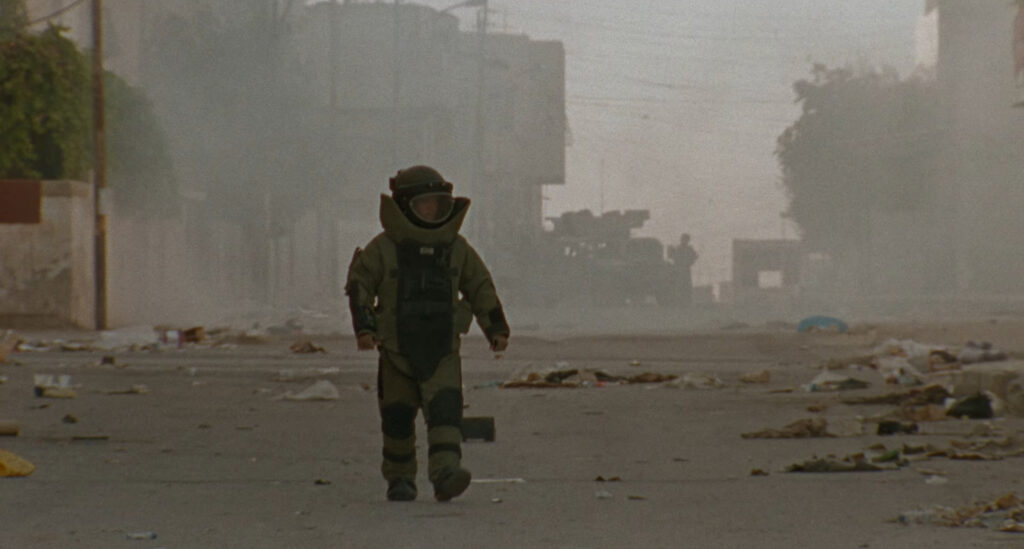 This was a landmark film for Bigelow who was rightly praised and awarded for her magnificent direction. Winning the Academy Award for Best Director, Best Picture, Best Original Screenplay, Best Sound Editing, Best Sound Mixing and Best Film Editing, The Hurt Locker was the runaway hit at the 2009 Oscars.
Despite being criticised by genuine Iraq War veterans who complained that the film sensationalised the conflict, many viewers found the interpretation of the war and in particular the IED threat, to be a refreshing change from the usual themes and focuses. This film would solidify Bigelow's reputation as one of Hollywood's greats and also marked a long-overdue triumph for female directors.
5. Zero Dark Thirty (2012)
Capitalising on the success of The Hurt Locker, 2012's Zero Dark Thirty tells the story of the CIA's hunt for Saudi Arabian terrorist Osama Bin Laden. Also written by Mark Boal, the cinematic style and subject matter are closely linked to the previous film and can be viewed as a film-sibling of sorts. The movie follows Maya (Jessica Chastain) who is an analyst for the Central Intelligence Agency and also obsessed with tracking down the world's most notorious criminal, Bin Laden.
Something of a detective story, Maya has to use all means necessary to gather intelligence that may lead to uncovering the al-Qaeda leader's whereabouts. This includes government sanctioned torture techniques such as water-boarding. Zero Dark Thirty reveals the darker side to U.S. counter-terrorist factions and black ops teams, the title referring to an unspecified time of the early morning hours before dawn, when black ops teams strike their target under the cover of nightfall.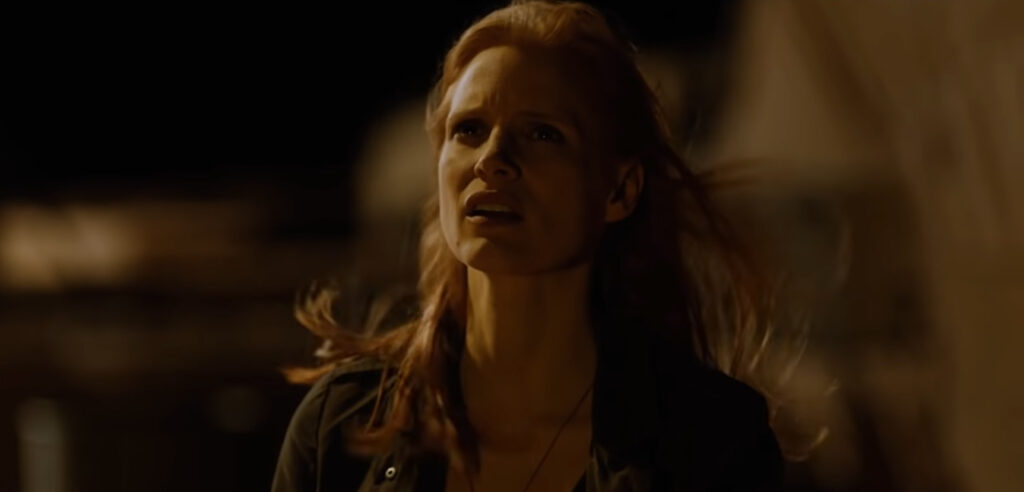 The film drew controversy over its "enhanced interrogation" scenes. Due to the fact that reliable information is procurred by the agents who use these techniques. Some said the film excused the use of torture, others viewed it as a criticism and expose of these methods. Personally, I tend to side with the latter opinion and found the film to be more of a damning revalation than a glorious justification.
The performances are all excellent, particularly Chastain who successfully portrays the dogged determination and tenacity required by her character, to ceaselessly pursue her target over a ten year period, which eventually leads to a strike force being sent in to assassinate him. Bigelow's direction is perfect, creating a sleepless world in which compromise is the price and the key to obtaining the desired results.
That's our top 5 Kathryn Bigelow movies!