All The President's Men is a 1976 American political thriller film about the Watergate scandal, which brought down the presidency of Richard M. Nixon. Directed by Alan J. Pakula with a screenplay by William Goldman, it is based on the 1974 non-fiction book of the same name by Carl Bernstein and Bob Woodward, the two journalists investigating the scandal for The Washington Post. The film stars Robert Redford and Dustin Hoffman as Woodward and Bernstein, respectively; it was produced by Walter Coblenz for Redford's Wildwood Enterprises. In 2010, the film was selected for preservation in the United States National Film Registry by the Library of Congress as being "culturally, historically, or aesthetically significant".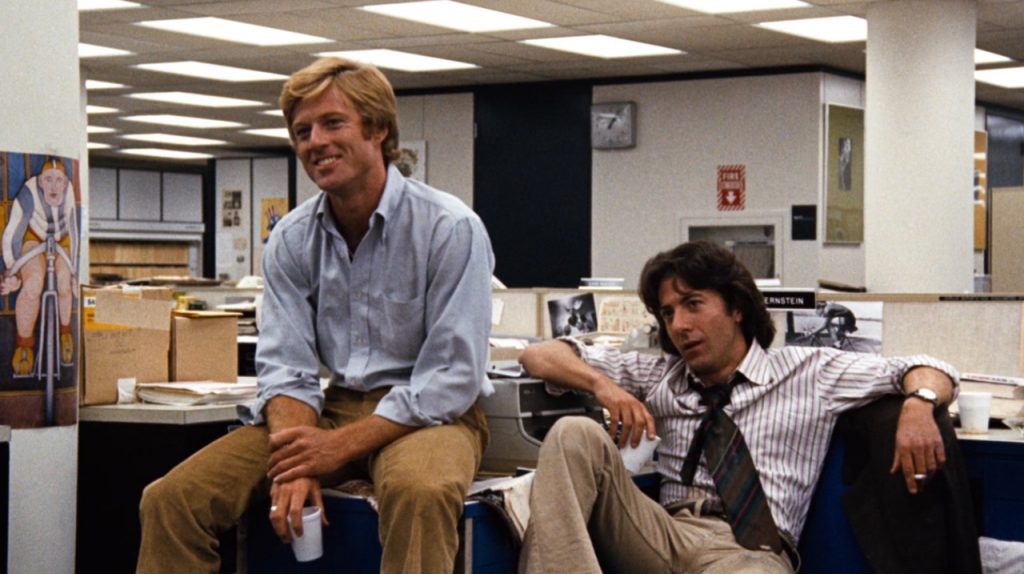 To my appalled amazement the film won no awards. It received numerous nominations which mean nothing. How apt! How very apt! What profiles of courage the film industry were. All they did was give lip service. As is always the case, in the most crucial moments there is moral cowardice. They had no intention of rewarding anything so transparently important and profound. Knowledge is power and apportions freedoms that the higher powers fear as much as a colonoscopy. Cinema has a duty to perform as well as to sustain life amidst traumas, with works of true levity and fantasy. It is a crucial duality and a symbiotic friendship that must be honoured equally. Otherwise, how do we learn? Well, often we don't. We remain peasants instead, sadly.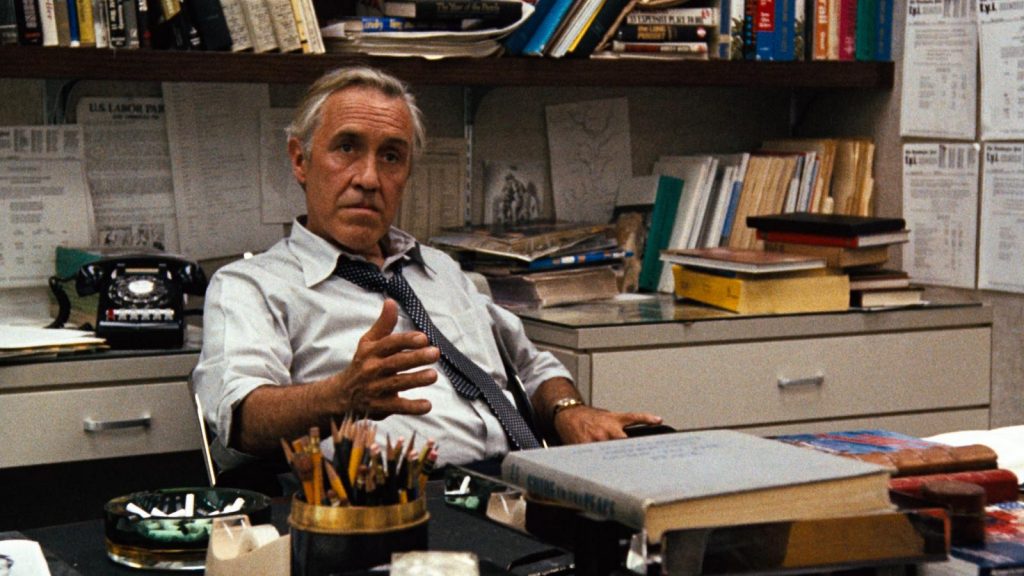 Unlike the book apparently, the film covers only the first seven months of the Watergate scandal, from the time of the break-in to Nixon's second inauguration on January 20, 1973. The film introduced the catchphrase "follow the money" in relation to the case, which also did not appear in the book or any documentation on Watergate.
Background
Robert Redford bought the rights to Woodward and Bernstein's book in 1974 for $450,000 with the notion to adapt it into a film, with a budget of $5 million. Ben Bradlee (who was one of the most prominent journalists of post-Second World War America, executive editor at The Washington Post, from 1965 to 1991) became a public figure when he joined the New York Times in publishing the Pentagon Papers and gave the go-ahead for the paper's extensive coverage of the Watergate scandal. According to Tom Shales, Tom Zito and Jeannette Smyth (Washington Post Staff Writers), Ben Bradlee hoped that the film would show that newspapers "strive very hard for responsibility".
According to William Goldman, he was hired by Redford to write the script in 1974. He said Bob Woodward was extremely helpful to him but Carl Bernstein was not. Goldman wrote that his crucial decision in terms of structure, was to throw away the second half of the book. After he delivered his first draft in August 1974, Warners agreed to finance the movie.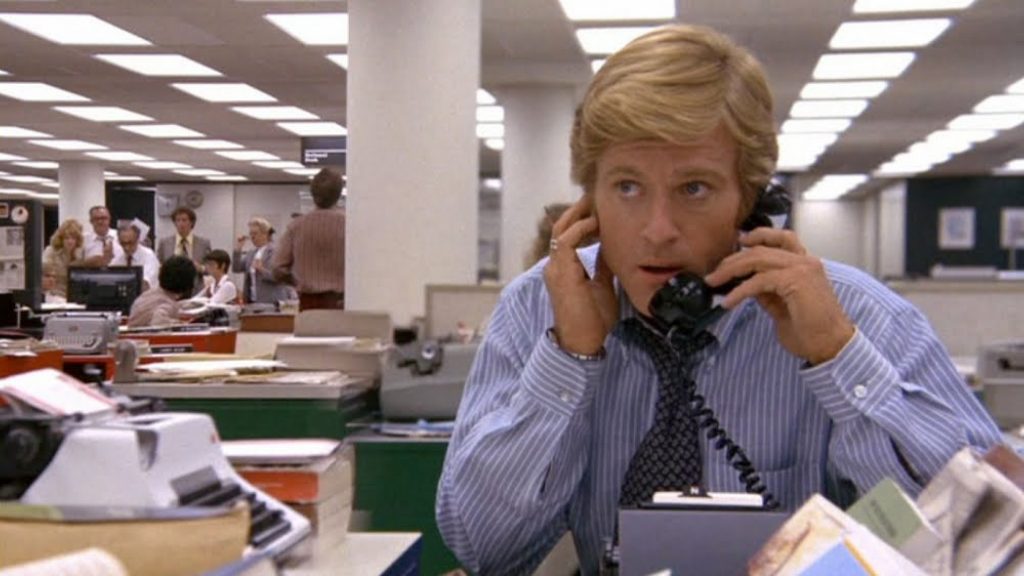 Redford first selected Al Pacino to play Bernstein, but after some thought, he decided that Dustin Hoffman was a better fit for the role. Jason Robards was always Redford's choice to play Ben Bradlee. Karl Malden, Hal Holbrook (who would play Deep Throat), John Forsythe, Leslie Nielsen, Henry Fonda, Richard Widmark, Christopher Plummer, Anthony Quinn, Gene Hackman, Burt Lancaster, Robert Stack, Robert Mitchum and Telly Savalas were also considered for the role. Character actor Martin Balsam played managing editor Howard Simons. Hoffman and Redford visited The Washington Post's offices for months, sitting in on news conferences and conducting research for their roles.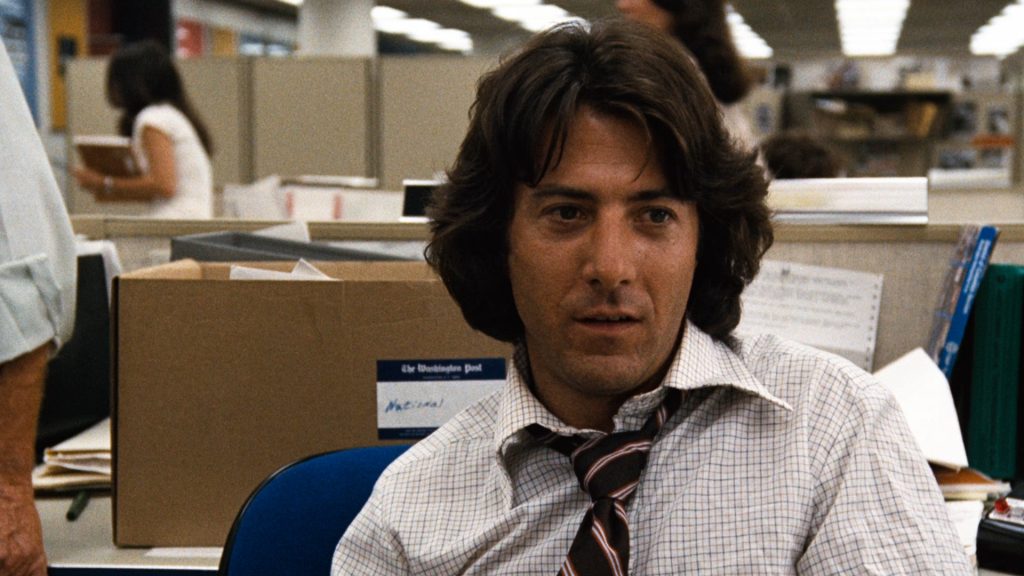 Plot
On June 17, 1972, security guard Frank Wills at the Watergate complex finds a door's bolt taped over so that it will not lock. He calls the police, who find and arrest five burglars in the Democratic National Committee headquarters within the complex, which they had planned to bug. The next morning, The Washington Post assigns new reporter Bob Woodward to the local courthouse to cover the story. Woodward learns that the five men, four Cuban-Americans from Miami and James W. McCord, Jr., had electronic bugging equipment and are represented by a high-priced "country club" attorney. At the arraignment, McCord identifies himself in court as having recently left the Central Intelligence Agency (CIA) and the others are also revealed to have CIA ties. Woodward connects the burglars to E. Howard Hunt, a former employee of the CIA, and President Richard Nixon's White House Counsel, Charles Colson. Carl Bernstein, another Post reporter, is assigned to cover the Watergate story with Woodward. The two young men are reluctant partners, but work well together. Executive editor Benjamin Bradlee believes their work lacks reliable sources and is not worthy of the Post's front page, but he encourages further investigation.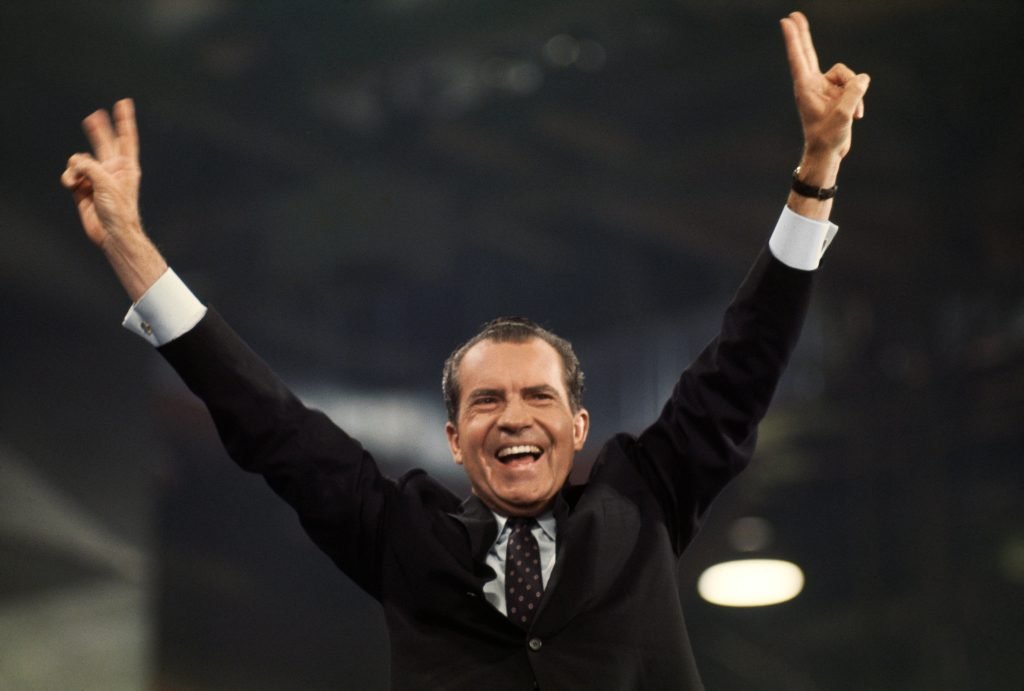 Philosophical meditation
Richard Milhous Nixon was a Quaker. Quakers, also called Friends, are a historically Christian denomination known formally as the Religious Society of Friends or Friends Church. Members of the various Quaker movements are all generally united by their belief in the ability of each human being to experientially access the light within, or "that of God in every one". There are also Nontheist Quakers whose spiritual practice is not reliant on the existence of God. It is a 'monumental conundrum' that applies to most of us as human beings, and since time immemorial some of us intellectually 'believe' but emotionally we don't believe.
Yet we 'must have something' because we aren't very special, alone. We die, we can't survive without liquid or food or sufficient finances. We will perish without shelter. Nixon was an intelligent man who knew all this but did not live it. Humans secretly resent and even loathe commands. Nixon said: "I don't want a President who is warm on the outside and warm on the inside too. I want one who is warm on the outside but when the tough decisions are made, is cold and tough and who will make the right decision without fear of failure." What has happened to the Quaker? Certainty is a total loser. Hitler was certain and look what he gave us. Nixon said many things that were anathema to goodness: "I'd like to offer condolences to those families. But Nixon can't." "Presidents don't threaten. They don't have to". "They can't impeach me for bombing Cambodia. The President can bomb anybody he likes".
For such a jugular man when he said: "What I know about this country, I could rip it apart"… and yet he didn't. The secret knowledge he possessed about the Kennedys and Martin Luther King assassinations, the coup d'etat of John Kennedy had it happened in France would have provoked a second Revolution. The anomaly of Nixon. All those kids… Why do they hate me so much? My mother was a saint! I think it was when he was at the helicopter on the White house lawn and all was at an end that Nixon gave the Victory gesture and said: "And only then will you find what we Quakers call 'peace at the center". At this, one could weep real tears for his divided personality and was Kissinger right for the first and only once time in his life, when he said: "Can you imagine what this man would be like had anyone ever loved him?".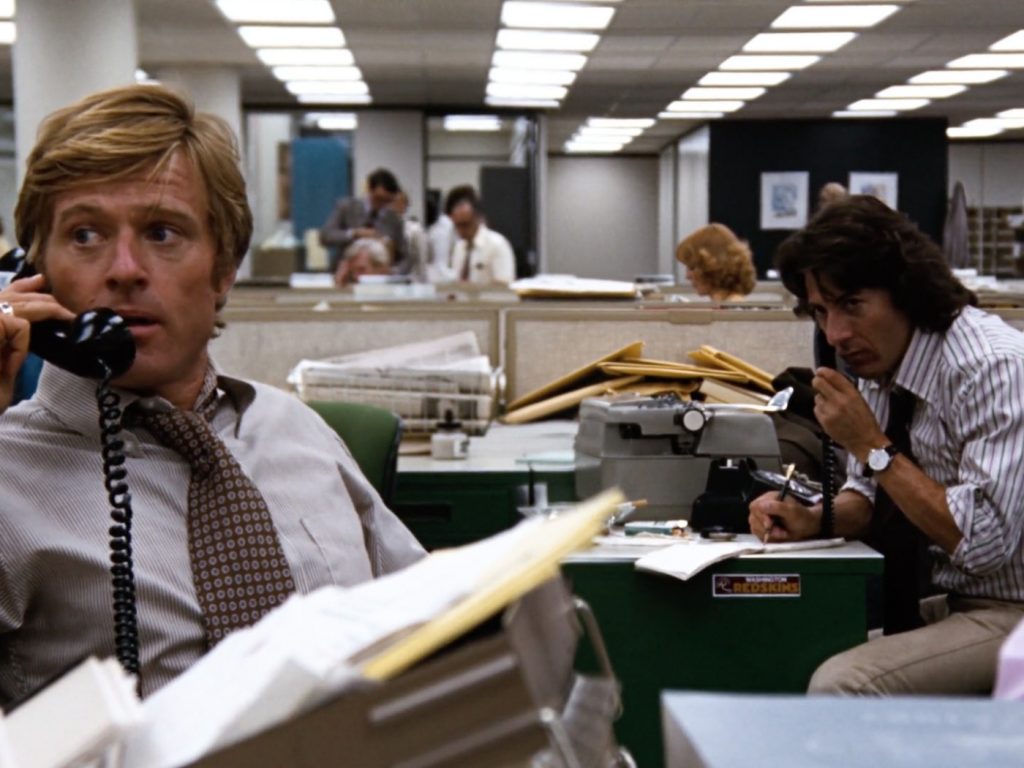 Critical Reception
I do truly believe that Robert Redford and Dustin Hoffman achieve a taut, intense and intellectual simpatico. They go together like 'ham and eggs' and to continue the culinary metaphor they make a 'fantastic chicken salad'. Roger Ebert of the Chicago Sun-Times wrote: "It provides the most observant study of working journalists we're ever likely to see in a feature film. And it succeeds brilliantly in suggesting the mixture of exhilaration, paranoia, self-doubt, and courage that permeated The Washington Post as its two young reporters went after a presidency."
This concludes our retro reviews for the Alan J. Pakula 'Political thriller trilogy'. You can read my thought on Klute here and take a look at what I thought about The Parallax View here.
Read more of our film reviews here and and please join us on Facebook and Twitter.
If you enjoy our content, please consider supporting us here.