Released in the autumn of 2019, The King is a historical war drama loosely based on the plays Henry IV (Parts 1 & 2) and Henry V by William Shakespeare. Directed by David Michôd, the film has a weighty Australian contingent as it also stars Joel Edgerton and Ben Mendelsohn in supporting roles. Co-written by Michôd and Edgerton, the story covers the rise to power of King Henry V (played by Timothée Chalamet) after the death of his father, Henry IV (Mendelsohn), leading to a war with the French and all the accompanying tribulations that come with the job.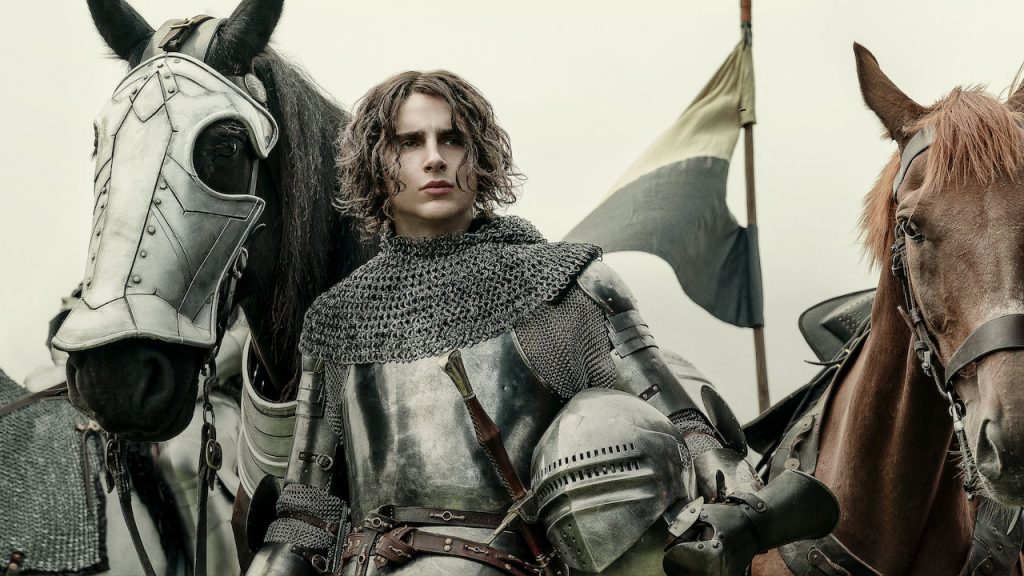 Initially reluctant to inherit the crown, young Prince Hal, as he is known, spends his time with the drunkards and neer-do-wells in the local taverns, drinking and dancing the nights away with his trusted cohort John Falstaff (Edgerton). His days are spent sleeping off the previous night's indulgences, and it is clear that young Hal despises his father and everything the ailing king stands for.
After being summoned to the palace to hear the news that his younger brother will instead succeed his father as king, Hal is concerned that his less-experienced sibling will be killed in battle when it is announced that he will depart to fight Sir Henry Percy's rebellion forces. Much to the chagrin of his brother Thomas (Game of Thrones star Dean-Charles Chapman), Hal arrives unannounced at the battlefield and challenges Percy (Tom Glynn-Carney) to a one-on-one duel in order to avoid an all-out battle and, in doing so, save Thomas' life. 
This works, but Thomas is very unhappy with Hal, feeling upstaged and embarrassed by his older brother's actions. When Thomas is later killed in another battle, it falls to Hal to succeed his father as king, which he eventually does at the behest of the dying sovereign.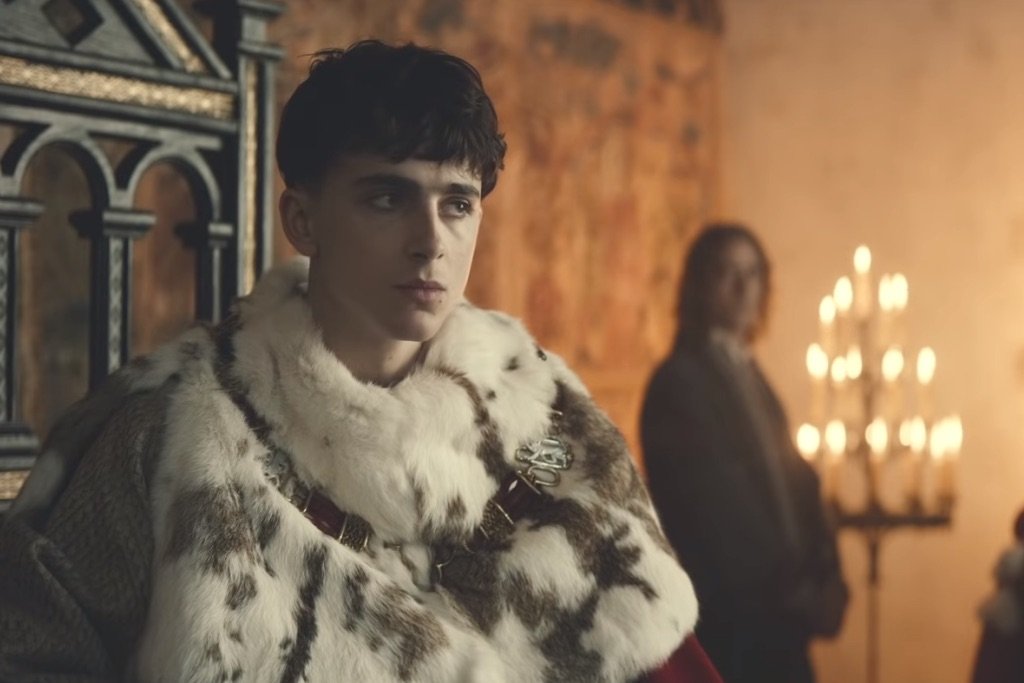 Determined to rule the kingdom with a fair hand and let it be known that his father's enemies are not his enemies, the newly crowned King Henry V sets about resolving civil discord at home in England and easing tensions with old enemies in Scotland, Wales and France. Despite being warned by his sister, the Queen of Denmark (Thomasin McKenzie), that his courtiers will never reveal their true intentions and that every man has his own ideas about how the kingdom should be governed, Hal does his best to appease any perceived slights on the part of the French King Charles VI or his son the Dauphin (Robert Pattinson).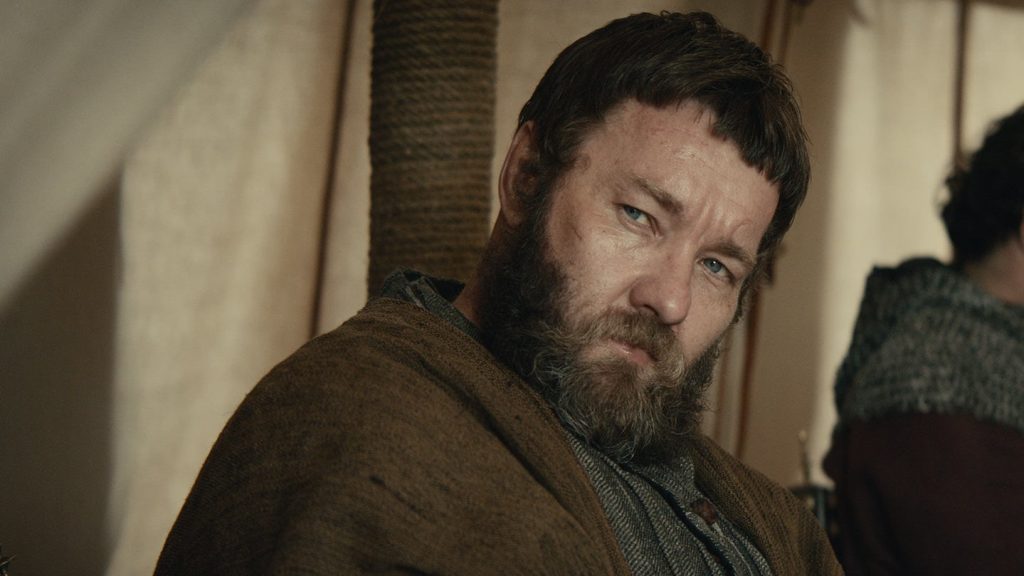 It eventually becomes apparent that Hal must stand up to the French threat when they send an assassin who surrenders and reveals his mission to Chief Justice William Gascoigne (Sean Harris), a man who served Hal's father and has become something of an advisor to the young king. Gascoigne warns Hal that any failure to deal with the threat will be perceived as weakness, and the people of England will become disgruntled as a result. 
Eventually, deciding to face the French on their home turf, Hal gathers an attack force and makes plans to invade France. Here he turns to his old friend Falstaff, who has been neglected by Hal since his coronation. Feeling that Sir John is his only true friend and ultimately the only man he trusts, Hal persuades Falstaff to accompany him on his new campaign and become a tactical advisor in the forthcoming battle against the Dauphin and his legions.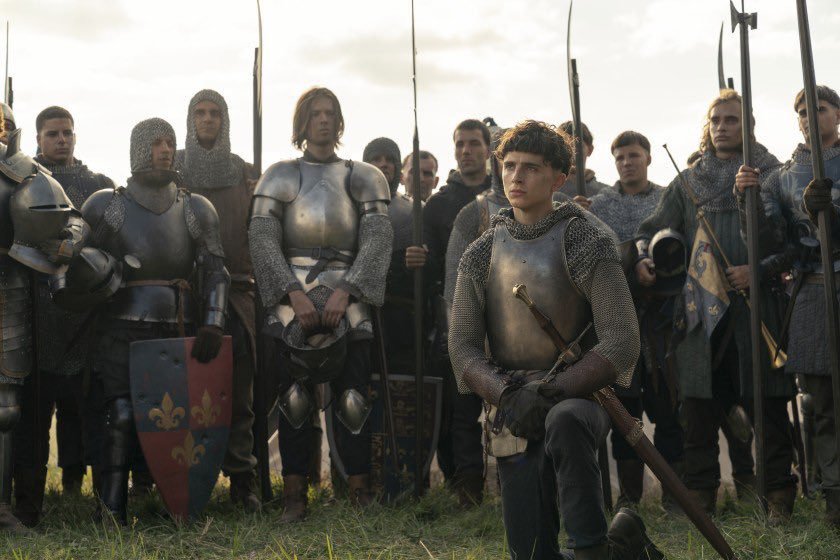 Hal and the English army are victorious in the Siege of Harfleur and eventually must face a large French force led by the Dauphin at Agincourt. Hal proposes to fight the Dauphin one-on-one as he did with Percy, but the offer is rejected. Despite being advised to retreat, as the French forces are perceived to be too numerous, Falstaff suggests a plan to lure the French into a muddy patch of ground where they will become bogged down by the weight of their armour. Here they can be attacked by the English bowmen and flanked by a hidden force waiting in a nearby wood. The resulting battle sees victory for England, but at high cost to the young king.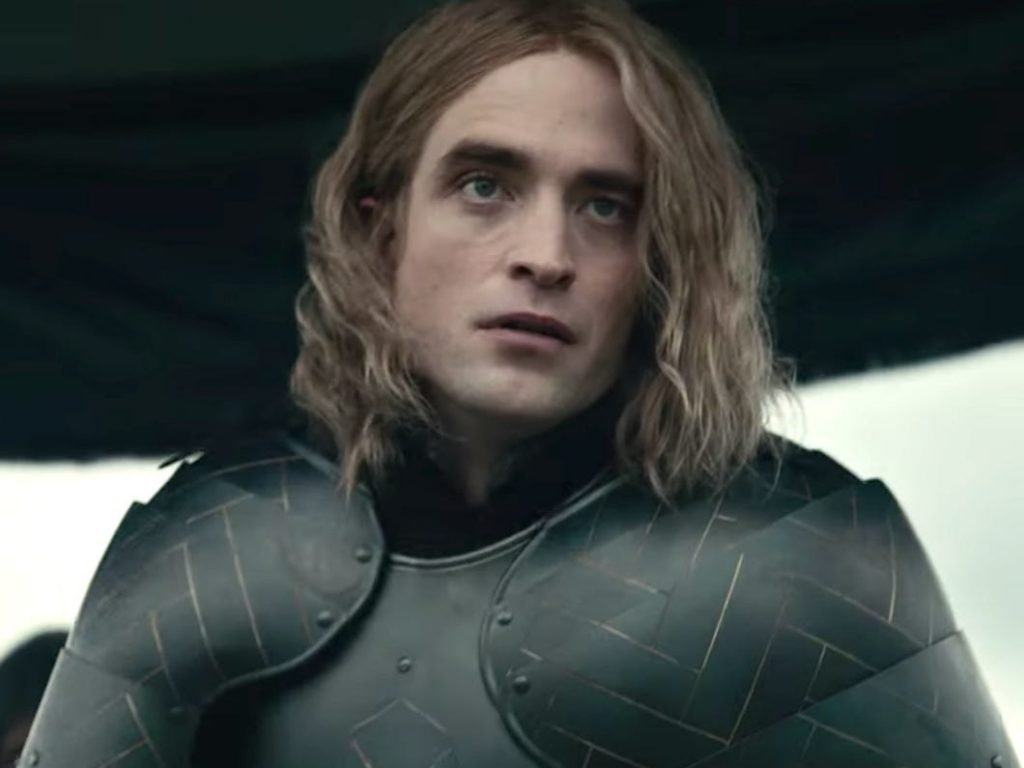 The French armies defeated, Hal is brought before King Charles VI of France, who proposes that he marry the king's daughter Catherine of Valois (Lily-Rose Depp). He returns to England as a conquerer, reassured by William Gascoigne that his actions were just, noble, and the best outcome for England who's people will now rejoice in peace and celebrate their prevailing monarch. However, after a short but decisive conversation with his new bride, Hal realises the extent to which Gascoigne has influenced him. He then confronts the Chief Justice about these matters and dissolves their relationship in a shocking moment of retribution.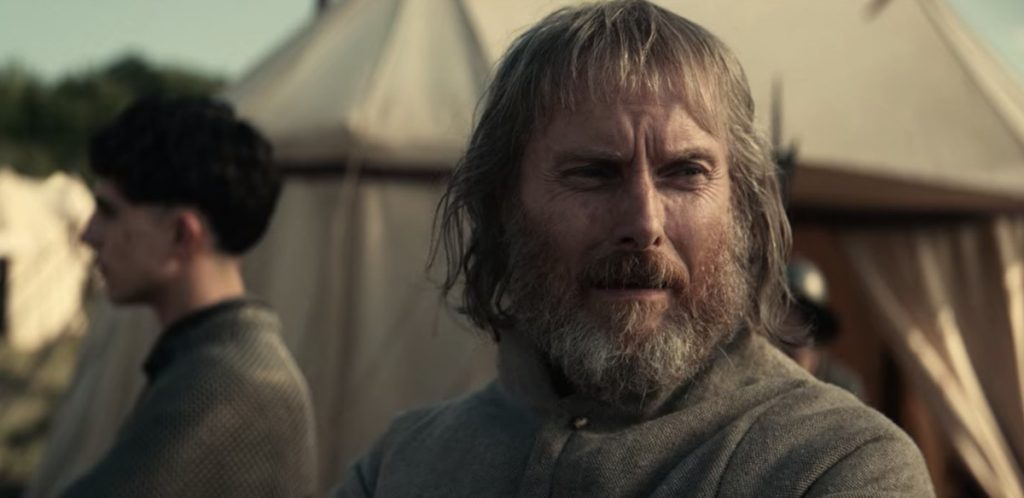 Backed by Netflix, who released the film on their streaming platform soon after its premiere at the Venice Film Festival, The King has an exceptional production value that can be likened to other such Netflix mega-productions like the celebrated drama series The Crown. The use of natural lighting and costume design place the story firmly in the 15th century and are a perfect example of how a great crew can recreate a historical period to near-perfect standards. 
The performances are all very solid, with Edgerton and Harris providing stand-out turns as Falstaff and Gascoigne. Timothée Chalamet gives a thoughtful and convincing portrayal as the young king, despite at times looking a little too young and feeble to play such a larger-than-life character. One remembers Olivier and Branagh both rendering memorable Henrys at an age far advanced compared to Chalamet, who was only 23 a the time of release. Despite this, his performance is excellent and, for me, was a delightful introduction to this young actor who could be considered currently to be the hottest talent around.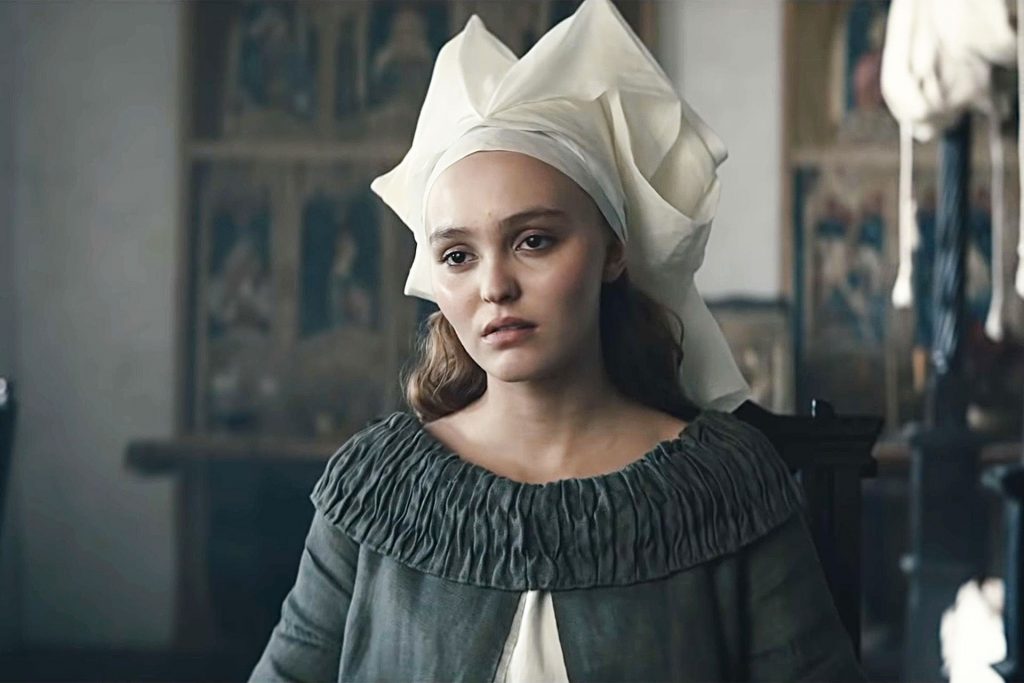 The King has been criticised for its many historical inaccuracies (and there are many!) as well as straying quite a distance from its Shakespearian source material. However, I found its take on the Henry V story quite refreshing and nuanced, with an excellent script by Michôd and Edgerton that is packed with fantastic dialogue.
The film has a great pace that never bores or drags its heels, which cannot be said of the previously mentioned Henry V adaptations (despite their admittedly legendary status). Historical war films like this can often be judged as a little too long and possibly dated in the modern world of VFX and neon lights, but in this case, I would argue that The King is must-see material that will delight any fans of the genre and particularly delight the numerous devotees of its main star. Highly recommended.
Well, that's our review of The King.
Did you enjoy The King? What did you think of our review? Let us know in the comments!
You can read more of our reviews here.
Please join us on social media on Facebook, Instagram, Tik Tok and Twitter. We really appreciate all the likes, shares, retweets etc., and we would love to hear from you and continue the wonderful celebration of all things cinema on these platforms.
If you love to watch videos on YouTube, then please subscribe to our channel here. There's lots of fun and informative videos uploaded that we hope you will enjoy!
We have a passion for movies and aim to produce entertaining and informative movie-related content. It certainly is a lot of hard work, but we love films so much that it's worth all the effort. We have to keep the lights on and make sure we have plenty of caffeine to keep all of the articles, videos and social media posts coming, so if you like our work, then please consider supporting us at Buy Me A Coffee here. You can also become a More Movies patron on Patreon here.
To help support us here at More Movies, we do use advertising in a few places, so we appreciate it if you do not use AdBlockers on our site, as this helps keep a few pennies trickling in. We also utilise affiliate links throughout the site, usually to help guide our readers to places to stream, rent or buy the movies we talk about. One of the biggest sources for movies online is Amazon Prime Video, where you can stream over 18,000 films. If you are interested in Prime and haven't signed up yet, you can get a 30-day free trial via this affiliate link, which helps support us too.