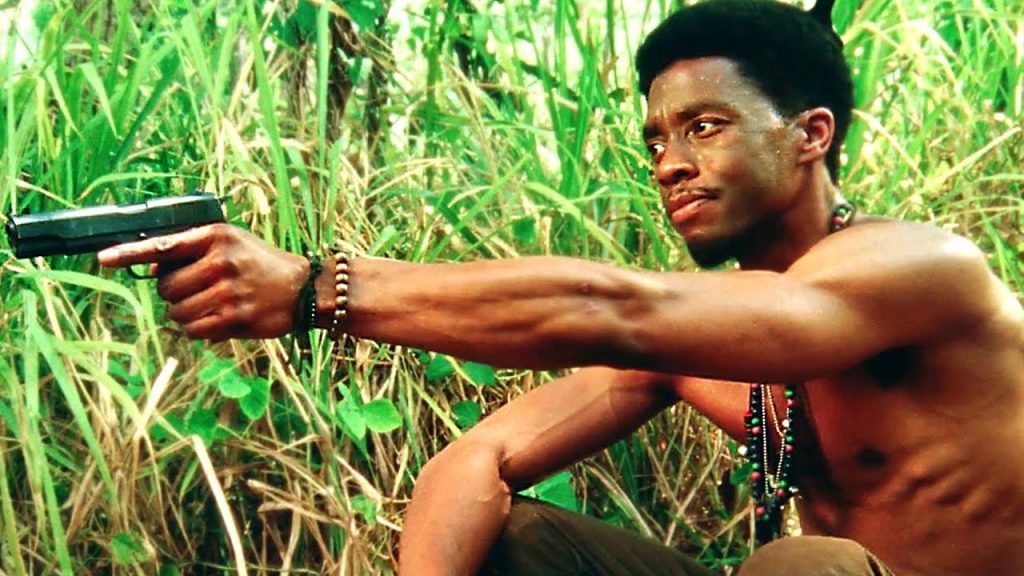 Spike Lee has made a Vietnam film, and this one is a little bit different. Brand new and exclusive to Netflix, Da 5 Bloods is a strange concoction of reality mixed with fantasy and perhaps has more in common with Three Kings (1999) or Kelly's Heroes (1970) than it does with the likes of Platoon (1986) or Hamburger Hill (1987). This film is more of a caper movie than a hard-hitting anti-war film and although it tries to be both, it is hard to see how either is achieved to any great satisfaction over the two and half hour run time.
The film starts with footage of former World Heavyweight Boxing Champion Muhammad Ali talking about the reasons he refused to be drafted into the Vietnam war. This is followed by more documentary footage alongside still images of the actual war and particularly emphasises the African-American involvement in it. Despite only making up 11% of the population at the time, black Americans made up a disproportionate amount of the troops being sent to 'the Nam'.
They made up a staggering 33%. This was also happening at a time that saw the Civil Rights movement at it's peak and race riots breaking out across the United States. This opening is hard-hitting and promises a well thought-out and gritty expose of the African-American experience in Vietnam. In the current climate of Black Lives Matter and racial tensions being at an all-time high once again, Da 5 Bloods appears as if it will venture into this territory with poignant style and originality.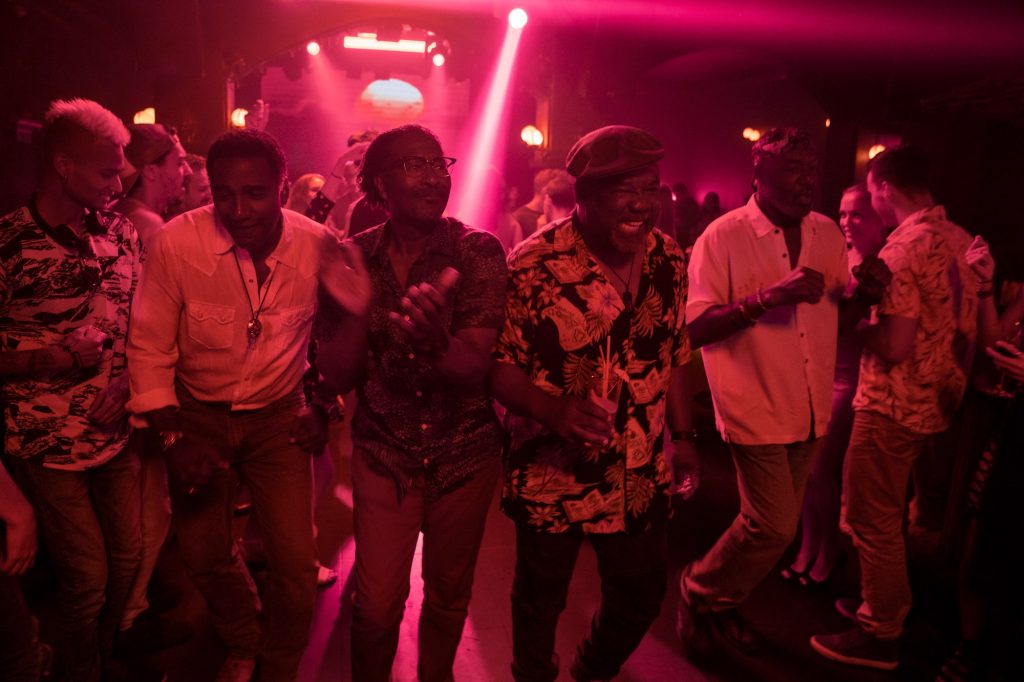 The story starts in modern day Ho Chi Minh City (formally Saigon) where four ageing American friends go back to Vietnam to recover CIA gold that they buried together during the war. The group are joined by one of their sons who has tagged along to look out for his father during the trip.
Via flashbacks (presented in 4:3 aspect ratio) we learn that the four were formally five (hence the title) but their leader 'Stormin' Norm' (Marvel hero Chadwick Boseman) is killed in action before the war ends.
The group make a deal with a shifty French contact (played by the fantastic Jean Reno from Leon: The Professional) to help them move the gold out of Vietnam safely and they then embark on a journey back into the heart of darkness. On the way they are forced to confront the ghosts of the past and come to terms with who they have become individually since the war. Each of the 'Bloods' has different motives for wanting to recover the stash of gold, and as with all tales of buried treasure, when the going gets tough, the treasure hunters begin to turn on one another. Trust is a huge theme in Da 5 Bloods.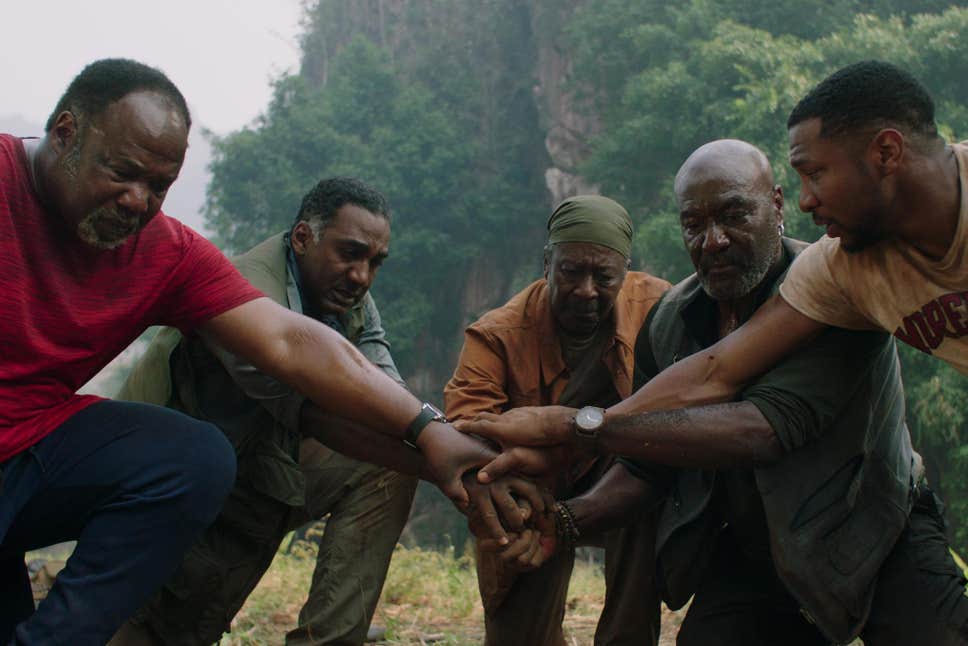 Fans of HBO's The Wire will be pleased to see Clarke Peters and Isiah Whitlock Jnr (sheeeee-iit) alongside the always amazing Delroy Lindo and Norm Lewis as the former infantry men. They are joined by the more youthful Jonathan Majors who plays Lindo's son. The cast are all excellent and play their rolls with maximum commitment, but the story is a little but disjointed and at times stretched to its limits. The overall sense is that Da 5 Bloods promises to be a serious reflection on these particular character's experiences in Viet Nam, but really it is more of a classical moral tale that pits brother against brother in the search for promised riches.
There are laughs and also plenty of action. Some of the Vietnam flashback battles feel a little bit staged and less believable. The moments of real news footage from the Vietnam war period are extremely interesting and immersive. But these are sadly wasted when juxtaposed to the unfurling geriatric gold-hunt plot line. The production value is excellent and the cinematography is always impressive, perfectly overstated in true Spike Lee fashion. But I could not help feeling unsatisfied by the end. Delroy Lindo gives a stand out performance as Paul, the Trump-voting desperado of the group. Paul is the most troubled character and has the most to face up to on his odyssey. The performance is real and gripping but the material let's the film down at times, which is a little frustrating.
Overall Da 5 Bloods is worth watching, but don't expect a gritty and emotional piece that captures the true flavour of the African-American GI in Vietnam. You should see the Hughes brothers Dead Presidents (1995) which does this vast topic much more justice. It's also a better heist movie! As far as Da 5 Bloods is concerned, think more Last Vegas meets Jumanji: Welcome to the Jungle and you'll get a closer picture. A disappointment after 2018's excellent BlacKkKlansman.
Read more of our film reviews here and and follow us on Facebook and Twitter.
If you enjoy our content, please consider supporting us here.