There's no denying that the Netflix production of Daphne du Maurier's Rebecca is a lavish affair. Directed by Ben Wheatley and starring Lily James, Armie Hammer and Kristen Scott Thomas, this is not a remake of the classic Alfred Hitchcock adaptation, although there are several examples of the cap being doffed to the late master of suspense. No doubt, this new version will draw many comparisons to the 1940 version, but it is very much its own film. Fans of the Hitchcock version will note the glaring differences with Wheatley's rendering, as well as acknowledging the various similarities. However, this Rebecca is very much a modern film that has all the usual luxuriousness of high-end Netflix fare.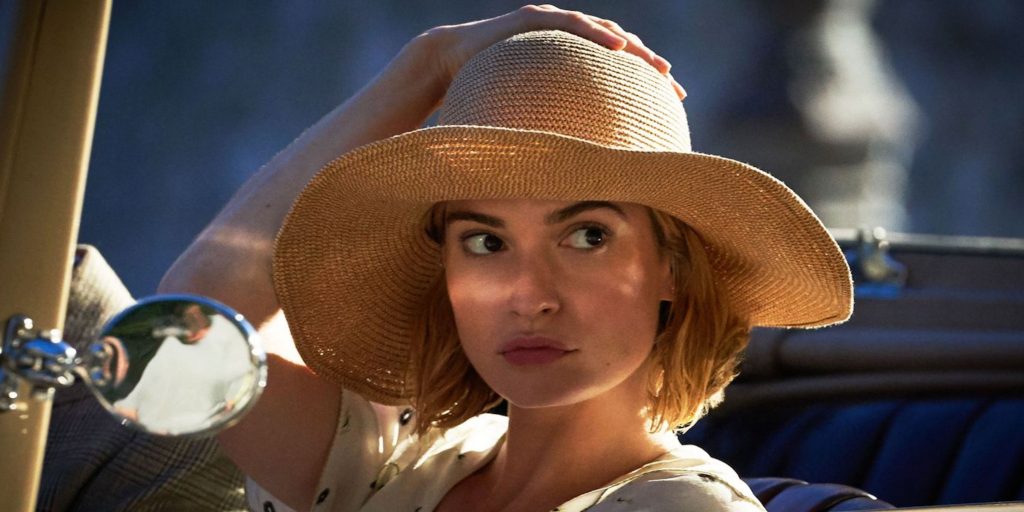 The film begins with Mrs de Winter (Lily James) as she recalls her immediate past. This covers a period in her life just before she meets her future husband, Maxim de Winter (Armie Hammer). At this time she is a lady's companion to a Mrs. Van Hopper (Ann Dowd), a wretched snob with a drink problem who takes every opportunity to deride and belittle her younger assistant. Dowd exudes all the pomposity and arrogance of the top set in an excellent portrayal that serves as a stark juxtaposition to the naive and youthful (soon-to-be) Mrs. de Winter.
As the two holiday in Monte Carlo, their attention is suddenly grabbed by the dashing widower Maxim, who is staying at the same hotel. Suffice to say he is uninterested in the old gas bag's sycophantic prittle prattle, but is enchanted by the young English rose. When Mrs. Van Hoppper takes to her bed with a fever, Maxim begins to court her companion in a series of scenes that see the young leads become romantically intimate. These scenes are lavishly shot and make the best of the sunny coastal location, but there is not much natural chemistry between James and Hammer. Passable, but not sizzling by any means.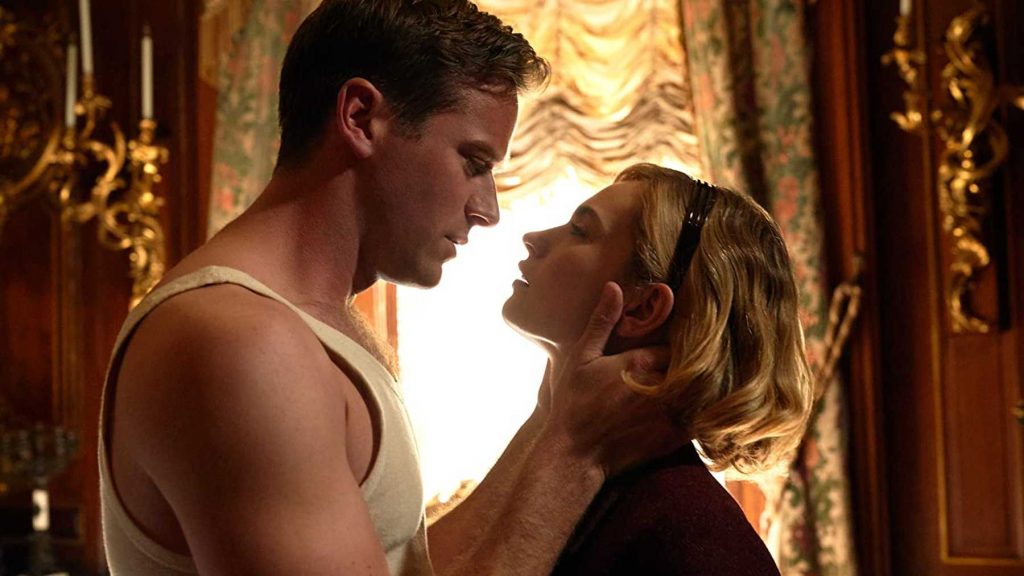 Before long the two fall in love and Maxim asks for the young lady's hand in marriage, much to the surprise and displeasure of her employer, Van Hopper. From Monte Carlo, the newlyweds return to England where they arrive at Maxim's stately home, Manderley. Here they are greeted by the house keeper Mrs. Danvers (Kristen Scott Thomas), a stern and authoritative figure who has run Manderley for many years. Now the sunshine is gone and a dark cloud looms over the proceedings. From hereon in, the new Mrs. de Winter must contend with the ghostly memories of the former Mrs. de Winter, the titular Rebecca, who it appears has had a lasting effect on the lives of all the inhabitants and staff at Manderley, in particular Mrs. Danvers.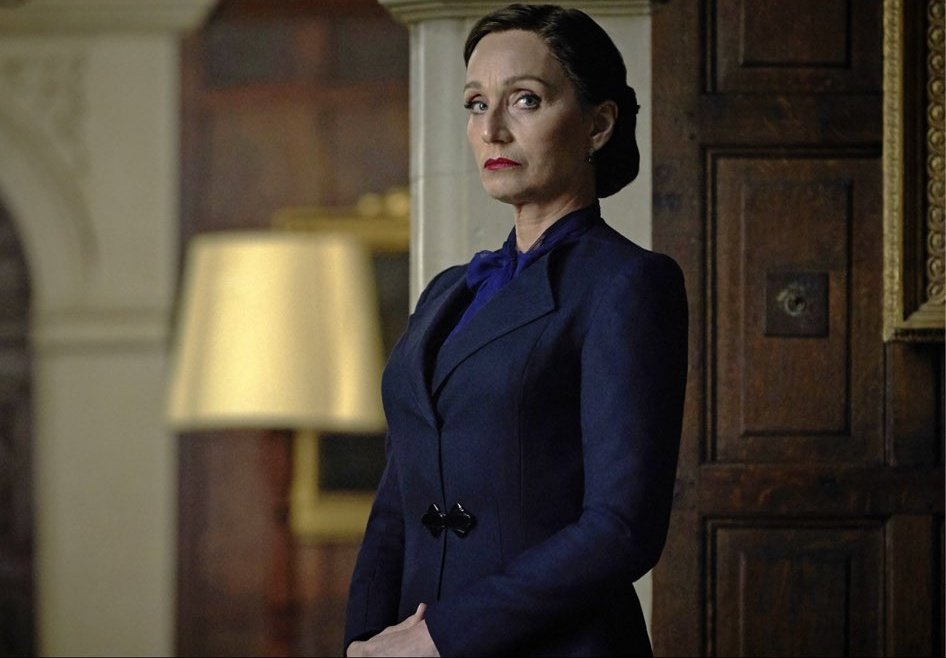 As Mrs. de Winter does her best to settle in to her new life, it soon becomes apparent that everything she does will be compared to and measured by her predecessors legacy. Rebecca's death is shrouded in mystery and although we find out that she met het untimely demise by drowning, there is little information from anyone as to the exact circumstances of her death. Suffice to say, Mrs. de Winter's intrigue is peaked by the enigmatic Rebecca, and so she delves deeper into the ominous circumstances of the past. All the while, the nefarious Danvers is unpicking the stitches of love that exist between the wedded couple and attempts to sow discontent whilst maintaining the illusion of a forthright and dependable house keeper. Mrs. de Winter attempts to draw closer to Maxim, but he is a closed book when it comes to Rebecca. I felt Armie Hammer's performance was a bit typical and not very intriguing. Maxim de Winter should if nothing else be more mysterious and interesting. In this version, he is none of these things.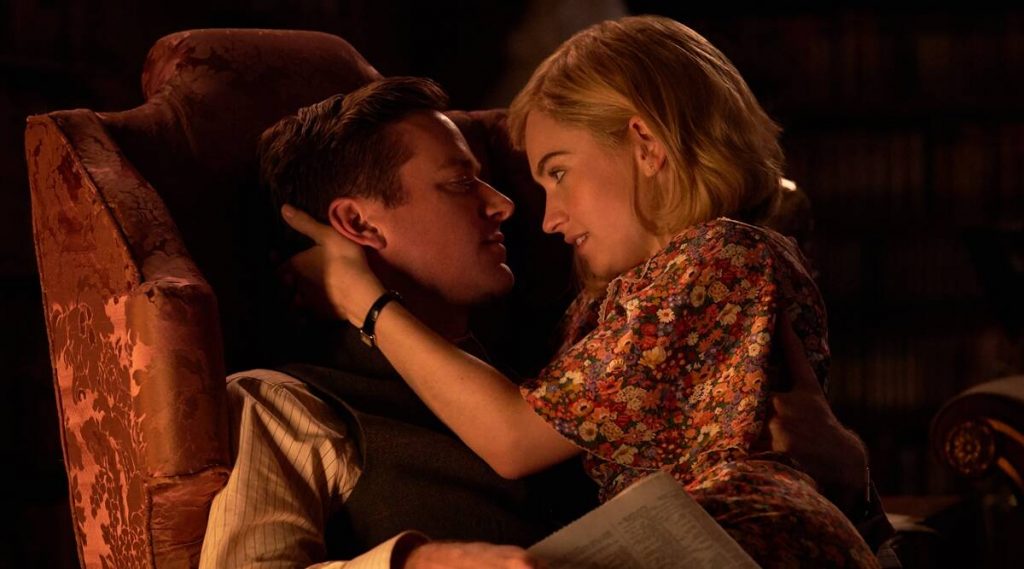 Kristen Scott Thomas is perfectly cast as the wicked Danvers and does an excellent job of making the role her own. It would be unfair to draw comparisons to Judith Anderson who was incredible as Danvers in the Hitchcock version, so I will just say that I thought Scott Thomas was one of the strongest elements of the film and does a particularly good job of exuding menace. Her scenes with Lily James are excellent and one cannot help but feel sorry for the younger character as she falls deeper into Danvers' grasp and under the spell of Rebecca's ghost. James is equally well cast as a young and impressionable innocent who is thrust into a (literally) nightmarish life that becomes dominated by her husbands dead wife.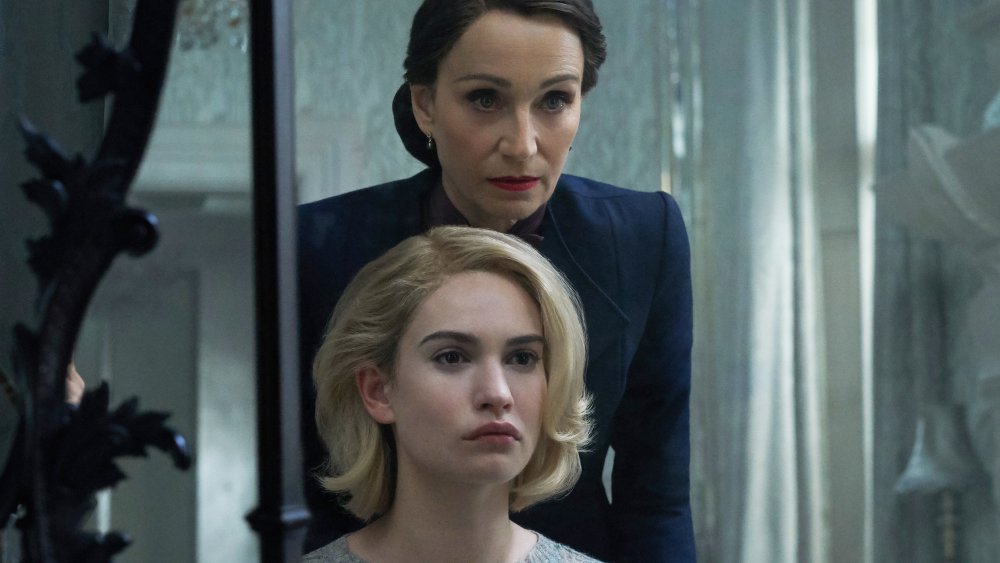 She is more than competant as the curious protagonist and carries the film with an expertise one would only expect of a more experienced player. The supporting cast also do a great job with Tom Goodman-Hill and Mark Lewis Jones both providing memorable turns.
Ben Wheatley does a fine job of bringing this adaptation to life. Du Maurier's novel is itself inspired by Jane Eyre by Charlotte Bronte. Wheatley's talents are possibly a little wasted here as he appears to shine more brightly working on his own material. However, he has done well in modernising this story for a new generation.
As with all Netflix productions, the costumes, locations and general mise en scene are of the highest standard. Some of the dream sequences evoke memories of Dario Argento's Suspiria (1977), particularly the lighting and colour palette used against the imaginative jump-cuts.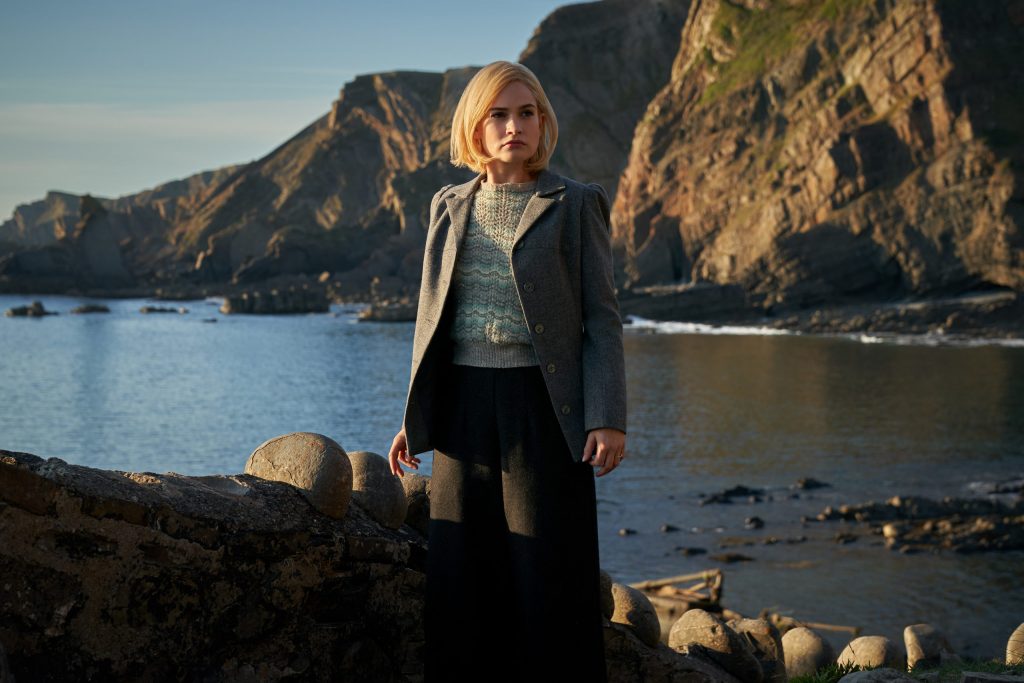 Those new to this story will enjoy Rebecca for all of it's deluxe production value and enjoyable performances. Staunch fans of the Hitchcock film are bound to find faults and may be a little dissatisfied with this very modern rendering of the story. I myself am a fan of the Hitchcock film and did not expect very much from this new version, however I was pleasently surprised at the high quality of the film and would recommend it to anyone who loves their dramatic thrillers with a healthy dose of romance and all the accompanying high production tropes. Different from what you might expect.
Read more of our film reviews here and and please join us on Facebook and Twitter.
If you enjoy our content, please consider supporting us here.